The Top 21 Dating Spots in Austin (According to Couples)
As the Live Music Capital of the World and a destination for delicious Tex Mex, Austin makes an attractive date spot for locals and visitors. Thanks to its abundant sunshine and surrounding natural beauty, Austin is also great for hiking and outdoor swimming. City districts like West Sixth and Rainey Street offer numerous bars, bands and open mic nights for fun after the sun sets.
For this article, our team researched the top-rated attractions in Austin and filtered them by their popularity with couples and overall review scores. By looking at the spots that have the highest ratio of happy couples, we ranked the top 21 date spots in this weird and creative city.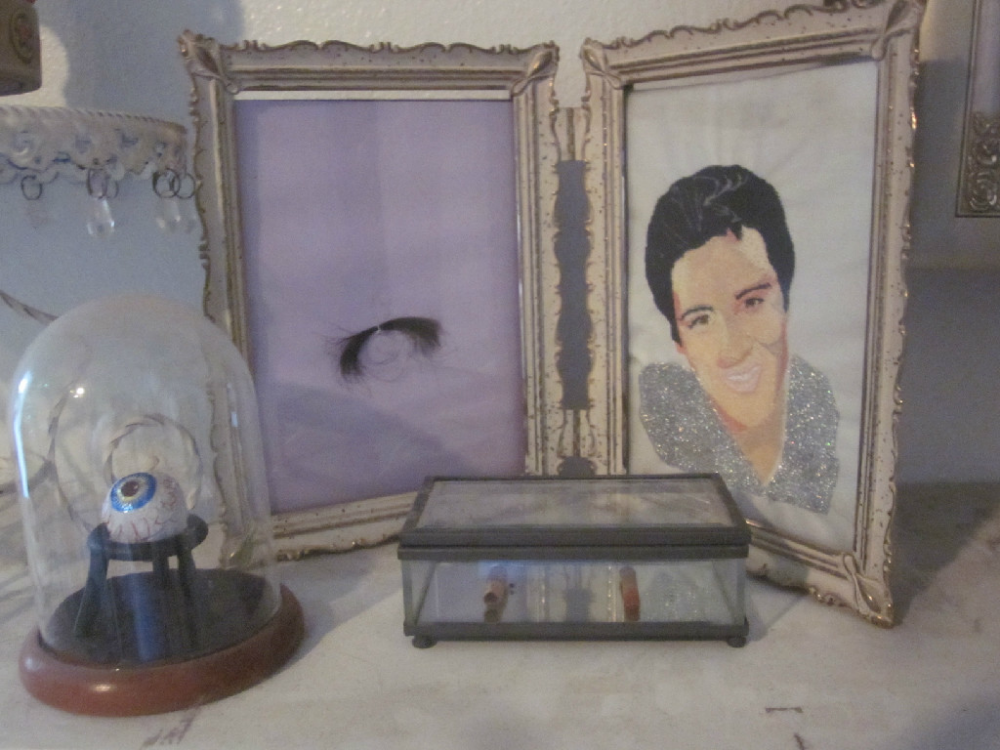 Source: Museum of Natural and Artificial Ephemerata
Average review score: 5
Couple ratio: 100%
If you've ever wanted to be transported to a dime museum of a bygone era, the Museum of Natural and Artificial Ephemerata will certainly take you there. Created by a mother and wife duo, this museum could inspire an afternoon outing beyond your wildest imagination. Sure, the tour may seem weird and zany at times, but that's what makes this museum an Austin oddity. From offbeat exhibits to wondrous collection, bizarre lives here as you escape to a Texas heat in this museum of a wild, yet simple sights. While free, donations are suggested at this museum of old-timey oddities.
What couples say about Museum of Natural and Artificial Ephemerata
"If you are in Austin when the museum owners (it is in their back yard) are giving tours, it's worth your time if you like unusual collections." dabbler45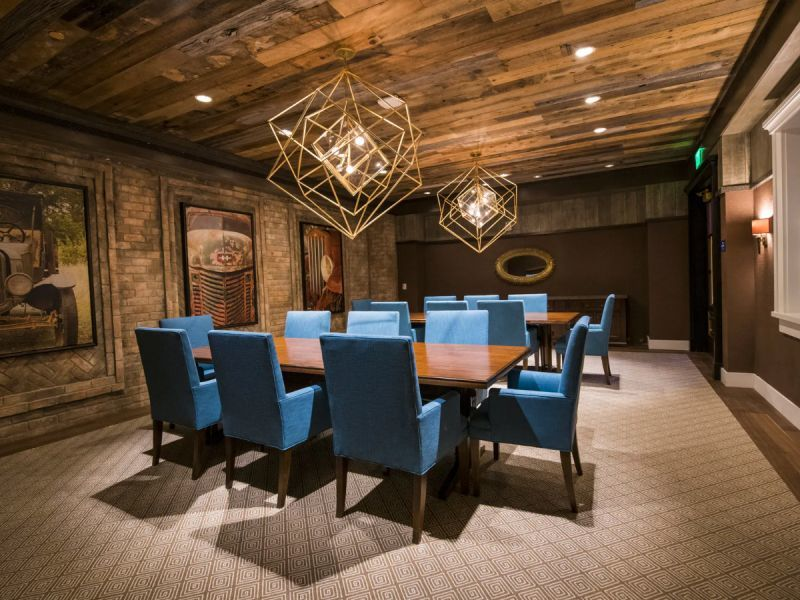 Source: Garrison
Average review score: 5
Couple ratio: 38%
Set in the famed Fairmont hotel, this remarkable restaurant is home to quality meats, seafood, and an upscale time amongst the Austin heat. Date nights here could be pricier than most, but it sends the right message as the grandeur of this wood-based Downtown bistro will have anyone awing in delight. The extensive wine selection also matches the ambition of their menu and interior design as this accessible eatery offers patrons more than meets the eye. Simply, put you'll love it here. Popular plates include the savory Pork Chop, Branzino, and Wagyu. Just be sure to make an early reservation.
What couples say about Garrison
"Felt taken care of here. Generous glasses of wine. The steak was perfect. The short rib is super tender and well seasoned. We really enjoyed it." Orange11674
"Being from NYC and love to travel for food, Garrison's was exceptional. It's fresh, local food creatively turned into delicacies. Started with grilled sourdough bread with avocado butter is worth the few dollars. Grilled broccolini, crudo, and grilled avocado were great starters. Recommend the local NY striploin. The staff and manager were best I've ever come across- George our waiter couldn't do enough for us, as well as the manager. You must come here for local food creatively prepared. You won't be disappointed." NYC14
"We had a wonderful meal at Garrison. Great service - very apologetic for honoring our reservation late, with a perfect free-drink apology. Service was perfectly attentive without being hovering. Server's recommendations were all big winners. Veggie gado gado was extraordinary as a starter. The tater tots were another highlight. Everything ordered was solid and well-prepared. Beverages were all tasty." dcjer2015
Why Garrison is a great date spot
"Garrison makes for an ideal date spot because it allows for connection through a great meal. We strive to create a warm sense of service and hospitality that empowers couples to feel confident letting our team handle the details, while they enjoy quality time together and getting pampered in the process. Our passion is serving guests, whether it's our flame centric preparations, luxury ingredients or sustainable cuisine, to create memorable experiences." - Chef Andre Natera, Executive Chef of Fairmont Austin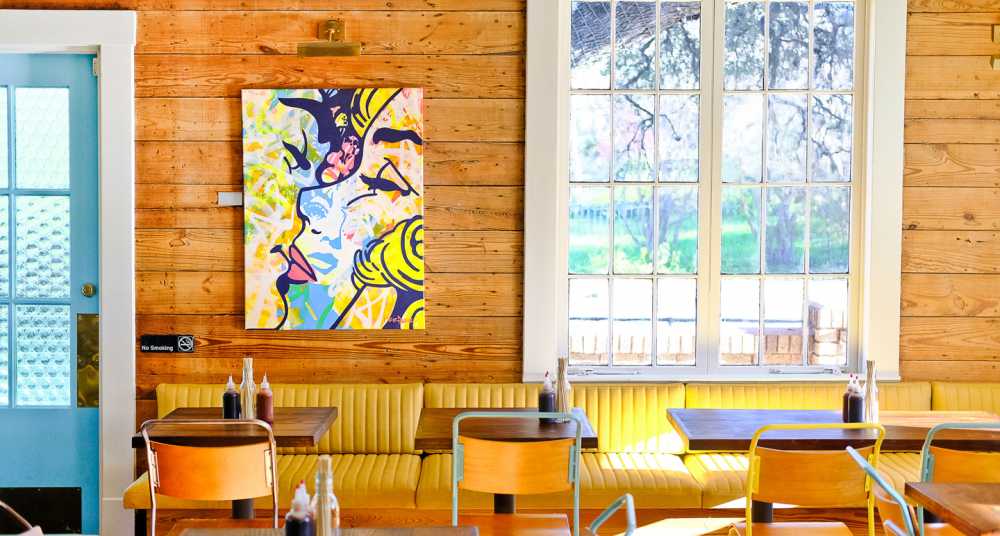 Source: Bar Peached
Average review score: 4
Couple ratio: 33%
Seeking a simplistic barn-styled Asian bar with a flair for fun? Well try Bar Peached. Located in the historic Clarksville neighborhood, this bar-centric eatery serves much more than the customary cocktails and tacos. Delectable desserts are also home here as the whimsical color setting leads to a good time. Other popular plates include the Mapo Bolognese, Pork Buns, and Texan-inspired Chili Crab Toast. Simply put - it's cuisine you're used to, but with a twist. So what are you waiting for? Make this adventurous artistic backdoor patio restaurant your next go-to date destination.
What couples say about Bar Peached
"Happy hour is at the bar or outside. Even if it's cold out, the outside heaters from the airport-like hangar cover will make you feel like it's summer in Austin. We all disrobed so dress accordingly. Not sure how they can dial the heat back but better than freezing your tootsies. Service is outstanding. Not one but several staff circling unobtrusively the table. The taco trio, duck fold over, street corn (think queso fundido with corn off the cob), and bonito fries were hits. Discounted adult beverages for happy hour. We will be back. Delicious." Hystericalhappiness
"Lovely little house serving Asian/ Mexican mash ups. Service was good manager was awesome. Our food came out late she noticed and took care of us. Would go back and try other items." austin_TexasLkd
"We stopped in Bar Peached one night walking home from dinner. We had their Margarita De Peached - spicy & excellent.We stopped in again on Sunday for brunch. It was excellent. We had the kimchi steak and egg fried rice and the Kung Pao smoked salmon and a side order of brussels sprouts.Erin was an excellent server. Somehow our order got lost and we ended up having 2 margaritas each while waiting. The restaurant did comp our brussels sprouts and a wonderful dessert - peach cobbler milky ice.Bar Peached is pet friendly outside!!" sharonearly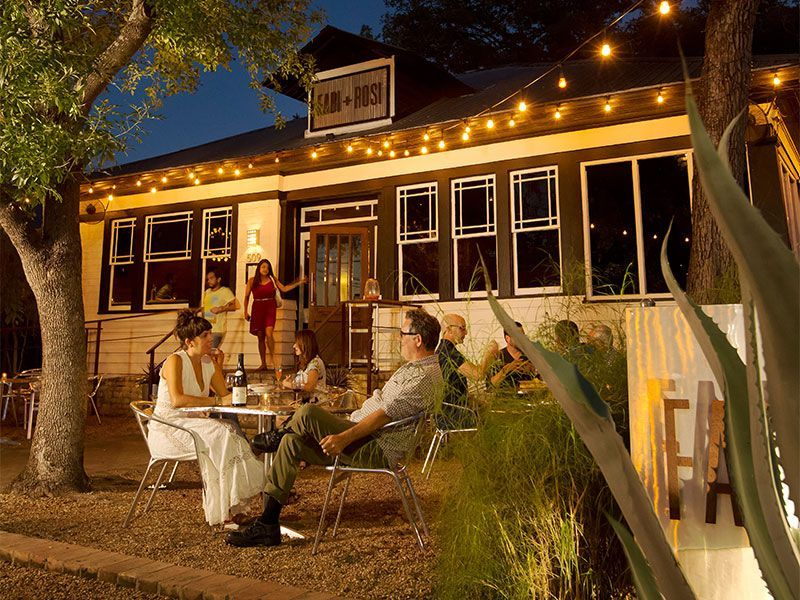 Source: Fabi + Rosi
Average review score: 4
Couple ratio: 39%
Escape the heat of Texas and instantly be transported in a harvested lit European experience that you won't find anywhere else. Fabi + Rosa. Evening dinners are exclusive here as the ambiance promotes that from a villa straight from Tuscany. And although operating hours are limited to the evening (5PM-10PM), you won't find another ultimate European experience with a Southern flair in all of Austin. Popular dishes include the Schnitzel, Duck Break, and exquisite Escargot.Take our word and brave a date to this romantic hideaway.
What couples say about Fabi + Rosi
"Since Fabi + Rosi's hidden away in our Austin Tarrytown neighborhood off Lake Austin Blvd., we occasionally forget how incredible the menu and ambiance are for this husband + wife-owned restaurant. Last week, we treated close friends from Arizona, and they raved about how delightfully different the experience was from the crowded, noisy downtown Austin convention scene and even their 5-star hotel. My husband and I vowed then to return for more romantic couple dinners. Thank you Chef Wolfgang and Cassie! ." Dorothy d
"Romantic setting, great food you can't normally find. To share the escargot, pei mussels and Metzger plates are all excellent. For the main course it depends on what is in season but my main fallback is the schnitzel and spatlze while my wife prefers the duck. Moderately priced, highly recommended." Matthew S
"Met friends here for dinner. Arrived at 5:30 during Happy Hour and shared their cheese and meat boards as appetizers. At half price during Happy Hour they were a great deal. Had the Mushroom Ravioli, the Rabbit Stew, and Schnitzel. Everything was very good. We need to go here more often! Highly recommended!" Jay F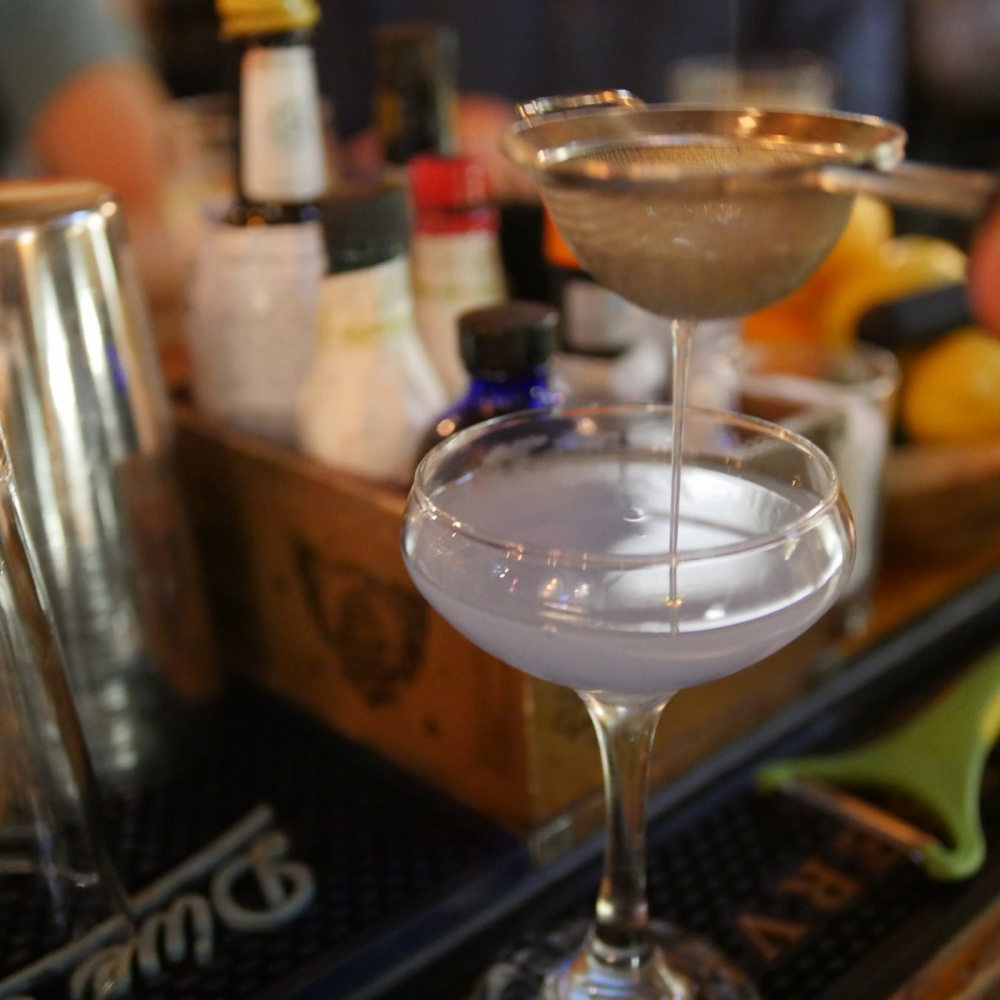 Source: Dive Bar and Lounge
Average review score: 4
Couple ratio: 38%
If you're seeking an all-American experience, then look no further the aptly named Dive Bar & Lounge. Sure, it may feel like you're entering a minimalist speakeasy, but this dive bar is much more than meets the eye. With creative cocktails, a robust draft beer selection, and even better service, you'll love a night out in this artsy bar. Sure, you may be able to find cheaper offerings in other surrounding neighborhood bars, but the chill atmosphere and private setting will have you and your guest feeling like you've ended an exclusive escape. So, try Dive Bar and Lounge for a chill getaway from the Austin heat.
What couples say about Dive Bar and Lounge
"The bar tender makes the best old fashion I have had in years and the prices are incredible. I will be back!" Isaac J
"My husband and I visited on a Wednesday night at happy hour. The bar was nearly full of people celebrating. My husband had a beer and I had a French 75 cocktail which was made with a lot of love and care. It was a lovely Austin place" jaynic
"Went on a Saturday night with my boyfriend. Filled with a number of people, but room for us. Chatted with the bartenders and tried some signature cocktails. The Killer Bees Knees packs a punch and my boyfriend said it was the best Dark & Stormy he'd had. The atmosphere was laid back and welcoming, with nice music selection (pretty Austin). It's a great spot to try something new and talk with friends. The service was also very quick and friendly - they were always looking around to make sure everyone had what they needed." alexgoesplaces
Why Dive Bar and Lounge is a great date spot
"We make great craft cocktails that are reasonably priced, we are a cozy little bar who welcomes everyone and we cater not only the craft cocktail crowd, but also to those looking for a glass of wine or a good local beer. Whatever mood you're in, we can accommodate."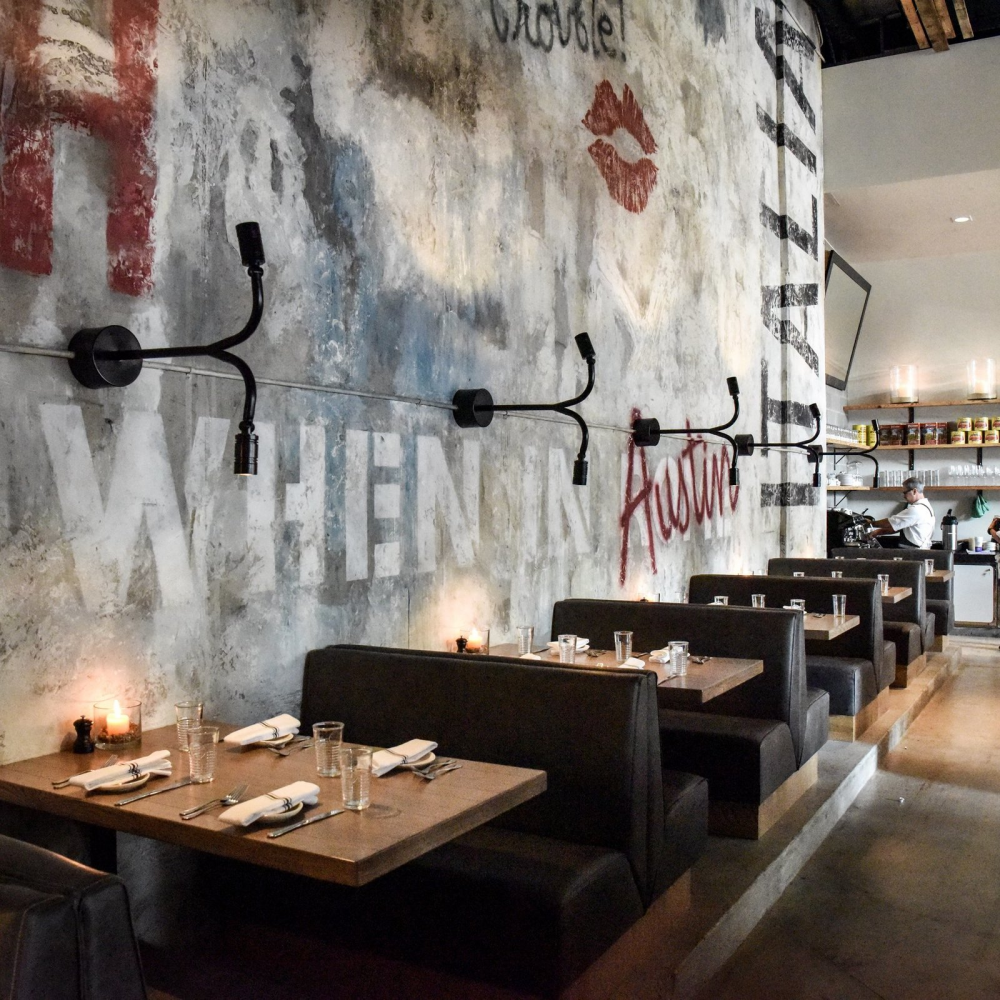 Source: Red Ash
Average review score: 4
Couple ratio: 35%
Southern Texas meets the South Italy at this industrial downtown eatery. With graffiti-filled walls and a full bar, Red Ash in the Warehouse District is a favorite for few. From homemade pastas, small plates to die for, and even more flavorful seasonal offerings, you'll fall in love with Red Ash's wood-fired Italian fare. Online reservations are available, and be sure to use it. With many popular Austin attractions located nearby - this restaurant is sure to get booked quick. Popular dishes include their Bone Marrow and Red Snapper Cruder. So uncork a wine bottle at this reasonably-priced Italian spot and let the good times roll.
What couples say about Red Ash
"Super fun place. It's a nice atmosphere with an ambience that transports you to another space. The service was excellent and the food was just as divine. The decorations were really unique and very on point. Recommend reservations, but we actually got lucky on a Saturday night and got seated right away." Mammatraveler97
"Doors open at 4:30 for this fantastic happy hour. Be there early for a spot. Small plates are just the same as the regular menu,and were simply amazing. Wonderful staff." Mnmeyer007
"We went to celebrate my birthday. We started with the grilled tomatoes and Burratta cheese; I had Osso Buco with risotto; Lois had crab and lobster filled pasta and shared the chocolate cake. OMG - every dish, every bite was so full of flavor, cooked to perfection. It may have been the best Osso Buco I have every had .favorite meals, I have had lots." RWG2020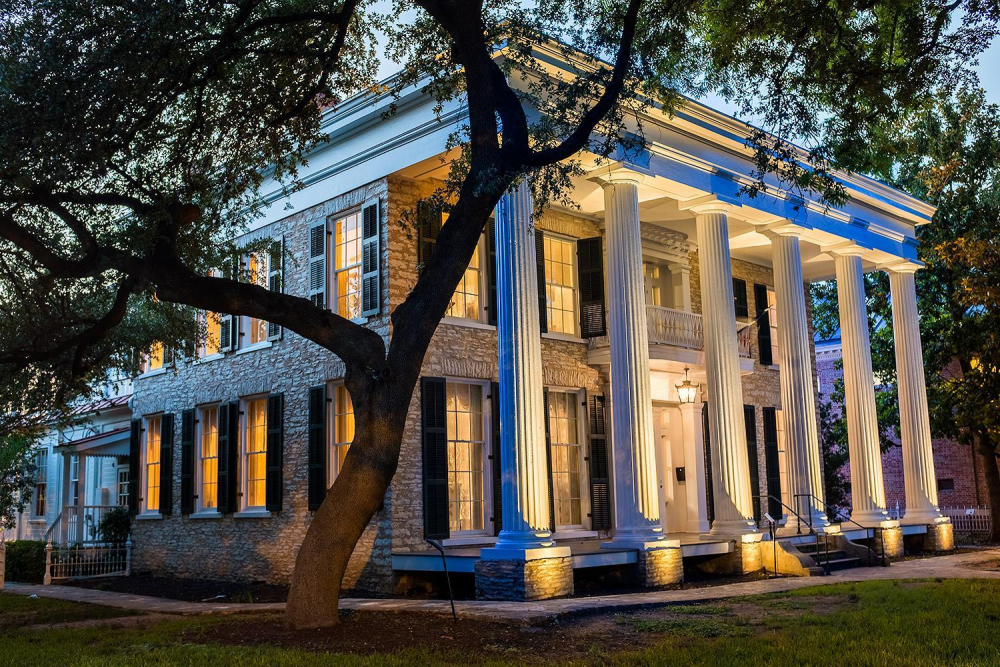 Source: Neill-Cochran House Museum
Average review score: 4
Couple ratio: 33%
If you're looking to be instantly transported to a bygone era, check out the Neill-Cochran house that was built in the late 1800s. With a two story Greek Revival building, this iconic designed haven for any HGTV viewer will have you wanted to explore ever nook and cranny in this Reconstruction-era Texan home. Currently listed in the National Register of Historic Places, it's no wonder that this 17.5 acre home was inhabited by legendary politicians. But the amazing feat is that all furnishings and tapestries have been kept up over the past two centuries. A visit here is a visit in history.
What couples say about Neill-Cochran House Museum
"A fine example of early Austin properties. Each room set up with furniture from the era. The added edition of the Anna Stanley exhibition was a bonus.To this visit which I recommend you see." C5859MRjohnr
"If Andrea is in the "office" and you want an explanation of how Austin got its start - as well as the unusual history of this magnificent limestone house - simply ask her! She does a great job of combining both the local history - politics - university - and artifacts from the home. The builder never really lived there - went broke building it - and Custer (yes that guy from Little Big Horn) turned it into a sort of hospital - who's military patients shot the place up and then the US Gov refused or forgot to pay the costs. Hmmm. Finally the Neill's and then Cochrans owned it - took care of it - and it became eventually the wonderful museum home it is today. We would go back" NewillDB
"Vacation trip to visit 2 presidential libraries. Found this place on trip advisor things to do. Very interesting restored old house. Self guided tour. Recommend for visitors looking for something to do" dansantoniS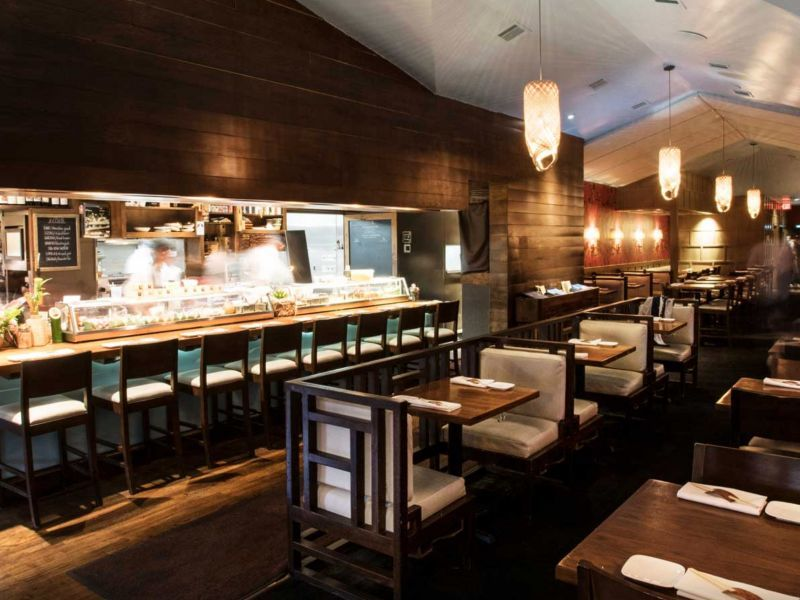 Source: Uchi
Average review score: 4
Couple ratio: 32%
If you're seeking a more traditional Japanese experience helmed in the heart of Austin, then you'll love Uchi for your night out. Located in Bouldin Creek, this one-of-a-kind Oriental restaurant is one of the best in city with their focus on flavorful fare. With some of the freshest fish in Central Texas, you'll salivate over all their seafood offerings in a sleek new age surrounding. Locals also rave about the menu's diverse options and vegan features. The dishes can be pricey, but that doesn't stop visitors to return back for more. Popular plates include the Machi Cure, Hama Chili, and the Walt Walu, which are all raved apart.
What couples say about Uchi
"My boyfriend and I have gone to Uchi an embarrassing amount of time in the span of only a few months. Which says enough. I thought I didn't even like fish until Uchi! Yes it's pricey but do yourself a favor and treat yoself." 614gabbyh
"Wonderful experience & yes our waiter was John Sizemore. (We did not request him, but my husband knew of him through the reviews.)He is Wonderfully entertaining & very knowledge about the menu. We took every suggestion we recommended & were very happy with all of his choices! Also, the interior decorating was very comfortable & pleasing to the eye." GulfExplorer
"Went here for a birthday dinner, we had a reservation but ended up sitting at the bar for a richer experience. We ordered the chefs' tasting menu- was excellent!! Was offered a few extra items for no extra charge. I highly recommend the Brussels Sprouts." Andrew B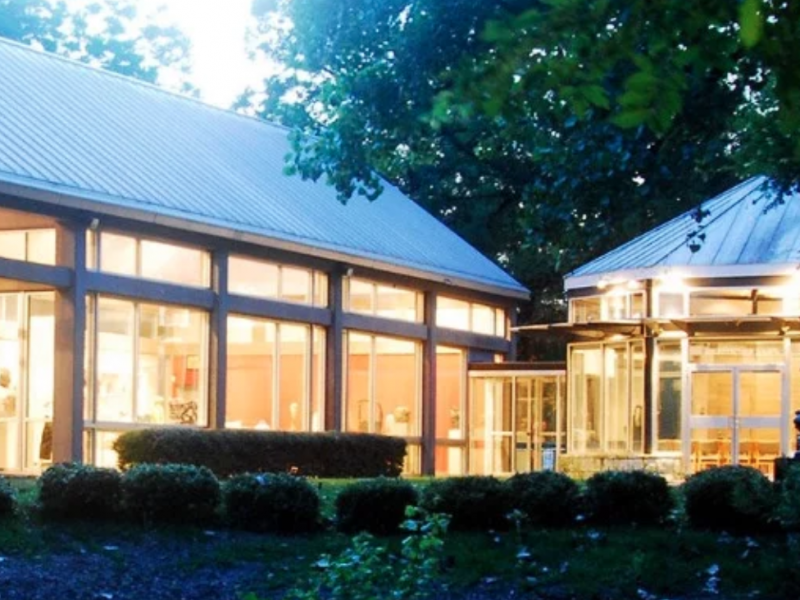 Source: Umlauf Sculpture Garden & Museum
Average review score: 4
Couple ratio: 31%
Wonderful, whimsical, and spectacular are all choice words from visitors to this iconic sculpture garden and art museum. The Umlauf Sculpture Garden & Museum, often known as the UMLAUF, features the artistic works of American sculptor, Charles Umlauf. And, let me tell you - some of the sculptures in this lush setting are like scenes straight from a Greek fairytale. Love lives here, and this contemporary Texan venture features some of the best artistic creations in the city. It's no wonder that this is one the of most requested Austin venues for weddings. Plus, immersive events and a $7 admission fee make the UMLAUF even more attractive for visits.
What couples say about Umlauf Sculpture Garden & Museum
"We spent about an hour wandering through the gardens -- there are over 50 sculptures and the area is well shaded!Lovely way to escape the city and spend an afternoon!" 613melissai
"This was a pleasant surprise to see within walking distance of Zilker Park. We didn't know this gem was this close to downtown. The grounds were well maintained. We found the sculptures interesting. It looks like it would be a terrific place to host a private event, too. A special bonus was that our Chicago Botanic Garden membership got us in for free." chezbuc
"This is a really beautiful place to stroll and appreciate the sculptures. They are set among nature, which only adds to the beauty of the art. We enjoyed our visit - even in the rain. Amazing work." Destination580602
Why Umlauf Sculpture Garden & Museum is a great date spot
"The natural beauty of the historic UMLAUF grounds makes it a unique and memorable destination for dating couples in Austin. It's something different—an oasis in the heart of the city with a peaceful ambiance. Walking through the gardens enjoying sculptures like the "The Kiss" is the perfect way to spend time with someone special. Our UMLAUF After Dark events, with live music, cocktails, art and more, is also terrific for date night! It's a fun, after-hours experience at our cultural center in the middle of Austin. The UMLAUF also hosts beautiful weddings because couples find it so romantic!" - Sarah Story, executive director of the UMLAUF Sculpture Garden + Museum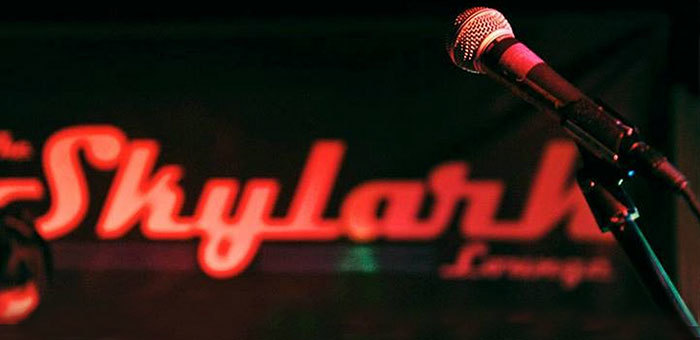 Source: Skylark Lounge
Average review score: 4
Couple ratio: 29%
Often known as one of the coolest bars in the Lone Star State, this live music maven is one of the best experiences in the city. With a dive bar approach to a live music venue, you'll find some of the best local and touring arts in Austin stopping by here. Plus, the Skylark Lounge features a full bar and new cocktails nightly. But it's dark lit environ and state-of-the-art surround system is what has crowds coming back for a good time. So if you're looking for a lively midweek pick-me-up, check out the live music calendar for this one-of-a-kind blues bar.
What couples say about Skylark Lounge
"We visited Skylark Lounge, after reading the great reviews onTripadvisor and other sites. We arrived at the location and were a little taken aback by the outward appearance. We entered and the spot is small, dark and unassuming. All that was forgotten the moment Soul Man Sam and the band took the stage! The music was awesome! The vibe was cool and filled with love! The crowd was a mixture of every color and status but we were ALL there to enjoy the music. This was the best place we visited the whole time we were in Austin. If you love great music, good drinks and a community vibe, Skylark is a must!" Rodney A
"We have been here several times with other couples and with adult children. Every person we have taken there has loved it. The music is often times terrific. Even when it's just average it is a fun place to visit. The drinks are reasonably priced and the pizza is very good. We have always felt comfortable and safe and welcome there. Good popcorn." bpj1
"This place was a recommendation to us. After we did 6th street and got bored so we drove out here. This is the coolest greatest dive bar with the most amazing talent. OMG. So glad we found this place. Soul man Sam was AMAZING. We enjoyed this place so much. Before we left we took a peek outside on the patio. It was super cool too. Amazing vibe here. We will for sure be back here. Loved it. 10star if I could." lindas286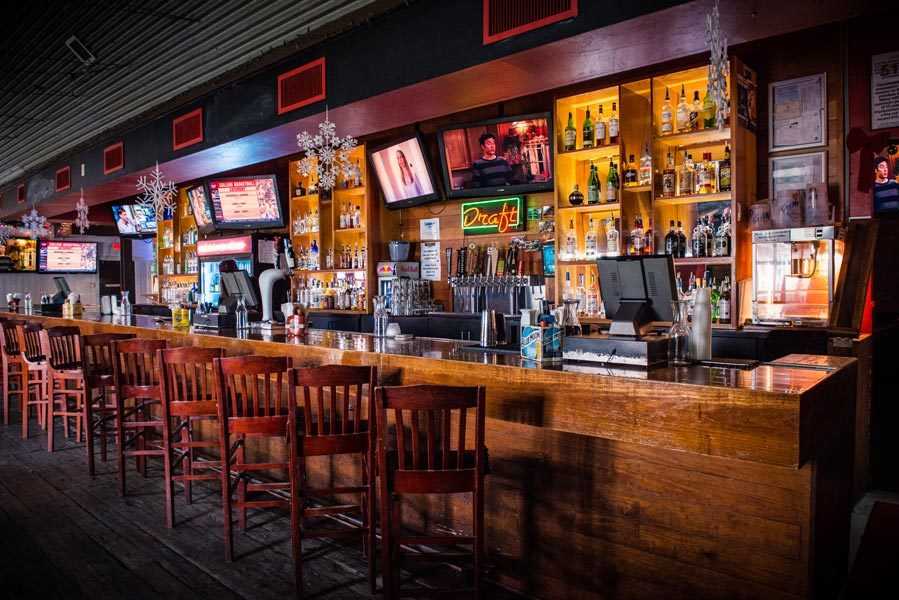 Source: Lavaca Street Bar
Average review score: 4
Couple ratio: 29%
Good vibes and casual fun is the name of the game at the Lavaca Street Bar at Rock Rose. While most Austin bars are ambitious in size and theme, this simple treat doesn't need a gimmick. Just decent prices, a wall full of televisions, and a vibrant atmosphere! The bar also features air hockey and other arcade games for the kid at heart. So whether you're just stopping in for a Dallas Cowboys came or you're seeking a minimalist sports pub for good conversation - you'll definitely want to stop by one evening in one of Austin's hidden treasures.
What couples say about Lavaca Street Bar
"Lavaca Bar is the same as turf and poor boy, great sports bar, friendly and great costumer service. Happy hour only 2.50 for a domestic beer. Poor boy is enough for 2 people, the best French fries ever" Sue Assunta N
"After a bad experience next door, we were welcomed with Texas hospitality and had an amazing experience! I wish I could give them 6 stars!" Patrick H
"Loved this place, went for to watch the Miami Hurricanes vs Wisconsin Badgers. We were 2 of the 3 canes fans in a crowd of hundreds of Badger fans. They were all really nice though, even though it was a Wisconsin bar in Austin. Weird right! Staff were amazing and the food was so good, the steak nachos were awesome!" Laura F
Source: The Peached Tortilla
Average review score: 4
Couple ratio: 26%
The Peached Tortilla - The name alone should make your ears (and appetite) stand on end. But this Asian comfort food joint is a hometown favorite because of its Southern influences. Southern Fun is a mainstay on the menu as this stir fried dish has patrons coming back for more. The Peached Tortilla also features a full bar with crafty spirits, some draught beers, and more wines than we can count. Just be sure to look into this eateries Sunday brunch offerings for deals and a good time!
What couples say about The Peached Tortilla
"We stumbled in the restaurant and I'm so glad we did! Everything was fantastic!! The service, drinks, and atmosphere!!! The dessert was amazing!! Check out the menu if it sounds at all interesting to you, I would consider it a do not miss!!!" Dellcomm3
"Went for dinner for first time. Had a very good Asian Pear salad with kale and miso dressing, excellent standing, a very good Mama's Toast, and the outstanding Southern Fun (braised brisket with kale, bean sprouts, and wide rice noodles. Consistently good food with fresh clean tastes and good quality ingredients. Solid four stars and approaching five. Highly recommended." Jay F
"Husband and I went here for a date night. Omg the food was incredible! Everything had a different amazing flavor. Staff as friendly, and super helpful. We probably ordered almost everything on the menu. We will be back when we visit Austin!" Mueller1500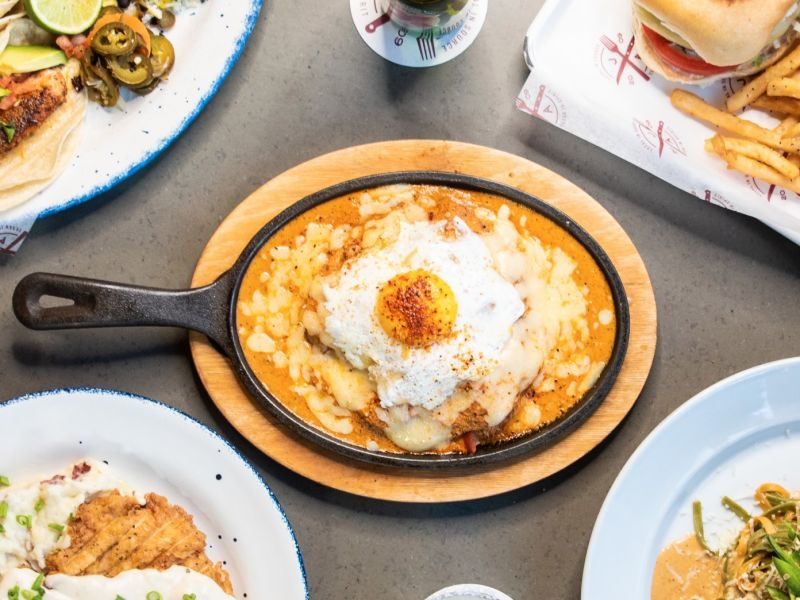 Source: Jack Allen's Kitchen 360
Average review score: 4
Couple ratio: 22%
Looking for a afternoon bite on a budget with enough options to satisfied the pickiest person, you should definitely stop by Jack Allen's Kitchen 360. With a lively scene and even better dishes, The restaurant even features cocktails during brunch that have locals returning for more. Just be sure to stop by early in the day as the place can get crowded quite quickly. Popular plates include the Grilled Fish Tacos and Grilled Chicken Breast. They even feature a Italian-important gelato bar with over 12 flavors. This restaurant isn't one to miss.
What couples say about Jack Allen's Kitchen 360
"We met some friends at Jack Allen Kitchen for brunch. Very nice buffet, something for everyone. Can order eggs cooked to order (which my husband did and they were cooked perfectly), biscuits & gravy, or pancakes, all included in the price. Their pastry buffet even includes Round Rock donuts without having to drive to Round Rock! Yummy." Judy S
"Visited here after a recommendation from another couple- Kendall was our waitress and she was great! So friendly and quick to welcome us and answer any of our questions! She was so nice! We started with an appetizer of the crab dip and I had the crispy salmon and my husband had the shrimp tacos (he subbed flour tortillas cause he's weird ) it was greatness!" Angela A
"Hard to pick a favorite. So nice to get the pimento cheese appetizer . Sunday Brunch has a little of everything and is delicious." savingforarainyday
Source: Nightcap
Average review score: 4
Couple ratio: 33%
Based inside a recently renovated bungalow, this exciting New American eatery is a new favorite amongst the Austin dating scene. With a cozy culture of fireplaces, arm chairs, and inventively-trained bartenders - you'll love everything about this place from its small plates to its midnight treats. And yes - this bistro is open into late hours of the night. But another draw? This New American eatery features a vegetarian menu that makes its one of the most unique restaurants in town. Plus, the environment is straight from a scene out of a nightly Texan soap opera. Spend a couple of hours here and you won't regret it.
What couples say about Nightcap
"This place has jumped on the plate sharing trend. The portions are small but priced as full entrees even the items listed under "mains". I wouldn't want to pass on this place based on their current rating because the ambiance is nice, service is great and food is good." CharlotteAmalie
"I have been to Nightcap twice, and everything I had has been exceptional. I have tried their pretzels, the cheese plate, 3 desserts, and 2 of their drinks. You really can't go wrong with any of it! It may be a bit on the pricey side, but soooo worth it. And they have complimentary valet which is vital in Austin!!" utgal24
"Nightcap is an oasis of tasty food and calm, a mile away away from the noise and drunken crowds of downtown during SXSW, but an easy walk from the convention center. The presentations are quite lovely, the dishes were creative and cooked perfectly, and the service was great. Highly recommended." BinaryNomad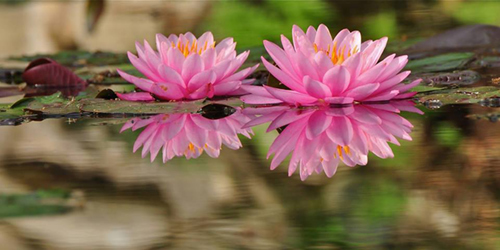 Source: Zilker Botanical Gardens
Average review score: 4
Couple ratio: 32%
Who knew that Austin could be home to some of the most ambitious botanical gardens? Known as the jewel in the heart of Austin, this 26-acre diverse set of botany and flowers is a sight to see. With some of the only designated koi ponds in all of Texas, this hillside retreat will leave little to the imagination as your are swept to other worlds. The gardens even has a habitat filled with greenery from cretaceous habitat. Yes - even the prehistoric era is covered at this one-of-a-kind hideaway. Plus, it's dog friendly and admission is almost next to nothing by being only $3. A must do!
What couples say about Zilker Botanical Gardens
"This was AWSOME!!! The display of foliage and gorgeous flowers, the variety of "parts" of brick structures and actual small cabins dating back to ????. This is one of the most scenic bottanical gardens I've seen as far as how beautifully it is laid out. Lots of litle ponds and a fabulous Coy Pond with turtles and other small wildlife. A beautiful water fall which is quite large and an unexpected treat!" travel_agentAtlanta
"The Gardens here are excellent. Walking through this park is the perfect way to spend a warm summer morning. The Japanese Garden is especially nice with the streams, waterfalls, and Koi." yaykitty
"Zilker Botanical Garden is a very beautiful little spot in the city of Austin, TX with it's different garden styles that blend together along with the water features and Koi ponds that give you a wonderful afternoon or whole day if you want of viewing pleasure and that includes some beautiful views of Austin from different parts of the gardens. We had a great time wandering this little gem enjoying every bit of it even though we were between some the blooming times there were plenty of flowers to see and the small donation to get in which was under 5 dollars was amazing I would have been fine with twice that which we did by leaving a little extra in the gift shop. You should stop if your in Austin and enjoy this precious place." mrhowell6255

Source: Caroline
Average review score: 4
Couple ratio: 29%
An all-day local spot serving homemade breakfast, lunch, dinner and to-go. Specialties include hand-selected coffee blends from Austin's Legendary Roaster, Little City and homemade baked goodies and juices – all made daily and with love. Caroline's lunch + dinner menus range from classic to clever served in an open, airy dining room buzzing from carefully-curated playlists, wines and cocktails. This is the place to have breakfast or lunch, linger over an afternoon glass of wine, enjoy dinner and stay for a cocktail. If you need more of an excuse to hang out, drink up and play on, head to Upstairs at Caroline, a new backyard party overlooking Congress. The drinks are as good as the vibe.
What couples say about Caroline Restaurant
"The food and atmosphere was very good! It had an upscale vibe to the restaurant but was extremely reasonably priced. I got the enchiladas and they were really good!" Isabellemarie18
"We happened to see Caroline on our way back from the capitol and stopped for brunch. I had the biscuits and gravy and my husband had the chicken and waffles. Both dishes were excellent! I also had the marshmallow latte and my husband had the Mexican iced coffee. The atmosphere was really nice and the service was awesome. Next time we're in Austin, we will definitely visit again!" sydneyshellhoward
"On our first day visiting Austin, we weren't sure where to eat and while walking on Congress we saw Caroline Restaurant and thought we would give it a try. So glad that we did! The corn dip is to die for and my husband and I both enjoyed our entrees. Unsure of what we were in the mood to eat, the server was attentive and helpful in recommending some great options for us. We ate outside and really enjoyed the feel of the city. If we lived in Austin, I'm sure Caroline would be a favorite of ours!" Susan S
Why Caroline Restaurant is a great date spot
"Upstairs at Caroline is Austin's premier urban backyard party. The cocktails are flowing; your koozied beer is in one hand, and a brisket taco is in the other. Catch the game or pick your game: giant Jenga, Foosball, Shuffleboard and of course Cornhole." - Haley Paske, Dual Marketing Manager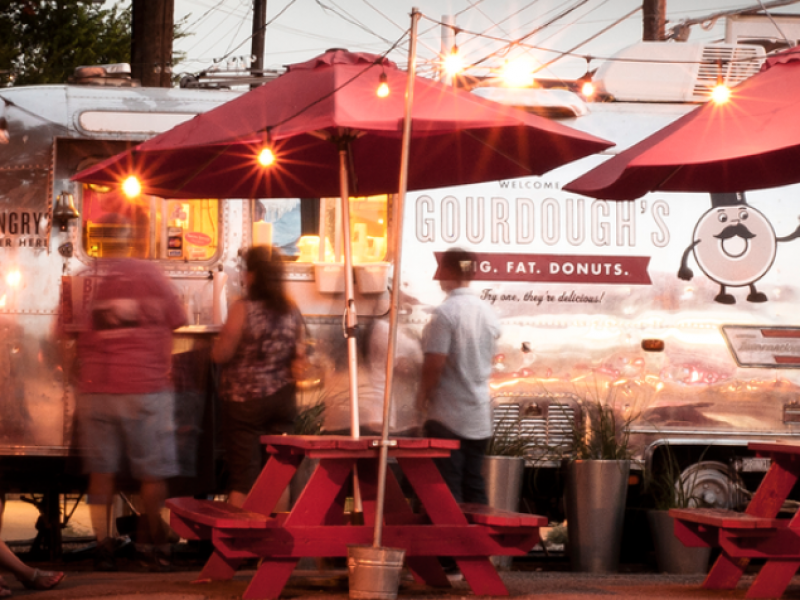 Source: Gourdough's Public House
Average review score: 4
Couple ratio: 23%
If you're ever seeking a super unique experience with sourdough donut-featured cuisine on the scene, I would recommend Gourdough's Public House for any casual date night. By featuring the best of both worlds with savory and sweet delights in traditional dishes, everyone will find something to like at this homebred cafe. And you simply won't be able to find this kind of Southern hospitality anywhere else, as the servings here are just as good as grandma's cooking. Patrons often rave about the Country Cluck, Mother Clucker, and the Public House Salad, which can be served without without a doughnut.
What couples say about Gourdough's Public House
"Fun place. Be there soon after they open. We were surprised at how quickly it filled up about 15 minutes after we were seated. Staff is friendly, attentive and helpful with the quirky menu, bringing out my mischievous side, which is easily summoned. Had to pick the stuff with the most questionable names. I couldn't help it. Sausy Cock and Salty Balls. The first is an exceptional chicken breast donut sandwich, buffalo wing style. I rarely eat chicken sandwiches. This is really delicious and messy and huge and perfectly cooked. The Salty Balls are decadent donut holes swimming in donut frosting and salted caramel topped with peanuts. 6 holes. Ample for sharing but you won't want too. It's a fun place. Indoor and outdoor seating. We didn't have a problem parking but not long after we got there it was becoming quite a challenge." 93KenL
"I am what most would call me "the donut queen". I have had many exotic donuts in my day but Gourdough's takes the cake!!! Delicious, creative, and done right with the perfect amount of sweet. I had to get a few to go because i couldnt get enough!! This is a MUST TRY when you are visiting Ausitn. Unreal donuts." cfio4
"These donuts are seriously unreal. If you are a donut lover, you don't want to miss out on these. So many flavors to choose from, the portions are HUGE, they are warm and so so so good. These are definitely decadent to say the least, so get yourself some milk too!" tmeadows1227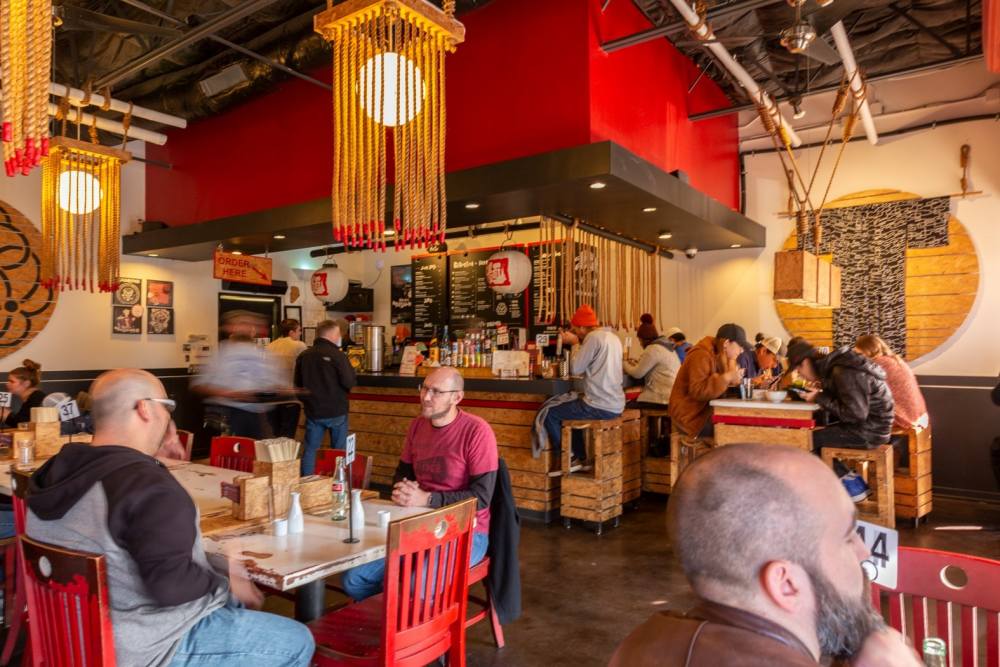 Source: Ramen Tatsu-Ya
Average review score: 4
Couple ratio: 20%
If you're seeking flavorful Japanese soul food that will put other Southern restaurants to shame, then your next date night should start at Ramen Tatsu-Ya. The popularity of the restaurant does draw large crowds. But with ramen to rave about and broths that soothe the soul, you'll definitely be glad that you waited. Ramen Tatsu-Ya also features soy free options and is perfect for a couple seeking a less than traditional indie setting. Hours also range from mid-morning to the late night. Check out their signature dishes include their ramen, pot-stirrers, and the ever-so-popular Pork Belly.
What couples say about Ramen Tatsu-Ya
"Aesthetic A+Staff A+Food A++ We waited about 20 minutes, but we were able to order right away. They brought the food super quick after we found our seats! Delicious food and TONS of options for customization!" weebshit2lit
"Get their early as their food is so good there will be a line. I ordered one of the vegetarian ramen bowls with extra garlic and a nice hot sauce addition. The flavor was amazing and the staff were really nice and helpful explaining their menu. Highly recommend this place." Cora W
"Everyone told us that we needed to eat here, and they were right! Although it's a small restaurant with a long line (which moves quickly), everything from the food to the service was phenomenal. We started with the Gyoza (the best we've had), and then split the Mi-So-Hot (spicy pork ramen) and Tsukemen (dipping ramen), which were both delicious. Even though we hadn't eaten since breakfast, we both left totally full for only $30." cswaltz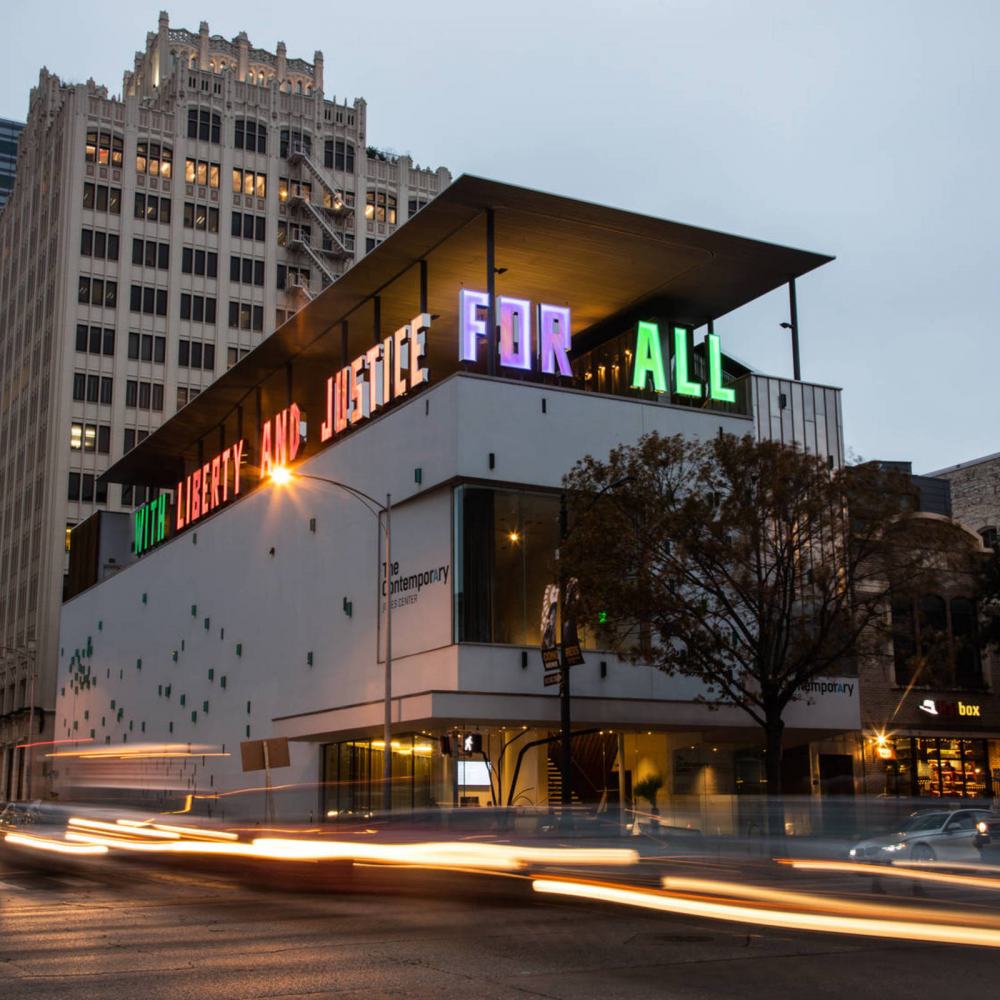 Source: The Contemporary Austin
Average review score: 4
Couple ratio: 28%
Noted as one of Austin's best art museums, The Contemporary is home to some of Texas' greatest exhibitions and artistic collections. With two centers and an art school, this art museum features some permanent mainstays and temporary collections that will certainly thrill your artistic soul. The museum also features a picturesque cafe if you're looking to rest between all the worlds you'll be whisked away to. And trust us - with this museum's diverse offerings you'll certainly be blown away by some of the exhibitions. The museum is closed on holidays, but with $10 admission - you can't beat this artistic getaway on a budget.
What couples say about The Contemporary Austin
"I enjoy finding outdoor sculpture gardens when I travel. Loved walking through the trees. Wonderful water views." Kymba320
"We came upon this very contemporary outdoor sculpture garden quite by accident. It was well worth the admission fee and the ticket allows you to also visit the Jones Center in downtown Austin. Just to see, up close and personal, these unique pieces of art, in such a beautiful setting abutting Lake Austin, was well worth our time. It truly is a "Museum Without Walls"." Onthego1950
"About 23 outdoor sculptures. Many are excellent. The grounds also give nice peeks at the river. Only $3 for seniors. And I suggest when going have your Uber/taxi drop you first at the top of Mount Bonnell close nearby (Covent Park is also the parking lot name/address) for the awesome views of the river AND the downtown skyline - and then walk the 3/4 miles down Mount Bonnell Rd to the museum." RayNYC9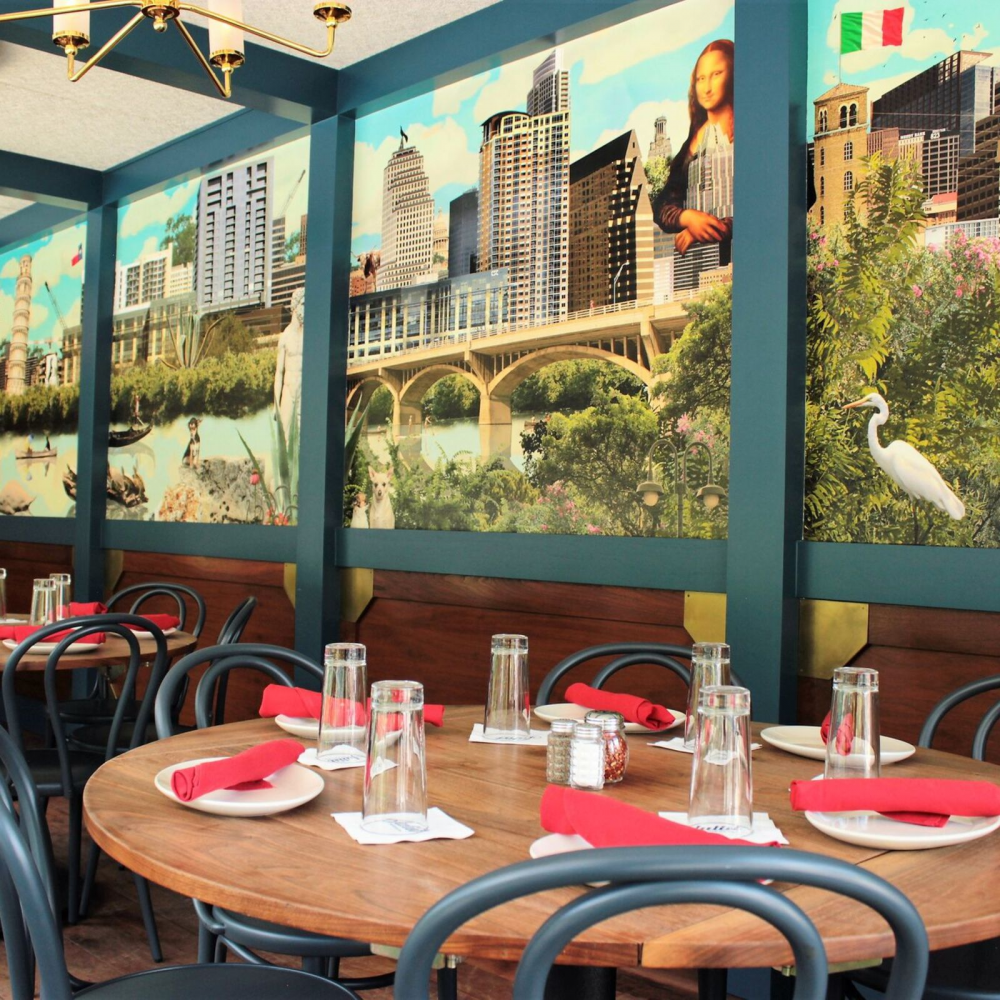 Source: Juliet Italian Kitchen
Average review score: 4
Couple ratio: 27%
Seeking nostalgia and classic Italian cuisine in the Texan heat, then be sure to check out Juliet Italian Kitchen. With an ambitious menu with offering for everyone and a subdued interior design, this family friendly restaurant is a great suggestion for two foodies meeting up for the first time. It's sprawling Barton Springs setting is also one to envy as this setting seems to be straight from a modern day romcom. From the marble made bar to the luscious lounge area, you'll be inspired to feast your eyes on more than your meal here.
What couples say about Juliet Italian Kitchen
"I am from New Jersey and very passionate about my Italian food! I was craving it so bad the one day that we decided to get it for lunch. I ordered the Pasta primavera and the Bruschetta. My boyfriend ordered the octopus and potatoes. He loved both things. I enjoyed my pasta as well! They give you a ton of food so it was tough it finish it! You could tell that the pasta was homemade too. I would come back and try a frose! That looked so good! I would return for the food as well." BrieValentino
"We had the lasagne and tomato/mozarella brushetta. Both were delicious. The bar and outdoor areas have great ambiance as well." terriwest333
"We had a lovely server in Ashley, who was attentive and kind. The linguine was divine and the shrimp pasta was really good. Loved the mussels appetizer and the happy hour specials are decent." meghanv21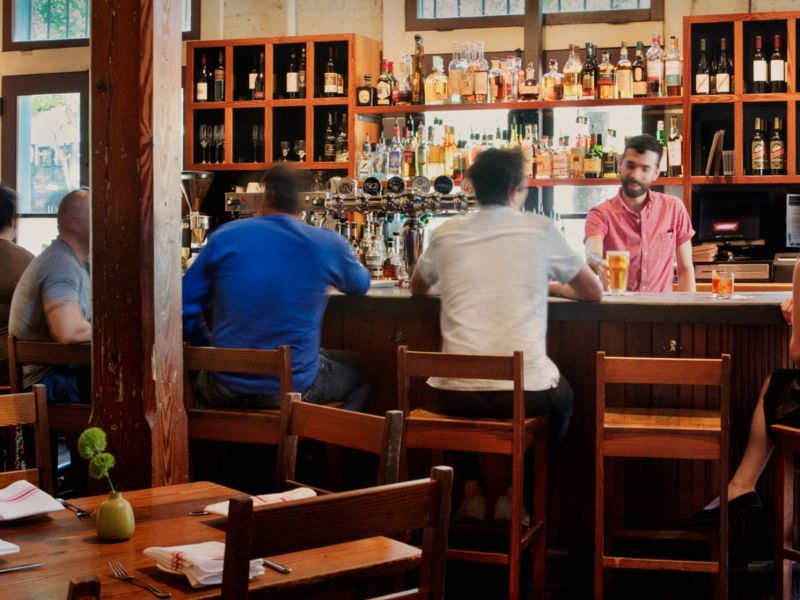 Source: Lamberts Downtown Barbecue
Average review score: 4
Couple ratio: 24%
If you're looking for a traditional Texan barbecue set in heritage, Lamberts Downtown Barbecue is the perfect selection for a date excursion. With a healthy cocktail selection for happy hour and an upscale environ, it's no wonder locals rave about this restaurant/bar hybrid. And what makes this Texan BBQ even more unique is its live music presentation hosted in the upstairs bar. The Second Street District may be home to several Southern home-cooked hideaway, but this is one of the best. Make this your next date night destination and you won't be sorry after indulging in all this unique eatery has to offer.
What couples say about Lamberts Downtown Barbecue
"Ever have one of those meals where when you finish the last bite you just lean back and go ahhhhhh...? Treated my wife and bro and sis in law to a wonderful din. They all enjoyed the Prime Rib special and raved over the potato. I ordered the prime rib steak - basted with a mustard infused butter and finished off with a brown sugar demi glaze...ahhhhh. For a side I ordered grilled corn and pleasantly surprised when it was delivered as a salad. The beer (IPA) was ok, but I'm from Oregon and have high expectations. Great night." Frank L
"Such good food and drinks at Lamberts! The service was excellent as well. We went for lunch and there was a good lunch crowd, but we didn't have to wait." J2826JH
"Had to wait 45 mins which was no problem. The food is worth the wait, I had the most delicious succulent ribs it was difficult to fault them, I couldn't get over how each mouthful tasted more delicious than the last. As a side I had mac and 3 cheese which was really good a very filling. The beer was good and the staff serving us were wonderful and really chatty. I loved the atmosphere here the place was literally buzzing. Would I go back? Of course I would, I loved this place and am still raving about the food." harryd63