The Top Dating Spots in Boston (According to Couples)
As the most populous city in New England, it's also the distillation of the area's famous charm: bustling harbors, beautiful colors in Autumn, and history which dates back to the earliest day of its nation's founding. With that said, it's obviously a city of many firsts: the US's first chocolate factory, lighthouse, subway, and public beach were all founded here. America's Walking City, as it's known, is less than a tenth of the size of New York by population but has just as much culture. For this guide, we pulled a list of every Boston spot which had any amount of online reviews, and hand-filtered the most loved by couples. By calculating the ratio of couple visitors to non-couples, this guide seeks to give you actual data on which spots are most worth visiting on a date. Let's check the rankings.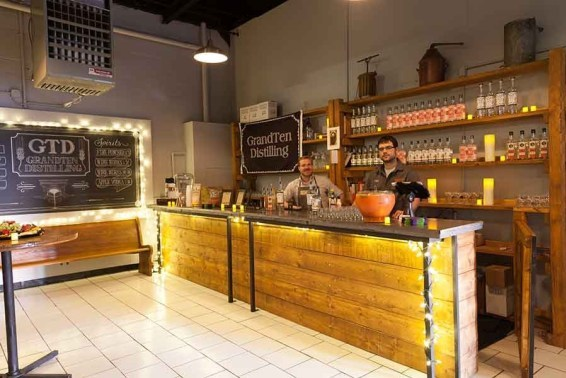 Source: GrandTen Distilling
Average review score: 5
Couple ratio: 36%
Often known as the best liquor and cocktail tasting in the city, this New England distillery is a favorite amongst visitors for its accessibility and simplistic interior. With a starter-upper themed of the inside of a hometown garage, the GrandTen Distilling also features unique offers with their beer and gin selections. Locals rave about the bar's Friday Night Flights, which are perfect for date nights and a good time. Plus, with board games, comfortable seating, and nostalgic movie playing over head the spirits, you won't find a better time than this Boston refuge.
What couples say about GrandTen Distilling
"Tiny distillery with delicious booze. I really enjoyed the tasting, and the staff was half the fun. Came home with a bottle of their white rum, and I'm definitely going to start buying their Irish whiskey which is smooth enough to drink neat (and I am not usually a whiskey person)." - Jiffifi
"Good tasting alcohol and cool shirts. I like the stories that go along with the different alcohols. Bought a "Fire Puncher" shirt which draws lots of questions. Haven't tried the rum but looking forward to having time to purchase some from the location on Dorchester ave." - Jasoncccccccccccccc
"Do not be put off by the location of this place - when you come out of the T-Station, you will think you are in the wrong place! These guys are so passionate about their craft, the free tour and sampling session is really interesting. This is a must-see when you are in Boston." - AndyGBath
Why GrandTen Distilling is a great date spot
"I think what makes GrandTen a good date spot is three things. 1. It is an intimate setting. It is easy to find space in the distillery to have a good conversation 2. Lots of games. We have foosball, shuffle board, and a ton of board games to play. A little competition on a date is sometimes a good thing. 3. We are off the beaten path. When it is your first time here it feels like you got told a really good secret. GrandTen is kinda like a modern speakeasy. " - Matt, GrandTen Distilling
Source: Boston Fire Museum
Average review score: 5
Couple ratio: 28%
Hosted in the Boston's renowned Congress Street, this Romanesque style firehouse constructed in the 1800s is full of charm straight from picturesque history lesson. With historic tools, objects from centuries before, and antique fire fight vehicles, you'll be swept into a whole new perspective of American history. The museum also features an informative coaching in fire safety for any wannabe home owner. And while only open on Saturdays with hours limited to the afternoon, the free admission is this famed fire homes usual draw.
What couples say about Boston Fire Museum
"Just along the road from our hotel a small building, probably originally a Fore House now housing interesting old appliances etc. The old vehicles looked pretty scary, probably more dangerous than the fire." - AnotherEngineer
"This is a free museum, donation optional. Very small, but if you are lucky enough to get Dan as a tour guide, you get a lot of great information and stories. We were there about a half hour and I was not bored and really enjoyed it. Would highly recommend this." - chad y
"A volountary Fire Muesum run by friends of Boston Fire Department. My husband a Dublin Fire Fighter was delighted to see all the old fire equipment and to swap stories with the veterans . They made us feel really welcome and a pleasure to spend a hour or so there. They even had a fire hound and helmets for the kids. Thanks all - we really enjoyed our time there." - most256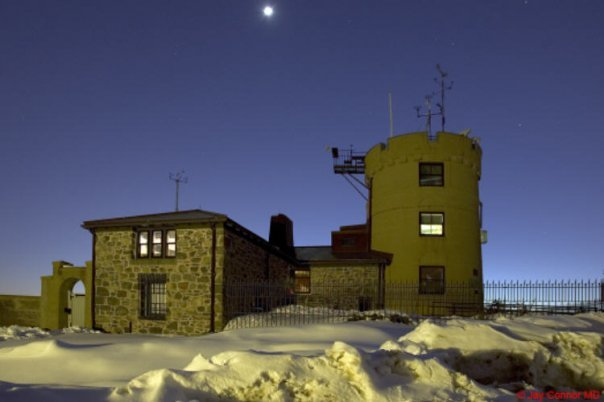 Source: Blue Hill Observatory Science Center
Average review score: 5
Couple ratio: 21%
Have you ever wondered how the weather works in the New England terriotry. Well, check out the Blue Hill Observatory Science Center located at the top of Great Blue Hill. It is home to the oldest continuous weather record in North America and features the earliest kite soundings the 1800s. Programs and tours offered at the facility will tell you this information and you will be wrong not to check one out. While quite the drive, anyone who has caught the meteorologist bug will love attending this hidden gem of Massachusetts.
What couples say about Blue Hill Observatory Science Center
"I live nearby and enjoy the quick walk up the paved path or the one by the Trailside Museum. I have been hearing about temperature and wind gusts on the local weather as recorded here since I was a kid but so fun to learn that this is one of the oldest observatories around.
According to Wikipedia... weather observations and recordings started here in 1912 and have continued to this day, providing modern meteorologists with a record of uninterrupted climatological observations that is unique in the world.
Since these recordings were obtained from the same site with virtually no environmental change, they provide an important index to climate change. This information is of special importance to students of climatic change, in an age where so many weather records are flawed by environmental and procedural changes, and by repeated moves of the observing site over a number of years. For this reason, the National Oceanic and Atmospheric Administration designated the Blue Hill Observatory one of 26 International Benchmark stations within the United States. Enjoy the walk, the history and learning more about climate change what a great way to spend an hour!" - 254dennys
"My wife and I walk to the observatory using the paved road from Route 138 in Milton. The road can be accessed from the parking lot near the Trailside Museum. There are also trails that lead to the observatory. The road is steep, but cars are limited and not a factor. The walk is through beautiful woodlands. The Observatory is at the peak of the mountain and affords great views. The distance from the parking lot to the observatory is about one mile." - jakegreenville
"This place is just 12 miles from Boston, but it seems like a world away. The tower is on a ski resort, so when I say it's an up hill walk, it really is. We parked in the ski resort's parking lot and took the "red dot" trail up the hill. It was a tough walk over boulders and tree roots, but it's clean and well marked. What we didn't know was that there is a road to the top. It is not accessible by car, but you wouldn't have to climb over any of the boulders if you take that route. The tower itself is very interesting. It was founded in 1885 and has been in use ever since. There is even a barometer that has been working since the 1880's and is still accurate. They measure wind, temperatures, barometric pressure, precipitation and anything else that has to do with the weather. There is a fee for the tower, but it is very interesting." - greymomBoston
Why Blue Hill Observatory Science Center is a great date spot
"Folks have proposed on the top of the Observatory Tower because they like the view and it is a unique place. It is a good place for a first date because the hike is relatively easy and you can talk while walking together. History and science geeks equally enjoy Blue Hill Observatory because of the 135 years of non-stop weather and climate monitoring." - Don McCasland, Program Director
Source: Museum Of Fine Arts
Average review score: 4
Couple ratio: 26%
Known as the fifth largest museum in the nation, this artist's paradise is a local favorite for anyone seeking an afternoon retreat. With over 450,000 works of art and being one of the most visited museums in the world, you won't go wrong at Boston's famed Museum of Fine Arts. From Ancient Egyptian artifacts to romance-era impressionistic works, the Fine Art featured here will aspire any future lovers to connect more deeply. Some highlights for the museum include George Washington's renowned self-portrait, Rembrandt's last works, and some of van Gogh's earliest creations.
What couples say about Museum Of Fine Arts
"We spent an afternoon at the museum and saw the latest exhibition Ancient Nubia Now, which was excellent and then toured the many galleries. Amazing and a must see if you like art." - Fred4999
"Every type of art, great special exhibits (we just saw "Nubia"), movies, music, dance, incredible flower displays every spring, lectures and classes, programs for kids as young as my 4 year old grandkids. Nice courtyard restaurant too." - Electric_Rover
"Visited MFA via the "T" (subway) which stops right in front. Found MFA just the right size for a half-day visit. The paintings, furniture, special exhibits and signage were outstanding. Very tastefully laid out with truly exceptional artwork. Well worth a visit." - davidbV1932JQ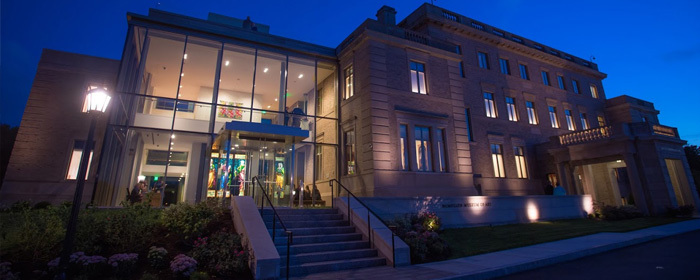 Source: McMullen Museum of Art
Average review score: 4
Couple ratio: 20%
Hosted at Boston College, this exhibit based art museum is only open when a temporary exhibit is being displayed. McMullen Museum of Art does offer a permanent collection of historical art from Europe and parts of Asia with a significant representation of the Gothic era. Another great appeal includes the museum's healthy event calendar venturing with all activities from DIY nights to talks about climate change. So if you're looking for a refined afternoon in an artistic paradise, you may want to grab a self-guided tour at this university art display.
What couples say about McMullen Museum of Art
"My husband and I loved both the building and the first exhibit, Beyond Words: Illuminated Manuscripts in Boston Collections; Manuscripts for Pleasure & Piety (September 12–December 11, 2016). The collection was superbly curated and the items on display were exquisite. The small scale of the museum makes it an intimate setting with the exhibits highly accessible. Wonderful location, easy parking." - Ellen O
"This is a small museum with an excellent collection , but it excels with what it can borrow to complete an exhibit. Always a good look here. Worth a trip out of Boston for the day. Of course it is a small museum and it won't take you that long to see, which leaves you plenty of time to travel on to Waltham and try out one of the many great restaurants that are found there. By the way the campus is wonderful as well." - Henry Q
"Rotating Exhibits every few months assure something new and interesting to see throughout the year. Past exhibits have included 2000-year-old treasures from the far-flung provinces of the Roman Emprie, a famous redeicovered Caravaggio materpiece, 'Degenerate Art' from Germany between the Wars, the American West in painting and sculpture, and early photographers of the 20th Century.Oh, and it's all free, courtesy of Boston College!" - Jon T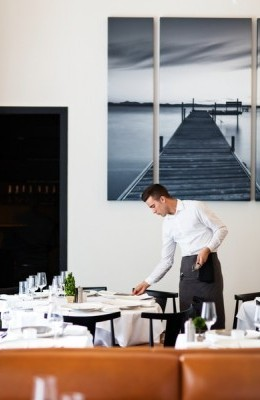 Source: Ostra
Average review score: 4
Couple ratio: 37%
Themed to Europe's most swanky of upscale eateries, this decadent downtown restaurant is a must-do for anyone desiring a contemporary seafood meal with a Mediterranean flair. Ostra of Boston is a romantic retreat you may be looking for. With a fine bar, lounge area, and live piano playing throughout your dinner, this inviting setting feels like home for a date night out. Plus, the menu is quite ambitious with global approaches to the finest seafood you'll find in all of Boston. Popular plates includes the Yellowfin Tuna Tartare and the exquisite Snow Egg.
What couples say about Ostra
"The fish. The monk fish. The scallops. The sea bass. You just have to try it With the money. It was so good." - Eirikag
"My wife and I had dinner here, and we had an amazing meal. She had the Grilled Sea Bream in Trevisano Leaf, she said it was fantastic. I had the Pan Roasted East Coast Halibut, also excellent. See photos" - jstaines72
"We celebrated our 30 years anniversary, read all the positive reviews and decided to dine there. We started with half a bottle of champagne. For firsts we ordered the sea bass ceviche with truffles. We shared all the dishes, so they split it up for us to two separate plates. We also ordered the mozzarella and tomato starter, which is a very common dish, so we didn't expect much. It was amazing! The mozzarella was like a foam, very delicate and smooth, not like the usual one. Tomatoes were piled and tasteful. Al came with a delicious fresh bread, butter and olive oil. For mains we took the Branzino and the Grouper, both were very fresh and made to stay juicy and tender. We added a delicious truffle French fries and a surprising sweet corn.For desert we took the Snow Egg, which was only OK.We ended up with a bill (including service) of 300$, not cheap but really worth it.Service was also great.Really a recommended place for special occasions." - Avi911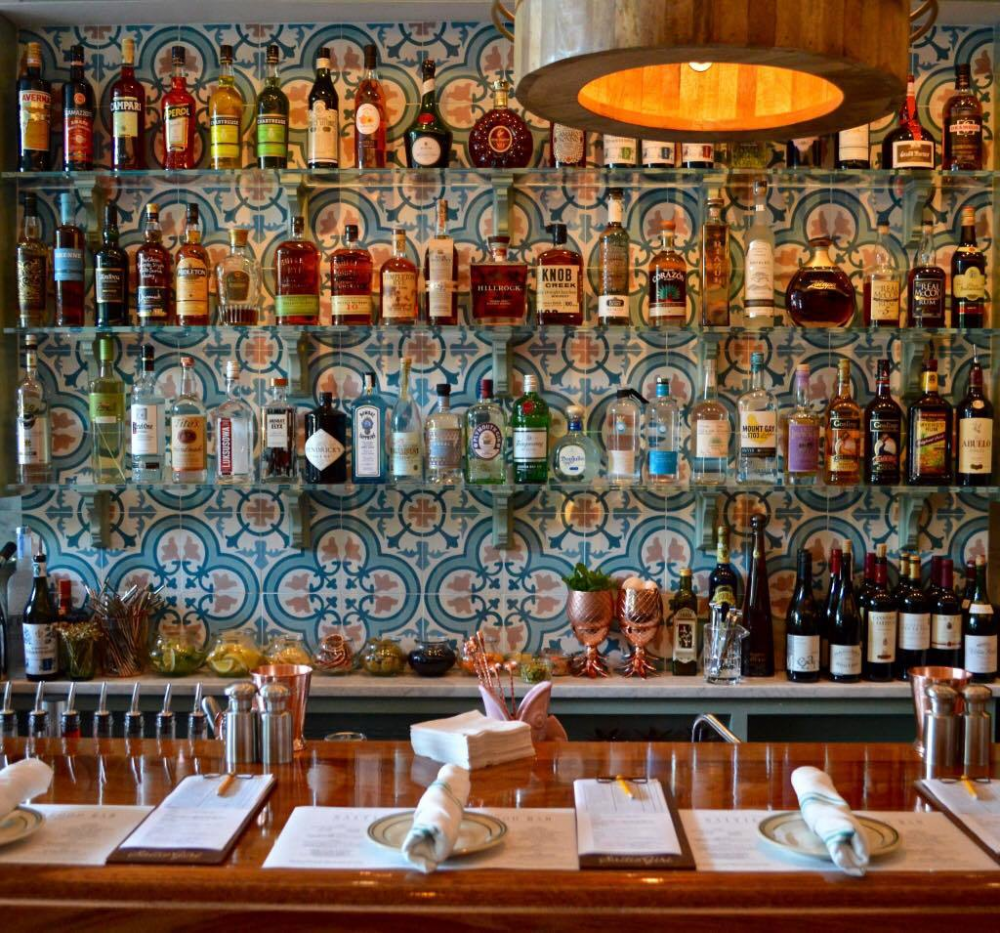 Source: Saltie Girl
Average review score: 4
Couple ratio: 35%
If you're seeking a charming seafood favorite on the famed Newbury Street, you'll be remised to skip this unique outing that features one of the largest seafood collections in New England. With over 60 tinned seafood options, the varied option of meals on the go could range from fried lobster to their popular Costa Rican tuna fillets. And while the restaurant is quaint in size, they don't offer reservations. But with dishes priced under thirty dollars, this casual seafood spot may be your best bet for a quick bite on a budget.
What couples say about Saltie Girl
"Definitely a place for a special occasion. While it is pretty expensive and we waited two hours to get in, it was well worth it. Great atmosphere & staff. Of course best of all was the mouth watering, delicate and fresh food. Oysters, fried clam, lobster roll and steak tartare. All wonderful, you really can't go wrong." - Morgan J
"We were in Boston for a few days staying in the Copley area and wanted a good restaurant for an early dinner. The Saltie Girl is excellent! It is one of the smallest restaurants I have been to in a long time. We arrived at about 5 pm and there were plenty of seats. We sat at the bar and within 20 mins the place was filled, within 30 mins there was a wait for over an hour. Great seafood, wine, raw bar, cleaver combinations, nice presentation, and a great staff. It is a great choice if you are early or willing to wait." - Anna Fowler
"Saltie Girl is another must-hit spot for my wife and I on our periodic road trips to Boston. If you crave ultra-fresh seafood served in small and large plate formats, then you must try this place. Our favorite dishes include the Day Boat Scallop (my wife says it's the best tasting dish...ever), Warm Spicy Crab Roll, and the Torched Salmon Belly. On the libation side the Grapefruit cocktail is amazingly flavorful and refreshing." - Tod H
Why Saltie Girl is a great date spot
"Saltie Girl is one of the best places to take a date in the city of Boston, be it a first date or for a special occasion. Known for its amazing food, the freshest seafood in New England and its creative cocktails; it is also truly on of the most beautiful restaurants in our city. Just be sure to plan on being in queue, Saltie Girl does not take reservations, but waiting in line together is a great way to get to know each other and you'll also be able to experience one of the best restaurants in the country and brag about it post date!" - Penelope Smith, PR Saltie Girl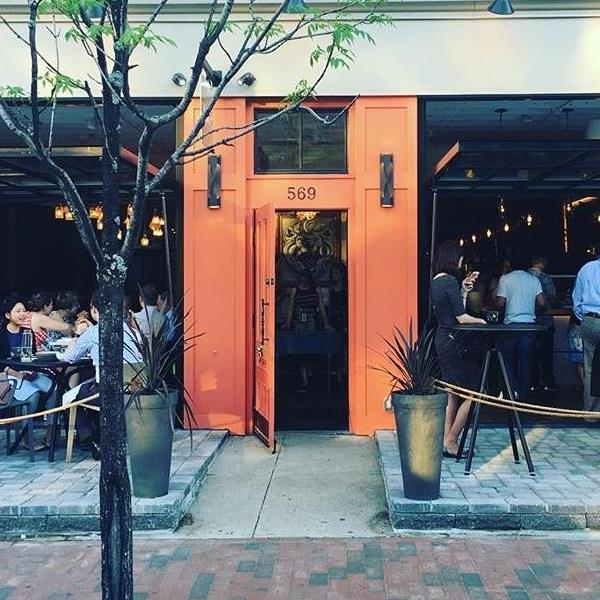 Source: SRV Boston
Average review score: 4
Couple ratio: 34%
Buzzy and sophisticated in nature, this Italian features some of the best bites in Boston. With an ambitious wine menu and popular homemade pasta, you'll love gathering in this dining room experience straight from a Venetian kitchen. Located in Back Bay, guests are often pleasantly surprised by the relaxed setting and varied menu. Also, the tastes featured are unmatched and quantity sizes are quite large just like an authentic Italian eatery. And while most local Italian spots resJust be aware that the restaurant has limited hours into the evening and is located away from most of the hustle and bustle of Beantown's downtown.
What couples say about SRV Boston
"Been meaning to review for quite a while. We love SRV and come here quite a bit, of often before a concert or theatre production. It's really the only good food near Symphony Hall. The cichetti are fabulous, especially the eggplant, salt cod, and potato. For small plates I love the Brussels sprouts; for large, the spaghetti or the agnolotti. I am less fond of the desserts, but I might be alone in that. Excellent excellent cocktails and wine, great staff and service. Highly recommend." - watsonborn
"This spot was recommended by our server at the salty pig - what a fantastic recommendation. Atmosphere is beautiful. Great music. Friendly service and the food was spot on. Had 3 appys (bruschetta, salty cod and roasted cantaloupe ). Small but perfect portions. Shared a Tagalatelli dish that was soooooo good. Highly recommend and would eat here again in a heartbeat." - TMAC20
"Ok so it is not really hidden, just found by accident. Loving small plate restaurants we thought we would give it a try. Loved the decor. Waiter was supper helpful. Drinks were different and delicious. We asked for help ordering and waiter suggested chef tasting menu. Which was fabulous. Even better 1 person in our party of four has a dairy allergy and the kitchen perfectly substituted and plated his portions seamlessly. Would definitely recommend and return." - apowbos
Why SRV Boston is a great date spot
"SRV in Boston's South End is the perfect restaurant for date night. The space itself is dimly lit with high ceilings and compelling colors and textures. Our shared small plates menu is a great conversation starter, great for breaking the ice! The Arsenale menu, our version of a tasting menu, allows our guests to spend less time choosing dishes and more time enjoying each others company. The bar scene is fun and vibrant, perfect for those looking for a charming and lively dining experience. Whether you're looking to have drinks and snacks at the bar or try out the tasting menu in the dining room, SRV has something to offer to any special date night," Catarina Goncalves, Assistant Operations Manager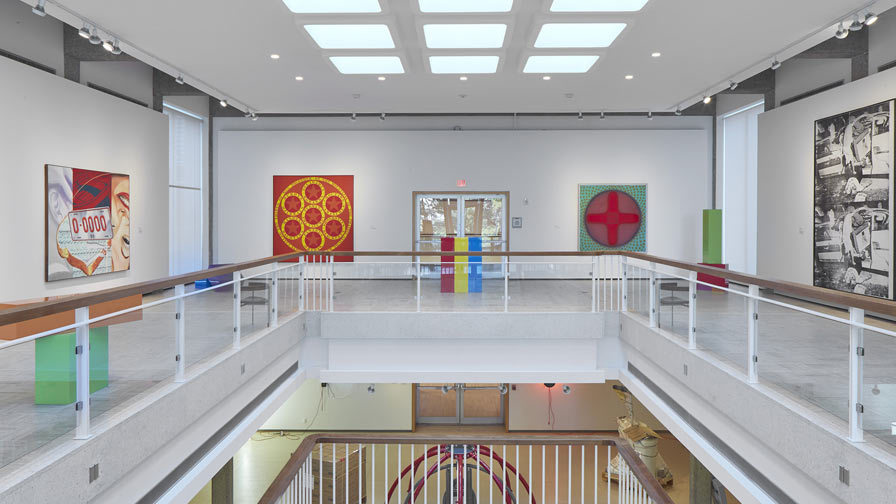 Source: Rose Art Museum
Average review score: 4
Couple ratio: 33%
Founded last century and only reopened recently, the Rose Art Museum is one of the smallest art museums in the area. But it's modest size is nothing to remiss as its temporary exhibitions and works of art featured are some of the most revered in the country. While the museum is located a ways from Boston's city center, the trek may be worth it for any budding artist. Plus, admission is free - so the road trip may be worth it if you're seeking a local afternoon adventure. Just be aware that the museum is only open Wednesday through Sunday.
What couples say about Rose Art Museum
"First time here as our daughter is a student I really liked the museum -it had a nice range of modern, historical and special exhibits. The special exhibit was a work by a palestinian artist who did a program with his family involving their view of treatment by the the israeli's around the six-day warThis exhibit was not without controversy, and the NY Times picked up a review - it was great to see the curator take chances to bring something unusual to the museum and campus" - David M
"One of the most impressive academies art museums in the country. We are so lucky to have this magnificent gallery in our community, open to the public and free. Thank goodness the collection was saved!" - tecrunner
"Not for the faint of heart to see plastic buckets and huge Mefisto shoe box as an exposition in the Museum. Not when you are over 70 and saw the best museums in the world. But it was interesting, educational and different. Never too late to learn! And we'll come back for more! And it was rainy anyway!" - Nadrod

Source: John F Kennedy Presidential Library & Museum
Average review score: 4
Couple ratio: 33%
Have you ever wanted to visit the presidential library of a US President without heading to the nation's capital? Well, check out Boston's John F. Kennedy Presidential Library and Museum. If you think the name is a mouthful, the research and architecture to marvel at will leave your afternoon full of experiences. Exhibits ranger from Kennedy's Oval office collection, artifacts from Kennedy compound, and a unique look at the Space Race during his time in office. So if your date is interested in the Kennedy's reign of office, you may want to check out this ambitious museum's collection and exhibits.
What couples say about John F Kennedy Presidential Library & Museum
"Very informative, with excellent well done exhibits. The museum has been kept in excellent condition. We went before lunch and the crowds were very light. We all learned some new information and enjoyed the day. The museum is set on it's beautiful shore location." - ejj1965
"On our first afternoon in Boston, we decided to visit the library. Easy to get to on the subway, the library is a walk through the life, presidential years and philosophy/leadership of JFK. When we left, we were inspired again by the civility, compassion, strength of character and patriotism of JFK. Plan for at least 2 hours. " - Headedwestboy
"Through a well thought out combination of text and video the feeling rapidly comes back. JFK was a spirit- always good to see him, hear him, read about him.
A JFK interaction was always an upper. At the JFK library one receives a series of uppers. It gives you a huge dose of goodness to see him in action.
Being from California it's quite a trip. It was the 1st stop on a river cruise starting in NYC and ending in Montreal.
I highly recommend the JFK Library as a must do on a regular basis." - RonMarilyn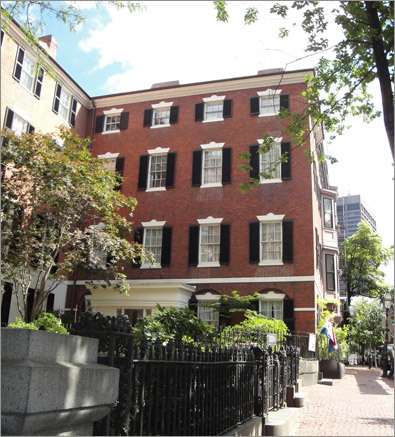 Source: Nichols House Museum
Average review score: 4
Couple ratio: 33%
Did you know that Boston is home to one of the nation's oldest preserved townhouses? The Nichols House Museum boasts a preservation of the upperclass lifestyle with turn-of-the-century period rooms and small-scale landscapes. The museum even hosts weekly programs and events for any art admirer. Plus, with a robust collection of household furnishing and tapestry's ripped the Renaissance Era, you'll fall in love with the quaintness of this Beacon Hill home. So if you have an aspiring interior designer in your party, the Nichols Family Home will be an instant pleaser.
What couples say about Nichols House Museum
"How fascinating to walk up to this house, which looks like it is still occupied by the original owners, ring the bell, be ushered in (we were a few minutes late but the guide was extremely nice and let us join the tour which was just starting; greatly appreciated!), and suddenly time travel to another century. No barriers to keep you out, just the original furnishings, art, etc., to see and have explained to you by the most genial and knowledgeable guide. One of the off the beaten track highlights of our visit to Boston. Highly recommended." - berkshireshomeowner
"A great stop on your historical tour of Boston. What amazing ladies! Determined, intelligent, forward thinking women. Loved seeing how they lived then and how well it has been preserved now.Stephanie was a wonderful tour guide. Very knowledgeable and informative." - littletink2
"I won a tour of the Nichols House and was very excited. My sisters and I love unique tours that offer different perspectives to the cities we already know and love. The Nichols House Museum did not disappoint. Our guide, Victoria, was very entertaining and knowledgable of the house and its inhabitants. I've never heard the story of Rose and her sisters and their importance in the history of women's rights and progressive ideas. They were 3 quirky sisters that reminded me much of me and my own sisters...really great stories from a century ago." - LinkMalfoy54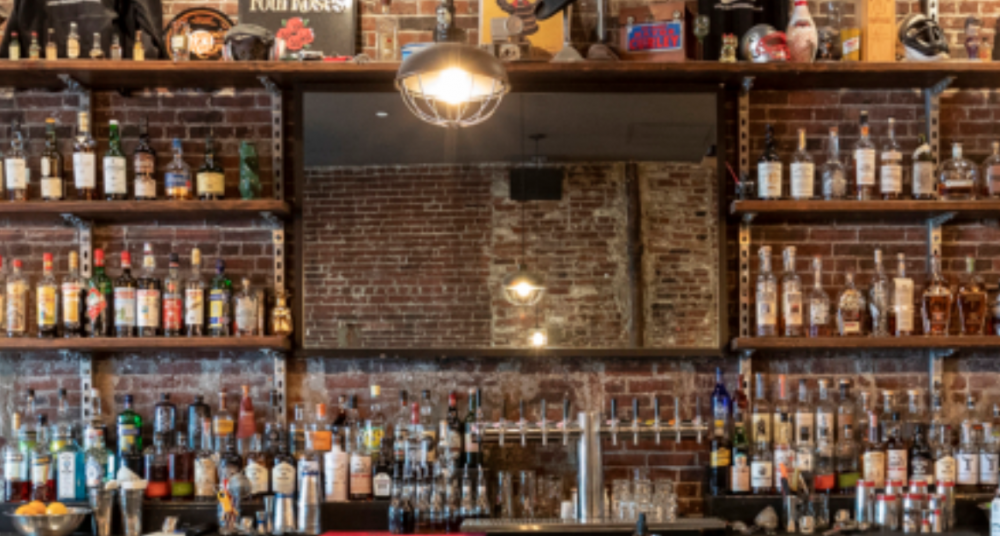 Source: jm Curley
Average review score: 4
Couple ratio: 31%
If you're looking for more of a traditional date night out, then this boisterous Boston bar will keep spirits high in this rustic retreat. From one-time venturers to returning romantics, Uchi has created quite the following as reviewers rave about the service and overall ambiance. Plus, the dessert offerings and main dishes are top notch while rival Boston bar focus on their beverage menu. Popular picks include the BBQ Pork, any of the burgers, and the signature Bacon Maple Popcorn. Visitors simply can't stop raving about this delectable delight.
What couples say about jm Curley
"We entered this plays at 09 pm and it was full of people eating and drinking. The music was great but little but too loud. The beers selection is fantastic and same is the food and snacks. Really great place to have a beer or cocktails." - 776mishas, Petah Tiqwa, Israel
"Good food, great staff and open late for grub. Awesome lobster mac and whiskey sours! Easy to get to in the center of multiple restaurants and the prices were very good." - Lou D
"My fiancee and I came here for their Duck Poutine and drinks. Cory, the GM, was very friendly and explained how the restaurant got its name. They have a great beer list as well as unique cocktails. Their Duck Poutine was delicious and we enjoyed all of it. The atmosphere was really laid back and was great!" - David D, Newton, Massachusetts
Why jm Curley is a great date spot
"The dim lighting and lively ambient noise provide perfect cover for a new couple to lean in and get to know one another. If you're a seasoned couple who feels like there's nothing left to talk about there is always an offbeat movie playing or a punny cocktail to kickstart the conversation! For those truly in the know- you won't find a better date spot than the steakhouse hidden with in jm Curley, reservations only of course," - Sarah, jm Curley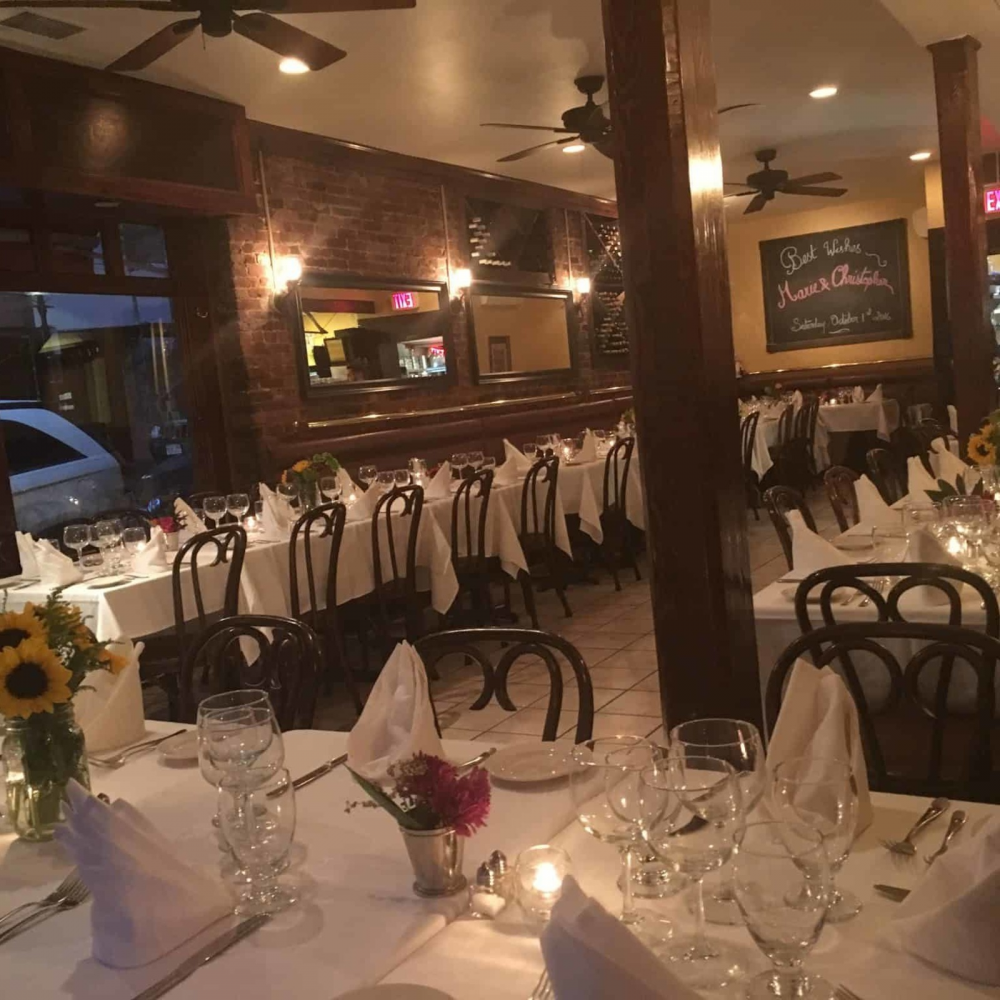 Source: Ma Maison
Average review score: 4
Couple ratio: 33%
Housed in a quaint cafe straight from the streets of Paris, this sophisticated French spot is one of the best in the cities. From deep maroon-themed tapestry to a subdued romantic lights, visitors rave about this elegant Parisian getaway hosted in the Beacon Hill neighborhood. While the cafe is perfect for any date night, it's cozy and small environment means that reservations book up fast. So be sure to snag one early, so that you upcoming French escape is nothing but a magical evening out.
What couples say about Ma Maison
"We had an excellent meal in this wonderful brasserie. Very creative menu cooked beautifully. My steak tartare was very good, the salmon and the lamb were cooked perfectly. We can't wait to go back to try more of the menu as well as the desserts." - 683matthewj
"We're here visiting Boston, so the idea is to take in as many different restaurants as possible. Still, Ma Maison was so good, my husband asked if we could return. This place is small,so make sure to make a reservation. Everything we had was wonderful, especially the lobster bisque,the blue fish, The tomato salad and the duck the service was outstanding." - yellowlabmom
"Booked to dine at Ma Maison after reading the reviews on Trip Advisor and were not disappointed. All the dishes we chose were beautifully cooked and presented - absolutely delicious. Between us we sampled many of the dishes on the menu! Both evenings it was very busy despite being early and all the waiting staff were excellent, most efficient. We were waited on by Eunjoo and her service was faultless. She was friendly without being gushing and knowledgeable about the dishes that were on the menu. For something a little bit different Ma Maison is the place to eat but make a reservation as it gets very busy" - birthdayoys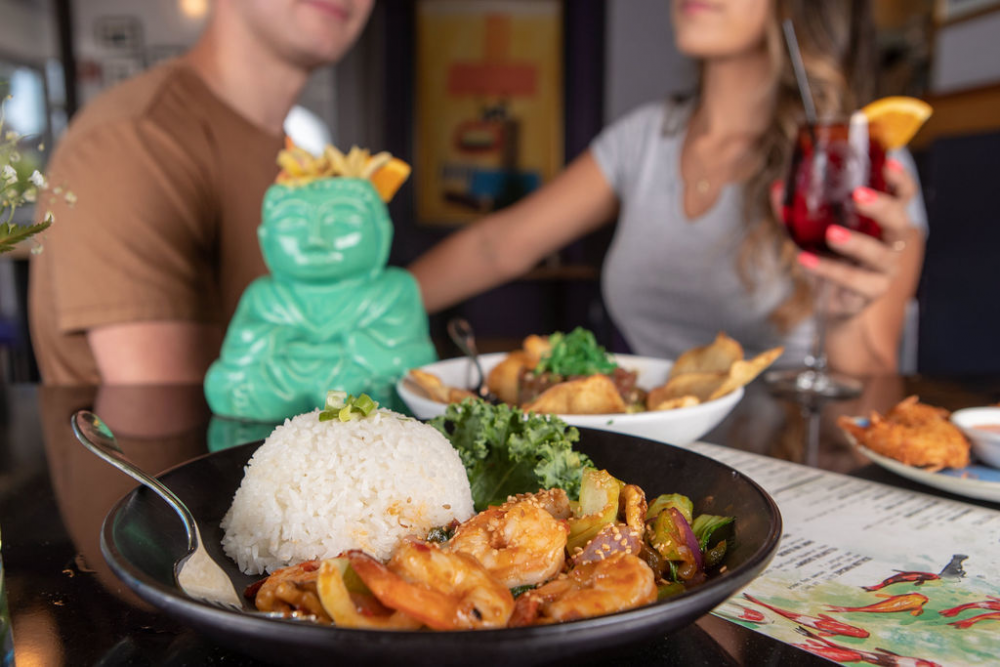 Source: Koy
Average review score: 4
Couple ratio: 31%
Seeking a blend of traditional Korean cuisine with a New Age flair? Well, you'll love the cozy Toy restaurant located in the chaotic Faneuil Hall neighborhood. From locally-acquired fresh ingredients to a wide variety of plant based entrees, Koy of Boston has all the makings of a Korean restaurant to appeal to the new generation. Plus, it's perfect for a date night with their diverse menu and traditional flavors. While many will start off with an order of handmade dumplings or tuna tartare, try Master Chang's Chicken or Kimchi Fried Rice. Ambitious in size, you'll love salivating over these tasty Korean standards.
What couples say about Koy
"We dropped off friends at BOS and wanted some local Korean. We found Koy! Delicous!! Beautiful restaurant and artwork, but the food flavors are amazing! Excellent!" - scottd685, Kingston, New Hampshire
"We were on an All-Day Boston Tour (highly recommend) and this area was where we stopped for lunch break. This restaurant is located near a big MARKET section filled with arts & crafts, fresh fruits & vegetables, and a HUGE enclosed Food Court with every imaginable type of food. It ALL looked SO GOOD! However, we prefer a sit down meal and sighted this restaurant located across the street from the Food Court. We had never tried Korean so decided to give it a go. We were very impressed with the restaurant; modern and clean. I asked what the specialty was, and was told to try the Hot Stone Bibimbap, so that is what I ordered. Hubby ordered the Bulgogi. I was told to eat the Bibimbap with the SPOON as it is served in a very HOT POT, and must be stirred to keep the rice from sticking. I added about 1/2 of the sauce provided and the flavor profile -- for me -- was just right. I also had a taste of my husband's Bulgogi, and thought it was really delicious. Honestly, we've never tried Korean before, but we really LOVED IT! The service was Great, restaurant was Super Clean, the Food was Delicious AND the Chef actually came out and asked how our meal was. HIGHLY RECOMMEND this restaurant as it has added another really delicious food to my repertoire; very reasonably priced." - SandraPittsburgh_PA, Pittsburgh, PA
"We came here for lunch on a sleepy Sunday afternoon. The decor was sleek and modern. We sat at the bar and enjoyed excellent service by the bartender Frederico (Fred) who expertly educated us about Korean cuisine. I had the avacado and crab salad and my husband had the calamari over rice. We both felt the taste as well as the presentation of the dishes was excellent. Will definitely will be returning for dinner!" - Stephanie1884, Boston, Massachusetts
Why Koy is a great date spot
"There are so many ways in which Koy makes a great date spot, but our ambiance is really what makes Koy such a great spot for a date. We have low, intimate lighting, with lots of artistic decor which are great conversation starters. Guests can enjoy a cozy candlelit dinner for two without feeling rushed. We play a lot of classic R&B that sets the mood quite nicely. We also have some amazing cocktails that are meant to be shared, such as our Buddah Bowl for 2. " - Kaitlyn Mahoney, Assistant General Manager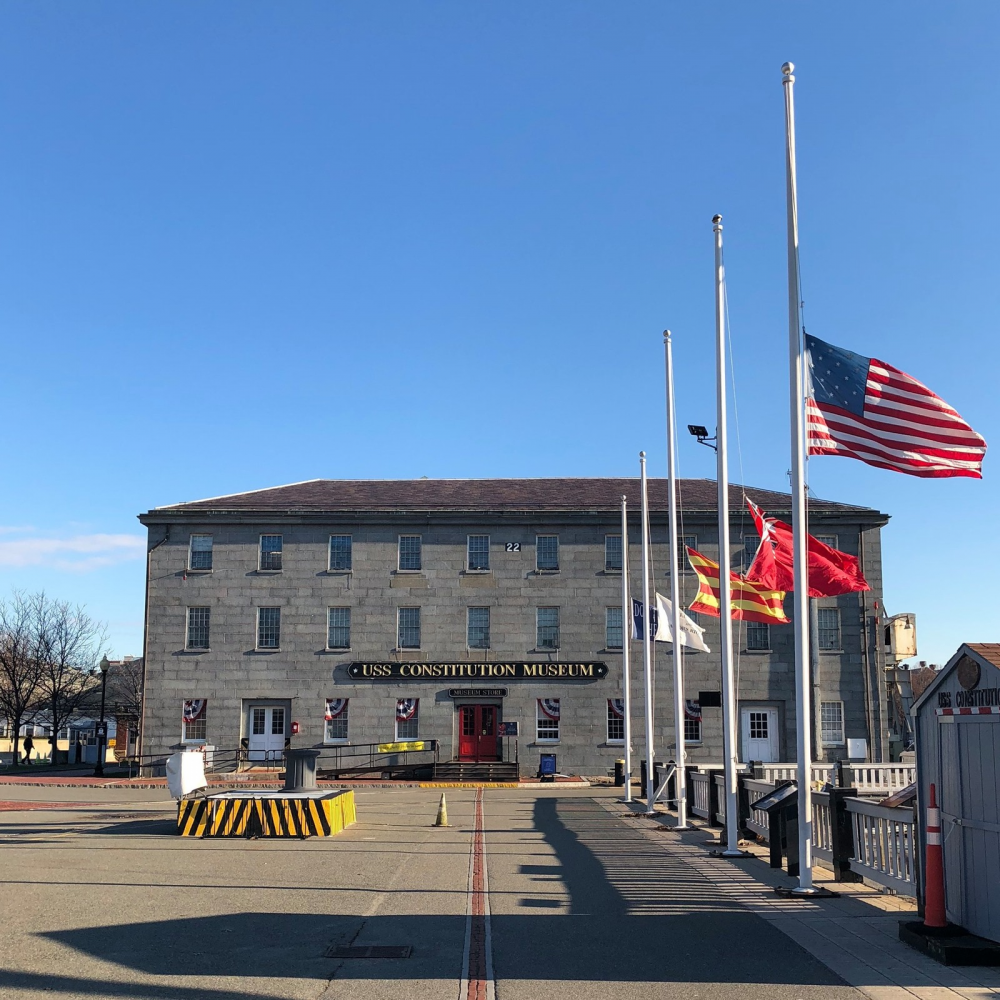 Source: USS Constitution Museum
Average review score: 4
Couple ratio: 30%
Located in Charlestown Navy Yard, this industrial museum is part of Boston's National Historical Park collection. The museum is a featured inside a recovered shipyard building. Visitors will instantly be transported into a story of the ship, USS Constitution. So if you're looking for an afternoon adventure down memory lane, you may want to try out this aquatic collection. It's worth noting that although the museum presents itself as large in size, it only features four exhibits. But the Discovery Center presents an interactive exhibit perfect for the kid at heart.
What couples say about USS Constitution Museum
"This was a great tour. The ship is amazing. The Navy personnel who are there really are proud of her and share lots of information. It's free to go see it. Just have a valid photo ID." - hashrocket
"I wasn't too sure what to expect visiting the museum and ship. But it was an impressive look into history on this still commission ship man by Navy Sailors. To hear the history of the battles the ship fought and won was inspirational. To witness 1st hand how sailors lived Aboard this ship is truly amazing. This is a must do when in Boston." - jesfire415
"It was wonderful experiencing the historic past of this great vessel. It was not only interesting but fun to climb up and down between the various decks and learning how sailors may have lived aboard this ship." - Daniel C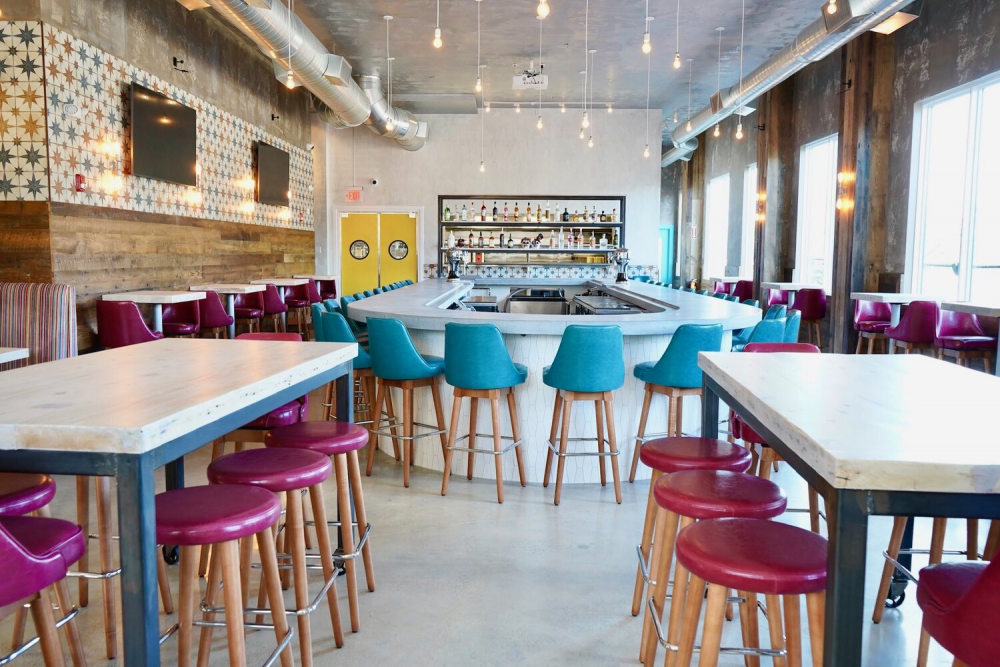 Source: Ghost Pepper Taco + Tequila Bar
Average review score: 4
Couple ratio: 25%
Have you ever wanted to try a deeply-influenced Southern bar with international charm? Often ranked as one of the best Mexican restaurants in the city, this colorful taqueria will transport your taste buds to the Spanish border instantly with their delicious dishes. And with prices moderately set at no more than 30 dollars, you'll certainly venture to make this tasty excursions one to remember. Plus, hours are set from mid-afternoon until midnight. Must-eat meals include the raved about Carne Asada, Cauliflower Taco, and Elite dish.
What couples say about Ghost Pepper Taco + Tequila Bar
"Came here with friends on a whim and am SO SAD that this place isn't on my side of town. Everything is so so good. I say this as a Texan native, so I know good food and I know good Tex-Mex/Latin cuisine. The octopus taco was a crowd favorite and the cocktails are a dream. Rudy was also our waiter and is a gem and a rockstar. Short version- go here. It is SO worth the trip." - Taelyr R., Boston MA
"This new gem in Dorchester is a great addition to the growing local restaurant scene. It has a hip atmosphere with a nice variety of seating options. We were there in a slower rainy evening but the service was friendly and the food and drinks were great! We had the pulpo (probably our favorite), camaron cubano (very well cooked), cauliflower taco (got a little soggy but good flavor), and chicharron tacos (a little crunchy which we liked and great flavor). The chopped salad was also very good. House margarita was nicely balanced and a little on the salty side, which I actually enjoyed. I really hope this place has success and that people give it a few tries since it's a new place. I'd say four stars but given that it's brand new and a brand new concept I thought it did very well." - Mike R., Arlington, VA
"When you come here you have to try the Crystal Leche! I was a little unsure because the drink contained milk. But Rudy broke down the process of the drink and I was convinced I had to try it! And I ordered at least two. It wasn't too sweet. You have to pair it with the Pork Belly taco. All my pork lovers that taco is a must have! Shout out to Rudy! He provided awesome service." - Stephane B., Mattapan, Boston, MA
Why Ghost Pepper Taco + Tequila Bar is a great date spot
"Ghost Pepper Taco + Tequila bar is a great date night spot because of it's a fun atmosphere and cozy seating. Enjoy your date in our comfy lounge or side by side in our large bar. The music and the ambience have an upbeat vibe that will always lead to good times. Our plates are shareable which allows you to try different flavors on our menu together," the establishment told Dating Experts.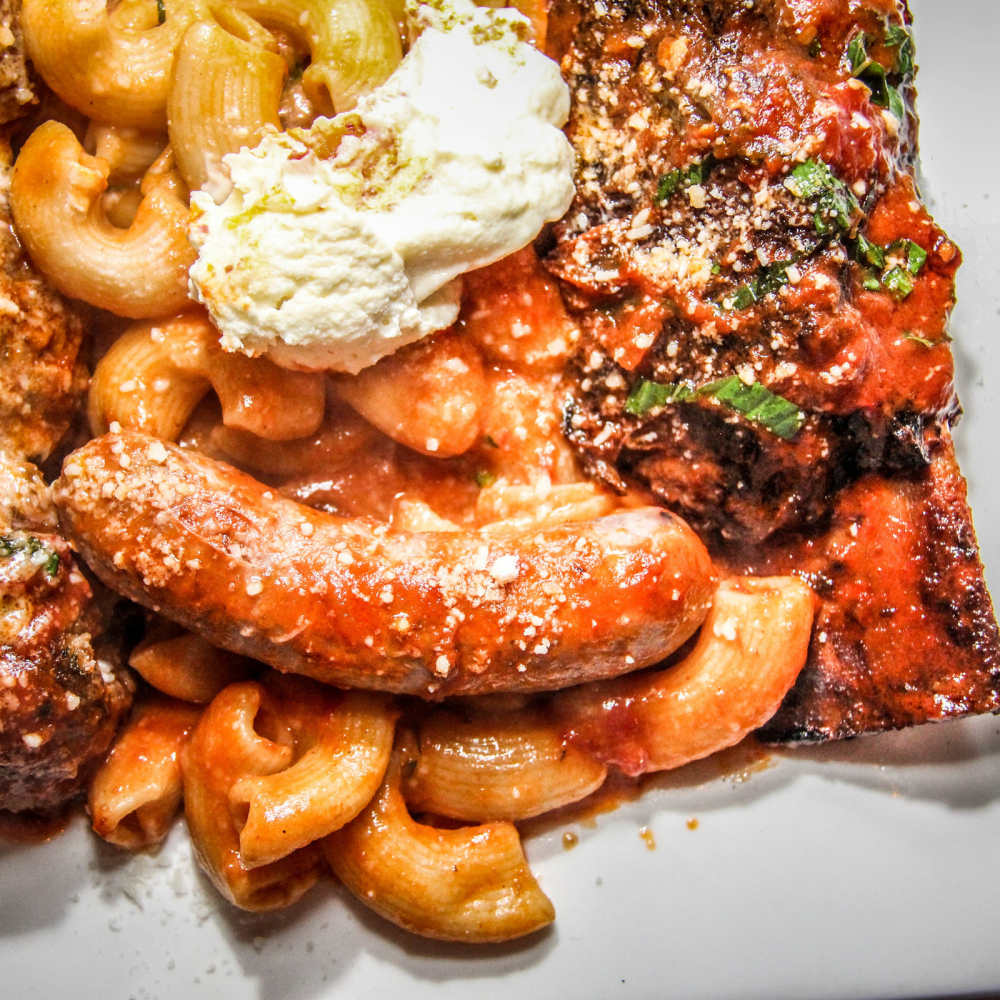 Source: Carmelina's
Average review score: 4
Couple ratio: 30%
Nestled in Boston's famed North End, this contemporary Italian kitchen is a mainstay for locals looking for a familiar environments and great dishes. Sure the place will be cramped during the winter months, but warm weather allows this quaint cafe to turn into an airy afternoon joint. Hours are also limited to the afternoons and early evenings, but many visitors attest that this is an Italian meal like no other. Popular dishes include the Risotto Caprese and Lamb Lollipop.
What couples say about Carmelina's
"This restaurant is one of dozens of Italian establishments in the area. Per review s this is the place to be. I was unable to get reservation Saturday night but we went Monday at lunch and were treated and fed like royalty. The apps are huge! I tried the short rib and it was sooooooo good. Wife split it snd the spicy shrimp and it was just right for the amount of heat. After getting stuffed on 2 apps the crazy Alfredo and gnocchi came out. Large portions of meat, sauce and pasta came out steaming hot. Gnocchi was a lite and fluffy, wonderfully seasoned bite of love. Highly recommend and will return if the chance comes up!! RESERVATIONS HIGHLY RECOMMENDED" - bigpawcane
"Amazing food! We had a wonderful dinner at Carmelina's. We started with the meatballs as well as the caprese risotto- really delicious! Husband wasn't excited about the risotto but when it arrived and he tasted it he was impressed! For entrees we had the pork chop and gnocchi. Both were fantastic! The service was excellent, and the restaurant has great atmosphere. Can't wait to eat here again!" - Mumblz71
"Hats off to Carmelina's!!! Bravo My wife and I try to get away to Boston for a long weekend at least every other year. We stay in the North End and have developed a list of approved restaurants... Carmelina's is at the top of our list and as usual we were not disappointed this trip!! The service 5 star, the food 5 star and value is 5 star!!!" - bigwavedad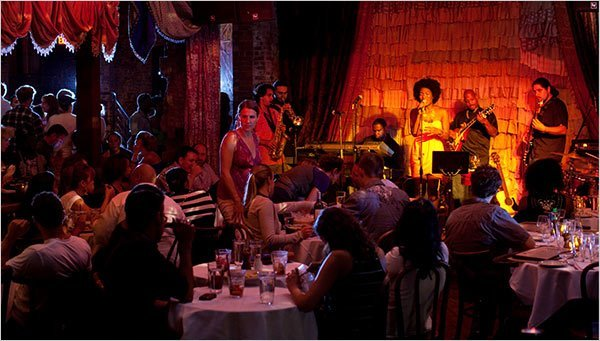 Source: The Beehive
Average review score: 4
Couple ratio: 23%
Set straight out of a fictional Bohemian picture book, this eatery-bar hybrid is the perfect underground hideaway from the busy Beantown above. With delicious dishes, inventive artwork, and nightly live music, the Beehive is a must-do for any evening looking for a little energy. The artsy scene is alive at this Boston Center for the Arts mainstay. And with food influences from all around the world, it's no wonder the South End of Boston is obsessed with this hidden gem. Plus, closing times come at 2am - so it's perfect for any late night rendezvous.
What couples say about The Beehive
"As a visitor, we loved The Beehive. The building is gorgeous with exposed brick, high ceils and massively plush red curtains everywhere. We got lucky and snagged a table in the bar area, right by the stage. The band was fantastic and played songs from the 60s-90s without the lyrics which was fun. Food is available upstairs and downstairs but we didn't eat here. It's a super cool place and if we had more time in Boston, we would definitely come back. We seriously loved the vibe." - SteffaniFletcher, Ponte Vedra Beach, Florida
"Fully recommend here to anyone staying in Boston where you want to go for a unique experience. Beautifully decorated with the ambiance to match. Food and drink was top class and the service was too. Only fault I could find was the guys at the door could have had a little bit more energy on arrival. Live jazz musicians on stage were amazing too but I think the acts change all the time." - philipbr88
"Absolutely loved this place. Really good food and talented blues performers made the experience highlight of my visit to Boston." - Eddieshoestring1, Cambridge, United Kingdom
Why The Beehive is a great date spot
"The Beehive in Boston is the perfect date night location. The restaurant features amazing food and cocktails, hosts award-winning live entertainment and does it all within a subterranean living art gallery in Boston's South End." – Penelope Smith, Public Relations, The Beehive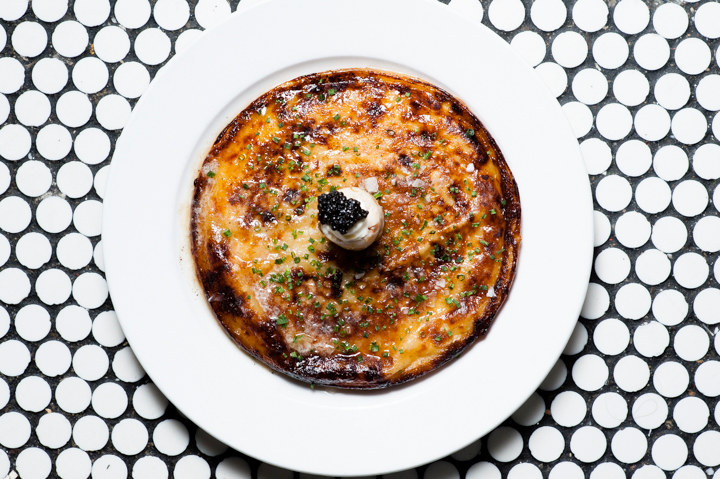 Source: Neptune Oyster
Average review score: 4
Couple ratio: 30%
Founded in Boston's North End, the Neptune Oyster presents a contemporarily casual approach to a sophisticated New England dining experience. It's worth noting the size of the bistro is quite small. Crowds do usually wrap down the block for those waiting for a table - so prior dining reservations are recommended as to not spoil a potential date night. And trust us, you won't want to miss this modern take on a classic oyster bar outing. Popular dishes at this raw bar include the restaurant's fresh oysters and lobster rolls.
What couples say about Neptune Oyster
"Seafood is a Boston 'must'. This place hit the spot in our seafood quest. Lots of menu selections and great oysters. The staff was friendly and welcoming. We'd really recommend this place." - MarineAir10
"Really popular place and it´s easy to understand why. The food here is amazing. Really enjoyed the lobster rolls and the oysters and the fried clams. They also serve an excellent burger topped with fried clams." - Bigsimmo80
"Really great spot with fresh seafood and raw bar in a very small space. Can be packed at all hours so plan ahead. Service was great and the oysters were fantastic." - Brr4346AD
Source: Citrus & Salt
Average review score: 4
Couple ratio: 21%
Themed to a coastal Mexican taco bar, the Citrus & Salt is a contemporary Latin lounge located in Boston's Back Bay District. With a sizzling selection of wines and appetizing dishes, you'll love this new age Mexican restaurant for all its offerings. From brunch, to lunch, to dinner, this place is often packed so you may want to get a reservation once you know you're going. Plus, this may be the only place in New England to find Dole Whips in a sit-down restaurant. So it's a must experience for any two lovers looking for a little appetizing adventure.
What couples say about Citrus & Salt
"This is a lively restaurant bursting with young customers. Never the less we ( retired Brits) were made to feel very welcome and had a thoroughly enjoyable evening. On the advice of our waitress we shared 4 dishes: they were all delicious. I can particularly recommend the crispy coconut prawns, and the crab tostadas. The margaritas washed it down well! We shared the pineapple sorbet with fresh pineapple: lovely. The bill came to less than 100 dollars. Excellent value. Well worth seeking out this restaurant. You will like the ambiance and the food." - JosephineF999, Cartagena, Spain
"This is not your average Mexican restaurant. Food is unique well seasoned and fun. Portions are meant for sharing and you will not need to go to an ATM to cover the cost. Guacamole is accompanied by a basket of home made chips. Do not miss the street corn and the biscuits. Drinks are equally fun and delicious. Service is attentive and knowledgeable. Can not wait for our next visit," - calwinemd, Brookline, Massachusetts
"A fun and original take on Mexican in the Boston scene. Bright decor to match the mexi-cali vibe of the menu. Lots of pinks and poppy colors, matched our cocktails. Small plates were tasty and fresh, with seafood appearing prominently. Salads were a nice side and unique in flavor combinations and ingredients. Loved the mexican string cheese. Service was on point." - AndyM5337
Why Citrus & Salt is a great date spot
"Citrus & Salt makes for a perfect date night due to our vibrant and lively atmosphere, our fun cocktail selection and our delicious food that consists of shareable plates. It is easy to feel happy and at ease while sharing guacamole and chips and sipping on one of our delicious and wide selection of Margaritas."- Coleen Hagerty, Citrus & Salt Partner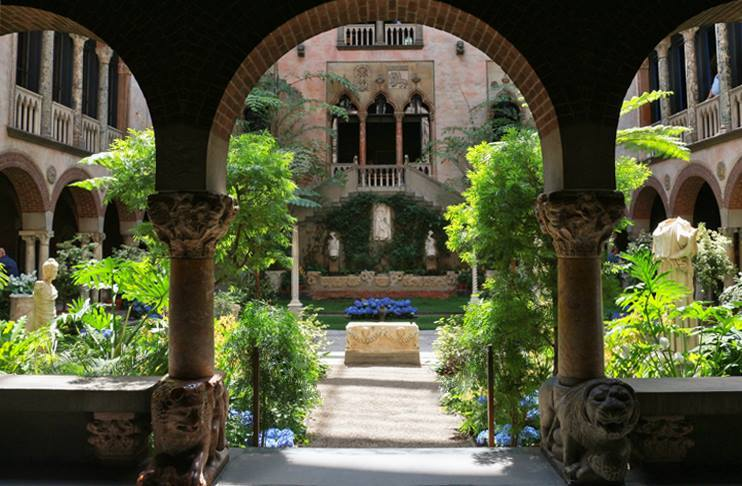 Source: Isabella Stewart Gardner Museum
Average review score: 4
Couple ratio: 30%
Assigned as the most ambitious architectural achievement amongst Boston's museums, this original home Isabella Gardner is a sight to see. Newly honored as a permanent collection of European, Asian, and American art, this annexed facility has some of the best exhibits in all of Boston. So if you're looking for a little retreat from the Boston cold, then the sculptures and paintings alone will inspire warmer thoughts. Plus, if any visitor is named Isabella or has a birthday when visiting, they get to enter for free. Just make sure you visit the courtyard - it's to die for.
What couples say about Isabella Stewart Gardner Museum
"Visited here for a couple of hours after doing the Fenway Park tour. What an incredible building and collection of art. There was so much to look at it was overwhelming including paintings, sculptures, and furniture. My favourite thing was the courtyard garden, which looked beautiful from every angle." - NauticalStripes88
"Do not skip this place as it represents the essence of Boston culture. This lady used her wealth,good taste,generosity and incredible energy to enable others to enjoy and be enriched by her magnificent collection ." - 895default
"We absolutely loved this museum. The courtyard is beautiful and what an amazing surprise we had when we heard these ladies sing Schubert pieces to people from the audience. It felt so personal, so heartwarming.. Mostly Italian art, the castle is just beautiful as well as the stories behind every piece. It's a must. Great recommendation from a local friend." - Kbisono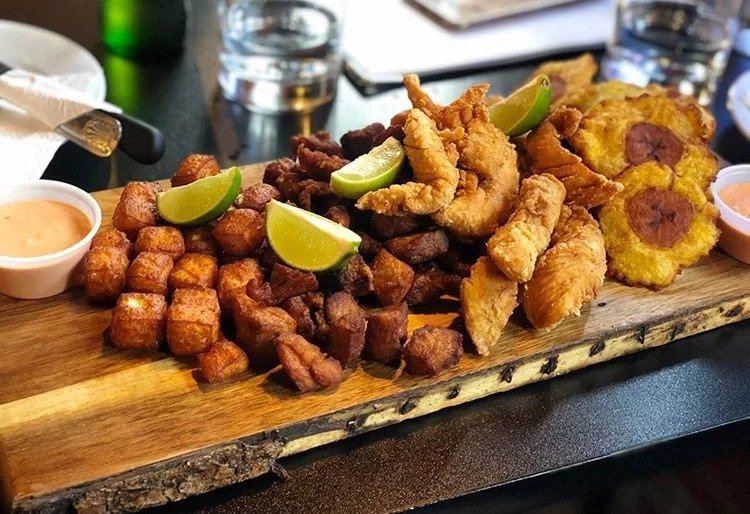 Source: Top Mix Bar & Kitchen
Average review score: 4
Couple ratio: 21%
Check out one of Boston's newest restaurants to open on this side of the decade. Top Mix Bar & Kitchen is described as a traditional bar with a twist, which makes it the perfect afternoon outing for any date. With unique approaches to dishes and cocktail items - like their Pineapple Mojitos and Plantain Ravioli, which are revolutionary - this is a foodies paradise is a must-do. And with late night hours until 1am, great mixed spirits will continue your culinary exploration well into the evening. Popular picks include the Chill Lime Grilled Shrimp, Mofongo, and Roaster Garlic Caesar Salad for those seeking veggie-only options.
What couples say about Top Mix Bar & Kitchen
"This place is GREAT! We got there on a Friday night around 8pm and ordered a few drinks and wings and my friend ordered the top mex burger. The honey hot winds are VERY good and the burger was pretty good from what he said. The drinks are delicious! And the vibe is super cool. To be frank, we came for the friend Oreos and were pleasantly surprised with this hidden gem! (Please, get the fried Oreos) They were playing really dope music, I can see this being a chill spot for my friends and I. I also liked that there was a diverse bunch of people there, and the staff was extremely personable! Since we got there a littler later, parking was a bit tough. The resident is kind of in the cut and I parked on one of the side streets. But there is plenty of parking. The location is a bit questionable, to be honest, but definitely worth exploring outside all the gentrification that's going on. Super dope spot, will be back for sure!" - Tanya J., Boston, MA
"This place has such delicious food and drinks!! I highly recommend them. Definitely going back! We went in a group of friends and did not regret it. Service took a little long but the food and drinks made up for that," - Raquel F., Brighton, MA
"A new favorite for me. Great customer service (Mariaelena), great music and delicious food. The drinks are creative and the rum and cokes strong. I'd recommend and will be visiting again," - Marceline V., Dorchester, Boston, MA
Why Top Mix Bar & Kitchen is a great date spot
"Since its inception in late 2017, Top Mix Bar & Kitchen has proven to be extremely appealing to couples and daters alike, whether it be their first date or 20th anniversary. Low lighting, deep toned woodwork, brick walls, and a laid back ambiance, provides our guests with a comfortable and home like feel. Our signature cocktails which appeal to a variety of flavor profiles and pallets are definitely a plus while on a date. More specifically, our signature sharable cocktails have undoubtedly been a 'go to' for couples." - Joseph Correia, Owner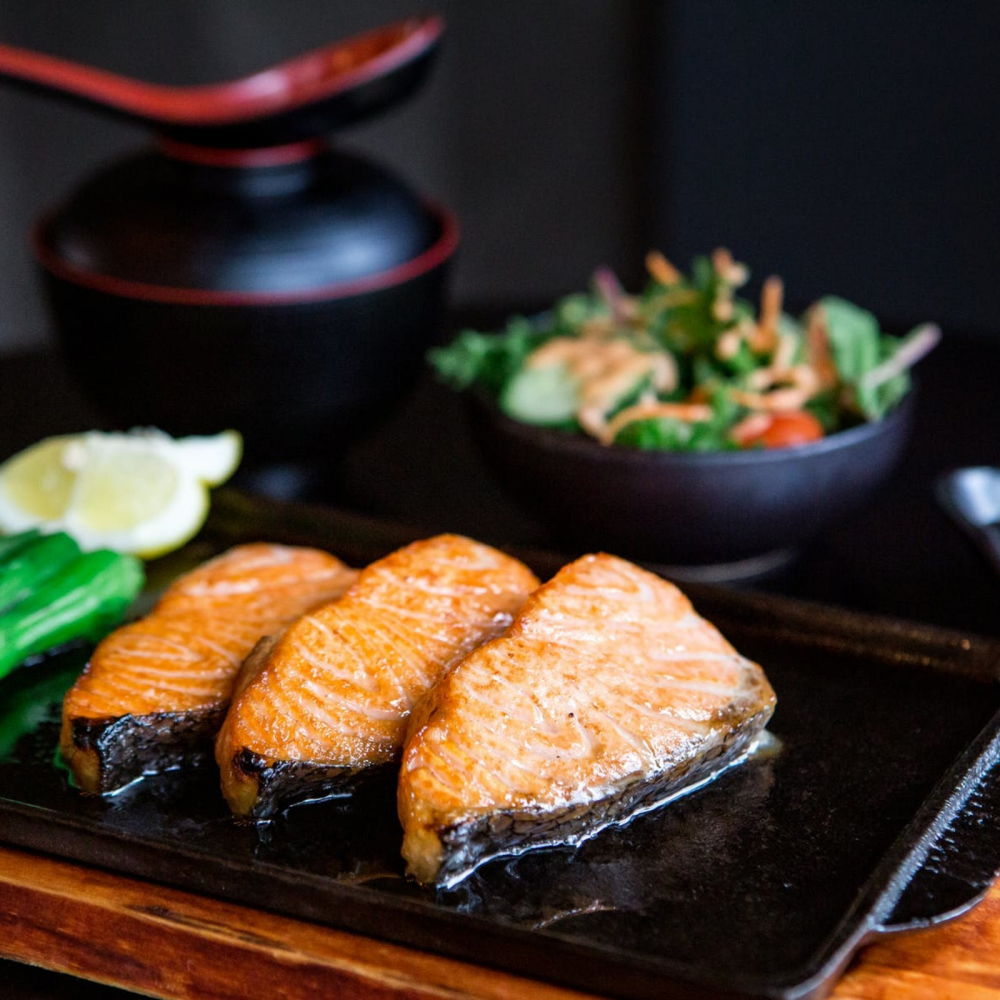 Source: Fuji at Ink Block
Average review score: 4
Couple ratio: 30%
If you're looking for a trendy family own Asian restaurant, check out this exquisite South End's Japanese bistro full of sushi and stir-fries to make your mouth water. With a dining room featuring both contemporary and classic cuisines, Fuji at Ink Block will just be the flavorful beginnings to a classic date night out. Some favorite amongst guests include the Crab Rangoon and Rama Chicken. Just be sure to call ahead for reservations and ask for extra Rama Chicken's Sauce when ordering.
What couples say about Fuji at Ink Block
"Waiter was excellent at recommending the best rolls for us. I am gluten intolerant and the waiter let me know that most of their dishes could be made gluten free. Very accommodating!" - 284meredithm
"Every dish was excellent. Recommend going here for a night out with a group of friends. Super busy on the weekends so plan ahead. Close to SOWA First Friday open studios/art galleries. Seems like a good bar situation as well." - Jonnylops
"The food and service are always outstanding here. This is my go to for sushi, hands down. Often times we go for the happy hour specials And stay for more." - GetzGoing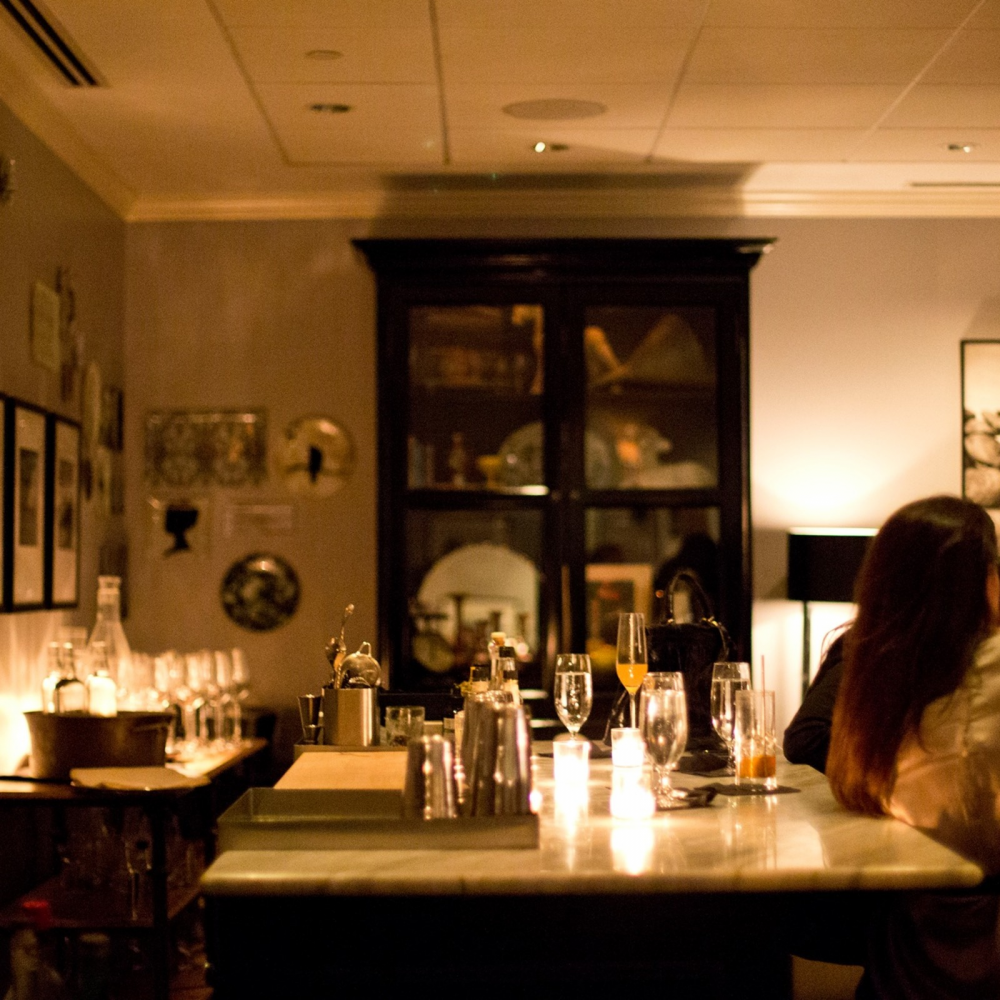 Source: Abigail's Tea Room
Average review score: 4
Couple ratio: 27%
Located in the heart of New England's well-known Kenmore Square, this award-winning cocktail is home to some of the best bar bites and small plates in all of Boston. Situated near the famed Fenway Park, this comfortable and inviting atmosphere is home to many post-game rendezvouses. With plush sofas and subdued lighting amongst a sophisticated setting, you'll love starting an evening out here. Plus, the signature cocktail and spirit options are some of the best in area. It's best to make a reservation on concert nights or game days because this cocktail bar gets booked fast.
What couples say about The Hawthorne
"After seeing reviews and wanting a good cocktail we went to The Hawthorne. We sat at the bar as we were not eating. Our server/mixologist was very pleasant and the right amount of attention. I had a flamingo cocktail which was so nice I had 2! We didn't have any snacks as wasn't keen on what was on the menu but would definitely recommend going for just a drink. Nice cosy atmosphere." - KJKJHCMD
"The service is impeccable. Staff are personable, well trained and attentive. They learn your name and go the extra mile. John, Chase, Berkeley and Altamash deserve a special shout out. Last, but not least, the cocktails are amazing. My go to was the Georgetown." - 998garethv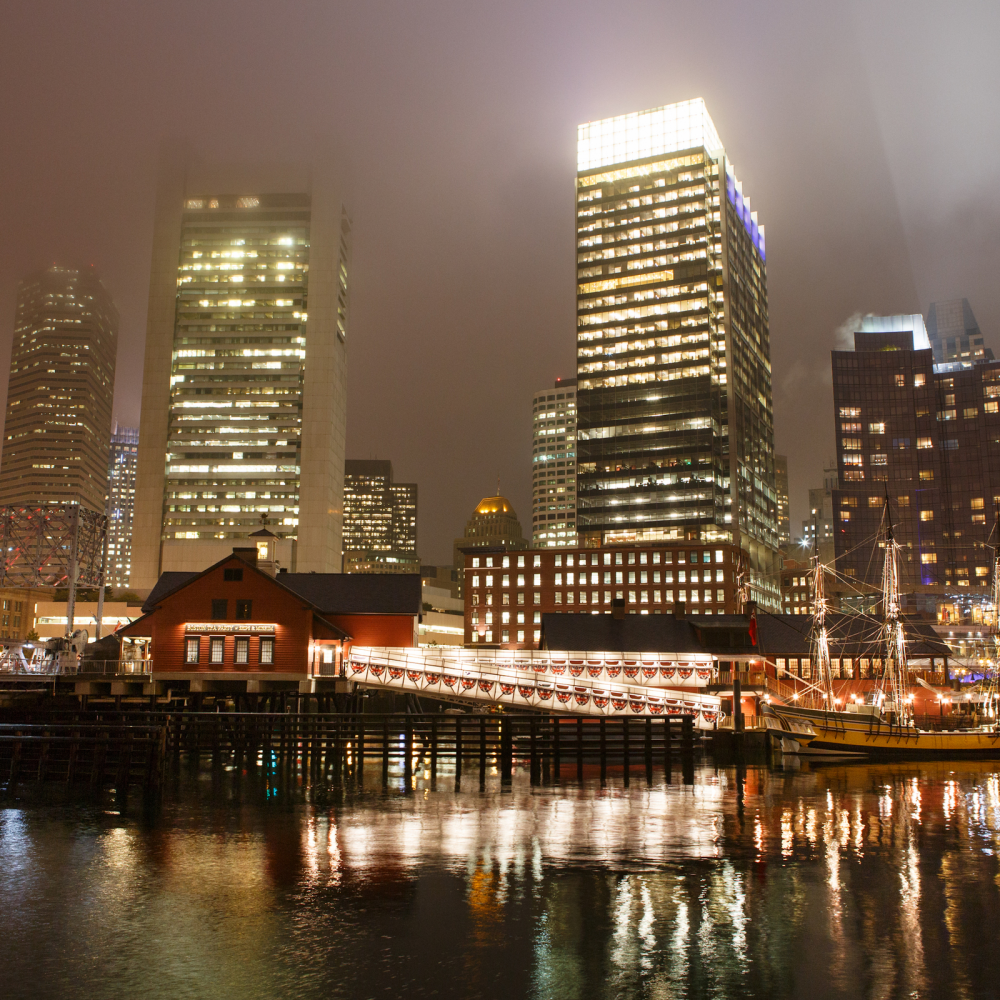 Source: Name
Average review score: 4
Couple ratio: 25%
If you're seeking a colonially-themed time out near the sight of the famed Boston Tea Party, look no further than Abigail's Tea Room. Filled with rich history and a themed interior to die for, this romantic and conversational cafeteria is one of New England's greatest secrets. You'll be tasting teas and exchanging conversation for hours once you step inside this special spot. While the food menu is limited to simple sandwiches, desserts, and cookies, you'll love their unlimited tea options as the five teas features are some of those thrown overboard during the famed Tea Party. The classic charm of Abigail's Tea Room will have you instantly coming back for more.
What couples say about Abigail's Tea Room
"This is a lovely tea room and somewhere you can got without going to the Boston Tea Party itself. There are five teas that you can try that were the teas that were on the boats during this time. You pay the one price and then can try all five teas or stick to the one you like. The tea room is decorated out for Christmas and is a lovely place for a cup of tea and chat. Would highly recommend!" - Angela T
"We stopped in here to warm up after a brisk morning walking tour in the chilly fall drizzle. It was fun to learn more about the various teas tossed overboard during the Boston Tea Party." - espiritdoux
"Friendly helpful staff, lovely tea room, overlooking ship and harbour. Old fashioned games on each table, staff dressed in costume Highly recommended" - Pamela W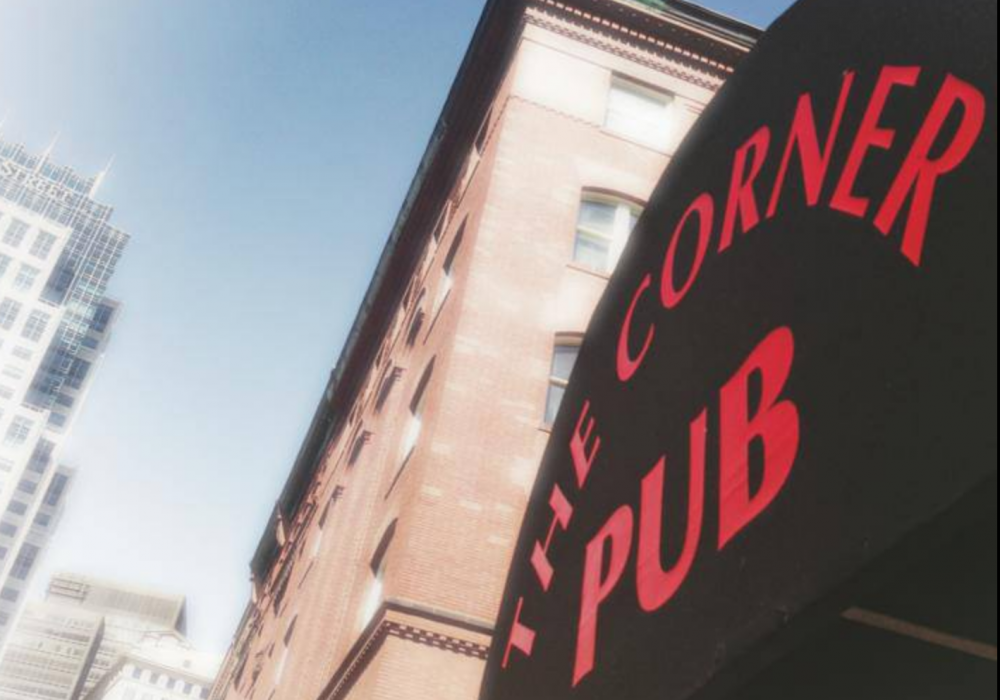 Source: The Corner Pub
Average review score: 4
Couple ratio: 24%
If you're looking for the quintessential Boston bar, look no further than the Corner Pub. This family owned and operated bar was open in the last decade as modern take on the Boston sports bar experience. While old-fashioned in its approach, its dining options are some of the most exquisite and unique in the region. Sure, you can order your cold draft beer and play some music in the juke box. But have you ever had a main course Mac N' Cheese entree or over 10 different kinds of egg rolls to choose from? This makes this place perfect for a dinner date with a twist.
What couples say about The Corner Pub
"My gf and I love breweries and dive bars. Looking for a no fuss friday evening I looked up best dives in Boston. A bunch came up, a few had food. The reviews of The Corner Pub's local feel and the menu won. Great beer selection, great bartenders, oh, and the eggrolls! We had 5 different versions-the steak and cheese and cheese burger ones were my favorite. Make time for this place!" - Jeff R
"We happened upon The Corner Pub after a long day of travel and sight seeing. The bartender was so very friendly, and made recommendations on locally brewed beers for us to try. She then was helpful with a great place to eat dinner. We had a great time!" - LBR922
"This is a great little place. My husband and I just wanted a few beers and some simple pub fare. We stumbled onto this place and got that and a lot more. The bartender was a delight. She let us sample a few micro brews until we each found exactly what we liked. The egg rolls are an unexpected treat!! I was surprised at how much we enjoyed them. Who would have thought that you could put all of that stuff in an egg roll and have it taste so good!! We also split a steak sandwich...it was on point!! Just a really delicious, perfect local pub lunch. Exactly what we were looking for. The Corner Pub does a few things but they do them well!" - amanda1969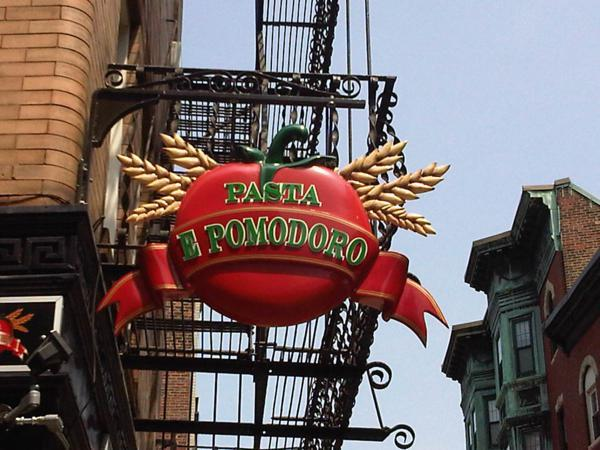 Source: Pomodoro
Average review score: 4
Couple ratio: 39%
If you're seeking a cozy, hip hideaway with some of the best rated food in the city, look no further than Pomodoro. While a little gem for locals, this Italian eatery provides hearty meals for the most ambitious of foodies. And of course this Italian diners wine collection is just as ambitious with new offerings debuting monthly. Just be sure to remember to make a reservation. The restaurant is also open daily with a later closing time than most North End dining options. Popular favorites include the Pomodoro calamari and salted cod.
What couples say about Pomodoro
"We came across this lovely little restaurant whilst walking to a nearby laundromat in Salem Street, what a delightful find! You can sit and sip on beer, a good selection of wines ans their own special sangria whilst waiting for a table. On warm summer nights the front of the restaurant is open and being slightly elevated from the street gives a wonderful perspective on street life!The menu was not extensive but had a terrific selection of dishes. The food was all delicious and a real credit to the staff in the tiny kitchen. You could see the staff cooking whilst at the bar, always a good thing when the kitchen is clean and tidy, which this one certainly was. Definitely worth a visit when walking little Italy" - TazTraveller_13
"The food was delicious. I really enjoyed my gnocchi with mushrooms and the crab cakes were very good. The menu was small and very little dessert options. " - NJRan
"We recently had lunch at this wonderful restaurant and have this to say: great menu choices, excellent chef, quality and professional service (ask for Kate) and just the right spot for an intimate meal. Can't recommend this restaurant enough. This is our 3rd visit - we will be back. Robin Weiss and Bob Balmat" - Robin Weiss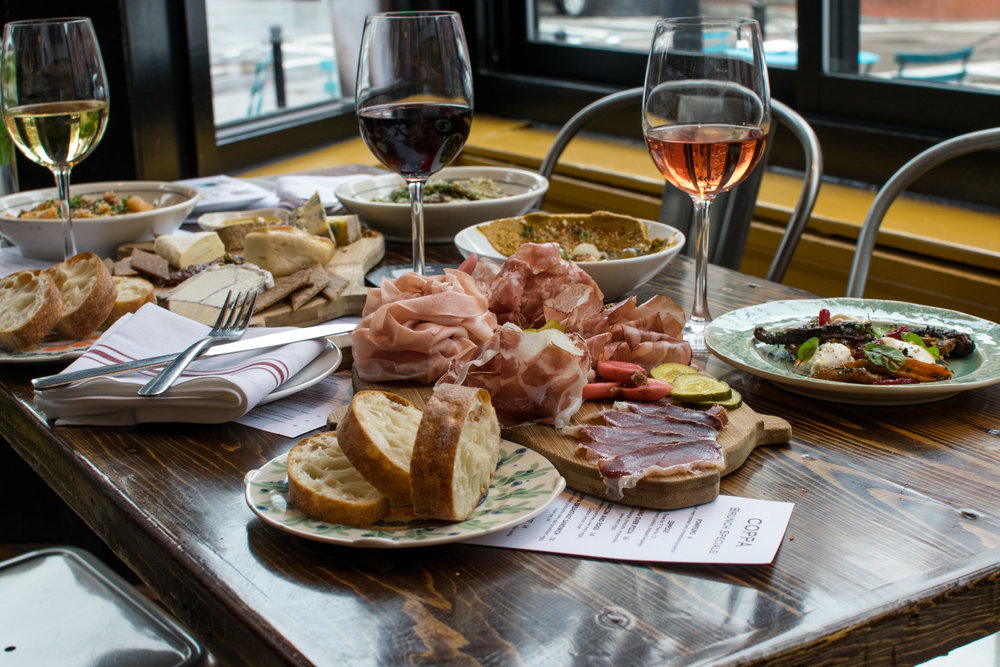 Source: Coppa Enoteca
Average review score: 4
Couple ratio: 33%
If you're ever looking an intimate Italian cafe stowed amongst the side aves of Boston's South End, then look no further than Coppa Enoteca. This bonafide bistro is charming in size, but grand in hospitality as guests often rave about the service here. The place can be a bit pricey and is more suggested for those looking for an upscale experience. But boy is this an experience worth every penny for any first date nighter. Popular plates (although small) include the Squid Ink Pasta, Bone Marrow Pizza, and the delicious Duck Prosciutto that can't be found elsewhere.
What couples say about Coppa Enoteca
"We had an amazing experience at Coppa. Our server was very nice and attentive. We had a salsicca pizza and carbonara pasta, both incredible! The place is very cozy and nice. We'll be sure to go again when in Boston!" claudiaolle
"This restaurant was at the bottom of the street we were staying on, so after a long day of sightseeing we ate close to home. We were not disappointed. The food is brought out as it is ready but ours came almost all together. 2 starter size dishes and a main sized pasta dish. More than enough to satisfy two adults and very tasty they were. Downside for me was the $8 i paid for a small can of beer apart from that all was good. Definitely recommend if in the area." - richardsH6176PT
"We learned about Coppa after trying to get a late afternoon meal at another restaurant in the South End. The person working at Southern Proper was kind enough to recommend Coppa because they weren't serving food when we stopped in. That was so nice of him and Coppa became one of our favorite restaurants in Boston. The menu offerings made it difficult to choose just a few items. The meatballs were delicious; the Burrata with fresh tomatoes, cucumber and fried croutons so good. We also tried the Bucatini Cacio e Pepe and Sedano de Cesar - both outstanding. We sat at the bar, the tables were all reserved. Our server was helpful, making suggestions on both food and drink. Before leaving, he mentioned that many of their traveling customers order a deli sandwich (think fresh Italian meats and cheeses) to take with on their flight. We took him up on his suggestion and were very happy the next day when we enjoyed our Coppa treat on the plane. We only wish our neighborhood had a place like Coppa!" - detailsbybp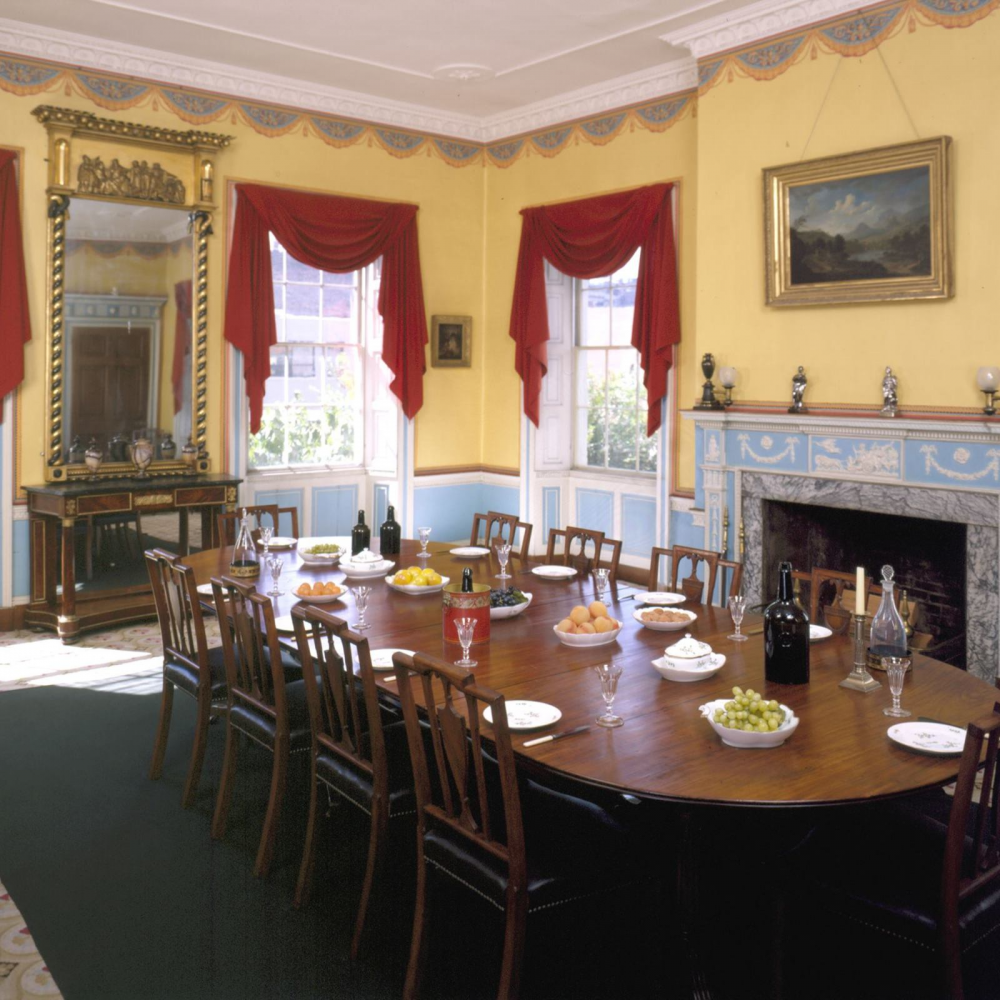 Source: Otis House
Average review score: 4
Couple ratio: 33%
Located in Boston's West End neighborhood, the Otis House is noted to be the last surviving one in Bowdoin Square. Often to be a hidden gem amongst locals, this famed mansion belonged to the former mayor of Boston and is visited for its classical Federal architectural style. The pictures and home furnishings alone will whisk you away immediately as you explore the grounds. The home does offer daily tours for those seeking wanting to escape to an era once romanticized. And with free admission for Boston residents, this may be an attractive afternoon retreat.
What couples say about Otis House
"We enjoyed our tour of the Otis House. It started with a short 20 minute presentation about the history of the house and the area. It was great to be able to get close enough to examine the wall coverings and the furniture of the period. The tour guide provided a lot of information about early Boston and the occupants of the house. There was a lot of very interesting trivia about Beacon Hill, the Otis family and the development of this part of Boston. Plan to spend about an hour touring this house and an additional hour exploring the surrounding neighborhood" - WisconsinGail
"We had a fantastic comprehensive tour led by Anne. She was extremely knowledgeable and answered all our questions in incredible detail. The house is very well maintained, and it was interesting to see how the peak of society lived at the start of the 1800's. It was one of the best things we did in our three days in Boston." - Cardinals_Fan24
"We did this this house tour at the end of our three day trip to Boston. We did many of the sites and tours of the buildings and the Otis house was easily one of the best places we visited. It is off the typical Boston path, but it is well worth seeing. The house was amazing and the tour was fantastic. Our tour was only the guide, my husband and myself. You won't be disappointed. Tour the Otis house!" - DebbieM M
Why Otis House is a great date spot
"A guided tour of Otis House (1796) offers a personalized and boutique experience that marries romance and the history of Boston. Harrison Gray Otis and Sally Foster Otis were life-long partners in life and love—through courtship, marriage, child rearing, politics, and entertaining in Boston's fashionable social circles." - Susanna Crampton, Public Relations Officer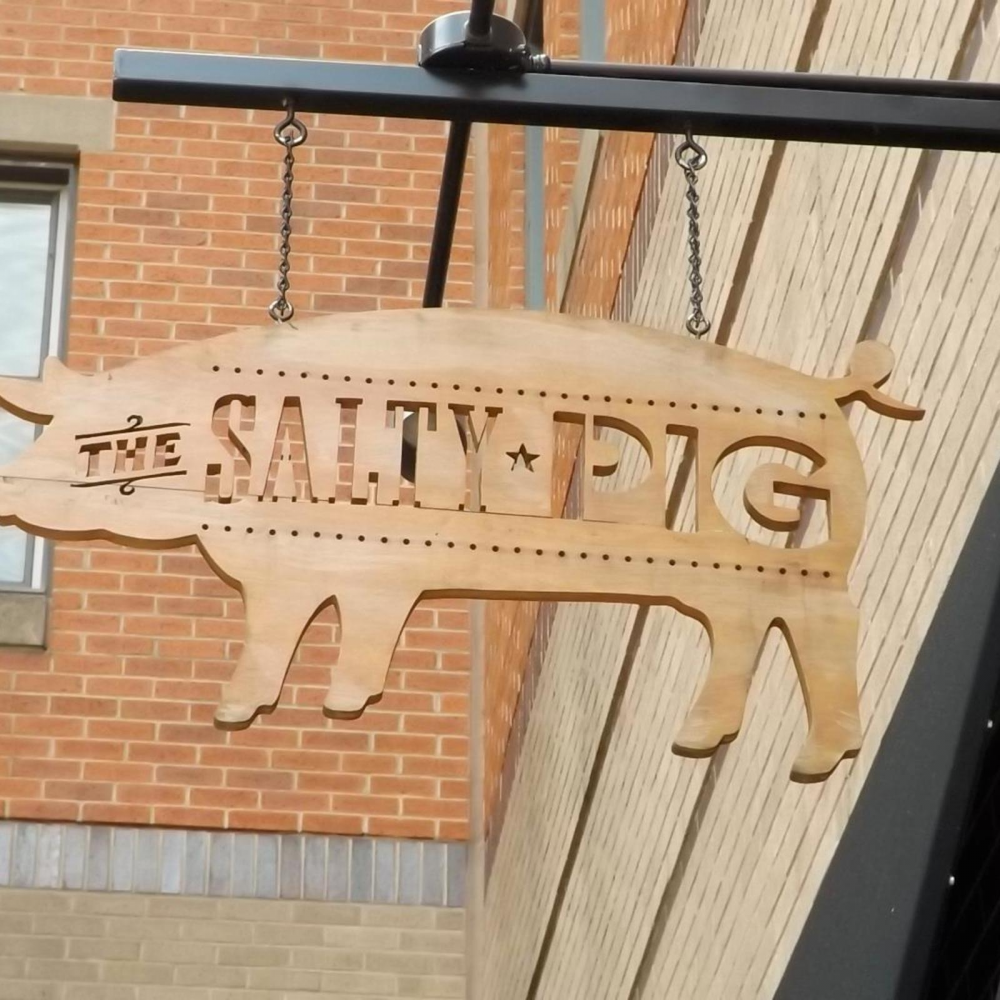 Source: The Salty Pig
Average review score: 4
Couple ratio: 32%
If you're seeking a casual to quick bite, then check out The Salty Pig located in the South End. Beer cravers and charcuterie lovers typically stop by this bistro for their small plates and in-and-out appeal. You'll apologize salivate in delight over the conversationalist atmosphere in this somewhat unknown gastropub. Plus, menu items are all under 30 dollars except fr a elect few. Signature staples of this eatery include the Salty Pig Board and their ambitious, but varied pork offerings.
What couples say about The Salty Pig
"Both got pasta dishes which were delicious. Squash ravioli and bucatini with meat sauce were both awesome. They have a very nice on tap beer selection." - 873arthure
"We didn't want much to eat as just arrived from the UK and jet lagged! Tried 2 sides the really tasty salad with pear and Gorgonzola cheese, pine nuts and something different Fried Brussels with feta and pine nuts were amazing and really tasty, salty pig pizza with rocket. Pizza base was delicious with lots of different tasty pork on top. For drinks I tried the Rose fizzy and our server Jill recommended a local beer for Paul. The service was great and Jill was so happy and friendly. Great little place. Highly recommend this place." - MrsDigibit
"Very neat way of doing charcuterie. Your choice of cheese, meat and sides ... I find theres some things I don't like on charcuterie boards so this way you get exactly what you love ! Also stone oven pizza was delicious" - MorganJM16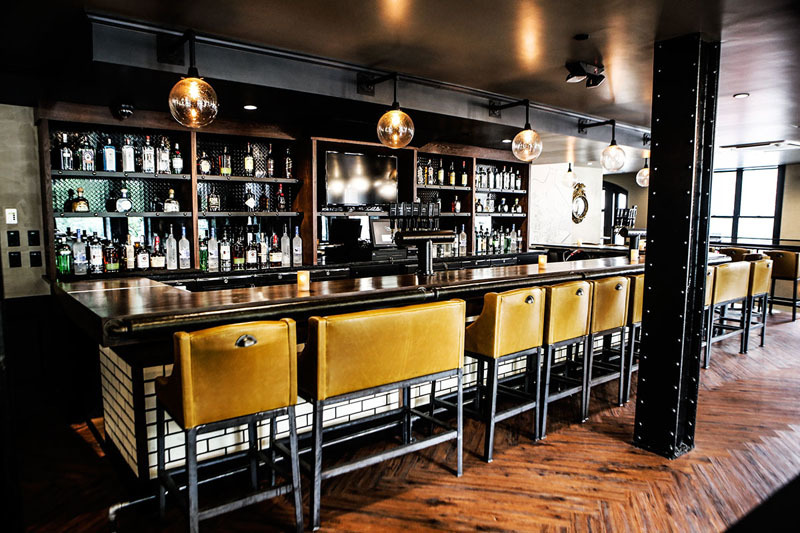 Source: Bostonia Public House
Average review score: 4
Couple ratio: 31%
Are you looking for a casual evening amongst the hustle and bustle of the Boston Harbor? Well check out the Bostonia Public House located in the historic Board of Trade building. Unlike surrounding bar and eateries, walking into this contemporary American hideaway is like walking into a heritage museum. With locally inspired dishes and an ambitious wine serving, the Public House is a place that locals return to time again to relive a time gone. Plus, nearby attractions and live music add to the appeal for a last minute get-together.
What couples say about Bostonia Public House
"Great food, great experience at Bostonia courtesy of the lovely Alex. Attentive, funny and an all round great hostess. Highly recommended." - Emjayeff
"While the atmosphere was excellent, and the food phenomenal, the reason I would go back was the service! Maggie was just sensational! She was helpful to make recommendations, gave us advice on what to do in the city, and always had a warm and friendly smile! Ask to sit in Maggie's section, you'll be treated wonderfully!" - Matthew D
"So this was our first stop to have dinner in Boston and it was a wise decision. We had reservations and were immediately seated and greeted by Shamir our server. Place was clean, bustling w people and a very popular location. A dozen or so local drafts were on tap and we decided on a couple Shamir recommended and both were perfect for the apps of "chowda". This is by far the most delicious clam chowdwe we have tasted. Creamy, silky smooth w a few small potatoes and tender clams. Awesome. Per his suggestion we also sampled the Maine mussels. The wife thought they were good, I thought they were a little piece of heaven. First time mussel experience, and they were sooo tender and were setting in a delicious bacon and light tomato broth that you dipped the crusty bread in....freakin mouth watering! I knocked down most of the mussels and would definitely order again with another cold Flannel Friday draft. Of coarse we tried the hot buttered Lobster roll. We had high expectations since it is a $26 roll, but it was fire! The wife couldn't finish her's and the portion was over the top and out of the roll. After a breather, a bathroom break (very clean) and a belt adjustment we ordered the sweet potato bourbon glazed donuts. They had a good flavor and were about 3x the portion we needed. Bourbon icing was a new flavor profile that we enjoyed. I opted for a bowl of chowder for desert, it was just that dam good I had to have another bite. Shamir was excellent and would ask for his services if returning. If in Boston and your about a taste of NE, your gonna wanna go here." - bigpawcane
Why Bostonia Public House is a great date spot
"Bostonia Public House is a great date venue. We have an amazing ambiance, great food & cocktails, live music, not to mention our seats are super comfortable! Guests are able to have the experience that they want. I think that's why everyone enjoys Bostonia, they come looking for a certain element and they get it. Our lighting and colors are very inviting with huge windows overlooking historic Boston – makes for great Instagram captures. It can be loud sometimes so couples who enjoy energy are the best fit. We've had a bunch of first dates turn into hosting their rehearsal dinner or wedding receptions at Bostonia – makes for a great meet-cute." - Megan Long, Bostonia Public House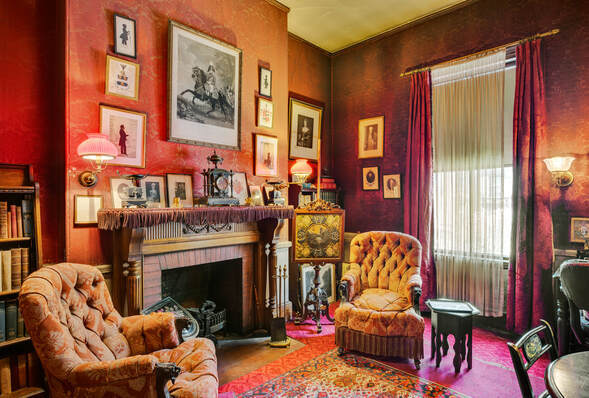 Source: Gibson House Museum
Average review score: 4
Couple ratio: 31%
If you're looking for a historic escape in the nation's founding cities, check out the Gibson House Museum. Listed as a National Historic Landmark, the museum is a remarkable getaway for those looking to travel to a bygone era. From educational programs to public tour offerings, this historic house is filled with enough afternoon activity for any budding lovers. Plus, the property was featured in the recent 2019 remake of Little Women. If that isn't a selling point for a romance-inspired teatime, we don't know what is.
What couples say about Gibson House Museum
"Doesn't look like much on the outside but is beautiful and original on the inside! Its pretty neat to see how much detail they put into these houses, wish they would still put effort into our homes being built now. This home has beautiful artwork and a lot of original furnishings. If you appreciate old homes, I highly recommend." - Jessica and Car... D
"We toured the house on a very humid Boston day. If was like walking back in time into a home that the owners had stepped out of and would soon return. Our guide was very knowledgeable and had a sense of humor. Hour tour and well worth it." - woodyjax
"Step back in time as you enter this house. Everything looks like the owner just stepped out. Simply amazing tour. See what it was like to live in 1860. Full of antiques, a must see" - K9995QNmikeh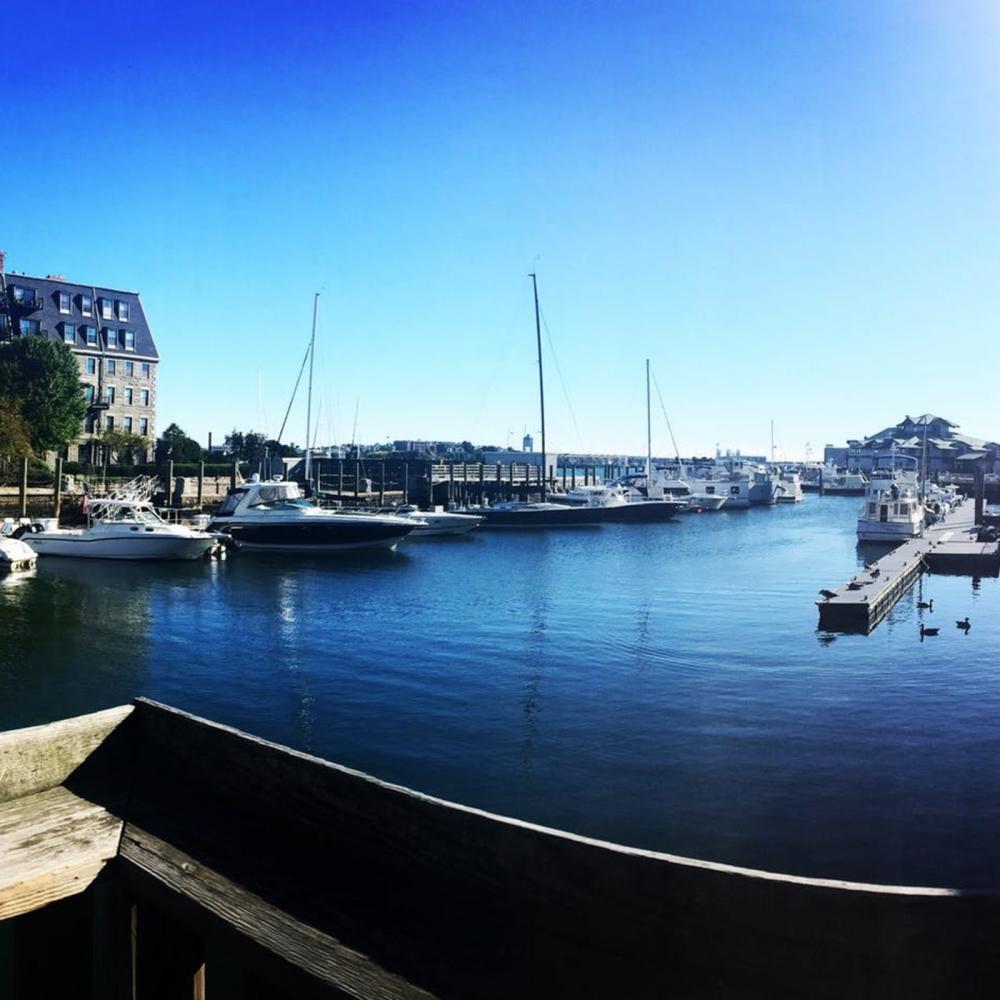 Source: Boston Sail Loft
Average review score: 4
Couple ratio: 30%
Themed after a nautical New England pier side hideaway, this quaint and albeit romantic eatery is perfect for seafood lovers. With sights right on the waterfront and the Boston Harbor being in arms reach, you'll love the atmosphere in this little gem located in Boston's North End. Rather you want to stake a spot at the bar or sit down in the restaurant's indoor and outdoor seating options, all their menu offerings has guests coming back for more. Favorite foods at the restaurant include the New England Clam Chowder and fried fish sandwich.
What couples say about Boston Sail Loft
"Not our first time and as good as ever. We had a short wait at the bar before a table was free but as usual service was great. Lovely meal and the fries are superb. Always somewhere we return too." - 2norfolk_foodies
"The chowder is the best we've ever had. The seafood trio, swordfish, scallops, and shrimp, were perfectly cooked and lightly seasoned. Service was very good and with a smile." - Arlene T
"A very friendly and welcoming bar; didn't eat there as we were eating elsewhere later but the menu and the food we saw looked enticing. It is an atmospheric old building sticking out into the harbour. It had particularly helpful and friendly staff" - Phil C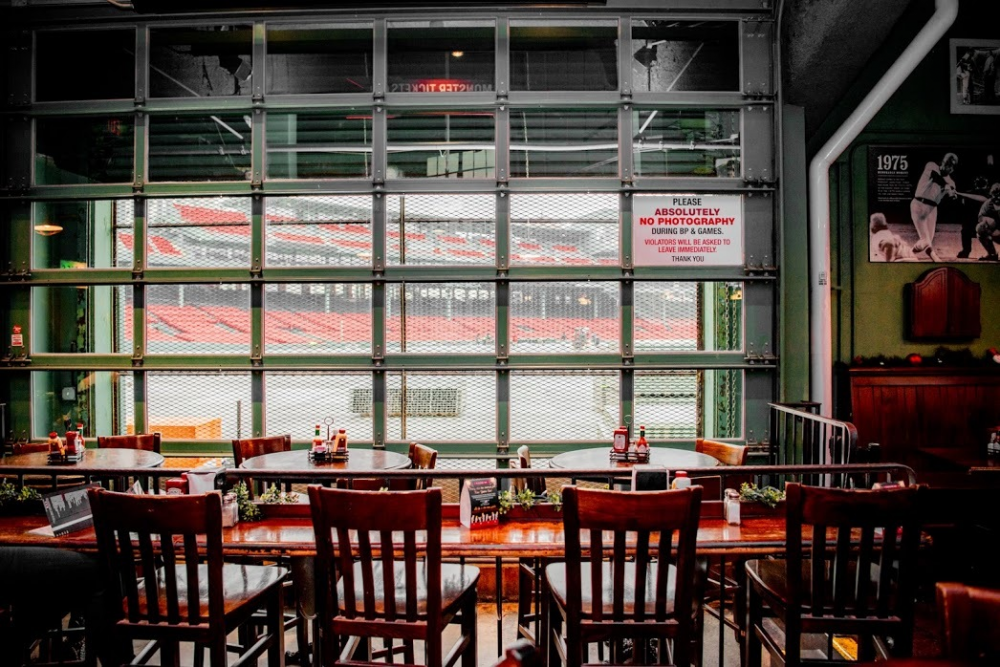 Source: Bleacher Bar
Average review score: 4
Couple ratio: 29%
Bestowed beneath the iconic bleachers of Fenway Park's center field, the Bleacher Bar is Boston's premiere bar experience. Not only does this unique pub provide great food in an authentic baseball environ, but it features a window that casts a view directly onto the center field. So if you're trying to woo over a baseball fanatic, this is your ideal spot to do so. Besides the one-of-a-kind baseball experience, visitors speak about how comfortable and familiar this place feels. You'll feel at home while being just feet away from all the exciting action of Fenway Park.
What couples say about Bleacher Bar
"There was a huge line but it moved quick! Very cool place as there is a large area/window, where you can see the field. The place gets packed and the drinks are decent price (paid $8 for a Irish Whiskey). To get a table, you have to put your name on list. We got lucky as a nice couple had extra seats and let us sit next to them. And even though we were Yankee fans and they were Red Sox fans, we got along and had a great conversation. Hard to explain, but the wackiest thing in the place is the Men's bathroom, as they had a window that allows people to see out into the crowds." - nezd2016
"What a good choice to go to the bleacher bar before the game. While I thought it would be a tourist trap it was not. The bar is located in the outfield of Fenway park and actually has a screen that you can look right out onto the field. I have wanted to go here for years and I'm glad I did it was very enjoyable, Good service and good food. It is handicap accessible and the staff was more than accommodating to assist a handicap person getting in and out thank you very much To the door people. The Aramark employees inside the stadium can learn a lot from the courtesy and service of the employees at the bleacher bar." - BG1212
"After the Fenway tour (you also have to do this) we popped into The Bleacher Bar for lunch. Hot pastrami and corned beef sandwich with a cold beer. Guys, make sure you go to the restroom and enjoy the view while you go. Better than a TV." - DaleP260
Why Bleacher Bar is a great date spot
"An ideal date night for not only baseball fans, but tourists and locals alike, starts and ends at Bleacher Bar. With it's one-of-a-kind garage window offering direct views of Fenway park, Bleacher Bar is the perfect destination to bring someone special for a casual night out. Whether its grabbing a bite before or after a Red Sox game, stopping for a pre-concert cocktail, or simply roaming down Lansdowne Street for a night-cap, you can promise your date a great time at this Fenway neighborhood staple," - Emily Burke, Digital Marketing & Social Media Manager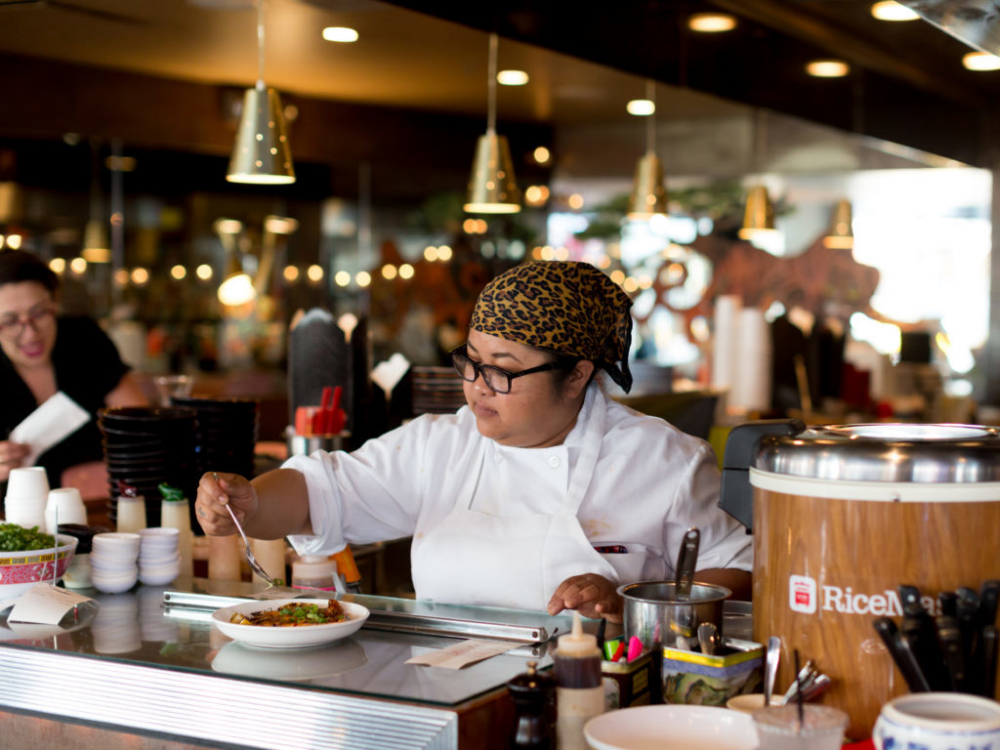 Source: Myers & Chang
Average review score: 4
Couple ratio: 26%
Have you ever wanted to indulge in a funky indie spot with Chinese and Thai specialities? Well look no further than the South End's Myers and Chang. With an inspired spin on the traditional Asian eatery, the Taiwanese soul food and Southeast Asian street cuisine is purely addictive as locals often come here time and time again. The restaurant also focuses on local ingredients, subdued spices and an American approach to classic dishes. So if you or your date are looking for less traditional offerings, this is your new favorite. Popular plates include the Braised Pork Belly Buns.
What couples say about Myers & Chang
"First of all the food here is absolutely amazing! We venture up to Boston from New York every few months essentially just for the food, and Myers + Chang is on our very short list of places that we hit for their dim sum brunch. A must-try is the Fried Egg Banh Mi with Soy Glazed Bacon, which provides both a flavor and texture extravaganza for your mouth. Also outstanding are Sweet & Sour Brussel Sprouts, Tea Smoked Ribs, Nasi Goring with Pork, Pineapple & Fried Egg and Bok Choy. Beyond all of this great food is the exemplary warm and professional service, with special shout-outs to Abraham and Skylar, who are both sweet and gorgeous! Their friendliness makes this experience even that much more memorable." - TodH349
"We loved the Indonesian rice, hot and sour soup and spring rolls. Each dish had unusual and complex tastes. Everything is super fresh and made to order. Yum!" - Daydream135560
"Despite their obvious popularity, the team at Myers and Chang make you feel so looked after. The food is amazing and the team and atmosphere are class. Highly recommend." - richy_fletch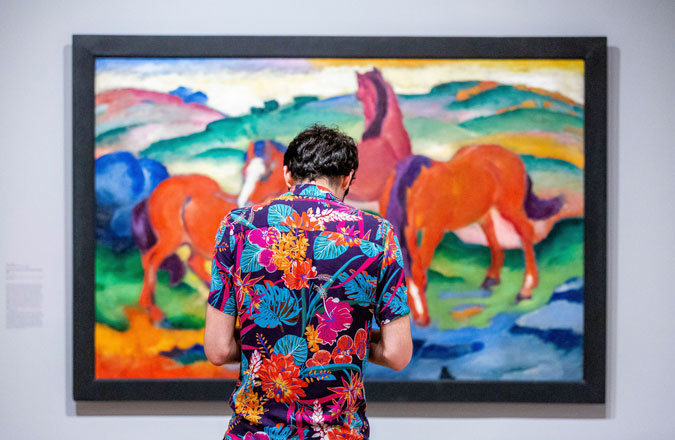 Source: Harvard Art Museums
Average review score: 4
Couple ratio: 26%
As apart of Harvard's prestige campus and art institute, this art museum and research center is one of the best in the country. With a collection of over 250,000 objects from virtually every continent, the museum's ambitious facility can only inspire an education-filled afternoon. While the campus is filled with college students, don't let this stop you from having the time of your life exploring this museum's three buildings. Movie-themed gallery talks and student guided tours also have visitors coming back again and again.
What couples say about Harvard Art Museums
"Three hours were not enough to visit this museum. The permanent collection included many top hits impressionists Van Gogh , Cezanne, Manet , Monet , Degas ,Leger ,Picasso ,Calder, Lipschitz etc plus some excellent but less well known artists such as sculptor David Smith. The special exhibit on Immigration was also well curated, the shop had great items for sale and the cafe was reasonable and comfortably located in the courtyard" - Xcski441
"What a place. I was so impressed. This facility covered the art of the ages. From pre Roman coins through the great masters to today's experiential pieces this place has it all. You should book yourself a few visits and split it up to really have time to immerse yourself" - dlc58
"My wife was on business and this seemed like a great rainy day activity. I was initially very skeptical, having seen most of the major art museums in the U.S. and Europe. I was blown away with some of the spectacular items ranging from Japanese prints to the bedspreads designed for the Harvard dorms. Some of the items on display were the best I've seen anywhere in the world. The curation/explanation of everything was exemplary." - William B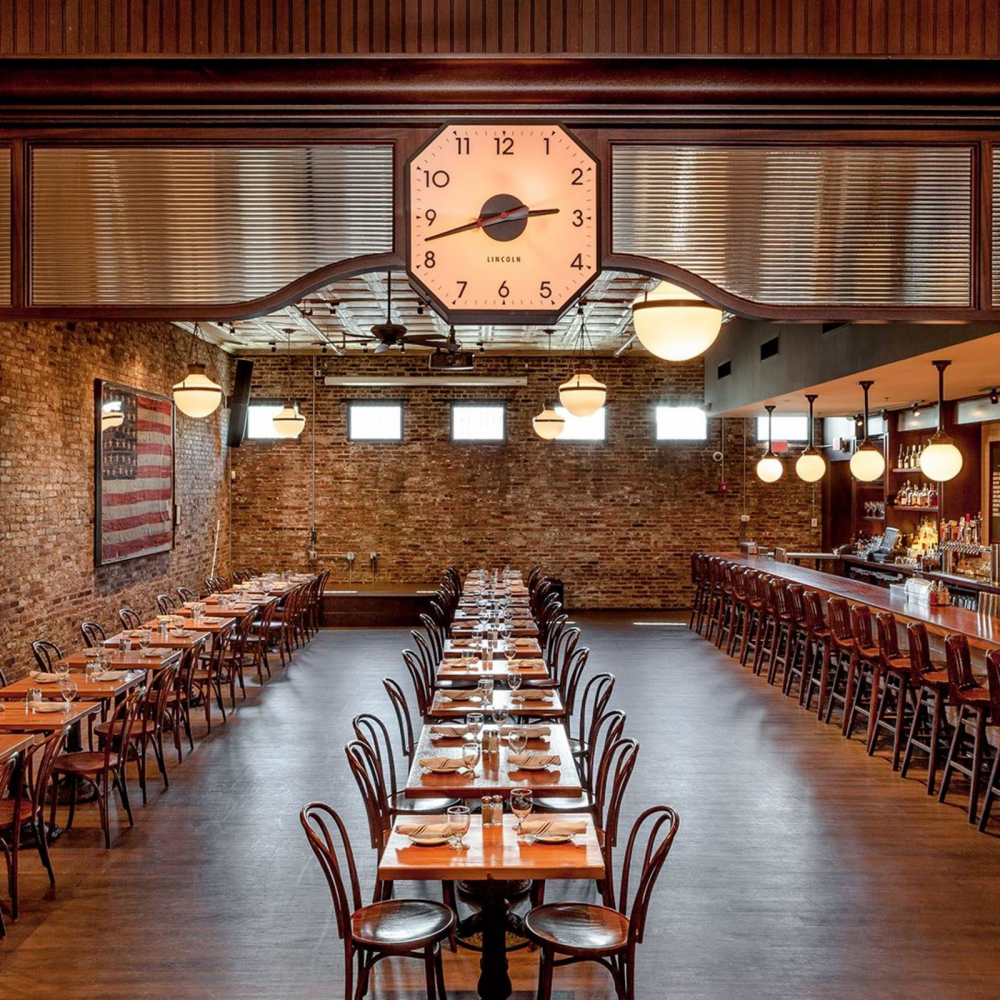 Source: Lincoln Tavern and Restaurant
Average review score: 4
Couple ratio: 26%
Situated in the heart of South Boston, the American nationalist-themed tavern is perfect for an afternoon rendezvous with themed surroundings. The Lincoln Tavern and Restaurant has the most ambitious menu for those seeking wood and fire-grilled food items. But aside from that, the culture in this place just screams a good time as the comfortable and social atmosphere can inspire any date night. Popular dishes at this all-American bar include the Over Braised Short Rib and Thick Slice French Toast - if you plan on stopping by for brunch.
What couples say about Lincoln Tavern and Restaurant
"Fortunate to snag a parking spot in lot across the street. Loved our first night here with welcoming vibe and churchpew booths. It was filled with the younger crowd, noisy, tvs blaring— just what everyone likes these days. Had an incredible salad - it was honeycrisp apples, feta, golden raisins and the honey mustard dressing was the bomb. Would have gladly bought a tub. So perfectly balanced. Friendly server brought a delicious hunk of earthy bread. Then dug into carne asada tacos served with half a juicy lime and a great mix of pickled onions and salsa. Juicy! Was so happy I made two great choices:) The salad and two of the four meaty tacos filled me up. Husband was happy to help me out this time. They have a 10 am brunch on weekdays - looks promising! Want to return here that soon:)" - zoelikesit
"Very lively bar restaurant enjoyed the fun loving crowd. Some of best scallops I have had. Good choices of beer. Spouse liked her burger and salad. Great service by Lauren. Bill was 44 with 1 beer." - Mountainman827
"Our first attempt at trying this place had an hour and a half wait. All ready supper hungry, we opted to find a another place. But we came back and walked in just as they opened! It's a huge place, but gets packed quickly! Great brunch and drinks. Good portions and high quality. We loved it!" - Jekela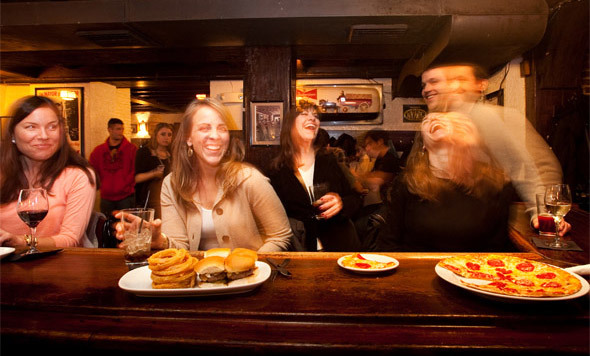 Source: 21st Amendment
Average review score: 4
Couple ratio: 25%
Situated in the famed Beacon Hill District, this popular pub and gathering place is perfect for a quick bite to eat. Located moments for Boston's City Hall and local history museums, the 21st Amendment is a rustic influenced bar ripped straight from the days of the Constitution. With wood furnishings and conversationalist-inspired setting, this grub hub has all the makings of a backdrop for a traditional date night. And on NFL game days, the ten dollar appetizer, 50 cent wings, and two dollars off beer on tap are hard to beat. So try this local bar the next time you're near downtown.
What couples say about 21st Amendment
"This was recommended by a local tour guide. The clm chowder was excellent. The inside looks old and original. It is very close to the State House. Great place for lunch." - MPWheart
"We stopped in for a quick bite and a couple of drinks. Had the chowder and the fish tacos. Both were outstanding!Friendly, attentive service. We'll definitely be back on our next Boston trip." - mrmrs4
"Strolling along our Freedom Trail journey, we needed a drink and some substance, so the name of the place drew us in. We got some cold brews and ordered the clam chowder and were very pleased. This place is right across the street from Beacon Hill. It was a perfect stop to fuel up. We also liked the dark, cool rustic appeal of the place and our server was pleasant." - MindyHuskey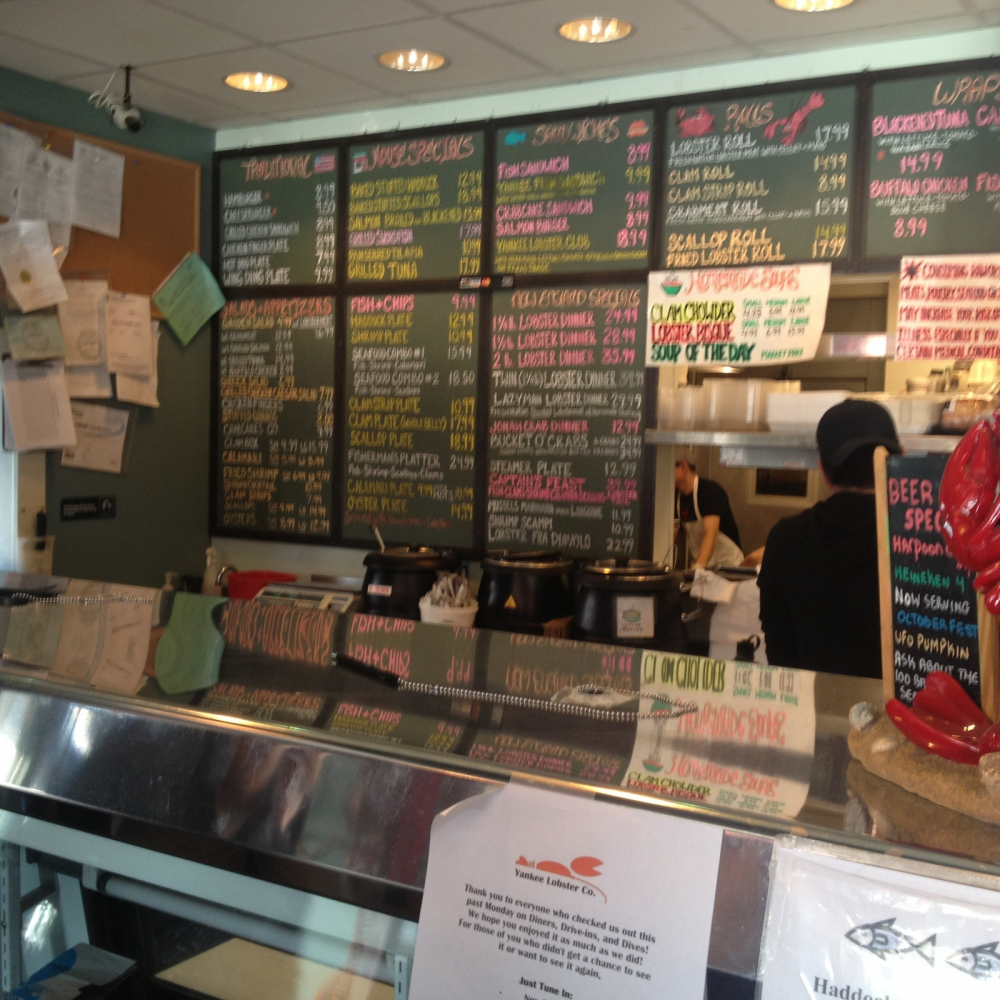 Source: Yankee Lobster
Average review score: 4
Couple ratio: 22%
Set in the popular Seaport District, this hybrid market and eatery will inspired many afternoons with its casual nature and inspired environs. Locals will often stop by to chuck everything from Boston-based cold beer to oysters. The restaurant even has a famed option to order fresh lobsters at the table by the bucket. And if you're stopping by after a nearby concert, you should checkout the harborside patio seating that this sea shack offers. Popular plates include the hot lobster roll and decadent crab cakes.
What couples say about Yankee Lobster
"This was our first time eating lobster rolls and it was fantastic. We are from the UK and this was the best lobster we have had. We got a hot lobster roll and a cold lobster roll. Turned out my husband preferred the hot and I the cold so it worked out perfectly. Very yum." - Mekyla301
"First night of first time in Boston, so we had to have a Lobster Roll. Found this place on an online Food & Drink list as one of the best in Boston for Lobster Rolls. Cute little place with counter service, big menu on the wall, little tables squeezed in and a very friendly staff. We split a Lobster Roll which came with Coleslaw and fries. With 2 Cokes (and several refills) our order came to $31, not bad. And the food was delicious, even the fries, which I usually don't eat, but with a little Old Bay Seasoning (which was right on the table), they were good." - lilirishstar
"6 of us went based upon reviews. Small place but they got us through the lines quick enough. Wife got the Lobsta roll and I opted for Fried Clams and beer. Clams were great; seems like just plucked from the sea. Wife enjoyed the lobster roll but not as much as Reds in Maine. Service quick as they are very busy" - ronaldz754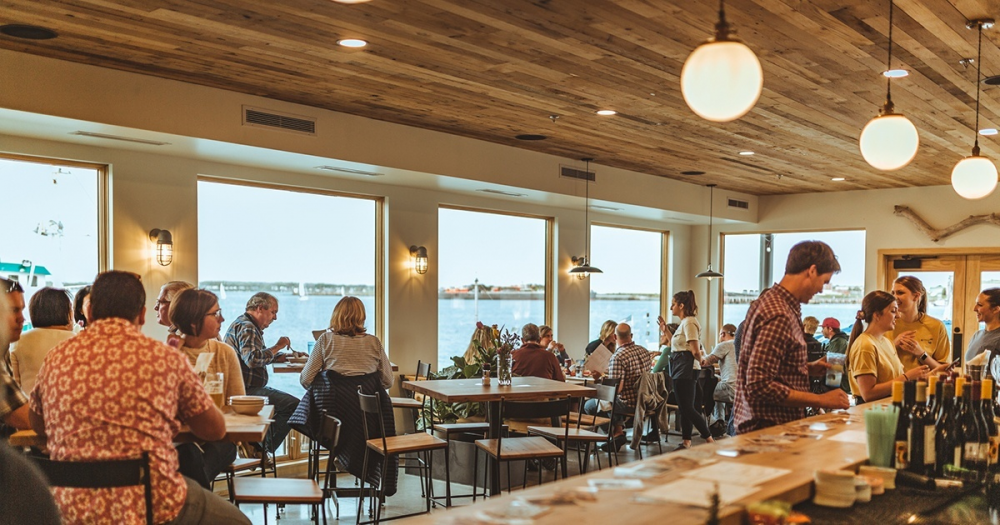 Source: Boston Magazine
Average review score: 4
Couple ratio: 20%
Launched as a tribute to the New England bayside, this Back Bay lobster joint is themed to a mid-harbor live fish shack. With nautical elements hanging all around and Atlantic seafood to die for, you'll love everything on the menu. From Maine-caught crab to toasted stuffed seafood roll, an afternoon at this exquisite seaside dining place will keep you coming back for more. But the best part is that menu items are lower in cost than most nearby options. So if you're looking for a seafood experience on a budget, Luke's Lobster in Back Bay will not disappoint.
What couples say about Luke's Lobster Back Bay
"We got the 3 lb lobster, cracked it and enjoyed every bite. We aren't used to getting big claws on lobsters and they were as good as the lobster tail. Wonderful meal." - Mandy F
"We had an early lunch after traveling all morning. The staff was so cheerful & helpful. I had the lobster roll & my husband the crab roll. They were both SO delicious! The atmosphere was cozy and charming. It's right by the Boston Public Library - so stop by Luke's after visiting the library! Huge kudos to the workers who made it such a pleasant experience. We'll be back" - RegMulls
"If you are looking for a good lobster roll, you will find it here. Restaurant is casual and reasonable. We actually took the lobster roll to go if you want to get good food and go to your own location to enjoy. Eating at the restaurnt works well too! I will definitely return." - William G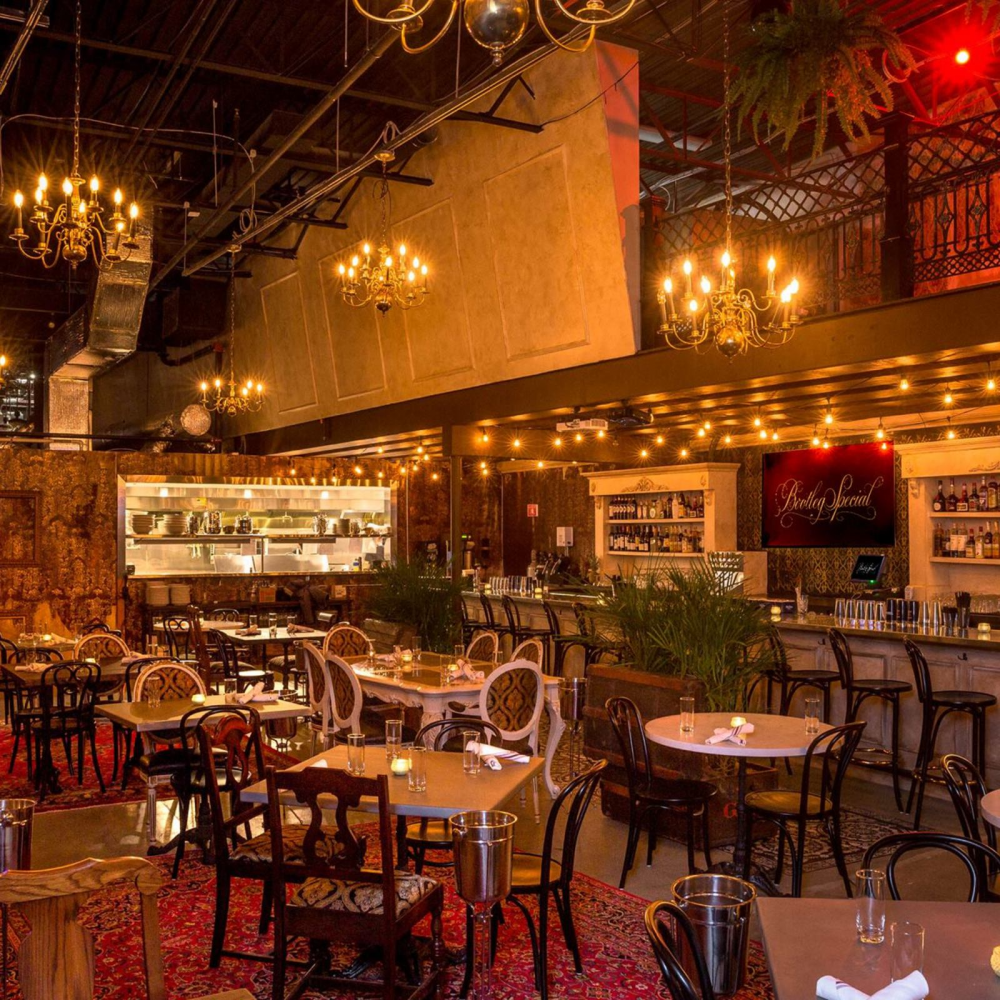 Source: Bootleg Special
Average review score: 4
Couple ratio: 38%
Inspired by Southern crawfish joints, this New Orleans restaurant is a breath of fresh air from the composed and Nantucket-styled eateries that plaguer the city. Named after the shape of Louisiana, the Bootleg Special is a modern take on an underground speakeasy. As most Boston restaurants do, the name of the game hear is seafood. But it's the environment that will captivate any grownup date night. Sure, the culinary creations are worth celebrating - but the Bootleg Special's wildly ambition baroque-inspired interior alone will transport your taste buds to the flavorful south. This is a must-eat for any fun night out.
What couples say about Bootleg Special
"Having been unfortunate with tourist traps on our trip to Boston, this came as a welcome change! The food was absolutely amazing, ribs, shrimp, garlic noodles and the awesome banana foster beignet!" - TheTtravel
"WOWWWWWWW! My husband and I were SO glad we found this amazing restaurant! It did not disappoint! My husband had a craving for Dungenes Crab and I wanted Alaskan King Crab so we created our own boils and were super happy! If you like garlic, you will capture its essence when you walk in the restaurant and it will leave with you on your clothes! We also had the garlic noodles with shrimp, as if we didn't have enough garlic! Our server Sean was friendly and helpful. We wanted to try the beingnets but were pleasantly full from dinner. We will try them the next time we are in town!" - Wendyjo555
"Lots of reviews mentioned the atmosphere, and I can see why. Really good cool place with an interesting menu.Only negative for me was the vast number of tv screens in the restaurant, but that may just be a UK v USA culture thing.Served by Jessie who was great.Would highly recommend." - jameskW8500YR
Why Bootleg Special is a great date spot
"Bootleg Special isn't your typical date spot. Our unique interior of French Quarter sophistication along with an urban edge sets the mood for an exciting night out. Our cuisine offers each date an excuse to really get to know one another; letting down their inhibitions for a more intimate dining experience. If you are looking for a conservative date spot, we are not the place. But if you're looking to score a different, one-of-a-kind night out, Bootleg Special will not disappoint. As we like to say to all our couples, it's time to get down and dirty," said Bootleg Special representative.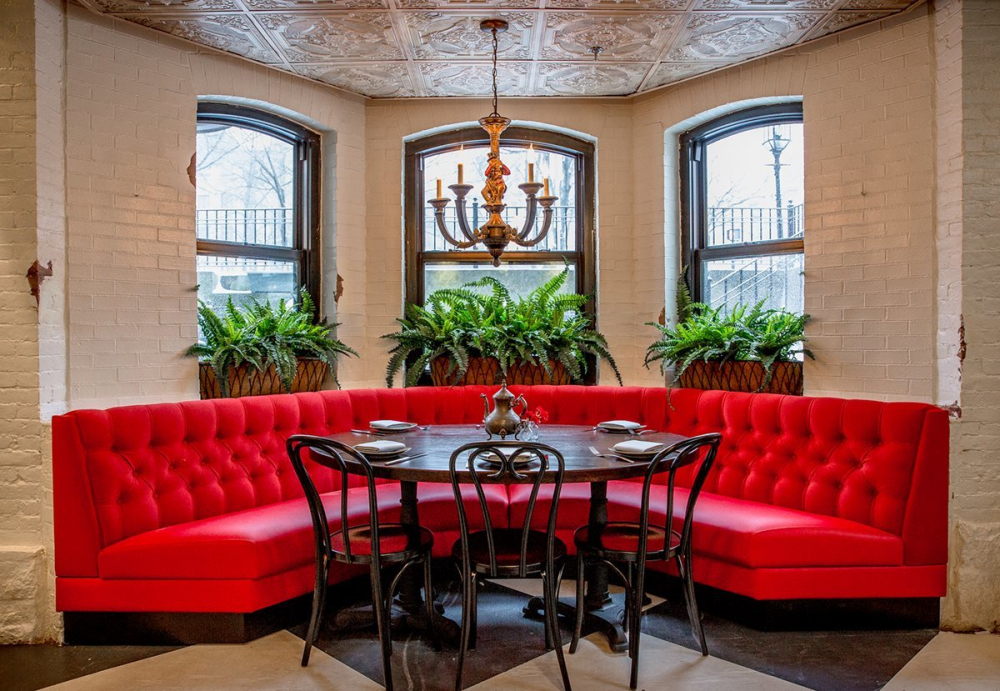 Source: Buttermilk & Bourbon
Average review score: 4
Couple ratio: 33%
Delivering Southern hospitality in Boston's Back Bay area, this New Orleans-inspired restaurant is a local favorite since it gives a nice retreat from the typical all-American New England offerings. From traditional comfort foods to Southern-based oddities including Alligator Meatballs and beignets, the best part of this restaurant is its interior design ripped straight from an Louisiana cookbook. Plus, it even features an oyster bar. You'll be thrilled by the environ, but it's approach its Creole cuisines will excite you and your date on this perfect escape from historical Boston.
What couples say about Buttermilk & Bourbon
"Enjoyed very much. Nice drink selection and the food was good and flavorful. We did three different small plates and each was very good. The beignets were exceptional!" - davidbG6117GL
"Phenomenal food! Wow wow wow. Such rich flavors that attack the taste buds. Wonderful decor, threw me right back into New Orleans!" - sgop87
"Fried chicken, old fashions, beignets, oh my! Our waiter Jonathon was awesome and gave us honest answers to menu options, don't skip the biscuits! Sunday brunch is amazing with fried chicken and waffles, and soft serve mango/pineapple mimosas! The prices are very responsible for the food. Small plates, so order to share. Don't walk by this place. It's out of this world good food and great staff!" - JamieNBrown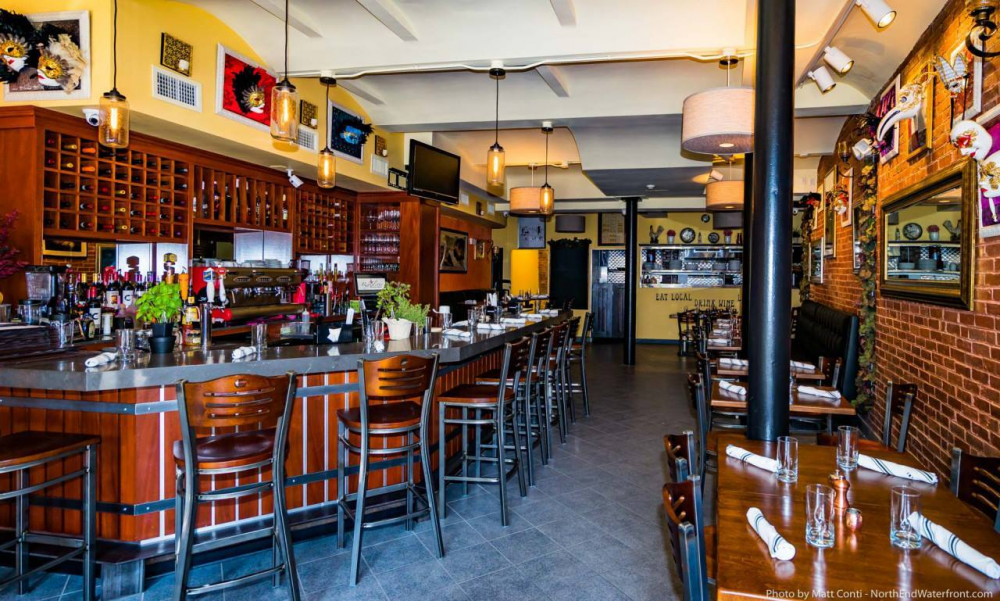 Source: Rigoletto Ristorante
Average review score: 4
Couple ratio: 32%
If you're seeking a large Italian dining room experience set on the intimate North End streets, then you can look no further than Rigoletto Ristorante. With a classic comfort approach to familiar fare, you'll be obsessed with this brick walled bars pastas, pestos, and pollo specialty items. And get this - all the dishes are made with organic ingredients and homemade sauces. With a heavily European-inspired drink menu and food options, any foodie will love escaping the Boston tradition to this foreign getaway.
What couples say about Rigoletto Ristorante
"We came in on a Sunday evening. This place was not crowded at all. The server was very informative and was attentive at serving us wine and water when our cups were low. The food was delicious. We had an appetizer that was on special. It had prosciutto, it was delicious. I got the gnocci and my bf got a steak and both were great! We ended the night with some canollis. This seemed to be a hidden gem in the area." - Nadine G
"We can't say enough to praise our experience at this establishment! We were coming in from Maine for our 28th anniversary and I kept trying to get a reservation online and they were booked for our time slot. I was disappointed and thought I would try emailing them. They responded right away and fit us in! Wait! It gets even better! We show up at give our name and they smiled a little smile and swooped us over to table with flowers, little glitter hearts and confetti and a big heart balloon! Every single staff member stopped by to wish us Happy Anniversary! The chef even came out to check on us...Twice!Then! The.Food! WOW! All homemade pasta and mine had seafood in a garlic sauce. Hubs had the eggplant-parm dish, and we had mussels for app. Just be sure to go here! We can't wait to go back!" - mom04084
"We met another couple here for drinks at the bar. But the restaurant looked and smelled so wonderful, we decided to get a table and stay for dinner. I wanted to try so many of the dishes on the menu, but opted for the Lobster Risotto. Great choice! It was so delicious. My husband got a spicy seafood and pasta fra diavolo type dish that was loaded with seafood. Both of us could only finish half our meal. It was very busy, and the waitress kept apologizing for any delays. But honestly we didn't find it bothersome. You'd expect some wait in a busy restaurant, and the food was definitely worth the wait. Our waitress was clearly working very hard, but she did a wonderful job, great service!" - Linda P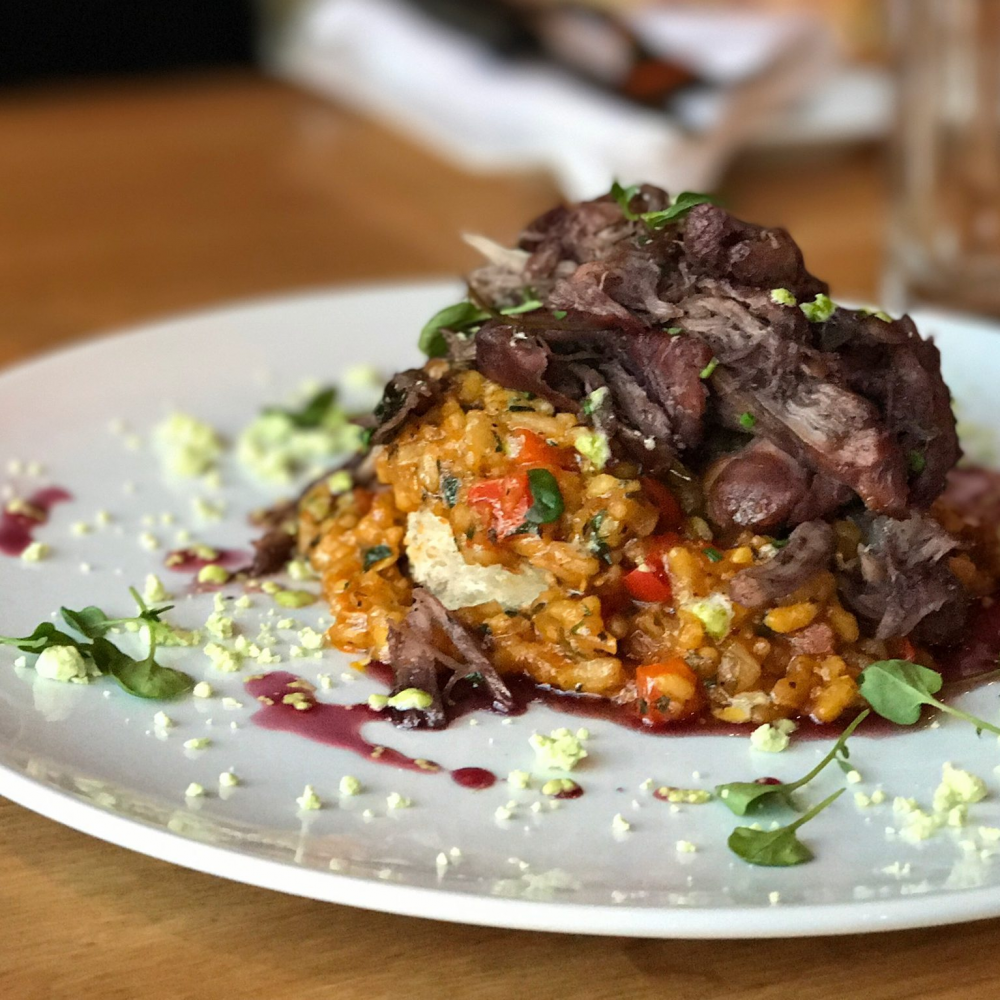 Source: The Tip Tap Room
Average review score: 4
Couple ratio: 31%
Serving as one of Boston's best upscale pubs, the Tip Tap Room features over 36 different draft varieties, a robust menu, and a unique industrial vibe for the Beacon Hill area. With garage door-styled windows and blackboards featuring the bar's daily specials, you'll feel right at home in this familiar setting. It's simplistic design is also inviting with a casual conversationalist atmosphere for any two partners looking for a quick bite. Hours are also extensive for the area with a mid-morning opening and 2am closing time. Popular plates include the Lamb Burger, Baked Brie, and the Boar Meatballs.
What couples say about The Tip Tap Room
"We had an excellent meal with fabulous service! My husband got the Cuban sandwich, and I got the turkey sandwich. Both were very fresh with enough different tastes to make them special. Our waiter, Gerald, was truly exceptional and went above and beyond!" Sherpa760980
"You can't go wrong at Tip Tap. Fine Food, fine service, and great meals. 9,000 beers and a full bar with a seriously great bar staff. Everything from the appetizers, to the salads, to the main dishes and desserts are imaginative and delicious." - John G
"We were lost for somewhere to eat. Checked out Trip Adviser for local places to eat. So glad we did. The welcome was fantastic and the staff were wonderful. The service was second to none. There is a huge selection of draft beer and ciders. My wife had a lovely Chardonnay. The food was really tasty and arrived quickly. We loved the place and would recommend it to anyone." - 989iaina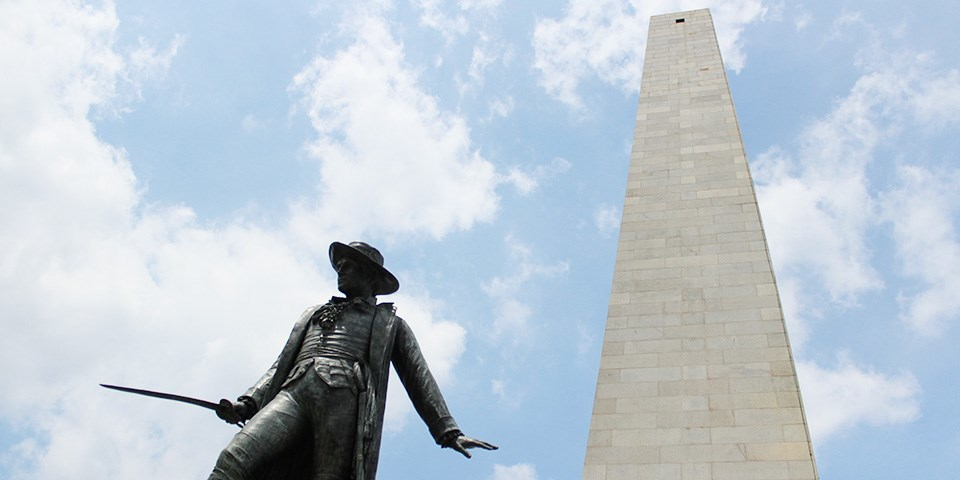 Source: Battle of Bunker Hill Museum
Average review score: 4
Couple ratio: 24%
If you're looking to visit one of Boston's few historical parks straight from a bygone era, you may want to check out the Battle of Bunker Hill Museum and Monument. Shaped similarly to the Washington Monument in DC, the Bunker Hill Lodge and Monument is a 294-step climb with unparalleled views of the city. Plus with a museum nearby to help compliment the experience for free, any historian will love this afternoon down memory lane. The museum also features new exhibits including the building of the Bunker Hill Monument and the history of Charlestown.
What couples say about Battle of Bunker Hill Museum
"Very informative. Liked the exhibit, along with the narrative, depicting how the events played our during the battle. Highly recommend for those interested in history" - Vacationer594504
"We have walked past this museum on many occasions and never stepped inside. We finally had a little time to spare and then spent at least an hour learning so much about The Bunker Hill Monument and the various battles & skirmishes that it commemorates. There is lots to read and a few artifacts, so probably not the best museum for youngish children. There is a small gift / book shop for the normal items that can be found in museum shops. The Museum has free entry and can be found right in the Freedom Trail and just over the road from The Bunker Hill Monument. ( See other reviews for both these attractions)" - Timsnapper
"Although this museum is small it covers a lot of history. Make sure to watch the reenactment of the war." - casinogal