The Top 18 Date Spots in Chicago, According to Daters
Chicago has something for everyone. Whether you enjoy comedy, theater, museums, art, architecture, music, or nature, you can find a great spot for a date in the Windy City.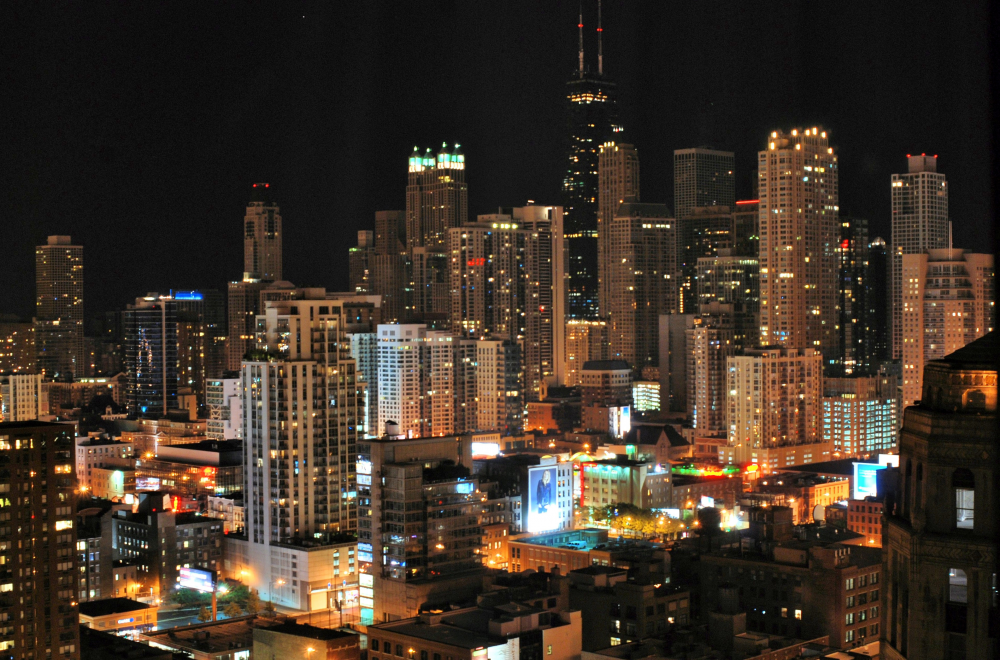 Source: Good Free Photos
By averaging review scores and evaluating mentions of highly-praised dating spots across the web, we put together this guide to help you find the perfect place to take your date.
As well as looking across the major review platforms and averaging the ratings and dater review scores, we also judged date spots by the ratio of reviews left by couples vs. non-couples. This gives extra insight into how popular a spot is with real daters. Let's look at the rankings!
1. Chicago Magic Lounge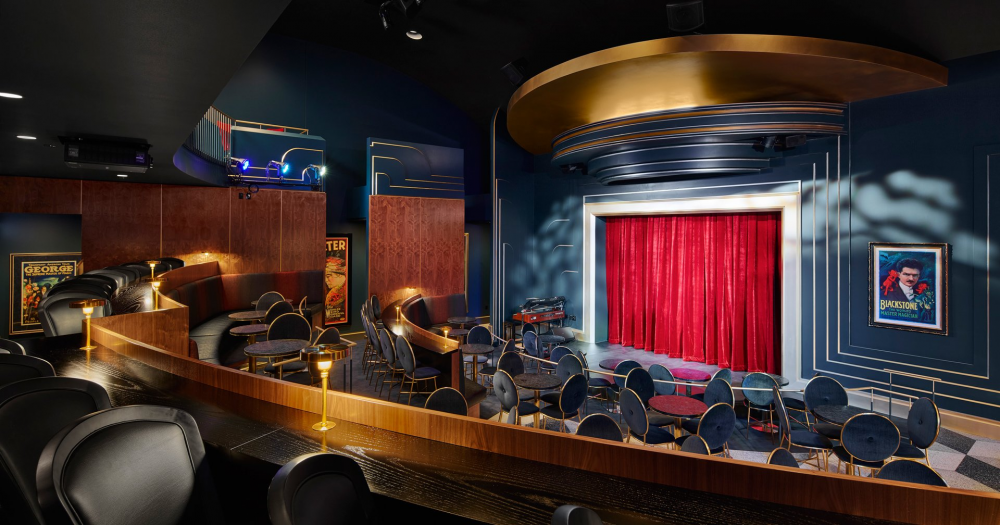 Source: enjoyillinois.com
Couple ratio: 85%
Aggregate review score: 5
The Chicago Magic Lounge is an ode to Chicago-style magic, combining an intimate and personal magic experience at the Magic Bar and tableside, as well as on-stage magic performances seven nights a week. You'll enjoy a fun and incomparable magic experience in an Art Deco-style space while sipping craft cocktails. Small plates are available for sharing.
What daters say
"This place has top notch entertainment and every entertainment room is great! The magic is fun and engaging and the tricks at your table are so cool. All of the entertainers are engaging and nice and the show is awesome. Great place for a date!" – Jeanne S.
"Really enjoyed our evening here last night! Cute little hidden gem that's perfect for a date night! " – Courtney M.
"What started out as an off-the-wall idea for an anniversary date has become a go-to date night. We absolutely love the Chicago Magic Lounge and can't wait to go back! Don't miss the table magic or close-up gallery, they're worth the price of admission alone." – Ali E.
"This was a great change of pace for your typical date night. The show was awesome. The ambiance was awesome. I highly recommend it." – OnAir49295924609
Why Chicago Magic Lounge is a great date spot
Source: tripadvisor.com
Cynthia Ferkol, Marketing Director at Chicago Magic Lounge told us, "For couples, the Chicago Magic Lounge works on a lot of different levels. First, there's the magic. We specialize in close-up magic which means you're witnessing the impossible from only inches away. Experiencing magic in such close proximity creates an immediate connection for the observers. The shared experience is an instant conversation starter for first dates and provides a conversation boost for couples who have been together forever.
Cynthia describes the lounge as "an Art Deco-style speakeasy and theater that looks like it's been plucked out of a 1930s MGM musical". The Chicago Magic Lounge offers unique entertainment, ultra-cool décor, and yummy cocktails, making it a sure favorite for date night. An article by Thrillist puts it this way: "the whole evening is essentially one big performance, and during it, magicians must believe in what they're doing for it to feel real for the spectator. And when the spectator gets lost in the moment completely, even for a second—that's it. That's the real magic".
What to do nearby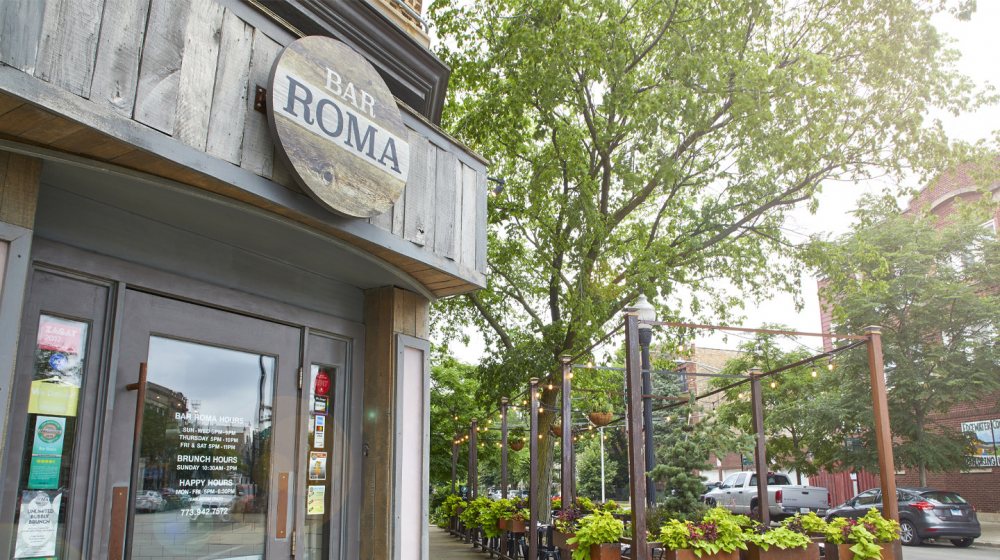 Source: Bar Roma
Chicago Magic Lounge is located in Andersonville, a historically Swedish neighborhood in Chicago. It has a small-town community feel and boasts lots of great restaurants, such as Bar Roma. Bar Roma offers Italian fare in a fun and lively atmosphere. With homemade pastas and pizzas on the menu, you and your date are sure to find something you love before heading over to The Chicago Magic Lounge for a show.
2. Drawl Southern Cookhouse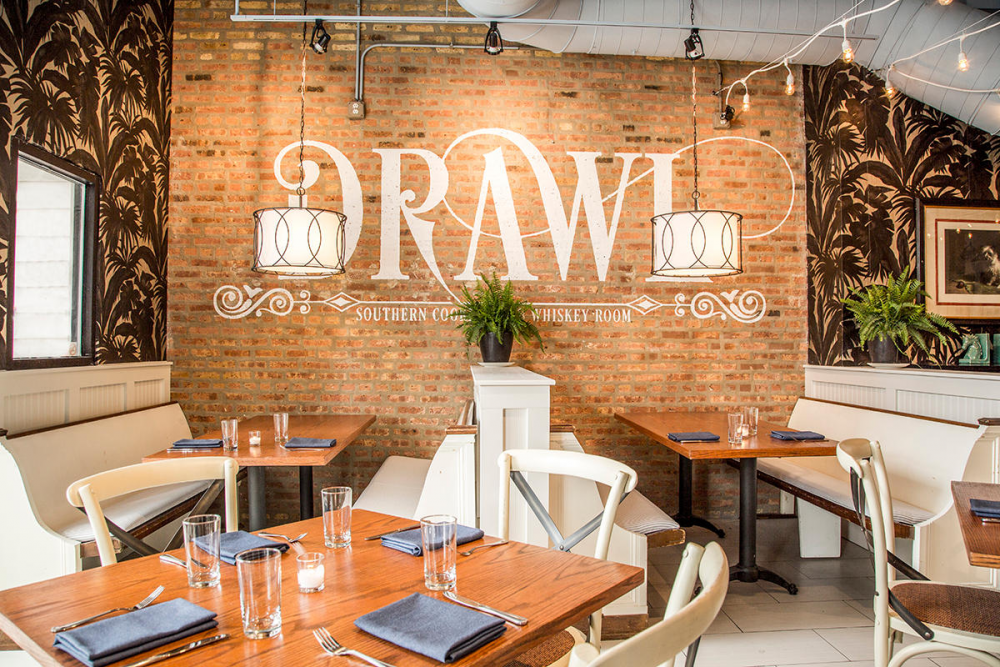 Source: Drawl
Couple ratio: 73%
Aggregate review score: 3.9
Drawl offers a modern take on southern classics, featuring local and seasonal ingredients, such as shrimp and grits, smoked meat, and fried chicken—and, of course, mint juleps. The décor provides a comfortable, laid-back atmosphere that makes you feel immediately at ease. For whiskey lovers, there is the Whiskey Room, with an extensive whiskey bar, small plates, and intimate feel.
What daters say
"We live in the neighborhood and have been here several times for dinner and weekend brunch. It's beautifully designed and makes you feel like you might be in Charleston or anywhere south of the Mason-Dixon." – Erika L.
"We were blown away with every course, the service and the decor. As soon as we stepped in, we felt like we were back in the south. " – Kyle M.
"With the great service, incredible food, and an impressive bourbon list that any whiskey junkie would appreciate, I will definitely be returning to grab a Whiskey Smash and some fried okra!" – Robyn T.
"Great food, fun vibe, excellent service!" – Bonnie R.
"The ambiance and design of the place makes for the perfect date night spot." – Jessica D.
Why Drawl Southern Cookhouse is a great date spot
With a quiet and screen-free space, Drawl provides a relaxed and casual setting conducive to conversation. Add in some truly delicious food, craft beer and tasty cocktails, and you've got a go-to spot for date night.
What to do nearby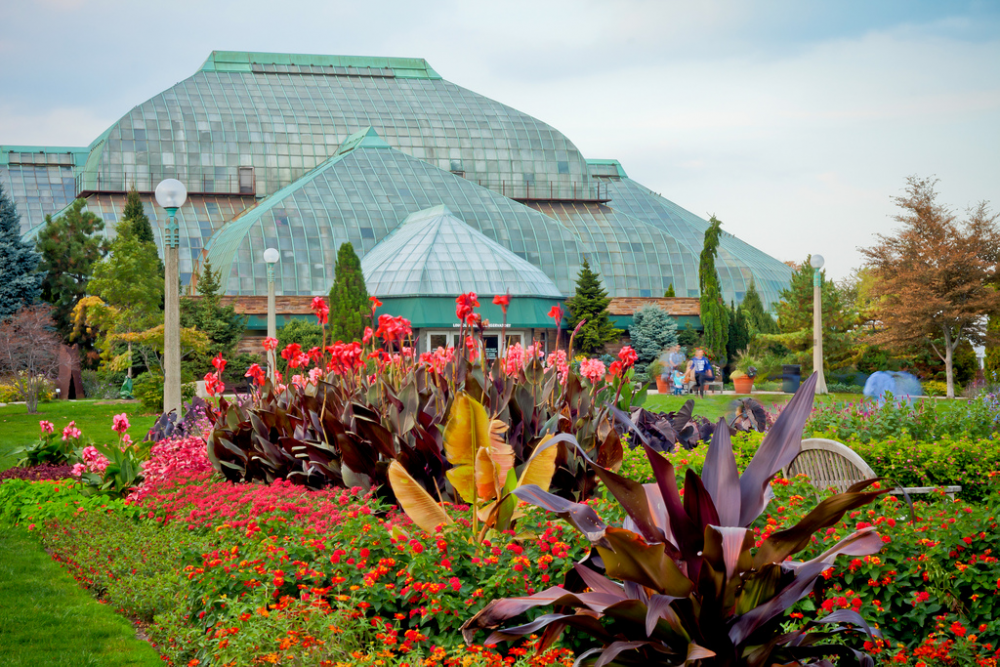 Source: chicagoparkdistrict.com
After dinner, catch a play at the Victory Gardens theatre, or, if the season's right, a Cubs game at Wrigley field. Or plan an activity pre-dinner: for baseball fans, Wrigley offers ballpark tours. More of a flora fan? Check out the Lincoln Park Conservatory and marvel at orchids, ferns, and more.
3) Travelle at The Langham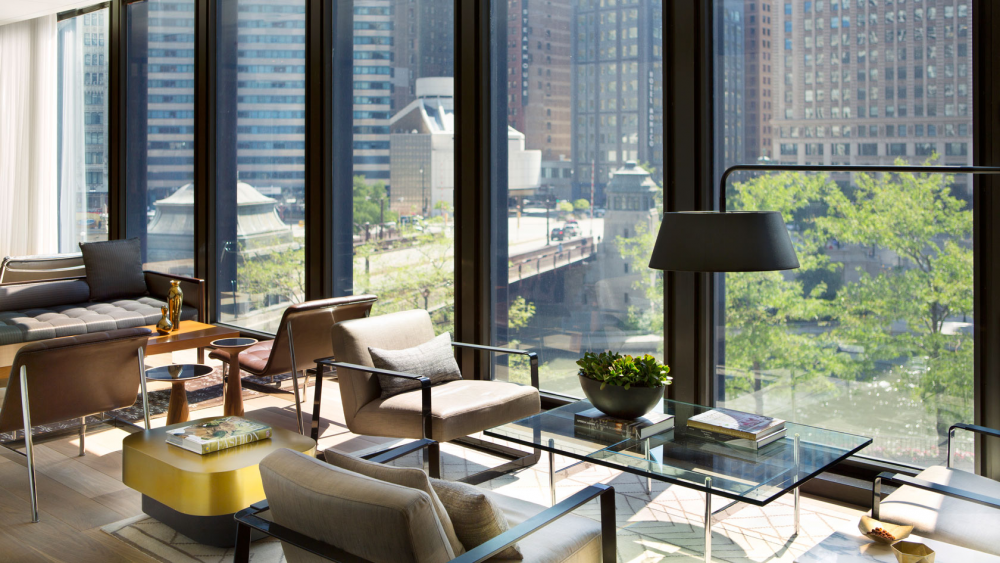 Source: Travelle at The Langham
Couple ratio: 70%
Aggregate review score: 4.4
Travelle is a modern upscale restaurant located on the second floor of the Langham hotel overlooking the Chicago River in downtown Chicago. Travelle's menu showcases seasonal ingredients, sourced from some of the best farms, ranches, and orchards in the US. They also offer a truly extensive wine list, and a range of cocktails. Whether you choose to dine in the main dining room and watch the chef at work, or whether you opt for inspiring views of the city in the lounge, Travelle is sure to make your date memorable.
What daters say
"The quality of food and the service is impeccable. If you are meeting a date for drinks, you can't do better than the lounge. If you want a romantic dinner, ditto for the restaurant." – Omar R.
"The Latham Hotel is sublimely great and this on property restaurant is simply amazing. Perfect service, beautiful environment and fantastic food. Business lunch, date night or just because, I love this place." – 489ThomasS
"Outstanding food! I truly enjoyed dining here during my brief stay in Chicago. The decoration is divine and it is a lovely place to take a date." – Antoinette15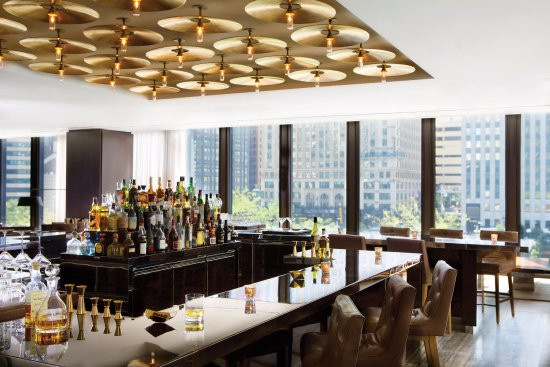 Source: Travelle at The Langham
Why Travelle at The Langham is a great date spot
Travelle is more than a great restaurant. With its luxurious décor, amazing food and drinks, and panoramic views of Chicago, Travelle offers an experience that caters to all the senses. To top it off, the quiet dining room means that you and your date can have a conversation.
What to do nearby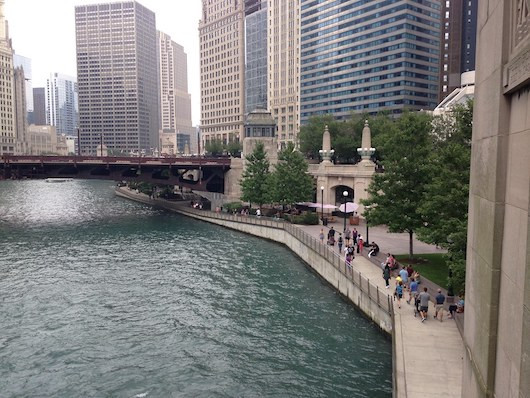 Source: Chicago Riverwalk
The Chicago Riverwalk is just across the river from Travelle. You'll find shops, public art, and great people-watching. Take a stroll along the river before dinner, or enjoy the city lights at night afterwards.
4) Oriole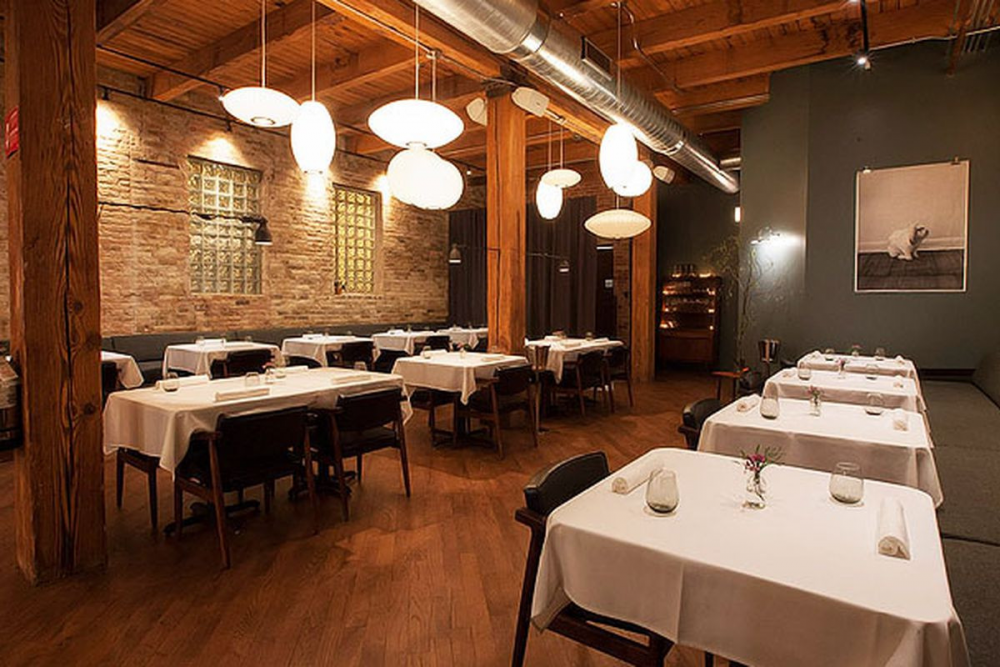 Source: Eater Chicago
Couple ratio: 69%
Aggregate review score: 5
Situated in the West Loop, Oriole offers an impressive gustatory experience in a cozy setting. The set menu includes paired wine or non-alcoholic beverages, and promises to be a meal you won't soon forget.
What daters say
"If you want to find the perfect place to celebration a special occasion, definitely come to Oriole! My fiancee and I celebrated our 10 year anniversary here and the experience has amazing from the beginning to the end." – Stacy D.
"Thank you Oriole for making our anniversary dinner a memorable one." –jnmtravelTexas
"The best meal I have ever had." -eyeu
"With two Michelin stars and top rankings from Chicago, we had high expectations that were surpassed by the food, the wine and the service. Highly recommend!" – WendyY418
Why Oriole is a great date spot
Oriole promises a gourmet's dream date. With an incredible menu designed to delight the tastebuds and an intimate dining room, you and your date are sure to have a amazing evening.
What to do nearby
Source: Open Books
Open Books is a used book store with a cause. The purchases at the store go towards literacy programs and providing books to students, schools, and nonprofits. With a wide range of genres, perusing the selection is sure to be a great pre-dinner activity.
5) Fisk & Co.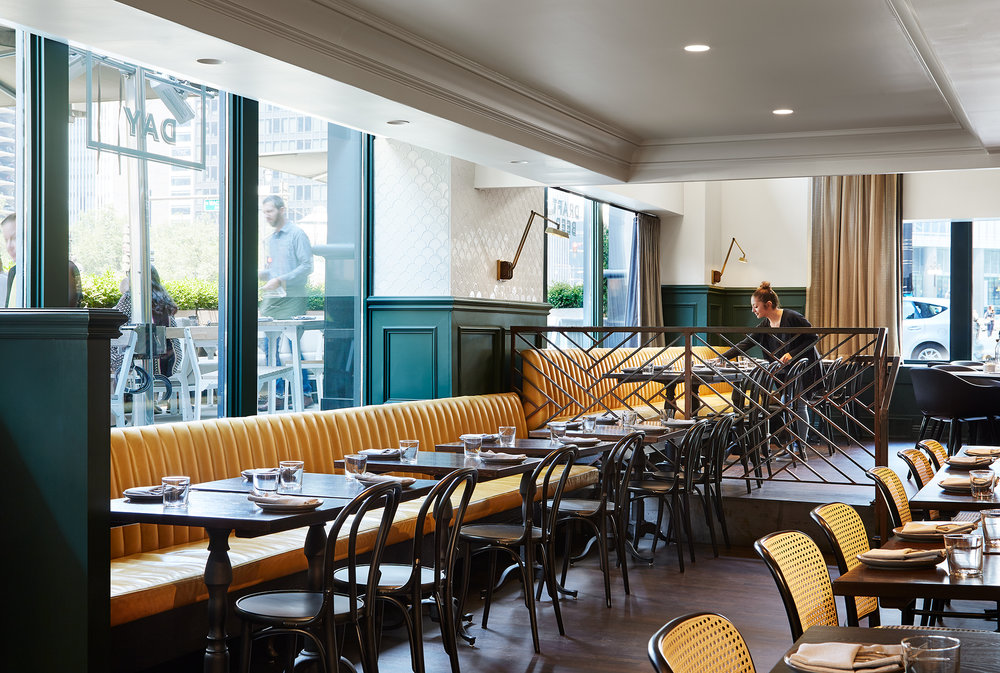 Source: Fisk & Co.
Couple ratio: 67%
Aggregate review score: 4.4
Fisk & Co. focuses on mussels and beer, bringing a little bit of Belgium to the Windy City. They offer seafood as well as meat and vegetarian options, with an extensive beer and drinks list to complement the food. Whether it's the happy hour oysters or mussels and frites, you'll be sure to come back for more.
What daters say
"The signature dishes (mussels) are fabulous! The service is outstanding. The design of the restaurant makes the acoustic quality such that one can actually have a normal volume conversation while eating. The decor is bright and inviting. Without a doubt this is a must visit restaurant." -AfishnamedArthur
"Best mussels and fries I've had since I moved back to the U.S. from Belgium! Hard to find anything close to this level of authenticity." -WilliamB
"Hands down one of the best raw bars in Chicago! " –Ellen K.
"This place is absolutely a hidden gem. " – Lynn S
"Fantastic environment for casual seafood." – Greg G.
Why Fisk & Co. is a great date spot
Bar Manager Melissa Carroll of Fisk & Co. told us, "For the couple that's just getting to know each other or one that is already comfortable together, our menu is built for sharing and makes for a more intimate dining experience. Whether it's sharing conversation over pull-apart Pretzel Monkey Bread or setting the mood with oysters, we have plenty of options. The beverage menu also lends itself as a great conversation starter; interesting handcrafted cocktails, full-bodied Belgian brews and hand-selected wine that will impress a first date."
For a casual, conversation-friendly setting with great food and drinks, Fisk & Co. is the place to be.
What to do nearby
Source: Chicago Theatre
With the iconic Chicago sign and world-class entertainment in a gorgeous and historic setting, the Chicago Theatre promises a memorable night in the Loop. The theatre also offers daily tours of the gorgeous French Baroque-style space.
The American Writer's Museum makes for a fun and informative dating experience. With interactive exhibits, typewriters and manuscripts, and a word waterfall, the American Writer's Museum may be small but is sure to please writers and readers alike! Spend the afternoon taking in literary history, then head over to Fisk & Co. for some mussels and beer!
6) CH Distillery and Cocktail Bar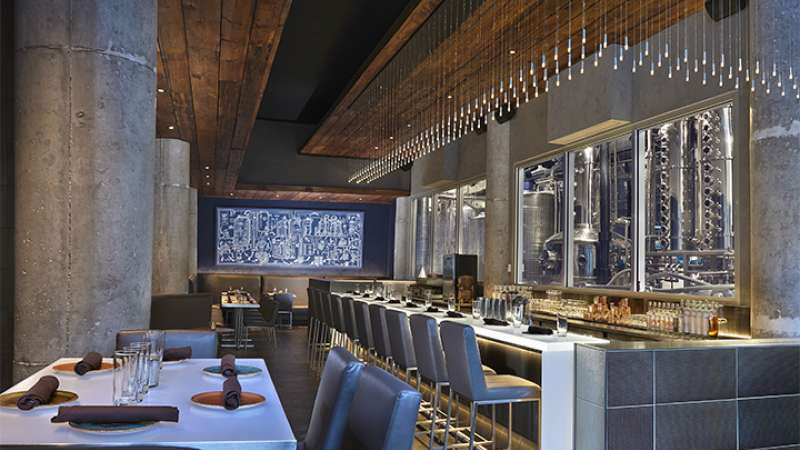 Source: CH Distillery and Cocktail Bar
Couple ratio: 50%
Aggregate review score: 4.5
CH Distillery and Cocktail Bar serves cocktails made with their own in-house spirits, and elevated pub fare. For spirit lovers, they offer distiller tours as well. With a relaxed but hip ambiance, CH Distillery and Cocktail Bar is an ideal place to grab a drink after dinner - and stay all evening.
What daters say
"This is one of my favorite spots to grab a drink. The ambiance is chill and very nice. It's a great place for happy hour, date nights, or just a fun spot to hang out with friends." – Nirali P.
"For just $15 you can take a tour of the distillery from the Food & Beverage director who is very knowledgeable of how vodka, gin, bourbon's are made. Made me appreciate the small batch quality of the vodka that I was able to taste at the end of the tour. Makes for a fun date night, or something different to do besides just going to a bar to grab a drink." – Jackie L.
"Cocktails are unique and really good. The atmosphere is cool and modern. The menu was small but the food phenomenal. Great place for a date or after work cocktail." – Eric C.
"This place is amazing. I went in with a date and sat at the bar. We loved everything from the cocktails, which are made using alcohol produced on site at the distillery, to the duck tacos. The bar staff took great care of us, and we'll definitely be back!" – Jacey N.
"This concept is brilliant. A gorgeous distillery makes the backdrop for one of the coolest new bars in the city, where the only alcohol they serve is made in house" - Preston C.
Why CH Distillery and Cocktail Bar is a great date spot
The amazing cocktails and cool vibe is enough to make CH Distillery and Cocktail Bar one of the top places for date night. For a unique date activity, the distillery tour will give you and your date a better appreciation for the cocktails and flights, and will provide you with a fun topic of conversation.
What to do nearby
Source: Marco Verch_
The Chicago French Market is a great spot to grab a bite to eat before or after getting drinks at CH Distillery and Cocktail Bar. Featuring "rush hour concerts" on Wednesdays and Thursdays, and with a European-marketplace feel, the Chicago French Market is a fun place to swing by.
7) Maple & Ash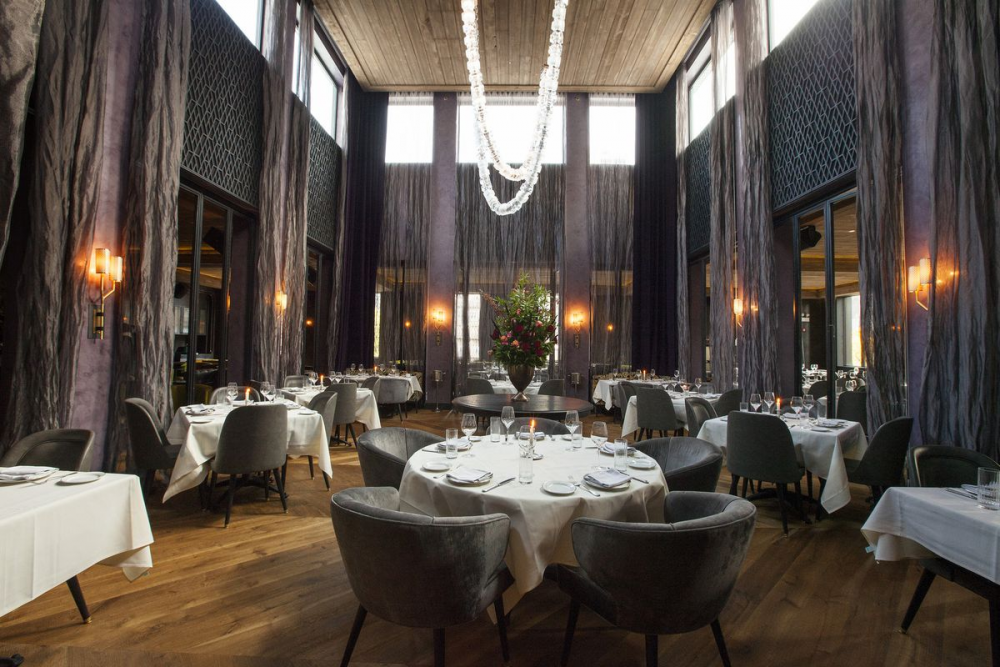 Source: Maple & Ash
Couple ratio: 48%
Aggregate review score: 4.7
Located on Chicago's Gold Coast, Maple & Ash is nominally a steakhouse, but offers so much more. They offer a huge range of amazing wines, and their seafood tower is a treat. The service and ambiance contributes to an overall wonderful dining experience.
What daters say
"I really love the atmosphere of this steakhouse. Dark, sensual, glamorous, and sexy. There's candles and sparkling chandeliers and beautiful, dark but airy drapes hanging from the high ceiling in the main room." – Misa T.
"The atmosphere is very intimate and comfortable with exciting and creative dishes." – Dustin L.
"We had a fabulous evening at Maple and Ash. The dining room is very romantic, the service impeccable and the food was cooked perfectly." – Lia K.
"A marvelous meal mixed with engaging ambiance and superb service." - Chgotourist
Why Maple & Ash is a great date spot
Dining Out Chicago lists Maple & Ash as a top place for date night for the romantic ambiance, views, and food. Renowned for a stellar wine list and incredible food, Maple & Ash is a must for a special date night dinner.
What to do nearby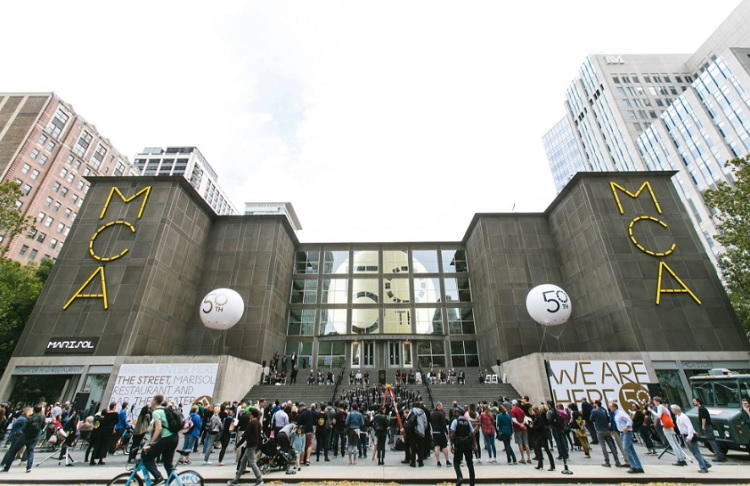 Source: Museum of Contemporary Art
The Museum of Contemporary Art showcases the work of current artists in a range of media, from sculpture to collage to film. With a permanent collection on rotating display through the current exhibitions, there is always something new to see.

8) Sable Kitchen & Bar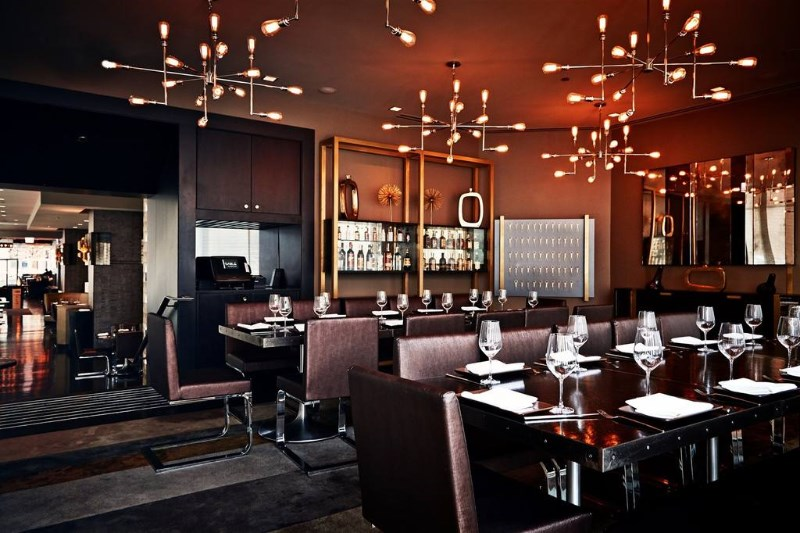 Source: Sable Kitchen & Bar
Couple ratio: 45%
Aggregate review score: 4.2
One of the best whiskey bars in Chicago, Sable Kitchen & Bar offers a wide range of whiskeys and an extensive cocktail list featuring both classics and house specialties. Sable is a great place for happy hour, offering small plates and sharable menu items crafted to complement the cocktail selection.
What daters say
"The atmosphere is perfect for a date night (moody, intimate, romantic) and service was great. Good wine list too." – bran856
"Amazing drinks all around! These guys know what they are doing and use very fresh ingredients in all of their drinks/food. One of our favorite date spots." – Dana N.
"Everything from the drinks to the hostess at the front, to the food was amazing. Try this place for a romantic night out or pre-drinks before hitting the town." –andrewc975
"My husband and I had a date night here and thoroughly enjoyed our dinner. Everything is offered tapas style, and it was fun trying all the creative, out-of-the-ordinary dishes. Highly recommend!" –skwexler
"This place is absolutely incredible. Stunning decor and elegant atmosphere. The food blew me and my fiancé's mind." – Scott A.
Why Sable Kitchen & Bar is a great date spot
The sharable portions, creative cocktail menu, and beautiful setting at Sable promise a perfect date night.
What to do nearby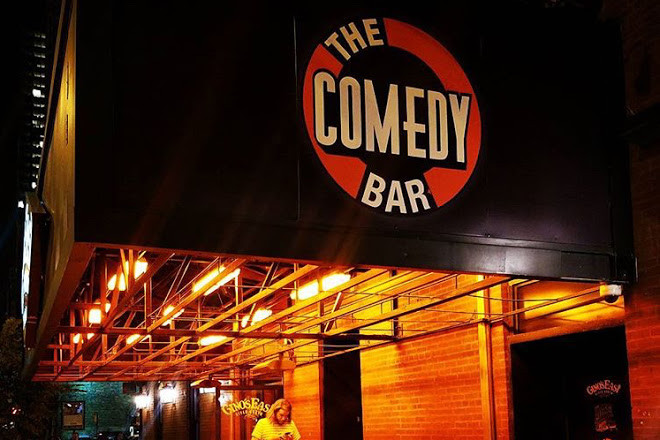 Source: The Comedy Bar
The Comedy Bar offers nightly performances, an intimate setting, and a great ambiance. It is sure to be an entertaining continuation of your date night.
9) Untitled Supper Club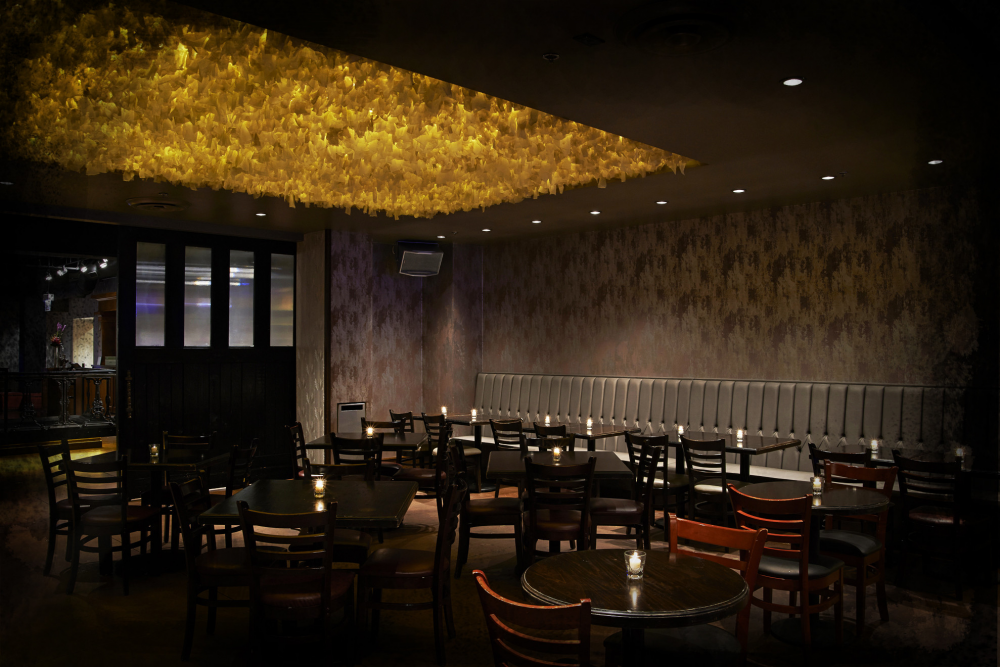 Source: Untitled Supper Club
Couple ratio: 44%
Aggregate review score: 4.3
Untitled Supper Club offers drinks, dinner, and entertainment in a speakeasy-inspired setting. With an extensive selection of American Whiskey—claimed to be the largest in the world—and craft cocktails as well as beer, wine, and champagne, Untitled Supper Club is an incredible place for drinks of any kind. Nightly live entertainment covers the whole gamut, from jazz to big band, to cabaret, and DJs for late-night entertainment.
What daters say
"This was the perfect date night spot. It was our first time here, and enjoyed ourselves tremendously. From the live band, to the great drinks, to the multi room DJ nightlife entertainment, we had a blast." – Dashawn T.
"I loved the artwork, decor, and romantic 20's ambience at this speakeasy." – Alexa L.
"What a cool restaurant/lounge with an awesome speakeasy vibe! The live music was incredible, the drinks were delicious and the various rooms made the space seem very spacious. I loved my visit here!" – Elena S.
"The ambiance and the decor was beautiful. The wait staff was great. Untitled is a nice spot for date night." – Anita R.
"Untitled is by far one of the best places in Chicago to listen to fantastic live music and have an outstanding meal with impeccable service." – Alexandria M.
Why Untitled Supper Club is a great date spot
Because Untitled offers food, drink, and entertainment, it makes for an easy and convenient night out. This, along with the ambiance and quality of their food and drink makes Untitled a top spot for date night.
What to do nearby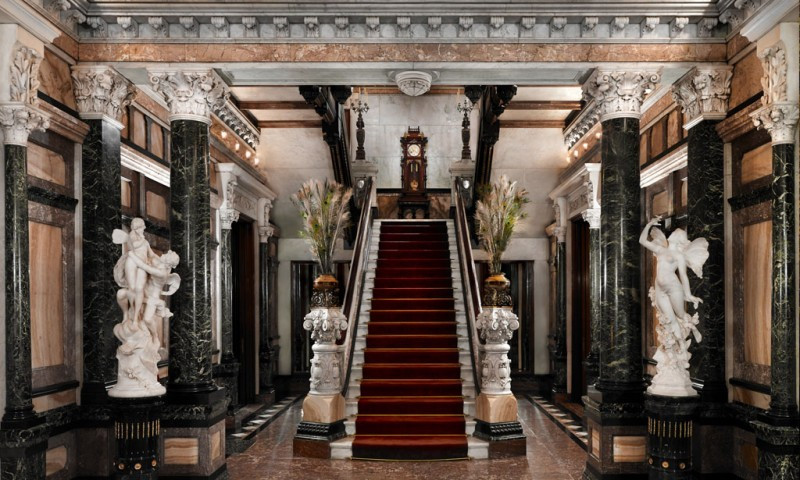 Source: Driehaus Museum
The Driehaus Museum is housed in a restored Gilded Age mansion. With elaborate and luxurious details in every corner, the Driehaus museum is a marvel for art lovers, architecture fanatics, and history buffs alike.
10) Ocean Prime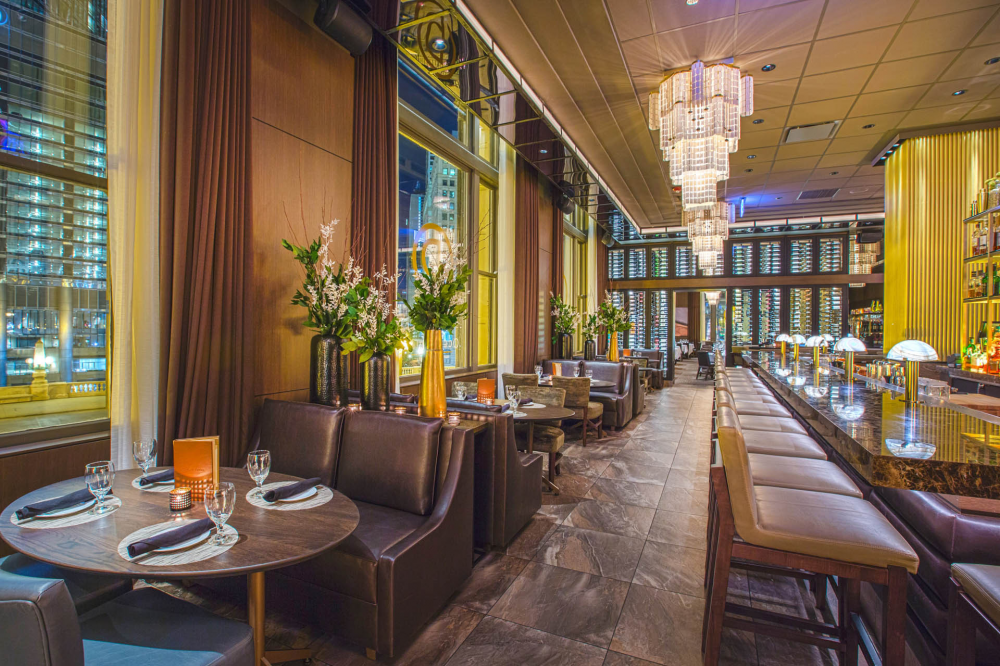 Source: Ocean Prime
Couple ratio: 43%
Aggregate review score: 4.6
Ocean Prime is a Cameron Mitchell restaurant, consistently winning awards nationwide, that specializes in seafood, steak, and cocktails. Overlooking the Chicago river, the restaurant is an unbeatable experience in an unbeatable location.
What daters say
"Lovely location, beautiful and romantic restaurant." –Jen E.
"The ambiance was everything one would expect from our world class city: modern, spacious yet intimate with views overlooking the river and a bustling Michigan Ave. The food was well seasoned and balanced." – Sharisse A.
"What an exceptional evening out. We loved the atmosphere and the service but the food alone would encourage frequent repeat visits." - Jewelsworld
"The service is exceptional and the food outstanding. From fresh oysters to fresh halibut, prime steaks and outstanding sides, the meal was outstanding" – Jill R R
"A great restaurant for a special occasion or fancier night out." – Beverly K.
Why Ocean Prime is a great date spot
Ocean Prime has it all: steak and seafood in a gorgeously decorated interior, incomparable service, and views of the Chicago River. A date night at Ocean Prime is sure to be memorable.
What to do nearby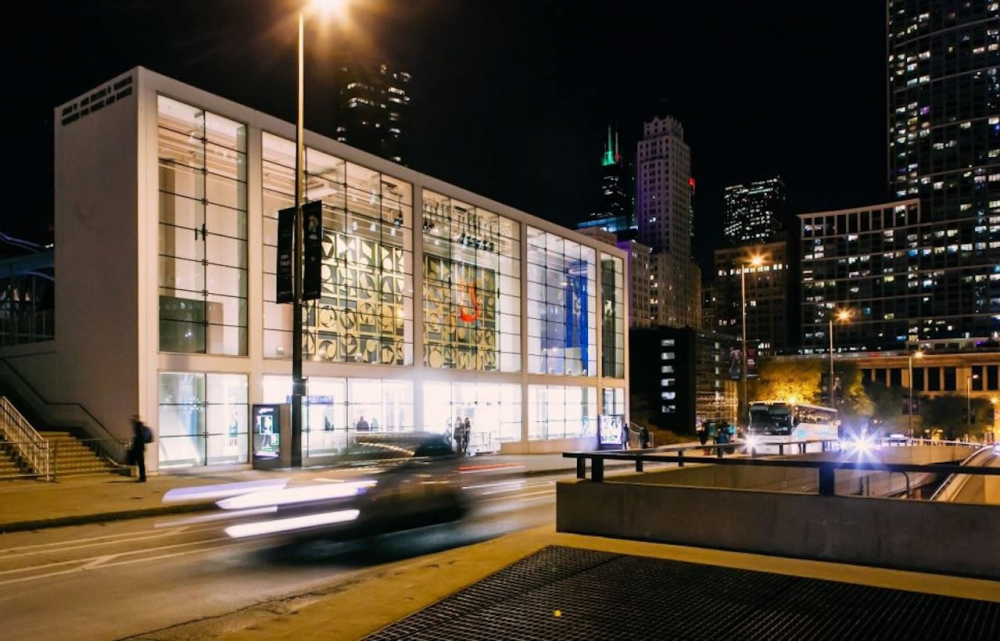 Source: Harris Theater
The Harris Theater in Millennium Park houses regular music and dance performances. Its mission is to support local artists, host international performers, and educate the public. The Harris Theater promises a sophisticated cultural experience.
11) Spiaggia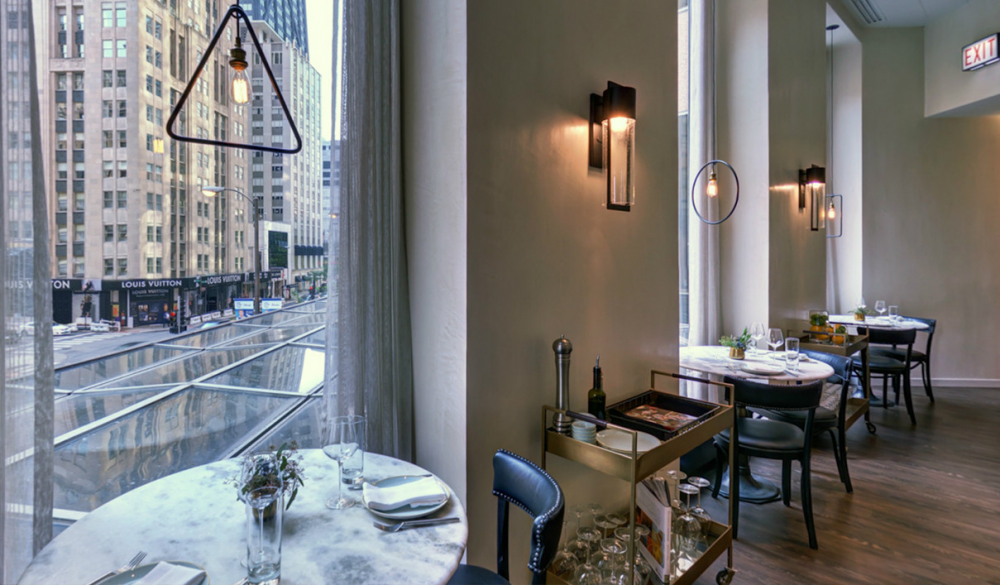 Source: Spiaggia
Couple ratio: 42%
Aggregate review score: 4.1
Spiaggia is a modern Italian restaurant known for its delicious food and amazing wine, reflected in its Michelin-star status. The wine menu represents a wide range of Italian regions, including lesser-known ones. The views and beautiful décor elevate the dining experience even more.
What daters say
"The Italian cuisine is first-rate and the atmosphere, with the bar situated at the front entrance, the open kitchen, the impeccable service and the two-tier seating with the grand view, place Spiaggia in a class by itself." – Taylor B.
"This was a great night for us. Everything was perfect from the view to the atmosphere, service, and food. It's an experience we will never forget." – JYDan11
"My husband and I went on a Friday date-night and absolutely loved everything about the place! The interior decor was so chic and romantic, while the views outside the huge windows were also breathtaking. The food was AMAZING! " – Agnè S.
"Spiaggia is a great restaurant if you are looking for a really indulgent and luxurious Italian dinner in Chicago. " – Anthony N.
Why Spiaggia is a great date spot
There are few cuisines more typically romantic than Italian food. Spiaggia promises a lavish meal with incredible views of Lake Michigan and Michigan Avenue.
What to do nearby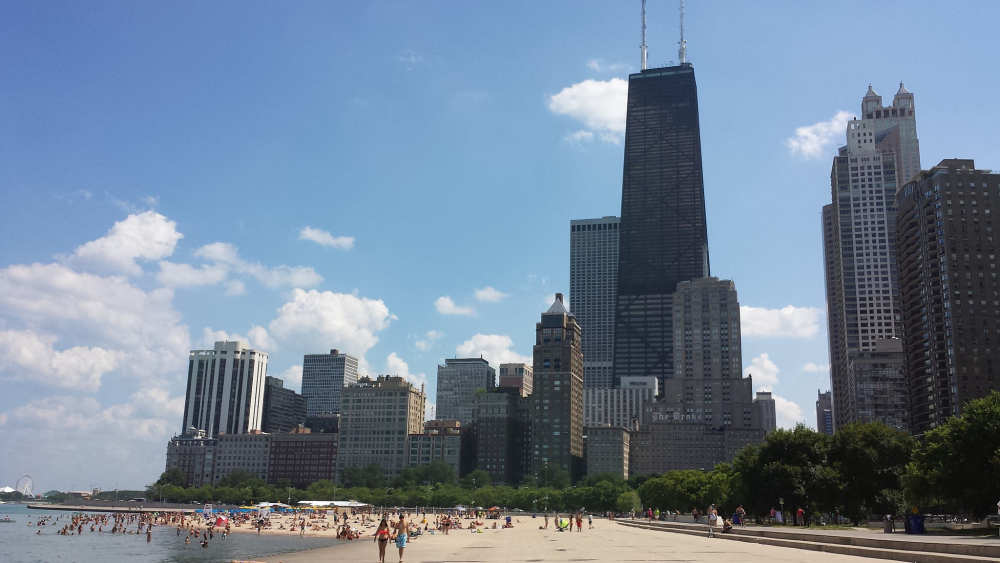 Source: Steven Kevil
Oak Street Beach is a short walk away from Spiaggia. There is nothing more romantic than a stroll along the beach, especially with the views of the Chicago skyline.
12) Bernie's Chicago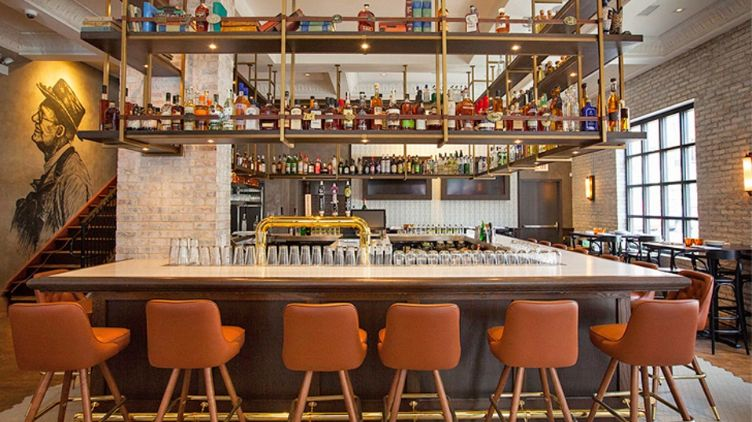 Source: Bernie's Chicago
Couple ratio: 41%
Aggregate review score: 4.2
Representing Chef Zack Skylar's first Chicago venture, Bernie's Chicago offers seasonal and progressive cuisine in a hip and causal setting. With a fabulous cocktail menu and great selection of wine and craft beer, Bernie's is also beloved for its happy hour—especially on the popular rooftop bar.
What daters say
"Love the industrial feel of the place. Their small rooftop is perfect and has great ambiance." – Josien_Dennis
"Great prices, and skilled, friendly bartenders make Bernie's the go-to place for Happy Hour. Beyond that, the food is incredibly amazing, and the beer and whiskey selections don't let down either." – Elliot S.
"Bernie's is a great date night spot." – Chelsea S.
"Love this place so much! Their space is gorgeous, the service was so friendly and the food was phenomenal." –Shannon G.
Why Bernie's Chicago is a great date spot
Mark O'Sullivan, the General Manager of Bernie's, told us, "Bernie's is the ideal date night spot in Chicago's River North neighborhood because of our stunning interior, spacious rooftop, and delicious food and cocktails. Guests can cozy up at the bar and enjoy Happy Hour for a casual date, or be seated in the dining room to enjoy or share small plates, entrees, and flatbreads alongside a few cocktails. Bernie's is the perfect backdrop for conversation, as our ambiance is intimate yet inviting."
Whether for dinner, happy hour, or after-dinner drinks, Bernie's is a delightful place for your next date night.
What to do nearby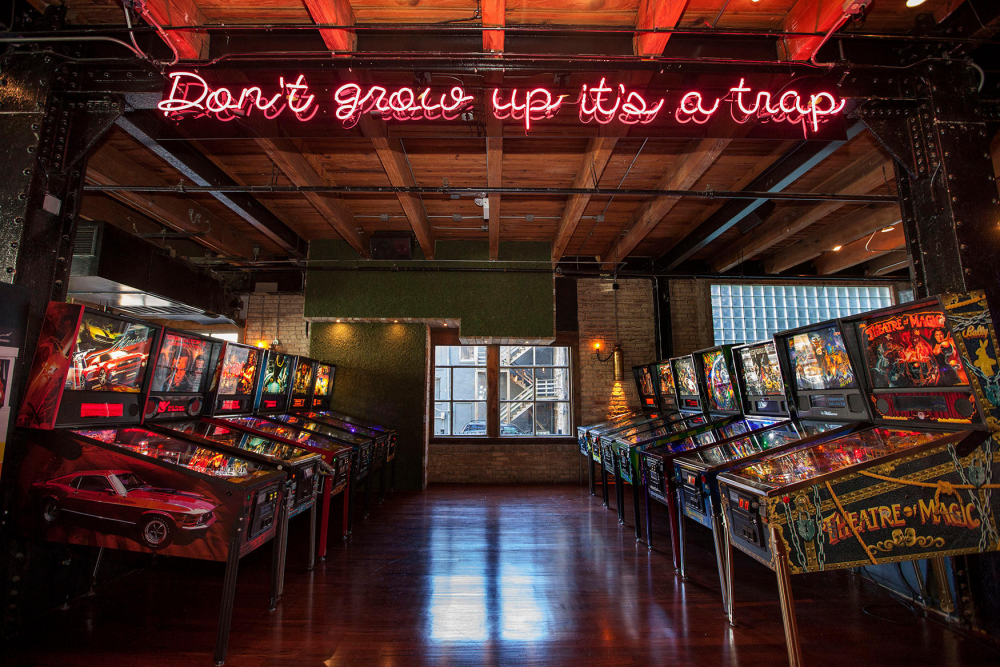 Source: Headquarters Beercade
Headquarters Beercade offers a great selection of local craft beer and inventive cocktails, but what makes it really stand out is the vintage arcade and pinball. With a huge selection of games to play, Headquarters Beercade is a great place to go for a fun and amusing night out with your date.
13) Navy Pier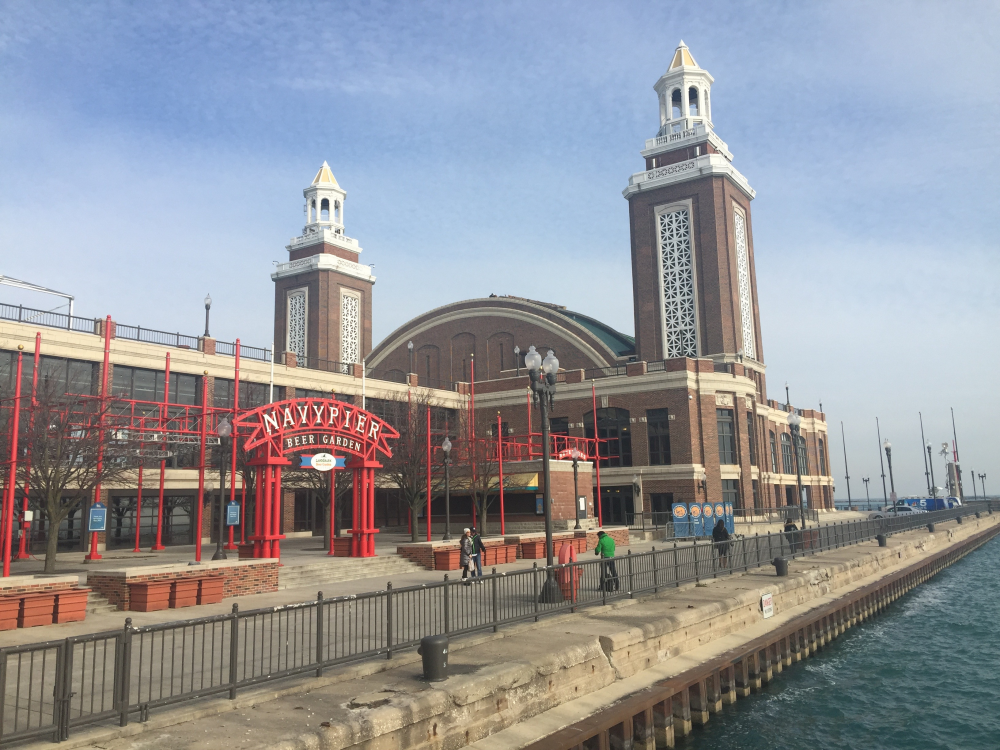 Source: Navy Pier
Couple ratio: 40%
Aggregate review score: 4.3
An iconic spot on Lake Michigan, Navy Pier offers shopping, restaurants, rides, an IMAX theater, and great views of the Chicago skyline. Fireworks light up the sky on summer nights, and the bustle of people evokes a festival atmosphere.
What daters say
"My Love and I became big kids again as we walked from Ohio Beach to the Pier. There was so much to see, and do. I expected the Centennial Wheel, but I didn't expect the rides and the Fun House Maze or Time Freak (another cute and fun speed game). I enjoyed the food at DMK and the cupcakes at Brown Sugar Bakery. We wore ourselves out!" – TellMeWhen2Go
"This is a great place to take a date." – Matt G.
"From the iMAX movie theatre to all the shops this is a great way to spend an afternoon or an evening. The early '20s crowd should love this place for date nights. The fireworks during the summer are a great plus." – Ken R.
Why Navy Pier is a great date spot
Navy Pier is a fun place to take a date. Whether you connect with your inner child and get ice cream and ride the Centennial Wheel, see an IMAX movie and have dinner, or board a sunset dinner cruise, Navy Pier promises an entertaining and memorable date. The views of the lake and the skyline make even a simple stroll along Navy Pier romantic.
Payal Patel, a spokesperson for Navy Pier told DatingExperts.com, "Navy Pier offers a wide range of options for date activities – from a romantic ride on the iconic Centennial Wheel at sunset or amidst the glowing city lights, to dining at one of the many on-site restaurants that offer unique lakefront views. Couples can even take their drinks to-go and stroll down the South Dock as they catch breathtaking vistas of the Chicago skyline and majestic Lake Michigan. Perhaps they might also consider elevating their experience by visiting Offshore, the world's largest rooftop bar and restaurant – confirmed by the Guinness Book of World Records. Additionally, with on-site entertainment venues, such as Chicago Shakespeare Theater and the Navy Pier IMAX at AMC, couples can choose to close out their night by taking in a show or a movie. The options are endless and the experiences are priceless for daters at the Pier".
What to do nearby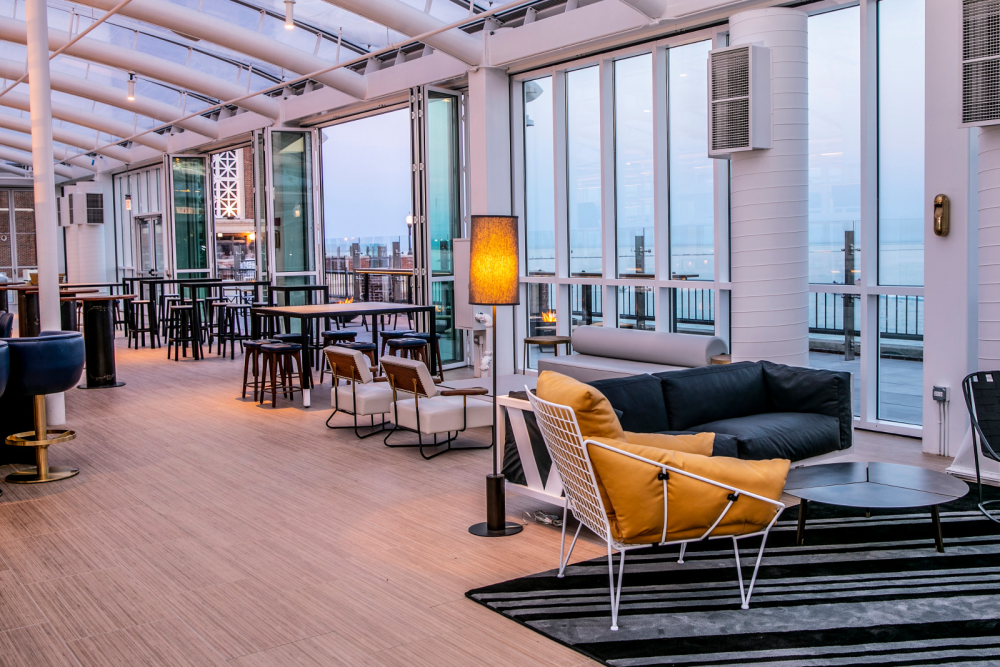 Source: Offshore
Offshore is a rooftop bar and kitchen located at the far edge of Navy Pier. Offering stunning views of Lake Michigan and the Chicago skyline, Offshore promises an enchanting end to a day on Navy Pier.
Also located on Navy Pier, the Chicago Shakespeare Theater showcases both Shakespeare and modern theatrical performances throughout the year.

14) State and Lake Chicago Tavern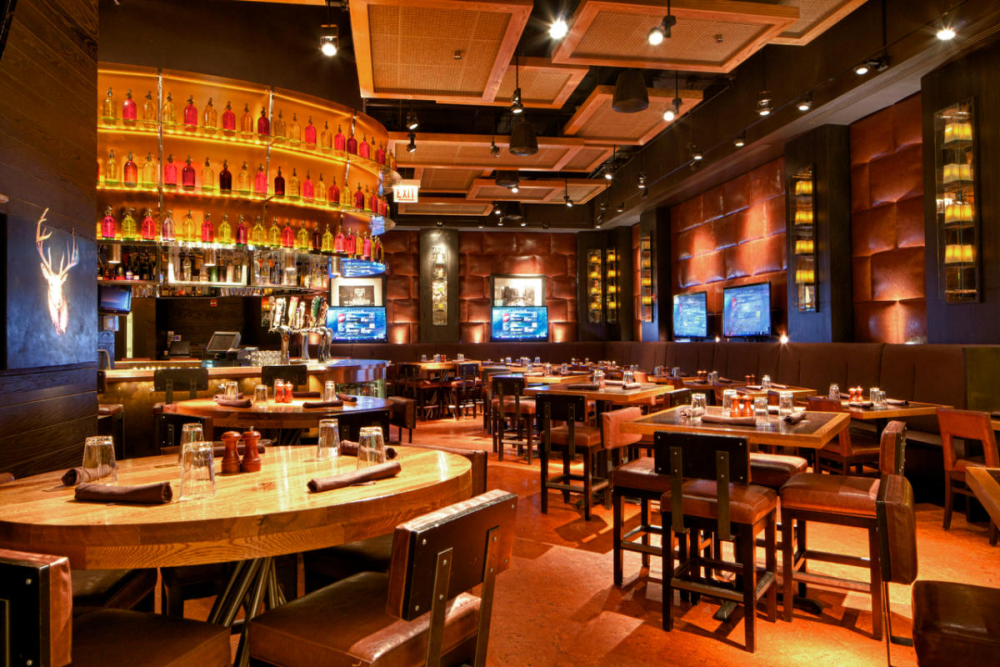 Source: State and Lake Chicago Tavern
Couple ratio: 40%
Aggregate review score: 4
State and Lake Chicago Tavern is a modern and upscale gastropub. The menu focuses on local ingredients, and the drinks menu offers a range of artisanal beer, wine, and cocktails. This is comfort food made to the highest standards.
What daters say
"The food is outstanding! They combine amazing ingredients that work nice to compliment each other to create one of kind tastes! Great selection of beer and cocktails as well!" – Stacy L.
"Really nice place, outstanding ambience with excellent service food and drinks. Great place to bring a date." – David B.
"It's a fun "date night" type place that has a warm vibe and is not pretentious." – Jennifer Q.
Why State and Lake Chicago Tavern is a great date spot
For a relaxed date night, State and Lake Chicago Tavern is the perfect place. The menu boasts a nice selection of small plates designed to share, and the comfortable atmosphere is sure to put you and your date at ease.
What to do nearby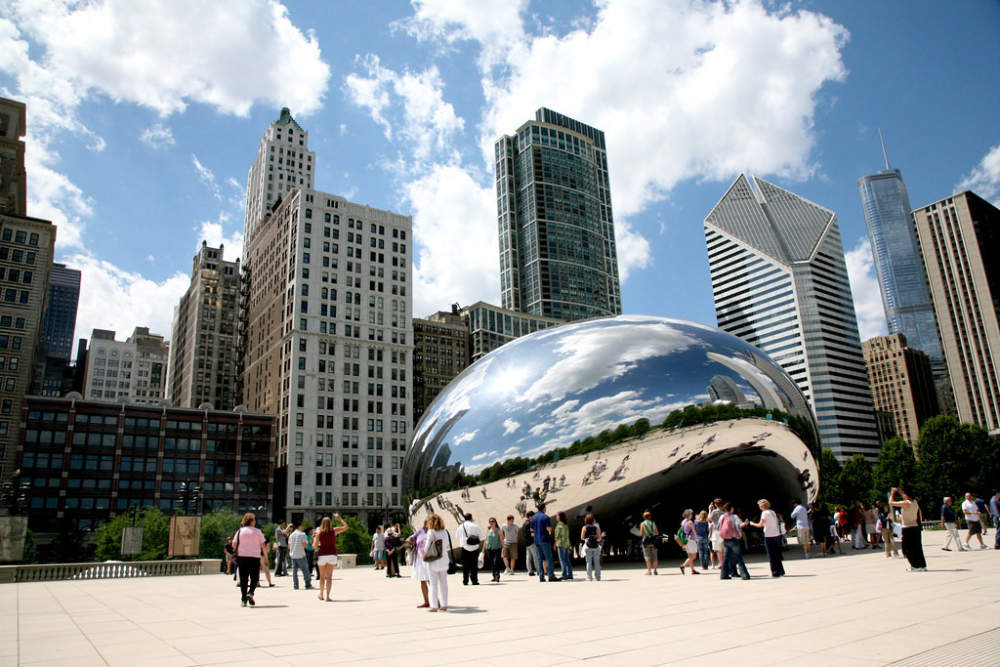 Source: Millennium Park
A short walk away from State & Lake Chicago Tavern is Millennium Park. Enjoy outstanding public art in the form of sculpture, landscape, and architecture. Bike rentals are available if you'd like to explore further into Grant Park. A visit to Millennium Park is a great date activity for before or after dinner at State and Lake Tavern.
Howl at the Moon is a national music venue offering nightly music for a reasonable cover charge. Reservations are not required, but can be made to ensure a seat.
15) The Field Museum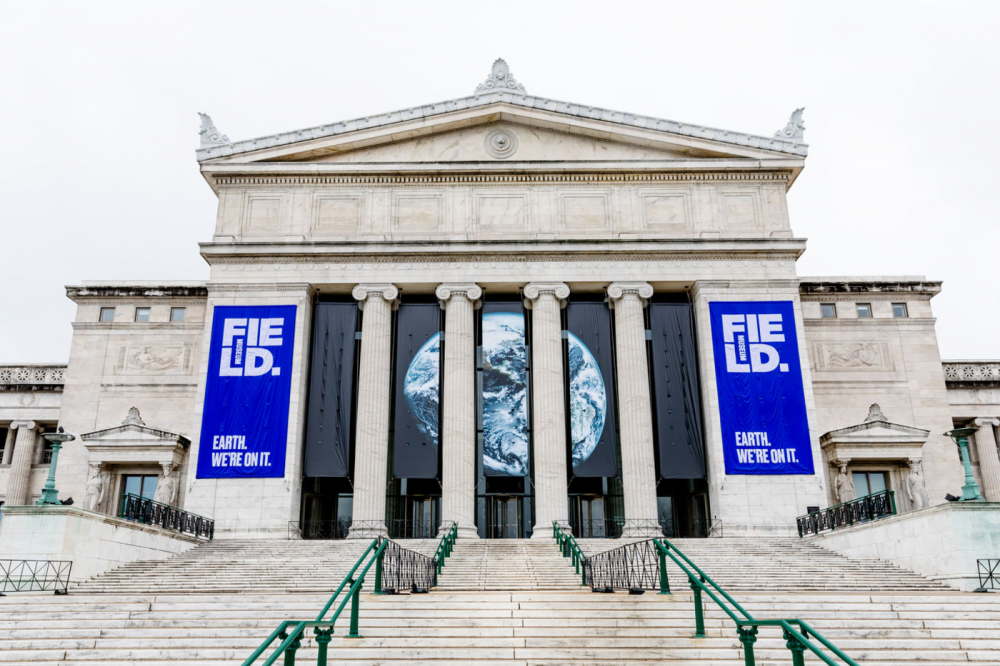 Source: The Field Museum
Couple ratio: 37%
Aggregate review score: 4.5
The Field Museum is an educational experience in science and natural history for people of all ages. They offer adult-friendly events and activities, such as tours, Poetry Pop-Ups, Seminars, Meet a Scientist, and citizen science sessions. There are two restaurants and a seasonal grill, so you don't have to leave the museum campus for lunch.
What daters say
"The Field Museum is a world-class museum in a gorgeous setting in a world-class town." -cmhprh
"This is my favorite museum in Chicago. Lots of fun interactive exhibits and free guides daily. Always something new to see. Great for kids, but a great place to go on a date, too." - ChatterFL
"I think the field museum is an excellent place filled with history and artifacts unlike any other museum. I'm glad that it is in the City of Chicago and easily accessible by public transportation. Excellent place to take a date." – Anthony S.
"Went with my wife and was a super fun date day in the city. Wonderful, education, amazing exhibits and friendly staff" - CustomMadeGJ
"If you need something to talk about on a date or on a family outing, this is a great place to go. If the weather's nice, you can sit right outside the building and look out at the lake and downtown. No better view in Chicago." – Fussy_Janet
Why The Field Museum is a great date spot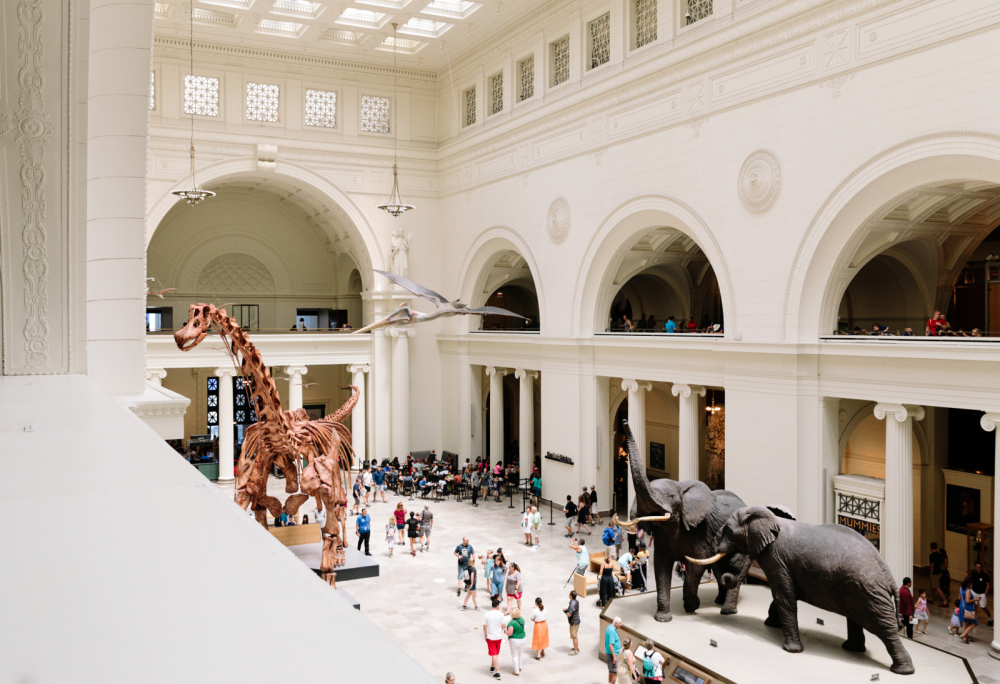 Source: The Field Museum
With a never-ending source of topics for conversation, and a great view of Chicago outside, the Field Museum is a unique and entertaining spot for a daytime date.
What to do nearby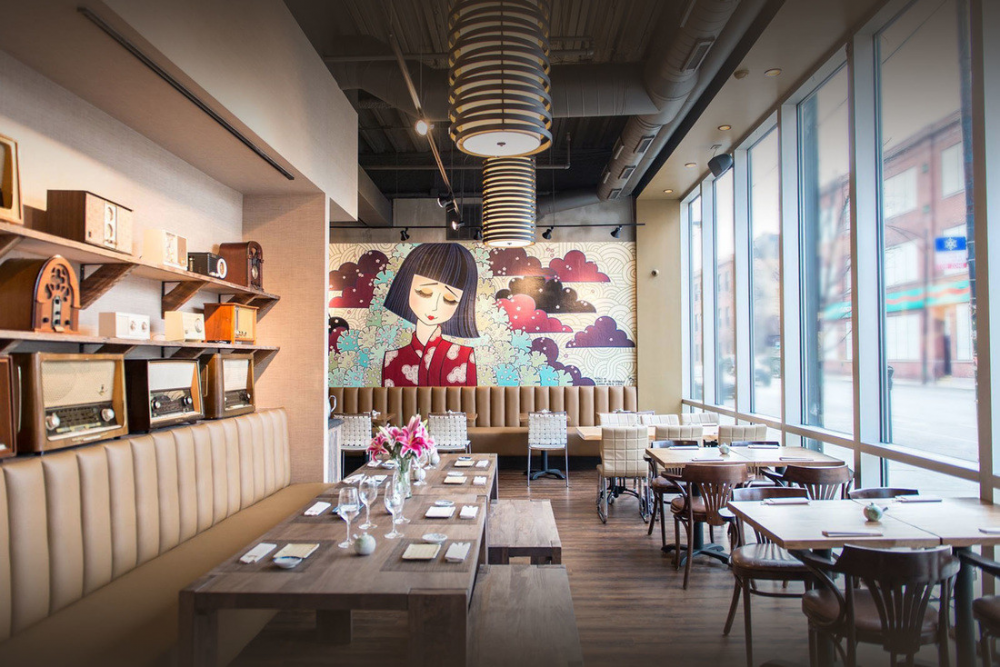 Source: Umai
Umai offers Japanese cuisine and sushi, and a great sake menu. Focusing on high-quality ingredients in a cozy setting, Umai is a great spot to have dinner after a day at the Field Museum.
16) Lincoln Park Zoo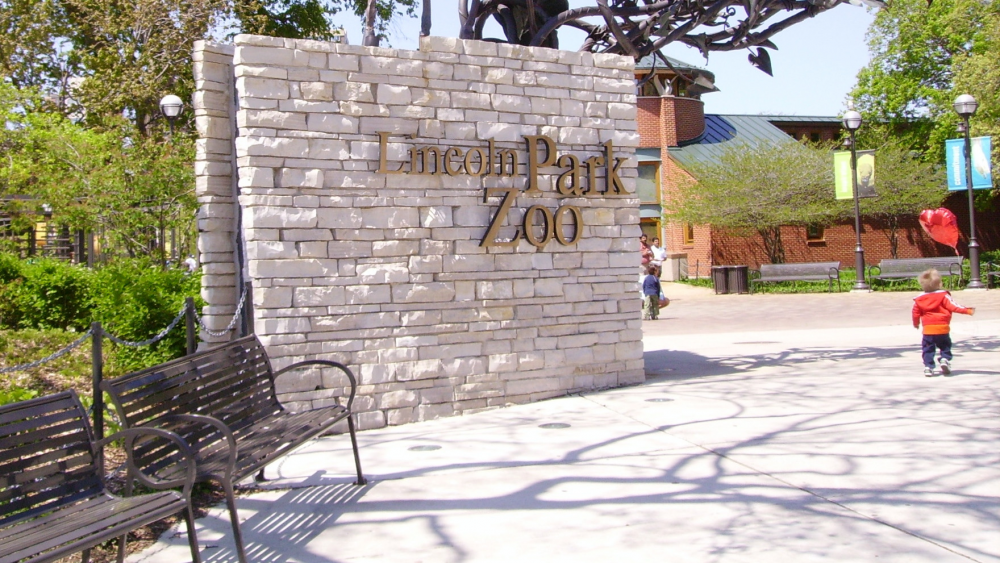 Source: Lincoln Park Zoo
Couple ratio: 36%
Aggregate review score: 4.5
Lincoln Park Zoo is a free zoo located in Lincoln Park, just north of Downtown Chicago. Take a walk along the Nature Boardwalk, marvel at the prairie plants and wildlife, take in the skyline. The Patio at Café Brauer also boasts some great scenery. The zoo offers a range of experiences, from penguin encounters during the day to an adults-only Adults Night Out evenings.
What daters say
"The best part is that the zoo is free to the public. It is a nice place to go on a date. You can spend hours walking around, talking, and enjoying the different exhibits." – Nick P.
"It's a great place to visit, especially if you or one of your partner's is a photographer, and the free admission is the best." – Japalion F.
"One of the best dates I ever went on was a late afternoon stroll through the zoo followed by a nice dinner in Lincoln Park." – Skylar C.
"One of the best dates I've ever been on was at the Lincoln Park Zoo. It was around Christmas time and we went to see the Zoo Lights." – Madeline L.
Why Lincoln Park Zoo is a great date spot
A date at the Lincoln Park Zoo is sure to spark conversation, and is a great spot to stroll hand in hand. The Adults Night Out events offer reduced crowds, educational talks and a cash bar. The zoo is beautiful during the holiday season, with sparkling lights throughout the zoo. And if your budget is a little tight, the free entry to the Lincoln Park Zoo is a huge bonus.
Lincoln Park Zoo told us the attraction is a great date spot because of its endless conversation starters. "Whether strolling through the gardens on a sunny weekday, attending a weekend craft beer festival, or checking out an Adults Night Out, there is always something to do at the zoo. Plus, each visit and ticketed event helps the zoo stay free and open 365 days a year", a spokesperson said.
What to do nearby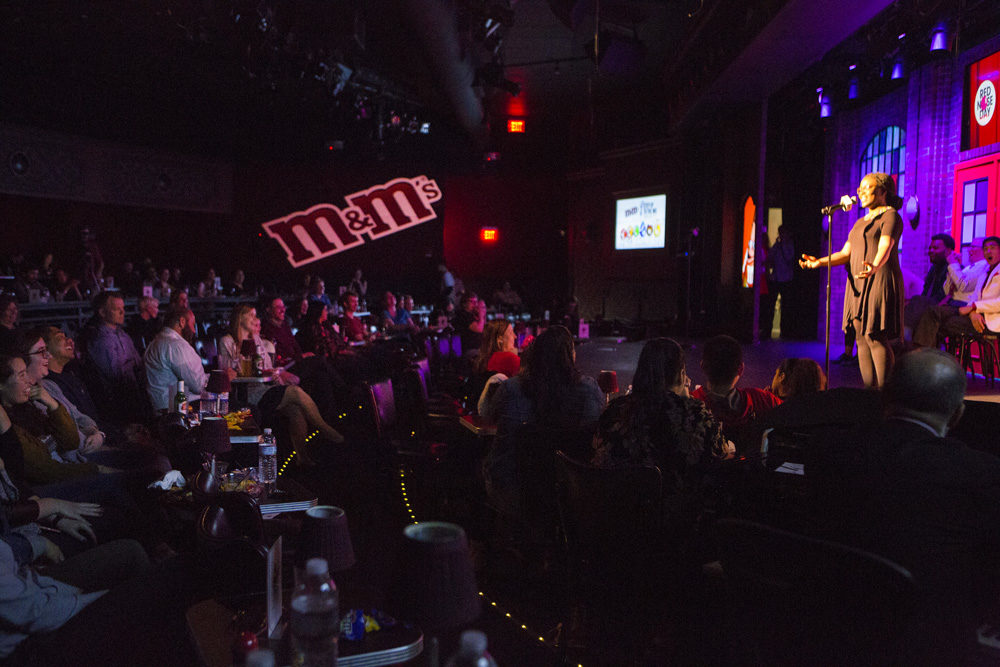 Source: The Second City
The Second City offers improv and sketch comedy performances nightly. Well-known for its stellar alumni—including Bill Murray, Tina Fey, and Steven Colbert—a night at Second City is always a delight.
17) Taureaux Tavern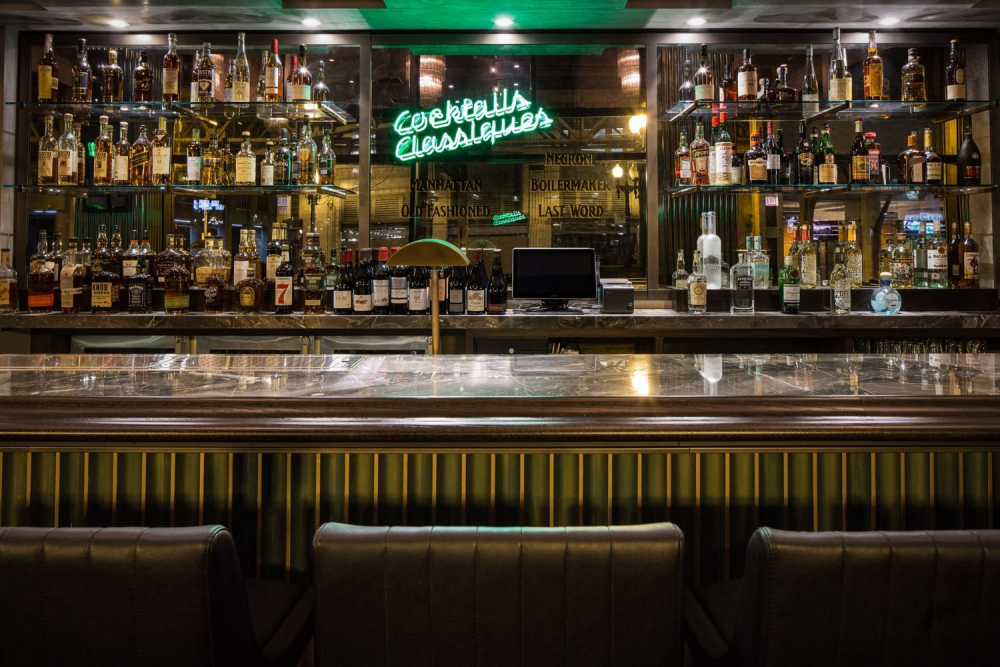 Source: Taureaux Tavern
Couple ratio: 32%
Aggregate review score: 4.2
Taureaux Tavern offers French-inspired fare in a gorgeously decorated setting. Taureaux Tavern is perfect for a romantic date in the heart of downtown Chicago.
What daters say
"10/10 for the interior - emerald greens with gold accents and a clean light space perfect for millennials. Outdoors the patio is pretty and has garden boxes of flowers. " – Andi K.
"The atmosphere is absolutely stunning here. I'll definitely be back!!" – Taylor A.
"Our food was wonderful, service was second to none and the whole experience was great. It's a nice gem in the Financial District and I cannot wait to go back." – bex0316
Why Taureaux Tavern is a great date spot
A representative for the tavern told Dating Experts, "Taureaux Tavern is ideal for both established couples and those meeting for the first time. The ambiance is elegant, yet one can feel comfortable in casual attire or dressed up. Couples can enjoy Taureaux's curated playlist while being able to easily converse in the dining room, at the bar, or all-weather pergola.
"Chef Mike Sheerin's French-inspired menu includes a wide array of dishes, many are perfect for sharing with your date alongside one of Taureaux's craft cocktails or a bottle of wine from their extensive list. For casual dates, we recommend grabbing a seat at the bar or in the pergola, and for more formal engagements, enjoy a meal in Taureaux's intimate dining room."
What to do nearby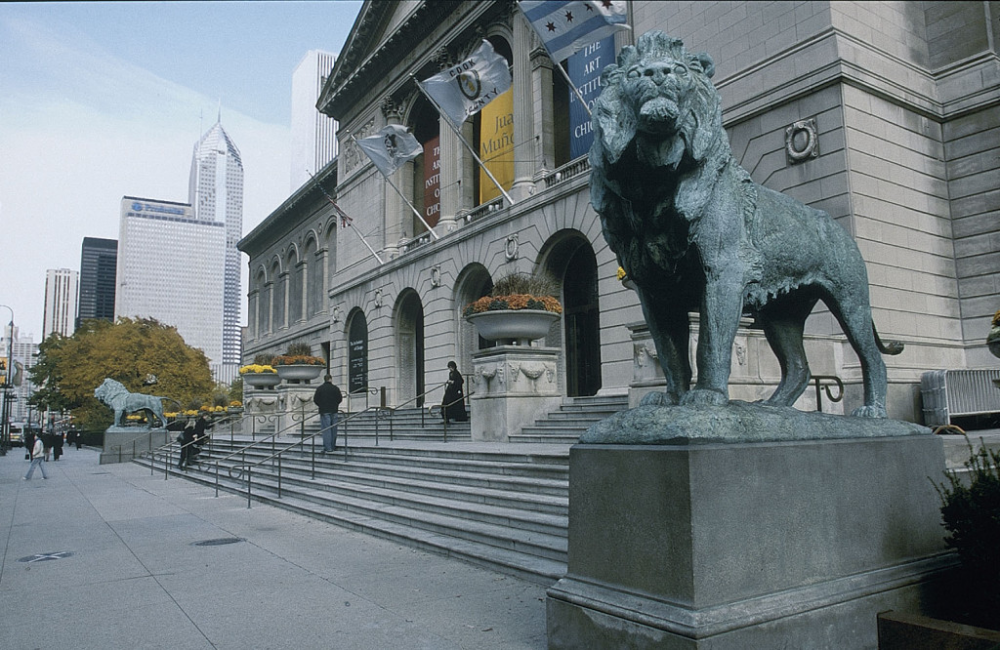 Source: Art Institute of Chicago
The Art Institute of Chicago's galleries host a range of styles and eras. From a 12th century Buddha statue to paintings by Van Gogh and other greats to Marc Chagall's stained glass installation and the Ando Gallery architectural experience, the Art Institute offers thought-provoking and beautiful experiences sure to spark meaningful conversation. Open daily till 5, the museum holds later hours on Thursdays, staying open till 8. Check out the art before heading over to Taureaux Tavern.
18) Adler Planetarium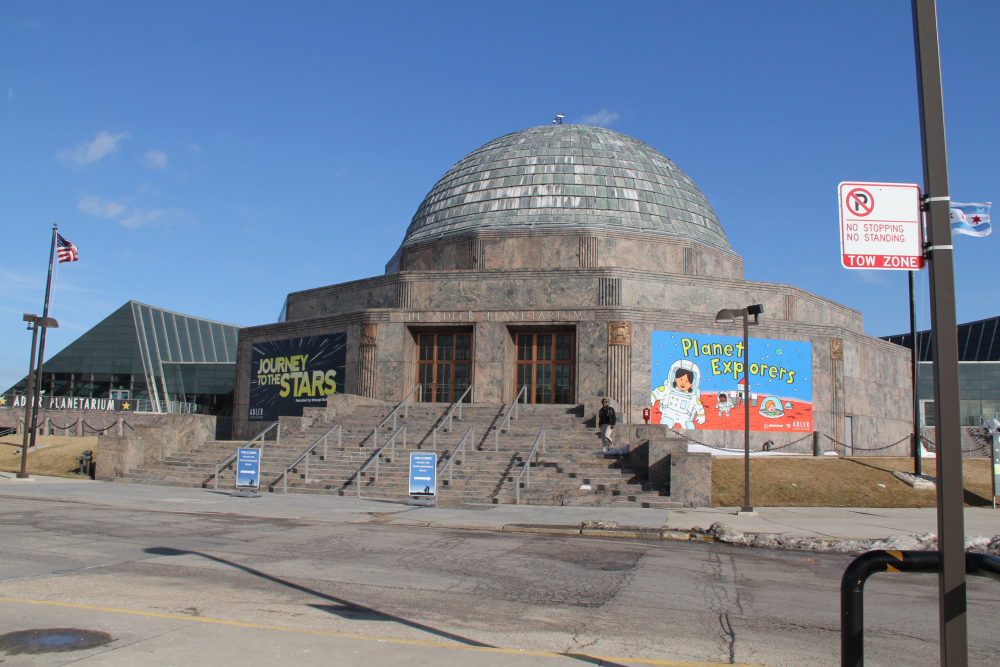 Source: Adler Planetarium
Couple ratio: 31%
Aggregate review score: 4.2
Opened in 1930, Adler Planetarium was the first modern planetarium in the western hemisphere. With a range of space-themed exhibits, shows, and activities, Adler Planetarium is a great place to learn, explore, and have some fun. They offer events such as yoga, lecture series, and other educational programs. As an added bonus, Adler boasts amazing views of the Chicago skyline. Galileo's café offers lunch and snack items, with an eating area showcasing the views.
What daters say
"When you arrive the art deco look of the building is truly amazing and makes for a great introduction prior to entering. I must say that my favorite part of the entire trip was the ending in the evening, the Adler After Dark experience is unbelievably magical." – Peter B.
"Our favorite way to enjoy the Adler is to arrive late in the afternoon on the 3rd Thursday and stay for Adler at Night. Not just the star show inside, but music, food, drinks and the star show outside. After dark you have a spectacular view of the Chicago skyline, all lit up." - KateMoves
"Besides getting the greatest view of the Chicago skyline from this premier vantage point, you can catch a view of the heavens and maybe learn a little something. It's Adlar After Dark and it's out of this world!" - MarleneKartunist
Source: Adler Planetarium
Why Adler Planetarium is a great date spot
While Adler Planetarium is fun and educational during the day, the adults-only Adler After Dark event series makes Adler Planetarium a great place for a fun and unique date night. Every third Thursday of the month, Adler opens for adults to explore the museum, see sky shows, showcases educational programs, special guests, and live entertainment. Each month offers a new theme. Cocktails and other beverages can be purchased on-site, and Café Galileo offers food.
The event series' Program Manager, Kyle Sater told us, "There's something magical about being in a museum at night, and Adler is no exception. The jaw-dropping view of the Chicago skyline, themed cocktails, and opportunities to look at a planet up-close in a telescope or go stargazing in a domed theater make for an unforgettable experience".
Other press raves about Adler After Dark, too; The Real Chicago says "For $15 in advance ($20 at the door), you get to explore the whole planetarium, see as many sky shows as you like, and attend thought-provoking lectures. Alcohol is available, with beers coming in at around $5-6. Looking back on your night, you realize After Dark is one of those experiences you can have so much fun at, you may not realize until later that you've actually learned something too".
What to do nearby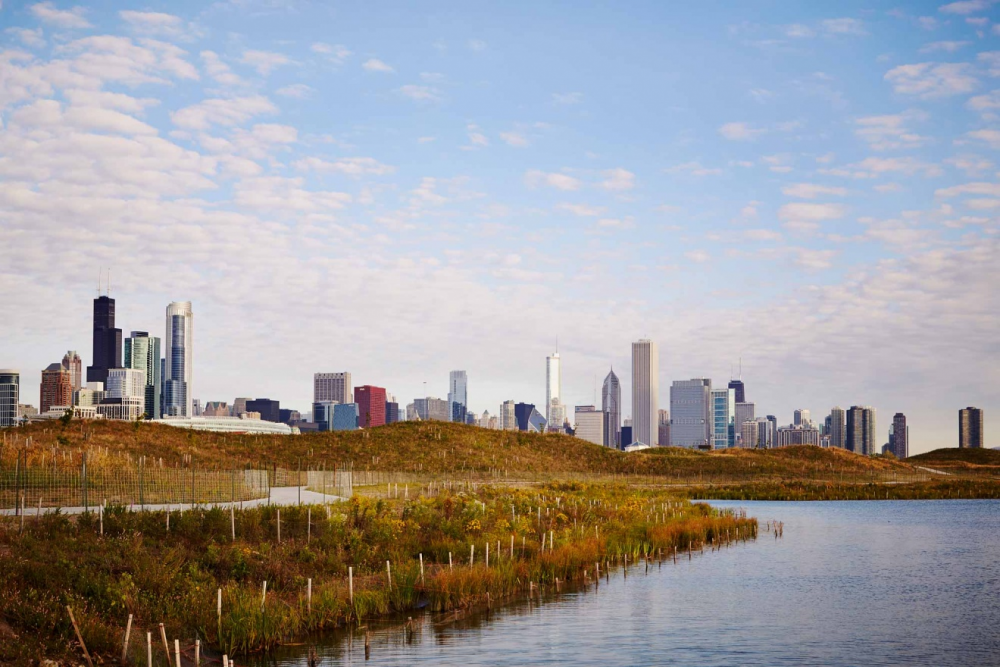 Source: chicagoparkdistrict.com
Northerly Island, where Adler Planetarium is located, continues on to the south and boasts nature reserves, walking paths, 12th street beach, and the Huntington Bank Pavilion concert venue.