The Top Dating Spots in Miami (According to Couples)
Miami is famous for its scenery; it has seemingly infinite beaches, unique mangrove swampland and is encompassed by two national parks. It's a hot spot for lovers of the great outdoors, but also lovers in general. More couples from overseas come to Miami than almost anywhere else in the United States. While the city thrives on income from tourists, it has a ton of cool, low-key date spots waiting for you to discover. We analyzed every destination by the number of positive reviews from couples, and ranked them in this guide.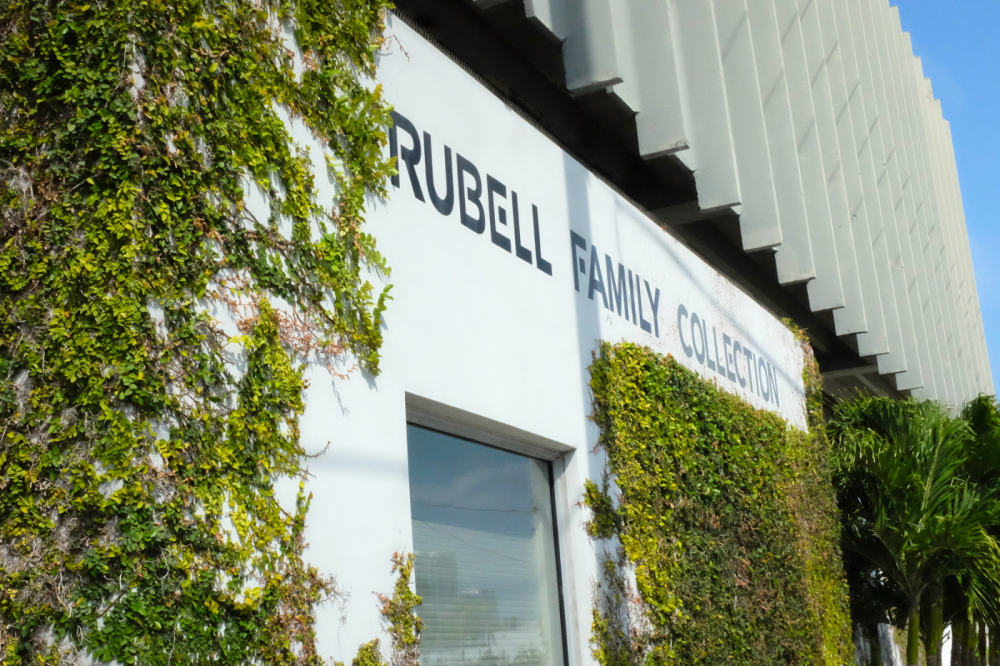 Source: Rubell Family Collection
Average review score: 4
Couple ratio: 59%
Just north of Downtown Miami sits one of the city's most exciting and engaging arts locations. Housed in an old DEA warehouse that has been flawlessly and lovingly repurposed into a contemporary art space, this gallery shines the spotlight on a balanced blend of both established and emerging artists from the local area and far beyond. The Rubell Family Collection is one of the largest and most inspiring private contemporary arts collections in all of North America, and the gallery space features an evolving array of artists, exhibitions, and events for all to enjoy throughout the year.
What couples say about Rubell Family Collection
"Please note that the museum has moved a spectacular new building at 1100 nw 23rd. You may wonder where your Uber driver is taking you, but rest assured he will be thrilled with what you get to see. The current inaugural exhibition is definitely for adults only. At least some of what is there, however it is quite amazing the extraordinary range of contemporary Art that is in the space. Incredible sculptures, paintings, drawings, videos. There are two mirrored rooms you can go inside which are quite amazing. Their collection of Keith Haring paintings drawings and sculpture is some of the best I've seen. The rebels have collected art from all over the world and you'll get to be inspired in 36 different rooms of art. Give yourself plenty of time. There's also a café and soon a restaurant open up here as well. Here is a small sample." - Gourmetdiner123, Columbus, Ohio
"Not to be missed . A cavernous converted warehouse , filled with contemporary masters as well as some well placed newbies . Looking forward to returning !!" - dcb
"Incredible collection of amazing art. It's now a museum that should not be missed. It's a true destination museum." - BigoBoca, Boynton Beach, Florida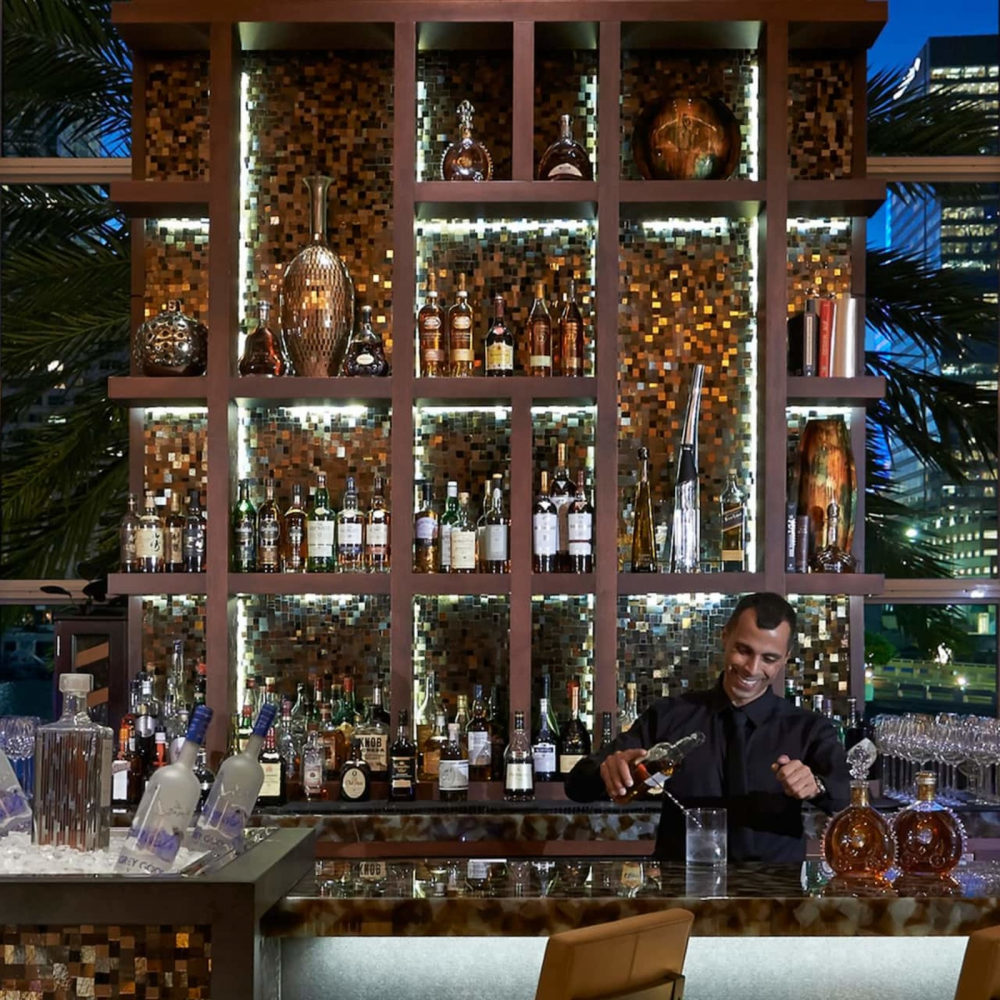 Source: MO Bar + Lounge
Average review score: 4
Couple ratio: 42%
Housed in the luxurious 5-star Mandarin Oriental hotel in Brickell Key, MO Bar + Lounge is a VIP-grade bar space serving up some of the best cocktails and spirits in the city, as well as offering up an exceptional wine list and some delicious Asian small plates to go along with your drinks as well. All of this is served in one of Miami's most sophisticated and elegant dining spaces, with comfortable seating, high-end decorative elements, and absolutely unforgettable views out onto the city. Be sure to visit in the evening on a starry night for an experience you'll never forget.
What couples say about MO Bar + Lounge
"Great service, music, cocktails, appetizers and a fantastic view of Biscayne Bay and Brickell. Since it's located on Brickell Key, the atmosphere is relaxed. You can also take a walk around the Key to enjoy more views of the city, especially after dark." - blueshopcart,Miami, Florida
"Vegetarian dishes + Excellent service by Mia. The ambience and life music over the weekend is amazing." - Kelly Tangarife
"The atmosphere is low key and relaxed, not typical Miami. We went at happy hour. The cocktails were excellent and the view was amazing. The server didn't rush us, she just provided great service." - Linda R,Calabasas, California
Source: Cafe Roval
Average review score: 4
Couple ratio: 42%
If you're looking for somewhere romantic and peaceful for a date night with someone very special, there are few spots in the city quite as idyllic as Cafe Roval. This place is easily one of the most charming, couple-friendly dining destinations in Miami. Housed in a gorgeous old coral building and offering charming indoor and outdoor seating areas, Cafe Roval serves up authentic Mediterranean fare and craft cocktails too, with master mixologist Douglas Beedoo being one of Miami's leading lights in the cocktail scene, blending all kinds of unlikely ingredients together to create some truly out of this world flavors.
What couples say about Cafe Roval
"You must sit outside to appreciate the experience. Our dinners were terrific and our server, a lovely young woman, gave us excellent advice on the food and wines. The liver crostata was divine, as were the lamb ribs as apps. We shared the Orata...incredibly delicious, on a bed of intensely flavourful ferro, highly recommended. Others enjoyed the Branzino with bok choy. Very exotic new flavours for us. Mostly southern Mediterranean. We loved it!" - tgtoronto,Toronto, Canada
"Food I will now dream about. Attentive, perfect service. Beautiful ambiance. Overall, superb experience. Can't wait to return." - Melynda B, Miami Shores, Florida
"Is a magical place, excellent for couples romantic dinner. Love the drinks and the food is delicious" - Mabel M, Miami, Florida
Why Cafe Roval is a great date spot
"First Date? Looking for Love and Devotion? Great place to hold hands and enjoy the Coral Castle that love built! " - Laura Maye, Coral Castle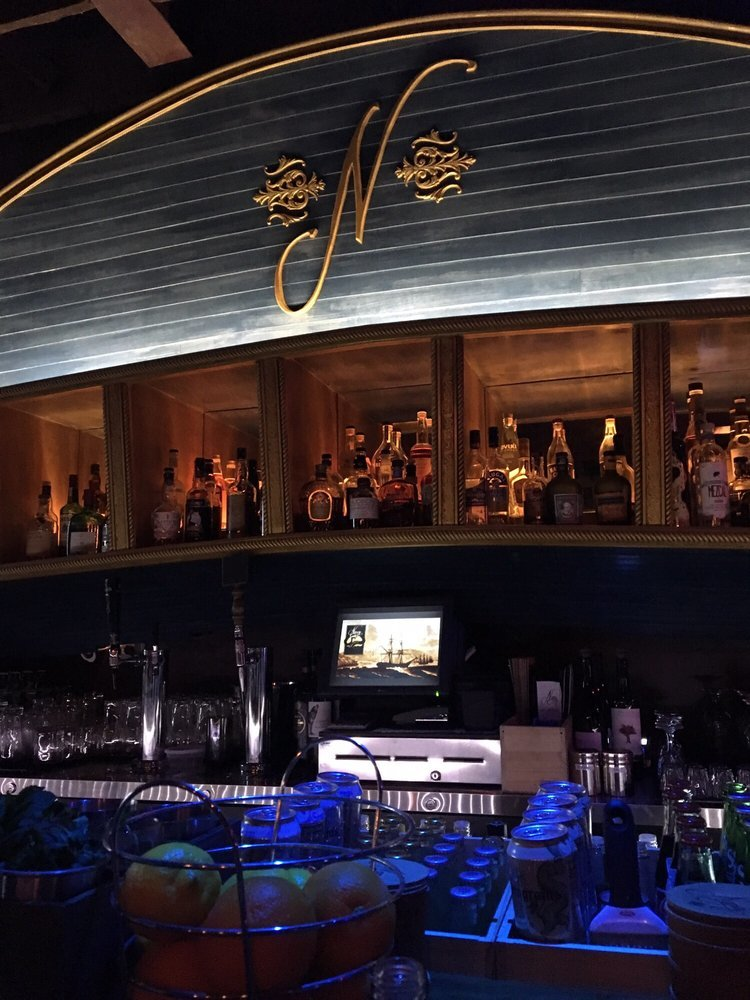 Source: Bar Nancy
Average review score: 4
Couple ratio: 38%
There are some bars you just never forget, with winning themes, friendly service, and exceptional drinks on the menu every evening. Nancy is one of those places. This nautical themed Miami hotspot can be found in the heart of Little Havana and is always filled up with locals and visitors alike. Taking its name and inspiration from the famed Revolutionary vessel, Nancy, which was responsible for carrying ammunition and spirits across the waters during the war, this bar offers up some of the tastiest cocktails in the city and an endless calendar of lively events too.
What couples say about Bar Nancy
"Finally a bar done right. From head to toe this place amazed me. Drinks - are amazing! Every drink we had was amazing from a simple screwdriver that blew my mind (first screwdriver I've ever had with freshly squeezed orange juice ) to the "smile you son of a bit**" which creative touches and flavor were amazing (clever funny name , small shark gummy on top, and amazing flavor) When you first walk in it is a chill bar scene with relaxing dim lights and high tops then as you proceed further in there is a stage with great live music and entertainment (depending on the night you go it changes). Ever in little Havana and want to be surprised and amazed ? Stop by and check it out , you won't regret it ." - James Nall
"First time at Bar Nancy, went to see Nil Lara (wonderful) and really enjoyed this place. Interesting assortment of people, cozy music venue, friendly staff, just downright cool. I drank draft beer (selection could improve) and will check out cocktails next time. As Arnold would say, "I'll be back!" - JoAnne L,Cutler Ridge, Florida
"Visited here as the recommendations for this bar needed checking out. We weren't disappointed. It is set out like the old time sailing ship and has a story as well as great cocktails. Certainly worth a visit. Drinks were totally delicious." - Raewyn D,Auckland Central, New Zealand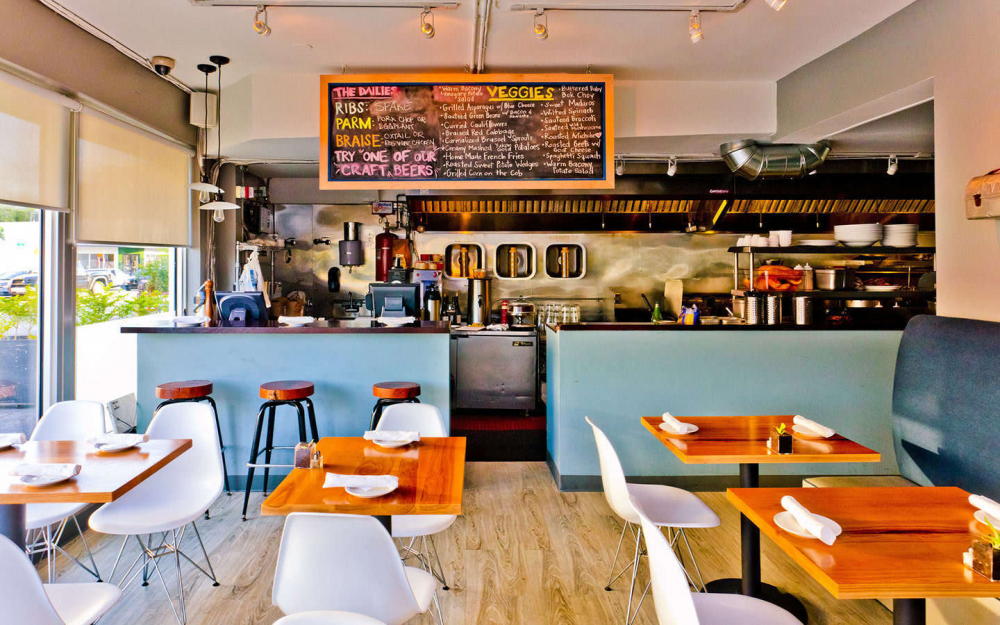 Source: Blue Collar
Average review score: 4
Couple ratio: 37%
Out in the ever evolving and always lively MIMO district of Miami, Blue Collar is a popular, all American restaurant serving up a great variety of timeless diner classics and beloved family fare. This is the sort of small, casual, cozy restaurant that really helps you feel right at home from the moment you arrive until the second you leave, with some truly tasty lunch, brunch, and dinner options on the menu and friendly, smiling servers waiting to greet you every time. For a dining experience you won't soon forget, head to Blue Collar.
What couples say about Blue Collar
"I am not from Miami and have been trying to visit this restaurant for a couple of years. Comments from other visitors were very good so we were interested in confirming all this evaluations.
Finally we went in 1/28 and I can confirm that from now on, I will do my best to go there everytime I am in town.Excellent food, wonderful service and the location is perfect for a neighborhood restaurant.Please try the jambalaya and the Key lime pie." - Jorge B, Santiago, Chile
"It had been about a year since my last visit. This restaurant came through again with an outstanding brisket sandwich. They call it the Corben and they serve it on twin Portuguese muffins. Brisket was incredibly tender, served with au jus. Service continues to be efficient and friendly. Great food. Good value." - Stan S, Hollywood, Florida
"Fantastic find while visiting Miami. The inside dining area may be small (outside seating also available), but the food and service are well worth the visit. There is a good wine/craft beer list. Our menu favorites included potato latkes, b/s chicken and lamb gnocchi. Don't forget to save room for dessert. A fantastic gem in Miami!!" - Jennifer L, Washington DC, District of Columbia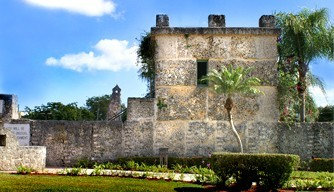 Source: Coral Castle
Average review score: 4
Couple ratio: 36%
Listed on the National Register of Historic Places, Coral Castle is one of the most fascinating artistic landmarks in the whole of Miami-Dade County. Found between the cities of Homestead and Leisure City, this unique oolite limestone structure was designed and created by the mysterious Latvian-American master Edward Leedskalnin. It's made up of a variety of megalithic stones formed in a variety of unique shapes, with Leedskalnin spending almost three decades building the castle in total. It's a unique and beautiful site that means a little something different to everyone who visits it, perfect for breaking the ice with new acquaintances or getting into some lively debates with your nearest and dearest.
What couples say about Coral Castle
"This is a fascinating, unique place with an interesting history. The tour guides are very informative and entertaining. The way Ed built the place on his own was pretty amazing - he sounded like a brilliant guy. Construction and engineering enthusiasts will really enjoy a visit. The gift shop has some interesting things, and we bought a set of books about the place so we could read some more about Ed and what he accomplished, including the research he did later in life. This place is well-worth a visit. We came down from Miami beach and spent a few hours at Safari Edventure (do the ITS tour!) and then visited Coral Castle in the afternoon. You can easily do both in one day without rushing." - TravelingWithDogz, Baltimore, Maryland
"We recently had the opportunity to tour the Coral Castle. It was well worth it and I think should be put on everyone's itinerary when visiting Miami and South Florida. It's such an interesting and beautiful place. The tour guides were great and ever engaging. Our eight year old was hanging on their every word and was completely fascinated with the castle. It is such an interesting place and so cool to find out the details how all of this was built by one man. I highly recommend this tour and visiting Coral Castle. It's a great place to take beautiful photos as well. Enjoy!" - Southeast Burton
"This surpassed everything I expected it to be! The brilliance of Ed was quiet remarkable. The guides were awesome, full of knowledge and told an exciting story of the life of Ed. A must see if you'e in the are" - CheeseHead1967, Naples, Florida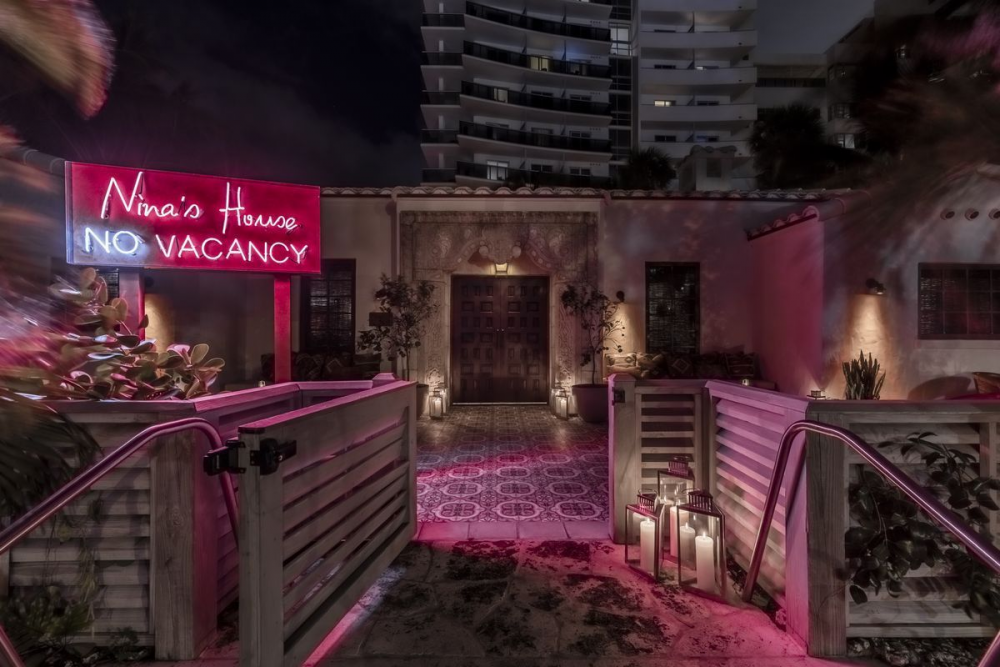 Source: Vacancy Bar
Average review score: 4
Couple ratio: 36%
Situated in the heavenly setting of Miami Beach, Yardbird Southern Table and Bar is one of the top bars and restaurants in the entire Miami area. Part of the Yardbird chain, this location uses only the freshest ingredients, direct from local farms, to conjure up some of the best Southern cooking you could hope to find in the Sunshine State. With a great range of All-American classics on the menu, complete with some delicious beers and bourbons on the side and a super brunch menu on weekends too, Yardbird is never a bad choice for your Miami dining needs.
What couples say about Vacancy Bar
"The bar is actually located at the hotel but on the backside. Cool bar, good alternative to the normally packed bar in this area." - Mikey M.,Miami, FL
"Very nice lounge with a lot of personality and a social atmosphere.
Join Christoph and his regulars and enjoy time with his hotel guests as they travel in and out of the nearby Tamiami Airport.
Also, free wifi and all of the hotel amenities are available." - Levi B.,Anaheim, CA
"Great happy hour. It's perfect for a quiet time. It's good for a great beer. I'm so happy to find this place." - Raul V.,Miami, FL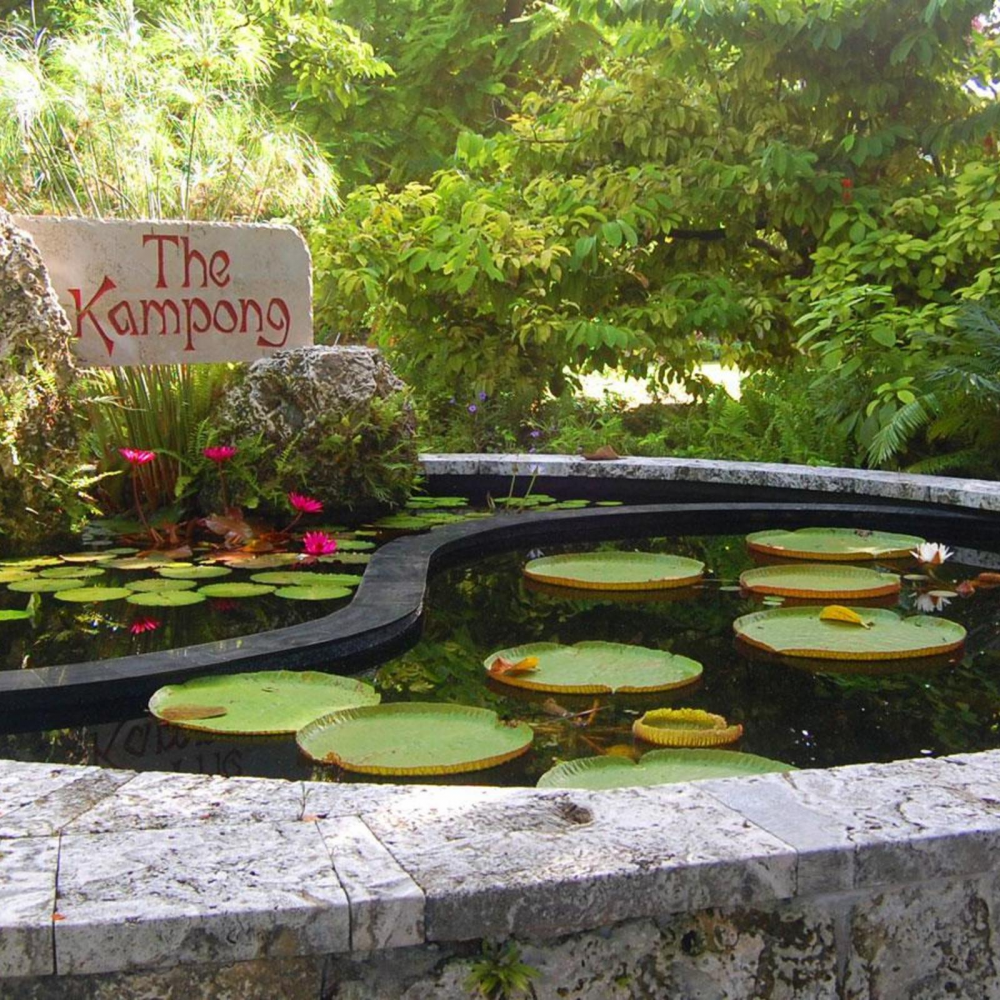 Source: The Kampong
Average review score: 4
Couple ratio: 34%
Out in the Coconut Grove part of the city, The Kampong is a gorgeous little natural haven beloved by locals and visitors alike. Offering the ideal escape from the lively clubs and high-rise hotels that make up much of Miami, this 9-acre botanical garden is open to public visitors by reservation only from Tuesday to Saturday of each week. It's a lovely spot to enjoy some privacy, intimacy, and romance with someone special, home to some gorgeous plantlife and pretty little cottages too. Visitors will be able to enjoy watching more than 60 different mango varieties grow, while also admiring the ongoing work of the botanical gardens' botanists and researchers.
What couples say about The Kampong
"I frequent the Kampong not only for the beauty, but also because a local yoga teacher — Samantha Reynolds — teaches a gentle vinyasa here regularly. One of the most beautiful places in all of Miami." - erinfischer23,Miami, Florida
"Located in Coconut Grove the Kampong is a 9 acre tropical garden that was once the winter home of David Fairchild and his wife Miriam who was the daughter of Alexander Graham Bell. In 1916 David and Miriam purchased the property from the "Duke of Dade" J.W. Ewan who homesteaded the property and had been living on it since 1882. David Fairchild was a world wide plant explorer and he created Fairchild Gardens in Coral Gables. He wrote for National Geographic as well as many books about plants. He filled his gardens with plants he collected from around the world when he worked at the U.S. Department of Agriculture in Washington D. C.. He is responsible for introducing 30,000 plants into the U.S. including soybeans, pistachios, mangos, nectarines, and bamboo. In 1926 the Kampong became the permanent home of the Fairchild's andtThey named the property for a Malay word meaning village. After the deaths of the Fairchild's the property was then purchased by botanist Dr, Catherine Hauberg Sweeney. She had the property placed on the National Register of Historic Places and in 1985 donated the land to the National Tropical Botanical Garden. This is the only garden outside of Hawaii to be part of the National Tropical Garden.
There are several structures on the Kampong property. The Fairchild Sweeney House which is a mixture of Spanish and Asian architecture . This was the Fairchild's home and is where you check in and pay. You can only tour a small portion of the home as it is mainly used as offices. They are several wonderful pieces of art work inside including the Garuda, carved from the roots and trunk of a lychee tree. Famous visitors to the house include some of the greatest inventors of the day, Alexander Graham Bell, Thomas Edison, and Henry Ford. The Schokman Education Center is an outdoor pavilion that was added in 2007. The Scarborough Dormitory built in 2006 provides 12 beds for visiting researchers and students who come to study the plants. The Barbour Cottage was built in 1926 to provide the Fairchild's guests a place to stay when they visited. The Sausage Tree Cottage was built in 1964 to house guests and is now used by researchers. The Explorers Cottage was the home of curator David Jones and now hosts education and business groups.The Kampong also contains the second oldest building in it's original location in Miami. It's a cottage that belonged to Dr. Eleanor Galt Simmons who was the first woman doctor in Miami. She purchased the property in 1896 along with her husband Captain Albion Simmons in 1892 and sold the property to the Fairchilds in 1916. Dr. Simmons treated troops in Miami stationed during the Spanish American War, white and black settlers, and members of the Miccosukee tribe. She traveled by horse or boat through land filled with panthers, rattlesnakes, and alligators.
The grounds of the property contain the plants Fairchild acquired from around the world. You can find rare tropical fruits, cocoplums, over 50 kinds of mango as well as palms and cycads. As you tour the property you can visit the Fairchild's lovely swimming pool with water lilies, waterfall, and coral stone boulders submerged in it. If you walk past the tennis courts you can make your way to the point which juts out into Biscayne Bay. Surrounded by Royal Palms, it is the exact spot that Miriam gazed at her husband and said "We've got to have this place, David.'" When you gaze at the same view today you will see the high rises of Miami across the water to Key Biscayne.
While Fairchild Tropical Gardens is a popular tourist attraction not many people know about the Kampong. I held off on visiting because I wasn't sure how it worked. All you need to do is call during their operating hours and make a reservation. The reservation does not need to be a precise time, it's okay to ball park it but they need to know you are coming. Once you arrive call them on the intercom and they will open the gate. Park and walk up to the house to pay your entrance fee of $15. They will take card or cash. If I came back I would make a point of arriving for a guided tour. You can tour on your own but there is so much to see that I think you will get more out of the visit if you walk with a guide." - Arielfl,Coconut Creek, Florida
"Once (sometimes twice) a month, a local yoga instructor named Sam Reynolds teaches a class in The Kampong's covered pavilion and it is gorgeous. The Kampong truly is a hidden gem in Miami and practicing yoga here enhances it even further. The gardens and bay are a perfect way to spend a sunny day relaxing and enjoying nature." - erinfischer23,Miami, Florida
Why The Kampong is a great date spot
"The Kampong is a private garden oasis embedded in an urban jungle. The former estate of a famed botanist, we offer up-close-and-personal tropical landscapes, historic architecture, incredible food history, killer views of the Atlantic Ocean, and ample open space. The Kampong is perfect for a quiet, leisurely and intimate tour. Once you enter the gate, The Kampong is your personal garden, with rarely more than a few others on the property. Open by appointment only, you can be among the chosen who can experience this hidden, century-old gem." - Craig Morell, Director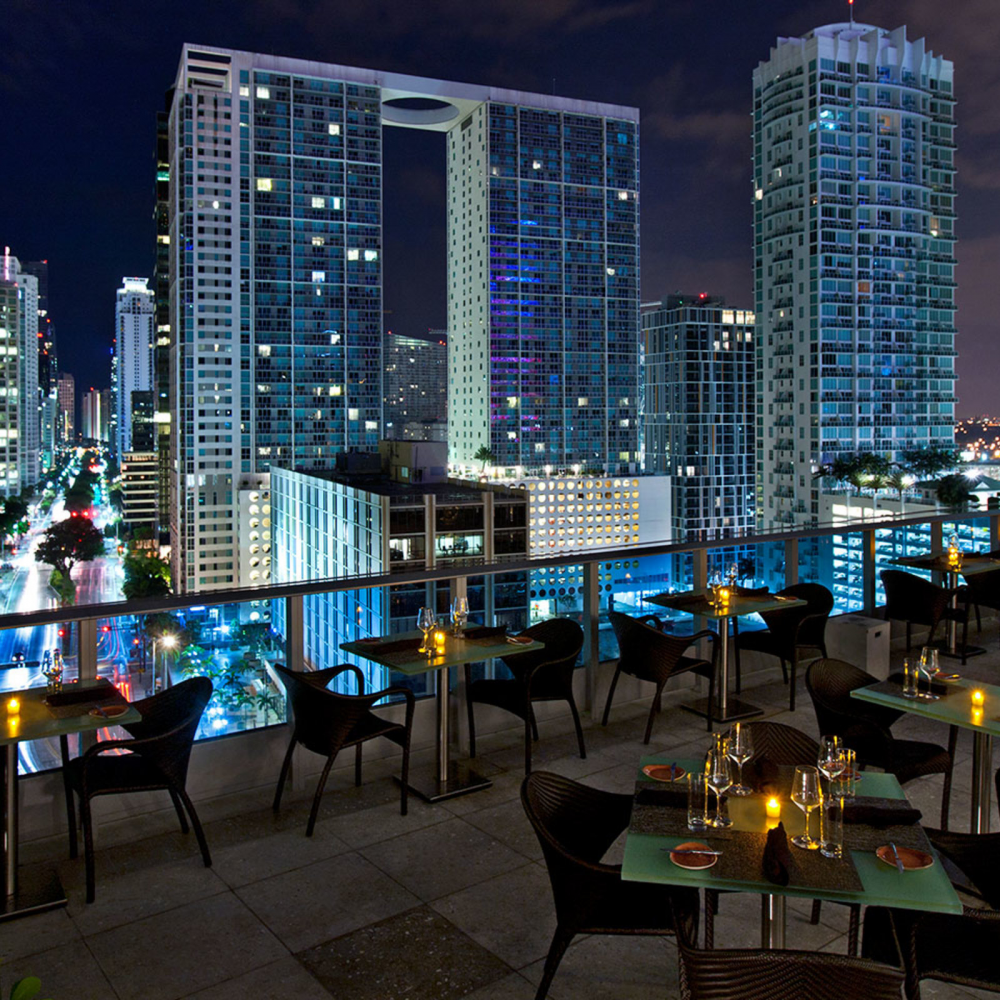 Source: Area 31
Average review score: 4
Couple ratio: 33%
Situated in a prime spot right in the heart of Downtown Miami, Area 31 is one of the finest Mediterranean and seafood dining locations in the city. With a sizeable outdoor lounge and luxurious interior dining spaces too, Area 31 serves up seasonal, sustainable fresh catches with a range of local meats and other ingredients sourced from surrounding Florida farms and ranches too. Chef Alex weaves his magic in the kitchen as diners admire the stunning, 16th floor views of the Kimpton EPIC Hotel out over the Miami River and Biscayne Bay.
What couples say about Area 31
"I am not a fan of seafood... but Avocado fries were great ! The rooftop bar OMG the views were mind blowing!!!!! Staff very polite and drinks were strong, so worth the money! HIGHLY RECOMMEND" - Jia,Ontario, Canada
"This is a quiet, calm place for a business breakfast. Food was very good, with some healthy choices. Service was discreet; we talked for about 90 minutes and everyone was fine with that. Coffee and tea refilled. Love the look of this room and views are great." - mommy057,Washington DC, District of Columbia
"My friend and I arrived in Miami on New Years Eve and went straight to the NYE party at Area 31 at the Kimpton EPIC hotel. The sous chef Raul recommended us coming and it was more than worth it! Rene, the manager, showed us around and he and Raul came to us multiple times that night to make sure everything was okay. How thoughtful!" - Melissa S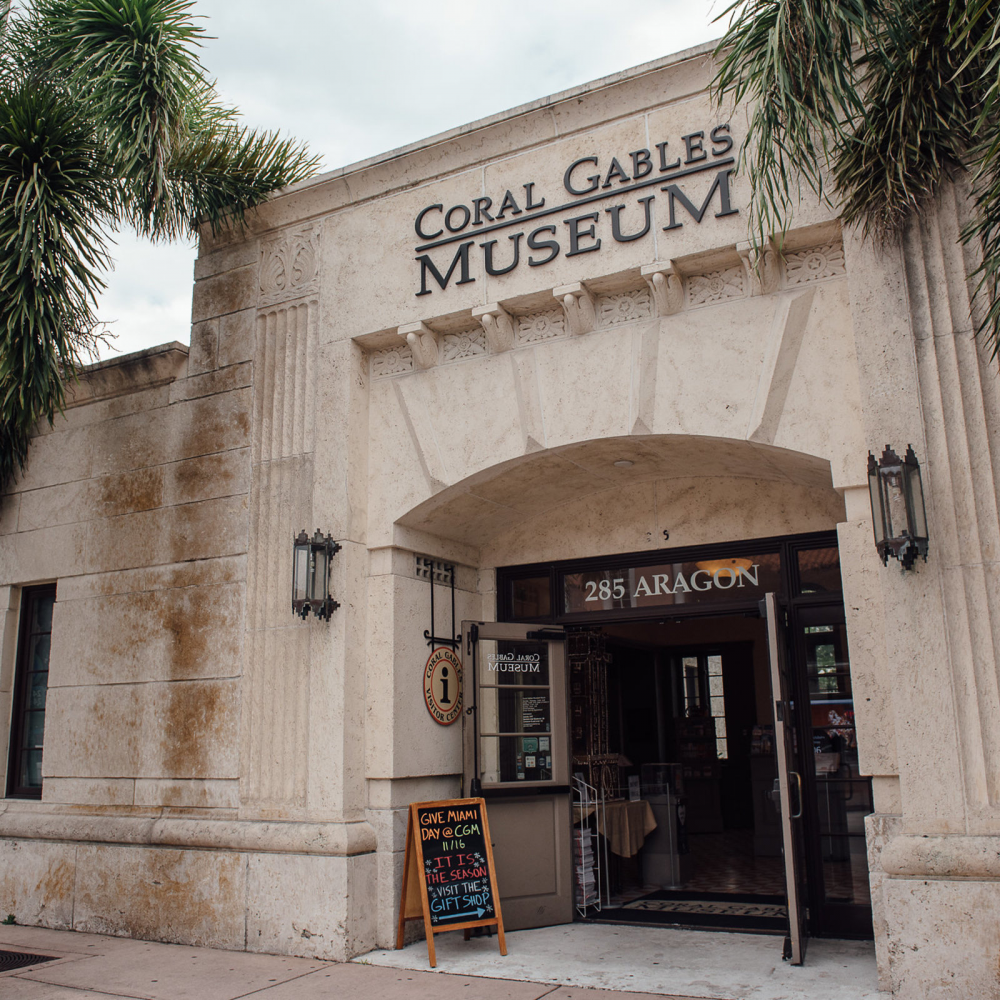 Source: Coral Gables Museum
Average review score: 4
Couple ratio: 31%
One of Coral Gables' must-see locations, the Coral Gables Museum was originally the Coral Gables Police and Fire Station but has been a public museum since 2011. It's housed in a beautiful historic building, with the walls holding many stories and the various exhibitions and artefacts on display shedding light on the fascinating history and culture of the Coral Gables community. An intriguing and inspiring location that will leave you more the wiser for your visit, Coral Gables Museum is home to a 5,000 square foot public plaza and a 3,000 foot gallery, along with other exhibition spaces. Visitors can enjoy guided or audio tours, as well as simply strolling around and taking in the sights.
What couples say about Coral Gables Museum
"Excellent walking tour of Coral Gables through the city museum. We had no idea there were so many triangle buildings or where the huge mural of the Gables in the 20s was located. Tour is definitely recommended. Our tour guide is a historian & knew so many interesting facts about Gables, South Florida, & the state. We even joined the museum because of this tour." - earthworm3, Washington DC, District of Columbia
"If you want to know history of the area go here. Excellent display of beginning of the city of coral gables and the staff is knowledgeable Other rooms have great shows also We very much enjoyed this museum and the ability to interact with the museum directors" - Luckydog17, Palm Beach Gardens, Florida
"This past Thursday evening, I visited the marvelous Coral Gables Museum in order to attend the opening of its most recent photography exhibit, The Art of Compassion. This incredibly meaningful and human project celebrates women who have traditionally lived in the shadows - formerly incarcerated women who are re-entering society. Curated by photographer and producer Starr Sariego, these powerful photographs provide insight in to the lives of formerly incarcerated women, more than 80% of whom were victims of childhood trauma. I highly recommend seeing this important exhibit and applaud Coral Gables Museum for showcasing it. I wish I had seen several other exhibits that this fine, visionary museum has offered in the past." - Annalisad65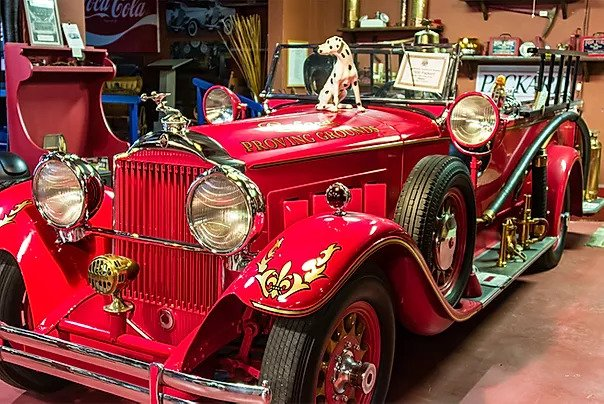 Source: Antique Car Museum
Average review score: 4
Couple ratio: 29%
For those who love beautiful vehicles and authentic Americana artefacts, the Fort Lauderdale Car Museum is the place to be. A monument to the life's work of antique car collector Arthur Stone, this museum is an unmissable attraction for anyone with even a passing interest in vintage cars and automobile paraphernalia.Offering 30,000 square feet of space, filled up with the world's largest collection of Packard cars and historical memorabilia from the year 1900 onwards, this totally unique and family-friendly museum is filled up with everything from the cars themselves to hood ornaments, gas station signs, lamps, lighters, vintage photos, and more.
What couples say about Antique Car Museum
"As a Native Floridian, I had never heard of this museum until I saw a Groupon for it and decided to go and check it out on a rainy, mid-summer afternoon.
Upon pulling up to the museum, the building has all kinds of car-related décor plastered on the building. There are two buildings, so MAKE SURE you see both. It is pricey, but oh so WORTH IT!Upon entering, you enter into the dining area, which is actually run by the Ninja Lounge next door (or they actually share a building). The dining room area is very cool as they took old cars and split them in half and made seating out of it, including the trunks, which is now bench seats.Once you work your way past the dining area, you enter the first building.Once you pass security, you enter a giant showroom housing fast and expensive cars spanning many decades.From there, the next showroom is all things BATMAN! An extensive collection, but not as big as his 007 collection…INCREDIBLE!There is an Oscar Section housed in a replica Graman's Chinese Theater. Cars from award-winning movies (lots of them) are in this showroom. Each item is detailed and easy to read.The next room is dedicated to 007. I never knew so much stuff existed! You name it, Mr. Dezer probably collected it! Wow! Then you enter the rooms with cars and buggies from the turn of the century and work your way up through the decades.There is also a huge jukebox collection, moped/Vespa collection, bicycle collection, motorcycle collection, the list goes on and on.I would HIGHLY RECOMMEND a visit here. But, make sure you give yourself LOTS OF TIME to take it all in. It is an absolutely INCREDIBLE place and a wonderful journey throughout history.
PS - If this review was useful, please click the HELPFUL button on your phone or you can click the THANK YOU button on your computer. I'd appreciate it! :-D" - Cynderella43,Fort Lauderdale, Florida
"Let me start by saying that I am NOT a car nut; with very few exceptions I can barely tell makers/models apart which drives my husband batty. That being said, I AM a nerd and this car museum absolutely spoke to me on that level, but it also really impressed me with the vast collection of vehicles they've managed to amass. We started in the 'generic' section of the collection, in one building, which has numerous 'antique' cars that acts a living automotive history class. You could spend a couple of hours wandering just that side/building. Then we crossed over to the other side (building), where the movie collections and special exhibits are displayed, and there went those socks again. For me, just the Batman section was worth the price of admission. But then we started to tour all the movie cars and it was a trip down memory lane on a very personal level (Chitty-chitty Bang-bang, Harry Potter, Speed Racer, Scooby Doo, ...). And then we hit the Bond Exhibit and WOW! Just WOW! We could have spent hours in there, because it wasn't just cars, there were other types of vehicles (don't want to spoil the fun), posters, games, figurines, watches, videos, tchotchkes galore, etc. Unless you have absolutely no interest, whatsoever, in cars, movies, and/or memorabilia, you will definitely enjoy a day at the museum. But go early, because you don't want to be rushed!" - SSH64,Miami, Florida
"We decided to take a break from South Beach and check out he museum. When we arrived we were informed that the classic car section was not available due to remodelling but we went ahead and toured the newer cars and movie car sections. The newer cars were nice but only about 10 to 15 cars. The movie cars were the main attraction. Lots of batman cars and the James Bond section was huge. There were also lots of TV show cars from the 70's to more current shows. We spent about 2 hours looking at everything. There is a restaurant but we didn't try it. Overall I would recommend it!" - mike75040, Dallas, Texas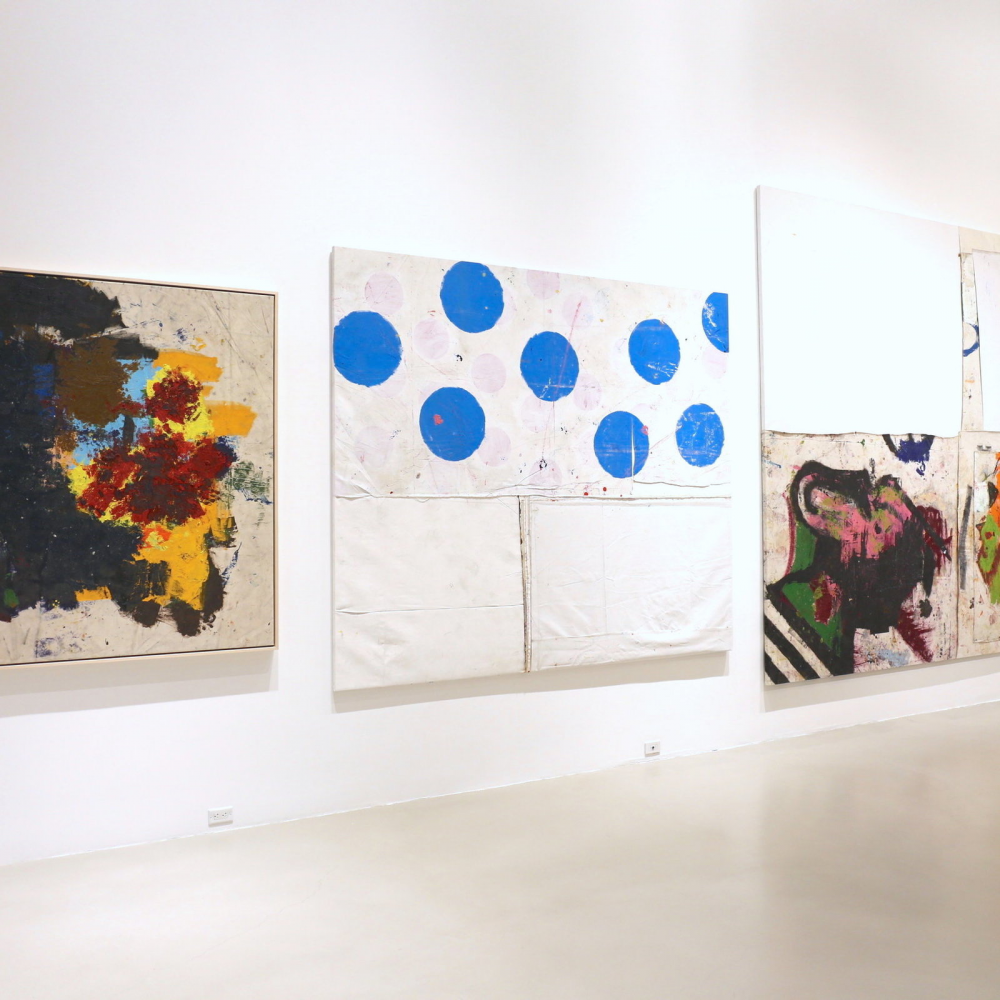 Source: De La Cruz Collection
Average review score: 4
Couple ratio: 29%
Located down on 41st Street and owned by Cuban-born businessman and art enthusiast Carlos de la Cruz, the De La Cruz Collection is a free to enter art museum that always aims to inspire reflection, engagement, and inspiration in the minds and souls of every visitor. Focused on the exchange between the artist and the observer, this gallery shines the spotlight on some lesser known talents out there, providing an exciting platform for established and aspiring artists to show the world what they can do, and it's always a great place to visit for any art lover.
What couples say about De La Cruz Collection
"The building itself is an impressive space, well suited to the scale of several oversize installations. Museum entrance hidden - essentially unmarked - in a courtyard on the left side of the building - the idea is that one rings the bell as though one were visiting a private residence. As with all contemporary art (my opinion) some of it is self-indulgent - the artist and thier reviewers believing their own press. Some of it derivative - and some of it is thought provoking. Most of it is interesting. At least, and at best, contemporary art does not shy away from a social point of view. I ended up with what amounted to a private tour / walking commentary from one of the employees - whether he took an interest in my interest or functioned as a sort of security was never quite clear. But he stayed with me througout, and had a good knowledge of the particular artists, items, installations - and art itself; we spend time discussing various collections we'd both visited - and ranged from Monet to Turner. It did add to the experience. Fascinating that this was all collected and funded by one gentleman and his wife, still collecting and - one assumes - still fabulously wealthy. Most remarkable of all - it's free! (Applause to the de la Cruz family; what a nice give back)" - scott r,Silver Spring, Maryland
"My wife and I came to Miami to watch a baseball game. I wanted to take her to see some of Miami's art and culture and we stumbled upon this amazing museum. We spent at least two hours reading about the artists being showcased and viewing some of their pieces of work, What else do you expect to do and a museum right? Multiple times a staff member would come by and ask if we had questions. A few staff members even took time to explain some of the art and the history behind the pieces from the artists perspective. As we were leaving, coming down the elevator from the third floor, we actually got to meet the owners Rosa and Carlos de la Cruz and chat with them for a few minutes! What a great museum. A must see!" - Brian M,Orlando, Florida
"I have to admit that I didn't quite know what to expect, but was blown away by this collection.
The de la Cruz Collection occupies three floors of galleries in the Miami Design District in a spatious well-lit building designed by the architect John Marquette.
The collection is owned by the Cuban-born American businessman Carlos de la Cruz and his wife Rosa and includes a wide range of contemporary works including, as you would expect, work by Cuban artists including Felix Gonzalez-Torres, Jorge Pardo, Wilfredo Lam and Ana Mendieta, but also surprisingly by the Scottish artists Peter Doig and Lucy McKenzie, plus many others from around the world.
Well worth visiting - plus have a look at the artistic parking structure across the road.
In 2016, ArtNews listed Rosa and Carlos de la Cruz in their worldwide survey of the "Top 200 Collectors"." - Ian C, London, United Kingdom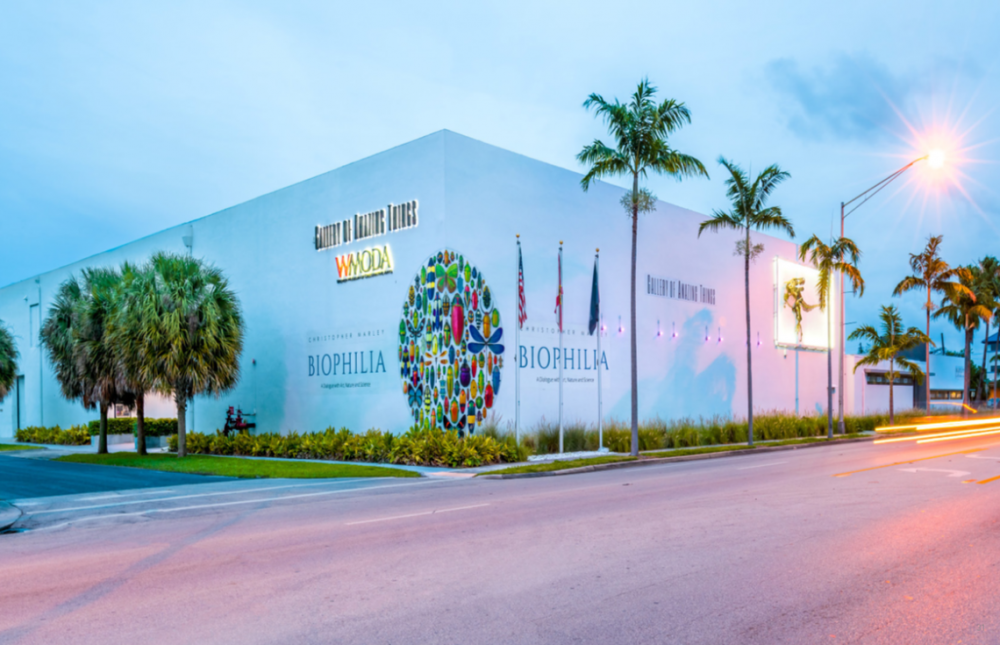 Source: WMODA
Average review score: 5
Couple ratio: 29%
For an artistic experience in Miami you'll never forget, don't miss out on a trip to WMODA, the Wiener Museum of Decorative Arts. Founded in 2014 and featuring a world-class collection of beautiful ceramic and glass art, the galleries of WMODA are stocked full of incredible pieces from Britain and continental Europe too, including porcelain from leading names like Wedgwood, Royal Doulton, and Lladro. The glass collections, meanwhile, feature names like Chihuly and Lalique, with WMODA organizing some outstanding exhibitions and events for all art lovers, collectors, and enthusiasts to enjoy throughout the year.
What couples say about WMODA
"Artefacts were beautiful. Short films informative. Employees and volunteers friendly and helpful. I highly recommend visiting Wiener Museum of Decorative Arts!" - Millie F
"This museum is a gem! The exhibits are interesting and informative, and well laid out. The beautiful objects were truly a feast for the eyes!" - robertapalestine,Highland Beach, Florida
"A wonderful way to see many beautiful pieces of China and glass, as well as become educated to the processes and history of such. The docent tour is a must." - jandilor,Boca Raton, Florida
Why WMODA is a great date spot
"The Wiener Museum focuses on the Fired Arts of ceramics and glass with thousands of decorative objects showing the evolution of art and design during the last two centuries. The art of having fun is celebrated in the popular Carnival & Cabaret exhibition. Dating couples will have lots to talk about while exploring the social history of boy meets girl at nightclubs and cabarets. Discover more about Venus and Cupid, the deities of love and desire, in the Fantastique exhibit, which explores the enchanted world of ceramic art. WMODA works closely with public artist Lloyd Goradesky on his mission for universal love and kindness. His monumental weathervane sculpture Let Love Guide Your Way has evolved into an interactive community art project that has melted the hearts of our visitors." - Louise Irvine, Executive Director & Curator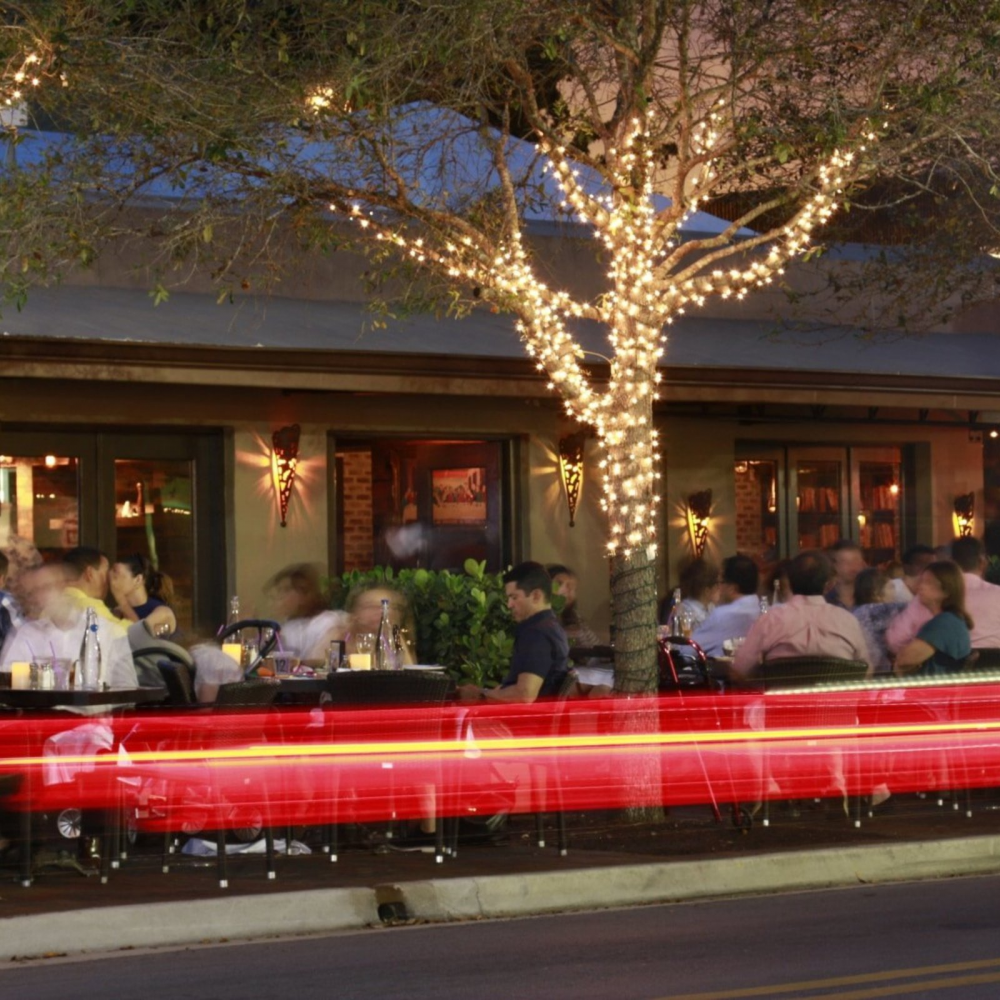 Source: Greenstreet Cafe
Average review score: 4
Couple ratio: 29%
Many restaurants, cafes, and bars come and go in Miami, but Greenstreet Cafe is one of the long-time stalwarts that has effectively become a landmark for locals and visitors alike, having been founded more than thirty years ago by Sylvano Bignon. A cozy and comfortable cafe where everyone is made to feel welcome, Greenstreet Cafe is beautifully decorated, with a lounge-like interior setting and plenty of outdoor chairs and tables too. You'll find delicious American eats served all day long here, with various special events and happy hour discounts to be enjoyed throughout the week as well.
What couples say about Greenstreet Cafe
"This place is great. the food and service is amazing. It has tables outside with great a great family and pet friendly atmosphere. One thing to keep in mind that there is always a waiting time but if get there around 9:30 am it will be a shorter time. But the food is worth the wait." - martha6810,Miami, Florida
"We had a great lunch on the patio. The food was great, as was the service. We enjoyed sitting outside, but the inside of the place is charming, too." - HighExpectationsUSA,USA
"We had 3 breakfasts in Miami and we usually like to try somewhere new everyday, but this place was so good we came back twice and on the second day we ordered six breakfasts between four of us to ensure we properly sampled the menu. Our favourites were the blueberry and granola pancakes, french toast (Nutella or coconut for something different), and the watermelon lemonade was fantastic! Have a great start to the day here!" - anliz82,Warrington, United Kingdom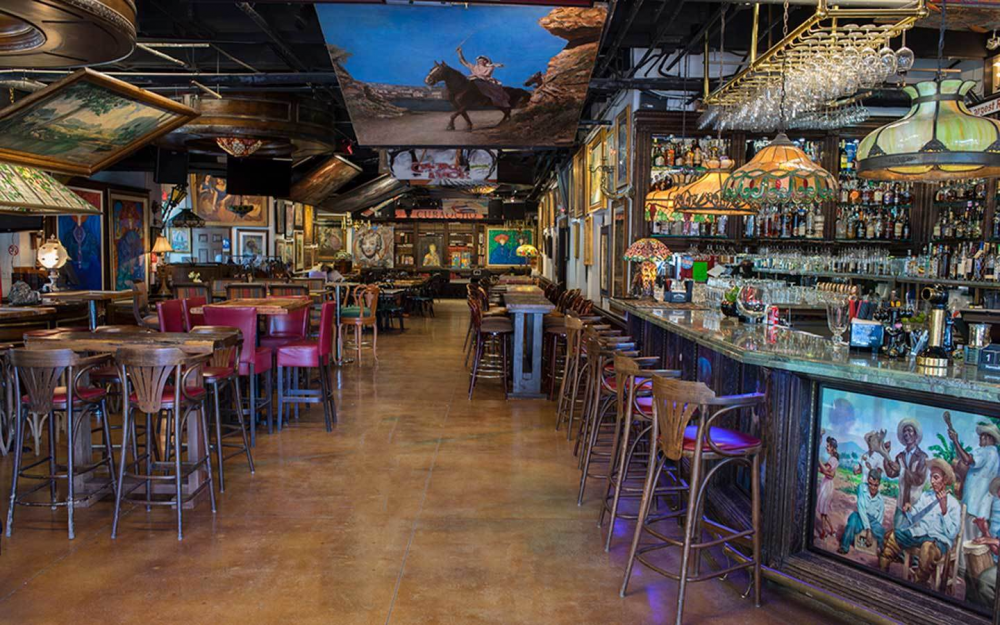 Source: Cubaocho Museum & Performing Arts Center
Average review score: 4
Couple ratio: 28%
There are some extraordinary hotspots all around Little Havana, but no visit to the area can be complete without stopping off at the extraordinary Cubaocho Museum & Performing Arts Center. A place where Cuban culture, art, cuisine, and spirit comes to life all around you, this highly unique location manages to be an arts center, a museum, an events hub, and a bar all at once. There's always something exciting going on or about to get started at Cubaocho Museum & Performing Arts Center, making it one of the go-to spots in all of Miami for fun times and happy memories.
What couples say about Cubaocho Museum & Performing Arts Center
"This little yet important museum is a must see in Little Havana. The art is spectacular. The place itself is very interesting as well. Much of the decor originated from a club owned by Frank Sinatra. Exceptional Cuban music is played by a live band. The mojitos are yummy. The bar itself is spectacular!" - Linnybear,Montreal, Canada
"I had a few friends recommend this spot to me. I had an absolute blast on Friday night. There was a live Cuban band playing. The singer was great and brought amazing energy. Everyone was up and dancing. There is actually space to enjoy dancing. I ordered a few drinks (mainly mojitos) which were very very good. If you take a close look you will notice that they have a lot of Cuban art hanging up all over the restaurant. I wish I had had time to come back during the day to take a closer look. It just gives me an excuse to come back!" - jennaviles2,New York City, New York
"Just amazing, live music great cocktails, nice latín environment, a little piece of cuba in Miami, the minutos are great" - Gonzalo G, Bogota, Colombia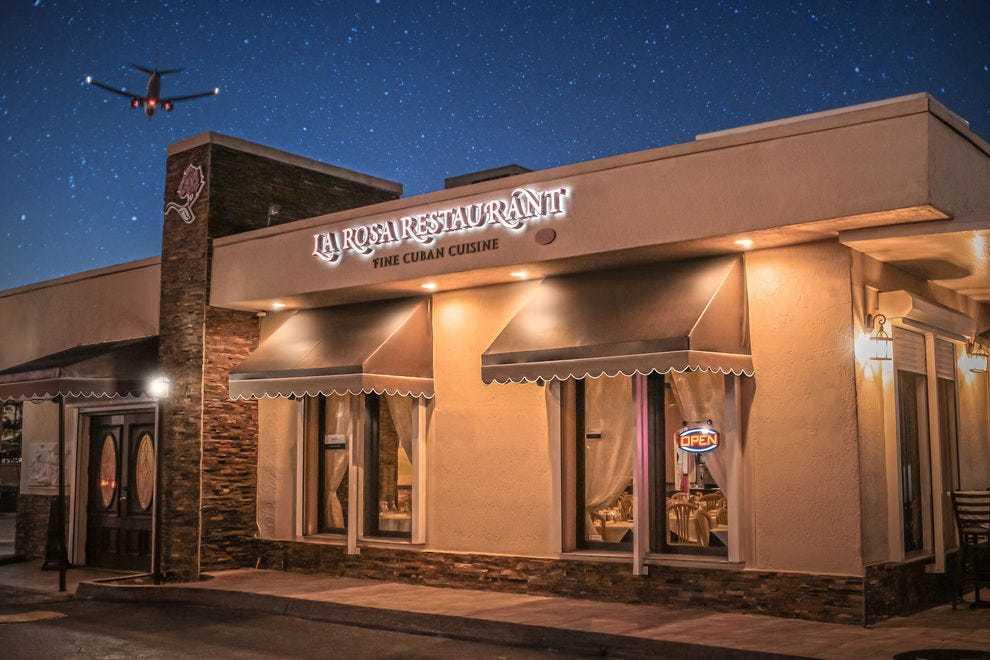 Source: La Rosa Restaurant
Average review score: 4
Couple ratio: 26%
Miami is known far and wide for its Cuban culinary scene, with La Rosa Restaurant standing out as one of the city's top Cuban dining destinations. Opened up way back in the late 1960s, La Rosa Restaurant has been around for quite some time, entertaining and amazing several generations of diners with its friendly service, live piano music events, and sublime Cuban dishes, made with only the finest and freshest ingredients every single time. For an authentic Cuban meal in the heart of Miami, this is by far one of the best restaurants to choose.
What couples say about La Rosa Restaurant
"We had Fried Calamari and Fried Pork for appetizer, and Seafood Bouillabaisse for main dish, and they're all delicious!!!" - Miru-chan
"Good food. Good people. Worth a trip. We were impressed by the exceptional quality and presentation of the food. The waitress was wonderful, then we were informed it was her first day serving. We called for the manager to thank him for a truly wonderful experience, which is quite unusual for us." - rvc7,Fort Myers, Florida
"We were lucky to find this restaurant on our 1 night stay in area before flying out to the bahamas. The food was so good we went back again on our return to Miami before flying back to UK. The food was excellent and portions very large. The management were intentive and even remembered us from our first visit 11 days previously. Excellent find in area and really enjoyed our time in the restaurant." - elvezGlasgow,Glasgow, United Kingdom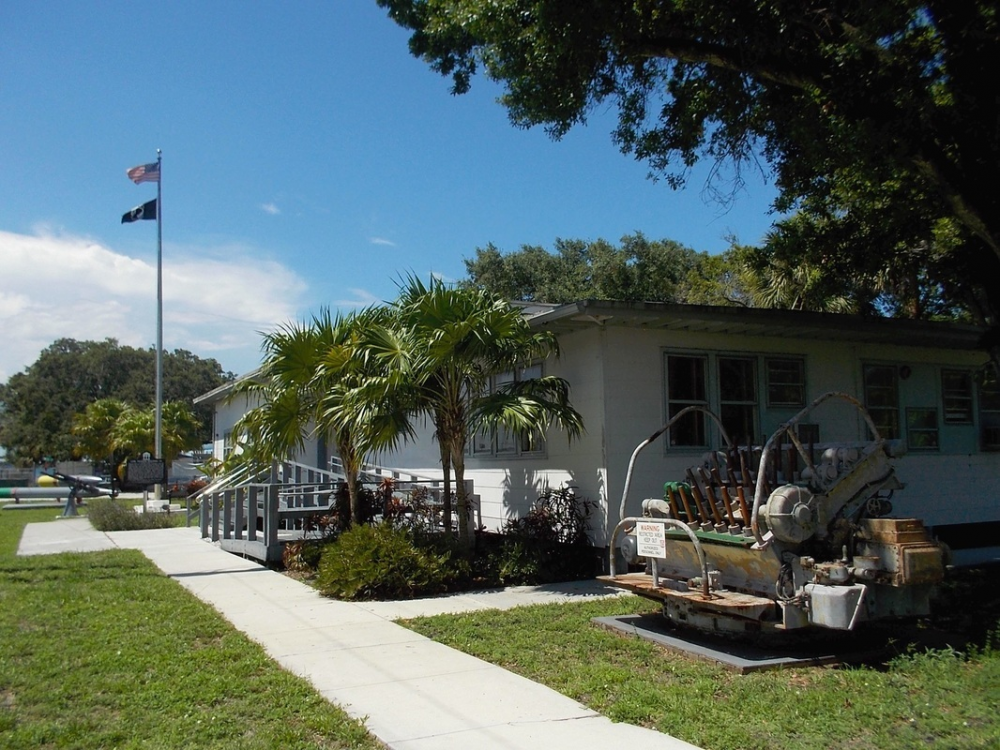 Source: Naval Air Station Fort Lauderdale Museum
Average review score: 4
Couple ratio: 26%
Anyone with an interest in aviation, the military, World War II history, or even the mysteries of the Bermuda Triangle should be sure to stop on by the Naval Air Station Fort Lauderdale Museum. Listed as a Florida Heritage Site and on the National Register of Historic Places, this small but action-packed museum is filled with fascinating artefacts and memorabilia from the past, dedicated to preserving the memory and honoring the bravery of the men and women stationed in Fort Lauderdale and all those who fought during WW2. The Naval Air Station Fort Lauderdale Museum is also extensively focused on uncovering the truth behind Flight 19, which flew out of Ft Lauderdale back in December of 1945 and vanished in the Bermuda Triangle.
What couples say about Naval Air Station Fort Lauderdale Museum
"Museum is a lot larger than it looks from the outside and is a treasure trove of paraphernalia from the wars. The volunteers that maintain it and provide tours have so much knowledge and interest in showing people around." - Moose1422, Vancouver BC
"The Naval Air Station Fort Lauderdale Museum had been on my "must see" list for a long time and during a recent trip to Florida, my husband and I were finally able to go. We cannot say enough great things about the museum, volunteers, exhibits, and pure heart and dedication that was present during our visit. We wish that we lived closer because we would love to be frequent visitors and volunteers but we hope that everyone will make this an essential stop if you are in the Fort Lauderdale area! Thank you to the hard-working and dedicated staff who gave us an excellent walk-through tour, answered our questions, and even gave us something very special related to my husband's service that we will treasure forever. Keep up all your hard work and know that there are people out there (of all ages!) that appreciate what you do and will carry the torch of NEVER FORGETTING as the years go on!" - Samantha F
"I have lived in Fla all my life, and never knew about this place until recently. Tucked away in plain sight along I-95 is a building saved from the WWII era. A fascinating museum with loads of naval memorabilia. Great for anyone who was in the Navy, or not. Really amazing seeing the old aerial photos of the Ft Lauderdale area and how it's grown." - babs W, Coral Springs, Florida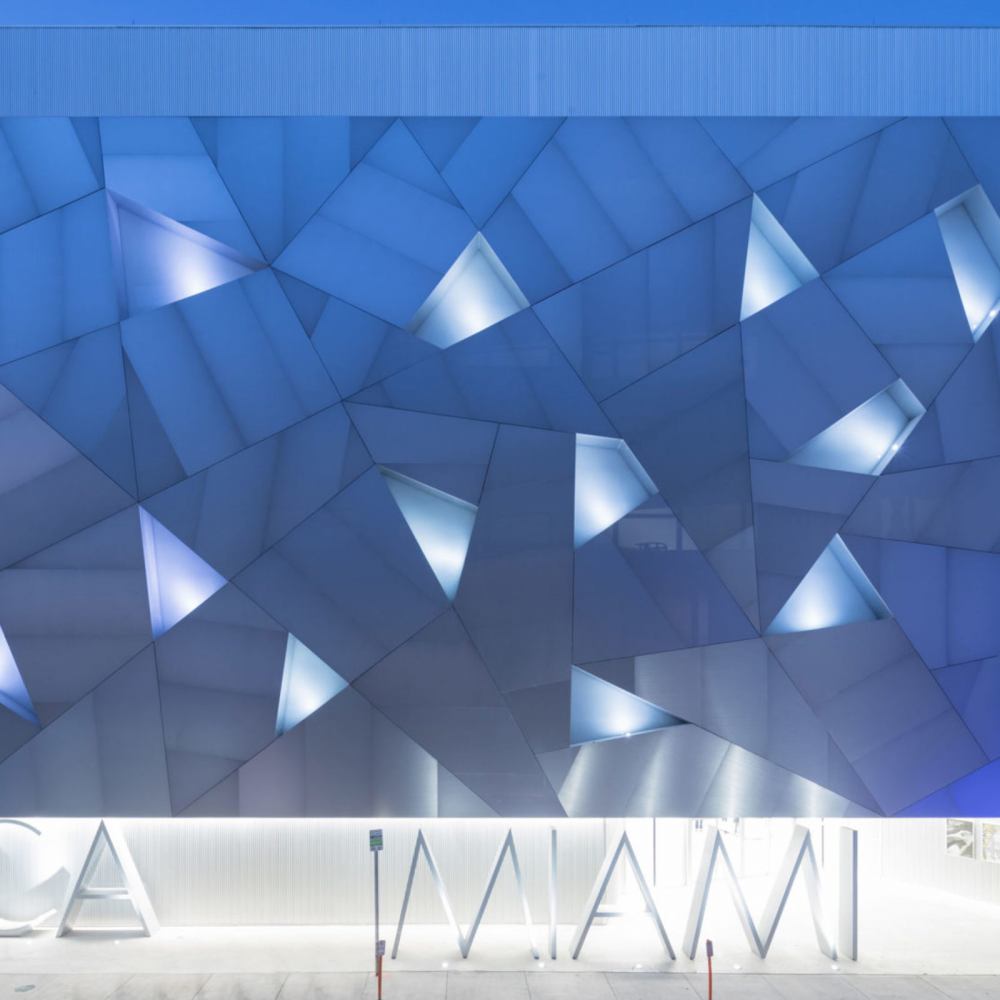 Source: Institute of Contemporary Art, Miami
Average review score: 4
Couple ratio: 25%
Miami is famed all over the world as one of America's premier art and design cities, and for a fine example of what Miami's art scene has to offer, you only need to take a trip to the Institute of Contemporary Art, Miami. Known to locals as ICA, this contemporary art museum is located right in the heart of the Design District. It's been around since 1996 in various guises, always acting as a leading light and pioneer for contemporary art and consistently shining the spotlight on the exchange of artistic ideas and concepts between artists and observers both in Miami and beyond.
What couples say about Institute of Contemporary Art, Miami
"We decided to spend Saturday in the Wynwood and the Design District and included the Institute of Contemporary Art in our visit. What a terrific adventure to see so many thoughtfully and artfully curated exhibits! The museum space itself in very impressive, and an "easy on your feet" environment ... a much more enjoyable experience than the Perez! Great place to include on any itinerary to Miami!" - josephwert,Fort Lauderdale, Florida
"Great place. Free. Several different small exhibitions. Some very interesting, some less so, depending on your tastes. But you can easily spend a hour there." - Melby
"Great place with easy access and a prime collection. I come to Miami every year and was impressed by the quality of the institute and its organization: very international standards. Paulo Nazareth was the exhibition on view with some commissioned artworks and others in retrospective. Well done! Great for family, couples or solo." - guimacaco73,New York City, New York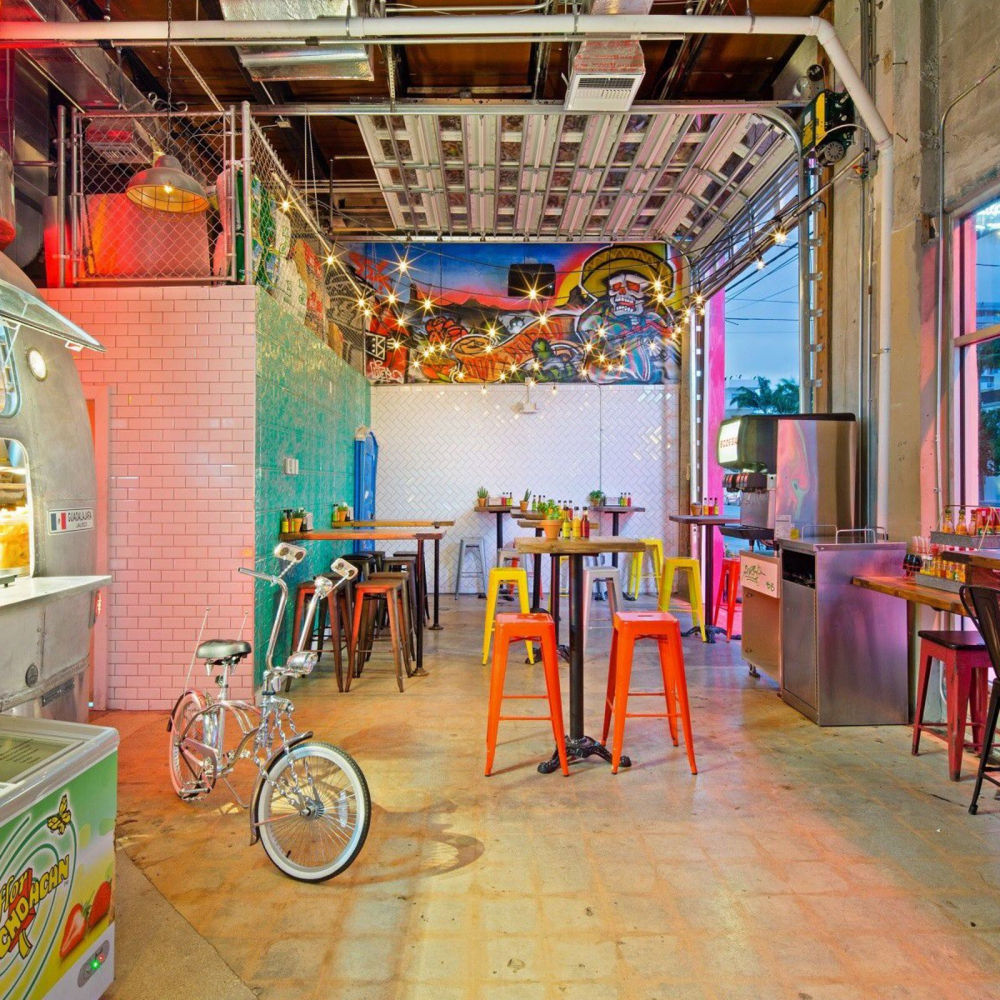 Source: Bodega
Average review score: 4
Couple ratio: 25%
If you find yourself in the mood for a little Mexican food, head on down to Bodega Taqueria y Tequila, one of Miami's top Mexican dining destinations. With a bright, colorful, and stylish interior space, Bodega consistently serves up some fiery tacos and flavorsome tequila cocktails for all to enjoy. There's even a food truck parked right outside, so if you're in a hurry, you can grab some tacos and continue on your way to eat them back home or elsewhere. Don't miss out on Taco Tuesdays or Live Music Wednesdays too, and visit from 6pm to 8pm to enjoy Happy Hour discounts on tacos, chips, beers, and shots.
What couples say about Bodega
"Super casual street food. Picnic tables curbside. A few plastic tables and chairs inside. Basically a food truck parked in a garage. We loved everything about it. Between the four of us we sampled 6 different types of tacos. Loved them all." - Brad M,Naples, Florida
"I love to eat here! The food is amazing and pretty good. The place looks weird but the food worth the try and the prices are decent. The lunch special is amazing" - Gustavo B,Miami, Florida
"After walking all day in Lincoln Roar and walking like crazy we found this restaurant and stopped to try and it turns out that it was great" - Eduardo C,Miramar, Florida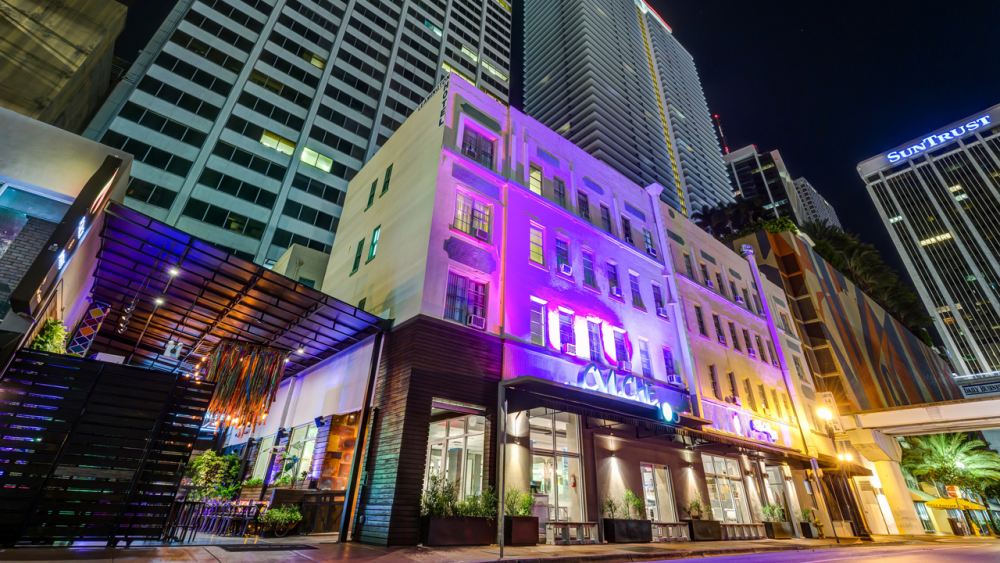 Source: CVI.CHE 105
Average review score: 4
Couple ratio: 25%
Miami is one of the top spots in America to find fine dining from around the world, and if you're feeling any kind of craving for some Peruvian delicacies or looking to try something totally new and different, CVI.CHE 105 is a great place to visit. Right in the heart of the city, CVI.CHE 105 is owned and operated by Chef Juan Chipoco, one of the leading lights of Peruvian cuisine in North America. Hailing from Peru's capital of Lima, Chef Juan brings the soul, spirit, history, and powerful flavors of his nation and his people to the population of Miami.
What couples say about CVI.CHE 105
"I had a quick ceviche mixto at the Aventura restaurant last week. Mayra was great. She upsold me on the wine and the ceviche platter. I'm in sales, so I knew what she was doing, but she did it genuinely and I felt like she had my interests in mind. Mayra is very personable, friendly, and helpful!" - rebeccarB8988KU
"Thank you Enrique! Very patient with us tourists and great food! I will be back here when I come back to Miami and telling friends and coworkers. Pina colada was great too!" - Island-Empress,Greensboro, North Carolina
"The food here is great. Every dish we ordered was amazing and our server Evelin was excellent. I will definitely be back" - Matt S
Why CVI.CHE 105 is a great date spot
"CVI.CHE 105 is among the perfect restaurants for couples, especially on Valentine's day. While featuring plenty of options to share, including our house favorites Ceviche Tetra or Ceviche Threesome, our Valentine's specialties are definitely the stars of the show. These unique flavors are flawlessly complemented with an attentive and caring service by a highly trained waitstaff that are always ahead of every guest need, a true guarantee for a one of a kind gastronomic experience. The #CEVICHE105Experience." - Christian Lozan
Source: FINKA Table & Tap
Average review score: 4
Couple ratio: 23%
There are many great places to eat and drink all over Miami, with many being dedicated to one particular style of cuisine from around the world. Part of what makes FINKA Table & Tap such a special destination is the way in which it manages to successfully blend a whole range of influences, rather than limiting itself to just one. This gastopub offers a menu rich in flavors and takes its inspiration from the four corners of the world, bringing together Peruvian, Korean, and Cuban delights to provide a truly special culinary journey for every diner who steps through the doors.
What couples say about FINKA Table & Tap
"While it's out near the Everglades it is a great place that's worth the drive. Delicious food great service." - RBP881123, Miami, Florida
"It is an excellent place for food and ambience. The service was also great. The food is very different and delicious, I would definitely recommend it and will go back." - ananicolejoel, Miami, Florida
"Great place to eat if you are in this neighborhood. Great food, great service, and very accommodating. We were a large party, but they were very nice, from the youngest to the oldest in our group. Very good!" - RenatodiCaprio, Coral Gables, Florida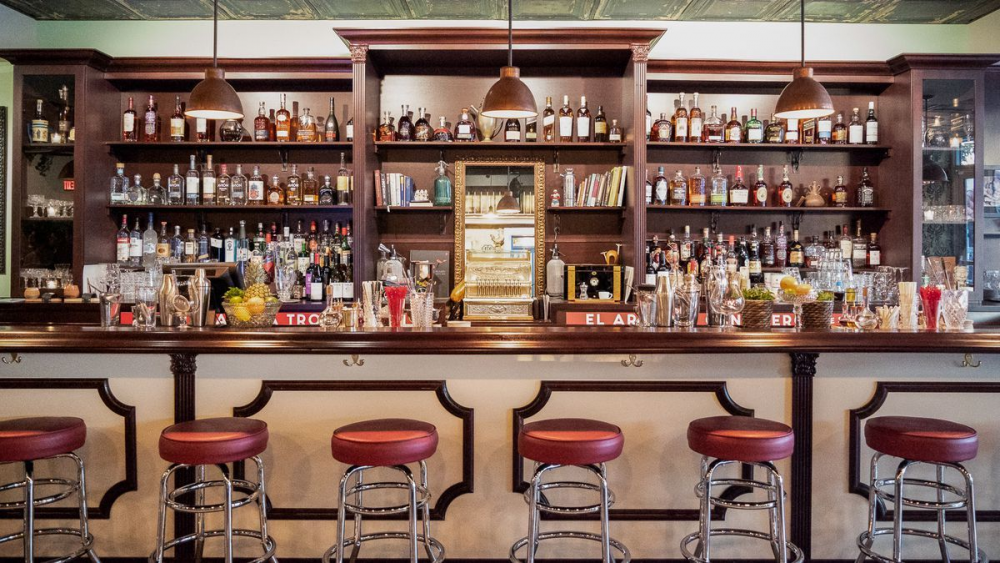 Source: Cafe La Trova
Average review score: 4
Couple ratio: 23%
There's plenty of great Cuban eats to be found down in Little Havana, but Cafe La Trova stands head and shoulders above the competition with its rich flavors and soulful menus. The super tag team of James Beard Award winner Michelle Bernstein and world renowned culinary superstar Julio Cabrera come together to bring this joint to life, offering up timeless Cuban classics with some modern spins and flairs to make them a little different and bring the immeasurable vibrancy and bold flavors of Cuban cuisine into the 21st century with style and sophistication.
What couples say about Cafe La Trova
"Not the tourist trap you see other places in Miami. Food was solid. Pork was to die for. And the vibe of the place was wonderful, upbeat, and tons of fun. The staff was fantastic. Really enjoyed it." - StrechWay,Hopkinton, Massachusetts
"Great food and atmosphere! If you haven't been there before highly recommend to go. The food and cocktails were amazing! The band was great as well!!!" - 383tatianar,Orlando
"Four of us came here last night to celebrate my spouse's birthday. The weather was terrible with monsoon rains but, we powered through. Let me tell you that it was worth the drive in such poor weather conditions to get here! We started out at happy hour. Our bartender was Barbaro. He was wonderful. Between the four of us, we had 11 or 12 drinks. One was better than the next. My spouse had the daquiri, which was excellent. I had the mojito del dia which was a passion fruit mojito. Delicious. We also had the empanadas de pollo (excellent), fritura de malanga (to die for) and the pan con lechon. If you eat nothing else here, you must eat the lechon, either at happy hour or for an entree. One of our friends is Cuban and she said it was the best she ever had. It was incredible!
For entrees, two of us had the lechon entree(I swear that's how good it was) and two of us had the seafood ceviche. Everything was amazing.
The band was fantastic. This whole experience made me think that we were in a night club in Havana. I can't wait to go back." - Jane R,New York City, New York
Why Cafe La Trova is a great date spot
"Join us in our incomparable, romantic atmosphere, consumed with lush gardens and a unique split-level lagoon creating secluded dining areas. Accompanied with an exquisite Mediterranean cuisine and craft cocktails to complete a memorable evening with your special someone." JaimeLee Russo, Events Coordinator & Operstions Assistant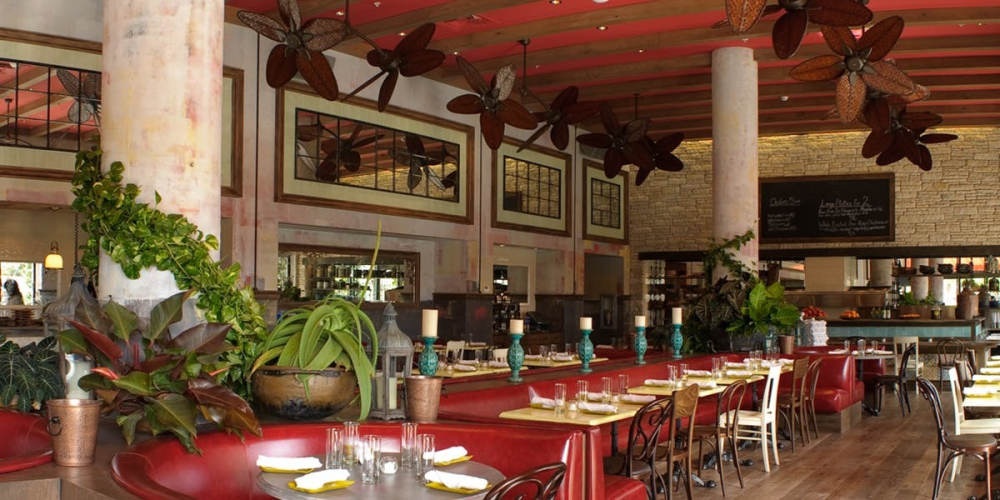 Source: SUGARCANE Raw Bar Grill
Average review score: 4
Couple ratio: 23%
If you're looking for fine dining, super service, colorful cocktails, and awesome dishes, all served in an all-weather indoor/outdoor space in the heart of Miami's Design District, SUGARCANE Raw Bar Grill is the place to be. A beautiful and expansive location with a stylish industrial theme, SUGARCANE offers up a great range of snacks, sharing platters, and large plates including oysters, crabs, shrimp, sushi, ceviche, and more. On the drinks menu, you'll be able to choose from some of the city's best rum, vodka, and tequila cocktails, as well as some highly unique beer cocktails that are definitely worth trying out too.
What couples say about SUGARCANE Raw Bar Grill
"I met a former co-worker at Sugarcane to catch up and was pleasantly surprises by the food, ambiance and service. We decided to share some small plates and started out with the Wedge Salad - very tasty and enough to share.We moved on to the Red Curry Shrimp - again very fresh with a bit of bite - just like I prefer. We ordered the Lamb Chops (3) and got 1 extra and it was perfectly cooked and served with a pomegranate, za'atar yogurt, tender and meaty chops well worth the price. We will definitely be back." George G, Fort Lauderdale, Florida
"My boyfriend of 3 years first took me here for our first date! This restaurant has become my favorite! I love the bacon wrapped dates, oysters, goat cheese croquettes and basically everything on the menu. My ultimate favorite is the bone marrow. The ambiance is beautiful and service is great!" - Sandra A
"Every time we visit from Naples this restaurant is on our list. Bacon wrapped dates and goat cheese croquettes are to die for. Decor is very elegant and sexy. By far our favorite restaurant in Miami" - Carlos G, Naples, Florida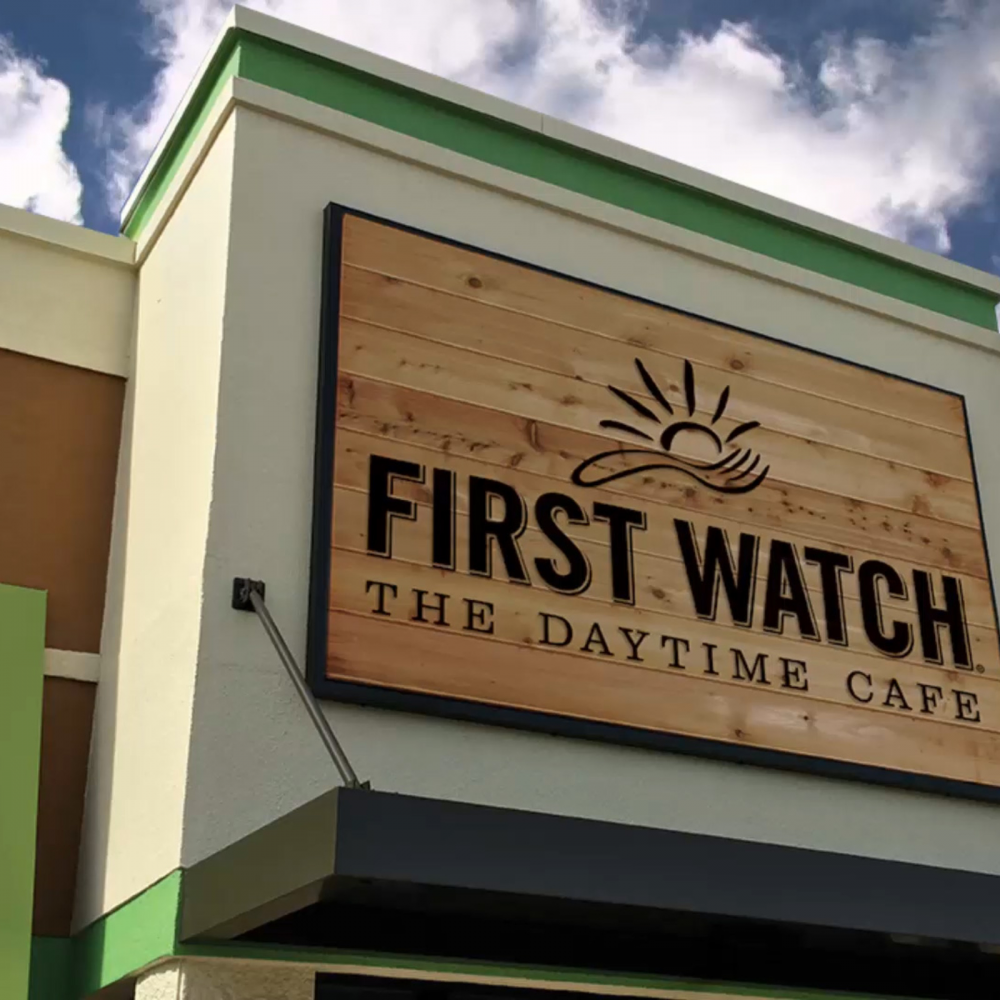 Source: First Watch
Average review score: 4
Couple ratio: 22%
Part of a popular Sunshine State chain that's only ever open from 7am to 2.30pm, in honor of the first work ship on board a ship, First Watch is a great place to stop off for an early morning snack, light lunch bite, or mid-morning meal, with only the freshest and finest ingredients used to prepare each and every dish. First Watch does some particularly delicious breakfast tacos, as well as being famous for its avocado toast and colorful fresh juice bar, open to every diner. Locals utterly adore First Watch for its quality, service, and variety, and it's never a bad choice for everything from dates to family outings.
What couples say about First Watch
"I had a biscuit with gravey, eggs and potatoes. It was super delicious. Sadness took over, Cause I was already full after one dish and could not finish the banan pancake with nuts." - Enneveas, Amsterdam, The Netherlands
"Having read previous reviews I had high hopes for breakfast at First Watch and it did not disappoint. Nice vibes, extensive menu, terrific waitstaff, fresh food served nice and hot. What more could you want?" - [ Sasfish1, Cambridge, Massachusetts(https://www.tripadvisor.com/ShowUserReviews-g34438-d15127085-r734276893-First_Watch-Miami_Florida.html)
"The Daytime Cafe - Looking for a place to eat before flying back from Miami. We had one of the best meals of our vacation there. I had a summer Carnitas bowl while my daughter had the bacado omelet. We shared million dollar bacon. Bacon was like candy and glad they only gave us 6 pieces because I would have eaten double. Really great meal and good service. Will definitely eat there again" - Clark R, Minneapolis, Minnesota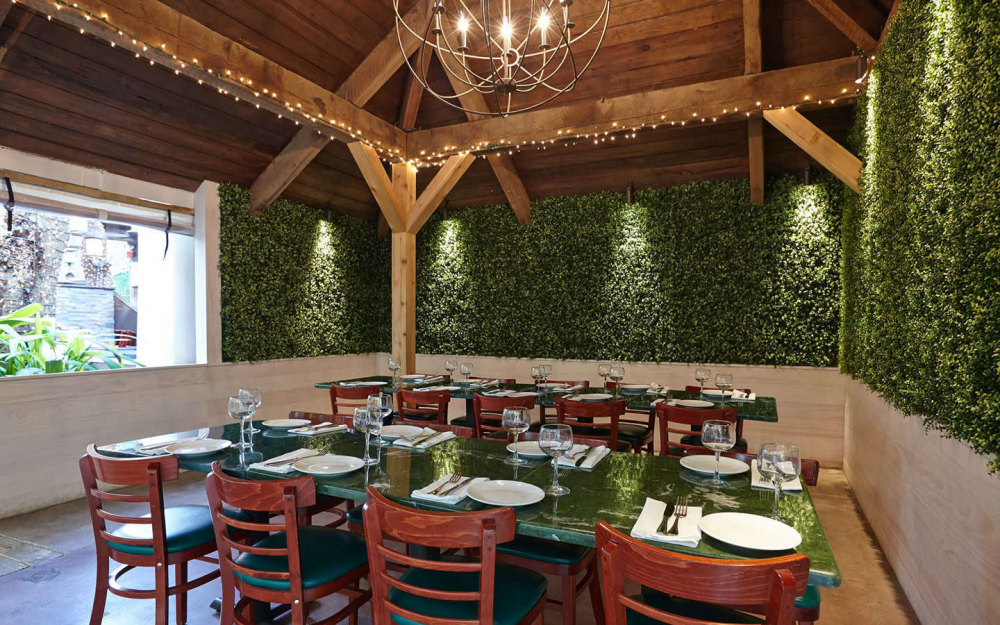 Source: Perricone's Marketplace & Cafe
Average review score: 4
Couple ratio: 22%
For a full Italian experience in the heart of Miami, Perricone's Marketplace & Cafe is the place to be. Managing to successfully blend an Italian restaurant and gourmet market into just one location, this unforgettable location allows visitors to take a seat and enjoy the best Italian eats in the city or simply browse the marketplace to grab some ingredients for their own home cooking. You'll find some truly scrumptious desserts, salads, and seafood here, as well as Italian classics like veal parmigiana and lasagna. There's a lovely tree-shaded garden space too and the whole of Perricone's has been lovingly decorated to the highest possible standard.
What couples say about Perricone's Marketplace & Cafe
"My wife and I met another couple here for dinner. I did not disappoint. It was busy so we had to eat on the outdoor, covered porch. The food was good and the drinks were too." - LJlovetravel,Uniontown, Pennsylvania
"Great first visit. Attended Perricone's Pasta Thursday for $10 entrees. The food and service were both great. Would recommend the Chicken Parm. Also lots of good deserts to choose from. We also hit the Italian Bakery on the way out to take a little tasty memory with us." - BillREvans,Princeton, New Jersey
"A funky old Miami appearing house just off Brickell Avenue, set in a huge grove of trees. Great and unusual atmosphere, very attentive service, very nice Italian menu. Wines were fine and reasonably priced. Would return and recommend." - Paul E,houston, texas