The 17 Top-Rated Dating Spots in North Florida, According to Real Couples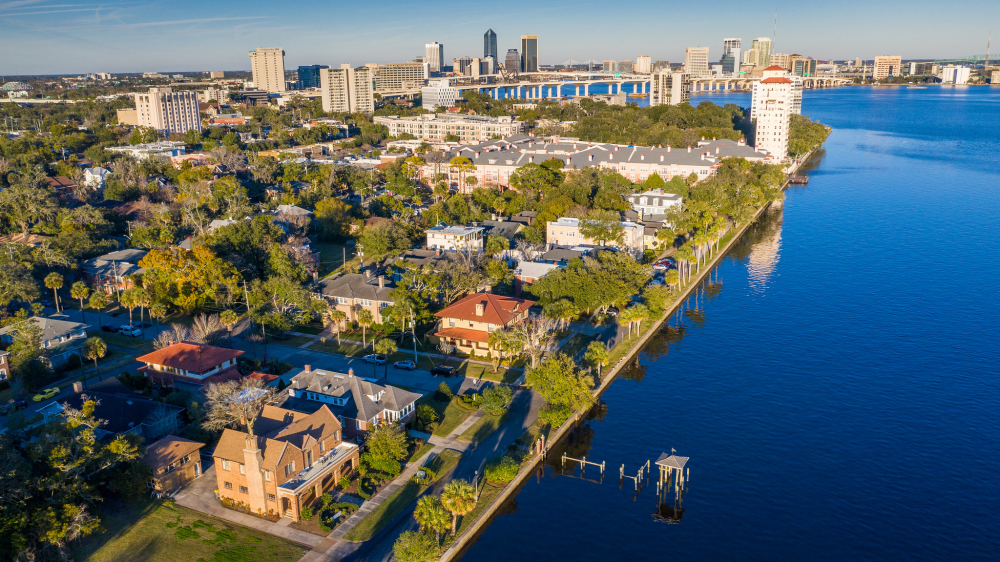 Source: flickr.com
With its name meaning "land of flowers", and nicknamed The Sunshine State, it's easy to see why Florida attracts so many couples in search of a romantic and exciting date. On its shining beaches or in its bustling metro areas, couples are certain to find a spot that suits them - whether you're a native Floridian or not, there's always something to see and do.
In this article, we look loosely at the Northern end of the state, including Jacksonville, Gainesville, Tallahassee, and must-see spots in nearby areas and cities.
The data and rankings in this articles comes from research on North Florida's most popular spots according to online reviews by couples. The couple ratio score is the amount of visitors to a spot that came as a couple. Our review score draws from the most reputable sources like TripAdvisor, Yelp, Google Reviews and OpenTable for an average score.
Let's look at the very best dating spots in North Florida, according to real couples!
1. The Edison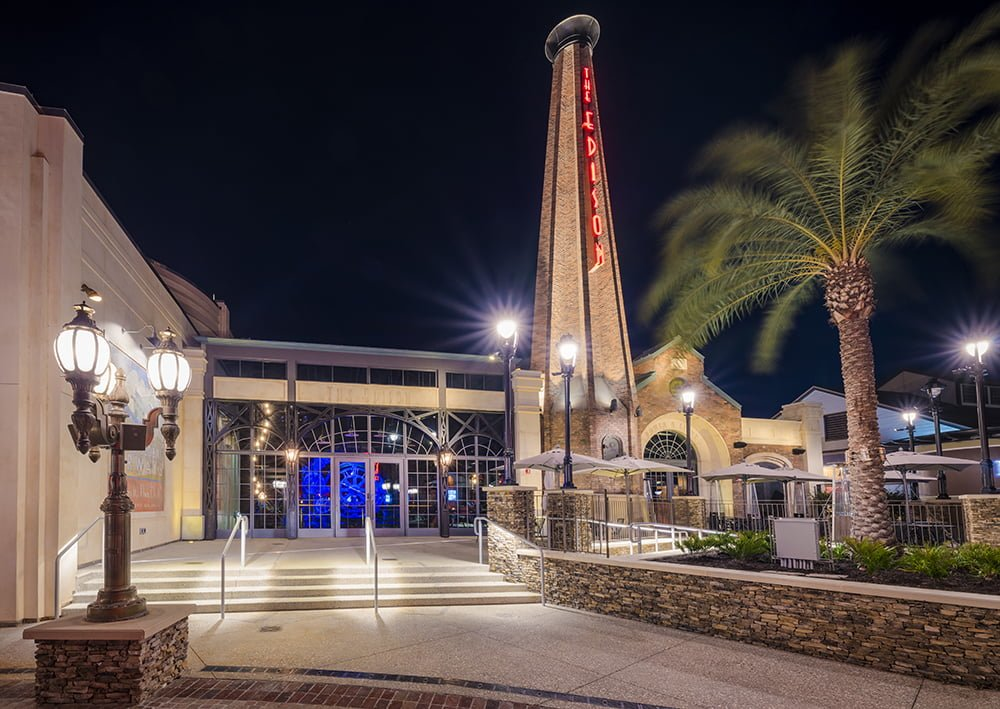 Source: patinagroup.com
Average review score: 3.5
Couple ratio: 52%
The Edison Restaurant, located in Disney Springs is an industrially-themed dining experience, set in a once-abandoned power plant. The family-friendly restaurant features many dinner and lunch dishes like their Prime Rib, steak, and their signature Edison Burger. But the night only begins with their delicious food. The restaurant also has fantastic entertainment including stilt walkers and DJs.
As well as live bands and performers on Thursday, Friday, and Saturday night, the Restaurant also includes three bars throughout the massive multi-level space. If you're out enjoying what Disney Springs has to offer, mark it on you to-do list to check out The Edison.
What couples say about The Edison
"While vacationing & having dinner every night in Disney Springs, my husband & I enjoyed our "over the top" server (Luciana) @ The Edison. This unique & meticulous restaurant & dining experiencs offers great comfort food & generous portions. Our server went above & beyond...& my husband was so impressed with Luciana , we were adamant to make a review. Exceptional:)" - Karen K
"The style and ambiance of the restaurant was in deed very interesting, resembling an old industrial complex. Interesting period movie clips were being broadcast in various places throughout the place. There was also a performer on stilts that roved around the tables. It appeared that other entertainment was possibly made available at busier times or nights too. Our wait service was good, eating at a early dining time around 5:30 local time. Overall it was a good experience." - Thane H
"When for dinner for my anniversary with my fiancée. We made reservations though open tables. The Staff went above and beyond to make us feel like we were not guest but family they worked to have a conversation with us not just "can I take your order" but actual interest in us. The table was on a private balcony and had 2 glasses of "champagne" waiting for us and then he brought us out a dessert to share. They made our night grand and that is a rare thing to find these days." - Ross G
Why The Edison is a great date spot
"We're delighted for The Edison in Disney Springs to be considered one of the area's top date spots," said Patina Restaurant Group Marketing Director Kyle Collins. "We believe The Edison is a venue unlike any other by providing unparalleled entertainment with a wide array of quality cocktails and cuisine to choose from."
"The Edison is the perfect date spot for all couples. As soon as you step foot in the bustling venue, you're immediately transported to a lavish "Industrial Gothic" themed restaurant and entertainment venue. There's a wide variety of evening entertainment for visitors including stilt walkers and DJs seven days a week; while live bands and performers dazzle guests on Thursday, Friday, and Saturday nights. The Edison serves the hottest craft cocktails at three bars set throughout the multi-level space paired with classic American cuisine. There are multiple couches and lounge areas if you want a more intimate and relaxed atmosphere away from the dancefloor. The Edison has a welcoming atmosphere to fit any mood that makes guests feel right at home."
2. MidiCi, Gainesville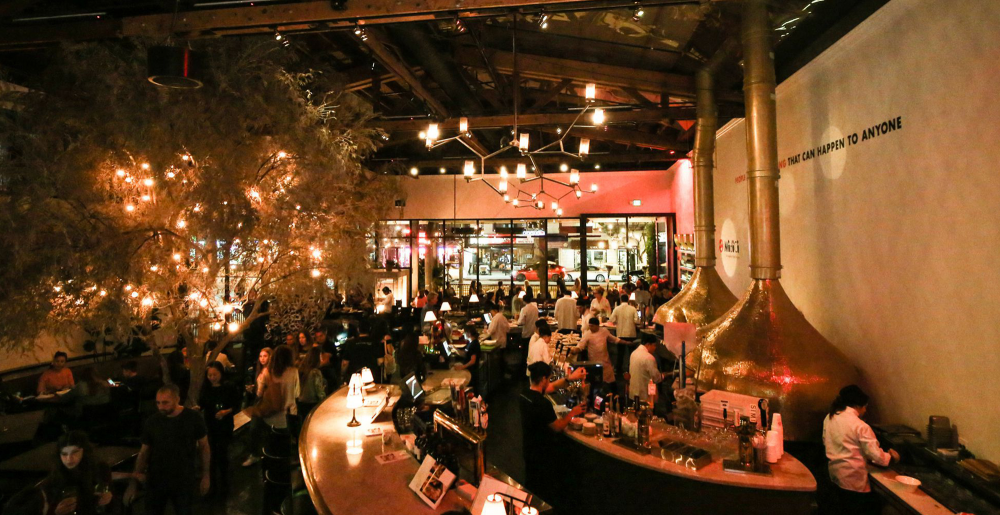 Source: mymidici.com
Average review score: 4.0
Couple ratio: 50%
Pizza has been known as a social food for a long time now. You can basically find a pizza place right around the corner, but you can't find pizza anywhere else like at Midici. A pizza restaurant that is all about tradition, quality, and bringing people together. Midici takes great pride in serving authentic Neapolitan pizza. Following the tradition, the dough is made with only 4 ingredients. Non-GMO double zero flour imported from Naples, pure water, sea salt and live yeast. Followed by the topics which are nothing less than fresh, making every pizza memorable for all you share it to.
What couples say about MidiCi
"Had a late lunch, two different pizzas, and both were delicious and more than enough for two of us. Wait staff very attentive and helpful. Highly recommend, and we are fussy about pizza." - Elena C
"We dined at MidiCi Pizza for the first time to celebrate hubby's graduation and Master's degree. Our reservations were honored when we arrived an hour early and we were still seated immediately. We had generous pours of champagne ($5) and then ordered pizzas ($11) and salads ($11). Side salads ($5) were large salad bowl sizes. Stephon took great care of us and even comped dessert of a yummy Nutella calzone in honor of the occasion that was too large enough for all six of us. Beautiful decor but high ceilings and piped in music make it hard to hear. Really enjoyed this place with friends and family." - Sandra O
"We went for dinner during the football game to Midici's in Celebrations. Boyfriend ordered a calzone with spicy sausage & shrimp. It was full of ingredients all the way to the edges which all the other Italian restaurants in Gainesville don't do. You get a lot of dough on the edges. Not this one. I ordered a mediterranean pizza and added red onions. I prefer thin pizzas so that was great. I'm definitely going back. They were selling hot dogs & hamburgers outside on the patio. There was a band setting up to play. Forgot to take pics. Calzones are very large. They had two large pizza ovens and you could see everything going on in the kitchen." - Holly S
3. Carrabba's Italian Grill, Gainesville
Source: carrabbas.com
Average review score: 4.0
Couple ratio: 44%
With over 250 locations, this authentic Italian restaurant is a family-built chain that has over 30 years of experience in exceeding the expectations of food-lovers. With that being said, they create over 30 different plates so you will be able to find the perfect meal for you and your other half. But Carrabba's isn't just a restaurant, it's a grill. Which means you'll be able to indulge in your favorite meats and poultry. If that's not your thing, enjoy their wide range of pasta, seafood, pizza and other specialties.
What couples say about Carrabba's
"We came for the first time for a date night. The hostess seated us in an open but intimate booth.Our server, James, was attentive and efficient. He served warm bread with tasty dipping oil. We both ordered the house salad with house vinaigrette which was light and delicious. My date got the spaghetti with meat sauce that very filling. I ordered the tilapia and broccoli. The fish was well seasoned and cooked to moist perfection. The broccoli was lightly sautéed. Traci, the owner stopped by our table, to thank us for trying Carrabba's. She gave us a gift bag which included her card, meat seasoning and a certificate for dessert. Our meal was mid priced. We will definitely return. Carrabba's exceeded my expectations for a national chain restaurant. Well Done!" - kwscoupon
"We were staying Gainesville for a few days and were pleased to find a Carrabba's not too far from our hotel. The food was excellent as always and service was fairly good." - Suzanne B
Why Carrabba's Italian Grill, Gainesville is a great date spot
"Our authentic, made-from-scratch family recipes and warm and inviting atmosphere combine to create the perfect ambiance for a date night. With Carrabba's as a frequent destination for night out, we created our Date Night Dinner - a four-course dinner for two for just $45, available every Thursday. For couples interested in a social date night, our monthly Four-Course Wine Dinner is a perfect option to socialize with other guests", Shannon Stowers, Director of Marketing at Carrabba's Italian Grill, told us.
4. Prohibition Kitchen
Source: pkstaug.com
Deep inside the oldest European-inhabited city in the US is Prohibition Kitchen. The restaurant was built on the same ground and themed around the old Genovar Theatre known as the social epicenter during the prohibition era. This Southern style restaurant takes you on a journey back in time with their aesthetics and unforgettable dishes. A wide range of burgers, meat, poultry, and other dishes like poutine, soups, and salads are all styled and flavored with tradition. Not only will you leave feeling satisfied, you will leave with an experience like no other.
Average review score: 4.5
Couple ratio: 43%
What couples say about Prohibition Kitchen
"We stopped in for drinks and a snack. Oh my, the short rib grilled cheese is a work of art!!!! So tasty and well worth the wait. The fries were super crispy and good too. Usually don't eat many fries but my husband and I cleaned the plate. He had oysters which were not served until 3, but super glad we waited for the tasty morsels they served! All looked awesome, highly recommend you make this a must stop on your visit." - Bruce H
"Every now and then, you leave a place and say, "hey, that was great." We were walking the historic district of St. Augustine on a Saturday afternoon and it started raining. We ducted into the PK and asked for a table. We were told it would be a 20 minute wait so we opted for a couple of open seats at the bar. We thought we would only be there for a drink but wound up staying for lunch, a football game and making a lot of friends. The wings were some of the best I ever had. The mustard sauce was delicious and six were plenty. I had a side of fries which were really tasty. The servers were all helpful and fun. I was impressed!" - Mike T
"My husband and I stopped into Prohibition Kitchen for an early dinner in St. Augustine. The design of the inside of the restaurant is very rustic and just really cool, to say the least. We ate upstairs and were able to overlook the rest of the restaurant. The staff was super nice and very accommodating for my pretty complicated burger order. The burgers were fantastic and cooked so well! I would definitely recommend PK to anyone visiting St. Augustine." - Ashlyn A
5. Black Sheep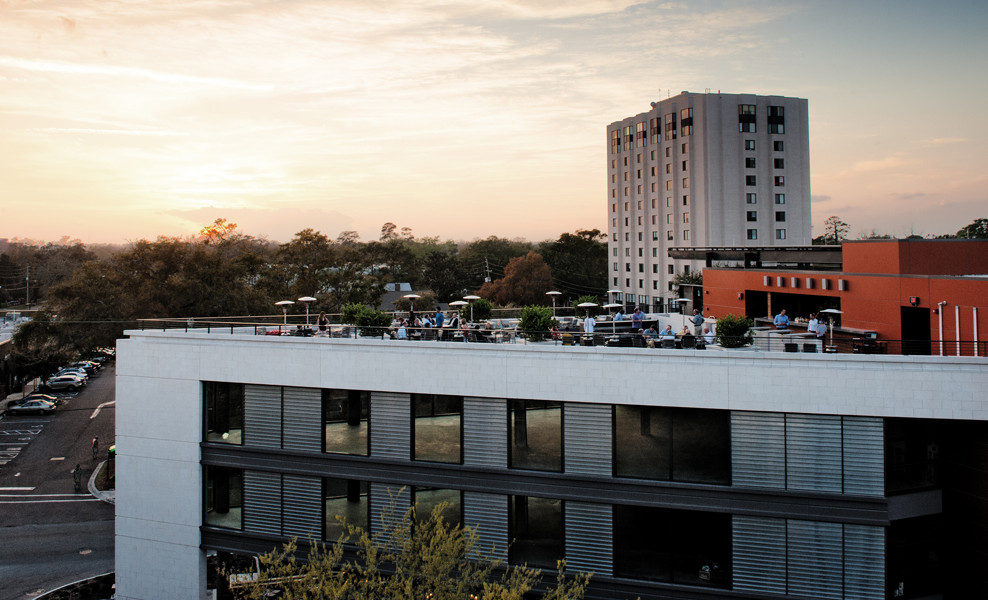 Source: blacksheep5points.com
Average review score: 4.5
Couple ratio: 43%
On the search for a fine dining experience? Then listen close. Black Sheep Restaurant is a modern American restaurant located in Jacksonville, Florida, and its promise is pretty simple; to use local and fresh ingredients to create handcrafted dishes and artisanal cocktails. Most fine dining restaurants can give you a sense of quality, but many lack a sense of trust. Which is exactly what Black Sheep seems to be exceeding at, by staying transparent with who their purveyors are and living by their promise. When it comes to their food, they have an excellent selection of burgers, sandwiches, ribs, salads, and other specialty dishes. Passion is a great part of Black Sheep. All they want is to share it with you, so make sure to stop by!
What couples say about Black Sheep
My wife and stopped in here for drinks and appetizers on a whim. So glad we did. We sat at the bar and the bar tender was a plethora of knowledge. The fried olives were delicious especially since I'd had never heard of them before. The mussels were amongst the best we've ever had. We also enjoyed the Korean beef and kimchi sliders. Well definitely be back and can't wait to try out the roof top bar when it cools off outside. - George K
"This was our first time to visit Black Sheep and we ate on the rooftop. Lovely view of the city,. We were celebrating my birthday and wanted to go somewhere different as we live at the beach. From the moment I made the reservation until my fiancé paid the bill, the service was outstanding. The food was scrumptious - we try to find "Farm to table" restaurants and Black Sheep is one. We will definitely return." - Eileenatbeach
"Went for an evening date night. Made a reservation online, but opted for rooftop seating (rooftop doesn't allow reservations). Great view and cool river breeze created a comfortable temperature despite recent heat wave. My Old Fashioned was well executed and had good balance of flavors. We ordered Fried Green Tomatoes for a starter and were not disappointed! Easily the best I've ever had! I'm from South Ga, and trust me they were that good! My main was a grilled pork chop on a bed of red peas and my wife got Korean spare ribs on polenta. Both dishes were excellent! The pairings were quite interesting and yet worked well with each other. My wife raves about the delicious spare ribs and kimchi playing off the texture of the polenta. Service was great and we will definitely be back!" - Brad K
Why Black Sheep is a great date spot
"We've been voted best place for a first date many times by various publications. Probably because we have a unique setting with a roof top dining space where you can get a full meal or just drinks and snacks. We also have a pretty diverse and moderately priced menu that also works for date night" - Allan DeVault, Managing Partner, Black Sheep
6. Alhambra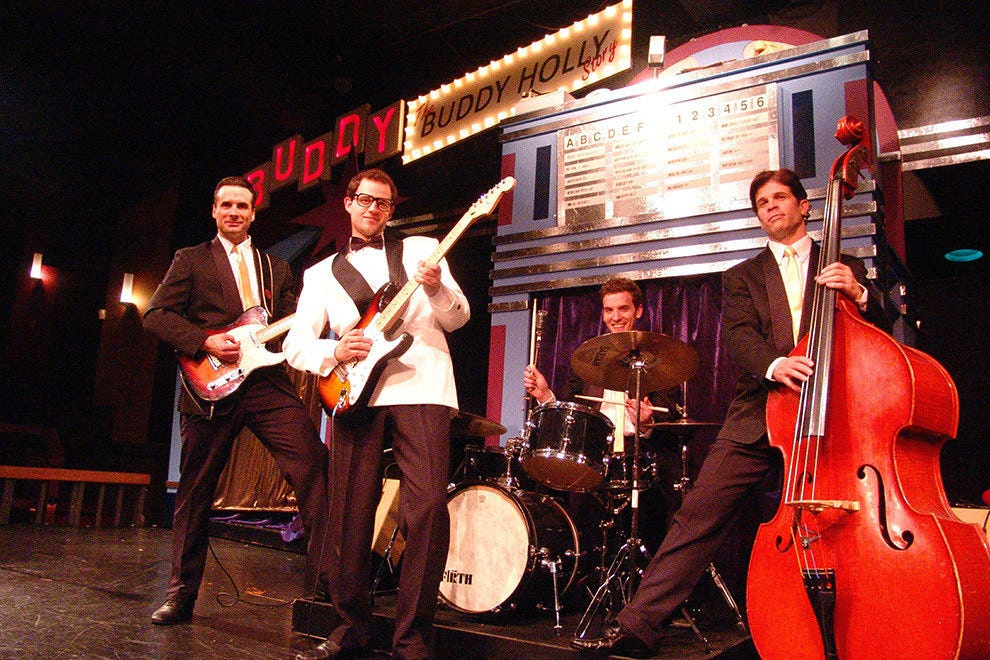 Source: alhambrajax.com
Average review score: 4.5
Couple ratio: 43%
Founded in 1967, the elegant Alhambra Dining and theater stands out as the oldest theater in the nation. If you are looking for a night full of experience and excitement you're in the right place. Their shows are filled with exciting plots, unexpected twists, and made with great thought, making you feel like you are part of the show. But the shows aren't the only memorable moment of the night you'll leave with, the dining is just as exquisite with each menu being designed and themed around the shows that are taking place.
What couples say about Alhambra
"We have always loved the show and music from Momma Mia and Abba. When we saw on the schedule we bought gift certificates and then 60 days prior to show day, ordered tickets. This now almost sold out show delivered on all aspects with fantastic singing, props, and quips. Surprisingly though was the food! Centered around the Greek theme, Chef Dejuan Roy delivered a traditional Greek Sslad to most of us and a chicken and rice soup to one, all very good! Then the second course Roasted Leg of Lamb to one, Creamy chicken alfredo to two of us, and myself the Mediterranean Cod with shrimp, mussels, in garlic tomato. Family loved theirs but I was amazed how good my cod dinner was! We capped of eating with tiramisu for desert. We enjoyed a couple bottles of wine and the show. Representing the owner group starts the evening of entertainment with special event acknowledgments, a nice touch!"
"I'm sorry if I go overboard on this, but this was more than what I could have expected. The theater, dinner, waiter/waitress, MC and the cast was fantastic. We went to see Ain't Misbhavin and we were just so happy to see such a wonderful performance by the cast, band and stage hands that put an AWESOME show. We hadn't been to a performance in some time, so this was very special to both my wife and I. The food was very, very delicious. In fact, I was over joy with everything. I had the fried flounder very light breaded and flaky for such a thin type of fish, mash potatoes that was very smooth and creamy and the lima beans were on point. My wife had the pork ribeye which was so tender you could cut it with the fork, with garlic mash potatoes and tender asparagus. I want to thank our waitress (Poison) Ivy, who did an excellent job in making sure everything was just right and let me say this, she did such a wonderful job on all her tables. The show, well I just like to say they all were wonderful. I'm sorry that I hadn't seen them before and I will definitely go back to see them again. In fact, we are planning to become ticket members to see more shows. I want to thank the owners and staff of the Alhambra Theatre & Dining, and want to let them know they're doing a wonderful job and it's great to see this type of entertainment in Jacksonville, Fl."
"We both had the prime rib which was melt in the mouth excellence. The drinks are reasonably priced and the service is good. The show was Mid Life the Musical and was very professional and entertaining. All in all we had a great evening and it is fantastic value for a meal and a show." - Chris J
7. España Restaurant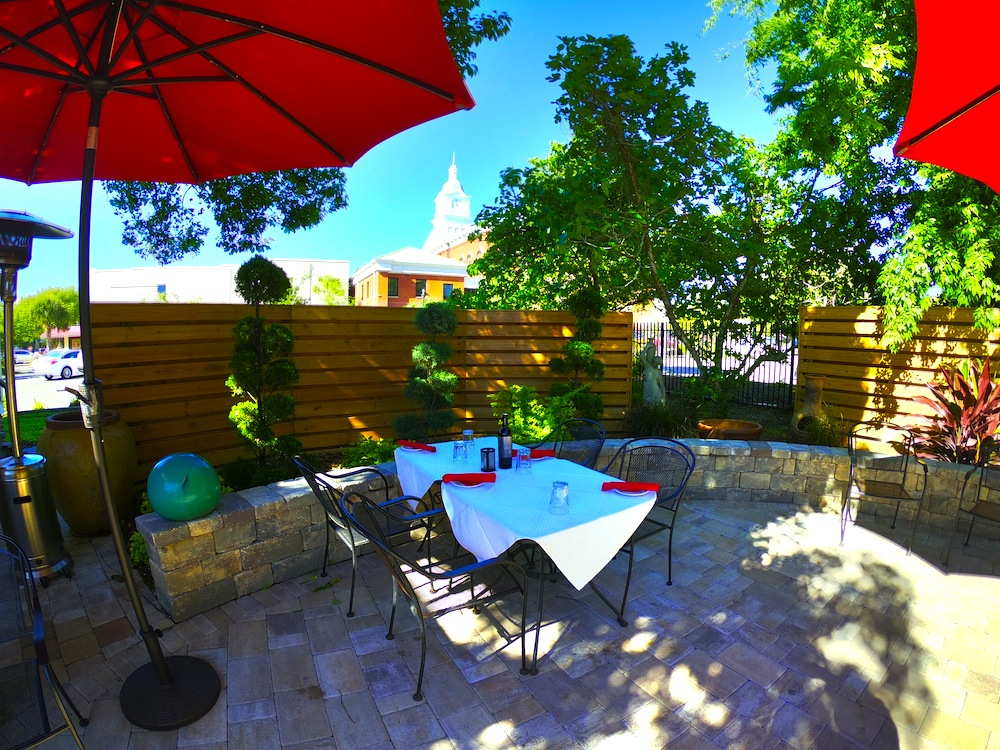 Source: espanadowntown.com
Average review score: 4.5
Couple ratio: 42%
If you're looking for a place with tradition, you're at the right spot. With over 20 years of experience, Espana is a charming Spanish restaurant that specializes in flavours from Spain and Portugal. There menu consists of hot and cold tapas, steaks, homemade dessert, and most importantly, there traditional paella. Each paella is prepared in a traditional paella pan that has been imported from Spain. Come inside and enjoy a warm and welcoming experience that only Espana can give, from their cozy dining room to the beautiful outdoor garden, you won't find anything like it.
What couples say about España Restaurant
"My husband found this great place as he know my love for Spanish food. The Paella was excellent and all the seafood in it was cooked to perfection. Had the flan that was the creamiest I ever had!! Would recommend highly." - Lori A
"The attentiveness by the service staff was excellent! The restaurant ambience is warm, cozy and romantic. The food is fresh with great offerings. So wonderful to eat healthy and have diverse choices. We will be back!" - merrily785
8. Savour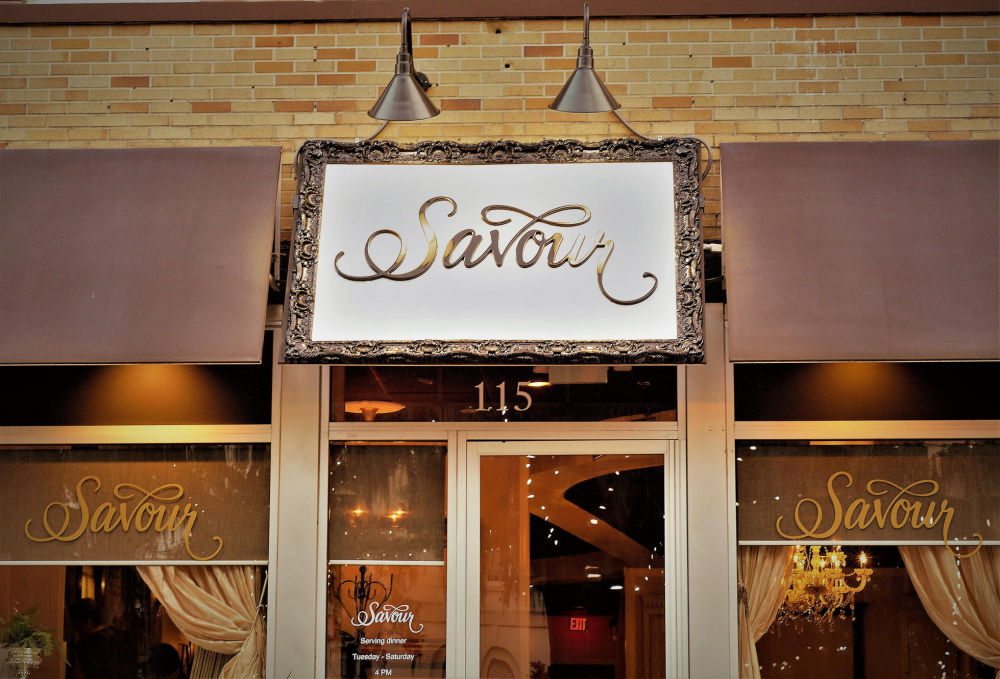 Source: savourtallahassee.com
Average review score: 4.5
Couple ratio: 41%
Over in Tallahassee, Florida, there's a unique, fashionable, and highly-praised restaurant known as Savour. An elegant and eclectic dining experience with over 15 prestigious dishes featured by Chef Bryan Knepper, it opened only in late 2018 but the aesthetics make it seem like you're stepping right back into 19th century England. Their menu includes meals like Chargrilled Filet Mignon and Pan-Seared Sea Scallops. Once you've chosen the perfect meal, you can choose between their huge selection of wines and drinks to make the night just right.
What couples say about Savour
"I am a Tallahassee local and this was my best meal ever in Tallahassee. The food tasted fantastic. The proportions were perfect. The wait staff were excellent. The restaurant is small and cozy. The hostess and owner made us feel like VIPs. The filet steak was as good as I have had at the best steak house in Las Vegas where it would cost $120 in Vegas. The chef can make brussel sprouts taste so good, you miss them the next day. I am still craving the escargot pot pie, also. We had an excellent experience!" - Kim S
"My husband and I really enjoyed our meal at Savour. The food was really good. I had the grouper and my husband had the sirloin. The fish was cooked perfectly and the brussel sprouts that came with the grouper were delicious. We split the dessert, the parfait, and were very pleased with it. The only thing I think was missing was a steak knife. While the steak wasn't really tough, a steak knife would have been nice. We made our reservations today and it appeared there were several parties there, but, the noise level was loud where we were sitting, in the lounge area, and it was difficult to hear sometimes. The service was excellent with all servers very attentive without hovering. All in all though, the dinner was very good and we will definitely be back." - Linda L
Why Savour is a great date spot
The restaurant told us: "Savour, a hub of hospitality, is the chic and eclectic dining experience nestled among the twinkling lights of downtown Tallahassee's Park Avenue. Locally owned and operated by Drew and Kim McLeod, we invite you to pull up a chair and linger over great food and conversation. Having a vision for seasonally inspired, regionally sourced and creatively prepared cuisine, our Executive Chef, Brian Knepper, brings more to the table… even for the most discriminating gastronomes. Whether a first date or 50th anniversary celebration, allow Savour's inviting ambience, intimately lit chandeliers, impeccably set tables, and incomparable attention to detail set the stage for your most memorable evening. Savour has established its reputation on the simple – yet profound – concept that "Everything matters". And the belief that life is short... so Savour it!"
9. Bird's Aphrodisiac Oyster Shack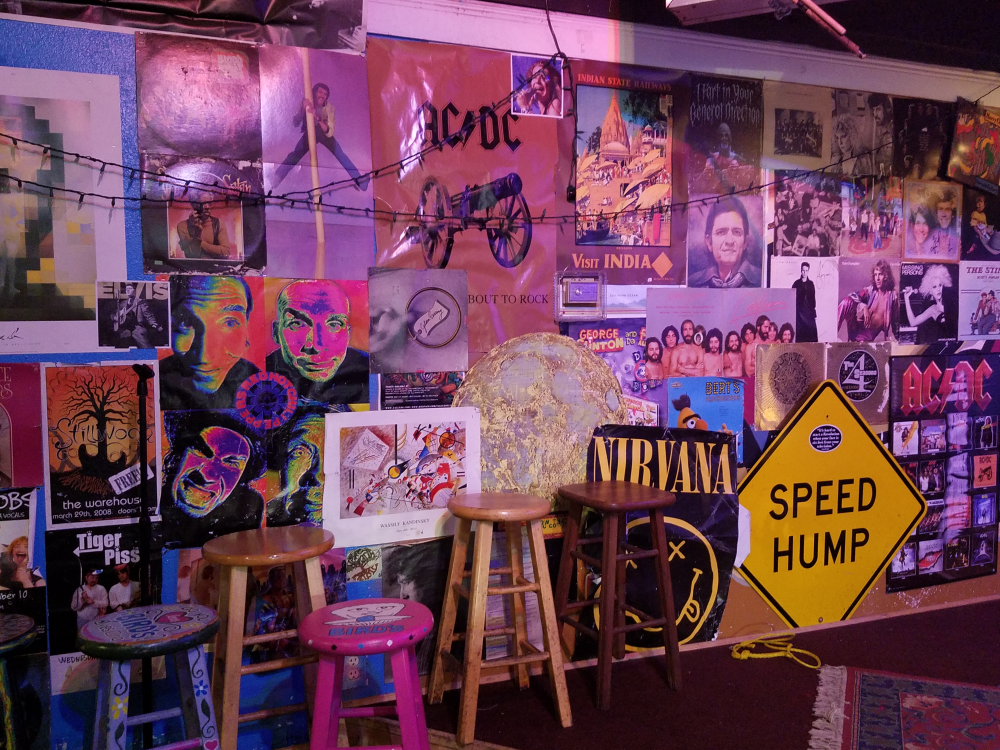 Source: birdsoystershack.com
Average review score: 4.5
Couple ratio: 40%
Rated well across the board, Bird's Aphrodisiac Oyster Shack is a specialty shack that focuses on providing nothing but the finest oysters. But if oysters aren't your thing, you can still try their burgers, chicken, and sandwiches to fill your appetite. If you're looking for the perfect night for you and your other half, Birds Oyster Shack also includes a wide range of nightly entertainment during the week including spectacular live music, hilarious comedy, karaoke, and trivia. If you haven't already, mark a day on your calendar to come visit this unique, quirky, and locally-loved spot in Tallahassee.
What couples say about Bird's Aphrodisiac Oyster Shack
"This is great place! Fun! Food was delicious! I had the grouper sandwich, outstanding! My husband had a burger! Also delicious" - Jeanne S
"We were on our way from Emerald Coast heading to Savannah and found this on Trip Advisor. What a fun atmosphere!! There's so much to see inside and menus are hilarious. I had the grouper sandwich and my husband had a burger with mushrooms, bacon, cheddar and fried egg. We typically order one meal and share, but decided to go with our own. We could have easily shared the 10 oz burger (small one)! And the fries are really good - hot and seasoned with salt and pepper. My grouper sandwich was fresh and delicious. My husband's burger was rich. And the service was A+! If you're in Tallahassee don't miss it." - Odyssey134247
10. Mayday Ice Cream, Jacksonville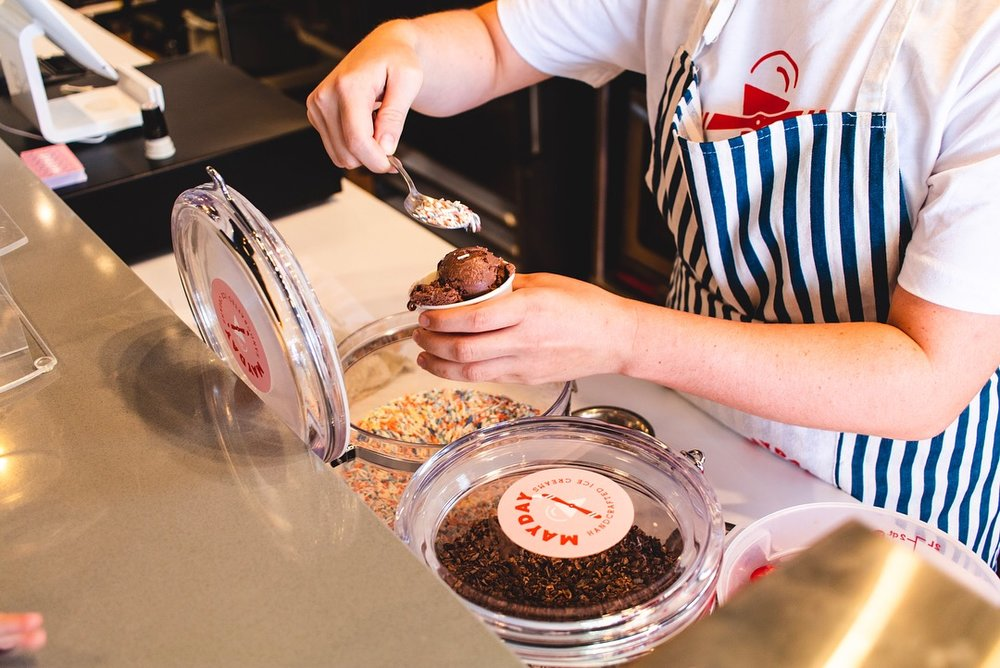 Source: maydayicecream.com
Average review score: 4.5
Couple ratio: 40%
Mayday Ice Cream, a World War 2 themed cafe, is here to serve you with possibly the highest quality ice cream you have ever had. The best part? It is all handcrafted on site. Each of the 28 flavors are carefully crafted with high quality ingredients and served to you in a homemade waffle cone. If you're ever out with your friends, stop by one of their three locations and pick yourself up a cone, you won't regret it.
What couples say about Mayday Ice Cream
"We found this place by accident. I was wanting ice cream, and this came up in our search. So glad we went, because it was fantastic! You get so much ice cream per "half scoop". If that's a half scoop, I'd hate to see a whole one! I got the pretzel cone, which was the best. The salt really went well with the ice cream. I tried both the cookies and cream ice cream and the cookies and cream that came with peanut butter (I cannot remember the actual names of them) while my husband tried a few different flavors. It was fantastic! I have never had ice cream that tasted so good before. I wanted to go one last time before we headed home, but unfortunately didn't make it." - Slevinsky
"My wife and I went there for some ice cream and were pleasantly surprised with the quality and service we recieved. We would go back the next time we are in town. The 2 girls working when we went in were very helpful and knowledgeable. They really enjoyed there job and told us all about the ice cream." - HashTague
"Mayday was a real treat! The ice cream flavors were very unique which told us that they really put their heart and soul into their creations! The Scoops were enormous and the small included two scoops! I had the chocolate with a Cayenne type pepper and a chocolate and coconut made with coconut milk! Chocolate was truly dark chocolate! The flavors were amazing! A little hidden in a side shopping strip but also included a Staples part of a larger Shopping Center. Worth Finding! Absolutely scrumptious!" - Tommy P
11. Fla Juice & Bowl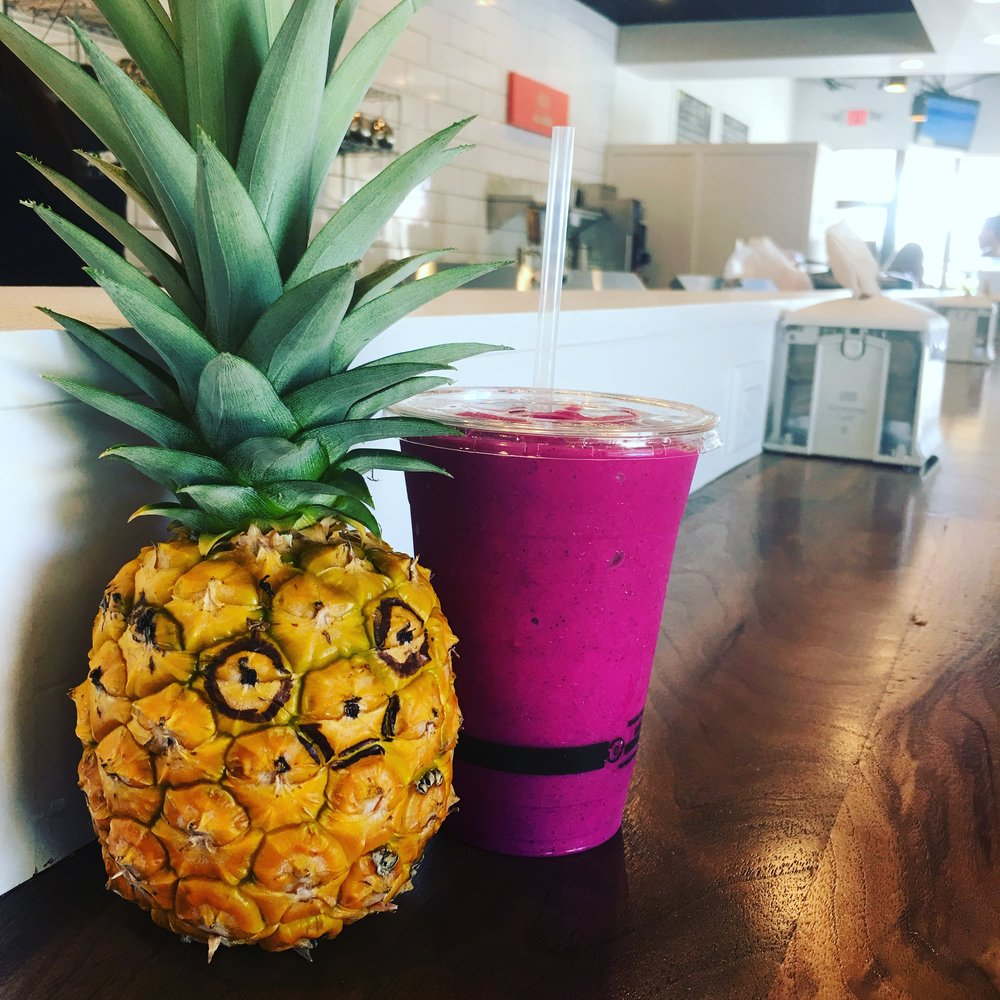 Source: flajuiceandbowl.com
With Health trends on the rise, there is no surprise in the amount of businesses opening to help provide healthy alternatives to other products. But none of them stand out like Fla Juice & Bowl Cafe. From the clean environment to their freshly pressed juices, your experience will be nothing less than pleasing. If you're ever looking for a healthy snack, Fla has many to choose from. Their menu includes smoothies, Acai bowls, Pitaya & Poke bowls, and other drinks like coffee and fresh organic pressed juice. If the health buzz has worn off on you, then Fla Juice & Bowl the place to be.
Average review score: 4.5
Couple ratio: 39%
What couples say about Fla Juice & Bowl
"Fla Juice and Bowl is a local favorite located in the remodeled iconic beach center Costa Verde Plaza. Located two short blocks from the ocean, it has all organic smoothies and fresh lunch bowls. Known for its açaí bowls and it's poke tuna and salmon bowls. I live in the area and go at least once a week. It is always can be counted on to use the best and freshest ingredients. I usually get the tuna poke bowl with half rice and half greens and the house miso soy dressing. I add on edamame and fresh avocado. It is certainly a favorite!!!" - Beth A
"I am a vegan and eat organically and make organic juice daily. The food here is delicious; some may think it's expensive but organic ingredients are costly but well worth the extra expense. I eat here regularly." - William W
Why Fla Juice & Bowl is a great date spot
"Fla is a great date place because of all the healthy options with choices that meet everyone's taste buds. We also have kombucha, sake and beer on draft for something to sip during your meal. We think it's a great place to get to know someone in a casual environment", Owner Ande Bluett told DatingExperts.com
12. BENTO Gainesville Archer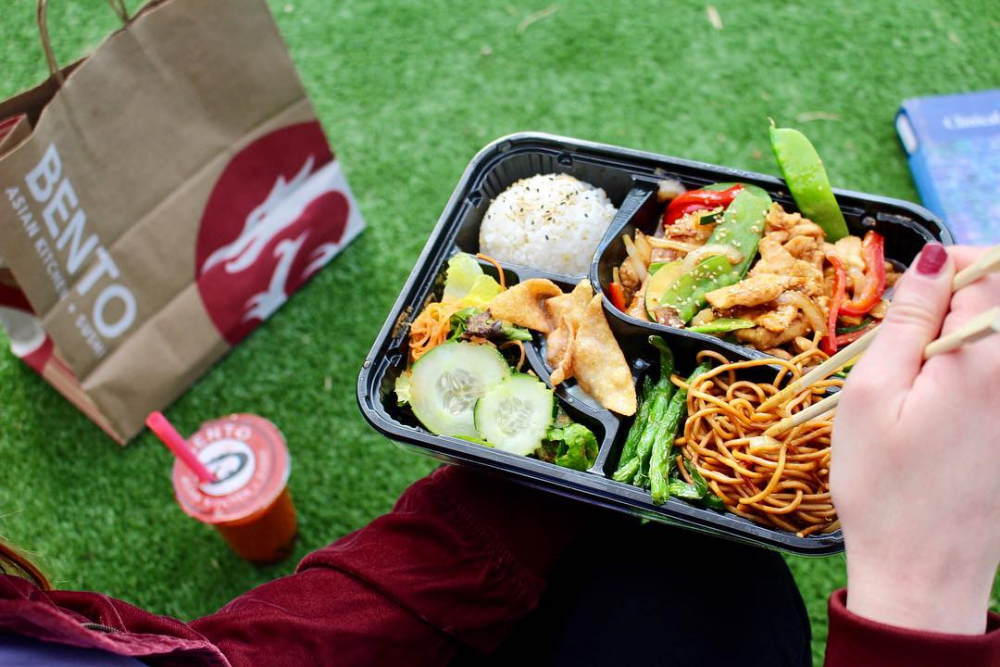 Source: eatatbento.com
Average review score: 4.0
Couple ratio: 39%
If you're searching for the perfect Asian restaurant to visit tonight, you might just need to highlight BENTO Asian Kitchen. Built in 2002, BENTO is a casual pan-Asian restaurant. They specialize in many different styles of dishes and sushi. Including traditional dishes like sesame stir-fry, curry, and Asian Cajun. They also have magnificent signature dishes like their delicious Yaki Udon and tasty Pad Thai. BENTO has become a hot local favorite with over ten locations in Florida.
What couples say about BENTO
"My husband and I usually get a spread; he always gets the chicken noodle bowl and a roll, and I shake it up with whatever strikes me that day accompanied by milk tea. Last two visits have ended in stomachaches, but that may be due to the quantity of consumption. A good casual sushi restaurant." - Christa S
"Bento is a great place to stop for a quick high-quality meal. They have sushi, bowls, boxes, and bubble tea. I personally think this is the best bubble tea in town. The sushi is made fresh to order, and although it isn't Dragonfly, it is a great fast alternative. My husband loved their noodle bowls, and my friend swears by their bento boxes. All in all, it's a spot where virtually everyone can find something to enjoy, and if not, there are other restaurants nearby that share the same courtyard, so folks can split up and meet again if necessary. A great pre- or post-movie stop!" - Em S
Why BENTO is a great date spot
"BENTO's atmosphere is sleek while still being fun and high-energy. It makes an ideal date night stop for those looking for a casual bite before a movie or drinks," BENTO restaurant told DatingExperts.com.
13. Harn Museum of Art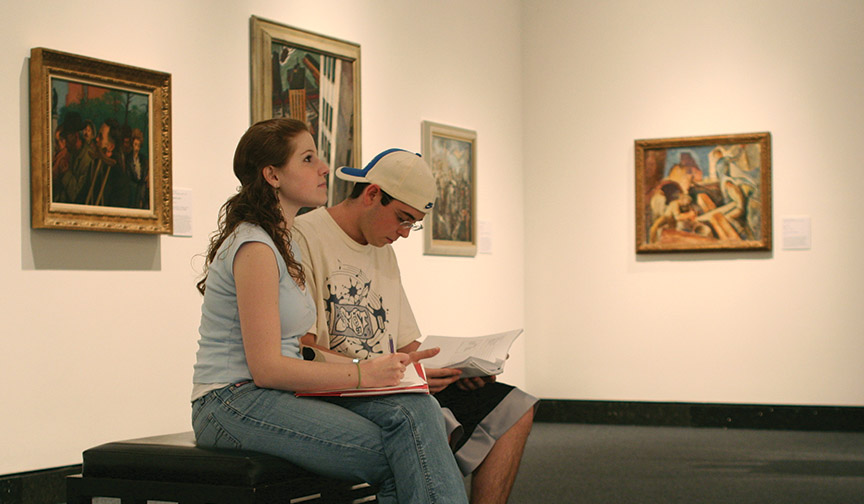 Source: ufl.edu
Average review score: 4.5
Couple ratio: 38%
Established in 1990, the Harn Museum of Art, part of the University of Florida, is a place of inspiration and connection. The museum works with local communities and the university itself to help inspire, educate and enrich people's lives through art. They provide relevant and engaging exhibitions that make people think critically and reignite the spark of creativeness inside them. To add to that, they also include education programs for schools, families, and anyone who is simply trying to learn more about art and its history. If you want to fill your day up with a journey and a story to tell your friends, then the Harn Museum is a great choice.
What couples say about Harn Museum of Art
"This museum is a fantastic way to spend a Saturday. I can't believe it's free admission - I have paid upwards of $25 per person for museum admission in Atlanta, and this experience was just as great. I especially love the various special exhibits and outdoor Zen garden. Definitely a must see!" - Nancy B
"Always has revolving exhibits that are interesting, as well as the permanent collections. The fine art section is impressive, though small, it has paintings by important American and international artists.Asian wing is nice, though some of the exhibits are hard to see due to height of some showcases.Small restaurant for light lunch or snack.The horse by Deborah Butterfield is worth the trip alone.Highly recommend seeing this little gem, no cost, just parking fees." - Elena C
"Surprised that the museum was not closed for Independence Day we took the opportunity to explore this place.. the galleries seemed to go on and on and on. We explored every corner and viewed a wonderful selection of artwork in every medium.... a wonderful relaxing time. If you are in the area you may want to put this place on your list." - Maryann M
Why Harn Museum of Art is a great date spot
"The Harn Museum of Art is a unique space frequented by couples. The museum's eleven gallery spaces feature African, Asian, modern and contemporary art, and photography providing plenty for couples to see and discuss while browsing. Admission to the Harn is free. Couples can take a break from browsing art on view and enjoy lunch or coffee and dessert while looking out on the beautifully landscaped gardens surrounding the museum. A great date night at the Harn would be attending one of our free Member pARTies or once-a-month Museum Nights events, which offer opportunities to dine on refreshments, observe a dance or musical performance, create a work of art together and pose in a selfie spot to share on social media", a representative for the museum told Dating Experts.
14. Applebee's Grill + Bar, Gainesville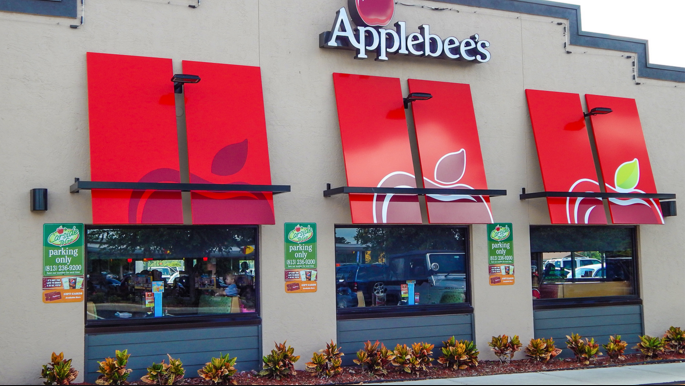 Source: applebees.com
Average review score: 3.9
Couple ratio: 33%
Applebee's is a well known restaurant franchise with almost 2000 locations in the United States and 15 other countries. It was founded in 1980 and since has grown up to be known for their casual dining experience. They specialize in an array of dishes including dozens of chicken, steak, burger, wing, and rib dishes for all you meat lovers and plenty of others like pasta, seafood, sandwiches and salad if you're looking for something light. When it comes to your experience at Applebee's, you can always expect a pleasing time and kind servers. If casual is what you're looking for, locate your nearest Applebee's, you won't be let down.
What couples say about Applebee's Grill + Bar
"We stopped in for nice lunch and it was will worth it we had a nice sirloin steak and drinks and nice bartender that served us." - James M
"Convenient to hotel. Called in order for pickup. Only had to wait a few minutes for our order. Order was correct, food was hot, broccoli was perfect, not over cooked, rack of ribs was a little light on meat and not dripping with grease; house salad was large, loaded with veges, not just lettuce. My husband and I were able to slit the ribs and salad, and broccoli: satiated. Staff was very polite, attentive. Will definitely go back." - J Soltan
"Just about anywhere you travel there is an Applebees. I think they have a pretty good menu and decent customer service. The food come out fairly quick and it is usually accurate. The atmosphere is nice and gives a hometown feel. Burgers are awesome and they have a full bar." - ShabbyChicChick
Why Applebee's Grill + Bar is a great date spot
"Applebee's is a relaxed, comfortable atmosphere which makes it the perfect place to enjoy a date night. Couples, or aspiring couples, can choose from an extensive beer, wine and cocktail list with plenty of delicious, potentially shareable dining options – all without breaking the bank – especially on our couple inspired 2 for $22 menu. We're truly a great option for anyone looking to date while Eatin' Good in the Neighborhood", Pamela Jones, VP of Marketing for Neighborhood Restaurant Partners, told Dating Experts.
15. 4 Rivers Smokehouse, Tallahassee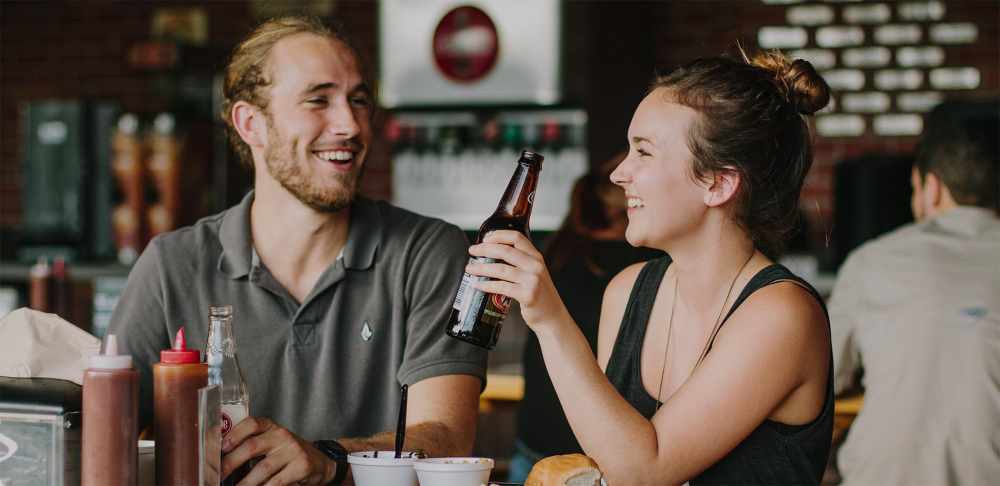 Source: 4rsmokehouse.com
Average review score: 4.0
Couple ratio: 32%
Born in Florida is one of the finest BBQ restaurants possibly ever created - the 4 Rivers Smokehouse. An unparalleled dining experience that all meat lovers would call a favorite. 4 Rivers has been around since 2004, and have grown since then to 12 locations. This family-built business has over 65 dishes for you to indulge in, from classic BBQ style dishes like their flavorful Brisket and Pulled Pork, to their signature stackers like the Texas Destroyer and the Longhorn dishes. If you're a meat lover, 4 Rivers Smokehouse is a no-brainer for your night out.
What couples say about 4 Rivers Smokehouse
"The good: The food was basically what we expected. Okay portions on the delicious sides. My husband loved the brisket. Dessert, a coconut cake, was also delicious.The not so good: One of my sides had gotten lukewarm by the time they finished my tray. Service needs to be more coordinated. Turkey was moist but boring. I'll order the brisket next time." - Rick D
"Tried 4 Rivers by recommendaton & was pleasantly surprised! I ordered the gluten free entree under the signature stackers it is described as, "Baked cheese grits topped with pulled pork, coleslaw, pickles, jalapeños and 4R Signature Sauce to create the perfect blend of sweet and savory.". it was perfect! I ordered it with 2 sides (collard greens & the barbequed beans, and was completely satisfied. Everything was very neat, clean, & organized. Hubby got the sliced pork sandwich with the beans & fries. He loved it! 4 Rivers is on our list for go to restaurants. :)" - Kimberly A
Why 4 Rivers Smokehouse is a great date spot
The restaurant told us, "Whether a first date or special occasion 4 Rivers Smokehouse is always a favorite destination for smitten foodies to spend time together. First timers can experience a variety of signature sandwiches, stackers and homestyle sides and find out why Southern Living recently named 4 Rivers the 'Best BBQ in Florida."" Many regulars make 4 Rivers a weekly date night occurrence so they can fall in love all over again with the 18-hour Smoked Angus Brisket. They also never leave without spoiling their significant other with a decedent dessert from the award-wining 4R Sweet Shop."
16. Butterfly Rainforest at the Florida Museum of Natural History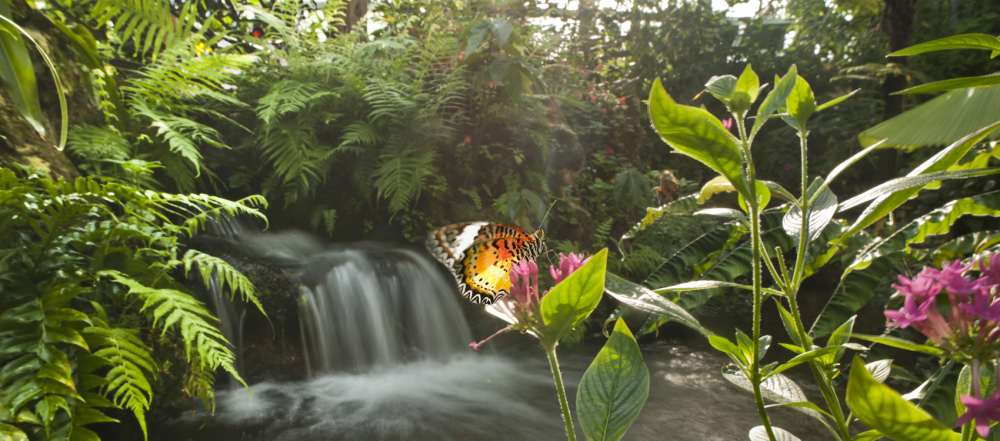 Source: ufl.edu
Average review score: 5.0
Couple ratio: 28%
Located inside the Florida Museum is the butterfly rainforest - an unforgettable exhibit you will find nowhere else. After a long day at the museum, the butterfly rainforest is the perfect place to wind down and destress. When you walk in, the first thing you will see is the beautiful landscape, filled with tropical trees and colorful flowers. While walking down the paths, you will encounter and see hundreds of free flying butterflies, birds and other animals like turtles and fish, making you feel closer to a part of nature that is unseen by many. A perfect place to visit with anyone close to you.
What couples say about the Butterfly Rainforest
"We two adults visited the museum and butterfly rainforest yesterday and had a fabulous time. The morning was filled with a beautiful depiction of a tropical rainforest with butterflies everywhere. Lori, who has worked there for 12 years, filled us in on the history and maintenance of the rainforest. After a lovely lunch in the cafe next door, we spent the next 3 hours in the natural history exhibits which are well worth seeing. We did not have time to enjoy the Cultural Arts Museum next door, so we hope to go back soon." - Patti P
"We loved the butterfly garden's tranquility. The background waterfalls and many benches along you to linger and track the many butterflies that are in the UF rainforest. The many species displayed at the entrance is vast and diverse." - Blake
"Beautiful, peaceful experience. Must take your time and enjoy the many kinds of butterflies and tropical plants. Places to sit and just be quiet. A must visit if in Gainesville." - Mel
Why the Butterfly Rainforest is a great date spot
"Located on the University of Florida campus in Gainesville, the Florida Museum of Natural History is well known as a popular date location. General admission to the museum is free, so this definitely qualifies as a cheap date spot. (Parking is $4 during the week and free on weekends and state and university holidays.) While there is an admission charge for the museum's "Butterfly Rainforest" exhibit, quite a few visitors have proposed to their future spouse in this romantic location. The screened outdoor enclosure is filled with beautiful tropical plants and offers a relaxing, peaceful atmosphere with waterfalls and hundreds of free-flying butterflies, which McGuire Center for Lepidoptera and Biodiversity Director Jaret Daniels says are often described as "flying flowers." "Anyone can give a dozen flowers, but only in the 'Butterfly Rainforest' can you be surrounded by hundreds of flying flowers," Daniels said."
The "Rainforest" and Florida Museum also are available for wedding ceremonies, parties and receptions, as well as pre-wedding photo shoots, and have been featured on weddingwire.com and theknot.com.
17. America's Escape Game, Gainesville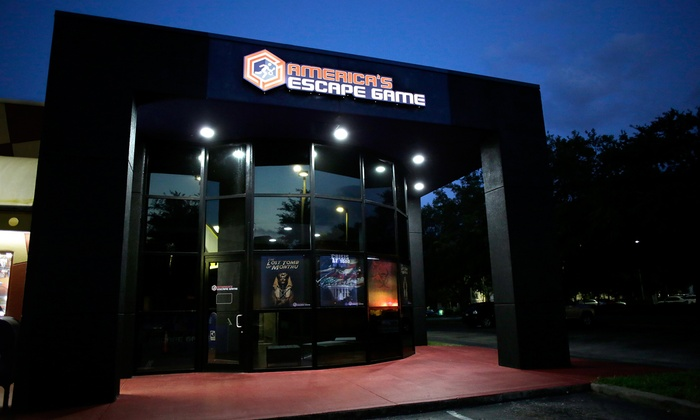 Source: americasescapegame.com
Average review score: 5.0
Couple ratio: 25%
America's Escape Game is a unique game attraction that keeps their players thinking critically and creatively. If you haven't heard, the escape game, is a cooperative game where you must solve puzzles and tasks in a limited amount of time, ending hopefully positively with you escaping from the room. At the Gainesville location they provide three different themed escape rooms: The Asylum, Crisis at 1600, and Pandemic. Each of these rooms have their own unique puzzles, clues, and tasks to accomplish. Don't finish in time and you lose!
What couples say about America's Escape Game Gainesville
"We've done 60+ escape rooms, and stopped by for Pandemic and Asylum while in Gainesville. Overall it was a good time! There was interesting variety to the puzzles and the staff was really friendly and helpful. Thought it was slightly expensive compared to other rooms we've been to. Also, a couple of props were finicky/broken which detracted slightly from the experience. Nonetheless, I'd recommend giving it a shot if you get a chance. If you're picking one, Asylum has superior set design and immersion, though it's also definitely more challenging. I'd recommend it for more experienced groups or for groups who are into the horror component. Otherwise, for novices Pandemic might be more appealing. (I think they also have another room which is even more beginner friendly, but we didn't do it.)" - stoberc
"As of today, the four of us have done 18 escape rooms across the state of Florida. From Orlando to Jacksonville to Tampa, the room we did today was our FAVORITE! Crisis to 1600 was difficult, exciting, team-building and overall an awesome experience. Easy parking and awesome restaurants/lots of things to do nearby. Patrick and the Staff at America's Escape Game we're absolutely wonderful from the moment we walked in the door. The rooms decor was spectacular and VERY well done. Our game master was a helpful eye in the sky. There were new twists and turns that we hadn't experienced and we were THRILLED. We will be back with family and friends. Can't wait to try another room!" - Ashley
"It was awesome! It was my first time going to an Escape Room and I'll definitely be coming back again. Best 1 hour spent on something fun and challenging." - Blueyz65