The 54 Best Date Spots in Philadelphia, According to Daters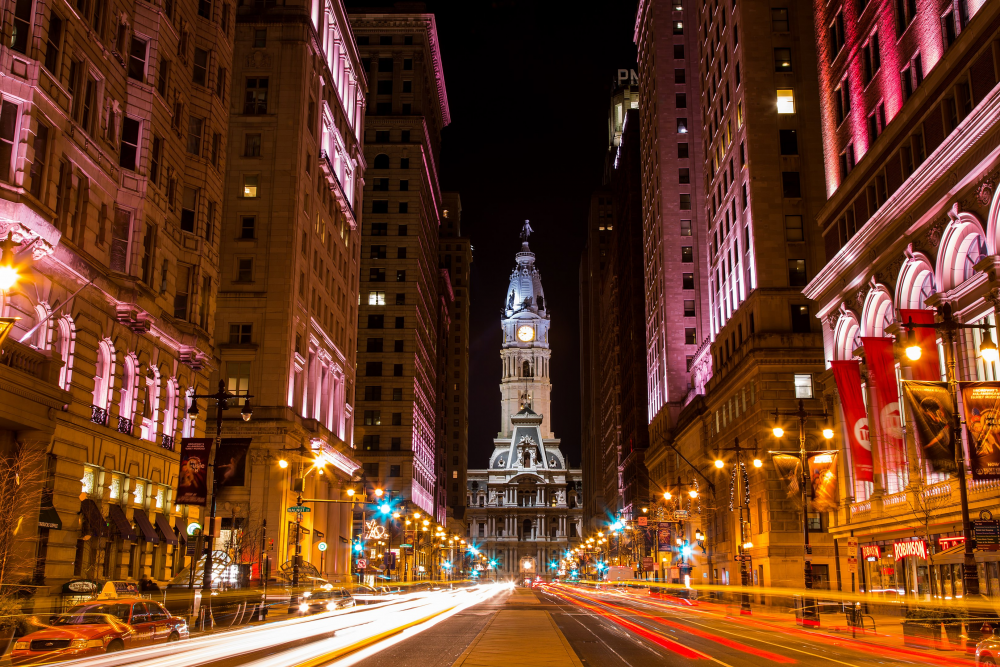 Source: Wikimedia Commons, Dave Z
Home to spirited sports fans, the Liberty Bell, and the United States' only authentic cheesesteaks, Philadelphia is a famously quirky and vibrant city - and great for couples dating. Since the 1970s its culinary scene has exploded with variety, and the amount of history inside the city limits gives explorers museumophiles a lot to absorb. But where exactly should you head on your date?
By averaging review scores and evaluating mentions of those highly-praised dating spots across the web, we put together this guide to help you find the perfect place to take your date.
With data from average ratings and dater reviews across a bunch of dater review platforms -- as well as Couple Ratio, the ratio of reviews left by couples vs. non-couples -- we were able to gain some real insight from actual daters going to these spots. Let's take a look at the rankings for Philadelphia.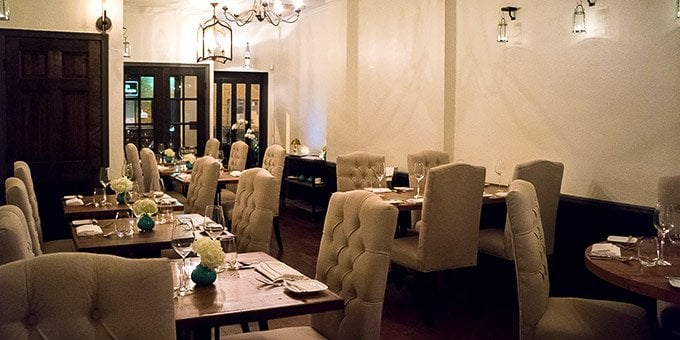 Source: restaurantlaurel.com
Average review score: 4.5
Couple ratio: 60%
A chic, modern restaurant that successfully fuses French 'haute cuisine' with classic American influences, Laurel offers a romantic and intimate ambiance, flawless service, and an extraordinary menu of delights for every diner to savor. It's the perfect place to spend some time with someone special. Chef and restaurant owner Nicholas Elmi makes use of only the finest and freshest ingredients here, serving sensational and sustainable dishes in a cozy 22-seater space. Laurel is also one of the hottest cocktail bars in Philadelphia, offering up a sublime menu of juicy mixtures alongside fine wines from around the world.
What couples say about Laurel
"I will readily admit to being jaded; my wife and I have eaten at many (too many?) marvelous restaurants, enjoying the chef's skills via the tasting menu. This chef's skills? Outstanding. But then again, he is not alone. The best of the best? Nope, but truly mighty fine. We chose the nine-course tasting menu, and it was just right. We left with full tummies, but not overfull. Each course was small, but genuinely exquisite; wonderful taste and each a work of culinary art unto itself. (You know it's good when you think, "I feel guilty eating this. It's so beautiful!). Let's talk about service: Fabulous. One of the few servers ever who knew how to pour white wine; in small quantities, so you don't wind up drinking warm white for the second half of the glass.) And she was a total foodie who loved to answer each and every question, including a few we only thought about. All told, truly a wonderful place with room for improvement." - LoafJugThouTree
"Almost too much of a good thing. We celebrated our one year anniversary at Laurel and it was a pleasure. First class service through out the meal and the food was truly extraordinary. We went with the nine course tasting and were told it would contain some more adventurous dining experiences and they weren't wrong. A dish containing snails and ice cream along with a foie gras bonbon may not sound appetizing but one of them was amazing and one I will never forget. Each course flowed into the next and were accompanied by unique wine tasting. Towards the end of the meal it just about hit the too much of a good thing mark but the final taste of butterscotch left me wanting just another little taste. Excellent dining experience that met the importance of the day. peace" - bradwest
"Meal of the year!!! - We met the chef (Eddie) at a Top Chef dinner at Heirloom Kitchen in New Jersey. He's a super nice guy and makes amazing food so we decided to drive down to Phila to try his restaurant, Laurel.AMAZING!There are two choices, a six or nine course tasting menu. We went for the nine course menu and I have to say, this meal was amazing. From the amuse to the last, (surprise) second dessert, each and every dish was incredible. Not only was each dish beautiful, but had so many flavors and layers....Service was super professional yet casual, (as was this entire 28 seat restaurant). Another great feature was it was a BYOB, even though they have a full bar and liquor license. We brought great wines and they paired great with the food.If you want to try a very special place run by a super talented chef (who is a humble as they come), take a drive to Phila., and go to Laurel....in one word, AMAZING!!" - Sockster
Source: amanophl.com
Average review score: 4.3
Couple ratio: 45%
Translating to 'by hand', A Mano is a leading Italian dining destination in the heart of Fairmount. Taking diners on a voyage to the other side of the world and making use of traditional Italian recipes, this classic, cash-only joint offers plenty of delicious meat, seafood, and pasta dishes. An intimate, single room dining location on a charming corner plot surrounded by trendy hotspots, A Mano is an ode to the wonders of authentic Italian cuisine. Chef Michael Millon brings all of the rich flavors and beautiful ingredients of Italy to the big city, with A Mano standing out as one of the top spots in Philly for Italian food.
What couples say about A Mano
"My husband & I had a wonderful dinner at A Mano Restaurant in Fairmount. The food was delicious. We both had the fish which was cooked to perfection. The menu is not your typical Philadelphian Italian, but the different selections expand your tasting experience. I suggest checking the menu on line before booking or just be adventurous." - ashwife1
"New Year's Delight. We were back at A Mano for New Year's again. It was a fixed menu - not typically my favorite thing when out to eat - but we knew chef Michael would not disappoint, and he didn't. Four courses - prawns first, lovely, tasty. Mushroom ravioli second - to die for! Oh my. Incredible layers of flavor in the sauce. Pork cheek third - each bite rich and rewarding. Finale was a beautiful semifreddo - perfectly light, to finish a fabulous meal. We continue to find A Mano our first choice of restaurants in the area." - Fishlinc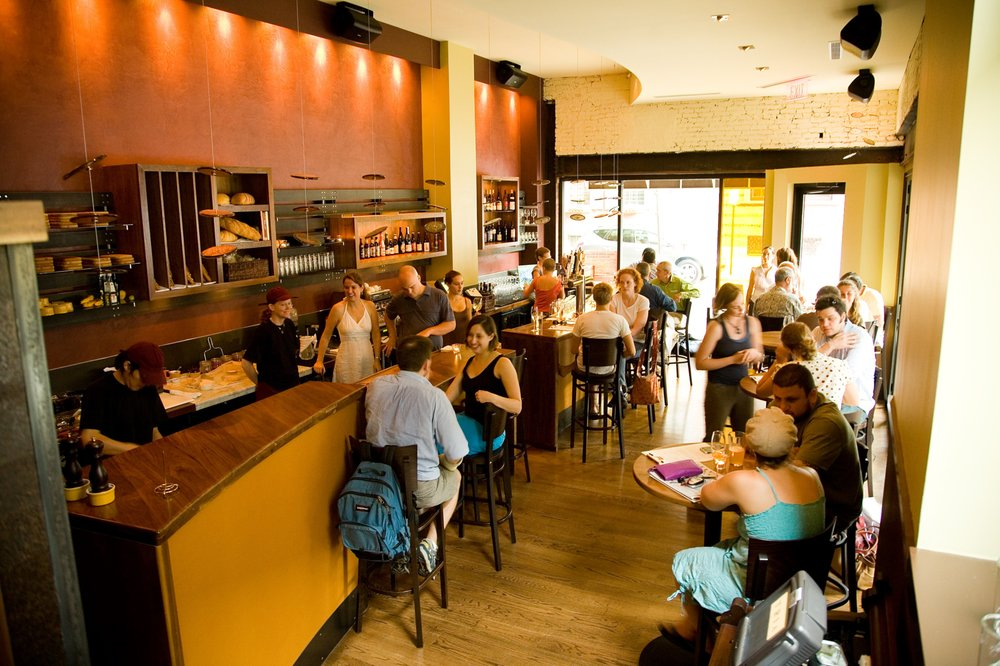 Source: triaphilly.com
Average review score: 4.5
Couple ratio: 45%
Diners often recount feeling like they've been teleported to the sun-soaked coastal towns of the French Riviera or the rolling hills of Tuscany when taking a seat at Tria. Since 2004, this has been one of Philadelphia's leading wine, cheese, and beer bars. Tria Wash West is the original, founding location of the bar chain. Free of any distractions or diversions like TV or live entertainment, the focus at Tria is fully on rest, relaxation, and old-fashioned enjoyment of good quality food and drinks. It's the perfect place to sit back and enjoy quality conversations with your nearest and dearest.
What couples say about Tria Cafe Wash West
"Great little corner cafe, wonderful flavors, I had the Tuna sandwich; which sound like a simple enough dish however it was packed with flavour and was a delightful large snack - linked with some local beer on tap recommended by Marissa. Wonderful! My partner had a great little tapas salad which had a great balance of dressing and quality bread to accompany it. Along with some great wine. Well recommended spot." - Adrian B
"Philadelphia at its Best. At the end of a full week in Philadelphia we wanted to just relax and enjoy the remaining time. This quaint little cafe offered sidewalk seating, a light menu and wine. Perfect. The wait staff was excellent and we never felt unwelcome. The wine selection was good and our waiter (who enjoys traveling to India) was good at making suggestions. I enjoyed a bubbly rose with my roasted duck salad. Ended the meal with the pistachio cheesecake. Fully relaxed and ready for my next adventure." - RanchGal54
"Nice Outdoor Seating - Had a nice early dinner sitting outside at this street cafe. Salad with duck and a sandwich with turkey. Both were GREAT! We also enjoyed a slice of cheesecake between us. The wine though was a bit above average. Mine was from Austria and my companions was from Albuquerque. Both were Roses and chilled just right for a warm afternoon." - Hummer1973
Why Tria Cafe Wash West is a great date spot
"Tria has been a popular date spot since we opened in 2004, and that was intentional. There are no TVs, entertainment, or other distractions - all you can do is eat, drink and talk to the person you're with. It's casual but romantic, with a strong focus on wine, the beverage of romance. And it's not too expensive, a good thing for when the date isn't great. But we can trace many, many Philly marriages to a first date at Tria!", said owner Jonathan Myerow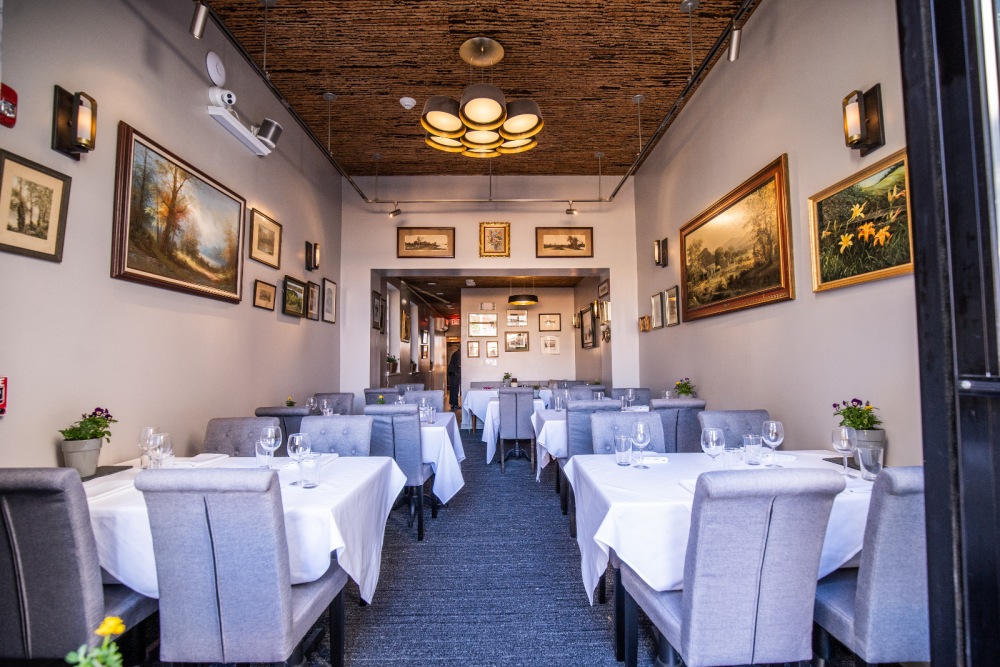 Source: elwoodrestaurant.com
Average review score: 4.8
Couple ratio: 43%
A quintessentially Philadelphian BYOB joint in the heart of vibrant and lively Fishtown, Elwood is a recent addition to the big city's dining scene but has swiftly established itself as one of the top spots to grab a bite.
Making use of locally sourced, organic, always fresh and seasonal ingredients in each and every dish, the focus at Elwood is on pure quality and flavor. The restaurant takes its inspiration from the big city itself, offering up the kind of food that Philadelphians love in a family-friendly yet charmingly mature and refined environment.
What couples say about Elwood
"My partner and I came here for my birthday, and truly loved it. Everything was tasty, filling, and thoughtful. The waitstaff and chef were welcoming, helpful, and down to earth. We loved the spelt bread and dessert. The cheese plate was paired perfectly. We loved the inconspicuous location as well." - Krystal H
"Well, well, well this place was an experience!!! Everything about this place was memorable. From the beginning to the end we were woo'd by the chef and his team. The attention to detail from the food, the ceiling, design, service, and landscaping were A+! We tried a bunch of appetizers, split the chicken dinner, and had all of the desserts. While everything we ate was tremendous the highlight for appetizers for us was the ham potpie. I grew up eating chicken potpie in this style but may have a new family tradition. The lard in the noodles and smokiness of the ham converted me from my 40+ year old family tradition. The chicken with gravy, snap peas, and spelt & buckwheat porridge was amazing. While all the desserts were the bomb my wife was partial to the funnel cake and I was blown away by the honey-spelt dumplings with sour cream ice cream. Yes, sour cream ice cream. This place is the truth. Go! Thanks for the experience!" - Lou P
"This place was an experience! Was stoked to try Pennsylvania-Dutch food. Everything was delicious. The staff was super nice. We really enjoyed ourselves in this unique dining experience. They take reservations too!" - Noelle M
Why Elwood is a great date spot
"Elwood makes a great date night for many reasons, number 1 is the intimate dining setting, cork ceiling and carpet really add to the comfortable atmosphere and allow conversation to be had. Number 2 is the entrees that are served family style, this is a really fun way to eat and lets interaction with your dining companions become closer. And lastly, we have a menu with stories behind most of the dishes, from the catfish and waffles to my great grandmothers ham pot pie- there is always a conversation starter so there is always something to talk about", said Adam Diltz, Elwood's Chef/Owner.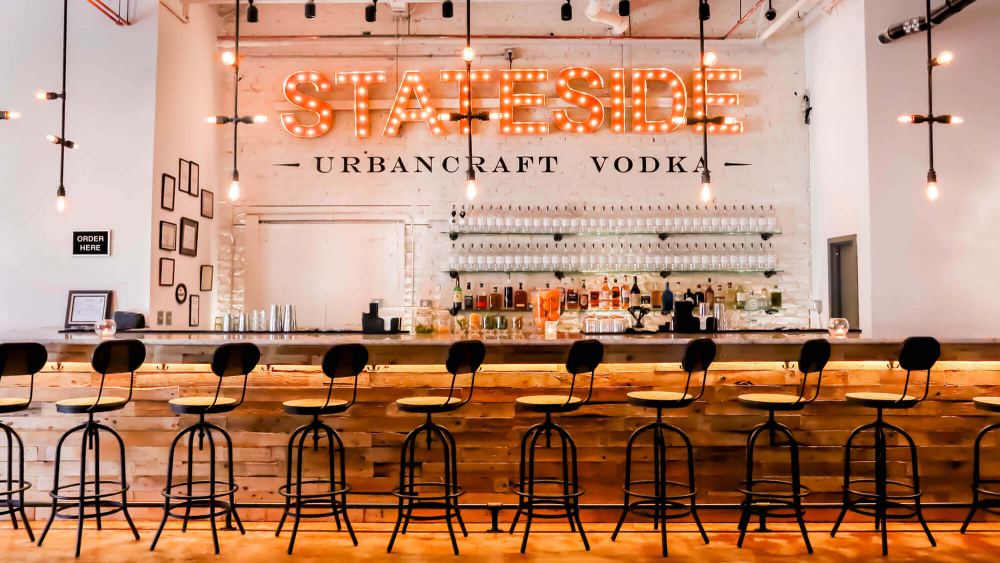 Source: statesidevodka.com
Average review score: 4.6
Couple ratio: 46%
One of the top spots to enjoy artisan vodka in the city of Philadelphia, Stateside Vodka Bar is a distillery and cocktail lounge location offering stylish, industrial-style decor, friendly service, and world class drinks for all to enjoy.
Putting emphasis on craft and quality, this unique vodka bar features a range of popular and rare spirits from around the world, as well as Stateside's own creations and one of a kind vodka cocktail recipes. You can even arrange a tour of the distillery to make your visit to Stateside Vodka Bar even more memorable.
What couples say about Stateside Vodka Bar
"I have lived in this neighborhood for years and when I finally got round to checking this place out I fell in love. The place is small, but beautiful and it has a very laid back vibe. The staff is always amazing and the cocktails are even better. The rotating food menus are usually always good. This place is a hidden gem and I am always nervous to say anything about it, but I always find myself telling friends and strangers to check it out." - grt81584
"The cocktails are excellent...creative and tasty. The service was friendly and helpful. Snacks were very good and reasonably priced. The tour was really interesting and the tour guide, Kyle, was high energy." - 838pattid
"Great Vodka, Great Home Grown Company - This is a cool place to hangout and learn about how this awesome vodka is made. The distillery is in the same building as the bar/restaurant. I brought a Groupon for 4 for the tour and along with that you get a tasting of Stateside's basic vodka, which is not basic is not basic at all. I was very surprised of the smoothness of their vodka. There was no burn when I tried it and there was very little taste which in good, because I can mix it with anything and it will not alter the flavor.
There a many yummy mixed drinks that you can purchase that are influenced by Philadelphia. There is also light food fare that is also very good. We had the margerita flat bread that was very tasty.
If you are interested in trying something new and delicious, I would recommend going to Stateside and taking the tour. The tour is only $10, but sometimes you can find it cheaper on Groupon. Either way it's worth it." - Tracey S
Why Stateside Vodka Bar is a great date spot
Stateside Vodka's Director of Operations, Eddy McGehean, told us "Stateside is a great date spot for a few different reasons. We have a unique concept of a cocktail lounge with a laid back feel that lets our customers feel pretty relaxed. The cocktail menu offers a bunch of unique vodka cocktails, but if a patron is craving something else, we do have a full bar of other spirits, wines and beers. Couples usually break the ice by sampling one of our houses made infusion vodka flights or taking a tour of the distillery so we can explain our story as well as how our vodka is crafted. Simply put, it's a chill location with options for everyone, including food!"
Source: biboubyob.com
Average review score: 4.6
Couple ratio: 42%
Located over on South 8th St, offering easy access to the city's top spots and most vibrant locations, Bibou BYOB is a classic BYOB Philadelphia restaurant and bar specializing in French cuisine. Diners will be transported across the Atlantic to the home of haute cuisine at Bibou BYOB, with Chef Pierre Calmels bringing all the flavors and freshness of his homeland to the restaurant. The likes of Pigeon Ramier and authentic Foie Gras are always popular at Bibou BYOB, and this restaurant has one of the best and most extensive wine lists in the city too.
What couples say about Bibou
"We are kicking ourselves that we waited so long to enjoy this restaurant. Perhaps a special occassion place at $115 per person for a 7 course plus an amuse bouche, palate cleanser...who knows?From beginning to end each course was exqusite. No mis-steps along the way. Refined ingrediients served by talented waitstaff.Would normally take you through each course but trust me, it was all so good, and you have to trust the chef. Menu changes as local foods becomes available. Trust the chef to serve you the best.Should you have special dietary needs, no nuts, seeds, the chef will work around your needs and serve you just as good substitutes.This is a BYOB. You need to make reservations in advance. Restaurant is small. They do accept credit cards even though some of the sites say cash only.Just outstanding food and we cannot wait until we get back.If you are visiting Philadelphia and want to save airfare to France make a reservation and enjoy." - h2oworks2000
"A gem: small and brilliant. Pleasingly quiet and beautifully orchestrated, unhurried and well-paced. Numerous small plates with a delight of tastes. I found the cheese course (Langres from Champagne-Ardenne with marvelous accompaniments) memorable; also the soufflé. Bring your own wine, usually more than one bottle, maybe even three, in order to complement the food properly; but the clientele are used to that and the servers manage the carry-in wines faultlessly. Chef Pierre comes from Lyon, the home of Paul Bocuse and renowned even before that: he has brought with him a worthy portion of the excellence which made Lyon famous. Their loss is our gain. Definitely worth a journey." - jrnjr
"Romantic BYOB - We had a fantastic dinner at Bibou, a small French restaurant in the Bella Vista section of South Philly. It's a price fixed menu but the chef is able to accomadate different dietary needs if known in advance. Bibou is small so you'll need reservations. The staff is super attentive and the food was wonderful. It made for a great special night out." - IndyDogz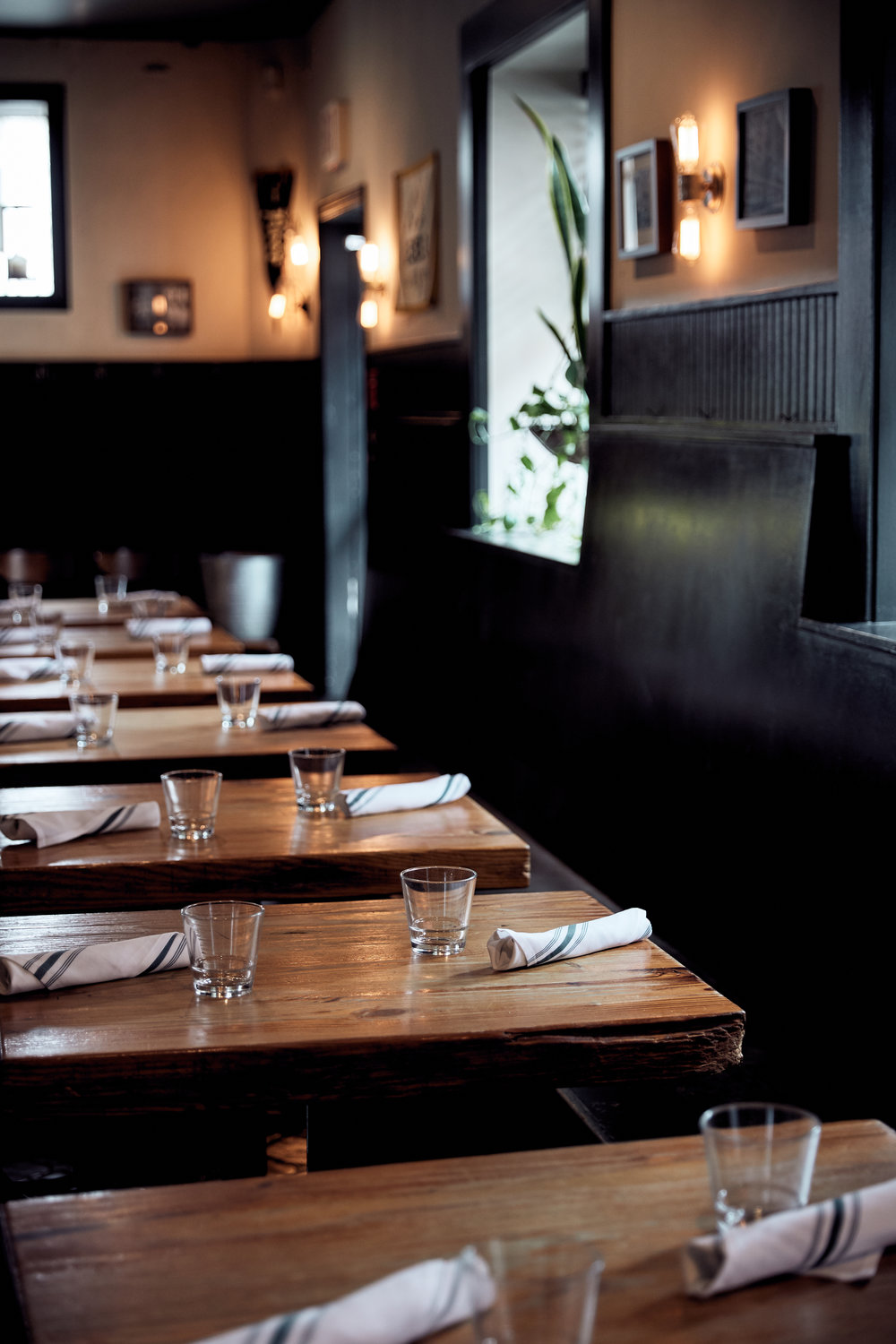 Source: prohibitiontaproom.com
Average review score: 4.6
Couple ratio: 39%
A casual and comfortable gastropub with a lively and welcoming atmosphere, Prohibition Taproom is a great place to go when you're looking for awesome drinks, great company, super service, and memorable moments. The bar is housed in a historic building dating back to the 1800s and has its own retro jukebox, with fun and lively tracks ringing out all through the night. A great range of sharing plates and sizeable platters including the likes of popcorn chicken, shrimp po boys, and BBQ pork sandwiches are on offer here, with Prohibition Taproom pulling out all the stops to provide diners with intensely satisfying food and drink all day long.
What couples say about Prohibition Taproom
"Great local atmosphere It seemed like everyone knew each other but it was still a friendly atmosphere with games on the TV's, good beer and a limited but excellent menu." - Michael H
"I would recommend coming to the Prohibition Taproom and grabbing a drink. Plenty of beers and ciders available and a full-service bar for those who like to drink a bit harder. Walking distance to several of the concert halls in the area, it's great for a quick (or long) drink. All the food was delicious and the atmosphere was really neat." - Therese C
Why Prohibition Taproom is a great date spot
Prohibition Taproom polled its staff and regulars to explain why daters love it so much:
"Prohibition Taproom makes for a great date spot. Located on the unpretentious streets of 13th and Buttonwood, daters are welcomed into our space by a dimly lit, intimate atmosphere and anything from Janis Joplin to the Arctic Monkeys playing subtly in the background. Our food menu features many creative small plates that cater to the vegan, the gluten-free eater, or the carnivore, and our extensive drink menu hosts everything from craft cocktails to local beers and ciders - offering an array of options for trying new things, or sticking to familiar faves as you and your date get familiar. We're conveniently located within walking distance of many popular concert venues - The Met, Union Transfer, and Underground Arts - so our spot is perfect for that pre or post concert grub. The combination of our location, our diverse menu, and our romantic atmosphere creates the perfect situation for a first, or reoccuring date", representative Kate News told us.
Source: whiteyakrestaurant.com
Average review score: 4.3
Couple ratio: 39%
There are plenty of different cuisines and culinary traditions to try all over Philadelphia, and White Yak stands out as one of the most unique. The city's first, original Tibetan restaurant, White Yak takes diners on a journey to the mountains of the orient. Beautifully decorated with wooden features and traditional Asian elements, this restaurant is a dreamy place to help you experience something totally different. Authentic Tibetan recipes and ingredients are used throughout, with traditional Tibetan momo dumplings, delicious chow mein noodles, and spicy Tibetan curries being among the most popular items on the menu.
What couples say about White Yak
"This was an amazing trip around the world! We have never been to Nepal/the Himalayas and never had the chance to try the cuisine before, and we've been eagerly awaiting the opening since seeing the sign in the window a year ago (mostly me, but DH is always up to try new cuisine). We've been twice now and both times have been fantastic! We keep finding new favorites, but we would order anything again and will keep coming back until we've tried everything! Bonus - it's served family style so order a bunch and share it with your favorite people. It's also a really great value - we've gone home with leftovers both times! - Jane M
"We loved our experience at Elwood. When you enter off Frankford Ave, you encounter an open kitchen setup. There you'll likely meet chef and owner, Adam Diltz. Adam is extremely thoughtful and was a presence throughout the meal. When we dined, he visited every table to talk about the history of each dish and answer questions. Elwood is a restaurant of Pennsylvania Dutch roots of his family, and it's cool how he helps you learn about them." - Oren E
"What an amazing, random Friday adventure. I read an article about the opening of Elwood a month ago, saved the link and forgot about. I was itching for a new place to try tonight - preferably a byo - and remembered this was on the "list." The concept is unique- farm to table, celebrating PA's heritage. The menu is small and really well thought out. We didn't have to think, which is exactly what we want on Friday." - Kelly G
Source: royalboucherie.com
Average review score: 4.2
Couple ratio: 39%
One of the best rated French restaurants in Philadelphia, Royal Boucherie is headed up by award winning chef, Nicholas Elmi. The likes of steak au poivre, steak tartare, duck meatballs, and the infamous Boucherie Burger feature on the menu here. Surrounded by Old City landmarks and historic buildings, Royal Boucherie is a great place to visit at the end of a day exploring the big city, and the menu offers an array of large meals for lengthy stays and more casual, light bites for those just in need of something quick and delicious.
What couples say about Royal Boucherie
"Excellent - Believe the hype. The lobster roll was indeed excellent — just as a good true New England lobster roll should be — all lobster meat in a toasted buttered roll that was fantastic. The contrast of the warm buttered roll with the cold lobster was perfect. And my wife's burger also lived up to the hype - melt in your mouth good. The tuna crudo to start with the watermelon was equally fantastic." - Alok K
"A definite prize - We walked in at around 2 in the afternoon on Sunday-when they were still serving brunch! It was a big surprise, and we were really glad to have the brunch menu as it was delicious. We both tried the mortadella grilled cheese sandwich and it was definitely a prize. It was a nice meaty, cheesy sandwich and it had delicious thick bread that made it extra tasty. Great coffee too. Nice prices for what you might consider finer foods. Loved it!" - Susan and Phyl T
"Totally unexpected - Royal Boucherie is a lively American brasserie from award-winning chef Nicholas Elmi. The best way to experience a restaurant you have not been to is to do a number of appetizers and small plates we did the following:
COUNTRY PATE Bacon, Green Peppercorn, Cognac, Seasonal Jam STEAK TARTARE Smoked Cheddar Tuile, Mustard Greens, Grilled SHAVED VEAL & PORK BELLY Rye, Garlic Aioli, Anchovy, Cornichon PORK-STUFFED FRIED OLIVES PORK CHIPS Sour Cream & Scallion ROASTED HALF CHICKEN Braised Celery, Cardons, Fermented Ramps, Wholegrain-Honey Glaze
I know this seems like a lot but portions are small. Everything was wonderful and very creative. Nothing was as expected. A new twist on everything" - pearlmiriam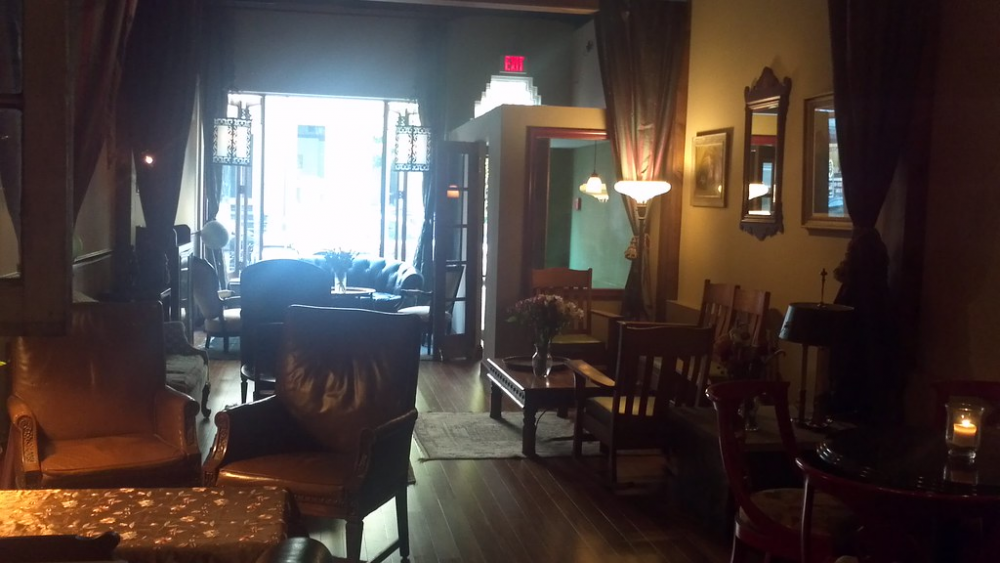 Source: 1tpl.com
Average review score: 4.2
Couple ratio: 38%
A charming, chic, sleek location with elegant interior design and flawless, professional service, 1 Tippling Place is a romantic and refined location for fine drinks, light bites, and a purely relaxing atmosphere. Situated in an idyllic and easily accessible location, it's a great place to end an evening on a high. Here, you'll find a range of hors d'oeuvres like sausage rolls served alongside spicy English mustard, artisanal grilled cheeses, or sweet and spicy bitter nuts. The real stars of the show at 1 Tippling Place are the drinks, with this bar and lounge offering a range of classic cocktails like the Moscow Mule, Old Fashioned, and Gentleman's Buck, alongside a fine wine list and some terrific craft beers too.
What couples say about 1 Tippling Place
"Really nice cocktails. I got a tequila boulvadier-ish drink and my fiance got a bourbon and luxardo oldfashioned riff and a chai masala bourbon drink. We are self-professed cocktail nerds and loved them all. Staff is down to earth and the right amount of friendly. Ambiance is cozy and interesting. Crazy selection of spirits. Definitely will go back." - Tara C
"This spot feels like hanging out in someone's living room. Great drinks, cool bartenders, hip waitresses, and a chill vibe. The cocktail glasses are really retro and interesting. Perfect place to lounge and have drinks in a totally relaxing atmosphere. Upscale, yet has a unique personality. Heading back again this weekend." - Victoria Z
"After walking through Schuylkill Banks and around the Art Museum, we stopped here because it was mentioned as having the best Negronis in Philly. We weren't disappointed. Our waiter Miles was a wealth of cocktail knowledge and aside from the awesome Negronis, introduced us to a Cynar Negroni which was also delicious.The atmosphere was more like a comfortable living room with couches, soft chairs and warm decor. The front was open - air so we enjoyed great cocktails sitting on a couch while watching people walk along Chestnut Street. A wonderful way to spend an afternoon in Philly!" - Mark M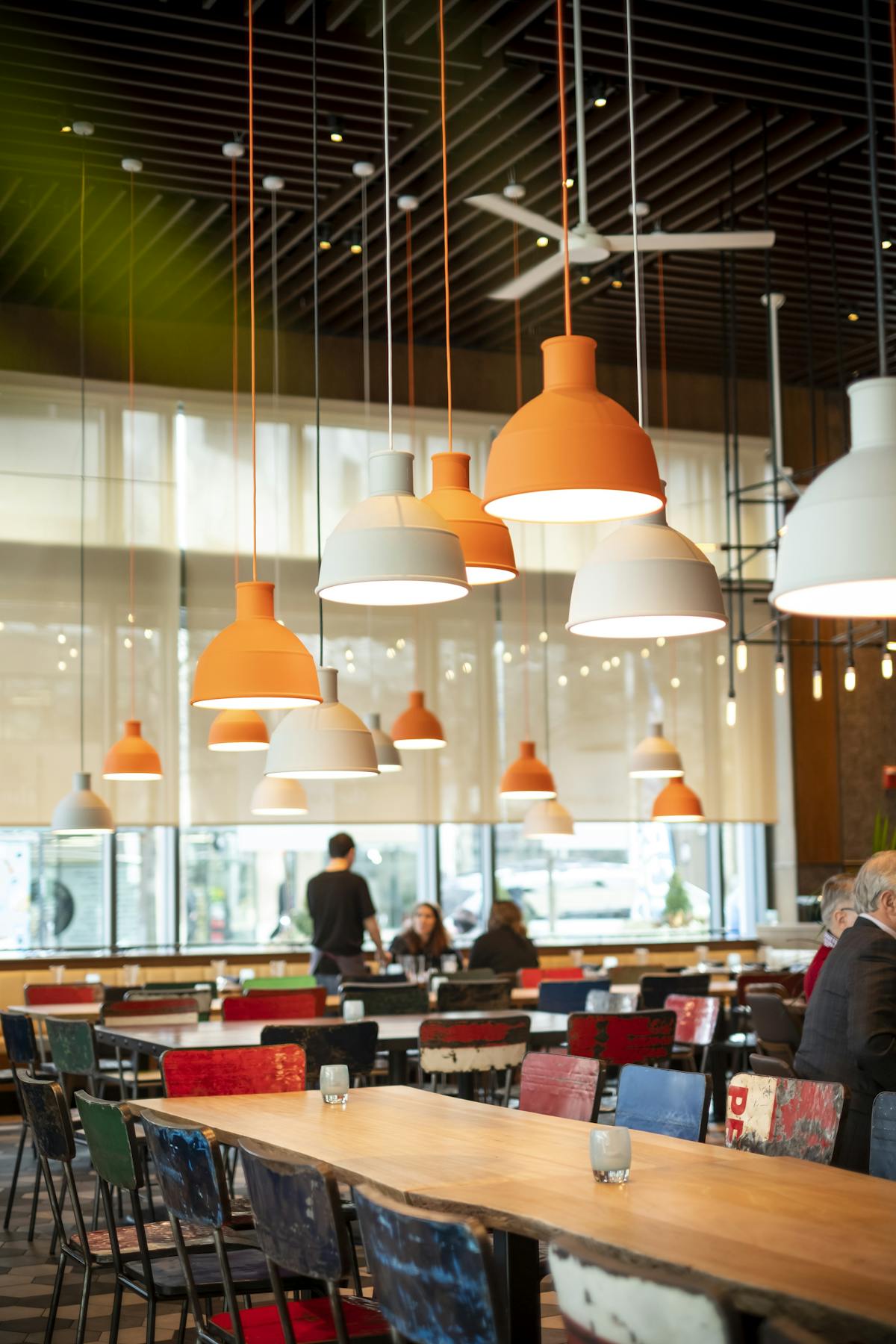 Source: thecommonphl.com
Average review score: 4.1
Couple ratio: 38%
There are some delicious burgers to be found all over Philadelphia, but if you're looking for the very best in the business, The Common Bar & Grill is the place to be. Housed in a breathtaking, warehouse-style environment with high ceilings, colorful art, and lively industrial décor, this is a great place to hang out with friends, family, and dates alike. The burgers here are simply to die for, with the culinary team of The Common Bar & Grill making use of only the finest meats, cheeses, sauces, and other ingredients to craft delectable delights that will keep you coming back for more.
What couples say about The Common
"Far exceeded my expectations with inventive, tasty fare at reasonable prices. Took my date here Valentine's day. We had delicious farro risotto with mushrooms and some delectable crispy artichokes as appetizers. My main course was a tasty eggplant dish with pomegranite and kale served with some fragrant basmati rice. My date had a homemade parpadelle dish- also good. Nice selection of beers on tap, friendly with good service. Highly recommended." - Adam L
"Randomly popped in here with my GF since we were in the neighborhood. Usually don't like specialty cocktails but their take on the old fashioned is surprisingly good. Duck fat wings are great too. Will be back to try more of the menu for sure." - Kevin K
"The decor and atmosphere feels sexy yet casual in a modern way. I really love the neon art on the second floor and the floor to ceiling mural by the staircase is stunning. Even the bathroom is a work of art." - Ryder W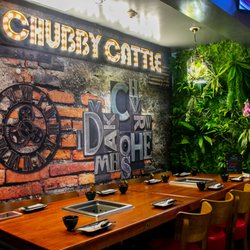 Source: chubbycattle.com
Average review score: 4.5
Couple ratio: 38%
A popular Vegas chain that has now arrived in Philadelphia too, the Chubby Cattle is a unique Asian dining location offering high tech, hot pot dining experiences for all to enjoy. At the Chubby Cattle, things are done a little differently. Diners are able to order their food direct from an iPad, selecting their ingredients straight from a revolving and refrigerated conveyor belt, and then having their meals delivered directly to them via a unique magnetic train system. With such cool tech to enjoy, combined with first rate ingredients like Wagyu beef and fresh vegetables, the fun never ends at the Chubby Cattle.
What couples say about Chubby Cattle
"Must do in Philadelphia. Fabulous place to go with 2, 4, or more people. You get a broth then add vegetables noodles and meat of your choice. DELICIOUS. We are from out of town and we're here for the flower show(which was also fun) but a fun way to end the night was to cook our own food." - Betty O
"Fun hot pot experience. We walked by this new restaurant during grand opening weekend and it was crowded, so we've decided to come back during a Saturday for lunch. Since we were a small group, we were able to get one of the seats near the conveyer belt. During our stay, the conveyer belt had mushrooms, salad, and other veggies. However, towards the end of our stay, we also saw quail eggs, meatballs and such going thru the conveyer belt. You order the soup base and your meats and they come out individually. The meat is thinly cut and fresh. Delicious! It's a gimmick restaurant but it's fun and great if you're into hot pots!" - 359td
Source: sampanphilly.com
Average review score: 4.1
Couple ratio: 37%
Right in the heart of Philadelphia's Midtown Village, SAMPAN is a modern Asian location quite unlike any other spot in the city. Gorgeously decorated with stylish ambient lighting, expansive artworks, industrial features, and super comfortable seating, this place has it all. Out at the back of the restaurant, the Graffiti Bar is the place to be. A private, 30-seat, open air patio space that opened in 2010, the Graffiti Bar offers the same delicious flavors and drinks as the rest of SAMPAN but with TVs showing the big game and great Happy Hour deals too.
What couples say about Graffiti Bar
"Celebration every time we link up - I really enjoy the ambiance and the seating service and food! We got to sit right in front of the cooking are and see the art of cooking and choose some dishes we didn't know they had. It was an excellent experience for my husband on his birthday! We are going back before we move out of Philadelphia. Food is so delicious I'm glad I found this place. Although we didn't sit in the Graffiti Bar area because it was ABSOLUTELY freezing out but I'm glad I found a great choice for any celebration or just to stop in and grab a good meal" - Mrs. Starr L
"Just Unusual and Fun - So my wife and I are in our 50's, empty nesters and like to go out and about. My wife found an advertisement on the Graffiti Bar so we went. It's outside down an alley and it's interesting. We went in March, so it was on the cold side. The bar has heat lamps so it wasn't bad. The bar also has specials. My wife and I had a couple of drinks, which were $4 each. Granted, the drinks weren't the top shelf but who cares. The staff was nice and you can order food from the restaurant attached. The place gets really crowded and can't hold much more than 50 people. We've gone twice and enjoyed it. The crowd is mostly younger, but of folks didn't feel out of place." - fmccaffe
"Pretty cool bar! - We trekked down the ally to catchy a few drinks while in Philly. Place doesnt look like much from the street, just a small sign and tight allyway. When you get through the ally Grafitti is a really cool outside bar. Not very big so doesnt hold many people but still a neat outdoor atmosphere for drinks. Bartenders are on top of and service is great. recommend stopping in and having some drinks if in Philly." - mariniac
Source: vedgerestaurant.com
Average review score: 4.6
Couple ratio: 36%
Housed in a stunning old mansion, Vedge shines the spotlight firmly on fresh veggies and pure produce. With more and more people adopting vegetarian and vegan lifestyles, Vedge offers a wonderful place to experience and enjoy meat-free dining. James Beard nominated Chefs Rich Landau and Kate Jacoby run Vedge, taking all of their inspiration and influence from fresh, seasonal, farm-grown veggies. A great range of natural and organic wines, alongside creative cocktails and superb craft beers feature on the drinks menu, but the focus here really is on the veggies themselves, with the likes of Tokyo Turnips and Wood Roasted Carrot sure to keep you coming back for more.
What couples say about Vedge
"Great date night before the show. Excellent vegan options from chef couple. Our waiter Joseph was knowledgeable & gave us great advice for our food & drinks. Though they are completely booked they were so welcoming & made us feel comfortable. They also have 2 of their cookbooks for sale there. We loved the experience and can't wait to come back." - aksja5
"Best Meals Ever - We ate here for the second time in several years. Said the first was one of our best dining experiences ever. Second showed that was no fluke. I am not a vegetarian at all. My wife is a pescatarian. Best meals regardless. Knowledgeable staff. Nice setting. Interesting part of the city." - Russ W
"Well i wasn't expecting that! Let me start by saying I am not a vegan, nor am I a vegetarian and I thoroughly enjoy a black and blue rib eye given the chance. But this restaurant and the kitchen team produce tastes and flavours that are astounding. For me the experience was similar to the first time I ate Thai food - I just could not believe that tastes like this existed.Maybe this is the essence of Vedge? Daring to challenge the ordinary ?We tried a wide selection of dishes from the eclectic menu and not a single one disappointed. All were delicious and unique.I read a bumper sticker recently that said "Eat more beef - the West wasn't won eating salad". I get the sentiment but maybe this guy hadn't eaten at Vedge yet? I am converted!" - peter w
Why Vedge is a great date spot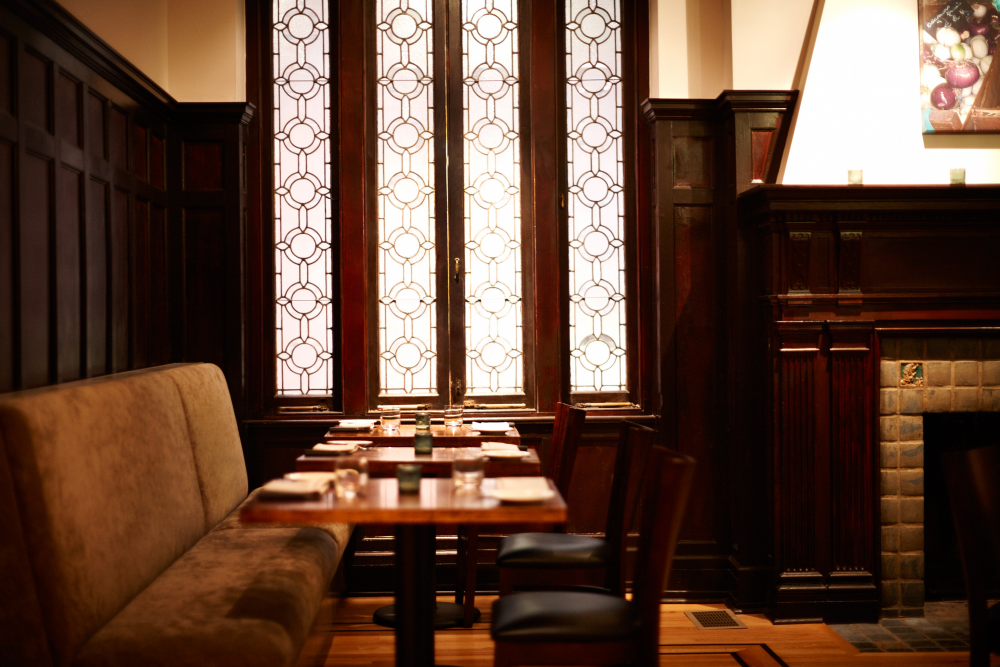 Source: michaelspainsmith.com/
Vedge's chef Kate Jacoby told us, "Vedge is in a gorgeous, romantic space - a corner location at Locust & Camac, historic 1895 brownstone with main entrance into a rich marble-top bar with elegant lighting, twinkling candles, a giant glamour mirror to admire yourselves when you're checking in at the host stand. If you're a first date, we can be available when needed to smoothing things along and prevent the awkwardness. If you're hot and heavy on date 3, we're gonna leave you to it and let you feast on each other. And if you're celebrating the big 17 year anniversary, one you may have nearly forgotten yourselves, we're gonna make you feel like royalty and spoil you the best we can. We cherish moments to make our guests feel like family, life friends, like rockstars."
"For quality natural wines, super tasty local brews and well balanced, clean and boozey cocktails, Vedge is the best spot in town. When you leave us, you feel good. Some might say energized. And that energy will stick with you the rest of the evening, as you saunter back home, and perhaps into the bedroom. Have fun!".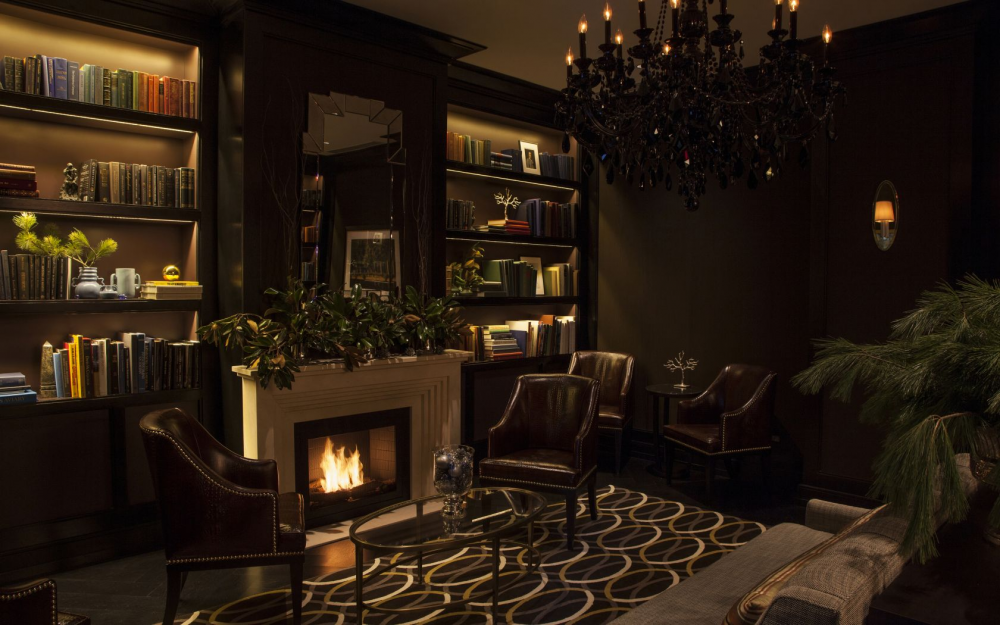 Source: rittenhousehotel.com
Average review score: 4.6
Couple ratio: 35%
Part of the Rittenhouse Hotel's fine array of dining options, The Library Bar is one of the most intimate and sophisticated spots to enjoy world class drinks in the center of the big city. Surrounded by antique books and charming décor, visitors to The Library Bar will feel right at home. It offers a very cozy and romantic spot, exquisitely and exceptionally designed to craft an ambiance of pure intimacy. Wonderful, world class wines from around the world are offered here, alongside delicious and fruity cocktails and a great selection of beers and spirits too.
What couples say about The Library Bar
"Great coktails - Ideal to rest after a city tour and try amazing cocktails. The service is great and the location most excellent. A lot of good restaurant nearby for the after cocktail." - pasqualed583
"Go Here? - The bartenders are friendly, highly skilled, and fast. The cocktail menu is enticing, and the ambience is something I call classic comfort." - MacinMac
"Fantastic Cocktails - Definitely some of the most creative cocktails around. They have the classics, and some very creative new ones with ingredients that will surprise you, but they work. Nice quiet surrounding. Well worth stopping in for a drink or two." - gerland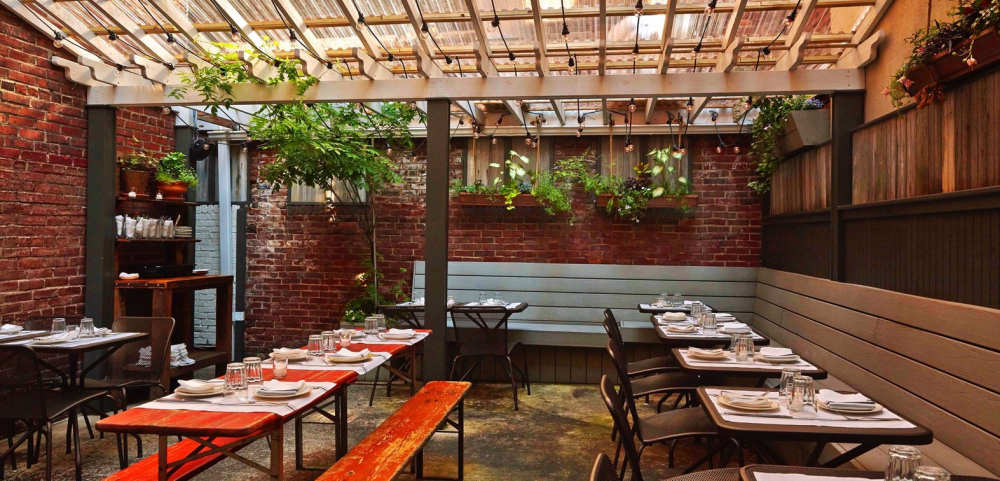 Source: littlenonnas.com
Average review score: 4.4
Couple ratio: 34%
Located over on Locust St, serving up lunch and dinner throughout the day, Little Nonna's is a family-style eatery offering up freshly cooked meals, all prepared with love, care and a lot of attention to detail in order to provide diners with the most satisfying and memorable experiences. A highly charming and beloved spot with those in the know, Little Nonna's offers around 40 seats inside and another 40 outside. The place has been lovingly decorated with bright colors and traditional elements to resemble a rustic, homey kitchen, and the menu offers a nice range of healthy salads, scrumptious seafood, and classic Italian dishes like spaghetti and meatballs.
What couples say about Little Nonna's
"Sunday Gravy! The Sunday gravy is great. But the spaghetti and meatballs were so filling. The meatballs are huge, soft and filled with cheese inside; so tasty!" - Dlstew65
"Double date - Great location not far from Rittenhouse Square. Nice classic Italian food. Romantic atmosphere. A good time was had by all. I didn't try them but the meatballs were the biggest hit." - ssplaver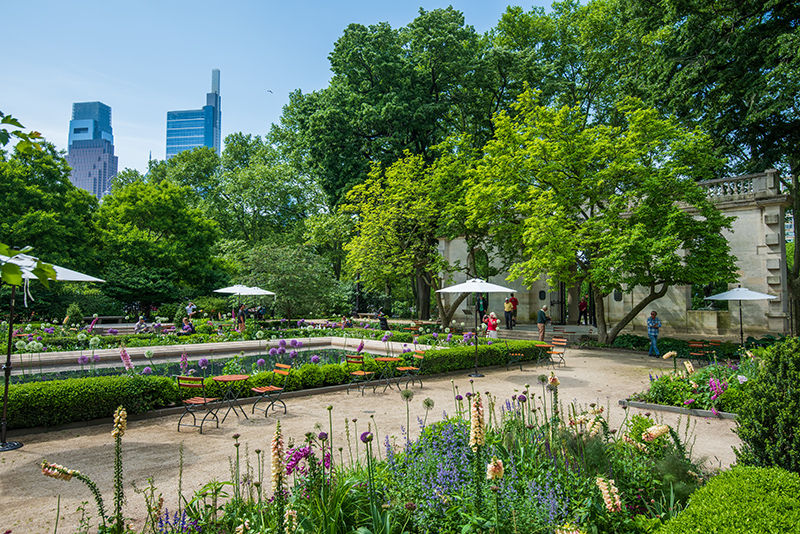 Source: phsonline.org
Average review score: 4.5
Couple ratio: 30%
Organized by the Pennsylvania Horticultural Society and first introduced back in the spring of 2011, PHS Pop Up Gardens are limited time events running on South St in the heart of the city. They aren't around for long, so you have to make the most of them while you can! A beautiful green gathering space for locals and visitors alike to come together, these gardens and always vibrant and romantic, holding a special place in the hearts of many. Plant swaps, fun gardening activities, succulent workshops, seed giveaways, and tasty food and drink are offered at every PHS Pop Up Garden.
What couples say about PHS Pop Up Garden
"Fantastic Find. Amazing Food and Staff - We stopped in during a walk, drawn in by the ambiance and music. The gentlemen at the front was just amazing, providing us with the history of the Pop Up Garden, and giving helpful tips on the best dishes being served. The pulled pork sandwich was amazing, and we found a comfy cozy nook to tuck into and enjoy our meal. The vibe was laid back, friendly and fun. What we loved best, in addition to the food, was the fact that the Pop Up Garden is a public/private partnership which turned a vacant lot into a culinary community retreat." - NOIDK
Why PHS Pop Up Garden is a great date spot
"We find that gardens help people of all backgrounds find 'common ground.' The PHS Pop Up Gardens are the perfect meet up spot combining casual dining and refreshments in a beautiful outdoor setting and all for a good cause. Proceeds from the Pop Up Gardens help PHS increase the health and well-being of individuals and neighborhoods throughout the Greater Philadelphia region", Lisa Stephano of the Pennsylvania Horticultural Society told Dating Experts.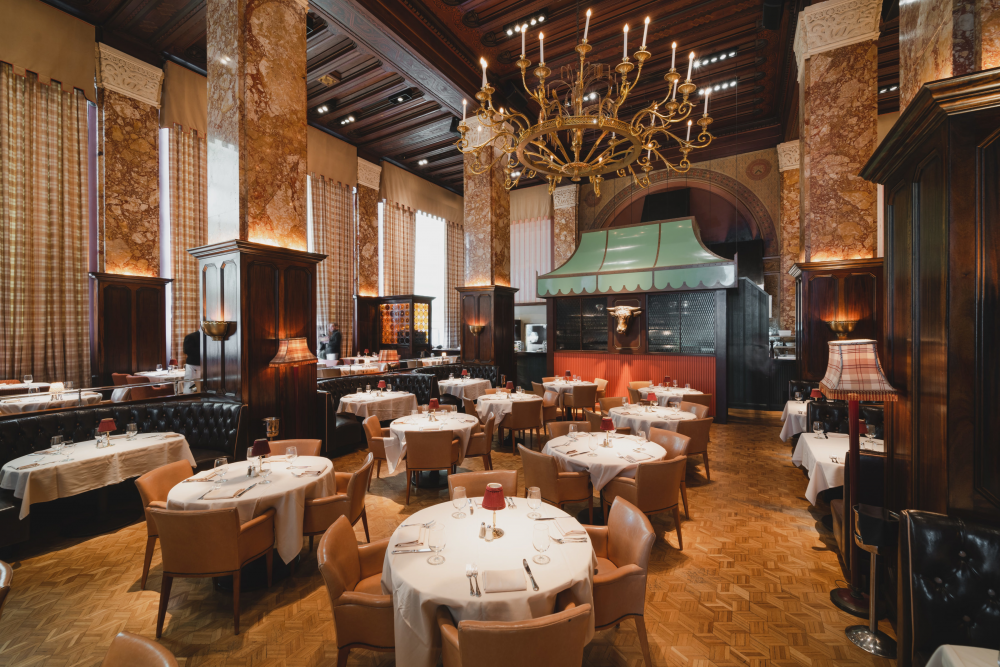 Source: butcherandsinger.com
Average review score: 4.6
Couple ratio: 33%
Step through the doors of Butcher and Singer and you might think you've walked into a time machine. A loving and authentic homage to the glitzy and glamorous days of Old Hollywood in the 1940s and 50s, Butcher and Singer is a restaurant with bags of charm. Gorgeously decorated with bold, gold elements and classy seating, this joint serves fine lunches and delicious dinners all through the week. Over at the old fashioned bar, authentic, rare spirits and popular cocktails are served with class and flair, while the menu is filled with classic surf 'n' turf fare like oysters, shrimp, crabs, clams, steaks, chops, roasted chicken, and more.
What couples say about Butcher and Singer
"Wow, what a Meal! Came here to celebrate a friends birthday and what a meal we had. Great place and what great staff. Our waiter was awesome and gave us some great suggestions on our first visit. We started with Oysters and then for the main course we had the Delmonico Steak. Wow. That was a great pick! We ended up having the baked Alaska for dessert. Yum!" - dave k
"Excellent - Excellent food in an impressive building, friendly service. We definitely over-ordered on the food, perhaps a warning from the server would have been helpful!" - meryll83
"Excellent! - This was the closest restaurant and we were starving. Walked in at 9pm and were immediately seated. Great waiter. Food was excellent. The raw bar is so good. Had the two crabs and they were really great. The biscuits...just wow. Those were fantastic. We both ordered the Delmonico cut. Cooked perfectly. They must broil their steaks which is our preferred method. The creamed spinach was very good. Mashed potatoes were good but nothing special. Got one side of Oscar to share which was plenty for two people. Creme brûlée for dessert - very good food. Would definitely recommend." - VineyardHill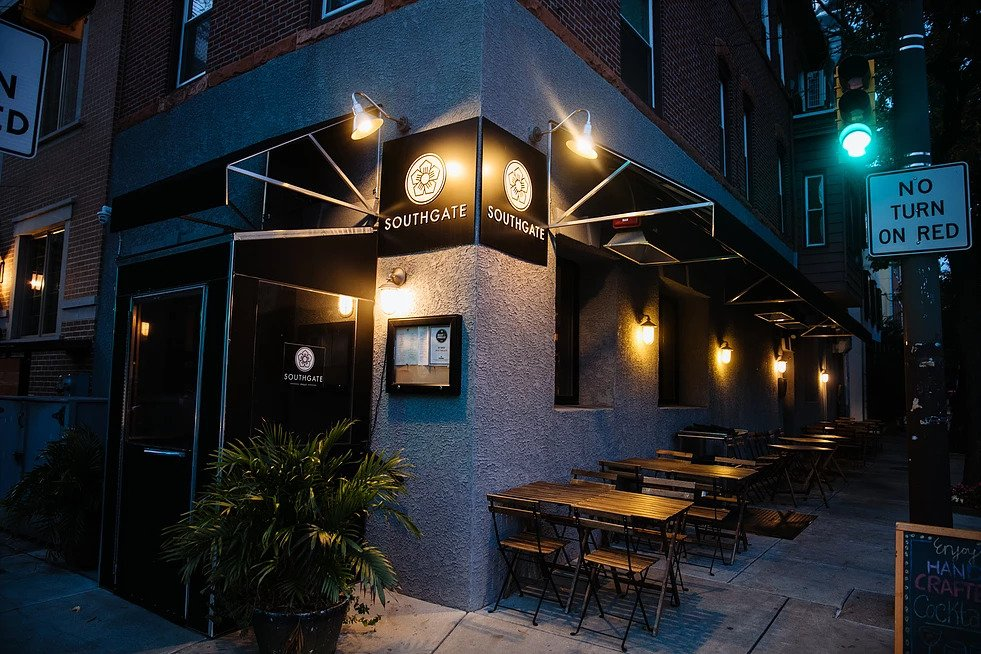 Source: southgatephilly.com
Average review score: 4.2
Couple ratio: 32%
A sophisticated and stylish gastropub with an intimate atmosphere and a vibrant, eclectic menu, Southgate Philly appeals to creatives, innovators, and those who like to think outside the box. It's a charming and classy dining destination that aims to bring food and drink to whole new levels. Influenced by the owner's Korean roots, but also taking its inspiration from the food-loving city and people of Philadelphia, this gastropub offers craft beers, fine wines, international spirits, and highly creative food too like Hangar Steaks, Spicy Pork with Korean Pear Slaw, and Bulgogi Burgers with Ssamjang Mayo.
What couples say about Southgate
"Great Korean Fusion. Korean food has always been somewhat puzzling for me. Southgate has unraveled the puzzle. From the Gimchi to the wonderful nuanced salads, eggplant and noodle bowl with seaffod Koorean cuisine is something I'll be looking forward to." - K6430YUkeng
"Hidden Korean Gem - Off the beaten path of the many restaurant rows in the city, one nice thing about Southgate is the availability of parking nearby by being in a less congested area. The restaurant is tightly packed, but in a warm inviting way. With an extensive menu and good cocktails, there was plenty to choose from, and we love going with other couples so we can sample more items. We ordered tofu, KFC (korean fried chicken), short rib ho-ppang, brussel sprout, octopus, kimchi pork belly, bibimbap, and spicy short rib noodle soup. The food was excellent, especially both short rib dishes and the kimchi pork belly. The food was rich and filling, and we left very satisfied. We recommend this restaurant for sure." - Garett_Travel
"Staff was super helpful and patient with me and my date even though we had no idea what we wanted. They gave really good suggestions that ended up being totally delicious - the food and cocktails here are very, very good. We sat outside so I don't know what the inside of the restaurant is like, but I love that it's in a mostly residential area so you don't have to deal with center city sidewalk traffic. Beautiful area with trees and gorgeous old buildings. Nothing negative to say at all, we loved it.." - Jenny S., Philadelphia, PA
Source: pafa.org
Average review score: 4.5
Couple ratio: 31%
One of the leading art institutions in all of Philadelphia, the Pennsylvania Academy of Fine Arts is open throughout the week and offers world class exhibitions, displays, and shows for art lovers of all ages to enjoy. Exploring the transformative power of the visual arts across America and beyond, Pennsylvania Academy of Fine Arts was the first art museum and school in the whole of the United States. It's a haven for history and art appreciators, providing a platform to up and coming artists to share their works, while also shining the spotlight on established creators throughout history.
What couples say about Pennsylvania Academy of Fine Arts
"Nice building with impressive art collections. The Academy of Fine Arts is worth a visit while in Philadelphia. The building is impressive, grand and spacious. Its art collections are good and worth a 2-3 hours visit." - PeterN3963
"Beautiful architecture and art - I did not know what to expect, but was impressed with the building and the art. A gorgeous stairway led us to the galleries. Huge paintings cover both sides on top of the staircase. The first gallery was showcasing my favorite Homer; the fox and the ravens. I just went to see this painting, and got a lot more!! Lots of beautiful paintings, worth a visit!" - Appeltje2015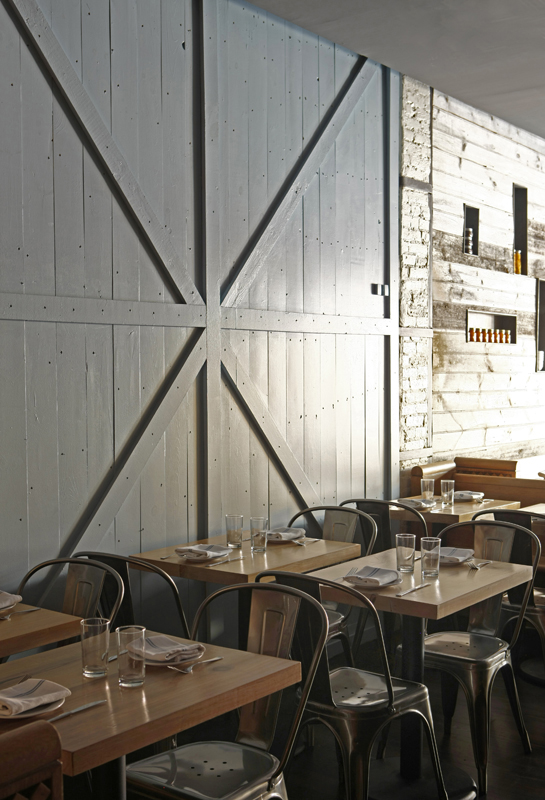 Source: barbuzzo.com
Average review score: 4.5
Couple ratio: 31%
For Mediterranean style dining in the heart of Philadelphia, there's no better place to be than Barbuzzo. A Mediterranean kitchen and bar establishment, Barbuzzo offers a cozy, intimate, and welcoming atmosphere for everyone who steps through its doors.
The service here is always friendly and the menu features the sort of unique, European dishes you won't find in many other places around the city like Fideua and Caciocavallo Stuffed Meatballs. There are also some very tasty cheese and charcuterie boards available at Barbuzzo, ideal for sharing with someone special beside a fine bottle of wine.
What couples say about Barbuzzo
"Great Food, Wonderful Experience. We visited Barbuzzo on a rainy Sunday after seeing a show nearby. Arrived promptly at 5 as we had reservations. The restaurant filled up quickly, so reservations are recommended. Small, intimate space. Only complaint is that the tables are minuscule. Seriously tiny. We conversed with friendly couple at adjacent table, we were seated so close. Glad they were friendlyThe food is top notch. Locally sourced. We will definitely return. So many other items on menu enticed us, so we will return to try them. Also, to get the budino again." - jennygirl57
"Great Food and atmosphere. We had a lovely meal - everything we had we shared so that we could taste as much on the menu as possible all divine. My only comment would be that although the service was good it was quite fast and could have been slower in order to make a longer meal. But really had no complaints." - Milton Keynes
"Tasty dinner, lively place! Enjoyed yummy peach crostone, nice wine, steelhead trout and tufoli at this packed restaurant on a Monday night." - Murray52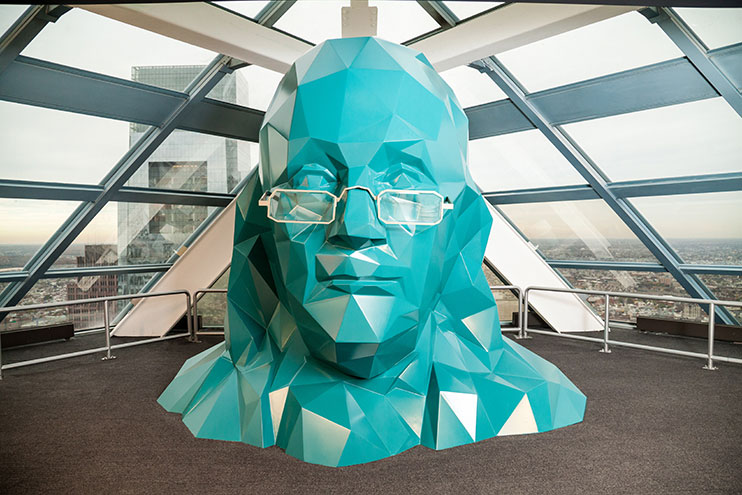 Source: phillyfromthetop.com
Average review score: 4.4
Couple ratio: 30%
There are plnty of high-rise buildings and skyscrapers all over Philadelphia, and there's no better view in the entire city than from the One Liberty Observation Deck. Offering one of a kind experiences and world class views of the surrounding cityscape, the One Liberty Observation Deck is an amazing place to go with someone special. It's a popular date and proposal location, and perhaps the best part about this amazing observation deck is that you can visit at different times during the day and night for totally different experiences every single time.
What couples say about One Liberty Observation Deck
"Not crowded, spend about an hour. Sunny day, hour to kill, $15 per person was worth it. As far as this type of activity goes, the cost is inexpensive compared to other observation decks like the Freedom Tower in NY or Sears Tower in Chicago. Floor to ceiling windows, 360 degrees, chairs to relax. It was fun!" - ChristineS983
"Amazing experience from skyscraper - Beautiful 360-degree panoramic views of Philadelphia.The attraction consists of three levels, the ground floor entry area, a second floor ticketing, lobby and gift shop area, and the 57th floor observation area. After purchasing a ticket, visitors may choose to stand in front of a green screen to have a photograph taken. Good tourist destination but expensive." - Praful B
"We visited here today on a clear sunny day. It is a 360 platform affording views over Philadelphia and to four states.Staff are really polite and helpful. The area is air conditioned which made for a comfortable experience. Really enjoyed the whole thing and would highly recommend it." - ruroliza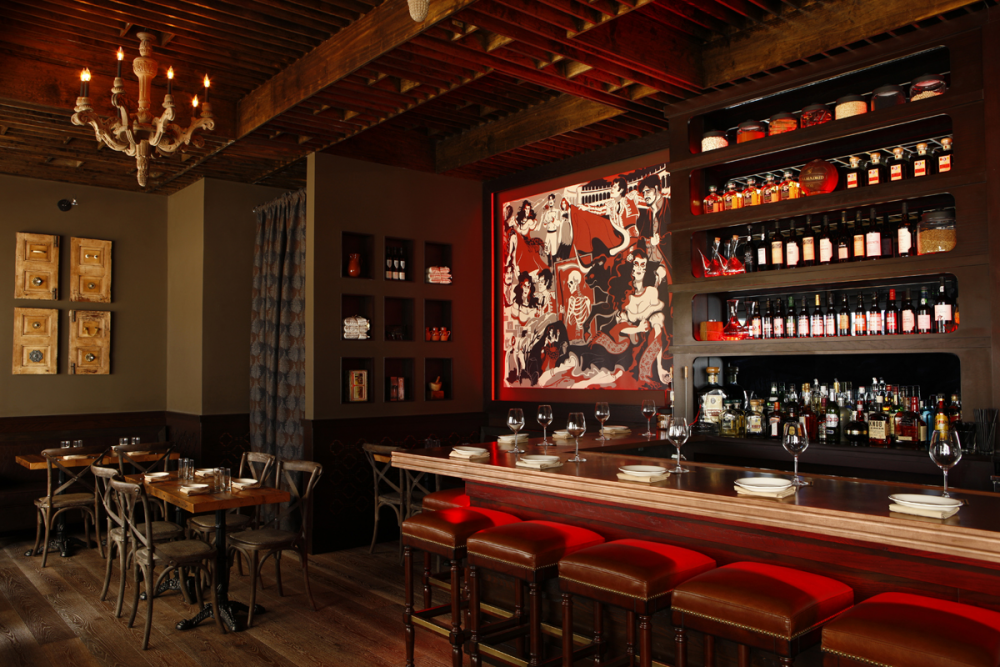 Source: jamonerarestaurant.com
Average review score: 4.3
Couple ratio: 30%
Gorgeously decorated in a bold mixture of red and black tones, with vibrant Latin American artwork on the walls and authentic Spanish elements all around you, Jamonera is one of the top spots for Spanish dining in the city of Philadelphia. Whether you're chowing down on genuine Spanish dried meats or classic tapas boards with olives and cheeses, you'll find a lot to love here. The service is always superb and the meals are always fresh, with the Seafood Paella being one of the hottest and tastiest items on the menu.
What couples say about Jamonera
"Great anniversary dinner. Absolutely loved our dinner! We shared the beet and goat cheese salad, ham and cheese plate, mixed olives and papa frita. Churros for dessert plus the rose sangria. We left fully satisfied and absolutely delighted. The food was delicious and service top notch." - ChristineS983
"Yum!! Tried this on a whim and husband and I were impressed! Sunday nights they offer a tapas tasting menu. All 10 items included in this special were delicious. We tried picking a favorite out of the 10 tapas and we couldn't! Our server was wonderful. Cute, quiet place in a Sunday night. We will return." - CLJD, OpenTable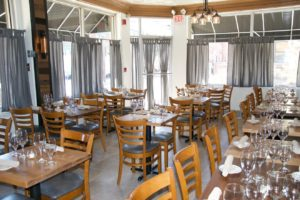 Source: burrataphilly.com
Average review score: 4.8
Couple ratio: 30%
For fine Italian dining in the heart of Passyunk, Burrata is the place to be. A classic, BYOB location beloved by Philly locals and visitors alike, this joint offers a warm welcome to loyal customers and new visitors. It offers up a great range of homemade pastas and seafood meals, with a good selection of vegetarian options on the menu too, along with nightly specials and delicious sweet treats. A lot of people are talking about Burrata and as soon as you take a seat and enjoy your first meal at this magical location, you'll start to see why.
What couples say about Burrata
"Homestyle cooking. Burrata is a local restaurant that caters to the customers wants. The dishes are simple Italian favorites. We started out with the antipasti special and a roasted beets as appetizers. Both were presented well and savory. We had a seafood appetizer,pasta with boar meat, the fra díablo and risotto with shrimp as main courses. Each dish had unique flavors that encouraged us to share.For desserts we sampled the ricotta cheesecake and pistachio ice cream. Delicious. We will definitely return. Also a note,it is a BYOB so enjoy your favorite beverage" - Audrey R
"Could not be better - Food, service and cozy space are great. Two blocks from Broad street line and state store for this BYOB." - Quaker1
"Tourist from Florida - Had a wonderful evening at Burrata. Both of the "cousins" were working plus a fabulously friendly waiter. Dinner was delicious. NO CORKAGE FEE so be sure to BYOB. Food was delicious. Try the wild boar and the Burrata with pasta and pesto. Homemade cannoli filling. Topped it off with espresso and tea. Must visit." - DEBORAHT1722
Why Burrata is a great date spot
"Burrata is an ideal date night spot for many reasons. Nestled on a corner in Passyunk Square, Burrata's ambiance and friendly staff instantly make you feel at home. The cozy, intimate setting features many 2-guest tables that are adorned with warm tealight candles making it easy to share dishes or lean in for a quick kiss. While you're celebrating a special occasion or going out for a much-needed date night, feel free to bring your favorite bottle to this charming BYOB while you celebrate in style!", said Dejvi Furxhi, Chef and Owner of Burrata.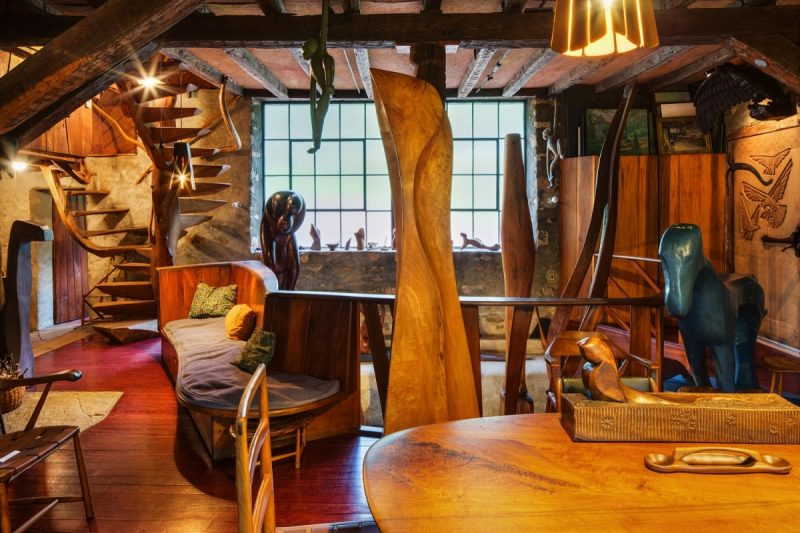 Source: Charles Uniatowski
Average review score: 4.9
Couple ratio: 29%
There are plenty of popular museums and educational institutions across the historic city of Philadelphia, but The Wharton Esherick Museum has to be ranked as one of the very best and most unique. Surrounded by trees and nature The Wharton Esherick Museum offers an authentic haven, a far cry from the noise of the big city streets. This museum is dedicated to the famed American artist, Wharton Esherick. A leading light in the field of woodworking and furniture design, Wharton Esherick was a master of his craft, with more than 300 of his finest pieces on display throughout the museum.
What couples say about The Wharton Esherick Museum
"Fascinating Museum. First of all, you have to love art and wood working. If not. Stay away. That is all the displays you will see. It is the home of local Chester County artist and sculpture, Wharton Esherick. An inspired wood worker, furniture maker and sculpture in wood. The house alone is fascinating, but the art he filled the space with is even more inspiring. He was an absolute master in wood. I could go on and on, but you really need to visit and see for yourself. Make reservations for a tour or you may not get in. Highly recommended. Nice pace, lots to see and great information. Beautiful." - Lee5608
"Beautiful - We really enjoyed our tour of the museum. Small group tours of up to 10 people so suggest you book online before you go. Our tour guide was excellent. Lot of knowledge and her enthusiasm for the artist and his work was very obvious. Tour was about an hour and you can walk around the museum grounds. The sculptures are beautiful to see in the setting they are in." - 12817travelers
"Art and History - Wonderful tour of the artist home along with many pieces of his work - from furniture to woodwork pieces. The stairs to the 2nd level are amazing. Was a cloudy, cold day, but well worth trip. We plan on going back again in nicer weather. Beautiful drive to museum and the views are lovely." - Jane and Bob F
Why The Wharton Esherick Museum is a great date spot
"A tour of Wharton Esherick's handbuilt home and studio is a deeply inspiring space, full of warmth, ingenuity, and joyful humor. Groups of no more than 10 guests are led through the Museum by knowledgeable guides who illuminate Esherick's brilliant creations and the potential for beauty in everyday things.", Katie Wynne, the museum's Communications and Special Programs Manager told Dating Experts.
Source: janegsrestaurant.com
Average review score: 4.2
Couple ratio: 29%
If you're feeling in the mood for Asian flavors and luxurious surroundings for your next evening meal in the heart of Philadelphia, Jane G's is the place to be. This is a highly rated Szechuan Chinese restaurant among the lively cultural hub Rittenhouse Square. Since 2012, Jane G's has offered locals an visitors with world class Chinese dishes, making use of only the finest and freshest ingredients, coupled with traditional and contemporary recipes to curate a flawless menu of bold flavors and rich experiences. The restaurant is named after Jane Guo, who has been running popular Chinese eateries around Philly for many years.
What couples say about Jane G's
"I don't review places unless the place is outstanding and this place was outrageously fantastic!! If you like Szechuan, this is a no brainer!!" - maryds0621
"If you want great Chinese food, I definitely recommend Jane G's. It is a great date night spot and the portions are quite large and good for sharing. The service was also good and the price was reasonable." - Amber W.,Philadelphia, PA
"Awesome Chinese cuisine - Totally enjoyed our meal at Jane G's. Great fried and chicken in black bean sauce. Reasonably priced. Outdoor seating." - GOD1975
Source: woodmereartmuseum.org
Average review score: 4.4
Couple ratio: 29%
Philadelphia has always been a haven for artists, drawing in creators, innovators, thinkers, and dreamers from far and wide, and the wonderful Woodmere Art Museum aims to celebrate, honor, and expose the incredible works and achievements of the city's artists over the ages. All year long, the Woodmere Art Museum hosts shows, exhibitions, workshops, tours, live performances, and more, all designed to bring locals and visitors together through a shared love and appreciation of fine art. The museum is housed in an elegant and breathtaking 19th century mansion in Chestnut Hill, surrounded by several acres of gorgeous grounds and offering a collection of more than 8,000 works.
What couples say about Woodmere Art Museum
"This lovely art museum is located in a 19th century stone mansion in the historic and beautiful Chestnut Hill section of Philadelphia. It is on six acres of beautiful land with multiple sculptures.Inside is a great display of local artists . In the collection are works of Joan Curran, Carol Jones,Littlefield ,Dowell. Santore,Lear,Wirtz, Sessile, Biddle, Remenick, Edekschein, Pinto, Shils, Laub,Kohn." - Kyle S
"The Art of Jerry Pinkney Exhibition - My wife and I were very pleased to visit this very extensive exhibition of illustrations by African American artist, Jerry Pinkney - a very comprehensive treatment of the artist's life and work. Thank you for the opportunity, Woodmere. Well done." - James D
"Personal, kind and special - The Woodmere Art Museum specializes in exhibiting Philadelphia artists and their works. We went there today to see its current exhibit. I was hungry and I asked the man at the desk where I could buy some snacks nearby. Knowing that the nearest place is some 15 minutes away on foot, I gave up. A lady staff member of the museum overheard our conversation. She served me pretzels, peanuts and water on a silver platter (see photo.) Where on earth at any museum can you get such personal kindness? I ate up everything with warmth in my heart and my stomach. Thank you." - jchanamm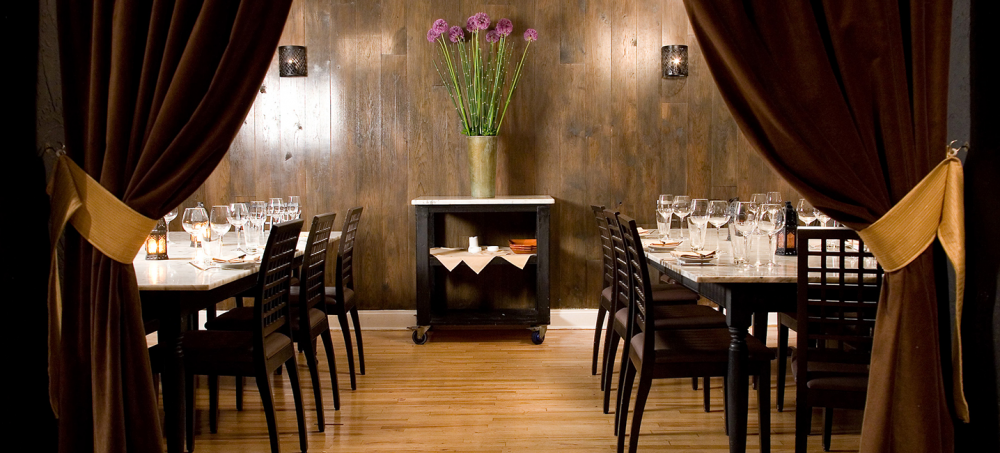 Source: amadarestaurant.com
Average review score: 4.3
Couple ratio: 29%
A popular eatery in the heart of the Old City, Amada is a great place to grab some authentic Andalusian tapas with your fellow diners. A great range of fresh olives, fine meats, tasty cheeses, and scrumptious seafood treats fill the menu here. The spacious dining room is fitted with a six-seat chef's counter that actually looks out over the open kitchen, letting you watch the chef and his team in action. A superb wine list and fine sweet treats complete the evening at Amada, ensuring that every night is a night to remember.
What couples say about Amada
"Old City is home to some of Philadelphia's best restaurants, and Amada is no exception! I truly believe food should be an experience that broadens your senses and creates an environment for life to be shared around a table. If you are looking for a restaurant for a date, a group of friends, or a large evening with family; I highly recommend Amada. Reservations are a must, and you can usually find street parking near by or there are nearby garages if you prefer." - thisworldmyview
"Good service, nice place but not authentic Spanish food - If you have never tried authentic Spanish food this place is a good option, otherwise, it's better to keep your hopes low." - Lili C
"We came here because it was close to the water and we had an evening cruise, and we're so glad we did! The food was utterly fantastic. The patatas bravas were delicious and had a smoky paprika flavor, the lamb meatballs were great, and the fried eggplant was unique. The restaurant is a bit loud, but it's a trendy restaurant. The waitstaff were friendly, and the manager came over to see if we were enjoying our evening (we were)." - dustythoughts
Why Amada is a great date spot
Natalie, the Hospitality Specialist at Amada, told us "Amada is a great date spot because of our romantic atmosphere. Located in historic Old City in Philadelphia, the neighborhood itself is a great date spot of all ages! At Amada, every table is candle lit with dim lighting and Spanish music playing in the background. With lots of delicious tapas for the couple to share and an extensive wine list. Our staff will ensure that everyone has a lovely time."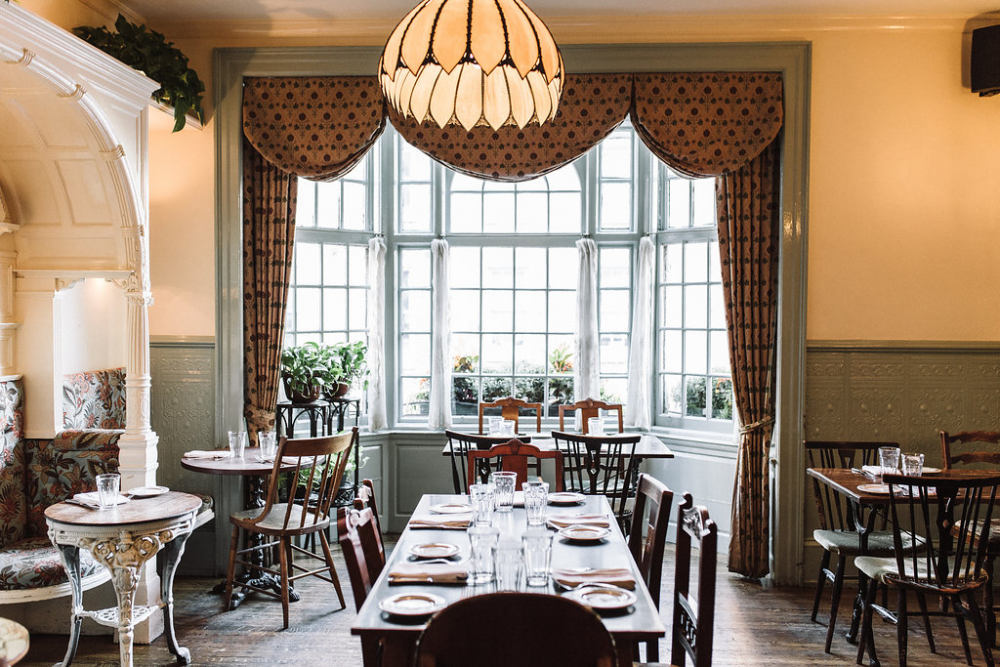 Source: thedandelionpub.com
Average review score: 4.4
Couple ratio: 28%
Bringing British sophistication and classic English pub fare to the heart of Philadelphia was the aim of The Dandelion team, and they succeeded with aplomb. This unique culinary haven whisks diners across the Atlantic Ocean to the heart of Central London for a dining experience unlike any other. With a menu offering the best of British cuisine, flawlessly professional service throughout, and a great range of drinks too, all served in a charming and cozy interior space, The Dandelion is the perfect location to enjoy a romantic evening you and your partner will be sure to remember for years to come.
What couples say about The Dandelion
"Absolutely fantastic - I actually signed up to tripadvisor just to write this review. The service was the best I've had in America and as an English person living here I haven't had anything as close to a good English meal as I did here. The roast was exceptional as was the cheeseboard. Finally somewhere with enough gravy too. 10/10" - Lulueebee
"Gorgeous food - My girl and I stopped in for food late last night, the butter lettuce salad was to die for, so tasty. And the Mac and cheese wasn't far behind. Being an Englishman, it was nice to see a little bit of home. We didn't plan on a big meal just a quick nite but got pleasantly surprised. Will 100% be going back!!!!" - rodthornley
"Pleasant surprise - We dived into the Dandelion as the rain poured down and were lucky to be shown to a nice table as they had a few people not turning up.
The Salad with berries as a starter was delicious - subtle flavours and enough for the two of us to share.
We followed that with Lamb Shepherds Pie. I enjoyed this it had a subtle spice to it and was perfectly prepared, my wife had the Salmon and was very pleased with it.
The service was friendly helpful and not intrusively attentive, and overall for a city centre restaurant in USA the price for this quality was good value." - raymondo29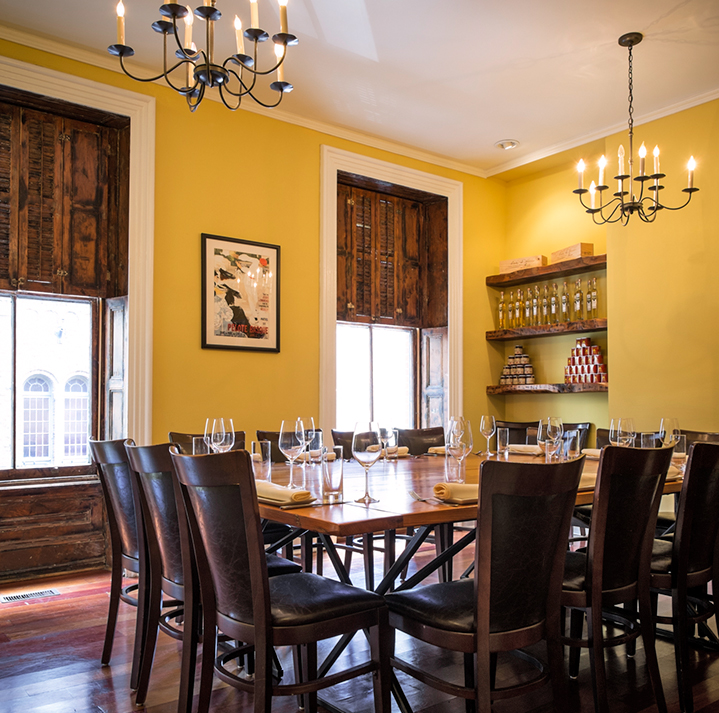 Source: tintorestaurant.com
Average review score: 4.3
Couple ratio: 28%
Situated in the ever vibrant and lively area of Rittenhouse Square, Tinto offers of authentic Basque-style small plates and sharing platters, designed to be enjoyed by couples and groups of friends dining together. An intimate and romantic tapas bar offering everything from bocadillos to montaditos, Tinto also features an exceptional drinks menu, with a full bar stocked up with genuine Spanish wines, fine ciders, traditional sangrias, and more. Incorporating elements of both French and Spanish culture, cuisine, and style in its menu and décor, Tinto is one of the most unique eateries in all of Philly.
What couples say about Tinto
"Wow and wow again - The food here was fantastic. We especially loved the chocolate shrimp pintxo. So many flavors put together but not blended." - AvisH33
"Excellent service and food - We came here on a Saturday evening. We were seated promptly. I want to say, first of all, our server Kristin was wonderful. She guided us well.
For starters we ordered lamb brochettes and duck confit toast. The lamb brochettes were good, but the duck confit toasts were a 10 out of a 10. Delicious!
We had the octopus and wild mushrooms (2 different dishes) next. They were both very good. The octopus was so tender - and a large portion. The wild mushrooms were so meaty and tasty.
We had the Pastel Vasco desert to split for desert. It was wonderful.
In our case, four dishes and splitting a desert was enough food. I would recommend everything. Ask for Kristin." - nlgale
"Excellent for Happy Hour! - My husband and I went to have glasses of wine and tapas for Happy Hour and wound up staying for dinner. The food is creative and served tapas-style for sharing. Good, creative cuisine." - Platinum2VA
Source: forkrestaurant.com
Average review score: 4.1
Couple ratio: 28%
Over on Market Street, Fork represents the best in modern American dining in the heart of Philadelphia's historic Old City. Featuring fresh, seasonal ingredients and a menu inspired by the culture and cuisine of the Mid-Atlantic region, Fork supports local farmers and purveyors in all the right ways. This is a place where you can real smell, see, taste, and experience the authenticity of everything Philadelphia stands for. The restaurant has been nominated for multiple James Beard awards over the years for its quality and high standards, with its soups, steaks, and salads being simply out of this world.
What couples say about Fork
"Good wine - I really enjoyed their wine list. The bartender was super friendly and helpful. The squash soup was amazing! I like how most of their appetizers were vegetable based. Being a vegetarian, there wasn't much to order from the entrees. However I thought the food was good. I was disappointed that they took the gnocchi off their menu. Would go back though." - sierrataylor
"Wonderful experience - We were immediately attracted by this restaurant while searching for a place to eat and found this amazing restaurant! The interiors are modern, elegant and personalized,great attention is paid to the esthetic of the plates and of course everything tasted delicious! We started with mussels, then halibut, a fantastic chicken with caponata and aubergine, apricots, carrots and yellow tomatoes and to finish-what a joy-the "Java bomb", a dessert made of chocolate with apricots and mint ice-cream." - Valeria B
"Great place - We found this place around the corner from our hotel in Philadelphia. The food and service was great. Our server did great with my food allergy. He was great and we had a great night.
The only reason I am giving it four stars instead of 5 was because I felt like it was a little too pricey for some items and the bread was burned on the bottom." - Melissa G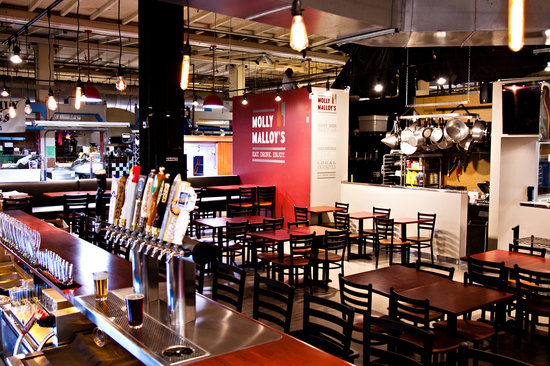 Source: mollymalloysphilly.com
Average review score: 4.1
Couple ratio: 28%
If you're searching for an authentic Philly experience, with classic local food, great service, friendly people, and a positive atmosphere, there are places in the whole of the city that can rival Molly Malloy's Kitchen & Bar. With a huge bar offering more than 35 different beers and a super menu of classic Philly staples, Molly Malloy's makes use of ingredients sourced right nearby from the surrounding Reading Terminal Market. The restaurant serves up some of the best Philly Cheesesteaks in the area, and its signature burgers are super popular too. It also does some great breakfast fare for early bird visitors.
What couples say about Molly Malloy's
"The complimentary breakfast in our hotel is awful so we went for a walk on the hunt for a good breakfast. Good big space with lots of tables and it was full of locals. Friendly waitress who explained the menu and brought us cold water. My husband had pancakes, with bacon and extra eggs. I had the breakfast roll. It was all delicious and reasonably priced. Coffee top ups without having to ask always a bonus." - U8357BEalisons
"Great vibe - We sat on the restaurant side and shared pancakes, which was more than enough. The bacon was crisp and delicious, pancakes were a 5/10 IMO husband said 7/10. Vast draft beer selection and some bar drinks. Worth the stop in the market area." - patties188
"Great Philly Steak - In the Reading Retail Market a vibrant place for all types of food. Molly Molloys traditional Philly food. Well presented and fresh. Wide selection of ales to choose from also wines and cocktails. Well worth a visit" - N8827WOrichardj
Source: doubleknotphilly.com
Average review score: 4.6
Couple ratio: 28%
If you're in the mood for sushi in Philadelphia, Double Knot is the place to be. One of the city's leading sushi joints, Double Knot is a classy, remarkably designed and beautifully decorated establishment with a big focus on diner comfort, care, and satisfaction. You'll find only the freshest sushi served down on the ground floor of Double Knot. Meanwhile, upstairs is the place to be if you're searching for piping hot cups of coffee and delicious, juicy cocktails prepared with only the finest spirits and ingredients for your pleasure.
What couples say about Double Knot
"The food, the atmosphere and the service were all wonderful (Ryan was attentive but not pushy and gave us lots of time to explore the menu). We decided not to tempt fate with the tasting menu but ordered and shared a variety of dishes...chicken liver mouse (soon going off the menu), pork gyoza and the double knot roll (ordered it again) were stellar and the sushi was like eating butter...amazing meal on our first night in Philly. westind
"Everything was delicious! - The atmosphere is dark,hip and loud.There were six of us and we ordered the chiefs tasting for $60.00 per person. You can let them know of any food issues so they can adjust what will be brought to the table.Everything we had was delicious.In the begining of the service I thought that we would not be getting enough food.Many of the dishes our server started us with were very light light.....fishes and such.But right when we were completely full...another dish came out!The meal was ended with short ribs that you place in a lettuce wrap,rice,and some mustard.The ice cream inside the mocha dessert was the best I ever tasted! Our server Ryan was great and made our evening a lot of fun! lookinforelvis
"Had a dinner here while in Philadelphia for a conference. Would highly recommend. We sat downstairs and did the chefs omakase menu - can't say enough about it. It was so good and incredibly reasonable priced for the quality. Will be back for sure whenever my travels bring me to philly. akelly1470
Source: brauhausschmitz.com
Average review score: 4.3
Couple ratio: 27%
Opened back in 2009, Brauhaus Schmitz has gone on to become one of the top German dining destinations in the city. This is the place to be for soft, fluffy pretzels and dozens of world class German beers right on draft or in bottles.
This restaurant offers the widest selection of German beer in the city, making it a fine spot to enjoy during Oktoberfest celebrations, or at any other time of the year. Meanwhile, in the kitchens, Chef Valentin Bay works his magic on authentic, traditional German recipes, livening up the classics with some pure Philly flair.
What couples say about Brauhaus Schmitz
"We enjoyed a delicious and filling dinner, and hope to come back in order to sit in the beer hall dining room, which seemed more festive. Our server was pleasant and helpful, although her estimation of how much the sausages weigh was quite incorrect...I think they weight more like 8 ounces each, not four. But we had six varieties and liked them all, especially the one with 7 herbs and the one with lamb. The sauerkraut was excellent, as was the potato salad. Two other folks had veal schnitzel, which also got rave reviews. One had the pepper sauce, which was excellent. The strudel was good. The only downside we felt was the pretzel, which was dense and just not as good as in Germany! And the spaghetti and meatballs ice cream is really not worthwhile. The beer was great of course, as was the selection." - travellerfromatown
"LOVED this restaurant! - This was one of my favorite restaurants during our visit to Philadelphia. It might even be my very favorite! The food, service, and ambience were all wonderful! We made a reservation, although we were there kind of late on a Sunday night, and a reservation may not have been completely necessary, but I was still glad to have one, because we were seated at a perfect table, which had been reserved just for us. Our server was truly delightful. I wish I could remember her name, but she was super friendly, attentive, patient in answering our questions, and took the time to explain many of the menu items to us (she could probably tell we were novices when it comes to German food, haha). The ambience is basically "German beer hall", which is fun. The room is long and narrow, with a bar running most of the length of one wall, and tables along the walls and in the center of the room. There is an upstairs seating area, too, overlooking the main floor. I imagine the room can get noisy and lively when it is full, but since it wasn't too crowded when we were there, the noise level wasn't high, which was great. But definitely the best part was the food!!! So good!!! My husband and I shared the "Six sausage platter", where we got to select six different sausages. Offering such a platter on the menu is a great idea, because so many of the sausages sounded good, and we wanted to try a lot of them! They were all good, and we had a lot of fun sampling them. My favorites were the cheese-filled one and the smoked pork and beef. My husband's favorites were the spicy sausage and the one with bacon in it. We also got the weiner (aka "hot dog"), which was also great, and the sausage with herbs, which our waitress warned us was green in color (she was right!), and which was also good, but I wasn't as crazy about the texture of that one. The sausage platter came with potato salad (SO good!!! We ate it all!) and sauerkraut, which neither of us ate, haha. I also ordered a side of potato pancakes (Amazing!!! Came with yummy applesauce, too!), and my husband ordered a side of spaetzle, which he thoroughly enjoyed. Needless to say, we did not eat everything, but it was wonderful to be able to sample so much yummy food! It is, perhaps, not a place to go if you are on a diet -- but why in the world would anyone choose a German restaurant if they're on a diet? This is a place to just relax, enjoy some amazing German food and atmosphere, and be happy to be in the wonderful city of Philadelphia. We can't wait to return to Brauhaus Schmitz next time we're in Philly!" - katsusanna
"Great food AMAZING service! - Had dinner at Brauhaus Schmitz on a recent trip to Philly. Couldn't have been a better German meal. Food, beer and service were outstanding! You'll really like this friendly restaurant with it's specials and huge beer variety. Prosit!" - ww2history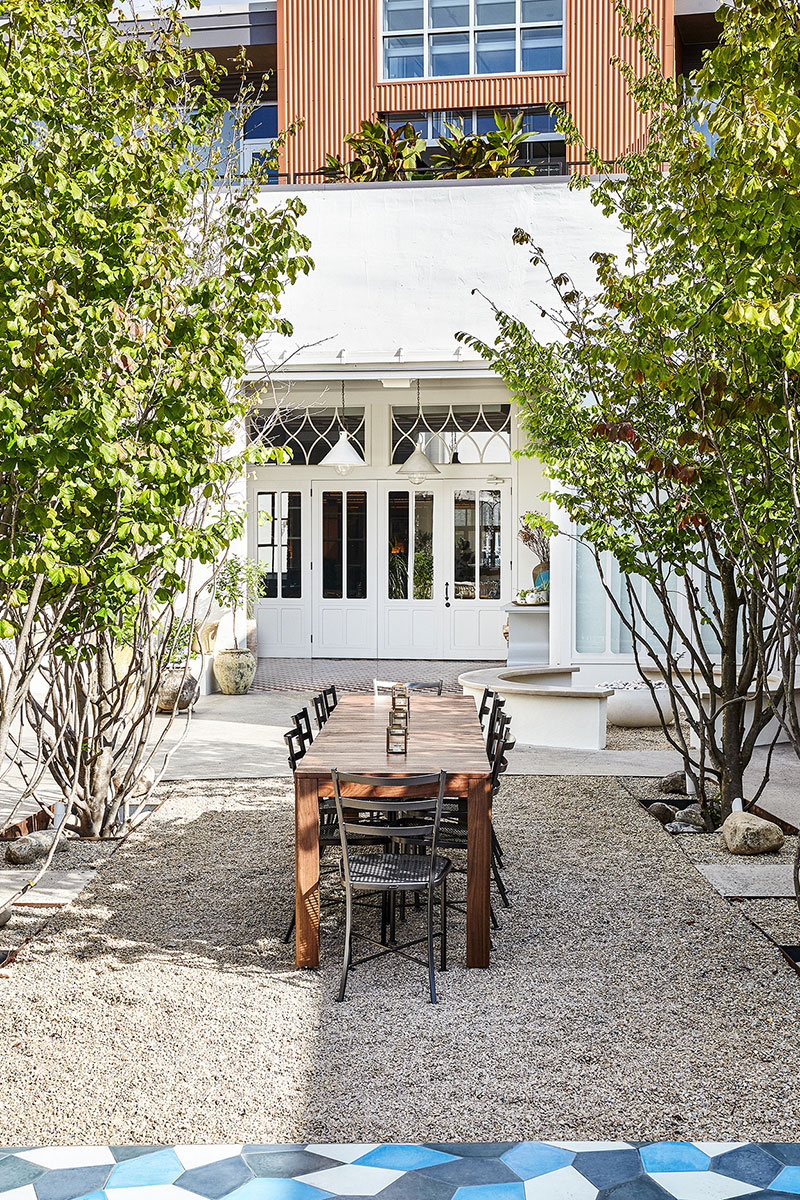 Source: surayaphilly.com
Average review score: 4.6
Couple ratio: 27%
Once voted the best new restaurant in the city by Philadelphia Magazine, Suraya has made a big splash on the city's dining scene. A unique location that doubles up as an all-day market and cozy cafe, complete with both charming interior spaces and lovely outdoor gardens, Suraya has it all. Located right in the heart of the incredible Fishtown neighborhood and founded by Lebanon born and raised brother and sister duo Nathalie Richan and Roland Kassis, Suraya offers the finest and most authentic Lebanese food in the big city, perfect for trying something new and taking a taste voyage around the world.
What couples say about Suraya
"Incredible Lebonese food. I enjoy mediterranean food and this restaurant's food tops them all...I had a wonderful salad for lunch with skewered chicken and a yogurt dressing. Really enjoyed the lemonade with rose water and petals too. If you can have a drink in their back patio in the evening before dinner, please make the time..great drinks in a beautiful setting." - Kristen W
"You Are In For A Delightful Surprise - We visited Suraya on our 40th Anniversary. We are hard core travelers (>60 countries) and foodies (been to best in class restaurants around the world). Suraya is an emerging jewel with authentic and amazing Lebanese dishes "like grandma makes" (Fatoosh and Fatteh were just fabulous) with ideal flavor and serving size. Combined with a $M décor, indoor AND cool outdoor courtyard ambiance, exceptionally well-trained service, and rationale pricing, we are sure Suraya will rise quickly as best newcomer in Philly and indeed the greater NY/NJ/CT/PA market, and give current Philly champ Zahav a real challenger. Hats off to the management team for excellent execution." - ScottFromJersey1
"We say on the patio, and it was like we had departed Philly, into a middle eastern garden. Our server recommended the chef's tasting menu, which comes with a quintet of dips along with appetizers, mains, dessert per person. Totally worth it, as the dips were outstanding (babaganouj was really stellar, and I am usually luke warm on eggplant). All food was excellent, and we left stuffed and happy. If weather is nice, I strongly recommend enjoying their outdoor area; we'll surely be back!" - hclowendorf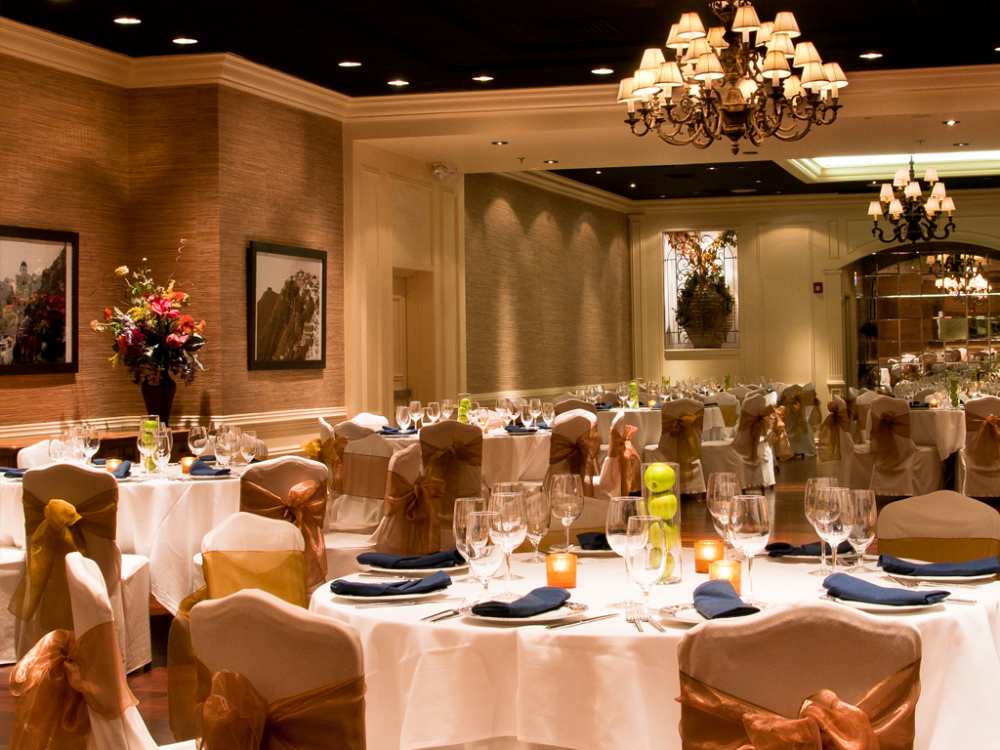 Source: estiarestaurant.com
Average review score: 4.3
Couple ratio: 27%
Bringing all the flair, freshness, tradition, and heritage of the Greek lands to the heart of Philadelphia, Estia is regarded as one of the most authentic and lively locations in the city. Here, the food warms the heart and comforts the soul, putting a smile on the face of each and every diner. The elegant interiors and charming, professional workers of Estia only add to the restaurant's atmosphere and romantic air, while the menu is filled with Mediterranean classics like fried calamari, grilled shrimp, flavorful salads, and whole fish meals.
What couples say about Estia
"Lovely ambiance and good food. The fried zucchini and eggplant was so good and delicate I would go back just for that.The lamb gyro is made with real lamb not your typical gyro meat which made it very good.I'd skip the plate of tomatoes, peppers, olives and feta it was ok and there are so many better choices.I got the pasta with spinach and tomatoes I was so pleasantly surprised because it was very light not like typical Italian pasta and with fresh feta. I am so glad I tried something I wouldn't normally it was very good.Dessert was good not as good as my mother in laws but good we got the honey cake.The decor is really pretty and rustic. I would go back again." - namastenomi
"Excellent restaurant - We visited Estia after seeing some details on facebook. I had a traditional Greek dish and my partner had stuffed pork belly cooked to a family recipe. I cannot fault the food which was so good, obviously fresh cooked and the service was amazing. The owner was attentive and very knowledgeable about his dishes. Overall 5 out of 5." - V2005JUangelab
"Outstanding as always. Estia is always our first stop for lunch when we arrive for a visit in Philly. The octopus is the best anywhere. Once again a delightful meal." - MDFoodies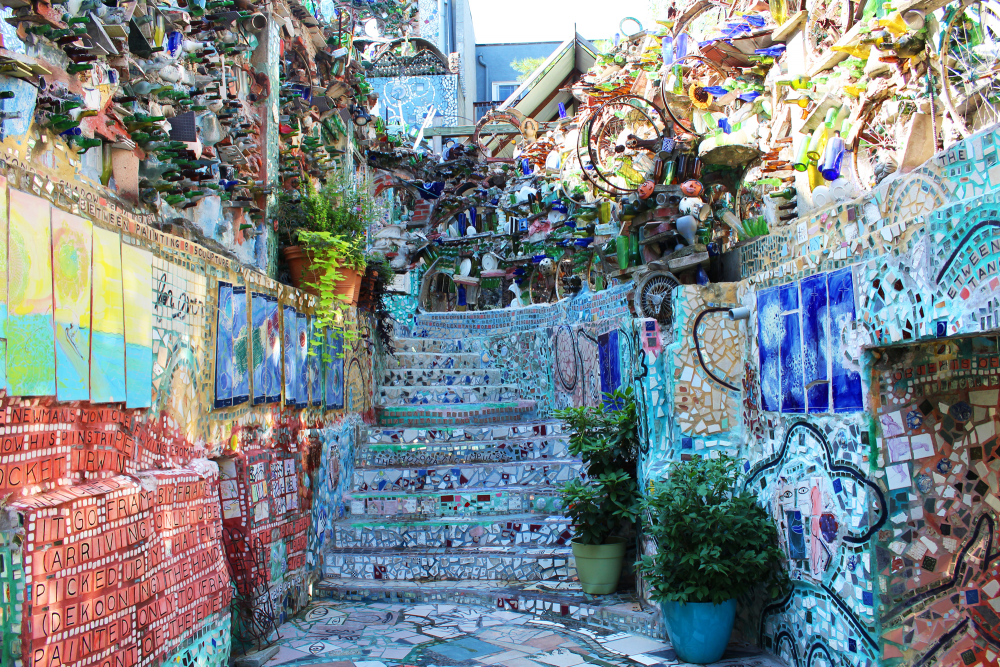 Source: phillymagicgardens.org
Average review score: 4.5
Couple ratio: 26%
If you're looking for a once in a lifetime experience in the heart of Philadelphia, Philadelphia's Magic Gardens is the place to be. There's nowhere quite like this, anywhere in the world, with Philadelphia's Magic Gardens being one of the most unique mixed media art installations ever created. The gardens, created by mosaic master Isaiah Zagar, feature countless recycled tiles, bottles, bits of mirror, old bike parts, and more to form a thoroughly special and truly out of this world visual experience for every visitor. Guests can walk around the gardens at their own pace, admiring the majestic and magical art that surrounds them in intricate detail.
What couples say about Philadelphia's Magic Gardens
"S T U N N I N G - Such an amazing, independent, boutique, quirky little museum. Ten dollars each well spent. You could spend a week here and not notice all the weird and wonderful nooks and crannies packed with art. I'm not a luvvy or appreciator of artistic magnificence BUT, I loved the creativity and colour. It's truly a magical oasis in a city. Go for a couple of hours at the most. Book ahead, we went and it was full so we went back the following day. Cheap and cheerful in the true sense of the words." - ginat553
"I eloped here years ago, and the museum has only improved and expanded since then! PMG still makes lovely afternoon date on South St just after lunch or before dinner. We made an anniversary date to the gardens this past fall and it much more popular this time around than in years past as we had to reserve a spot for entry that meant 2hrs to enjoy on and around South until it was time for our reservation. Beautiful place to explore, learn, and make memories for philly locals and tourists alike." - Amber M., Columbia, MD
"We made a stop here to see the art.Its pretty incredible to see so much glass and pieces of almost anything the artist wanted to through into it.The art is something to see.Its not s huge place and the parking can be tricky.We were lucky to get a parking up front.If your in the area make a stop." - Q9062QJdavids
Why Philadelphia's Magic Gardens is a great date spot
"Philadelphia's Magic Gardens is great for couples in all stages of their relationship. If it's your first date, then there's so much to look at and ignite conversation. If you're in a long-term relationship then visiting PMG is something new and exciting, a departure from the normal dinner and a movie date night. There are also many depictions of love and romance in the space to get that spark going!", said Allison Boyle, Events & Marketing Manager for PMG.
Source: aksumcafe.com
Average review score: 4
Couple ratio: 26%
With its exquisite hardwood floors, bold red walls, stark black features, and classy, elegant stylings, Aksum is the sort of place where young, trendy creators and thinkers can feel right at home. Offering up an exclusive array of tapas, entrees, and mindblowingly tasty desserts, this is a great place to enjoy a top class meal you won't soon forget.
Situated in University City on Baltimore Ave, Aksum offers up a Mediterranean menu, taking its inspirations from the varied regions, cultures, and cuisines of Europe, North Africa, and the Middle East. It's one of the leading BYOB restaurants in all of Philly and offers up a superb brunch at weekends too.
What couples say about Aksum
"Worth the trip from Missouri! Food superb. Service and waitress exemplary! Spinach and artichoke was. Dry delicious. Husband raved about the tender and tasty lamb chops! I stuffed myself with the delicious Aksumite vegetable tagine then found room for the scrumptiously delicious bread pudding.Had to take a to go box. I just loved the sangria ice tea with fruit on top . We Will go in for brunch tomorrow.. this time we will bring a cooler to transport enough food for the 16 mile trip home. We were very pleased and have no complaints — except The only down side was the parking ...had to drive around until we found a open space.. so plan ahead. This was. It their fault." - Shirley S
"Great - Very Nice portion of Salmon and mashed potatoes with a different taste. needed a little more of the green vegetable(unless they were for decoration) Nice service but I believe they should have had more than one waitress for the whole restaurant." - LawrenceS2
"We booked a reservation through Open Table. It was nice to sit looking through the open windows onto Baltimore Avenue. The service was good. The spicy crab bisque soup was to spicy for me. My wife enjoyed her fried artichokes. She had rosemary chicken and I had the lamb chops. We enjoyed our meal at Aksum." - NittanyLion70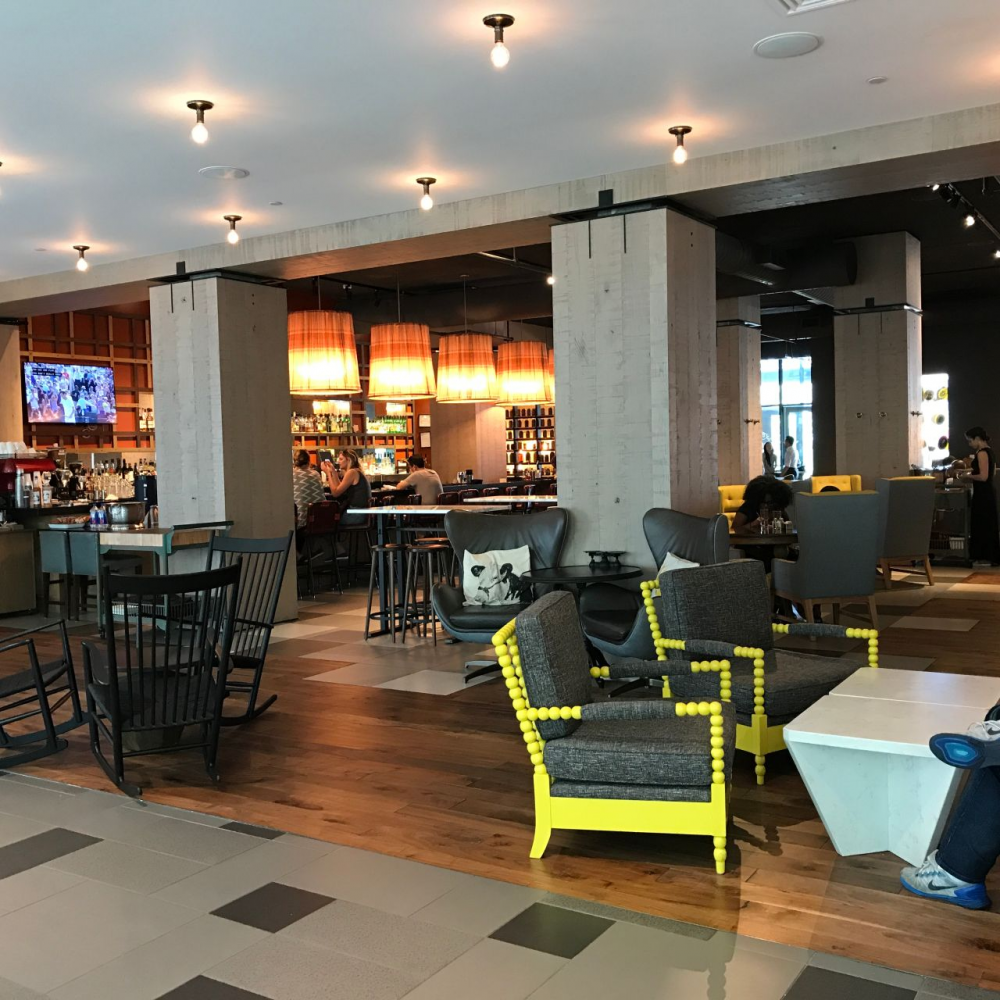 Source: urbanfarmerphiladelphia.com
Average review score: 4.3
Couple ratio: 26%
Philadelphia is famed for its steaks, and there's nowhere better to be when you feel the craving for an authentic Philly steak than Urban Farmer. Working together with local farmers and partners, Urban Farmer Philadelphia offers up fresh, local, authentic flavors throughout its rich and varied menu. Located on historic Logan Square, this steakhouse fuses rustic charm and modern sensibilities to create a highly enjoyable dining experience for all. It prides itself on its locally sourced meats and simple but beautiful dishes, each presented in an alluring and enticing manner.
What couples say about Urban Farmer
"Wonderful atmosphere! We enjoyed breakfast at Urban Farmer. First, the atmosphere is wonderful, from the seating to the light fixtures. We ordered shrimp and grits which was good and steak hash which was very good. The service was very perfect. The pricing is expensive but expected when it is located in a lovely hotel." - Patty J
"Eat and be treated like royalty for breakfast - We went here for breakfast/brunch on a Saturday. Busy, but didn't have to wait long. We had shrimp and grits served with large, thick slices of buttered toast. Outstanding! And a crab omelette with a crispy potato pancake (thick) and a home made English muffin. The omelette was stuffed with delicious Kennett Square mushrooms (fairly local to Phila) and lump meat crab. Yes--the real thing. Our food was absolutely magnificent. And the service here is more than outstanding: if you need more water or coffee, you don't have to search for your waiter. Other wait staff will jump right over to cover, so you never have to wait for anything. They are so attentive and pleasant as well. The portions served are HUGE. And it's all superior quality and delicious. We were also surprised at how reasonably priced everything was. The dining room areas are clean, pleasant, and not noisy. I'm sure other meals at this establishment are also quite special. This breakfast was extremely memorable. Return? In a heartbeat." - Dennis P
"Our sandwiches were very good. I love weck rolls so I couldn't resist the roast beef on weck although it was not the classic weck sandwich. The sandwich was delicious. The sides were good: good fries and the side salad was ok." - levermontois
Source: mcgillins.com
Average review score: 4.1
Couple ratio: 26%
There are plenty of new restaurants and bars around Philadelphia, but the city is steeped in history and if you want a truly authentic Philly experience, one of the best places to be also happens to be one of its oldest establishments: McGillin's Olde Ale House.
McGillin's Olde Ale House first opened in 1860, meaning it has over 150 years of history behind it. It's the oldest continuously operating tavern in Philadelphia, and a trip here is about more than just food and drink. Some terrific brews and meals are served here, but it's the stories in the walls and the unique character of the building itself that really makes McGillin's Olde Ale House so special.
What couples say about McGillin's Olde Ale House
"On a visit to Philadelphia decided to have a Philly Cheesesteak in this historical pub. The atmosphere was lively in really interesting surroundings. The Staff were friendly and engaging. But the best part is the cheesesteak was outstanding. Lean tender beef in a soft bun at a very reasonable price. If I lived in Philadelphia I would be a regular patron of this pub." - Branson, Missouri
"Oktoberfest - Had a great time. Wonderful menu for a pub. Great atmosphere several tv's to watch the game. Excellent waitresses and pumpkin beer the absolute best I've ever had. 5 Stars" - Kaye1977
"Great bar - Really nice atmosphere in this bar and some great beer and cocktail choices - well worth a visit for a drink and whilst we didn't eat, the food smelled good too!" - meryll83
Why McGillin's Olde Ale House is a great date spot
Christopher Mullins, Jr, who co-owns McGillin's with his parents, told us:
"We think more couples have met at McGillin's Olde Ale House, Philadelphia's oldest bar, than anywhere else in the city and maybe the country because of our friendly, casual atmosphere where people can just relax and be themselves, because the tables are close together. There's clearly a touch of mating magic at McGillin's."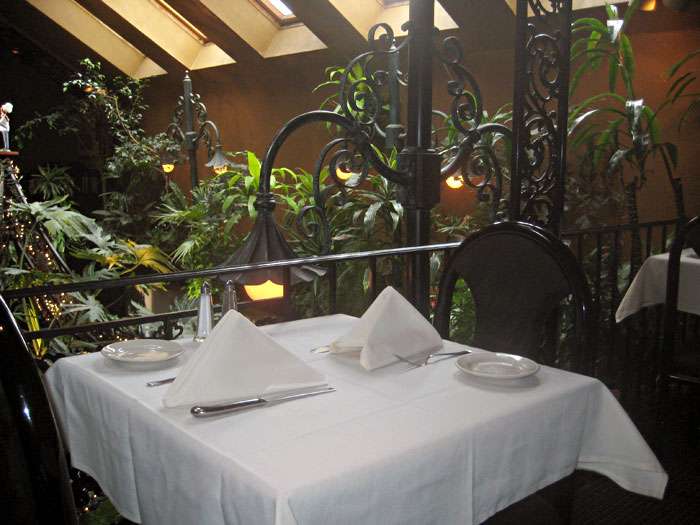 Source: rosetattoocafe.com
Average review score: 4.2
Couple ratio: 26%
Serving up lunch, dinner, and light snacks throughout the day in a cozy, warm, welcoming environment where everyone can feel right at home, the Rose Tattoo Cafe is a small place with a big heart. This multiple award winning restaurant provides a casual, romantic, informal ambiance for diners, with friendly staff and a lovely interior space, with lots of flowers and greenery all around in the cafe's one of a kind 'garden room'. You'll find some world class wines on the menu here, paired perfectly alongside the likes of mussels, fried calamari, BBQ shrimp, and the cafe's signature 'Tattoo Pasta'.
What couples say about Rose Tattoo Cafe
"A Philly Staple. Food was very good. No complaints but no one told us they did not have a liquor license. Restaurant was recently sold. They gave us complimentary wine which was fine but it would have been nice to know ahead of time so we could have brought our own wine. Actually made it nice as it was not full so we didnt have to contend with noise" - Elbroth
"Interesting menu, close to Free Library of Philadelphia My wife and I love the author events at the Free Library of Philadelphia and have enjoyed dinner at The Rose Tatoo, just a block away from the rear entrance of the library." - CaptMakai
"Exceptional cuisine in a unique gorgeous atmosphere. One of my absolute favorite spots in Phila fir the past 15 years! Exceptional cuisine, impeccable service. Gorgeous and unique interior design - you'll feel you're dining in a private garden. Fantastic location - always easy to find parking, 10 minute walk to the Barnes." - soniacali
Source: barclayprime.com
Average review score: 4.6
Couple ratio: 26%
Taking the concept of the classic American steakhouse and bringing into the 21st century with flair, style, and sophistication, Barclay Prime is a world class dining location in the heart of the city offering something totally different to the myriad of other steakhouses in town. With sleek marble surfaces, elegant crystal chandeliers, cozy and comfortable banquettes and all the allure and charm of an old world library, Barclay Prime offers a magical, almost regal setting for diners to escape into. Its meat and seafood options are without parallel in terms of pure quality and freshness, with a winning drinks menu to match.
What couples say about Barclay Prime
"Excellent service, amazing food. From the minute we sat down, our server was professional, friendly and upbeat. She made great recommendations, didn't rush us and was attentive but not overbearing. The popovers were amazing, the sea bass, filet, Caesar salad, Brussels sprouts and su gratin potatoes were all delicious! The chocolate opera cake topped off the evening!" - mlsearles
"Would come here again and again We usually meet friends in the city for dinner around the holidays. Barclay's always make the top of list. We have been here a handful of times and will always come back for the aged steaks, the swanky ambiance and pleasant service...oh and the pop overs!" - TTeeMarie
"Excellent Steakhouse in the heart of Philly. If you are a steak lover, this is the place. This is a top shelf steak house. The service was phenomenal. Their popovers are amazing prior to the meal. Fine cuts of meat and lots of little touches which make the meal. They also have seafood on the menu for non steak eating guests. I particularly liked the waitress giving us a selection of various steak knives to use. That was a first. Well worth a visit for steak lovers." - Gary M
Source: cleaversphilly.com
Average review score: 4.3
Couple ratio: 25%
A great place to follow the Philadelphia Eagles with die-hard fans while also enjoying classic meals, cooked to perfection, Cleavers is one of Philly's top bars and restaurants. It makes some of the finest cheesesteaks in the city, alongside leading ribeye steaks and sandwiches too. Making use of 100% USDA domestic meats and fresh, seasonal, artisanal ingredients throughout, the menu at Cleavers is second to none and the ambiance is always warm, welcoming, and vibrant, especially on game nights. There's even a full Veggie Philly Cheesesteak made with Portobello mushrooms for vegetarians to try.
What couples say about Cleavers
"Have to Get a Philly Cheesesteak. We had heard of other places to get a Philly Cheesesteak, but we chose Cleavers. It was closer to our hotel and had good reviews. We were not disappointed. They were delicious, hot and large. Cleavers is a little more upscale than what we expected. There are many choices on the menu, even which type of roll to have. I highly recommend them." - Ron-Dianne
"Good cheesecakes and beer Of course when in Philadelphia we had to have a cheesesteak sandwich! We did our research, and Cleavers was rated one of the best. We enjoyed a beer (great selection) and the service was excellent. To me, the cheesesteak was a little dry and lacked flavor (a little salt helped). Took half of the sandwich home for dinner the next night!" - surfinginflorida
"Awesome evening - Our hotel recommended this establishment to enjoy the best Philly Cheese steak - this was indeed the case. The bar attendant, Shelby, was friendly, helpful and very efficient. Her recommendation was excellent and the food very tasty. We felt extremely welcome and comfortable talking to local patrons and made new friends." - Rachelle A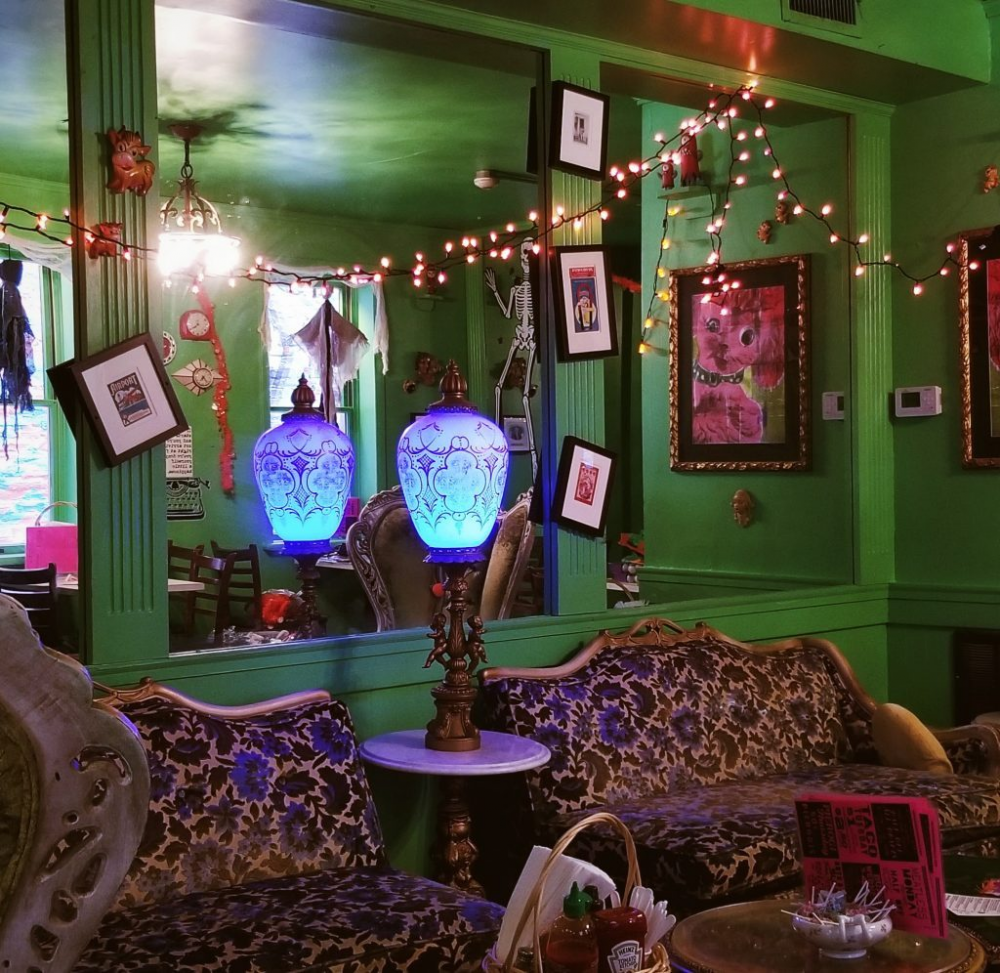 Source: tattooedmomphilly.com
Average review score: 4.4
Couple ratio: 25%
One of the most fun, vibrant, eclectic, and electric hotspots in all of Philadelphia, Tattooed Mom is a colorful gathering place for lunch, dinner, and late night cocktails with your friends. Offering up some creative mixes and local draft beers too, it's a great place to kick back and relax, enjoying the unique atmosphere that surrounds you. As the name implies, the Tattooed Mom has a bit of a punk rock style, with colorful, tattoo-esque imagery greeting you as you enter and filling the bar space. Sandwiches and snacks are the stars of the menu here, with the classic Philly Cheese Steak sandwich being one of the best options and the Parmesan Pepper Fries always popular too.
What couples say about Tattooed Mom
"Awesome place for some cheap eats. We ran across this place accidentally and scored big time. The waitress was awesome and the food was incredible. We were there for taco Tuesday and I ate so much I thought I was gonna pop. Fun atmosphere and people." - Adam E
"When my older brother took me to Tattooed Mom's, I Honestly, wasn't sure what to expect! It definitely looks like many amazing things have happened in this establishment. The bartenders are nice and very knowledgeable, but the upstairs is where the party is they have old amusement rides that you can sit in and will take you back to your childhood is definitely a nice change of scenery because it something out of the ordinary. It would be a really cool date night place, I CANNOT wait to Take My Husband!!" - Monica C.,Palmyra, NJ
"Dollar tacos!This spot is really cool with interesting artwork throughout. Went there for the first time on dollar taco night. Tacos were simple but good, beer is nice and cold, and the service was pretty good even though they were packed. Definitely becoming a favorite spot when in the neighborhood." - ezbert
Why Tattooed Mom is a great date spot
"There's always something going on at Tattooed Mom: drag, comedy, pop-up art shows, free Sunday arts & crafts, people drawing on the walls and tables and floors and ceiling...making it the perfect spot for a first date, a romantic night out, or an anniversary celebration! Share a basket of tater tots, sip on some creative cocktails, and dig into the yummy, veg-friendly menu! Anyone and everyone can find something to do and love at Tattooed Mom!", Sarah Cowell, Engagement Coordinator at Tatooed Mom told Dating Experts.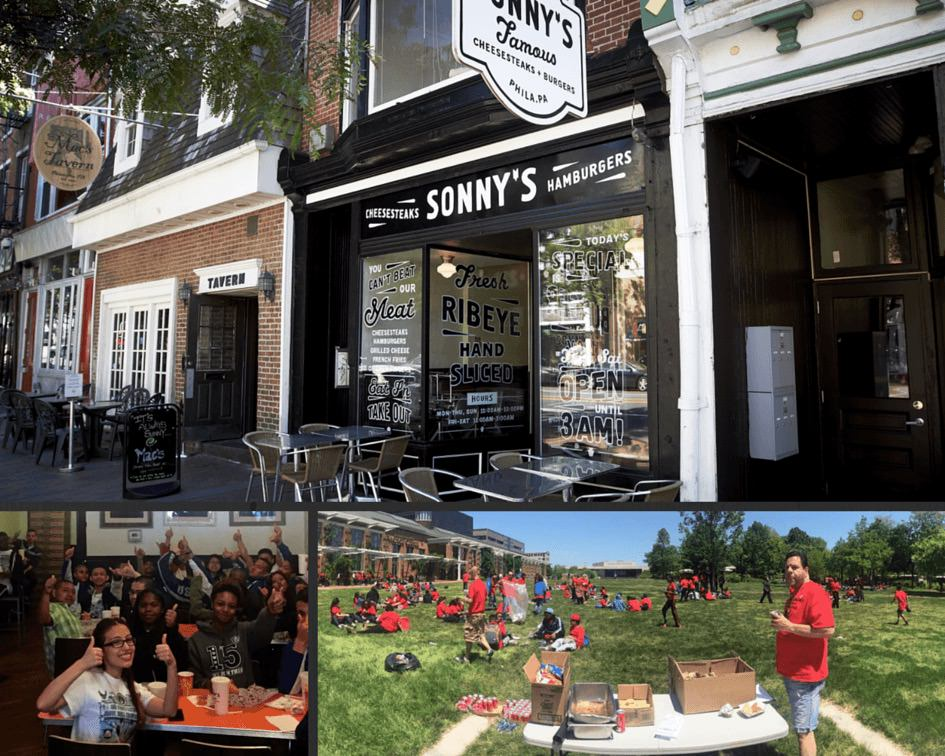 Source: sonnyscheesesteaks.com
Average review score: 4.3
Couple ratio: 25%
In Philadelphia, it's all about steaks, sandwiches, and burgers. You can find some of the best food in the city at Sonny's Famous Steaks, one of the most historic and beloved neighborhood spots just a short walk from the world famous Liberty Bell. Sonny's Famous Steaks has won awards and been featured in major media publications for the quality of its authentic Philly chesesteaks, with each and every one being prepared with love and care to order. Using only the very best ingredients throughout, the Sonny's Famous Steaks menu is filled from top to bottom with delicious delights that keep you coming back for more.
What couples say about Sonny's Famous Steaks
"Excellent Cheesesteaks in the Historic District. There are many excellent places for cheesesteaks in Philadelphia from South Philadelphia to Reading Terminal, but to find such great cheesesteaks in the Historic District was a surprise. They only do chicken or steak cheesesteaks or burgers; your choice of cheese and other toppings. The usual is steak, onion, and cheez whizz. We got there about 2:45 in the afternoon, and amazingly, there was no line at that time. There is a small seating area inside and out. The bread and meat were absolutely delicious. If you aren't sure what you want, the staff is friendly and helpful. I would highly recommend." - jdjay
"Great and cheap - The location is close to historic sites of bell and independence hall. Brilliant food and the staff were great in making sure we ordered the right sandwich for us. May not be a posh restaurant but very clean and enough space for a quick seat. If you want to try a Philly sandwich this is the place to go." - W1797ILjackied
"We were in Philadelphia so wanted to try the local delicacy. We went here and had the classic (with cheese whiz). The staff were friendly and we didn't have to wait to long to try it. When it came it tasted really good!" - alig1020
Why Sonny's Famous Steaks is a great date spot
"The mid-century vibe of our charming little Old City cheesesteak shop is the place to fall in love. Because we're local to Old City bars, clubs, and concert halls, it's a great stop before or after a night out. Also, for the history buffs, we're just a five minute walk from The Liberty Bell, Independence Hall and other historic sites. And the food is to die for! Our cheesesteaks are prepared from ribeye steak that we slice fresh in house every morning. We even have a selection of deluxe grilled cheeses for the vegetarian. Oh, did I mention that we were named "The Best Cheesesteak in Philly" by GQ magazine? I guess I mentioned it now!" - Sonny of Sonny's Famous Steaks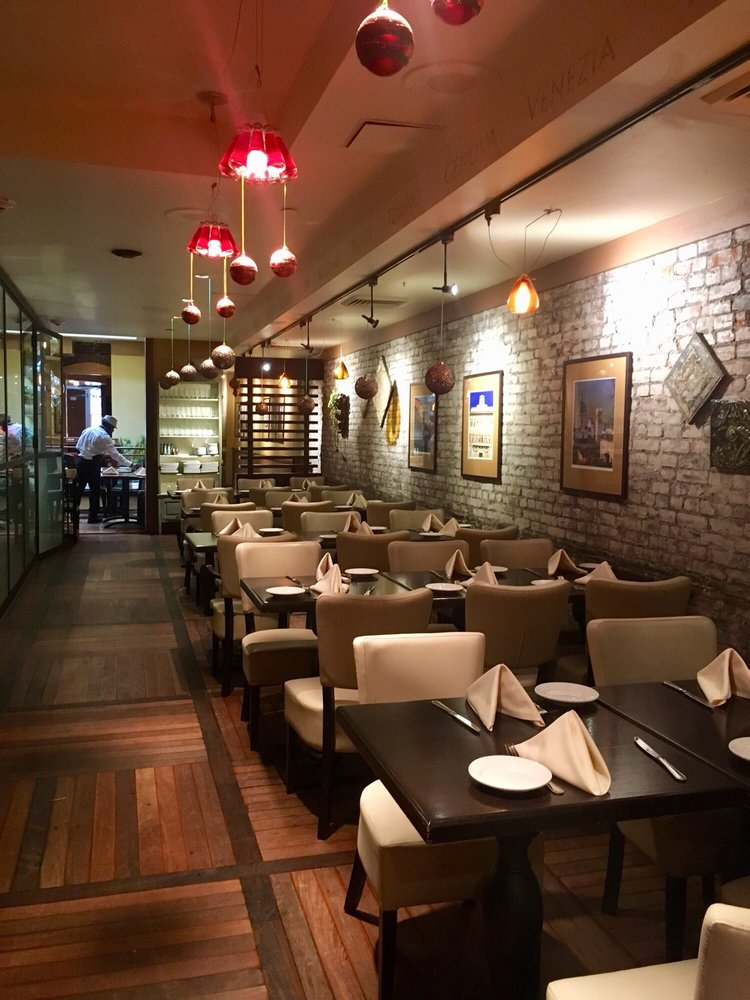 Source: grancaffelaquila.com
Average review score: 4.5
Couple ratio: 25%
A bi-level Italian establishment offering a rich range of drinks, snacks, and meals, Gran Caffe L'Aquila is a super spot for those who love the flavors and passion of Italy. The atmosphere is always lively, the food is always fantastic, and the memories are always magical, any time you stop by. Regular events and workshops are held here throughout the year, so there's always something to look forward to at Gran Caffe L'Aquila. As for the menu, you'll find everything from fresh, homemade gelato to classic Italian coffees and house-cured meats served beside fine wines.
What couples say about Gran Caffe L'Aquila
"Try the olive oil tasting - Before having a delicious caprese panini for lunch with a side salad, we did an olive oil tasting appetizer. Beautifully presented with tiny black olives and slices of bread. Nice appetizer and lesson on olive oil coming from different parts of Italy! You can purchase your favorite as well!" - LynneN1600
"Bella Italia - Many times in Philly, first time here. Truly a wonderful find. Everything from the food, the gelato, the service, was authentic and wonderful.A hidden gem! We happened here during restaurant week but will return anytime. Took home their wonderful coffee and olive oil as well." - msnanalou
"Had the duck here, arguably the best I have ever eaten over 40 years of having it. Service was great, the gelato to die for it was a memorial dinner" - Mike S
Why Gran Caffe L'Aquila is a great date spot
"Italian food, wine and culture is synonymous with Romance. Philadelphia daters looking to tap into the authentic that Italian Romance vibe do it at Gran Caffe L'Aquila. Its a made in Italy reproduction of the original that was destroyed in an earthquake in 2009 featuring Italian gelato Chef Champion Stefano and award winning Italian restauranteur Riccardo Longo. The entire project was designed and built in Italy, the menu highlights a different city of Italy each week, and threre is even a Romeo & Juliet balcony table for those extra special dates" - Owner Riccardo Longo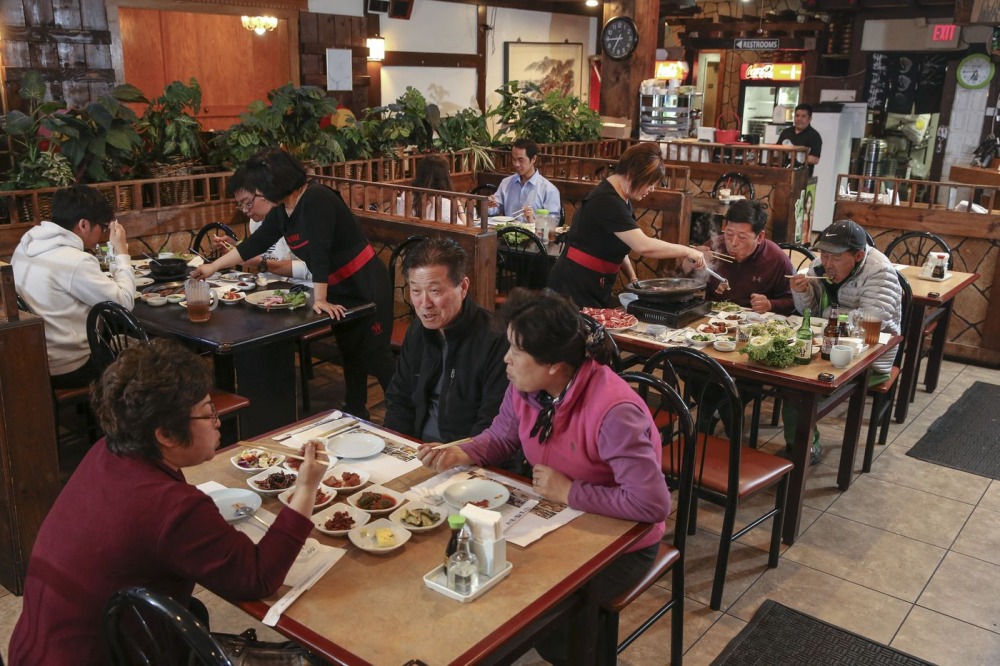 Source: philadelphiakoreanrestaurant.com
Average review score: 4.1
Couple ratio: 24%
Let your tastebuds be tantalized and your senses pleasantly surprised by the rich flavors, sensational aromas, stunning service, and unbeatable atmosphere of Seorabol, one of the very best Korean eateries in all of Philadelphia.
With very attractive prices, courteous staff members, and a menu replete with brilliant flavors and classic Korean BBQ delights, Seorabol Korean Restaurant really has it all. It's hugely popular with the locals and draws in many out of town visitors too, with the menu's seafood pajun, kimchi, kalbi, and samgyupsal being some of the best selections.
What couples say about Seorabol Korean Restaurant
"Authentic Korean, big portions, large menu selection - This is an amazing comfy place up in the NE Olney area of Philly. It's definitely in a shady area, but don't let that deter you - the food is actually really great and you won't be paying center-city prices. The waitstaff and kitchen are Korean and you'll see a lot of Korean families eating here as well... always a good sign. However, be prepared for a bit of communication struggle... but still, it's worth it.
The menu is extensive, and I've been there several times and have had the opportunity to try quite a bit. The potstickers and Panjeon are good but nothing to write home about - the BBQ, hotpot and stews are amazing though with an ample portion. It's actually great to go as a larger (4+) group here for a communal meal.
The banchan is also great - they serve quite a good variety and rotate the selections frequently." - Scott E
"Lovely Korean restaurant - My husband and I had a great time at Seorabol. The food is delicious and the staff is very friendly. I highly recommend this restaurant !" - Kh_l03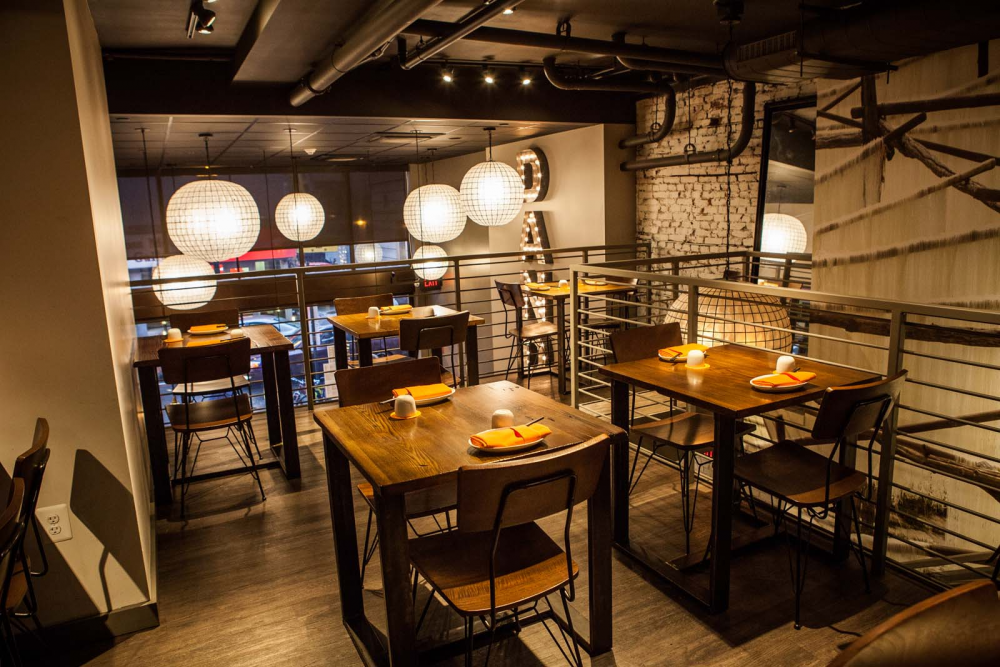 Source: dandanrestaurant.com
Average review score: 4.3
Couple ratio: 22%
For Asian fusion sensations in the heart of Philadelphia, be sure to stop by the Dan Dan Sichuan and Taiwanese restaurant. Bringing all the flavor of southwest China to the lively cultural hub of Rittenhouse Square, this restaurant opens for lunch and dinner each day. Each and every dish on the Dan Dan menu is filled with flavor, paying homage to the restaurant's Chinese and Taiwanese roots while also bringing some local flair and fire into each recipe. A range of gluten-free and vegetarian options fill out the menu, with Dan Dan also making some of the best cocktails in the city.
What couples say about Dan Dan
"Excellent - Excellent food in a good young atmosphere. Very good quality and value. Very central. We went three times in three days. Everything we tried was of the same quality" - Timbury
"Date Night Place - Great place for a date night. We got a few small plates and a large plate to split. Decent dan dan noodles and delicious brussel sprouts. Dry pot beef had good flavors. Definitely enough food for 2 people, we even took some of the dan dan home. A bit pricey and service was kind of slow." - camosami
"For a restaurant that has such chic environment, I was not expecting the prices to be so reasonable. It was similar to getting the same items in chinatown! I got the szechuan beef noodle and it was wonderful, I probably wouldve enjoyed it more if it was more spicy but it was still very flavorful. The portion was also just right so I was so satisfied when I finished my food." - Meghan O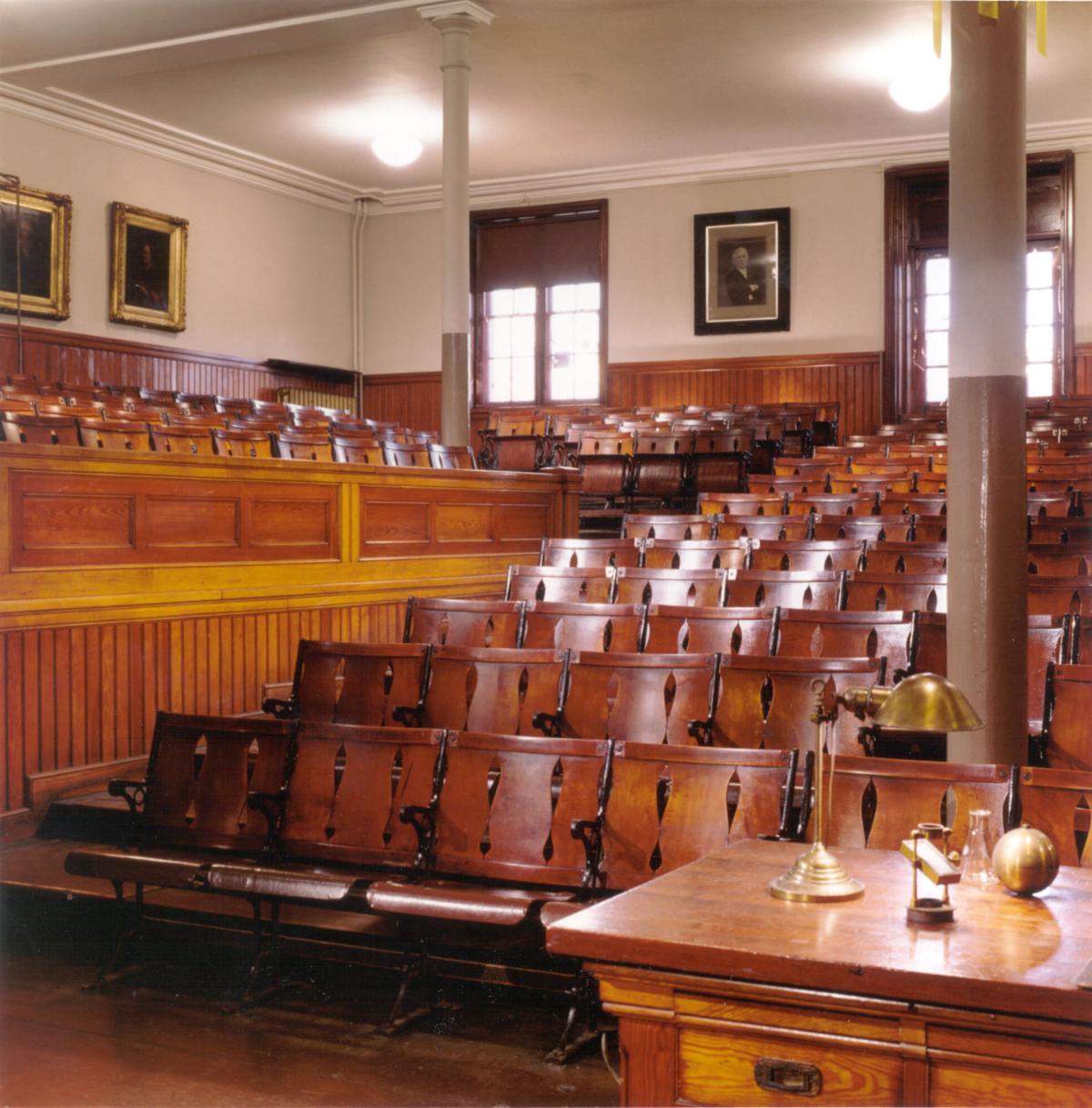 Source: wagnerfreeinstitute.org
Average review score: 4.7
Couple ratio: 22%
One of the many museums all around Philadelphia, the Wagner Free Institute of Science speicalizes in natural history and has a huge amount of history behind it too. It was founded back in 1855, being one of the oldest museums and research centers in the whole city. A National Historic Landmark, the Wagner Free Institute of Science holds the collection of its namesake and founder, William Wagner, while also featuring an extensive library and hosting plenty of entertaining and educational events throughout the year. It's a must-visit location in Philly for natural history enthusiasts.
What couples say about Wagner Free Institute of Science
"Great for natural history geeks like us! Wow, what a great place!The collections are meticulously organized and maintained with species and organisms from all over the world. If you're interested in natural history, earth science, or biology, this is definitely a place to see. And it's free!" - katosaurx
"Unlike anything I've ever seen This is a perfectly preserved snapshot into the realm of science in the 1800s. Fossils, minerals, taxidermy, and more! A perfect museum for the science lover, and has such an authentic feel. It is FREE but donations are accepted. Easy access to metro, I spent 1.5 hours happily. Please respect the space." - Cris W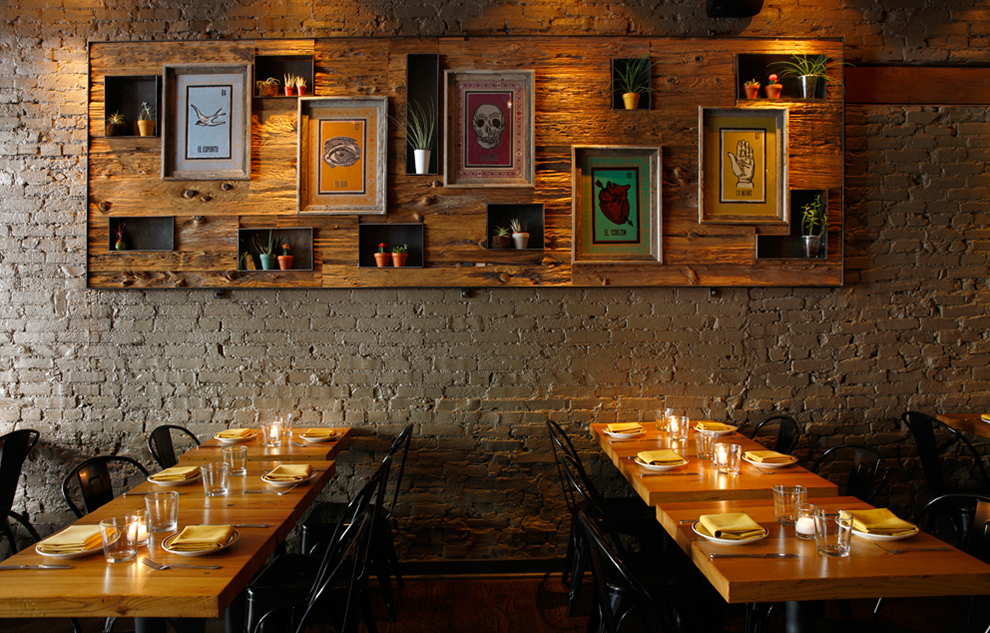 Source: lolitaphilly.com
Average review score: 4.3
Couple ratio: 22%
A cozy and intimate bar with a colorful aesthetic and unique senee of style, Lolita is a beloved hangout for locals and holds a lot of appeal for visitors to the big city too, with a wide array of tasty cocktails and fine spirits behind the bar. On the menu, Lolita offers up sublime Mexican dishes, specializing in street-food style fare with space for up to 45 seated guests indoors and additional tables outside, plus a 16-seater bar with views into the open kitchen, where you can watch Lolita's talented culinary team hard at work on their next delicious dish.
What couples say about Lolita
"Great food and bar - Great tacos and mango salsa. A busy place but the bar area has high turnover. Great cocktails and great tacos" - tuitai
"Great meal in a fun atmosphere - Lolita is what I would call updated ethnic and it works so well. You won't be getting the local Mexican fare you may be used to at Lolita but you will be getting is a finely constructed meal that looks great and tastes even better. The chips are fantastic and they may have the best guacamole I've ever tasted. The only downside I could find is the noise level but ultimately that's not the fault of the restaurant but more-so the patrons who are obviously enjoying their experience." - wccope
"Outstanding, fun place. Outdoor seating on a lively street. Great Mojito and white sangria. Definitely order the mango guacamole! Crispy fish tacos were delicious. Friendly, attentive service." - Lisa S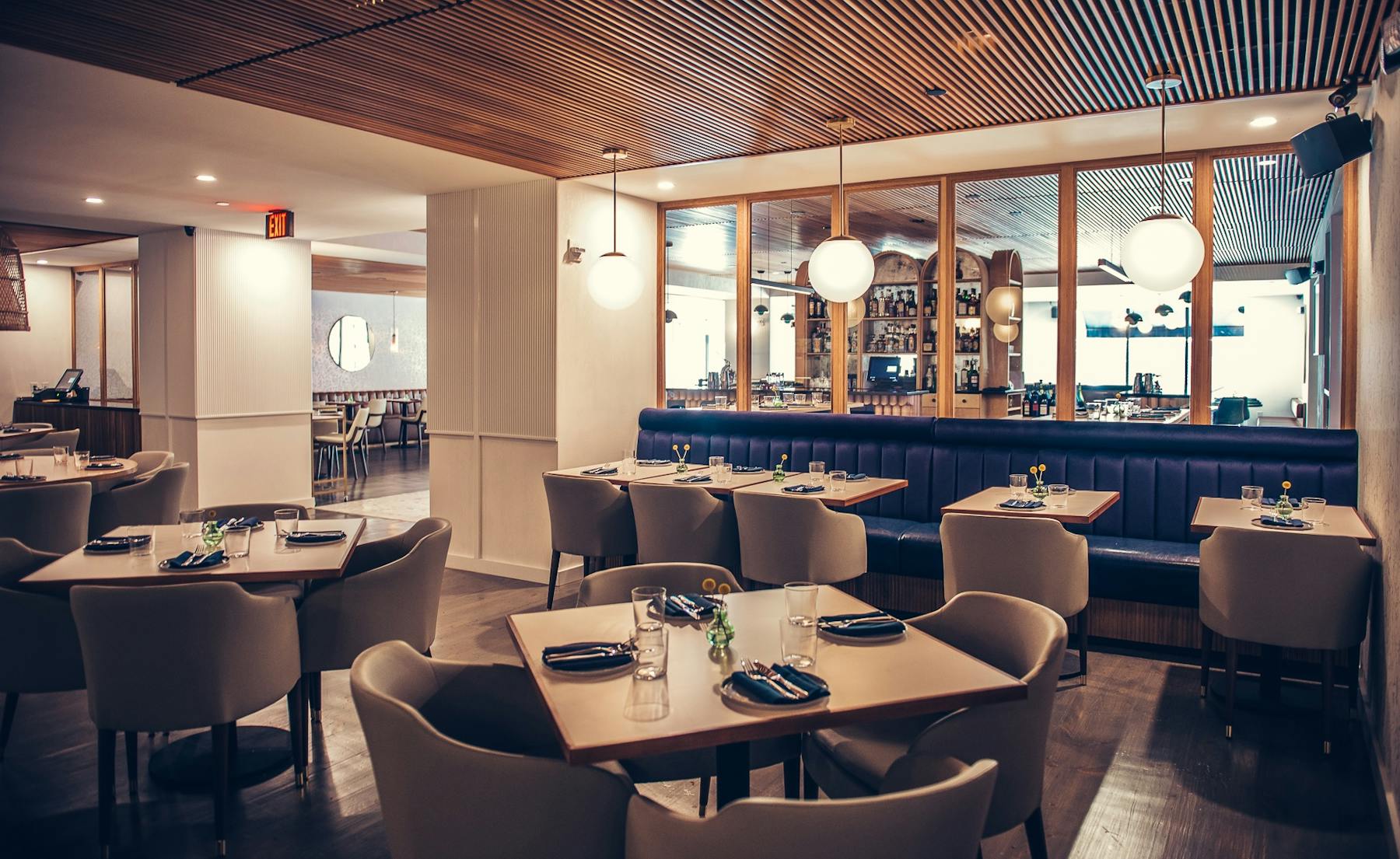 Source: spicefinchphilly.com
Average review score: 4.5
Couple ratio: 22%
There are plenty of Mediterranean bars and restaurants around Philadelphia, with Spice Finch standing head and shoulders above the crowd as one of the very best. Diners can enjoy a light and airy space at this popular inner city hangout, with cozy chairs and ambient lighting throughout. The menu here brings Mediterranean classics to the big city, with traditional recipes given unique flairs and magical makeovers. Rich herbs, bold spices, fresh vegetables, and powerful flavors dominate each dish, with a wide array of quality spirits and fine wines completing the experience.
What couples say about Spice Finch
"Great! We had dinner here on Saturday and it was great. The food and the service went beyond our expectations." - Brian D
"Wonderful Dessert and Nightcap - My husband and I split the Lemon Cardamom Roll for dessert with a side of berry sorbet, it was delicious, the perfect blend of whipped cream strawberry, rhubarb, subtle lemon and some basil tossed in for good measure. I had an Amaretto on the rocks and my husband had a Teeling Whiskey on the rocks- servers were fast and professional- atmosphere pleasant... drinks generous and I loved the huge ice cube..." - ok12345
"The food, drinks, and service are all great. And the ambiance is also wonderful. All around this makes for a fantastic evening. The cauliflower dish was amazing! Who knew cauliflower could be so delicious." - PhillyBirder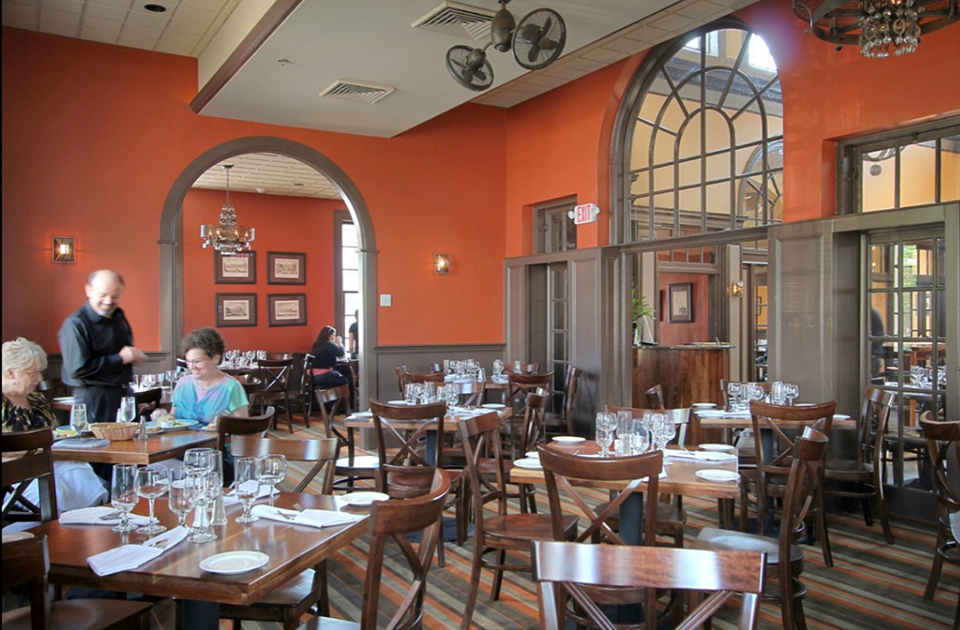 Source: spassoitaliangrill.com
Average review score: 4.3
Couple ratio: 20%
With fair prices and amazing food, Spasso Italian Grill has it all. It's one of the top spots in the big city for Italian dining, offering both indoor and outdoor seating to suit the weather and mood throughout the year. At Spasso Italian Grill, the atmosphere is friendly and casual, with a laid-back vibe that allows diners to feel right at home. Top quality pasta dishes fill the menu here, with the culinary team hard at work cooking up an array of fine seafood and meat options too. Spasso also makes some world class Italian desserts, so diners should be sure to save room for a sweet treat.
What couples say about Spasso Italian Grill
"Spasso on a Tues night. Excellent food and service. We started off with the Arugula and Pear Salad. I had the Zuppa Di Pesce and my husband had the Ravioli Quattro Formaggi. The drinks were really good as well. The waiter was friendly and polite. Would love to go again. It was a Tuesnight and it was full. It can be a little loud for some reason - maybe due to the acoustics from low ceiling. Not a complaint, just an observation." - Jamie D
"Good Food in a super restaurant - Our family group has visited Philadelphia several times, and during each of our visits we've paid a visit to Spasso's, an Italian restaurant located at 34 South Front Street in that part of the city they call the "old town," If you like authentic Italian food - and who doesn't - well this might just be the place for you to try. You won't be disappointed! The restaurant is usually busy, and the reason for that is the quality of the food, and the portions offered. If you like sea food, or for that matter any of the pasta dishes on the menu, you will leave happy. We always get the Linguine and the Mussels in red sauce. Be prepared because they will certainly give you portions big enough to satisfy both the big eaters in your party as well as enough food for those with smaller appetites who wish to share their meal. Spasso's has a lively and fun atmosphere coupled with a super wait staff, so have fun with both the surroundings and the food. I almost forgot to mention that Spasso's offers reasonable prices, we loved it! Lou" - memories1957
"Great italian food. Sauce had a little bit of spice for the veal parm. Server did a good job, even though towards the end got busy and wasnt paying us much mind after that." - I5483LQalis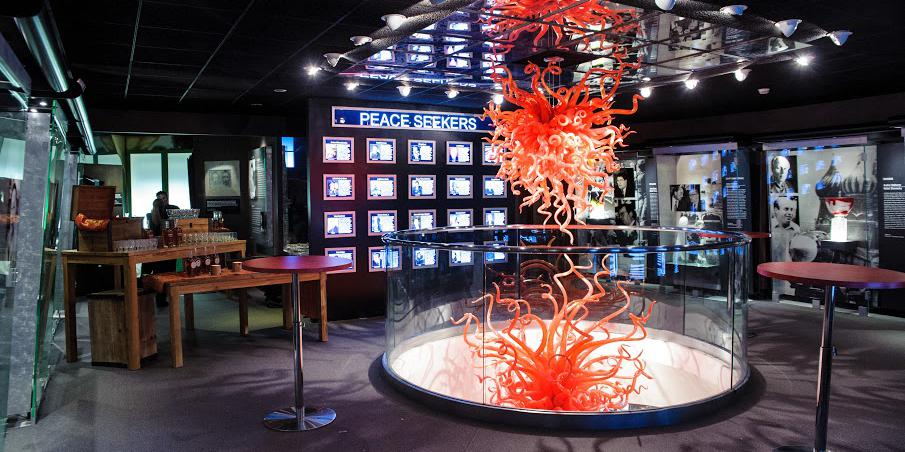 Source: libertymuseum.org
Average review score: 4.3
Couple ratio: 20%
Found at Chestnut Street in the heart of the city, the National Liberty Museum has been one of Philly's most popular and beloved museums since it opened back in 2000. An independent learning and education center, the National Liberty Museum shines the spotlight on America's heritage of freedom. Its most famous and unmissable features include the 21-foot-tall Flame of Liberty sculpture by Dale Chihuly, the Voyage to Liberty gallery filled with stories and artefacts themed around the concept of freedom, and the Heroes of 9/11 Memorial, harkening back to the heroic men and women who played a key role in one of the darkest days of the nation's past.
What couples say about National Liberty Museum
". . . we were extremely impressed, and clearly moved by the in depth sincerity of the entire message of this museum . . . the staff was engaging and professional, especially Miss Tessa . . . we will not forget the lessons we learned . . ." - JohnandMair
"This is a nice museum with a moving tribute to the 9/11 heros. Both my husband and I felt emotional viewing this. The museum is four floors. It was more interesting than I expected, especially the third floor. I highly recommend." - Carmella V., Southampton, PA
"As a fan of the glass works of Dale Chihuly, I came to this museum specifically to see the beautiful, interactive, two story Flame of Liberty, and it was as awesome as I expected! But this museum was so much more. Beginning on the top floor and meandering around and down, visitors are reminded of the struggle for liberty through the generations of our country's existence with very thought provoking exhibits. Plan two hours and take the time to read the exhibits and watch the short videos. The AAA discount brought the cost down to $5, though it is well worth the original $11 price!" - RoseannB273, Jeffersonville, New York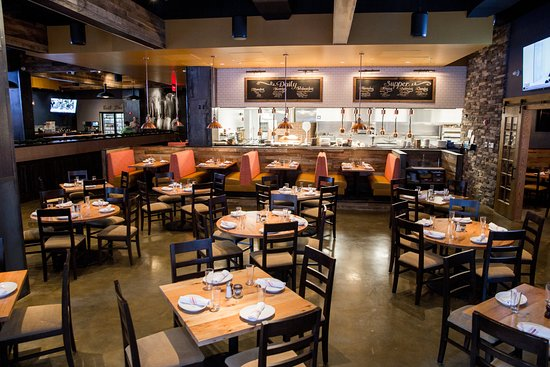 Source: citytap.com
Average review score: 4.1
Couple ratio: 20%
Part of a chain with several locations around Philadelphia and beyond, City Tap House is all about the craft. This means that there's a huge focus here on doing everything by hand, offering exclusive draft and craft beers and fine dining too.
You'll find a range of classic, regional fare here, expertly cooked and exceptionally presented, with a menu that looks and sounds just as good as it tastes. Everything at City Tap House is prepared with love and passion, and the staff's commitment to quality shines through in every bite and sip.
What couples say about City Tap House
"Just what a tap house should be! Great food, great atmosphere, great beer list. And this is a great place to hang with your friends. go!" - kbraidi
"Needed a bite to eat prior to the fireworks at the Art Museum. Heard of City Tap House, decided this would be a good stop tonight. Great atmosphere large beer list. And full bar of libations to choose from. The wife had her usual Malibu bay breeze and I tried one of the specialty drink the Honeysuckle Mule, I could have drank this all night, very nice for a hot day. The simple salad was good, the Pancho mussels are very good ( save the spicy bread for the end and get all of the good stuff at the bottom of the bowl) and the service was excellent they all work together. Who ever was choosing the music being played they get A 5review!!" - dougf953
"Good food/service. We stopped in for dinner after a day of touring. Nice atmosphere. Enjoyed cocktails. We tried the pizza which was thin crust and delicious. We split a pizza and each had a salad. It was a filling meal. Server was helpful, efficient and cheerful." - iowakar