The 33 Top Dating Spots in Phoenix, According to Couples
With scenic desert panoramas, breathtaking mountains, a sizzling climate and delicious Southern cuisine, Phoenix isn't just the one of the hottest cities in the U.S., it's also one of the best for dating. In this article we look at the 33 top Phoenix dating spots in the words of real couples.
Looking across the ratings and dater reviews on major platforms - as well as at the ratio of reviews left by couples vs. non-couples - we were able to gain some real insight from actual daters going to these special spots. Let's take a look at the rankings.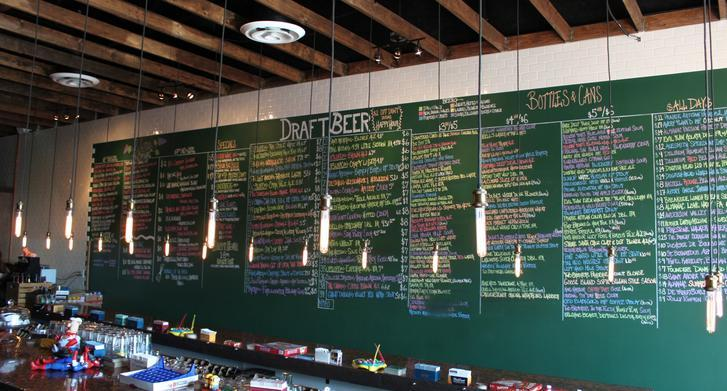 Source: The Whining Pig-Phoenix
Average review score: 4
Couple ratio: 45%
If you're ever looking for a friendly neighborhood restaurant, check out The Whining Pig in Phoenix, Arizona. The popular bar not only features a year-round rotating wine and crafted beer collection, but is home to one of the longest happy hours in the Southwest. With over six locations in the city and extended weekend hours, the busy bar is Phoenix's best kept secret for a good time well into the twilight. Communal-style seating and several crafted beer taps also offers an inviting environment from after-work drinks to a last minute date night. This local pub is a surefire way to escape the heat on any day of week.
What couples say about The Whining Pig-Phoenix
"We found this bar by accident when visiting the Whining Pig bar at desert ridge. You go through the main bar and then hidden at the end of a corridor is the Pigtails cocktail bar, it's designed to be like a Speak easy bar from the prohibition. It mainly serves cocktails, well drinks and a few beers. They also serve snacks, great place to take friends for a pre dinner drink and the quirky hidden exit at the end is fab! I would definitely recommend this bar."811cazzied
"To say this is a hidden gem would be an understatement. It is not well signed so it is hard to find. One key is that is is down a set of stairs across from Dave and Busters. There are also two parts to this place - one is a wine and beer area - lots of games, benches outside and a great selection of taps and cans in the beer. There is also a craft cocktail area that you have to work hard to find in a room down a hallway. They are trying to present it as a speakeasy thus the hidden nature. It is worth the hunt. Comfortable room and a great selection of unique cocktails. We had a Caliote which had Black pepper infused vodka, Ancho Reyes, elote, pepper, lemon and Hellfire bitters. They also make their own version of Tajin white was excellent. I had an Old Fasion that was perfect. Would go back when we are in town and try the beer selection. They have food but we did not look at the menu."danhN2563OF
"This place was really close to both baseball and basketball stadiums. It is a low key spot but has a ton of beer selections from multiple states, good wine, and even girly type beers for the misses. Good prices and good customer service. Defiantly make this a stop before a game!"2dustint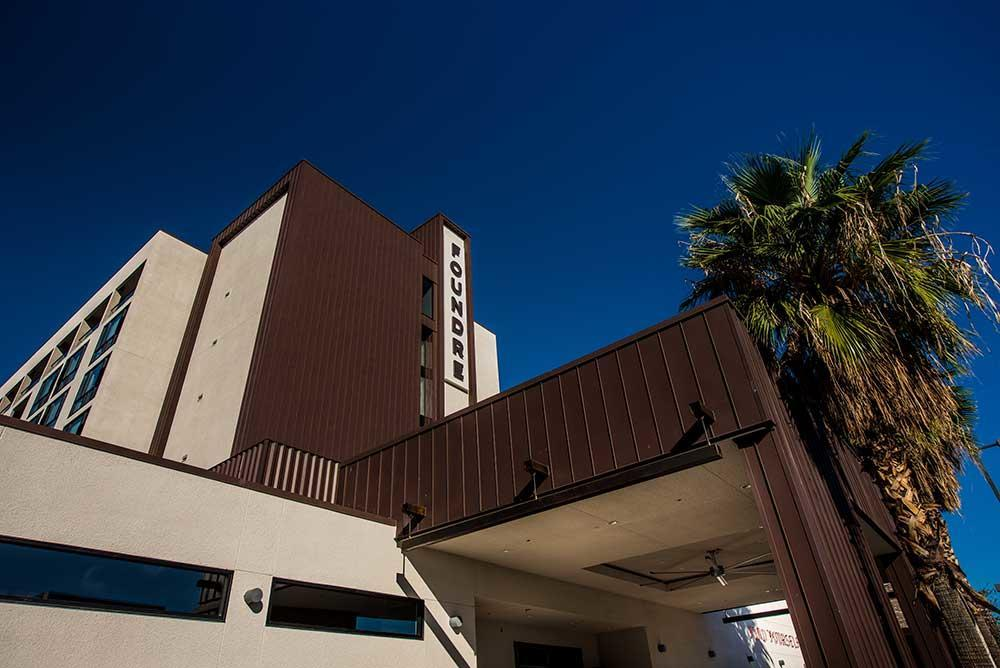 Source: FOUND:RE Phoenix
Average review score: 4
Couple ratio: 50%
From luxurious amenities to stunning local artwork, FOUND:RE Phoenix is home to one of Arizona's most hospitable of hideaways. Featuring a homegrown rustic designed interior, the inspired facilities also dons paintings from hometown talent. This may be why visitors and romantics alike feel right at home as its custom fixtures and furnishings in its guest rooms can't be found anywhere else. Local award-winning recipes also contribute to the ambiance as the menu in their iconic MATCH Restaurant & Lounge creates quite the memory. Many have best described this local experience as a quick-bite-to-eat turned weekend-long rendezvous, as the most planned of spirits can't stay away from its inviting atmosphere. It's a must for any couple looking for a spontaneous weekend getaway.
What couples say about FOUND:RE Phoenix
"My husband and I came here for a staycation for our anniversary. The hotel is amazing and the staff is so friendly! The artwork around the establishment is so interesting and the rooms are beautiful! We had a relaxing time at the pool and loved how it was close to everything downtown. We can't wait to go back!" CorriM21
"We enjoyed our stay at this boutique type hotel in downtown Phoenix. When we arrived, our room wasn't ready but Michel checked us in, kept our luggage and gave us two vouchers for cocktails at the Match bar. While we were enjoying the craft cocktails, Michel brought us our room keys and told us our luggage was already in our room. Enjoyed the art from local artists displayed around the hotel. Very cool. Michel even took our photo in front of the giant Bert Reynolds portrait. You have to see it to believe it!" Maria M
"My favorite part of this hotel experience is the ambiance. With the woods and shades of blue and gray, the style of the hotel is very modern and clean. The service was great and the people were friendly. Parking sucks, so if you manage to find a good spot, just never leave your room again or call a rideshare company. This is a downtown property so some parking limitations should be expected. Overall, great choice. You won't be disappointed"DaVonnatheLady

Source: Martin Auto Museum
Average review score: 4
Couple ratio: 36%
Although not the most popular destination in Phoenix, the Martin Auto Museum is local favorite due to its ambitious collection of vintage vehicles alone. From an 1886 Benz Patent-Motorwagen to convertibles owned by Al Capone, the museum's charming exhibits and throwback themes can be the date scene you've been searching for. The museum also provides guided tours when you call in advance and best of all - admission is free. It's the classic destination for timeless hearts looking for a good time as you literally take a walk down memory lane.
What couples say about Martin Auto Museum
"We have visited Phoenix several times, and just happened to notice the night lights for Martin Auto Museum while passing on RT 17. We came back and spent 2-3 hours here. It is a small location; they have 60+ vehicles with about 40 on display. Mostly newer, power machines with several custom jobs that are really spectacular. Several old cars; a few farm tractors; and a carousel. This is a private collection; no charge but a donation requested."Jack K
"We found this museum by accident, we have been in Phoenix many times and did not know it was there. The cars are in beautiful condition and the docent was very knowledgeable of all the cars he described to us. Some were impressive by their previous ownership, including a 1933 Buick Limousine owned by Queen Wilhemma of the Netherlands. Others were unique in their history, like the 1917 Douglas Dump Truck, used in mining Onyx in Arizona. Many other interesting items, lots of vintage neon signs, pictures and other memorabilia. Bring you camera! It takes a couple of hours to fully appreciate what is in the museum. $10.00 donation."Elaine S
"It's a cool museum that is interactive. I enjoyed opening doors and getting in the cars. Wife and I spent almost 2 hours in here checking out all the exhibits. It cost nothing to enter the museum."Chris C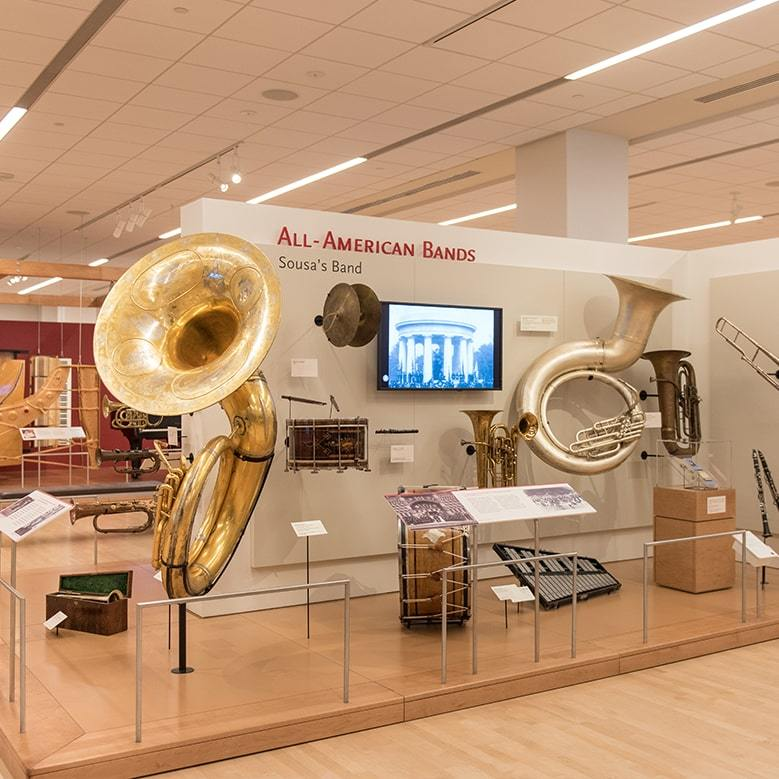 Source: Musical Instrument Museum
Average review score: 4
Couple ratio: 32%
Have you ever been to a museum that featured over 7000 instruments from over 200 countries worldwide? Most haven't. But lucky enough, Phoenix is home to the Musical Instrument Museum - the world's only global musical instrument instrument. While the venue boasts an impressive assortment of instruments, its world-class exhibits are the best sale for any music admirer. Previous exhibits include origins of a violin maker, women Rock N' Roll legends, and the invention of the electric guitar. This makes an afternoon at MIM the consummate date spot for anyone trying to strike the perfect note with a music lover.
What couples say about Musical Instrument Museum
"We attended a concert here and really loved it, great acoustics. We decided to go back and tour the museum and it was awesome! So much there to see, well worth the $20 admission price.deneeche
"We loved this place! I feel like anyone of all ages would be entertained. We did the self-guided tour with the headphones and it was so fancy. We would totally go again if we had guests visiting.ninnygold
"We attended a jazz concert featuring the Rebirth Brass Band from New Orleans. Thanks to the concert hall having the best acoustics in USA, we could clearly hear the lyrics sung over the brass instruments music. Hats off to the tuba player! We love this theatre and the museum. It feels the "right" thing to do to be part of the MIM's program.The cafe serves great home style lunches and there's a bar for pre concert drinks. The donated Steinway pianos in the foyers are very anyone to play" Barbara H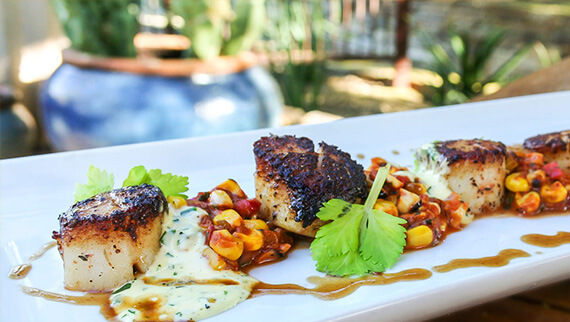 Source: Desert Botanical Garden
Average review score: 4
Couple ratio: 33%
If seeking an escape from the Arizona heat, the Desert Botanical Garden tops many local lists for its scenic settings available for nature lovers. From bird watching exhibits to lush plant presentations, discovery awaits at every turn as families and couples alike visit this one-of-a-kind botanical facility year round. The gardens are also home to one of the largest cactus preservation centers in the world and features animals as well. So if you want to take a simple stroll on their popular garden tour or elect to venture off to meet some exotic creatures, this charming oasis is perfect for casual adventurers anywhere.
What couples say about Desert Botanical Garden
"We were encouraged to visit the Desert Botanical Gardens on a recent trip to Phoenix. It was a nice way to spend an afternoon. We especially loved the Butterfly Exhibit. We had 3000 butterflies swirling and flitting all around us. We also enjoyed the Cracking Art exhibit with colorful plastic animals - we had great fun searching them out among the cacti and other desert landscape. To be honest, we were glad both exhibits were onsite during our visit as we both agreed that viewing the desert gardens seemed a bit boring and monotonous on their own. Perhaps if we had gone on a guided tour we'd have felt differently but it was hard for us to get excited about the many different varieties of cacti and desert bloomers" MissMoorea
"Wow. The park is well laid out and organized. You get a map which clearly outlines the type of plants in each loop. Signs and information pics are provided to assist in explaining what you are looking. A nice cafe is available in the back of the park to take a breather. Butterfly pavilion was awesome. They even landed on you if you we still enough. Customer service was excellent. For example, they provided free umbrellas to guests who were standing in line baking in the hot Phoenix Sun. A lot of folks say it was expensive buy i disagree. Considering all the stuff that is there, it was well worth the price. If price is an issue, go during the monthly free day. This is a must see attraction in Phoenix." Cowboysrule931
"I'm so glad we made the effort to visit the Desert Botanical Garden before we flew home from Phoenix later that day. This is a really interesting garden with plants from deserts around the world. The cacti are amazing!"Welshwalks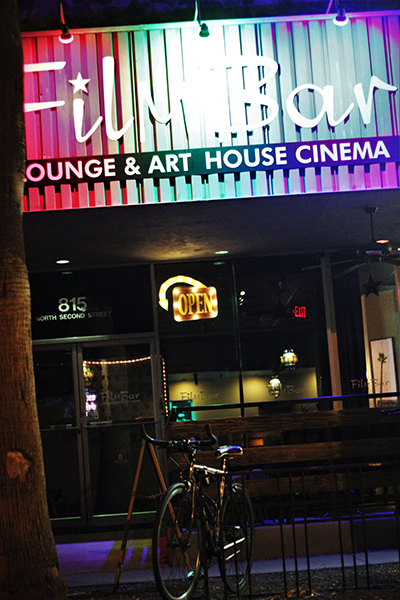 Source: FilmBar
Average review score: 4
Couple ratio: 46%
Calling all movie lovers, the FilmBar is Phoenix's trendy arthouse theater that features indies, retro flicks, and foreign film. The FilmBar is also unique in its preservation of creating a classic cinematic experience for all its movie goers. It also hosts nightly events and sells craft beers, wine, and tamales - which aren't typically found at the bigger theaters in the area. So it may be good idea to see what the FilmBar has coming up on its screening schedule, as a romantic favorite may be playing soon for you to swoon over with your significant other.
What couples say about FilmBar
"Visited to see a movie on New Zealand-Action and a wine tasting by Sam Pillsbury who was the director of the film: Crooked Earth. Neat location, parking, bar and food. theatre old, seats not the best, but the experience was very good."michaelbkolsky
"Small theater that fits close to 70 people. They show old and new indie films. Small bar out front with beer on tap and popcorn & tamales to eat. Located in a fun artsy zone of downtown PHX.'NoMadsen
"I bought a coupon thru living social for two tickets to see a movie and a bottle of wine and all I can say is that now I check the living social website hoping to find another coupon! We watched Blancanieves, a black and white silent movie, and we loved it! They show old movies (I'm planning to go there to watch the three amigos in a few days!) and foreign movies. Give it a try, is really great!"JadeSoul18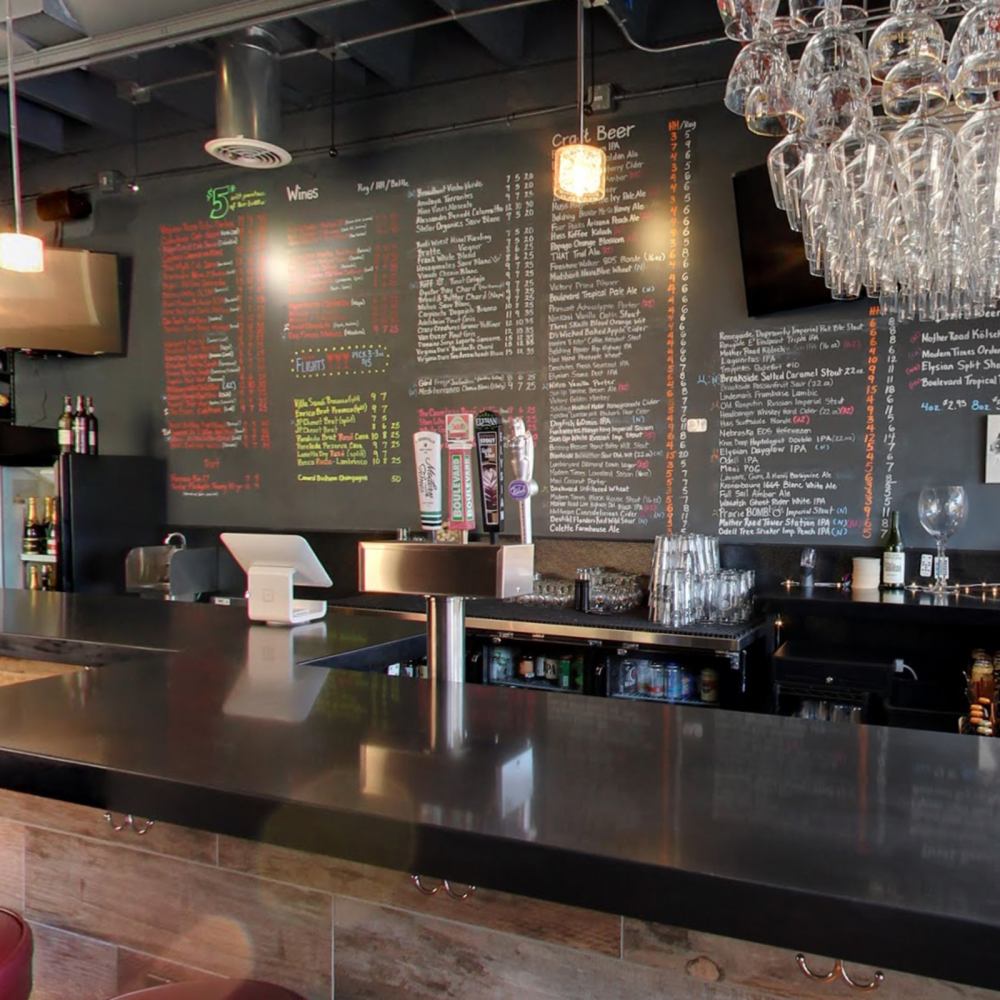 Source: The Onyx
Average review score: 4
Couple ratio: 37%
Have you ever wanted to explore a hidden underground speakeasy? Well you won't have to look further than downtown Phoenix's The Onyx. This local lounge not only provides a secluded and intimate environment for you and your significant other, but they also host events. From short film festivals to wine tastings, this neighborhood hot spot goes all out in wooing its guest with its ambiance. The neon signs and jazz music offerings alone can entice any old soul searching for a new locale not from this time period. Just be sure to reserve a spot for The Onyx as soon as you can as they do go quickly.
What couples say about The Onyx
"We enjoyed sitting in the heated area on the patio, and found the food delicious ! We shared a mushroom flatbread, and wine, and the roasted vegetables that we got with our entrees was so delicious and with unexpected parsnips and chanterelle mushrooms along with the usual veggies. Definitely a great meal!"429annt
"No matter if you're stopping by for a cocktail before dinner or just to pass time. This bar is both accommodating and well stocked, they even have a few Japanese whiskeys. The bartender is both friendly and engaging, drinks are cold and inventive too"Laratron2k
"Stopped by Onyx for a drink before dinner. The setting is incomparable, with a truly beautiful view and many comfortable spots from which to appreciate it! Service was friendly and thoughtful (even offering a refill of the addictive housemade cheddar chips that came with our drinks). A nice place to spend some time."MaryL491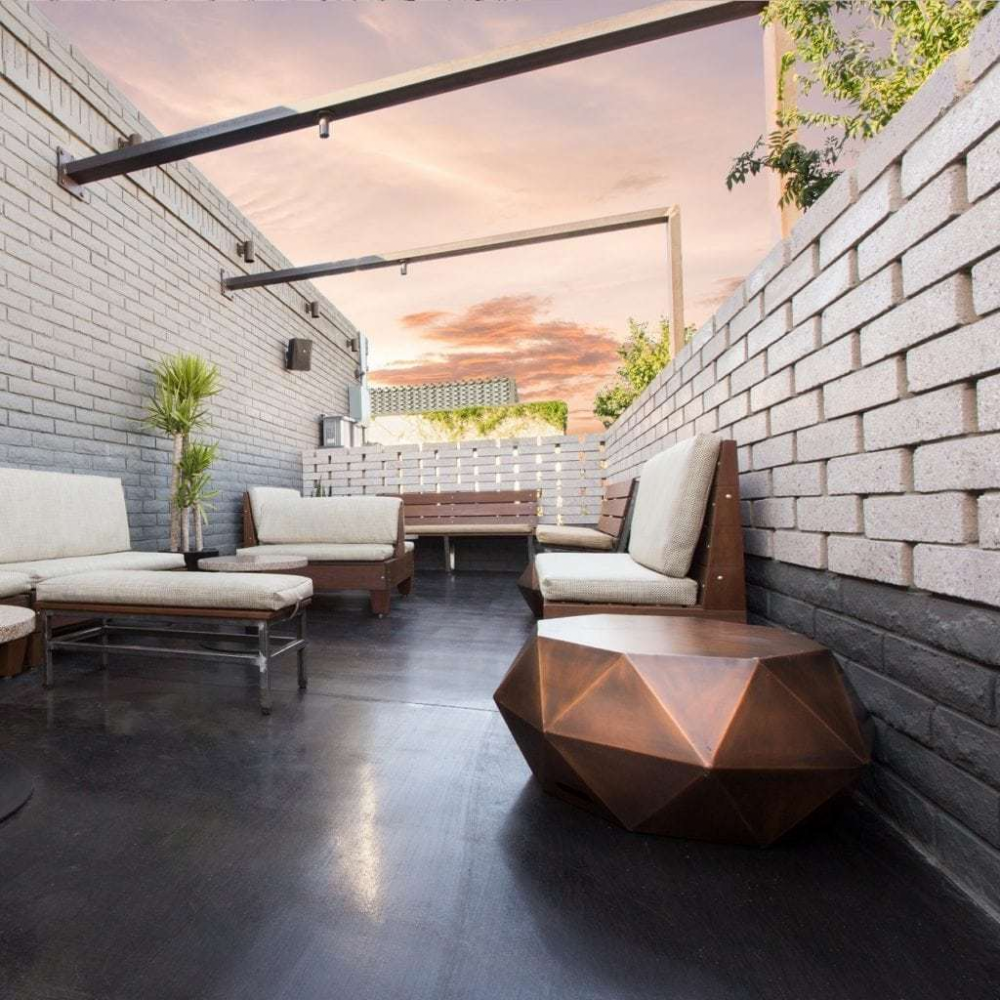 Source: The Womack
Average review score: 4
Couple ratio: 37%
If you're looking for classic-inspired cocktail lounge to escape the Arizona heat, you can look no further than The Womack. With a vintage setting, charismatic bartenders, and a dark setting, you won't find a better setting for a sophisticated bar in the Southwest. While the subdued lighting conjures up a specific mood, hearts typically flutter in this stylized bar that showcases some of the most eclectic collection of cocktails in the city. Above all, the common draw is its music venue that features live music and jazz on a nightly basis. So if you're looking for something a bit more higher class, this is your choice.
What couples say about The Womack
"The place is kinda retro but it is very nice. They have live music during the weekend and the cocktails are very good. Nice place to chill out and listening to some good music"AngeloP_SF
"This place reminnds me of LA and Missippi at the same time, fantasic old school soul music playing, great martinis and good service. Just like its predecessor looks and feels like its roots are planted again right here in Phoenix."920briand
"We had an hour to kill while passing thru Phoenix and stumbled across The Womack and now I can't wait to go back. High booths, dark interior, damask wallpaper and delicious drinks! They have a great stage that, I was told, is home to some great performances so next time I'm going I plan on being there to listen to live music. Had a retro feel to it and I loved it! Highly recommend the extra dirty martini's!"Melissa L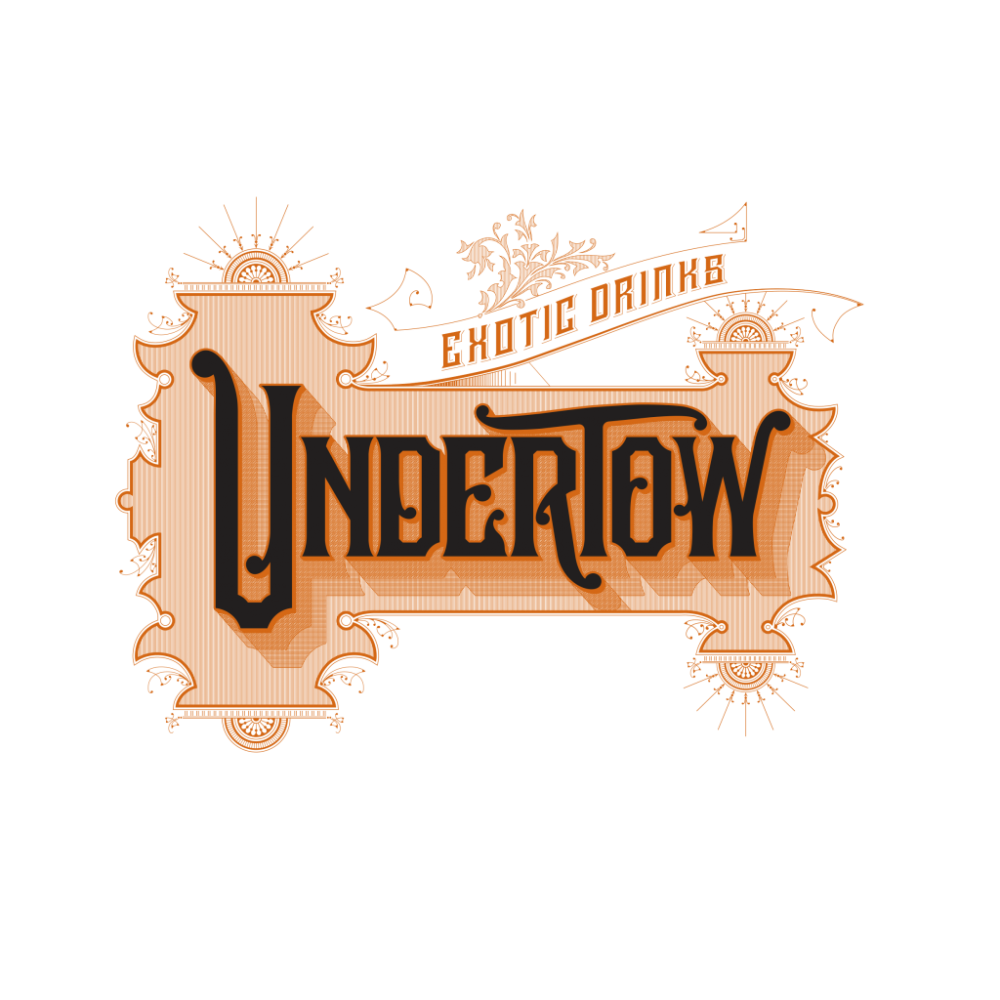 Source: UnderTow
Average review score: 4
Couple ratio: 41%
If you're looking for an electric night out at a tropical tiki bar, you may want to check out the UnderTow Phoenix. This bizarrely new themed bar features some of the most exotic worldly drinks and environments in all of Arizona. The immersive experience also presents an underground and hidden feel as you escape the Phoenix skyline. During night visits, the immersion intensifies as the pub's portholes present passing islands, battling ships, and sunsets that would give Disney a run for its money. Often described as the perfect late-night paradise from the Phoenix foot traffic, this tropical hideaway may be the quintessential setting for an intimate evening set for two.
What couples say about UnderTow
"This place is a great stop for experiencing old school Spirit Forward Tiki bar drinks! Every drink ordered lived up to expectations. You need to make a reservation as the place is small and only accepts a certain amount of people. The bar tenders are friendly and the selection. Is huge! The place is decorated in really cool Tiki decor and located underground in the basement of a coffee shop in the Arcadia neighborhood close to Scottsdale. You will enjoy the visit!"TikiTravels
"Tiny tiki bar hidden in the service bay pit of an old car repair shop out (possibly a Jiffy Lube type business). No signage out front so just look for Sip Coffee. Interior was very well done, pirate ship nautical themed with "port holes" that had video screens inside to simulate being in the belly of an old ship. Definitely a legit tiki bar that is just as cool as Smugglers Cove in San Fran. Drinks included the classics as well as their own inventive creations. They were on the pricy side but in line with a bar of this caliber should charge. I didn't see any food options. Both bartenders were friendly and skilled. You definitely need a reservation and they have a 90 minute seat max limit. They also sell limited edition customized tiki mugs for those collectors out there."208jeffk
"Amazing spot. These folks know their drinks and their decor is spot on. Super helpful staff. Very reasonable prices. Absolutely loved it. Made another reservation while we were there."Brewolig

Source: Welcome Chicken + Donuts
Average review score: 4
Couple ratio: 35%
Sometimes the markings of a successful date night isn't always in a full course meal, but the atmosphere and setting. This is where Welcome Fried Chicken + Donut comes into play. But its not the fried chicken you're used to. Featuring a homemade Korea Fried Chicken paired with donuts, this unique collaboration may inspire the best of conversations for your evening out. Although most order their meals to go, the small restaurant also has a homegrown feel that welcomes the newest of customers. The taste is also 'to die for' as some local reviewers has placed the hybrid bakery on the top of many best lists.
What couples say about Welcome Chicken + Donuts
"The Fried Chicken is amazing! How do they make it so crispy? I recommend this place, the food tastes very good and it's not too pricey, there's not enough seating inside where the A/C is so that could be a problem in the hot Phoenix Summer, but the food is worth it. Give it a try!"minaz1224
"Hipster vibe and good service, not too busy. The variety of donuts is mindblowing, hard to decide what to pair the chicken with. I had the rose and pistachio.sublime. We decided to share the chicken with my husband, the pieces looked huge. Unfortunately I got a piece of a thigh cut in 3 pieces...so it was mostly back bones and the tip of the bone on the tigh bone. The breading was huge and crispy and the korean sauce was a delectable combination of sweet, savory and spicy. The little bit of meat I got was moist and tender, but seriously!! Who cuts chicken thighs in 3???"FirstAllyR
"Great donuts and always love trying new flavors. Used to come for the ramen, but the flavor changed awhile back so I moved on to chicken. Which is super yummy especially with the Vietnamese fish Sauce(weird but yummy). Great treat every once in awhile"Bristol L
Source: Phoenix Art Museum
Average review score: 4
Couple ratio: 28%
Phoenix is home to some of the greatest artists in the world - which is why it doesn't surprise us that its art museum is the largest in the Southwest. With collections and curators from around the world to an intimate focus on Western and indigenous designs, the museum provides visitors a world-class presentation of visual art. Select dates also features unique tours, events, and art conversations as well. Plus, every first Friday of the month is free for any attendee and even features discounts on special exhibits. This can ultimately be the deciding factor for any art connoisseur looking for a discounted date night.
What couples say about Phoenix Art Museum
"Visited here back in 2018 for first time and boy what a surprise. Arizona's history is so diverse and fascinating. The exhibitions are truly first class and extremely informative. Kids should also enjoy this since they have some dedicated sections. We will go back for sure.[ewsdelgado] [https://www.tripadvisor.com/ShowUserReviews-g31310-d104038-r694674535-Phoenix_Art_Museum-Phoenix_Arizona.html]
"This gallery is housed in a Beirut FIP space, and the staff were extremely friendly. The art is diverse and I particularly enjoyed the Agnes Pelton exhibition. Entry is $15 for adult BUT it does include access to all exhibitions (no hidden extra costs). It was a lovely touch that they have a small gallery room dedicated to the art of the staff- which was actually excellent.[runtoseetheworld] [https://www.tripadvisor.com/ShowUserReviews-g31310-d104038-r680285986-Phoenix_Art_Museum-Phoenix_Arizona.html]
"We came specifically to see the Yayoi Kusama exhibit which would be completely worth the trip. What blew us away was the size of the museum and what was in the permanent collection. Completely unexpected and full of treasures! We went on a Sunday afternoon and was surprised to have large numbers of loud teenagers running around. Would have expected more of this field trip type activity on a week day. The adults with them we not doing a great job of keeping the noise level down and preventing them from running in front of people as they were viewing the art. Not the museum's fault but did affect our enjoyment a bit"KarenL2958

Source: Mesa Arts Center
Average review score: 4
Couple ratio: 33%
The Mesa Arts Center boasts one of the most stunning showcases of art and post-modern architecture in all of Arizona. Being the largest arts campus of the state, its facility hosts a myriad of events from film screenings to dance classes to Broadway Across America showcases perfect for any night out. Their popular Wordplay Cafe even allows aspiring poets and musicians to take the stage monthly in an open mic performance. Sure, it can seem daunting at first. But the community event series is a hit with locals looking to break the ice in the Phoenix heat. So if you're looking for a last minute go-to, this date destination may be your best bet.
What couples say about Mesa Arts Center
"Took friends and family to a concert we see every year. The ushers are kind and informative, the inside and outside of the symphony hall is pleasant and does not overpower the beautiful dressed guests that came to enjoy the evening."I6769PFcarolc
"This modern art museum is located in downtown Mesa. The art is interesting and they operate a gift shop. The architecture of the facility and the plaza is hyper-cool. A good place to spend part of your day.John C
"Been around the valley to see shows in most of the big venues and found ourselves here for the first time. The place is awesome. Easy to park nearby without any cost, simple 5 min walk to enter. Front door to our seat was not 100' and very smooth with plenty of help from staff. The architecture is clean and well done. Interior and sound was perfect. Clearly our best experience to see a show. Getting out was a snap and no lines of cars or traffic to fight. It was a long drive from far NW valley but very much worth it for me. [Jrleen][https://www.tripadvisor.com/ShowUserReviews-g31281-d2287447-r649135648-Mesa_Arts_Center-Mesa_Arizona.html]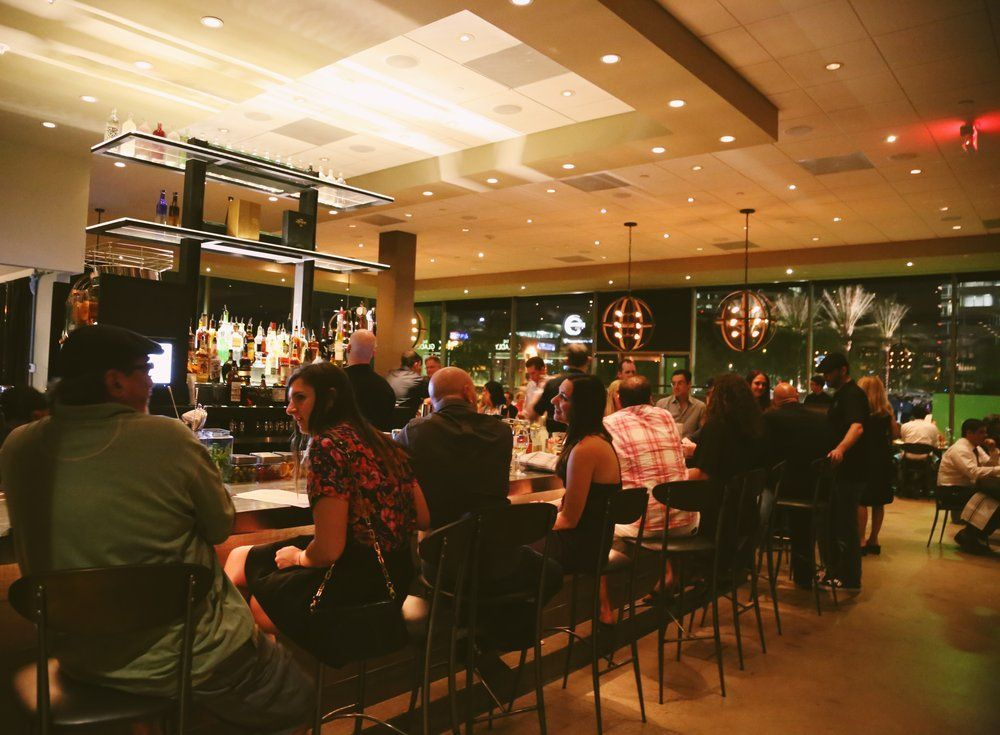 Source: The Gladly
Average review score: 4
Couple ratio: 32%
On the shortlist of Phoenix's best new restaurants, The Gladly is amongst the few American-styled eateries in the area to follow a classic theme. Situated in one of the city's most historic neighborhoods, its timeless atmosphere and extensive whiskey selection gives the restaurant unique flare from the competition. But aside from that, its food is to die for. A crowd favorite is the Pistachio Chicken Liver Pate, which was created by the owner's grandfather. Suggest this new family-inspired meal to anyone and they'll be craving to relive their own timeless memories again and again.
What couples say about The Gladly
"I visited The Gladly with my wife while we stayed nearly at the Arizona Biltmore. Happy Hour started at 3:00 with great food and drinks. This is the first time I've seen cocktails on tap. The bartender was friendly and told us all about how they do it. The location is a little unusual, looks like it's an office building. The Gladly is located on the ground floor. You can park for free on the parking deck behind the building. The restaurant can be entered from the parking lot or from the street."roberty232
"A superb restaurant in downtown Phoenix. The short rib rubbed in coffee was fantastic. Menu was innovative and there is the most amazing whisky collection available. We booked at very short notice, service was excellent and would recommend strongly"Jimways
"The Gladly is a sister restaurant of the Citizen Public House. They both feature the world famous Stetson chopped salad, which you should order. The whiskey menus is extensive - about 200 options! This is a high energy, upscale restaurant with good food and service."Nadorick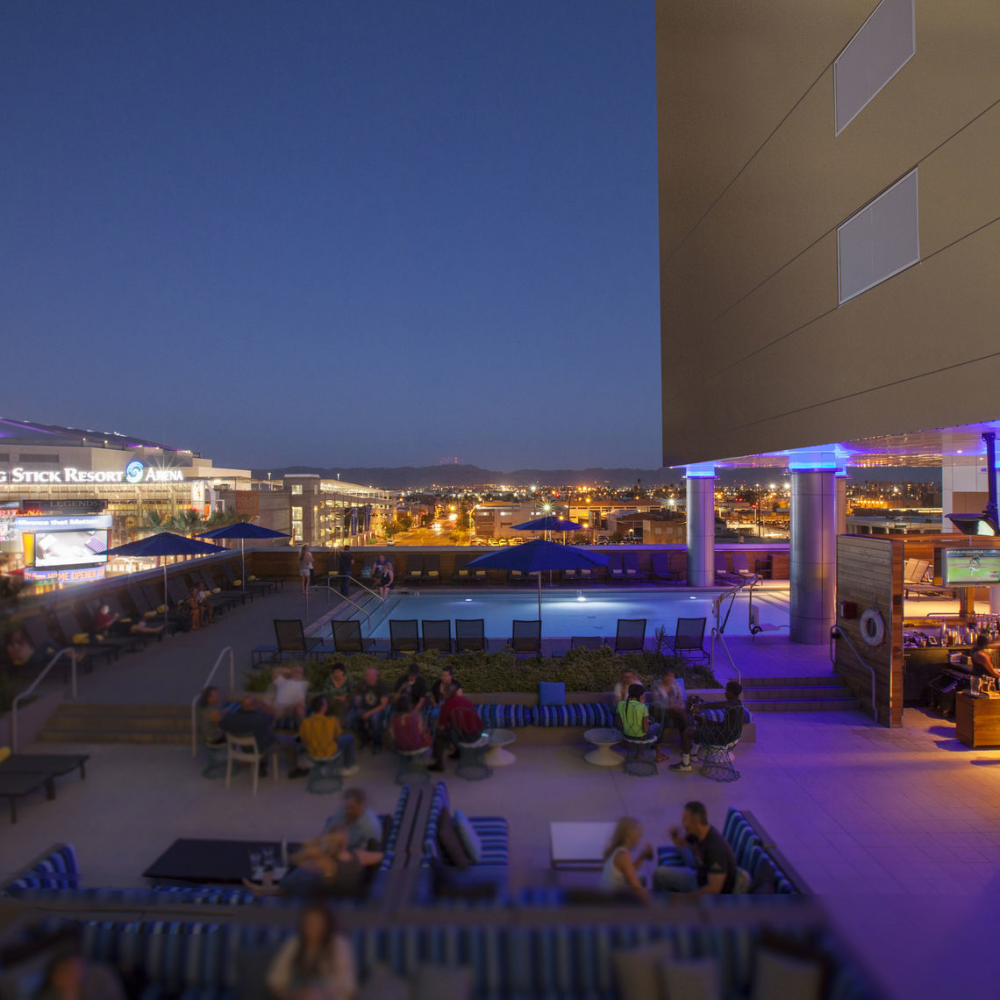 Source: Lustre Rooftop Bar
Average review score: 4
Couple ratio: 31%
If you've been yearning for a local rooftop bar, this may be your new paradise. The Lustere Rooftop Bar is a beautifully modern and outdoor haven that looks over downtown Phoenix. But get this - it's also downtown Pheonix's only rooftop lounge. So this downtown oasis is the obvious choice for any liquor-inspired date night. With lush plants surrounding the area and wicked wines from around the world surrounding the bar, the sights and settings of the bar alone may entice you to want to spend more than a single evening here.
What couples say about Lustre Rooftop Bar
"Beautiful and large rooftop space especially enjoyed at dusk. Unfortunately, there isn't much of a sunset view, but the setting is smart, with couches, tables and chairs, and a pool to dip your toes in. The bartenders were friendly, and we were glad we stopped."alltravellvr
"So our experience at the rooftop bar was excellent! Michael, the server, was so attentive. We had a fantastic time."Coastal743382
"Specifically came to the Lustre Bar for its rooftop views! We thoroughly enjoyed all the amenities this place had to offer. It was a busy, hot day, but the pool helped with cooling down"TravelTY90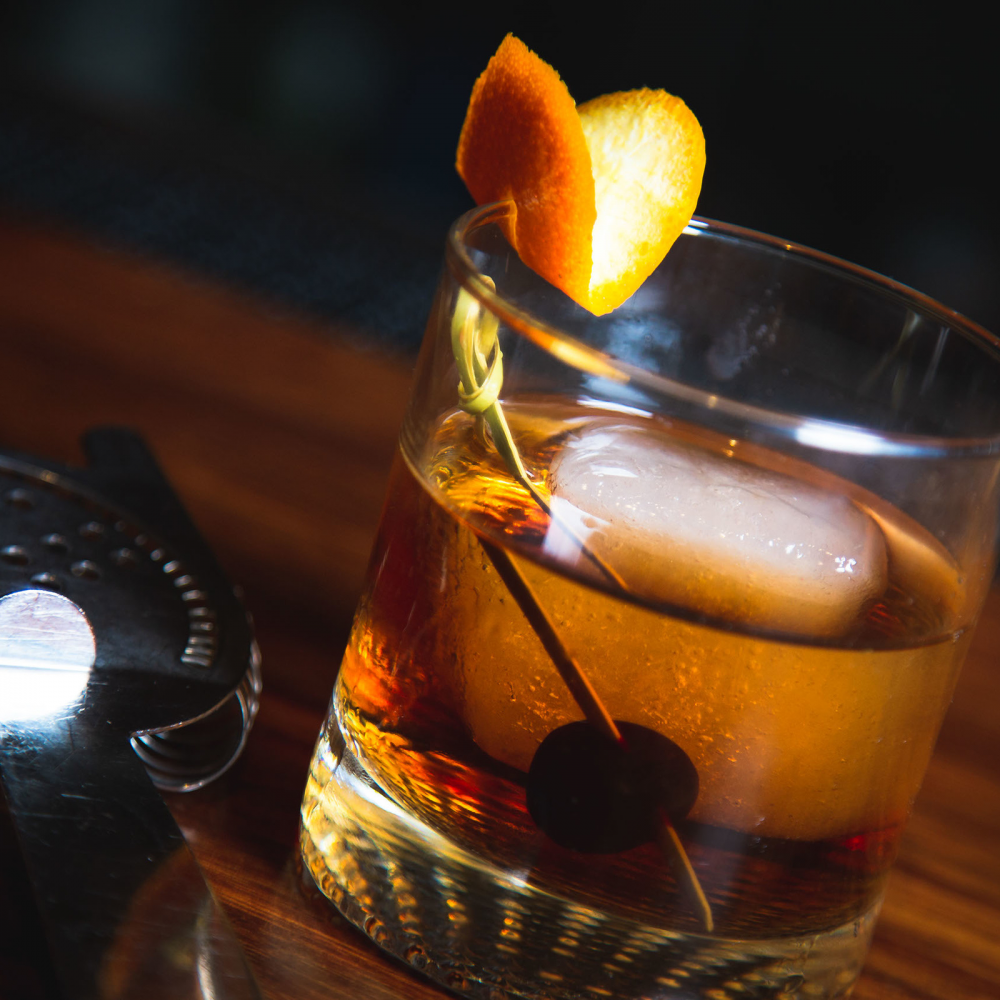 Source: Honor Amongst Thieves
Average review score: 4
Couple ratio: 30%
If you're looking for a 1950s-themed speakeasy in Phoenix, you wont have to look much further than the swanky lounge known as Honor Amongst Thieves. Set in the Drinking District, the popular mixology oasis features tasty foods and even tastier spirits as the energy runs high in this hidden bar. While the theme ends in its interior design alone (there won't be any bartenders chastising you for using your futuristic devices), it does lend itself to a good time with its infectious setting. It's almost guaranteed.
What couples say about Honor Amongst Thieves
"They did a nice job designing this place with its dark wood paneling and plush seats. It has sedate lighting but the AC was very cold. We were there early, so perhaps as it becomes busier the crowd makes it warmer. It did get noisy even at 7:30. The cocktails are about $11 each. The entrance is outside. Go upstairs to the second floor. Nice vibe; clubby."chochunter
"This place is the secret location is behind and above the restaurant stocks stables it's kind a cool and kind reminds you have the old Prohibition days it is a very classy place just the dress code is strictly enforced it is upstairs so you do not have handicap assessable it's really cool great friendly service you'll love it try it out, these are all handcrafted cocktails come check it out look for me here every Friday night at 6 AM."saykenny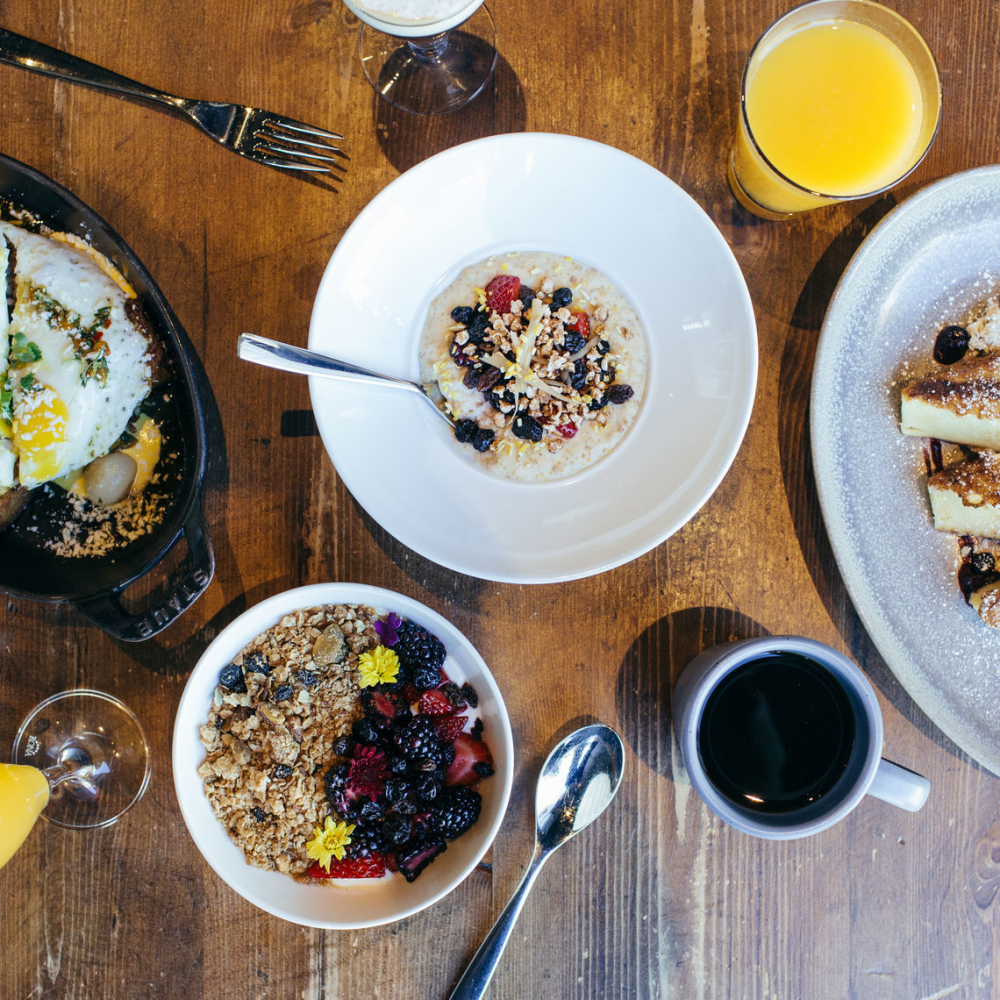 Source: Blue Hound
Average review score: 4
Couple ratio: 30%
We get it. Sometimes you just want some good old classic American cuisine. That's what Blue Hound Kitchen & Cocktails offers in downtown Phoenix. It's also quintessentially downtown in its robust industrial design, New Age offerings, and swanky location inside the Kimpton Hotel Palomar. The restaurant also caters to pets, who are allowed inside when called in advanced. This could win over any dog lover in the party as it appears to not be called Blue Hound for nothing. While prices seem adequate to the area, it's worth noting Happy Hour isn't available on nights when there's a concert at the local arena. Either way, this All American-styled eatery should generally woo over any two date nighters.
What couples say about Blue Hound
"Visited Blue Hound Kitchen in May and had a lovely dinner, not disappointed in the least bit. The biggest problem actually was choosing my dishes because the entire menu looks so good! In the end, opted to share a Copped Salad and then the Ribeye for my entree - both absolutely brilliant.
"This was a delicious meal! I didn't want to eat anything too heavy so I chose the Heirloom Tomato Salad and the crispy potatoes to share with my husband. The salad was flavorful and the ricotta cheese was the fluffiest cheese I've ever had. My husband enjoyed the roasted chicken. Our whiskey cocktails were a highlight of our visit. At $15 they were pricy but did not disappoint. They were even garnished beautifully, complete with a perfectly clear single large sized ice cube.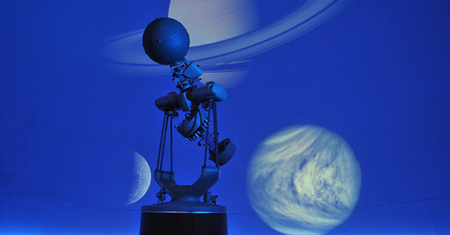 Source: ASU Planetarium
Average review score: 4
Couple ratio: 16%
With a newly implemented HD projector featuring more than 500 million stars, this state-of-the-art facility isn't your grandparents' planetarium. While mostly used for science courses, the ASU Planetarium is now open to the public with renovations funded by the US Department of Justice. And with tickets only being $3, you will be able to live your best La La Land life as you escape to the stars with your significant other. Science and movie nerds often unite on the campus as the facility hosts unique film events and space talks for their students and community.
What couples say about ASU Planetarium
"More for kids than adults. Lots of them running around and working-out the hands-on displays (some no longer worked). I thought the first floor was the kid zone, then the whole museum turned out to be the kid zone/playground. The kids were having a great time. Probably ideal for young families. Many basic science concepts made fun. Also some building concepts, for example plumbing and electrical systems, nicely explained. My ten year old self would have loved it. Even adults can learn a thing or two. Definitely not your grandfather's stuffy science museum or world-class collections of minerals, dinosaur bones, or stuffed animals. Interspersed with the kids stuff were some historical local photos with interesting factoids on the history of Phoenix. I had no idea about the importance of the Roosevelt dam to the economic development of the Phoenix area. I also enjoyed the 3D volcano movie. The attached Makerspace was also interesting and worth a tour."marko18745
"We are visiting Scottsdale and thought this would be an interesting attraction. We didn't realize it was the cost of the exhibit PLUS general admission until we were already there. It cost us $63 for 2 adult tickets, hideously expensive for a 30-40 minute self-tour. The exhibit itself was mediocre (I've seen the Tut exhibit and mummy museum in Guanajuato, Mexico.) The shrunken heads were cool and learning that mummies were decimated at mummy unwrapping parties and used for fuel was a interesting tidbit. This is a children's museum, but marketed to the general public. Upside is that the parking garage only costs $1 with a validated parking ticket, if you forget it will cost you $12. We will never be back."MerionHotspur F
"Went here during a weekday stay-cation for the first time. It's a basic science museum intended pretty much for kids to learn about science, not so much for the adults. I'd say it's a version of Chuck E Cheese with a learning curve, Soooo many kids. They did have a few and I mean few things adults would be interested in. We came mid afternoon so we missed in Planetary presentation in their little theater Another drawback was that some of the interactive displays were either not working or had been messed up by kids. They do have after hours adults only events going on. If you are a couple, look them up online. If you do have kids, then bring them, they will definitely enjoy this center."Coder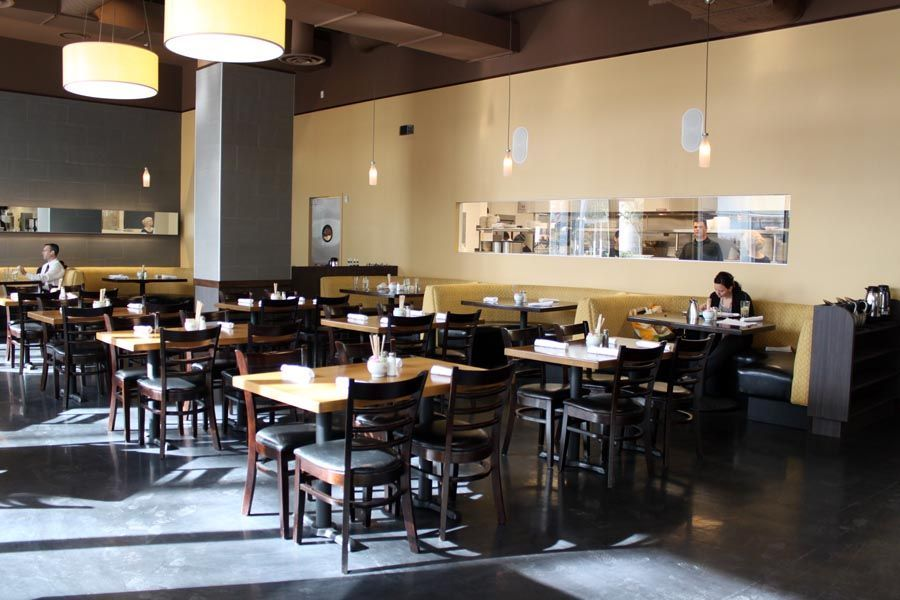 Source: Breakfast Club
Average review score: 4
Couple ratio: 29%
From hometown brewed coffee to house-made baked goods, The Breakfast Club in Oldtown Scottsdale is one of Phoenix's standards for the quick lunch date. Best known for their large portions in the modern, art-deco cafe, the restaurant is an easy win for any local brunch getaway between two downtown explorers. The eclectic menu options and two central locations allows for a quick dine and dash to the next stop on your afternoon excursions. The restaurant's inviting setting also guarantees an at-home feeling from the time you step foot on the welcome mat. Just be sure to order their French Toast or Border Bowl - they're signatures here.
What couples say about Breakfast Club
"We were in Phoenix for my husband's business meeting and walked here from the Courtyard hotel downtown. It was an easy walk from the hotel but first didn't realize it was on the second level of the Cityscape plaza, no signage on the ground level! So we walked farther than necessary. But it was worth it! I had the green goddess frittata and my husband had the border bowl. I judge a menu by how hard it is to decide and it was a menu filled with lots of good options, a hard choice to make!"ARamFan
"The staff are amazing. Check-in process highly automated with texts to confirm your arrival, update place in que and alert you to "table ready". They thrive on turn over and the staff is incredibly efficient without making you feel at all rushed. V-friendly and great service. The food is the best part. large portions of very delicious food. Potatoes were perfectly done and evenly browned throughout. Large piece of thick ham on the eggs Benedict, perfectly poached eggs and just enough Hollandaise sauce to finish. Also very fresh skewer of pineapple, cantaloupe and honeydew melon. Only downside was the coffee was a bit tepid. hardly a detraction."[mikesQ7736PC]https://www.tripadvisor.com/ShowUserReviews-g31310-d3320960-r637657025-Breakfast_Club-Phoenix_Arizona.html)
"We were visiting Phoenix and stayed at a hotel adjacent to the Breakfast Club. They have an extensive menu with something for everyone. There are a lot of deathly options which is always nice to find when eating away from home. The waitstaff was very friendly and accommodating. They have a lovely place to sit outside on a nice day as well as a very large area indoors. We ended up eating there twice during our 2 day visit."FLB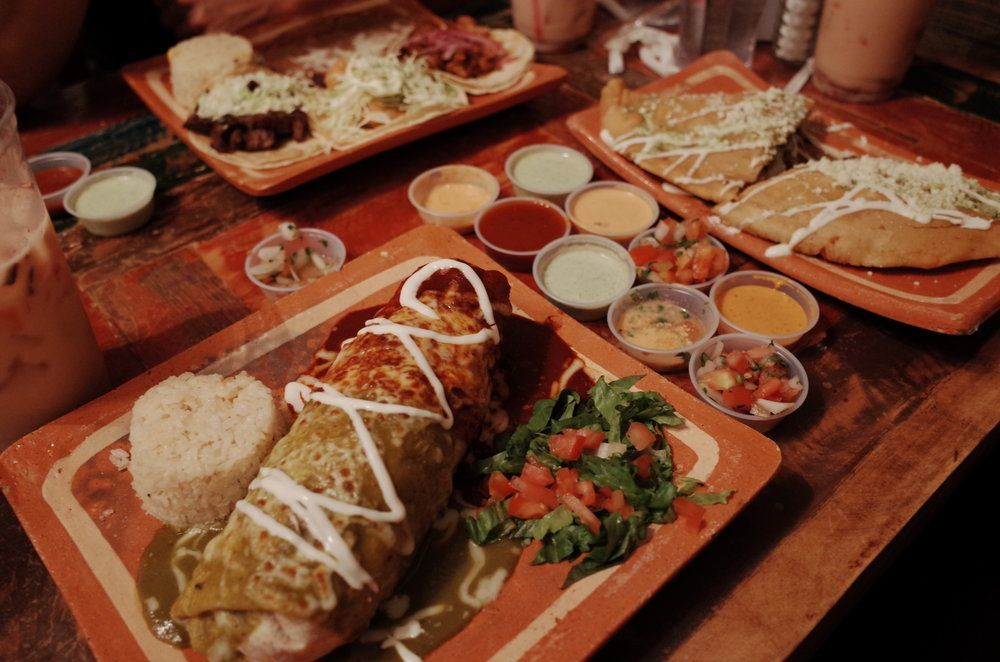 Source: La Santisima Gourmet Taco Shop
Average review score: 4
Couple ratio: 29%
Inspired by the heart of Mexico, this local Hispanic eatery gets high marks for its simple menu and intense flavor. While not boasting the architectural achievements of other restaurants, it's simplicity is its biggest praise from returning guests. By only featuring 7 tacos and a limited side selection, guests are able to focus on one another any night of the week. It may be the quiet night out that you've been secretly yearning for.
What couples say about La Santisima Gourmet Taco Shop
"I've been here a couple times and it's always really good. Breakfast is also delicious.The salsa bar is always my favorite!"Jnjiemtz
"My wife and I went to La Santisima while on vacation in Phoenix after recommendations from locals. We both had one of their burritos and they were excellent. My wife had a Margarita which she said was really good. The restaurant was a little dirty but the service and food were good."Ben H
"We've been craving GOOD tacos since arriving in Arizona & this place hit the spot! My boyfriend loved his Margarita La Mamacita. The gourmet tacos were legit & DELICIOUS!!"beekeeper420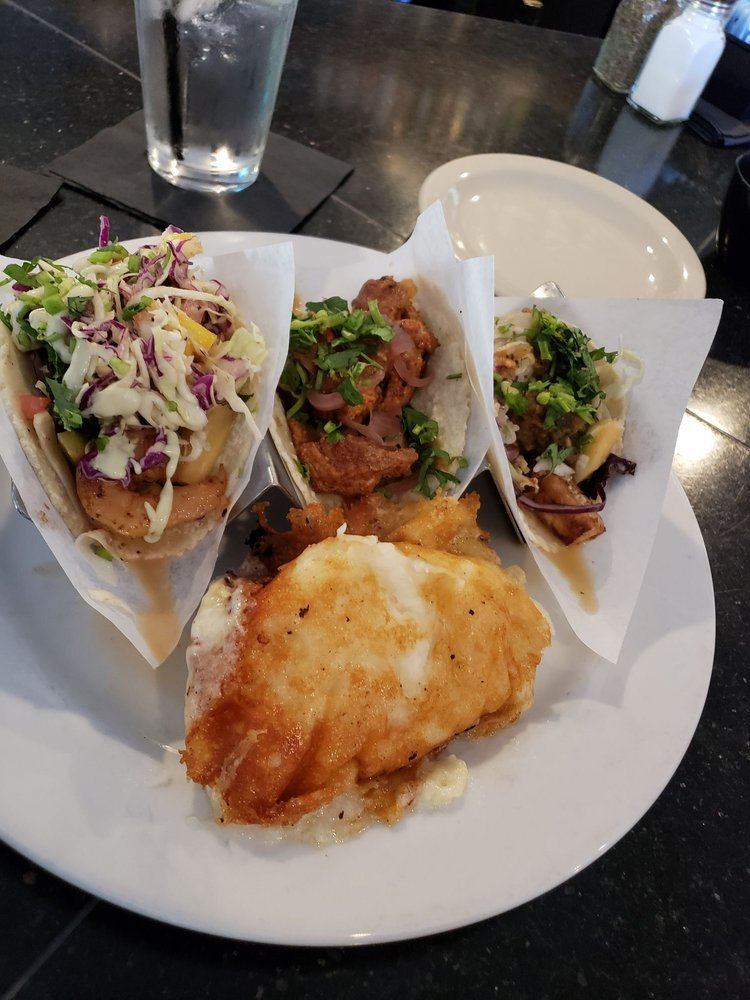 Source: Cocina Madrigal
Average review score: 4
Couple ratio: 29%
Listed amongst some of the best Mexican restaurants in Arizona, Cocina Madrigal is the perfect place for any taco lover. And unlike other Mesquite mainstays, this establishment prides itself on its diverse offerings with a TexMex twist. For instance, their popular jerk-rubbed Jamaican Chicken Sandwich is served with rice and beans. A quick bite at this local eatery will instantly spice up any dinner date into an evening of exploration since its offerings are unique to this restaurant alone.
What couples say about Cocina Madrigal
"Not many options in the industrial area near the airport hotels, but wow did we find this gem! TripAdvisor showed hundreds of great reviews and they were correct. Chef Madrigal, a native of Oaxaca on Mexico's Pacific coast, worked for others over 27 years to build their brands, so he ventured out on his own 1 1/2 years ago. He chose an inexpensive building in an underserved area near the airport hotels and it's become a destination. The prices are half what you'd expect to pay in nearby Central Phoenix. The food is excellent. How do I know all these details? Because Chef Madrigal gets out and sits with his customers! What a wonderful place. We'll be back."7EdS
"My husband and I had the tacos, and the steak tacos were life changing. I definitely recommend this place and would definitely go back if we find our selves in Phoenix again!"325alannaf
"We found Cocina Madrigal on TripAdvisor while trying to find something to eat after we landed at the PHX airport. Boy are we glad that we did! It is a very unassuming location and were a little hesitant when we drove up. But you opened the door to the restaurant and it was clear from the get go that it was a well cared for restaurant. My fiancée and I agreed that it was some of the best Mexican food we have had. So fresh and the perfect flavor combinations. I had the wild mushroom enchiladas and he had a mix of fish and veggie tacos - all delicious. The service was also stellar. They were attentive, quick and brought more salsa before we even asked! 10/10 would recommend!"[240maureent]https://www.tripadvisor.com/ShowUserReviews-g31310-d14985815-r714002772-Cocina_Madrigal-Phoenix_Arizona.html)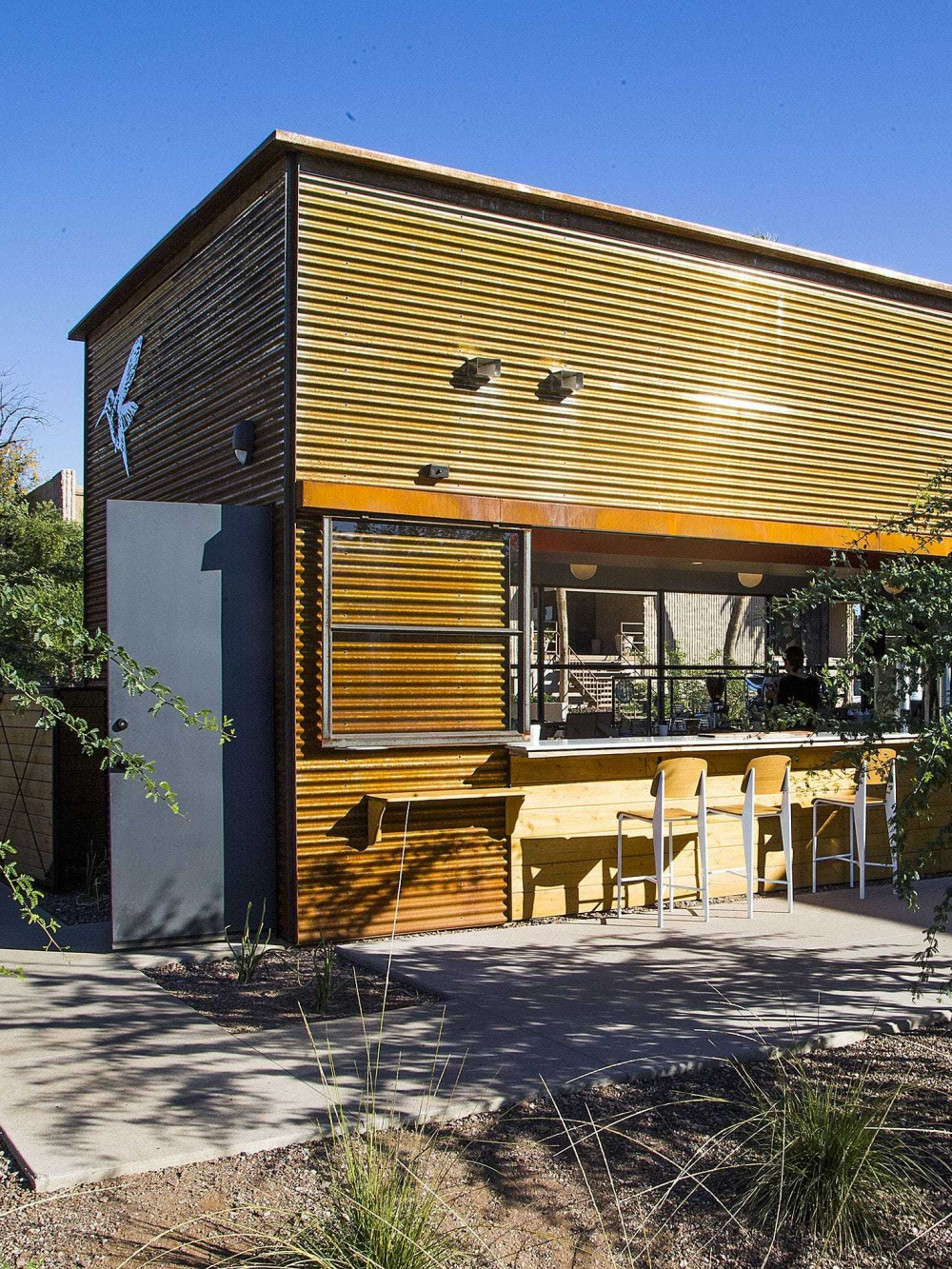 Source: Ocotillo
Average review score: 4
Couple ratio: 29%
Featuring one of Phoenix's greatest architectures and ambiances, the Ocotillo restaurant's unique indoor/outdoor design allows for a communal experience amongst all its visitors. With a group-styled table top setup, full size bar, and beer garden, the restaurant could instantly rival the familiarity of any small-town eatery. But being in one of America's largest metropolitans, the establishment feels distinct and attractively obscure. Ultimately making this restaurant perfect for any date night. Ocotillo also hosts a popular pasta nights and features nightly live entertainment. So for anyone seeking character in your dinner destination, this may be the place to give a try.
What couples say about Ocotillo
"We went to Ocotillo for the first time last week. I was very impressed with the creativity of the menu. Some new age restaurants get so creative they loose the point. This is spot on. Pretty decent beer and wine menu. This will become a regular for us.
"We had a very nice dinner at Ocotillo. The outdoor seating was pleasant given the perfect temperature in May. We shared some small plates. The Falafel, the Roasted Bone Marrow and the Ahi Tuna were all delicious. Service was good. Will return
"We visited on a warm spring day for lunch. We sat outdoors. We chose lunch fare from the menu. Our meals were prepared efficiently. Our waiter ( from our hometown) was friendly and prompt. The restaurant has a lovely ambience, ample parking and a great selection of seating choices. You may sit indoors, out doors in the beirgarten or on the deck. We stuck to sandwiches for lunch, they were excellent. The wine and beer selection were good. I would definitely do this again.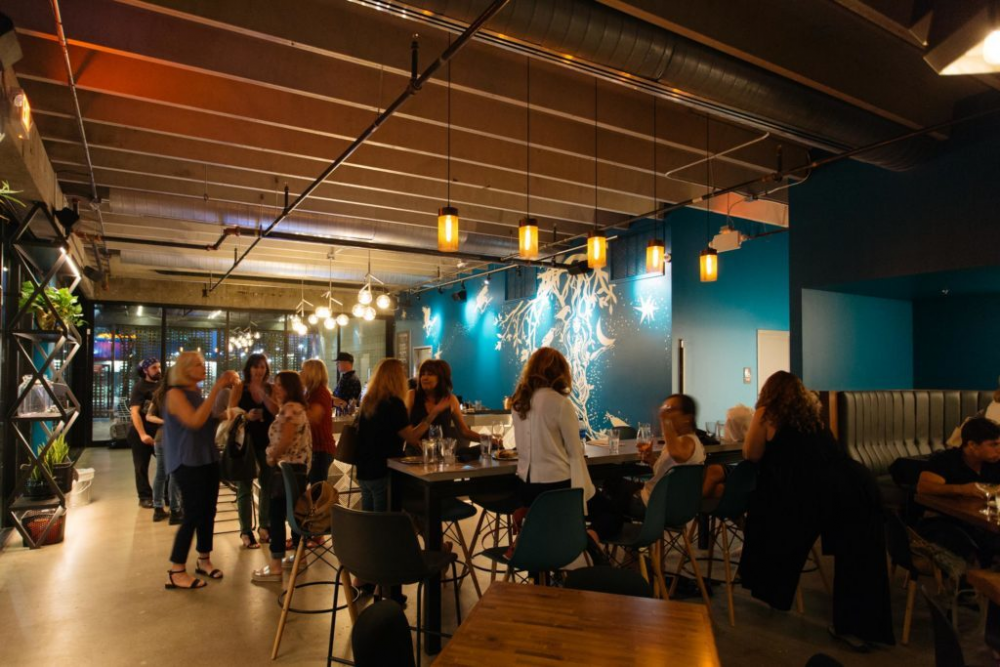 Source: Angels Trumpet Ale House
Average review score: 4
Couple ratio: 28%
If you're looking for a unique-themed bar in Phoenix, Angels Trumpet Ale House is your establishment. This scratch kitchen features some of the best wings and burgers in all of Phoenix. They also have an extensive list of beers on tap available for their guests. Also, try the only two dessert offerings - House Made Pop-Tarts and The High Roller, which is their signature chocolate dipped, almond encrusted cookie dough rolled in vanilla ice cream. But aside from that, the atmosphere is fun and open. With a bizarre industrial look, eccentric colors, and big windows, the restaurant is a go-to for any casual gathering.
What couples say about Angels Trumpet Ale House
"This place is a must visit. The food is TOP NOTCH. Try the sausage sampler or one of their fantastic sandwiches (the Central is a must). Great selection of beer with something for everyone. Outdoor and indoor seating. Great ambiance. MUST VISIT.
"We visited the new location in Arcadia (2339 N 44th) and will definitely come back on our next trip to Phoenix. In addition to a wide variety of drink selections, including some unusual beers on tap, the food was delicious as well.
"Visited this pub after visiting the Heard Museum. Great outdoor seating, terrific list of beers on tap. Large menu, all types of food and appetizers The service was also excellent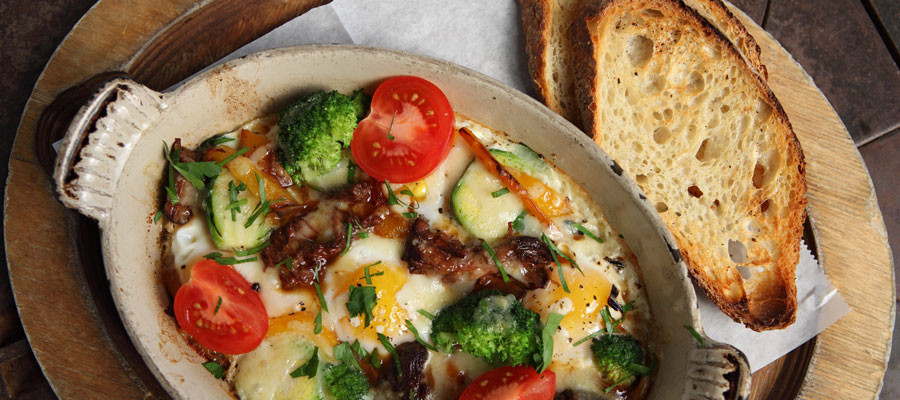 Source: St. Francis Restaurant
Average review score: 4
Couple ratio: 28%
Comfortable and casual is the name of the game at the St. Francis Restaurant in the heart of Phoenix. The family-owned establishment may have the exterior of a beach house, but the brick-inspired interior tells a different story. With warm colors, rustic designs, and a menu that features home-grown, wood-fired cuisine, you'll feel like a Manhattan Yuppie in the center of a mid-80s rom-com. While not fine dining, the casual character of the environment inspires everyone to live the best of the inhibitions. Plus, the wine and spirits list is one of the most ambitious of the area, which may also be the culprit for those inhibitions being heavily encouraged.
What couples say about St. Francis Restaurant
"After a recommendation we dined here. They had some cocktail specials that were really good. We shared the baked goat cheese to start. It was hot & delish. We shared the avocado shrimp salad & it was great, all of the ingredients were fresh. The shrimp were very tasty. For desert we had the vanilla gelato and it was perfect! Everyone around us was saying how delicious their food was. We just couldn't eat another bite, but everything looked so wonderful!"811ef
"What a wonderful little find! The ambience is just right, not pretentious but obviously excellent quality in every aspect. The menu is varied but not overdone - There is a choice to suit anyone without needing to spend your time reading through a million different menu items. I had the duck breast a l'orange and it was fabulous! We also had a bottle of Merry Vale pinot that we have never seen on another wine list, but had visited the winery in CA. I highly recommend this place for any time you want to spend time with special people in the perfect atmosphere to create a memory."1157lfs
"Great trendy atmosphere full of locals, great design, ask for outside or at the bar seatings, try the egg sandwich, service was great, large size Aperol spritz and Mimosas and live Jazz music."mpmessier
Source: Mother Bunch Brewing
Average review score: 4
Couple ratio: 28%
If you're looking for an industrial microbrewery wrapped with the care and love that only mama can provide, you've come to the right place. Mother Bunch Brewing is home to some of the best service in all of Arizona. But it's also home to one of the largest collections of IPAs and ciders in the city, which is probably why happy hour is so busy here. While not perfect for every date night, it's quick environment and light-hearted atmosphere is infectious. So whether you're interested in quick drinks during their iconic happy hour or a burger in one of their roundtables, this place is sure to put a smile on the face of any guest face. It's Mother Bunch's guarantee.
What couples say about Mother Bunch Brewing
"Okay, so we saw this restaurant on Food Network and couldn't wait to try the mac and cheese, burgers and beer. Wow, all I can say is A+ on every single thing we ordered! Started with Udder Mother Milk Stout (delish! - smooth, creamy) Wings with their signature sauce, spicy, but not too spicy, and oh-so-flavorful, along with an order of Pretzel Sticks that came with savory beer mustard and beer cheese sauce. We shared the Bacon Blue Cheese Burger with Balsamic reduction and scarfed down every orgasmic bite! Thanks to our fun and fabulous server, Ashley- you rock! And Chef Holly, you are incredibly talented and we can't wait to bring our family for my birthday!!! We will, however, be back before then. GREAT meal - start to finish!"taosdreamin
"Thumbs up on the beer, great choices of which we tried a few. Left Over Karma IPA, Mother IPA, Blue SUNSHINE IPA, and Oh Fudge Imperial Stout were enjoyed with the Borracho Beef and Arugula Salad. Great service from Marylynn sitting at the bar because you get a good experience that way. Definitely recommend to anyone looking for a brew and food in the downtown Phoenix area. Parking is limited so keep that in mind."BlueCrabby
"We walked here from our hotel. The ESB was really good! I also had the pale ale which was good but my husband and I both really liked the ESB and we don't have the same taste in beer at all. We had the Bavarian pretzels and the cheese sauce and mustard were delicious!"Kimraem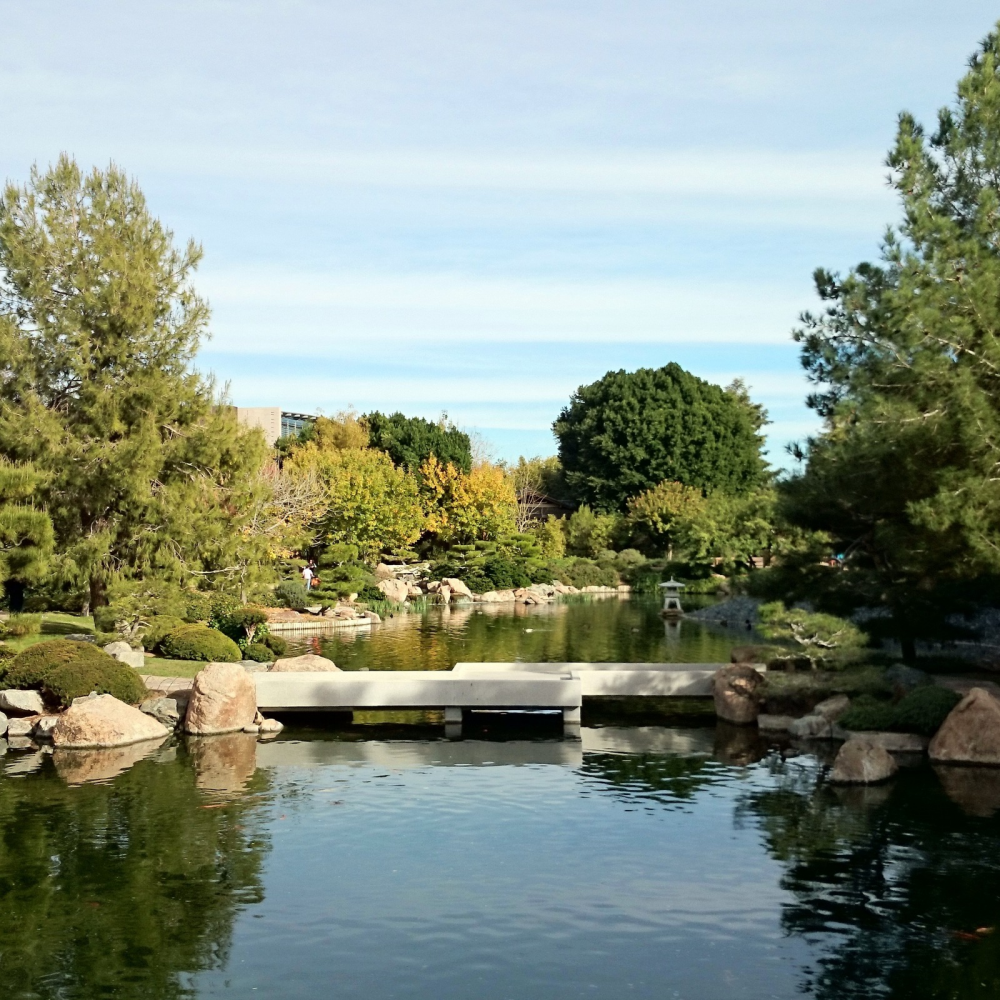 Source: Japanese Friendship Garden - Ro Ho En
Average review score: 4
Couple ratio: 28%
If anyone is looking for a unique Japanese experience in the middle of Arizona, the Japanese Friendship Garden may be your ideal destination. From special tea ceremonies to casual bird viewing in the garden, the grounds will sweep you away into the stories and cultures of Japan. It's worth noting the garden does have a strict etiquette and policy as it would like for its guests to focus on the beauty of the space. This includes silencing cell phones and understanding this is a place of meditation. So if you're seeking more conversation and activity, this may not be your ideal place for a first date night. But the serenity and beauty of the gardens is so powerful and distinctly unique to the area, it may be worth a visit down the line.
What couples say about Japanese Friendship Garden - Ro Ho En
"This garden is a small garden that features Koi fish and beautiful trees in the middle of a bustling city. If you're local, I'd recommend getting the individual membership and enjoy going in at any time. It's worth it as it provides a nice getaway.
"This year I wanted to go someplace beautiful and quiet in the city. I never knew this place existed in Phoenix! My husband and I walked around slowly to take in the beauty and quietness. We sat on a bench for a long time just looking at the waterfall. It was the perfect day!
"I loved the layout and the flow of the park. So many relaxing views and ways to just unwind. I would recommend at least one bag of koi food if not two. Feeding them is a nice part of the experience.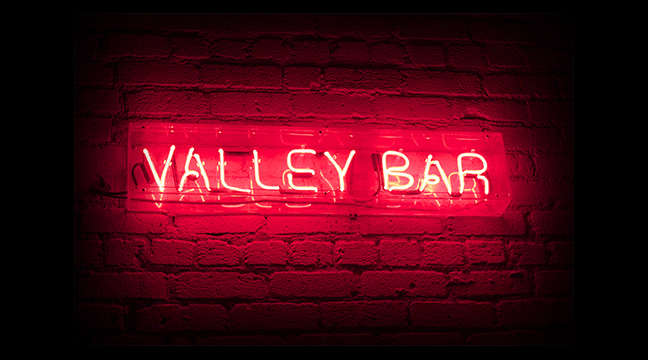 Source: Valley Bar
Average review score: 4
Couple ratio: 22%
If you haven't checked out Valley Bar, you may to check out this night club as its listed on the top of many local nightlife list. Not only is its setting in a basement (which is unique to the area), but it also gears a vintage arcade room with video games, performance spaces, and an additional lounge for more secluded interactions. The juke joint also features some of the cheapest happy hour in downtown Phoenix. As you can see, this hip bar is a cool retreat for the big and little kids alike from the Arizona heat.
What couples say about Valley Bar
"We worked our way down a dark alley late at night and descended into the Valley Bar. The bartender was great and gave us the background on a particular rum I fell in love with (upon his recommendation). Love the ambiance here. And where else are you going to see a painting of Rose Mofford??"TLBPsyD
"Great speakeasy vibe. Great live bands. Chill atmosphere. Hidden library room. The bands were amazing. A great night. Will return."Randy3333
"Went here for the first time, wasn't sure what to expect to my surprise it was loads of fun. The mixed drinks were on point, Loved that there are also games and you can choose between going to the bar and the club. Will be back for sure"islandfoodielve

Source: Historic Heritage Square
Average review score: 4
Couple ratio: 23%
If you're looking for a charming Victoria getaway, you may want to visit the Historic Heritage Square in downtown Phoenix. The quaint environment and lush paths are a local escape to another world as this park has been preserved for decades. While not open after dark, you'll be fond of finding how unique and charming its heritage displays are to its visitors. It's also a great escape from the heat as many indoor areas will provide you intriguing educational facts and insights. This makes a stroll through history could make for one of the most romantic discoveries of your lifetime.
What couples say about Historic Heritage Square
"First of all there is a parking garage right next door, take your ticket with you and they will discount the parking ticket depending on the time you spend there. The tour through the Rosson House was and hour long and we thought the house was beautiful and interesting. There are multiple buildings in the square. Gift shop, antiques, pizza shop,coffee shop and other buildings some you can not go in but it's very pretty to walk around and enjoy the outdoors. There is also a Science Museum there, but we did not tour it."Sandra F
"We've toured quite a few period homes throughout the years, but always seem to learn something new. This house has an interesting history and examples of western pioneer life that everyone aught to know in order to appreciate how fortunate we are to live with today's knowledge of medicine, availability of electricity, etc. Plan some time to learn about the area's history of irrigation in the visitor's center."Lauri D
"The Heritage Square is located in Downtown Phoenix, the square houses several restaurants, a victorian home and a science museum. Great place to spend an afternoon and to learn about the history of Arizona. Jolly Chriss"luckyj_12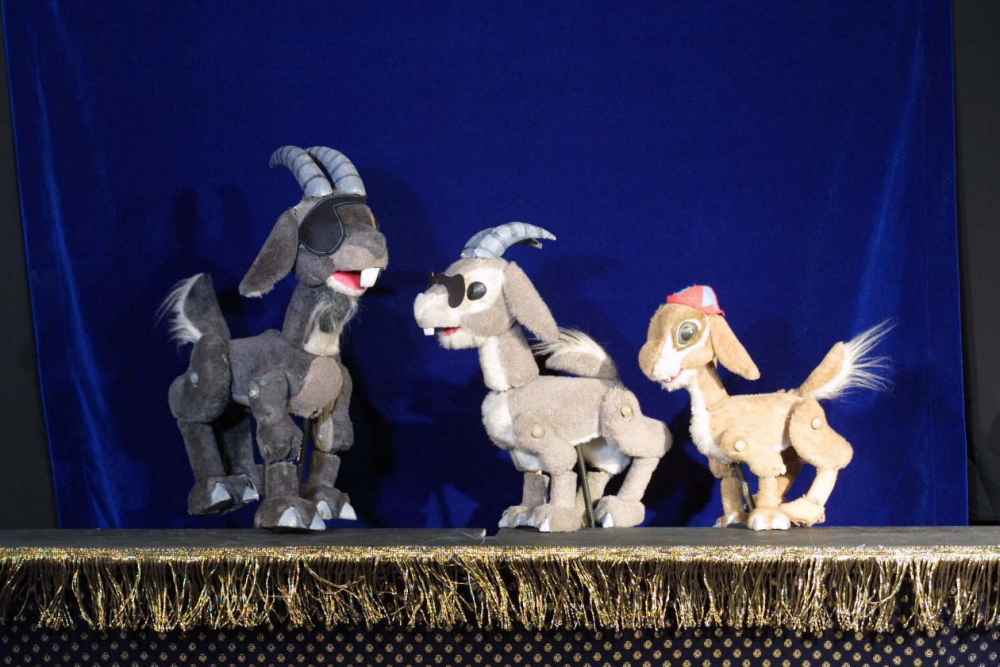 Source: Great Arizona Puppet Theater
Average review score: 3
Couple ratio: 25%
Founded in 1983, the Great Arizona Phoenix can be an unlikely escape for any date night. But with early showtimes throughout the weekend, it may be one of the most accessible for those date nights that have to changed to the early morning. With puppet shows for kids and adults alike, this local theater is a hidden gem for couple trying to have an entertaining night or morning out in the city. The theater is also non-profit with many shows contributing to the local art charities of Phoenix.
What couples say about Great Arizona Puppet Theater
"We attended this past weekend's Adult Puppet Slam. There was a wide diversity in the stories told at this show. As always, Daisy the Kitten was a charming and gracious hostess and Jingle the Cat was an interesting addition. Pineapple Shake was a fun bit, and this weekend's headliner did not disappoint."RunsWithCamera
"Twelve "youngish seniors" went for the adult puppet slam. It was creative and different! You can buy tickets at the door for $12. or order them ahead for $10. The theater is in an old Mormon church, a cool old building. You can buy a beer or wine. Yes, it's pretty low-tech, but what on earth do you think you would get for the price? Most of the skits were very clever -- a dog made out of a folding ruler; a cowboy and his gay horse; the astronaut landing on the moon. The "cat" who emceed was difficult to hear -- in fact, quite a bit of it was hard to hear. But it was a fun night! Definitely not for children!!"lotsagoldens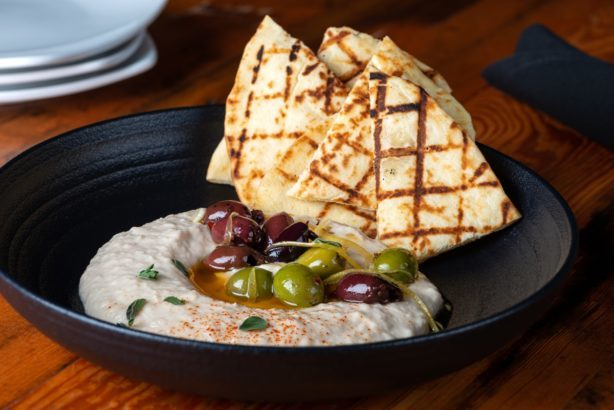 Source: The Vig Fillmore
Average review score: 4
Couple ratio: 23%
If you're looking for a typical dive bar, The Vig Fillmore may not be your ideal date destination. Tucked in a 100-year-old house in the historic Roosevelt District, the upscale local tavern prides itself on its high-end appearance and affordable menu offerings. While the pub does feature a DJ and live music, most locals come for a round of bocce ball. So if you're ever wanting an escape from the traditional bar date scene, The Vig Fillmore could be your destination for a unique and interactive good time.
What couples say about The Vig Fillmore
"Great food, great service. Never disappointed when I come here 😁 French toast was amazing and tastey."kennethcote65
"My wife and I have come here a few times and really enjoy it. They have a nice variety of food and sitting on the patio is great when weather allows. It was raining this time so we were inside but still had good friendly service. My wife had the Asian chicken sandwich with brussel sprouts and I had a black and bleu burger with sweet potato fries. My wife loves the brussel sprouts here and said the sandwich was great too. I loved my meal as well. We had the budino for dessert and really liked that as well."FlowingDesert
"We came here to meet with out-of-town friends. We had never been here before but it was in between where they were staying and we live. We're glad we tried it out. I had the black and Bleu Burger which was perfectly cooked and absolutely delicious. The fries were shoestring crispy and tasty. My wife got the charcuterie plate and loved everything on it. My friend got the fish tacos and enjoyed them and his wife got the Poke Bowl which she also enjoyed. The food was all delicious the service was exceptional the beer was cold and the drinks were great. The one drink we did not like, the manager quickly took off even though we told him he didn't have to. We would absolutely come back again."pdt1043f89
Source: Welcome Diner
Average review score: 4
Couple ratio: 22%
Often toted as a Phoenix roadside restaurant by way of Louisiana Cajun Country, the Welcome Diner is a unique eatery to the Central Phoenix area. Previously a food truck, the now-iconic establishment features everything from burgers to o'boys to biscuits and gravy. And it doesn't stop there, the restaurant also offers a popular brunch and late night menu that boasts exclusive items to those times of day. So if you're looking to spice up the evening with a late night retreat, this escape from the heat may be your destination for good eats and fast service.
What couples say about Welcome Diner
"Fun spot to be at! The customer service is excellent and the food is even better! Great hangout spot for friends or couples. I got the No Way Jose burger but I will be back to try the Mac n Cheese."[connerguru]https://www.tripadvisor.com/ShowUserReviews-g31310-d3958255-r677435685-Welcome_Diner-Phoenix_Arizona.html)
"First, the real address of this place is: 929 East Pierce Street, Phoenix, Arizona. Unless you work or go to a University near by it's kind of out of the way. The place was packed the day we (wife and myself) went and most of those who were at this restaurant were younger. Since the Universities are so close this makes since. The music, which was playing loudly, was that which younger people would enjoy. In addition to those siting inside there were many seated on tables outside. There is also a take-out window for those who would want to order and go. Since it was Saturday they were having Brunch and the regular Lunch and Dinner menus were not available. We ordered some brunch food and a cold can of beer and enjoyed that which we ordered. If you happen to be in this area for what ever reason then we'd recommend you give it a try. But, as we live over thirty (30) miles from this place I doubt we'll ever be back. Ron."avie8tor
"Ordered the fried chicken and biscuit sandwich. It was flavorful and fresh. Could have been a bit bigger considering it was not served with any sides other than a few pieces of watermelon and our bill came out to $12. Service was good and everyone was very friendly. Very interesting vibe in the restaurant, you get 1970s feels mixed with diner/home cooking vibes so Definitely somewhere to check out for late night drinks and eats."CPtravellers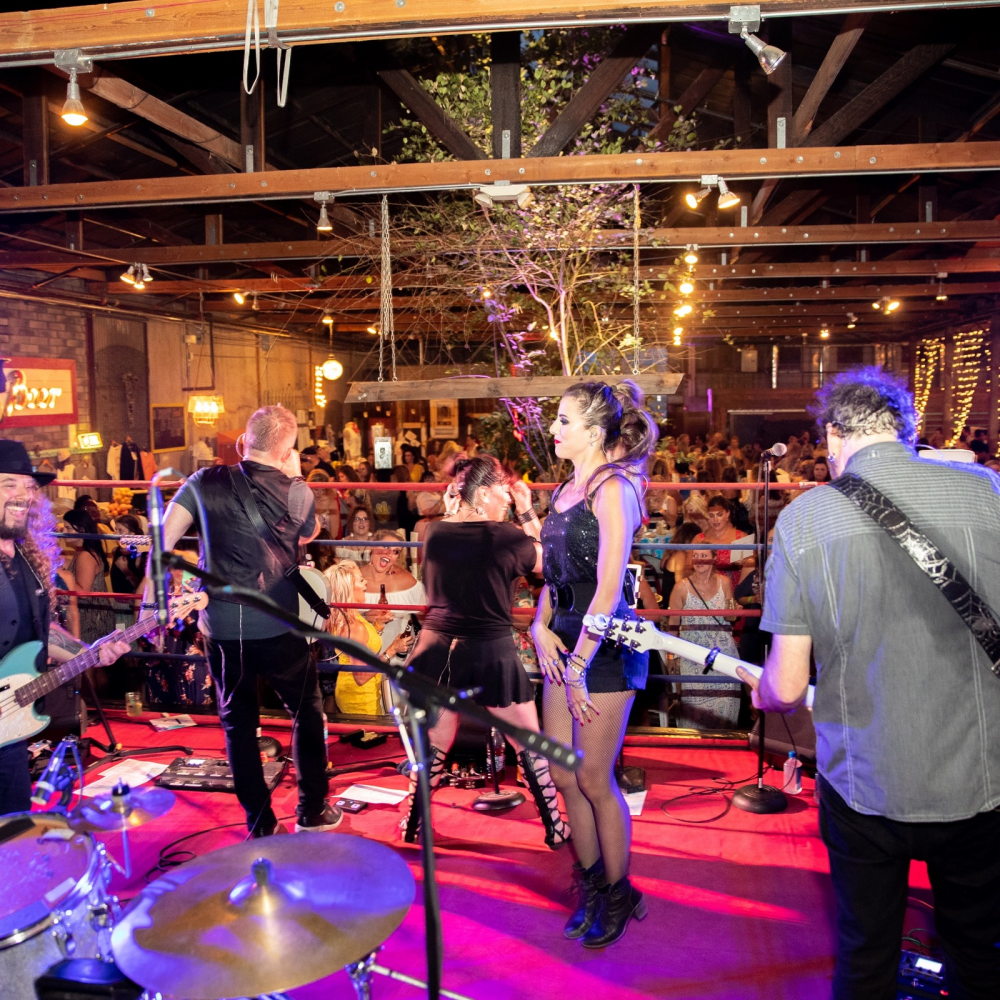 Source: The Duce
Average review score: 3
Couple ratio: 20%
Quite frankly, The Duce is one of the strangest restaurants we've ever come across in the entire country. But this is said with highest regards as its unique character attracts the most diverse of crowds in downtown Phoenix. Not only does its bizarre food options raise eyebrows, but the restaurant is connected to a gym. An actual workout facility! So if you're date is up for it, after feasting on your new faves - you can turn your date night into an active adventure only a few steps away. Beer Can Chicken and Mac & Cheese Muffins are also some signature dishes and amongst Food Network Star Guy Fieri's faves when he visited for his show, Diners, Dine-Ins, and Drives.
What couples say about The Duce
"Visited The Duce while in Phoenix for the Rancid (The Bash) Concert and stopped in to this place to try something unique. This place definitely had it going on. The kitschy decor, retro beers (had a Hamms first time ever) and the general atmosphere was hip and cool but not in an pretentious way. Wait staff were super friendly. We had a great time."slackergirl
"This was a fun quirky restaurant/dance hall! They offer Latin Nights on Thursday's where they have an instructor teach you a sequence and then afterwards, they've got social dancing. The Duce is divided into two sections - you've got one side with a slightly bigger dance floor and a boxing ring, then the other side has a DJ playing different tunes you can jam out to. They have an outdoor area where you can order fresh cocktails and food. We ordered the Mac and Cheese muffins which were essentially Mac and Cheese balls. We also ordered a sampler of sliders. Food was mediocre but loved the environment."ada_mama92
"A great example of repurposed property to make a super cool atmosphere. Friendly service with excellent food makes this a must do. An excellent spot for a fun date night for those of us who remember disco through back music."kirks5114

Source: Lo-Lo's Chicken & Waffles
Average review score: 4
Couple ratio: 14%
When thinking of Phoenix's food offerings, many would be far from suggesting the city having any sort of soul food. But Lo-Lo's Chicken & Waffle allows guest to be transported to the deep South with their signature Shrimp Mac & Cheese, All Day Breakfast, and 'samich' selection. So if you're ever looking to add a bit of flavor to your evening, Lolo's may just be the casual kind of place you're looking for. And with three new locations opening recently, you'll be able to get your Southern-style fix in Phoenix, Scottsdale, or Glendale.
What couples say about Lo-Lo's Chicken & Waffles
"I loved this place and regret not being here sooner. My wife had Shrimp with grits. I had the wonderful Chicken, Corn Fritters. The short story, this is real authentic food cooked the way it use to be, Delicious. The dinning room is open an conformable. I never heard so many OMG's from my wife."LSchafer426
"The waffles were to die for. The syrup was unique and delicious. I ordered the Double D. This was my first time visiting! I enjoyed the atmosphere and the staff was so hospitable. I definitely look forward to coming back."jenniferbenitez
"Come in ready to eat when you get here!! Large portions, food prepared to order and great atmosphere. Service was very friendly and the prices were fair. The place can get busy so I would recommend calling ahead if you have a group larger than 4 people. Otherwise a great casual evening out!!"kjynx18