The Best 32 Date Spots in Portland, According to Couples

Source: Flickr, Paul Horner
Cultured, current, and with a thriving culinary scene, Portland may just be the coolest place to date in the United States.
Set against the calming blue backdrop of Mount Hood, Portland is a vibrant port city with unique beer, world-class coffee, and more food trucks than any city its size. There's so many reasons dating in Portland is an amazing experience for couples, and in this article we're going to list 32 of them - the city's most popular restaurants, bars, museums and things-to-do, according to real daters.
By averaging evaluating mentions of much-loved date spots across the web and averaging their review scores, we put together this guide to help you find the perfect Portland date idea for you and your other half.
We judged Portland's best date spots by the ratio of reviews left by couples vs. non-couples, which gives you extra insight into how popular the spot is with actual daters.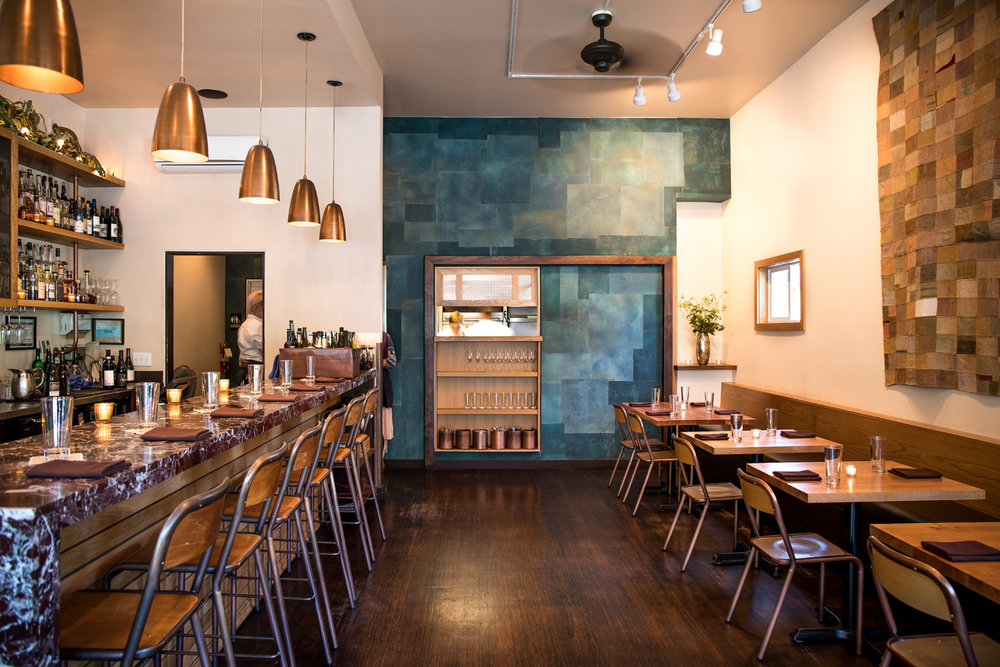 Source: coquinepdx.com
Average review score:
Couple ratio: 50%
Hoping to end your date on a high note? Then Coquine restaurant, situated at the top of Mt. Tabor, is the place to be. This neighborhood restaurant offers high-end courses with a homemade touch to it. They offer a variety of choices, and have the occasional event that brings in something new from the menu. The place is headed by Chef Katy Millard, whose experience in the finest restaurants in France guarantees only the finest cuisine.
Coquine serves dinner to customers from Wednesdays to Sundays. While they're most famous for their dinner dishes, they also serve daily breakfast and lunch courses. Finally, they've got a coffee and espresso bar, which means it's worth dining at any time of the day.
What couples say about Coquine
"After asking our bartender from the night before "where would you go ..." he didn't skip a beat in recommending coquine. Tucked away in a quaint hood with a lovely outdoor eating area we enjoyed a wonderful lunch. My tomato soup was silky and packed with flavor, the grilled cornbread wowsa ! Great service as well" - Chefclaire2014
"I've been wanting to check out this restaurant for several months. It's had great reviews and was even named last year's restaurant of the year in pdx. I took my wife here for her birthday and it did not disappoint. Our entire experience lived up to the hype. The service was attentive, professional, and warm. The courses were creative, tasty, and fun. The libations were delightful and the presentation was really great. I can't wait to go back again. Worth it." - jabdog
"We found Coquine to be a very nice spot for brunch. It's not place to go for plate size pancakes and the such but provides a more limited menu of very well executed versions of traditional items. Pancakes and a waffle done as a side were just wonderful. My wife wanted a pretty substantial change in an item and the kitchen followed through on her request." - KingA825
Why Coquine is a great date spot
Coquine's owner, Ksandek Podbielski told us "Coquine is a small restaurant, and a personal experience, where we pay attention to the little details. The food is delicious and the hospitality is sincere. Service is unobtrusive by design, leaving our guests with he space to enjoy each other's company and their meals. The food is fresh and clean, making a complete meal satisfying, but not overly rich, and we've got a wine for every palate."
Source: halepele.com
Average review score: 5
Couple ratio: 50%
Located at Northeast Broadway, Hala Pele is a Hawaiian-themed bar that offers more than just great food and drinks. Sticking to their Polynesian roots, the establishment features cocktails and mixtures that give off that tropical vibe, with drinks such as their Volcano Bowl, a communal cocktail perfect for sharing with someone.
Hale Pele serves delicious small plates like poke and lumpia, which only adds to the tropical experience. They also offer Happy Hour discounts, with cocktails being offered for as little as $6 if you're on a budget. If you want to add a little tropical magic to your date, then Hale Pele's got you covered.
What couples say about Hale Pele
"Loved this tiki bar. Service was great as was the food (although the coconut shrimp was a bit over cooked). Great ambience and awesome volcano drink show. One of the best Tiki Bar I've been to -and I've been to a lot!"- trippychick2009, August 2019
We were celebrating our 25th wedding anniversary and came here to recapture, in a very modest way, our honeymoon trip to hawaii. Great drinks and decent food. Would not hesitate to come here again when we visit.-Jonthearchitect, October 2019
Hale Pele is a feast for the senses. While it is somewhat nondescript from the outside, as soon as you enter you are immersed in the world that they have created. Time and space will collapse around your table as you enjoy their playful cocktails. Tiki some time out of your busy schedule to check this place out.-jessicaburns6, March 2019
Why Hale Pele is a great date spot
"Hale Pele is a magical place for dates," co-owner Martin Cate told Dating Experts. "We offer an inclusive and welcoming space that is a celebration of Polynesian-inspired arts and crafts, fine rums, and great service. With romantic lighting, soft music, comfortable and cozy seating, and outstanding premium cocktails, the Hale Pele experience lends itself to great conversation and personal connection. Our showstopping cocktails delight and inspire, and with no TVs or games, we keep our guest's attentions focused on each other."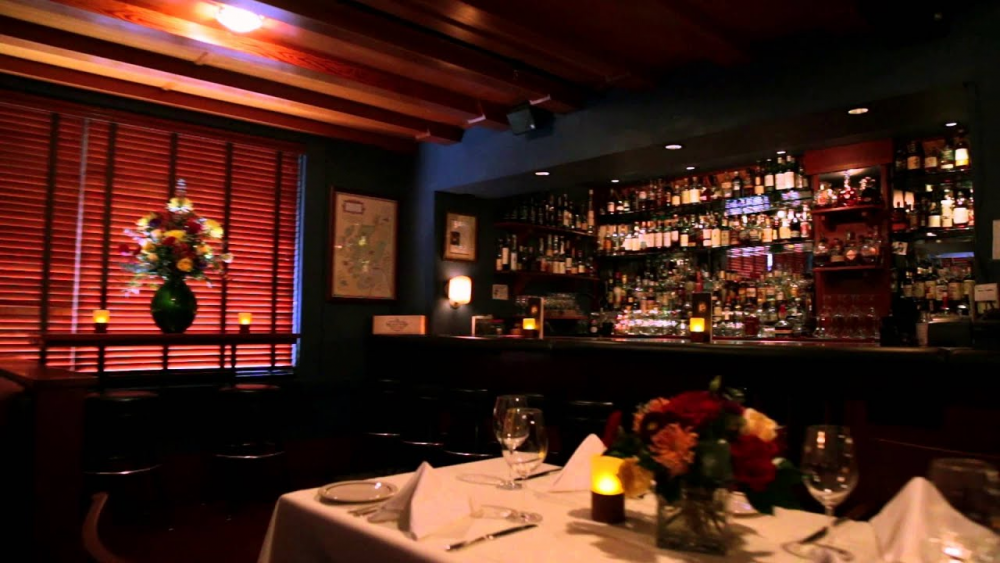 Source: elgaucho.com
Average review score: 4.5
Couple ratio: 48%
Fine dining has always been a good option when on a date, and El Gaucho is no different. El Gaucho is a steakhouse located at Southwest Broadway and is dedicated to giving its guests only the best service. The establishment features chefs cooking quality steaks at an open charcoal grill every night, offering a visual treat for diners.
That's not all, though. El Gaucho is also home to live jazz performances, which only add to the high-class ambiance of the entire restaurant. So when deciding on where to spend your evening date, you can never go wrong with El Gaucho.
What couples say about El Gaucho
"Special dinner place. Nice formal but cozy atmosphere. Menu has many choices and the sauces are a don't miss! Also loved the calamari in a unique sauce and cooked to perfection. They do have a different rating system for cooking -medium rare is rarer- but they will explain the system and find your perfect choice. We eat only farm raised grass fed beef as a norm so we recognized the lower fat and slightly firmer texture of an excellent quality beef. Also loved the calamari in a unique sauce and cooked to perfection. Staff dress is formal and they are courteous and cordial. Quality, hand crafted meals take time-this is not McDonalds. Let them make their art!" - waterpuppy1, October 2019
We had a fabulous meal at El Gaucho! Delicious food, excellent service, and cozy ambiance — this restaurant was a treat. The Oregon wine recommended by our waiter and French onion soup were total standouts. And, of course, the steak and sides were heavenly. If we lived in Portland, El Gaucho would be our go-to special occasion restaurant.-BonnieS966,September 22, 2019
"Unbelievable experience. Brandon was server in both cigar bar and for dinner. He. Is. A. Pro. Great descriptions of the menu, and all exceeded expectations. Probably best steak I've ever had, peppercorn NY strip, cooked perfectly. Bearnaise sauce was incredible as were the mushrooms. Fantastic wine selection. Before dinner spent an hour in cigar bar. One of only 2 in Portland, and had a glass of Elmer T. Lee bourbon. If ever back in Portland will eat here again."-754claym, July 2019
Source: nomadpdx.com
Average review score: 4.6
Couple ratio: 47%
Nomad isn't like most restaurants out there. It's a fine dining establishment that adds a modernist twist to their theme. So unlike the usual tablecloth and jazz, Nomad offers what you'd expect from modern themes - minimalism, style, and innovation.
The restaurant offers dishes in a different way from most - aiming to expose the origin of food, you'll find that the meals are served in nonconventional ways, but are visually appealing nonetheless These dishes are also prepared using modern cooking techniques such as nitro fog. This place is unique in a lot of ways and is definitely something you should consider if you're looking to add some flavor to your date.
What couples say about Nomad
"If you want to test your pallet, be prepared to try new things and they all taste great! small intimate ,romantic and amazing experience"-JLMCELROY,August 26. 2018
"We had a very creative, delicious dinner at Nomad. We all ate food we had never had before and loved it. It was hard to hear the explanations sometimes due soft spoken waitress and music playing in background. Wine pairing was well done."-DVenturer
"We stopped in with no reservation so sat at the bar. Our server was great and gots us all drinks immediately. We were able to sample of a few of the dishes a la carte and we were impressed - the halibut was so good and I have never had anything like it. When we return we will request a seat at the bar in the kitchen so we can watch the chefs prepare these amazing dishes." - Kkoleary, April 2017
Why Nomad is a great date spot
"Nomad (and Ash Bar) is a super intimate restaurant. Couples old and new can eat expertly prepared, locally sourced food in a space designed to make them fall in love. Our bar is a cozy 12-seat horseshoe, perfect for having a craft cocktail and a romantic conversation. In addition, couples can enjoy the comfy chairs or couches in our sexy, warmly lit lounge or join us for a tasting dinner and wine in the kitchen. Our staff provides top-notch service and loves celebrating special occasions like proposals and anniversaries with our guests," Nomad told Dating Experts.
Source: afuriramen.com
Average review score: 4.7
Couple ratio: 44%
Nothing beats a warm tasty dinner date like AFURI ramen + dumpling. AFURI is an authentic Japanese cuisine restaurant that specializes in the famous noodles. While being a franchise, it still has some charms to it found only in Portland. Most notably, the franchise actually chose Portland for its soft water, which separates the establishment from its other branches.
Then there's the tasty food, with many options available such as rice meals and dumplings, aside from their famous ramen dishes. They also have vegetarian meals and gluten-free options on other dishes, which means that there's something for everyone here.
What couples say about AFURI ramen + dumpling
"Had a great experience. The ordering system is easy to use and very descriptive with pictures. The staff also helps you navigate the menu and further explain foods. There is indoor and outdoor seating as well as a nice assortment of beverages. I went there twice during my stay !" - skhaleelw, June 2019
Pick a dish from the menu, order at the counter, seat yourself, be served. Enjoyed the spicy maguro (tuna) poke and chicken bun. Nice fresh very cold sapporo beer.-DrBeenThere, January 2019
"This was my first time to Afuri as I typically can not eat ramen as it is not gluten free. I can now eat Ramen! They offer a gluten free selection of ramen and it is so flavorful and tasty. Not too salty, not too spicy, just rich and bold flavors that meld perfectly together. I would definitely order another egg on mine, so good. We also ordered the seaweed salad, which was also simple, but flavorful. Quick and nice service at the counter and the set up of community dining is really nice. We will definitely be back. The only down side of this location is that there is not much parking, so you may want to go to the other location if parking is important to you."-hkib12, January 2019
Why AFURI ramen + dumpling is a great date spot
Liz Allan, Project Manager at AFURI told us, "AFURI ramen + dumpling makes a great date night spot because of its fun, laid back ambiance and prime downtown Portland location. This AFURI concept utilizes kiosk style ordering-much like some of our sister restaurants in Japan. This allows you to go at your own pace and adds an interactive element to your date night. This is perfect during a fun first date, where an interactive element can really help break the ice! The chill atmosphere paired with moody late night lighting, good music, and a fabulous craft cocktail and sake menu creates the perfect atmosphere for the perfect date.
"Another aspect of AFURI ramen + dumpling that makes it a prime date night spot is its location! Right next to Voodoo Donuts-a Portland staple-and tons of fun local bars and clubs, AFURI ramen + dumpling is a date night spot that can't be passed up."
Source: bistroagnes.com
Average review score: 4.5
Couple ratio: 43%
Bistro Agnes offers the exquisite and romantic ambiance of French dining right in the heart of Portland, at Southwest 12th Avenue. With award-winning chefs Greg and Gabi Denton, the establishment serves everything from brunch to dinner and offers a wide variety of drinks and spirits suited for every occasion.
Parisian classics such as absinthe and Cognac provide a nostalgic feel to those who have already visited the City of Love, and a journey into the world of French cuisine for those who haven't. The place is open daily, with dinner being offered until 11 pm on Fridays and Saturdays. You don't have to travel to Paris to enjoy authentic French cuisine, and this restaurant proves it.
What couples say about Bistro Agnes
"My husband and I finally had the opportunity to dine at Bistro Agnes, the second restaurant of Ox chef-owners Greg Denton and Gabrielle Quiñonez Denton, the winners of the 2017 James Beard Award for Best Chef Northwest. Bistro Agnes is a quaint neighborhood bistro offering French home-style cooking. Our lunch was outstanding. My Bloody Mary was delicious and my Croque Madame, the Croque Monsieur (ham, gruyère and mornay on griddled brioche) with a sunny side egg was amazing. Calling the Croque Monsieur a ham sandwich is criminal, but it does put every other ham sandwich to shame. I look forward to returning to Bistro Agnes for dinner. I must try the Onion Soup Gratinee and Sautéed Veal Sweetbreads."-ReviewFromTheHood, September 2019
"We live in the small community of Florence, Oregon and now and then make a trip to Portland to get a food fix. This time we were looking for something French and found Bistro Agnes which is a fairly new place with wonderful interiors. My wife had sauteed veal sweetbreads and baked tatatoulle. I had Petrale sole meuniere. As a side we had fantastic quenelles of sole which we had not found on a menu for 40 years."-winjo1940,October 2019
We visited Bistro Agnes last year and were totally impressed. This year I had the same dinner, onion soup and sweetbreads on truffled pasta. Divine food.-AngusDad, September 2019
Why Bistro Agnes is a great date spot
General Manager Daniel Weiner told us, "Appointed with cozy tables and soft candlelight, Bistro Agnes balances the warmth and elegance of an Old World bistro with the arresting clarity of modern design. It is simultaneously lively and intimate, sophisticated and playful, contemporary and traditional. In the space between these contrasts, Bistro Agnes is the perfect place to enjoy a quiet meal with an old friend or new lover. Rub shoulders at the copper-top bar with a martini and a beef tartare, or settle into an indulgent multi-course dining affair with a bottle of Burgundy in the charming dining room. Providing unforgettable experiences to guests of many varying tastes, Bistro Agnes welcomes you with class and a smile."
Source: piattinopdx.com
Average review score: 4.1
Couple ratio: 42%
While there are plenty of pizza and pasta restaurants found all over Portland, Piattino's Italian pizza and pasta are a cut above the rest. Located at Northwest Everett St., this establishment makes most of what they serve - their pasta, bread, and sauces all prepared in-house. They also run their own bar with wines being their specialty, which goes great with the food.
Then there's the ambiance. Going for a rustic and cozy vibe, everything from the floor to the ceiling adds to the overall atmosphere of the venue Coupled with great food, Piattino becomes a great place to unwind and chat.
What couples say about Piattino
Soup thick and tasty Salad fresh and interesting Pane Bianca better than any pizza, which they also have, lamb on pasta really everything excellent will certainly go back-hAAydon, December 2018
My wife and I had a fabulous lunch at Piattino today. The fettuccine with pesto and poached egg was superb. My wife had the cauliflower appetizer served in a spiced yogurt and loved it. I hate cauliflower, but found this presentation delightful! She also had a wonderful arugula salad. We plan to return in the near future for dinner, as the menu looks terrific. We love Italian food, and found that Piattino stands apart the typical Italian restaurant.-Donbob48, June 2018
Delicious food! Great wine! This is a hole in the place, very small, but is excellent! We got a cheese board, the gnocchi and pasta combo and everything was wonderful! The owner was there and was very helpful and had excellent recommendations.-Pdemp1, March 2018

Source: oobpdx.com
Average review score: 4.5
Couple ratio: 39%
Are you or your date craving for some seafood? Olympia Oyster Bar, located at North Mississippi Ave, got you covered. A cozy and casual dining experience, the restaurant offers dishes inspired by Chef Maylin's Mexican roots while incorporating tastes of Mediterranean cuisine. The oysters aren't detached from its shell to keep everything as fresh as possible.
The establishment also serves as a wine bar, making for a great pair alongside the oysters. While they don't accept individual coursing, it's a perfect place to enjoy with people and the unique take on the popular seafood dish will leave you more than satisfied.
What couples say about Olympia Oyster Bar
Last year we ate here and really liked it. Small place that is a true oyster bar. They have other good items as well . Delicious clam chowder .. not traditional and oh so good. Squid dish was perfection and we didn't want the sauce to end while we smeared every last drop on our bread. Last year they had a little pot pie ... missed that. Cooked oyster were really well prepared and unique but the stars of course were the raw ... fresh and perfect. We will return.-Debbie D, November 2019
"Happened upon this small little bar/restaurant in a trendy part of town We came early for happy hour and were treated with great service, tasty food and great value. The Verde ceviche was particularly outstanding as were the oysters and the mussels and clams. The atmosphere was relaxed and the value amazing. We will be back"-tamitch, April 2019
Fantastic raw oysters with fresh treatments, the lime was amazing. Industrial chic on the inside with a great oyster bar. Staff was very informative and attentive. The ceviche tasted fresh and citrusy. Romantic for Portland.-Mark Z, February 2019
Why Olympia Oyster Bar is a great date spot
"Olympia Oyster Bar is a great date spot!", the spot's owner, Maylin Chávez, told DatingExperts.com. "Fun, energetic ambience with a beautiful wine list, some of the best West coast oysters and small seafood plates to share."
Source: ovenandshaker.com
Average review score: 4.3
Couple ratio: 38%
Pizza dates are always a great option when eating out, and Oven Shaker takes the classic pizza date to the next level. Headed by six-time James Beard award nominee Chef Cathy Whims, this bar/restaurant incorporates her take on the beauties of Italian cuisine, earned from years of experience. They also have a bar featuring delicious mixes from their signature bartender, Ryan Magarian.
Oven Shaker is a family-friendly restaurant and accepts not only children, but also pets if you dine outdoors. Their friendly service also caters to your preferences, allowing for those on gluten-free diets and with allergies to dine with peace of mind.
What couples say about Oven and Shaker
"We had dinner at this restaurant a few days ago and we really loved it. Food was really good, our waiter was absolutely amazing and overall all staff is super professional and makes your experience great! ⭐⭐⭐⭐⭐ I'd go back 100%"-ariadnae102, September 2019
Had local beer and hard cider, Margherita pizza and salad. Sat outside and enjoyed it all. Second time here and it was as good as we remembered. - PeeWeestravels, August 2019
Stopped in for happy hour and turned out to be a great spot. Ordered the crostini's, bruschetta and Italian sausage pizza. Everything was amazing and cheaper than their normal menu. Will come back.-ServedWithRice, July 2019
Why Oven and Shaker is a great date spot
"I think Oven and Shaker appeals to people on dates for the same reason it appeals to most people, it has a delicous food and drink plus a great vibe. Generally there is a lively atmosphere and nothing overtly 'romantic', which, especially on a first date, is a good thing. Oven and Shaker is a simple concept, but the details make it exceptional. So, if you are really interested in all of the specific elements of our pizza and cocktails the crew is happy to tell you all about it. On the other hand, if you just want something to eat while you get to know your date, no one is going to spend 10 minutes at the table listing every ingredient in a dish. Its also a great litmus test, because if somebody doesn't like pizza, do you really want to date them?" - Talish Barrow, General Manager at Oven and Shaker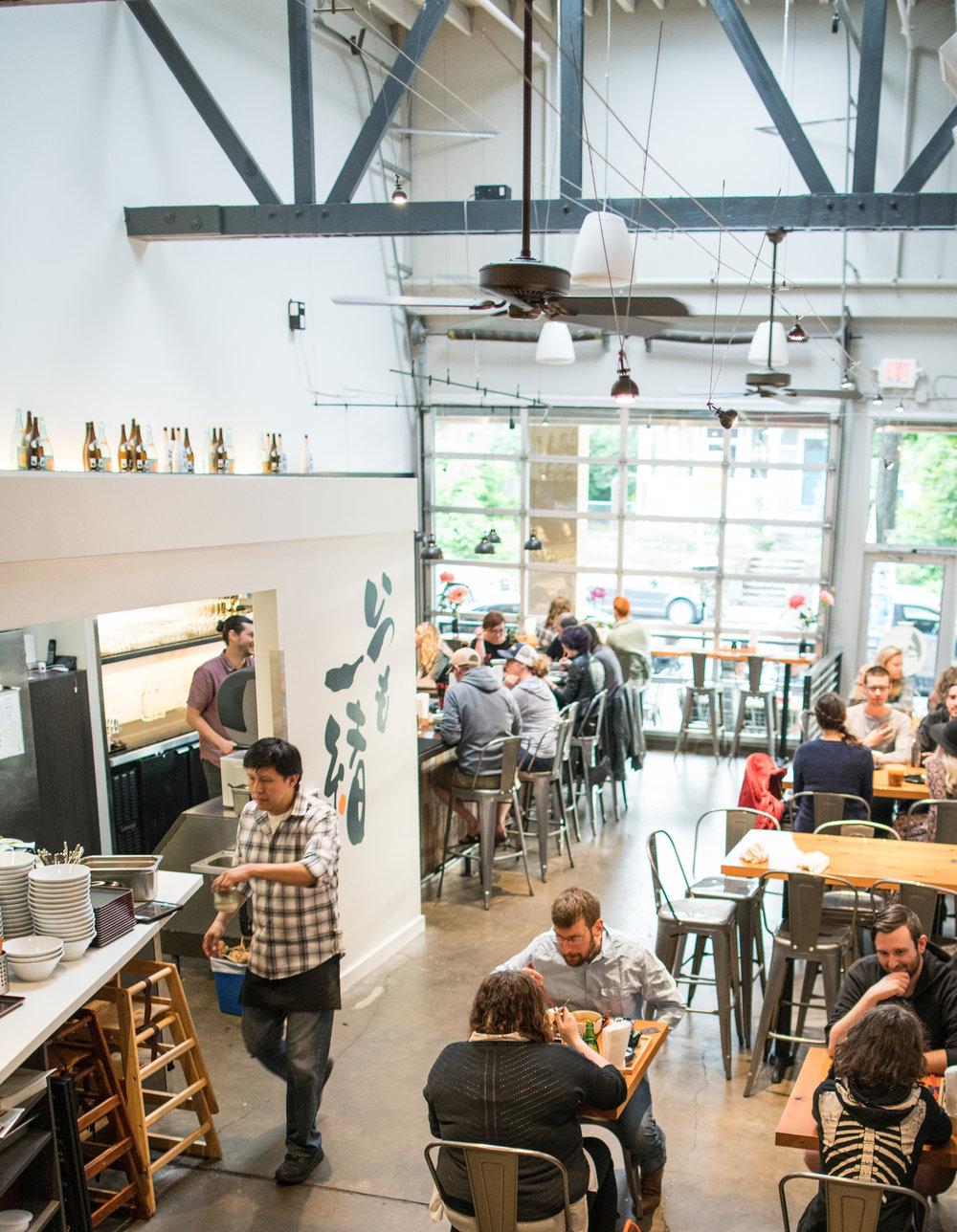 Source: kayosramen.com
Average review score: 4.5
Couple ratio: 38%
The local ramen scene in Portland has found its resurgence, and Kayo's Ramen Bar is no exception. Located at North Williams Ave, the resto-bar is home to Assari-style ramen, as well as other styles such as TanTan and Shoyu. What makes them unique is their one-of-a-kind selection of ramen flavors, ranging from Curry to Pineapple Ginger.
They feature seasonal dishes to ensure you'll always get to try something new every visit. Kayo Ramen also serves fresh beer and sake to add to the casual, laidback ambiance. So if you're looking for an authentic ramen experience for your date, Kayo Ramen's here to help.
What couples say about Kayo's Ramen Bar
Service was very good: The hostess had us seated quickly, our server was attentive and very friendly, and the chef/owner even checked in on us (and took away empty plates). Enjoyed our entire experience. Definitely recommend! - cosmotron
"Kayo's has selected a few things and chosen to do them very well. The broths are delicate, even the Miso that can sometimes be too cloying in other places. Tan Tan ramen are a speciality. And a nice selection of other dishes, potstickers, garlic fried rice etc round out the menu. The sake selection is better than most places of comparable size also, with some excellent higher end choices at more than reasonable prices." - Dave T
Heavy but delicious chicken and pork broth. Great happy hour prices that begin at 1130am. Cucumber salad is refreshing with the ramen. Friendly staff, quick service. A great price, friendly casual lunch/dinner option. Would return if I lived in Portland. Gluten free and vegan options available. - Jessica S
Why Kayo's Ramen Bar is a great date spot
Kayo owner Matt told DatingExperts.com, "Cool vibe, excellent food, and quick service. If the date goes south, you're out in a jiffy without spending a small fortune. If the date goes well, there are lots of great bars nearby to continue getting to know each other".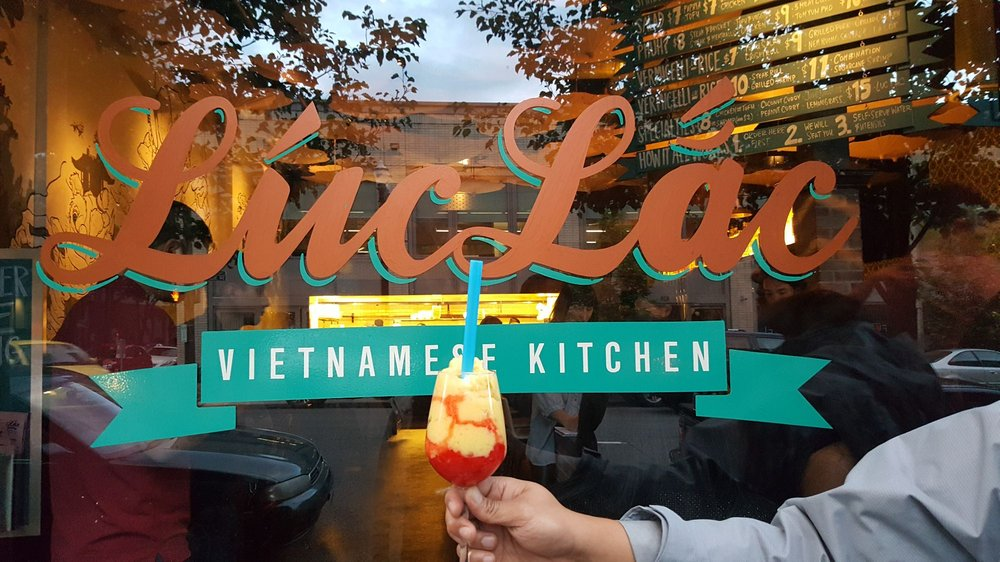 Source: luclackitchen.com
Average review score: 4.7
Couple ratio: 37%
If neither you nor your date has tried Vietnamese cuisine before, Lúc Lác's a great place to start. The restaurant features famous Vietnamese classics such as their signature Pho, which comes in multiple flavors, and rice meals such as Nem Nuong Pork Sausage. Cooked by genuine Vietnamese experience, Lúc Lác will offer you the taste of Southeast Asia in Southwest 2nd Avenue.
Lúc Lác serves lunch, Happy Hour, and dinner, with closing time as late as 12 am. They're also open late at night on Fridays and Saturdays, all the way 'till 4 pm. The establishment operates on a first-come, first-served basis, so make sure to keep that in mind when deciding to dine here.
What couples say about Lúc Lác
The place is a bit hidden and we walked past it a couple of times before we found it. We tried the place because of its good reviews and they are indeed well deserved. The peanut curry is amazingly tasty and the chicken was super tender. The place is affordable. I'll definitely go again every time I visit Portland. - NTKhair, October 2019
Totally worth a stop. Fun experience. Good food for those who like Vietnamese. Nicely made drinks. Great service.-ACD100, September 2019
"We really enjoyed this place ! The food was very good and the service was quite fast ! If you come here you should expect waiting a little before being seated ... but it is worth the wait (I also recommend the Pho that was absolutely AMAZING)" - Izabel75, August 2019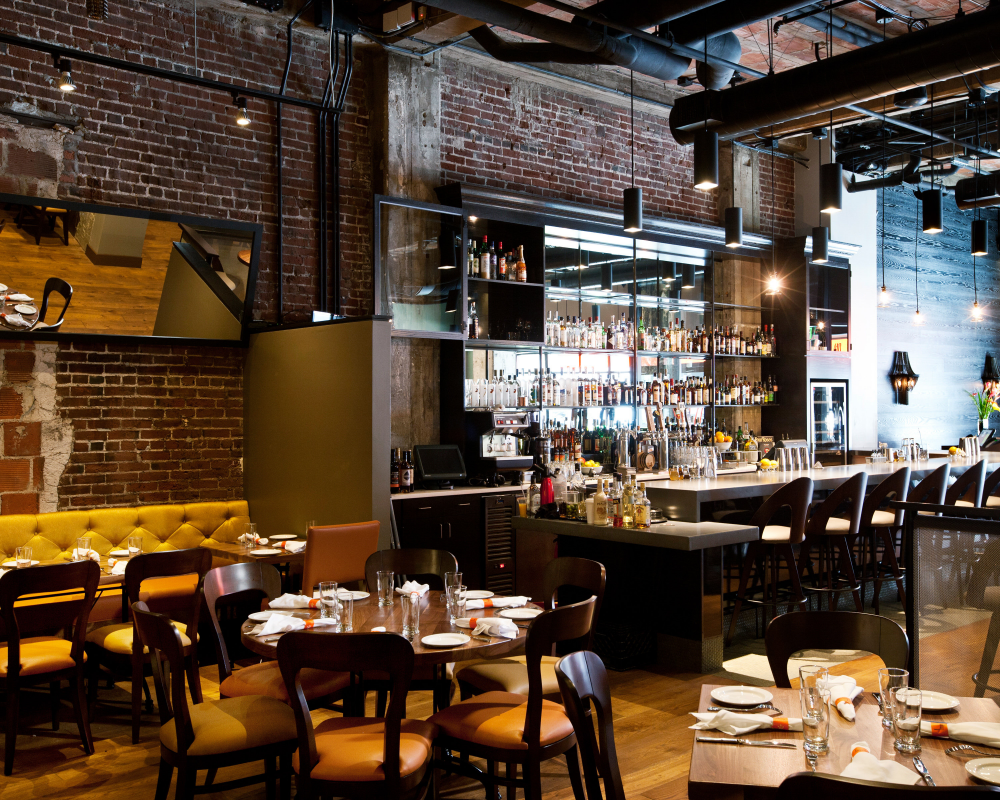 Source: imperialpdx.com
Average review score: 4.3
Couple ratio: 36%
Sometimes, it's always great to head back to your roots, and Imperial offers the experience you need to do so. Specializing in Pacific Northwestern cuisine, Imperial's menu offers a wide array of meals, including salads, seafood, and some all-time American favorites like fried chicken and fries with secret sauce. The restaurant is run by Chef Paley, who's been Dean of Portland Chefs for years, a testament to his experience and expertise.
Imperial serves breakfast, lunch, and dinner, with special Happy Hour menus and a collection of wines and cocktails, making any time of the day a good time to visit.
What couples say about Imperial
"Great ambiance. A combination of individual and family style dining. The entrees are individual and the appetizers, sides and desserts are great for sharing. The flavors and portions are perfect with the exception of the red potatoes with garlic gravy (they were under-cooked and bland). The oysters, duck meatballs, roast chicken, roast carrots and desserts were fabulous." - harrisg675, October 2019
"The highlight was the smoked mushrooms! Loved them! We ordered the flat iron steak medium rare and it was perfectly cooked! The fries were delicious, especially with the sauce that came with them. And our server was great!" - James P, November 2019
"We shared the 42 oz. aged Ribeye and it was exquisite!!. We also had the Halibut, the Kale salad was really delicious, and pickle plate was amazing in its variety. Drinks, desserts, wonderful service, relaxed atmosphere, we will be back!" - tdanowski, October 2019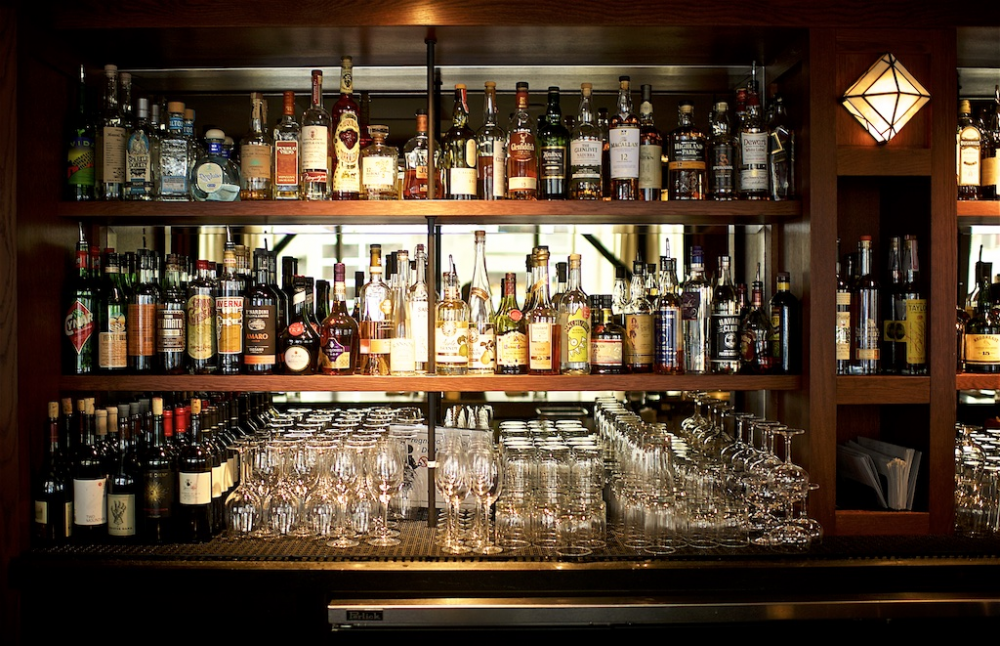 Source: q-portland.com
Average review score: 4.6
Couple ratio: 36%
Dining in the same restaurant more than once starts to feel repetitive, even with their seasonal menu. Q Restaurant and Bar, however, makes repeat visits even better than the first. Q is known for its "hyper-seasonal food", thanks to the variety of chefs with their respective backgrounds. This makes dining at Q a different experience each time, making it great for dates.
Q serves from brunch to dinner and even has a kids menu for those that bring their children. Their bar offers a large collection of wines and cocktails, which only add to the uniqueness of each dining session. If you're looking for something new every time, Q Restaurant and Bar's meant for you.
What couples say about Q Restaurant & Bar
"We came on a Sunday and located street parking easily enough. We waited only a few minutes and were seated pretty quickly. The staff were all friendly and attentive from beginning to end. The meal was so fantastic! We loved VQ, so are so thankful Q opened up and we are not disappointed!" - Marie L, October 2019
"This restaurant was part of a Foodie Tour tasting from a previous day. The tastings were so good, that we returned for dinner. We were warmly greeted at door and selected the bar area for a better vibe. Not disappointed, very busy area with tables closely arranged. Select the opposite side for more room and quieter surroundings if desired .Wait staff was professional and well versed, cocktails delicious and our entrees were interesting( Apple Salad, Duck, Salmon & Dessert). Will return next time in Portland."- tourguidemom, October 2019
"An extremely delicious French toast and crisp bacon brunch. Alone I was treated with kindness, professionalism and attentiveness. Give it a try." -GoPlaces677474, July 2019
Why Q Restaurant & Bar is a great date spot
"Q Restaurant & Bar is perfect spot to celebrate any special occasion. Date nights spent at the Chef's counter are the best! If you need us order a special dessert or get that boutique of flowers for that special person, let us know. Q Restaurant & Bar is a chef driven restaurant in the heart of downtown Portland. We specialize in hyper-seasonal food, sourced locally. Our menu inspiration pulls from our staff's diverse background, which allows us to have an ever changing and unique menu selection. We pride ourselves in our relationships with local purveyors, producers, and growers, which is reflected not only in our dishes, but also in our craft cocktails, wine, and beer selections", Q Restaurant & Bar told Dating Experts.
Source: culturedcavemanpdx.com
Average review score: 4.5
Couple ratio: 36%
Some restaurants exist to cater to a specific diet, and Cultured Caveman is one of a kind, being one of the first Paleo diet-friendly restaurants in the U.S. Paleo diets involve consumption of mainly unprocessed food, similar to how early humans ate. It aims to improve one's health by doing so.
They serve familiar faces such as Pork Carnitas Tacos and chicken tenders, while also offering plenty of vegetarian options such as salads and other appetizers. If you or your date have any food restrictions, they also do their best to accommodate you. It's a great place for dining on a diet.
What couples say about Cultured Caveman
"I love the healthy food here even though I am not paleo. It is a great place to eat if you have allergies and need accommodations. I crave their food if I have not eaten there for a week." -Lynnm_thom, March 2019
"I like clean food so finding a paleo restaurant is something I get excited about. I had the Shepard's pie with Cesar salad side. It did not disappoint! Very tasty and filling. I am not a huge salad fan but I would order just the Cesar in the future due to how good it was. Let's hope they open another one of these closer to where I live!" - S J,September 2019
"This was a very pleasant dining experience for me. Since I have an Autoimmune disease and am on the Autoimmune protocol (AIP) it was refreshing to be able to eat at an establishment where AIP compliant dishes are labeled as such on the menu. It was a breath of fresh air to be able to have multiple order options on the menu without needing to request changes. Don't pay attention to the negative reviews complaining about the price. Paleo foods are higher quality (read: not sourced from Sisco) and by default are going to cost more. I believe the prices were extremely reasonable for the higher quality food options."-Levi G, January 2019
Source: burrascapdx.com
Average review score: 4.4
Couple ratio: 36%
Burrasca isn't your typical Italian cuisine restaurant. While being rooted in heavy Italian themes, Burrasca specializes in Tuscan dishes, something not often found in most other Italian establishments. Signature dishes such as castagnaccio, francesina, and testaroli all lunigiana. Chef-owner Paolo Calamai brings his upbringing in Florence to Portland, and with cooking experience from age 16, his dishes are guaranteed to take you on a culinary trip.
Burrasca also offers a tasty yet affordable selection of Italian wine, brewed all the way from Tuscany. So when you decide to dine in Burrasca, prepare to discover a whole new world of Italian cuisine.
What couples say about Burrasca
"Most amazing dining experience, like being transported to Italy for an incredible meal. This place is amazing. Great cool vibe, amazing food, great service. There are many Italian restaurants in portland. This one is top 3 out of all. Definitely coming back to explore the menu further" - Dave R, July 2019
"Like royalty...That's how we felt from the moment we walked in the door. Our table wasn't quite ready, but the owner and staff mobilized to make us very comfortable for the few minutes we had to wait before being escorted to a beautiful seating area in the back. The wine and food were outstanding. We savored several smaller plates and enjoyed excellent service throughout. Delightful in every respect!" - Eugenia W, February 2019
"The chef is Tuscan and the food presents excellent Tuscan dishes! We enjoyed last Sunday and have visited since Burrasca was a food truck some years back. Excellent pastas, as well as excellent meat and seafood dishes. Do enjoy!" - DavidD-Portland, January 2019
Why Burrasca is a great date spot
"We offer classic Italian hospitality: relaxed yet polished, unfussy and welcoming to all, friendly yet mindful of when folks wish to be left to themselves and enjoy each other's company", the restaurant told DatingExperts.com.
"You and your date will get a unique take on Italian food in that we focus exclusively on Tuscan cuisine and wine—reflecting the deep Florentine roots of our chef/owner, Paolo Calamai. We see a lot of couples celebrating anniversaries, or enjoying a date night that isn't same-old, same-old. In the warm season, our garden patio is an amazing place for a summer late-evening date, with the soft glow of candles and abundant greenery around. The restaurant itself boasts flickering candlelight and a lively open kitchen for a bit of theater. A curated menu of Italian-themed spritzes and cocktails and after-dinner amaro flights make sharing and tasting fun; close your eyes and you might think you're dining in Tuscany. And what can we say: good handmade pasta is the most amazing aphrodisiac! The neighborhood itself is very safe and strollable, with plenty of options for a pre- or post-dinner drink at the numerous bars/restaurants nearby on SE Clinton St. or SE Division St., or grabbing ice cream or gelato at some of the city's best-known nearby sweet spots, or just walking off those carbs while holding hands."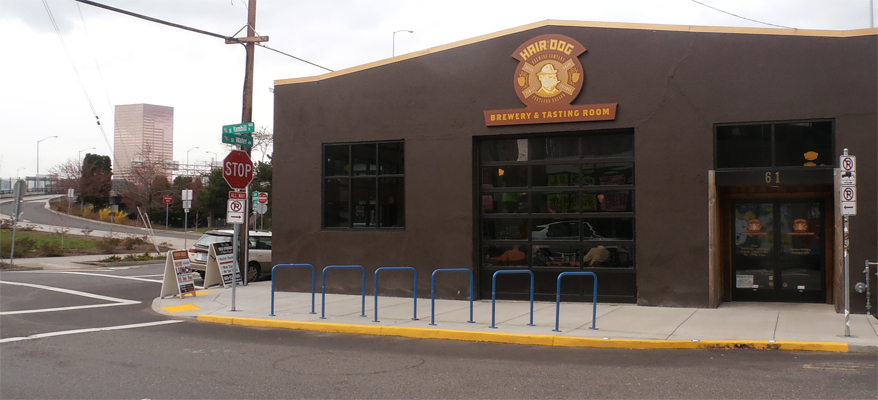 Source: hairofthedog.com
Average review score: 4.1
Couple ratio: 36%
Beer-loving couples rejoice! This is the dating spot for you. Hair of the Dog is a local brewery that specializes in making unique beer flavors and is one of the pioneers of its kind. Everything is brewed by Brewers Denver Bon and Alan Sprints, who've been running the brewery since 1993.
They don't just offer beers, though. Aside from their signature collection, they offer the usual partners to a good beer - cut meats with cheese, duck wings and even salads for those on a diet. Desserts and sandwiches are available too. Regardless, people come here for the beer, and you should too
What couples say about Hair of the Dog Brewery and Tasting Room
"First brewery visit it Portland and it didn't disappoint! The weather was nice enough to have the large sliding door open, adding to the great vibe. I shared the lunch special with a friend which was some sort of corned beef hash, and we were both practically licking the plate. I'm a fan of IPAs and the beer did not disappoint at all. I'd make this a stop if I come back to Portland again." - Bradintz, March 2019
"Here for a quick stop and enjoyed the brews especially Adam. Tasty food and great service. Good prices too. Highly recommend! Kids enjoyed the root beer and Mac and cheese." - nikhilmoen, January 2019
"Each time we come to Portland, we make a stop here. Great social spot with a variety of delicious beers. Awesome nibblies... fresh bread, pickles and meats. All the things a girl wants!" - meritagebc, April 2018
Source: stjackpdx.com
Average review score: 4.1
Couple ratio: 35%
St. Jack is a rustic French cuisine resto-bar located at Northwest 23rd Ave. It's run by Chef Aaron Barnett, whose inspiration comes from the many establishments and cafes that line France's streets. They mainly serve dinner, offering a variety of popular French dishes such as Fromage, Hors D'oeuvre, and Fruits de Mer.
St Jack runs their own wine and spirit bar that features wines from and outside France. They also serve brunch on Sundays if you're into some hearty French starters. If you plan on going around 23rd Ave., St. Jack is a great place to settle down and dine in.
What couples say about St. Jack
"Nice atmosphere with open kitchen concept. I started with Creme of Tomato Soup which was comparable to the best I've had. For dinner I went with the Mussels & Pommes Frites. The mussels were plentiful, nice size, and delicious sauce. Came with nice portion of bread for dipping. Family really enjoyed and I'd recommend as a nice, casual dinner with French touch." - boilerbuck, October 2019
"I dropped in, starving, when I was unexpectedly delayed overnight in Portland. The staff were kind and responsive, food was prepared quickly and oh so tasty. The oysters were fresh as with the mignonette accentuating their flavor. It's always a treat to find matsutake on the menu, and the crepe did it justice. Also nice to be able to buy a half bottle of wine. Would totally recommend and come here again." - Gogirl37, October 2019
"Nestled in a cute city suburb, this Northwest District restaurant was by far the best in Portland. The service was not only friendly, but also knowledgeable. The food was just WOW and the drinks were out of this world! If you're visiting Portland, be sure to stop by this place. Plus the surrounding community has quaint little shops to explore, so come early enough to enjoy that as well." - Josh Finkelstein, June 2019
Why St. Jack is a great date spot
Joanna Scarpelli, the General Manager of St. Jack, told us, "St. Jack is most definitely a date spot, and more than anything else a place for anniversaries and special occasions. Located in the heart of northwest Portland, St. Jack's warm, lively space is perfect for an intimate candle-lit dinner. Well crafted cocktails, an extensive wine list, and "frenchy" ambience are the perfect pairing for the restaurant's Lyonnaise style cuisine. Whether it be for a first date or a special occasion, St. Jack is a must for any couple."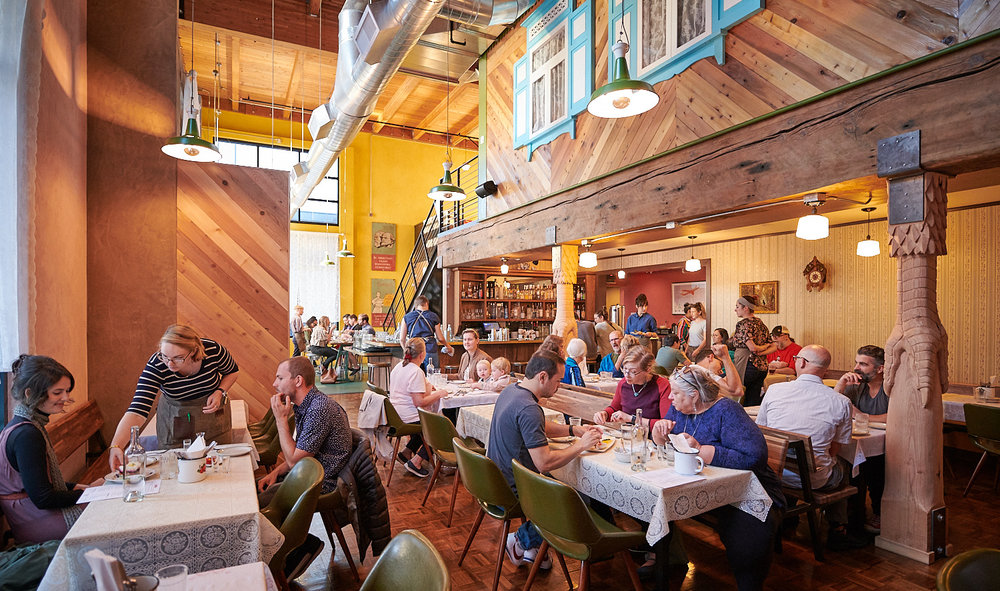 Source: kachkapdx.com
Average review score: 4.5
Couple ratio: 34%
Known as one of the best Russian cuisine restaurants in the entire state, Kachka brings guests to the world of Belarusian dining. The product of Bonnie and Israel Morales' efforts to showcase Russia's finest, the establishment offers lunch and dinner courses, from cabbage schnitzels to tabaka. And of course, the vodka, a Russian favorite, is available for guests in wide varieties, though they offer other drinks as well.
They're open daily from lunch to dinner, with Happy Hour included in the bar/lounge. If you or your date hear your inner soviet call out to you, want to try a whole new culinary experience, or are just in the mood for food and vodka, Kachka welcomes you.
What couples say about Kachka
"The food was fun and tasty. Great little plates of all kinds of treats. The vodka was wonderful and the service attentive." - Karl D, October 2019
"Wonderful Russian restaurant. Started with Caraway infused vodka, which was great, and I don't even like vodka. Proceeded to order the mak-a-rita cocktail, which was a perfect sip along drink throughout the meal. Dinner consisted of heirloom tomato salat, herring under a fur coat (couldn't resist that), sour cherry dumplings and stuffed pork cabbage rolls. A perfect combination of tasty foods. We'll be back next time we are in town." -mwyatt, October 2019
"We had dinner at Kachka last night and it was superb. We ordered several small plates and 1 entree and split among 3 people. I tried some things that I would not normally eat like chicken heart and truly enjoyed it. There is really something for everyone. There is also a huge selection of Vodka that adults can enjoy...and the service was outstanding." - werbalow, September 2019
Why Kachka is a great date spot
"Kachka is a great date spot because it is a fun lively environment, where trying new things and toasting over vodka increase conversation, and make it easy to fall in love over a bowl of steaming handmade dumplings", said Anna-Lisa Chacon, General Manager.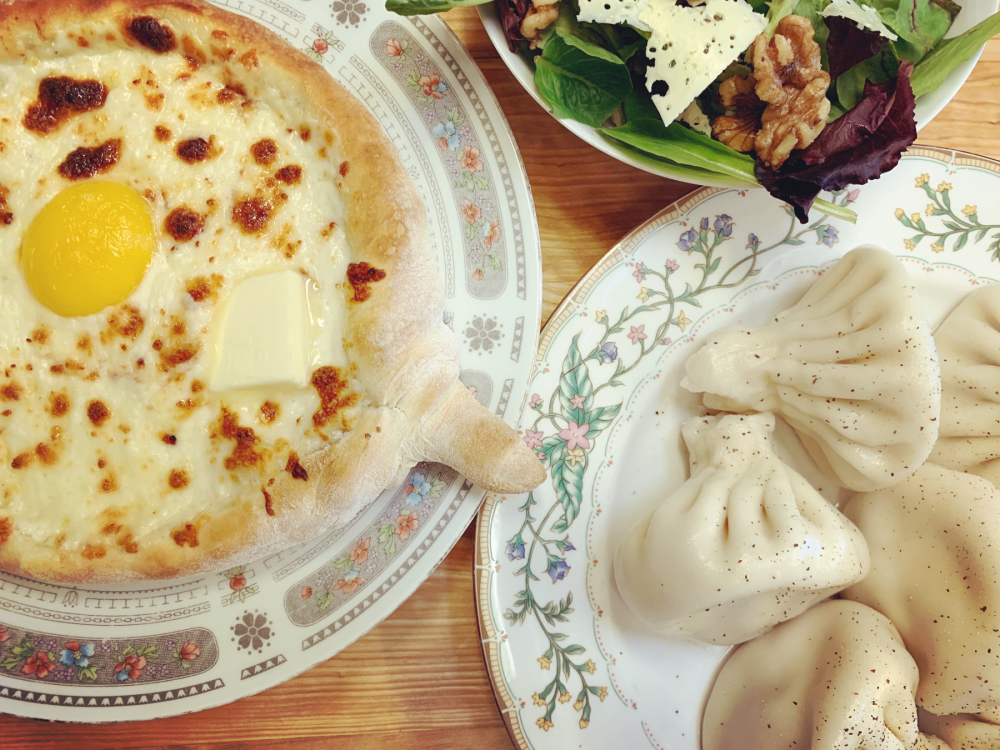 Source: kargigogo.com
Average review score: 4.4
Couple ratio: 33%
Georgian cuisine is both uncommon and underrated, even in diverse countries such as the U.S., and Kargi Gogo proves that there's more to European food than French or Italian. The restaurant features authentic Georgian dishes, with Khachapuri and Khinkali Dumplings as their main attractions These dishes come in different flavors and have vegetarian, vegan, and even gluten-free options.
Then there's the wine. Georgia is widely considered as the first winemaking culture, and Kargi Gogo's wine collection is home to thousands of years of experience. Kargi Gogo is a rare culinary experience, and it's sure to spice up your date.
What couples say about Kargi Gogo
"Once a foodcart, this establishment has been in this location now a while, and is attracting attention. It's a small restaurant. Maybe four tables, and some stools to sit and eat your food on the other side. We came early on a Friday evening to avoid the crowds, and by the time we left, things were hopping! The food was unique, delicious and the service was fine. The ambiance is basic with some interesting Georgian aspects throughout. I got the veggie dumplings ... and they were delicious! The eggplant appetizer that we also ordered was unusual and also very, very tasty. I'd go back for the food anytime" -Bryan H, January 2019
"My first time having Georgian food and I'm in love! If you go here please go with a bunch of people and try everything. It's worth it! I'm bad with remembering plate names so I will just describe the dishes in English. The cheese boat bread was my absolute favorite. It's full of flavor and if you love cheese it will be like a taste of heaven. Loved the potato dumplings and the meat dumplings too. And the pickle/spread plate was really fun to try out. Basically I loved everything and I am very bad at descriptions. Just go and try it out. You won't regret it. Very great customer service was a plus. Definitely recommend!" - Cera
"Our first time eating Georgian cuisine, and everything was yummy! The dumplings were juicy and the bread boat was extremely cheesy. All the dishes we ordered were very starch heavy, so we were stuffed easily and had enough leftovers to pack for later. A small self-serve place with limited seating, but we arrived early for supper that it wasn't a problem." - Ting A, August 2019
Why Kargi Gogo is a great date spot
The restaurant told us, "Georgian cuisine is accessible but still unknown to most people, making it a great thing to explore together in our cozy and intimate environment. Most of our food is also perfect for sharing, including khachapuri: a large bread "boat" filled with cheese and topped with an over easy egg and butter. You mix it all together into a cheesy fondue and rip off pieces of the bread for dipping. Then you can share a bottle of amber-colored organic wine from the oldest winemaking culture in the world -- something different than your standard Cabernet or Chardonnay."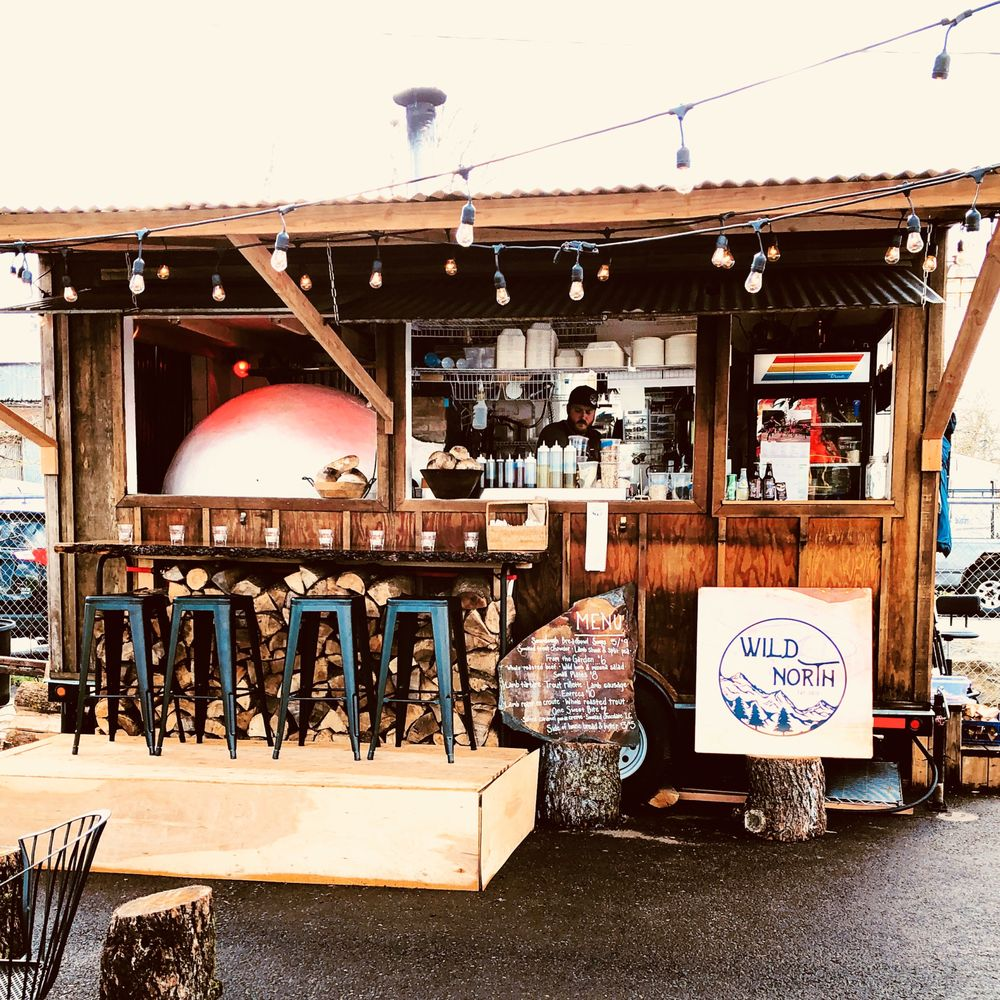 Source: wildnorthpdx.com
Average review score: 4.9
Couple ratio: 33%
While dining at a restaurant has its own benefits, food carts offer a charm to it that indoor venues cant achieve. Wild North, located at SE Oak St, is a great example of this. The food cart is home to seasonal dishes, with this season featuring turkey dishes such as soups and legs. They also offer all-time favorites such as pizza for those who can't seem to decide.
What makes Wild North different from most food carts is that they aim to be as sustainable and healthy as possible. Ingredients are bought locally, with Chef Brandon even sourcing some from his own garden. Don't let the cart fool you - they only serve quality Northwest food here.
What couples say about Wild North
"I came here after reading a lot of positive reviews. Some of the best food being produced in Portland is out of food carts. This is one of those carts. I ordered the Porchetta and their incredibly delicious popcorn corn on the cob. The Porchetta was amazing in flavor, the greens with it were fantastic. The corn on the cob is the best you can get anywhere. It is coated in like a wonderful cheese sauce and has popcorn served with it. It is just incredible. This was like fine dining out of food cart. I highly recommend to anyone to get here and try it out. I think you will find it amazing as I have. Great Food, Great Service, Great price." - Milestogo007, September 2018
"Rode my bike out the Spring Water corridor and ended at Wild North in Cartlandia for lunch. Brandon is putting out high quality food at a very reasonable price. Yes, there are cheaper options nearby but you won't find better food, IMO."-Steve C, August 2018
"I've been wanting to try this restaurant for awhile. I follow them on Instagram, and their ever-changing daily offerings always look amazing. Today, I had their interpretation of Biscuits & Gravy (Sawmill Sausage Gravy). This dish did not disappoint! Most places in Portland, that offer B&G, come up short. Not Wild North. Their gravy was proper. This dish is served in a bread bowl that appears to be lightly-toasted in their wood-fired oven. This biscuit that comes on the side is scratch-made, served with a slab of room temperature butter. Perfect for dipping in the gravy bowl. The only drawback I see about this food cart, is that they need an actual brick-and-mortar location, as Cartlandia, while busy, is not the first place you would look to get food of this caliber. I look forward to exploring their other offerings in the future." - Evolution26, August 2018
Why Wild North is a great date spot
"Wild North makes a great date spot because of our casual but cozy ambiance and our elevated northwest cuisine that is served up without the pressure of a fine dining setting. Our menu is adventurous with options for everyone, and is always changing to offer the best local and seasonal fare. Our location at Base Camp Brewing is a great date spot with their large selection of rotating and signature taps, heated indoor and outdoor seating, and community events. Being located in the Central Eastside, we are also easily accessible from all of the Portland metro area", a Wild North representative told DatingExperts.com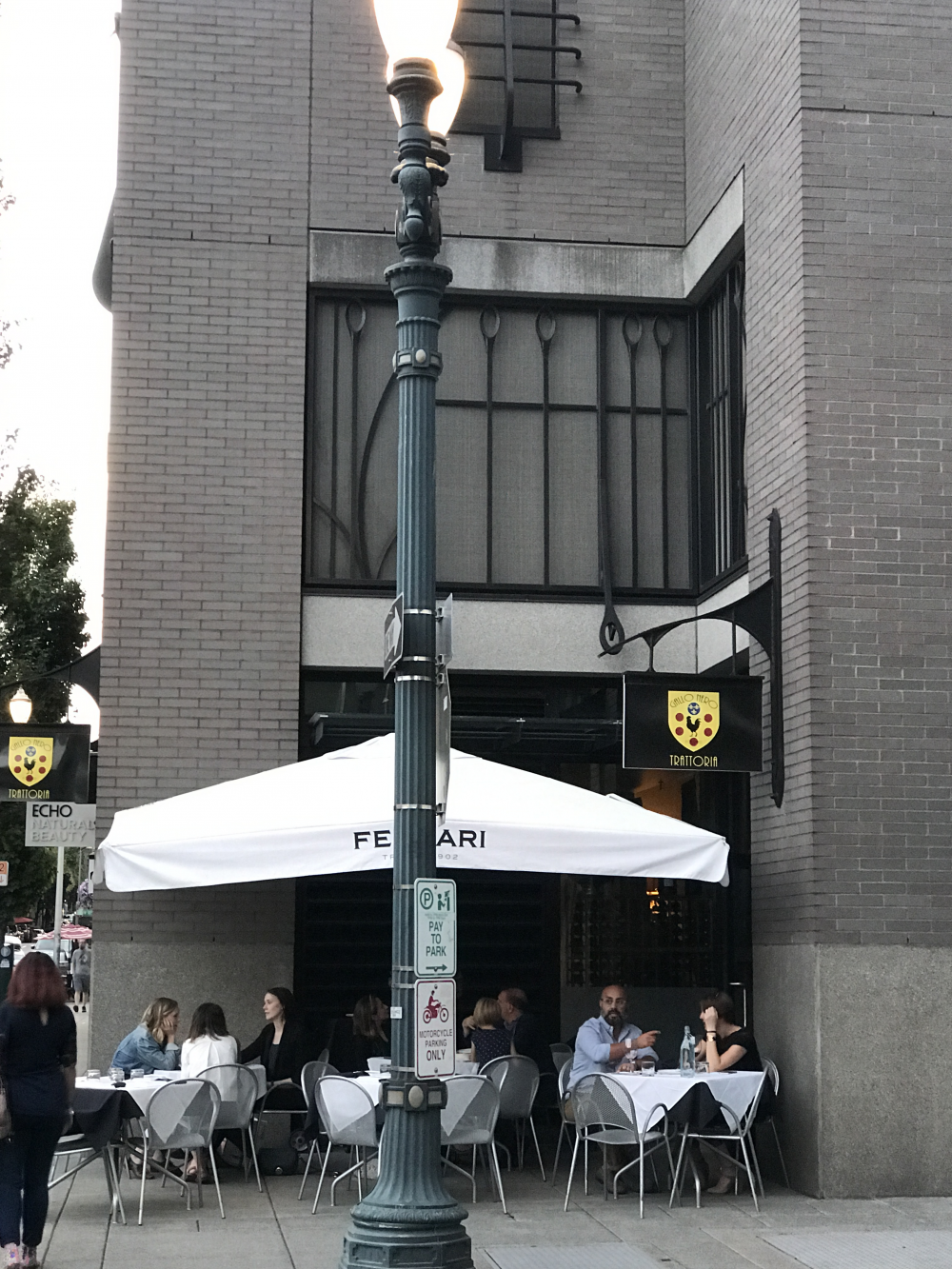 Source: galloneropdx.com
Average review score: 4.1
Couple ratio: 33%
Gallo Nero is an Italian cuisine restaurant in Northwest Everett St. that is heavily influenced by Tuscan cooking. Chef Davide Filippini and his crew offer don't offer your typical Italian menu - the many options to choose from will leave you confused and undecided at first. But don't worry - service there is great, and the waiters will be more than happy to help you, from explaining the dishes to offering their own recommendations.
Gallo Nero is open daily for both lunch and dinner, and paired with their extensive collection of drinks at their bar, it's a great place to treat your taste buds with some Italian love.
What couples say about Trattoria Gallo Nero
"This is one of my favorite restaurants in Portland. It does not disappoint. The selections are consistently terrific and the service is the same. I have never had a bad meal. Want escape to Tuscany for a couple hours??? Now you know where to go." - bbaker5555, October 2019
"As always, excellent. We've dined several times at Gallo Nero, which makes me realize i don't go there often enough - it's that good. service is very good - our server was sensitive to our timing, was very familiar with the wines, checked with us just often enough to be sure our needs were met. i haven't yet found a dish that i don't like, and particularly like their lamb skewers. pricing is reasonable (not cheap, not outrageous) but fully fair for the quality of food and service. we've brought other couples here, and they all have come away happy."-Bruce H, October 2019
This is a lovely, intimate Italian restaurant run by Italians. The food is wonderful, especially the pastas and fish. It is in a great location in the center of the Pearl District, and near several hotels. Great service and food, and a very nice, and reasonable wine list. They also serve the best olive oil I've ever had! A great find.-Fish224, August 2019
Source: bamboosushi.com
Average review score: 4.5
Couple ratio: 31%
Portland's many ramen establishments aside, Japanese food can also be enjoyed at an array of great sushi spots, and Bamboo Sushi is a great place to start. They aren't your average sushi bar, though - Bamboo Sushi is the world's first sustainable restaurant of its kind, meaning their environmental impact from the sea to your plate is kept to a minimum.
And the dishes are nothing to scoff at either. They feature signature rolls such as Chasing the Dragon and Kimono, and even give you the option of letting them prepare a menu based on your preferences and budget. Bamboo Sushi's dishes are must-try for all sushi lovers out there.
What couples say about Bamboo Sushi
"The annex is located a few doors down from Bamboo Sushi and only open 11-3 M-F for lunch. Not sushi -- poke style rice bowls to go. You can choose from a menu of bowls or do a build your own from a large variety of selections, just like a build your own salad place, but here with excellent fresh and sustainable seafood. Choose a protein -- NW Albacore and Hawaiian Big Eye Tuna are my faves. Then choose a sauce -- there are five choices, but I like the spicy Bamboo Poke Sauce. Then add in veggies and toppings: cucumber, avocado, sweet onions on a bed of white or mixed rice. Healthy and delicious!" - jpora, October 2016
"Bamboo Sushi has always satisfied us on our visits to their Pearl and SE locations. The food is delicious, well presented, and their Happy Hour prices some of the best in town." - Jens Kim B, August 2016
Amazing sushi while following the Monteray Bay Sustainable fish list. Creative sushi rolls and sashimi too. Lively atmosphere but even if you have to wait it's a fun place to go.-Carole M, September 2016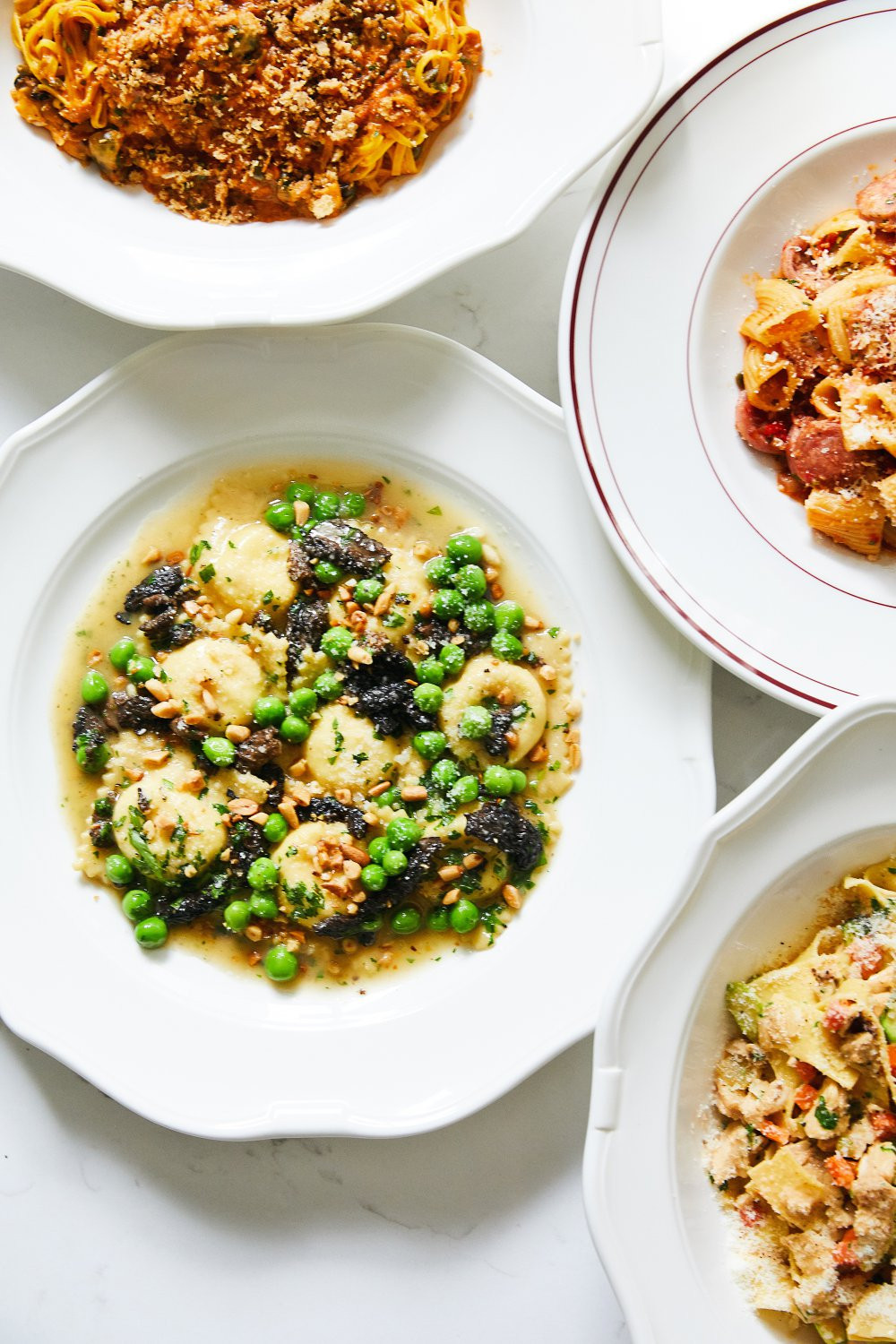 Source: ilsolitoportland.com
Average review score: 4.1
Couple ratio: 31%
"Il Solito" is Italian for "the usual", but this restaurant offers more than just that. Located at Southwest Washington Street, the place is run by Chef Matthew Sigler, a Nebraskan with East-Coast Italian cuisine experience under his belt. The establishment offers East Italian dishes with a Western touch, with the staple pasta and salad meals available for lunch and dinner.
Il Solito offers brunch, happy hour and dinner daily, and serves lunch menus on weekdays. They even have an exclusive breakfast menu from Mondays to Fridays. Their in-house bar offers beer, wine, and their very own house specials. Prepare for a great time when you dine at Il Solito.
What couples say about Il Solito
"Dining here is always a pleasure. The restaurant bills itself as serving the usual" -- by which is means traditional Italian-American dishes such as spaghetti and meatballs or chicken parmesan accompanied by garlic bread. It certainly does offer these traditional favorites, but the menu and level of cooking goes well beyond. On a recent visit we enjoyed the warm gardianera appetizer; chicory salad with pears and pecorino; squid ink bucatini with tuna conserva, anchovies, and olives; and pappardelle with a venison, parsnip, and cherry sauce.The servers are knowledgeable and friendly. There are two dining room; one more formal, and the other in an informal dining area that includes a bar. Reservations are helpful, but latecomers can often be seated in the bar area. The restaurant is in downtown, in easy walking distance of most major hotels. Whether you go for traditional cooking or something new, you are likely to be pleased." - Steve F, October 2019
"The food here was amazing. We started with the stuffed eggplant and the penne alla vodka was sumptuous. The pasta was cooked to perfection. The tomato cream sauce and the fennel sausage worked wonderfully together. What a gem of a restaurant!!" - Joan M, September 2019
"HH was nice and quiet, reasonably priced. Dinner in the main restaurant was not an option, as the Portland Marathon was the following morning. So lots of carb loading. We got a table for two in the bar area, with full menu service. Wonderful foods, many tempting choices. In the end I went with a classic spaghetti and meatballs, with Caesar salad. So very good, meatballs were slightly spicy and just the right size." - C K Trevillyan, October 2019
Why Il Solito is a great date spot
Il Solito's general manager, Brian Crawford, told us: "There's something inherently romantic about Italian food. Pasta, wine, there's a magic to it. But we also put effort into creating a special vibe and ambiance in the restaurant, with candlelight, attentive service, thoughtful music and cozy booths and tables for two. It's a delicate balance between being lively and noisy – because you want to be able to hear your date – but the acoustics at Il Solito hit the right levels."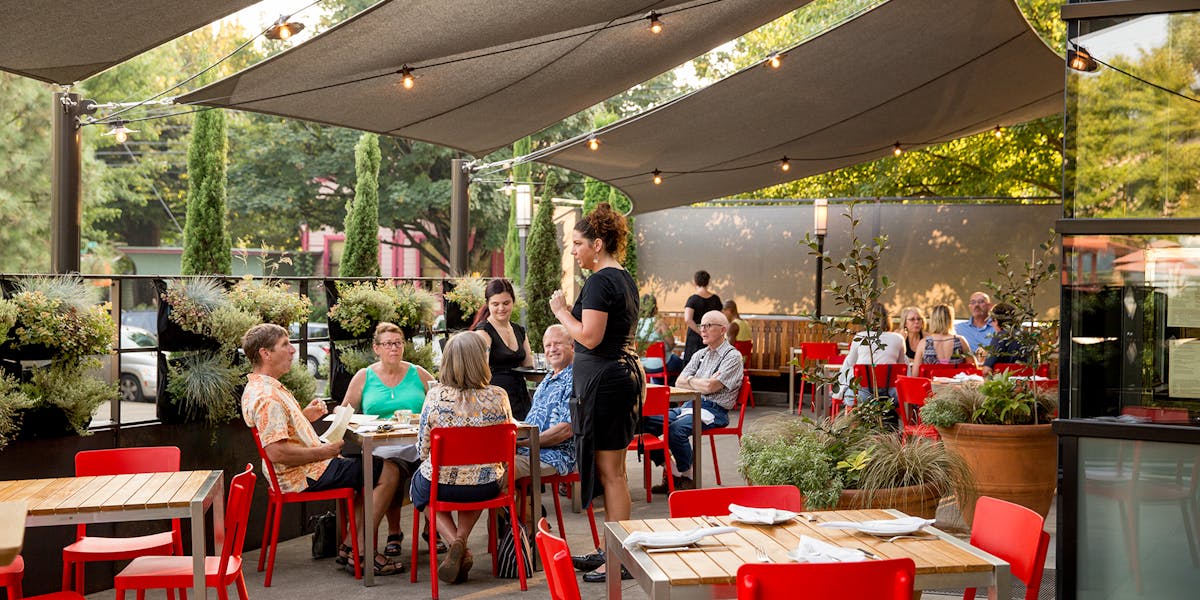 Source: nostrana.com
Average review score: 4.4
Couple ratio: 28%
Nostrana is an Italian restaurant, located at Southeast Morrison St. Ste., with an emphasis on local, simple and fresh ingredients. Chef Cathy Whims, a six-time James Beard Award finalist, offers Italian dishes combined with local twists, providing a unique Italian experience only found in the heart of Portland. To top it all off, they offer Italian desserts and their very own wine collection.
With weekly events such as Meatball Monday, Gnocchi Thursday, and Fish Friday, and seasonal dishes constantly changing up the menu, Nostrana gives you that unique Italian experience that not only makes you happy, but the local market as well.
What couples say about Nostrana
"This is one of the best meals I have ever eaten. From the beginning to end it was wonderful. Every aspect of this meal was perfection. Our waiter, Ivan, did an outstanding job, ask for him!! A reservation is highly recommended. If I could give more stars I would!" - Stephen1963,October 2019
"When you walk in the room you just know you're going to enjoy your experience. We sat the bar and enjoyed a fantastic dinner ! The white pie with local mushrooms was fab followed by the meatballs in a rich tomato butter sauce ( styled after Marcella Hazan). The butterscotch budino one of the best I've had!" - Chefclaire2014, September 2019
"We had an excellent meal Friday evening outside. Our server was great and the food was tasty. The drinks were good and we loved the desserts."-Peter F, September 2019
Why Nostrana is a great date spot
"Our atmosphere is a nice mix of convivial and intimate, but we hear it's the food, wine and drinks that make this a memorable experience for first dates. And if things are going well, guests can always sneak next door to our adjoining wine bar, Enoteca Nostrana, for a night cap.", Nostrana told us.

Source: noblerotpdx.com
Average review score: 4.3
Couple ratio: 28%
Don't be put off by the name - the Noble Rot features ingredients as fresh as fresh can get. With their very own rooftop garden supplying them their ingredients all year round. Because of this, Noble Rot offers new dishes at different times of the year, bringing a whole new meaning to seasonal menus.
And while the dishes made from in-house gardens sounds like a treat, Noble Rot is also well-known for their own wine program. Beer, cider, cocktails, whiskey, and scotch - the list goes on. You can even buy the whole bottle from them at retail price if you like what you're drinking. Noble Rot's key features make it an ideal dinner date location.
What couples say about Noble Rot
"We went with 2 other couples and sat outside on the patio and had a great time. We had excellent service, a great choice of wines and enjoyed all the apps we shared. Highly recommend if you like wine and the view is a bonus." - Lon P, July 2019
"Have been to dinner here several times. The restaurant is on the 4th floor of a small building in NE Portland. Their rooftop garden provides some of their vegetables and herbs in season. Hard to be more local than that! The food is impeccably prepared and presented. The menu changes regularly but they always have a fish offering, a vegetarian choice, their signature burger and a pasta among others. I usually order the fish which is always light, fresh and delicious. My husband, the carnivore has had their meat offerings and the burger and has always left happy and satisfied. Servers are friendly and helpful. Wine flights and great drinks. One of the few consistently outstanding restaurants in Portland." - Judy M, April 2019
"After living in Portland for many years, this is a must for me when I get to return for fun. The views of the city skyline are fantastic. Service is high quality and reminiscent of a quaint quality European restaurant. They don't rush you and it is clear they are dedicated to an epicurean experience for guests. The feel of the restaurant is quiet, relaxed and client focused. The menu is craft and always has a vegetarian and vegan option. But meat eaters don't stay away, the burgers are fantastic and I love the roasted chicken. Do yourself a favor, make a point of visiting the Noble Rot. Notes: street parking, allow time for finding a spot. You take an elevator to the fourth floor and it is easy to miss seeing the location sign." - Jenice P, March 2019
Source: oxpdx.com
Average review score: 4.4
Couple ratio: 28%
Aside from running the Bistro Agnes, Chefs Greg and Gabi Denton also head an Argentine-inspired restaurant known simply as Ox. As the name suggests, the restaurant does serve ox in its menu, but their grilled steaks and ribs are worth trying too. Their empanadas serve as great starter options, and they offer salads inspired by Meditteranean influences for their vegetarian guests.
Ox serves exclusively for dinner, though it makes up for the lack of longer business hours with a large selection of wins to choose from. Selections from across Europe, all the way to Australia, and even from local breweries in California and the Northwest.
What couples say about Ox
"It's hard to put into words the experience here. Every dish pushes the limits of anything you thought possible. Beef tongue carpaccio to clam chowder to roasted carrots, the flavors will take you on a journey around the globe. I will return when in Portland again." - chefbaby2013, September 2019
"Started with very high quality drinks that we had to order several of, followed by a jaw dropping starter that was on special. We ordered the Asado Argentino and upgraded one of the sides. Was a little too much food but that's a good problem to have. Great staff. Would return." -Tony B, August 2019
"Dinner at Ox was a memorable experience. Clam chowder will never be the same again, after having Ox's unique clam chowder. My skirt steak also was fantastic. A true foodie dinner experience." -Thomas T, May 2019
Why Ox is a great date spot
"Situated in a rustic 19th century red brick building in Portland's Elliot neighborhood, Ox restaurant has been a romantic rendezvous for couples since it opened it's doors in 2012. At the heart of Ox beats a wood fired grill that bathes the dining room in firelight. Sit side by side at the grill counter or bar, or join us at a table along the banquet. The flicker of firelight and the family style design of our menu both serve to accentuate the dining experience's romance", said General Manager Daniel Weiner.
Source: ichizakitchen.com
Average review score: 4.6
Couple ratio: 25%
Vegan restaurants may seem a bit daunting as a meat lover at first, but Ichiza Kitchen and Tea House may just change your perspective on them. Ichiza Kitchen is a unique vegan restaurant in that they serve dishes from all across Asia, from Japan to Taiwan and even the Philippines. They're all made with fake meat, meaning that you can enjoy the taste of Asian cuisine guilt-free.
Ichiza also serves as a tea house. Mostly offering Chinese and Japanese tea, the establishment offers different flavors that will help you unwind. If you've been planning on trying some vegan for your date, consider heading to Ichiza.
What couples say about Ichiza Kitchen & Tea House
"Delicious little gem in the Goose Hollow neighborhood. We opted for ordering five of the small plates to share which was perfect. Each had a unique flavor, so I couldn't tell you which was my favorite since they were all so good. The staff was super friendly and even though the place was small looking, we didn't feel cramped. A vegan treasure!" - DCDScootergirl, September 2019
"This tiny hidden gem features drop-dead delicious food, lovingly prepared and respectfully served. The small plates are a vegan's dim sum dream come true--scrumptious dumplings, noodles, and other tidbits. The faux meats" used are excellent--especially the "bacon." For a main course dish, the ma po tofu is simply the best I've ever eaten, and it's beautifully presented. They also feature a large selection of specialty teas which are carefully prepared by the server at your table" - Andrew B, February 2019
"Ichiza Kitchen surpassed any and all expectations I had. It's a lovely restaurant. I felt immediately at home. I'm not sure what I expected, but the food and ambiance surpassed our expectations. We started with dim sum type appetizers. The sauces that accompanied them were out of the world. Then we shared ramen bowls, adobo, and dishes. What a treat!! The tea service is beautifully presented as well. Go!!" - Robin0753, August 2018
Why Ichiza Kitchen & Tea House is a great date spot
"Ichiza Kitchen & Tea House makes a great date spot because of how small and intimate the dining experience is. We have wonderful servers who will not only provide you with great service but will also educate you about the cuisine and the fine oolong teas we like to serve in a traditional way. Combined with amazing food and chill music vibes, Ichiza Kitchen is definitely a hole-in-the-wall that will impress. Plus, Ichiza Kitchen is queer/queer-POC owned, and we seek to create a safe space for folks in our community to gather and celebrate each other", Ichiza Kitchen & Tea House told Dating Experts.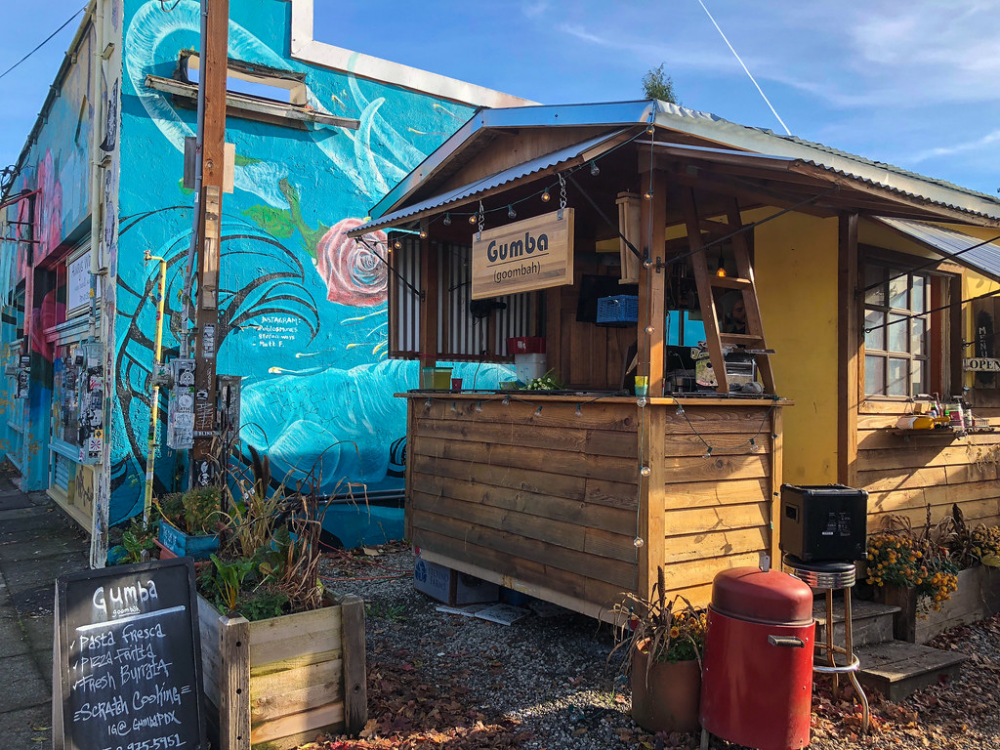 Source: gumba-pdx.com
Average review score: 4.2
Couple ratio: 25%
While running a successful food cart today, owners Robin and Jesse started off Gumba with humble beginnings. Just barely getting by during its first opening, Gumba grew to become a destination for a good meal. The establishment features familiar faces such as crispy potatoes, sandwiches, and pasta, but the added homemade touch to every dish makes for some truly delicious food.
They're currently located at 15th Alberta Street so that they can serve guests in warm tents during the winter. So if you're in the mood for some classic American specialties, Gumba's simple yet charming menu will be perfect for your date.
What couples say about Gumba
"UNIQUE Menu, made fresh daily! Masterful skills combining flavors and textures! Presentation and plating enticing! You won't be disappointed!"-Debbie Clevenger, July 2019
"What a hidden gem! I got 2 specials: creamy cauliflower/Gorgonzola soup (so perfect) and this yummy fennel and beet salad with turkey confit (on point AND when I asked to leave the breadcrumbs off the super duper chef offered to toast up some pumpkin seeds in lieu of). While I was waiting he even brought me a delicious little amuse bouche to nibble on and that was also delicious. Fabulous chef and gracious host. Go eat here! I'll be back soon!" - Alli Capece, March 2017
"The pasta is amazing! Both things we ordered were delicious with complex flavor profiles. The seating arrangement is an outdoor area with mismatched tables and chairs creating a funky, romantic vibe. All the food is beautifully plated and, did I mention, totally tasty" - Rachel Winston, March 2019
Why Gumba is a great date spot
"Gumba is a unique dining experience. Definitely a fun surprise if your date has never heard of it. They'll at first think you're a cheapskate, for taking them to a food cart on the first date, but you soon realize the brilliance when the food arrives. Slurping eggy noodles on a brisk fall night will surely end well for everyone involved", said Jesus Martinez, owner of Gumba.
Source: danweicanting.com
Average review score: 4.2
Couple ratio: 25%
Chinese cuisine has always been the go-to Asian food for Americans, and Danwei Canting shows us why. Serving up good Beijing cooking, the establishment serves Chinese specialties such as Wonton noodle soup and La Ji Zi chicken, alongside their dumplings like Pork Jiaozi.
What makes Danwei Canting a fantastic place for Chinese food, however, is their liquor collection. The restaurant serves Baijiu, authentic Chinese liquor, to guests, with their bottles coming from breweries such as Vinn and Mianzhu Daqu. Their Happy Hour promos include Baijiu specials aside from their food deals, making the afternoon a great time to dine there.
What couples say about Danwei Canting
"Great food, staff provides good customer service. Definitely recommend" - Sharon Dougherty Cresalia, July 2019
"Excellent year round menu + awesome wings and a great burger during Wing Week and Burger Week. Cool outdoor seating. Large menu · Stylish interior · Hip atmosphere" - Kathryn Unger, August 2019
"Absolutely delicious food. a huge variety to choose from. Tasty drinks in a low key atmosphere with fun employees. Get ready for a taste buds revolution." - Jason Pickering, January 2019
Why Danwei Canting is a great date spot
"Danwei Canting offers a great mix of Beijing city vibe, fresh & local ingredients made to order, and just the right amount of heat", the owner told us.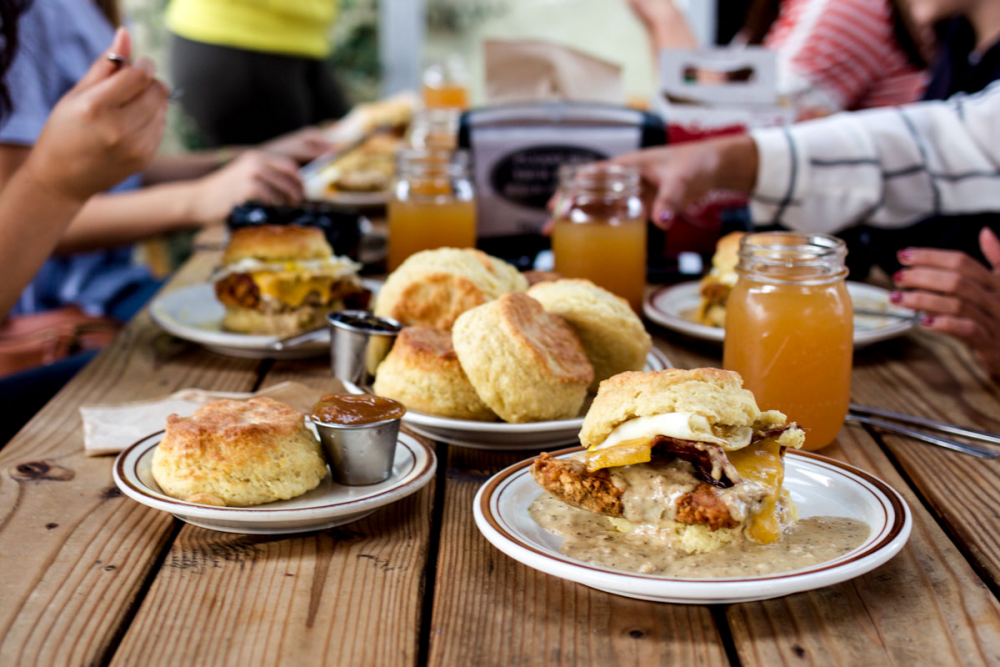 Source: pinestatebiscuits.com
Average review score: 4.5
Couple ratio: 23%
In search of the perfect biscuit, the founders of Pine State Biscuit created the establishment to share their North Carolinan roots with the Portland community - with much success. Their signature biscuit sandwich, The Reggie, is a must-have for both biscuit and sandwich fans alike, as it incorporates the best of both worlds in one bite.
With four locations in Portland and one in Reno, Pine State Biscuits has become part of the community and proves how well-received it's been over the years. Keep in mind that they don't offer reservations, however, so you may have to line up for their gravy-dipped biscuits (which are obviously worth the wait).
What couples say about Pine State Biscuits
"If you are looking for good food at a very moderate price, this is the place. We came for breakfast and were so pleased that we returned for lunch! This is some real southern style cooking. It is a small place and tends to get full fast so plan ahead and Ev en then you might have a bit of a wait. But it's worth it. Great staff." - MarineAir10, October 2019
"Just go for it! You are on vacation! Do the biscuits and gravy, do the pancakes, do it all it's delicious." - Loomin8, October 2019
"We weren't in the mood for chicken, but opted for several biscuits with sides of each gravy. The biscuits, for being so tall, were pretty perfect. And the sausage gravy, while delicious, was beat out by the mushroom. (My mouth is watering just thinking of it!)" - Nichole F, September 2019
Why Pine State Biscuits is a great date spot
"Pine State Biscuits is great for dates because there is nothing sexier than sharing a Reggie!", Sarah French, Operations Manager at PSB, told DatingExperts.com
Source: porquenotacos.com
Average review score: 4.4
Couple ratio: 23%
Mexican cuisine has found its spot in American culture over the years, which is probably why ¿Por Qué No? Taqueria feels like home. ¿Por Qué No? has 2 branches in Portland, with one in Mississipi and one in Hawthorne, both serving daily.
Being a taqueria, they serve authentic tacos that bring out Mexico's essence The place also offers Antojitos as starters, and meals for children too, such as quesadillas and kid's tacos. They serve both non-alcoholic and alcoholic drinks, with margarita and beer among their collection. It's definitely an ideal place to dine in if you're looking for some Mexican food.
What couples say about Por Que No? Taqueria
"This is truly a SE Portland experience. Don't let the line discourage you. It moves faster than you think. Order at the counter and take a seat. The best seats are in the back. Heated patio is perfect for cold weather. Service is fast and friendly. Food is good and homemade. One of our favorite places to eat." - lenetskyshev, October 2019
"Get the bowls or get the tacos. It's all fantastic! If you like REAL Mexican chips, this place has it. The guac is awesome. Try to get there when the line isn't around the block!" - Dana, September 2019
"This was recommend to me by someone from Portland. It was a fun place to check out and great food. The line moved very quickly and I was able to get a spot to eat at the bar. Friendly place and nice ice cream parlor next door." - Loves2travel918, July 2019
Source: bollywoodtheaterpdx.com
Average review score: 4.3
Couple ratio: 22%
Contrary to the establishment's name, Bollywood Theater isn't an actual theater, although its ability to offer the Indian dining experience could make one think otherwise. Located at branches in Alberta and Division, this restaurant features everything you'd expect from an urban Indian food market. Street food such as Bhel Puri and Kati Roll offer a glimpse of Mumbai's sidewalk delicacies, and curries of many flavors give you a different take on the Indian classic.
Authentic Indian cuisine aside, Bollywood Theater also offers a small collection of alcoholic drinks such as cocktails and beer, which help you enjoy the ambiance of the Asian country.
What couples say about Bollywood Theater
"Go, sit outside, see, be seen and eat great food. This is a fun, vibrant and good place to spend an evening with good friends over good food." - KatBer68, July 2019
"Had a delightful meal with my girlfriend here, we were both amazed at the fusion of the indian dishes and the street vibe we share plates. Great atmosphere and even better food and drink. Would totally come back again for another bite!!!" - Brendan F, August 2019
"We discovered this gem through couple friends while visiting Portland; and we have since fly out to Portland twice a year just to have some great Indian food. Located on Division street, among many other great restaurants. Staff is awesome, chef comes to chat with guests. Would recommend to anymore who loves Indian food." - Jay X, June 2019