The Top 16 Best San Antonio Dating Spots, According to Real Daters
Rich in colonial heritage, San Antonio is a large, diverse city that welcomes people of all ages. It can be a little overwhelming for some at first, but with so many places to choose from, you can find the best place to not only meet people but bring people for a date.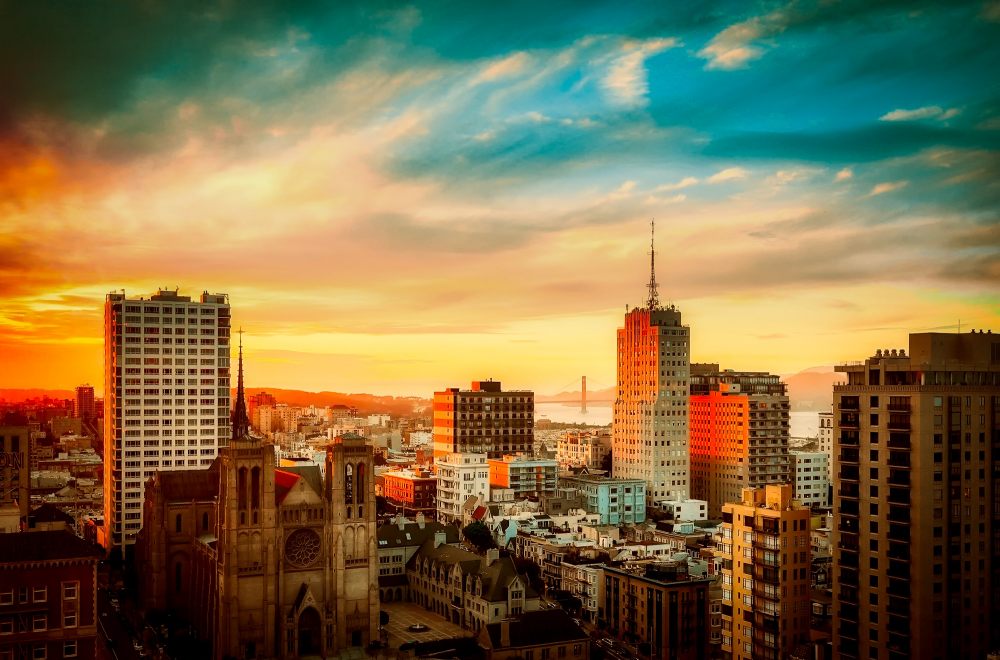 Source: pexels.com
By averaging review scores and evaluating mentions of those highly-praised dating spots across the web, we put together this guide to help you find the perfect place to take your date.
Looking at the various ratings and dater reviews across a bunch of dater review platforms, as well as at the ratio of reviews left by couples vs. non-couples, we were able to gain some real insight from actual daters going to these spots. Let's take a look at the ratings!
1. Signature Restaurant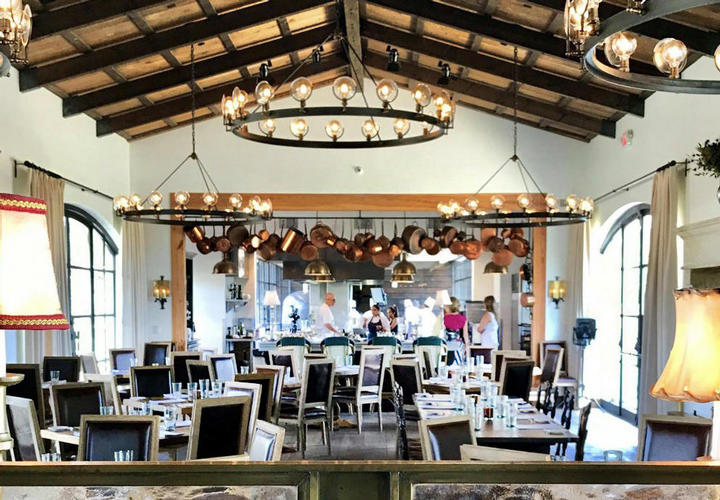 Source: signaturerestaurant.com
Couple Ratio: 91%
Aggregate review score: 4.5/5
Signature Restaurant is a top favorite by those passing through San Antonio, and those long-time residents. Classic, colorful dishes put a modern twist on some of the most delicious cuisines that you can find.
The dishes change throughout the year because all of the ingredients are locally sourced. This provides the freshest, and most up to date meals within the city.
The chef, Andrew Weissman, started his culinary career in Europe and then moved to NYC before finally settling in San Antonio, to provide the most delicious dishes and comfortable space to diners in this area.
What daters say
"We went tonight - it was EXCELLENT!! The place, the servers, the cooking, the food. We had a great time. My wife's rabbit pasta was really excellent. And I mean REALLY EXCELLENT. Overall my recommendation is GO." - Alan C.
"We dinned here last night for our 48th Wedding Anniversary and it was awesome from the beginning to the end. The décor and views are fantastic but the food and service was just as fantastic. They do all of the little things you rarely see in fine dinning anymore. After pouring our water we were given a choice fruit to add to the water. We were served a complimentary appetizer to begin the dinning and after the salad course we were served a blackberry and other exotic fruits sorbet that was just delicious and it left us wanting more. For our entrée, I had the blackened redfish and it was the best I have ever had at any restaurant. My wife had the Pheasant with wild mushrooms and she said it was delicious. Our waiter, Joel knew everything about every dish and thoroughly explained what was in every course. He was one of the most knowledgeable and attentive waiters I can remember. This will now be our only choice for fine dinning in San Antonio going forward." - Terry BHM
Why Signature is a great date spot
There are many reasons that make Signature one of the best dating spots. Not only highly rated by those that have come here, but also being recognized in a number of magazines for the nutritional value and delicious taste. As seen in Gourmet Magazine and Texas Monthly, among other options out there.
"Signature's cuisine is grounded in my upbringing here in San Antonio, by my training in Europe and by what I like to eat. It starts on a personal level and expands and evolves to include dishes that people come back for and ask for." — Andrew Weissman
What to do nearby
The La Cantera Golf Club is just down the road. You can hit the balls on the green, or go for distance hits across the field. Everyone is welcome. Sign up to become a member and enjoy drinks that offer something delicious to enjoy.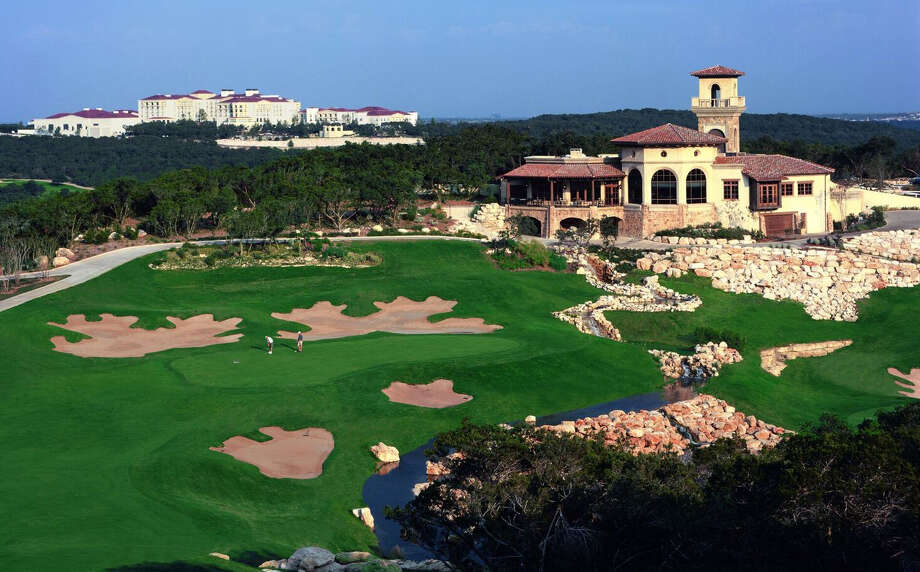 Those that want a more relaxing experience is able to stop by the Loma de Vida Spa and Wellness Center. This center offers a number of ways to relax and unwind, whether you want a massage or a facial.
2. Piatti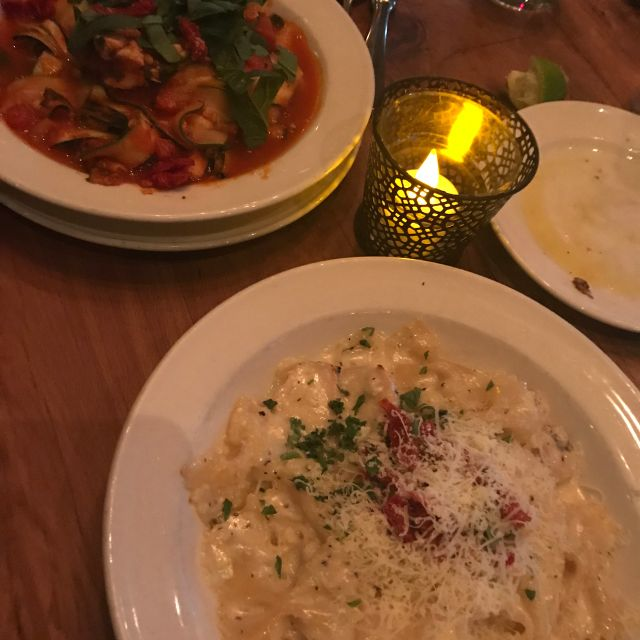 Source: eilan.piatti.com/
Couple Ratio: 79%
Aggregate review score: 4.5/5
Piatti is a high-end dating spot for those that love fine Italian dining. With traditional dishes that come with a classic twist; this is a favorite spot for so many that love their pasta cooked straight from Italy. Find the flavor waiting for you, because the secret is in Piatti's sauce.
Modern demands and expectations are met with the delicious dishes, but also the calm atmosphere that helps those converse and have a great time. Low music and lighting, as well as candles at the tables set the mood for you to get to know one another.
What daters say...
"I've dined here several times. Food and service are always amazing - whether business luncheons or date night - always pleased with the waitstaff, service and food!" - Scott S.
"Definitely a new hot spot here at La Cantera. We were at a presentation and dinner here this evening and had a wonderful dinner. We both had the grilled chicken with asparagus. Fabulous food and great service. Parking is limited, so you'll want to either go with valet parking or the free garage parking. It's a little tricky to find if you haven't been here before, but it's well worth finding. We'll be back!" - Karen G.
"We love the pasta, always al dente. Service is outstanding, beautiful outside seating by the plaza...a must" - OPSGT
Why Piatti is a great date spot...
Piatti is known as one of the best dating spots, not only because of their food but because they are a new spot in the city. As a new spot, it is one that is a hidden jewel until so many more know about it.
Only mentioned once in Ten West Living as a 'hot spot' within the city, this date spot is not known about as much as some of the other areas you can stop in. It is definitely a spot that provides high quality food and a fine dining experience, but the chef ensures your visit is well worth the price.
What to do nearby
If you want to do something outside of the restaurant, you can check the nearby is the Eilan housing complex and neighborhood. This suburban area is well-known for the comfortable living, beautiful houses, and safe atmosphere.
The Eilan Hotel and Spa is next to the restaurant, and provides the visitor with a place to hang out, or even just use the spa to your advantage, as you can book an appointment with them, even if you are not a visitor with the hotel.
3. Supper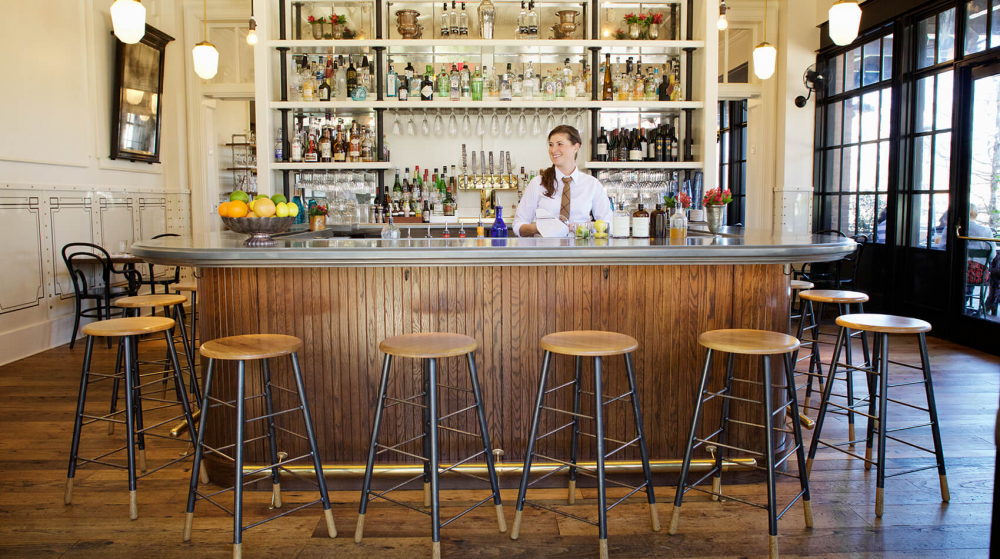 Source: supperatemma.com
Couple Ratio: 74%
Aggregate review score: 4.5/5
Supper is a quaint place that everyone says you must check out at least once, because of the low-down atmosphere and delicious food that you can get. This makes choosing the best place to eat easier than ever.
Located in Hotel Emma, it is a place that you can head right into right from the sidewalk. The seating is at little tables, the menu is full of delicious, healthy choices for those that want something hearty. With breakfast, lunch, and dinner options; you have plenty of ways to eat and enjoy your meal.
What daters say...
"Supper is located in Hotel Emma. In a lovely converted brick building. The restaurant itself looks classy with the black and brown colours combined with white walls. The salads are innovative and delicious. Combined with various nuts and good flavours. Then the Branzino main course was really lovely. Perfectly cooked. The staff were both friendly and professional, and we enjoyed the wine. All in a really enjoyable meal. Definitely somewhere you could either have a business meal or a date." - Gary
"Salad is salad and sandwiches are sandwiches and "bowls" are trendy.... I looked instead for the most unusual thing on the lunch menu and this was it, calories be damned. Wow, it was beautifully presented and delicious, will stick in my mind for a long time. An exceptional dish. Service was exceptional as well." - Janet F.
Why Supper is a great date spot
Supper is one of the best dating spots because it gives a feel that other restaurants are unable to meet. When you want to bring your date somewhere that is different from the other options out there, then Supper is generally the first place you'd think of in the city of San Antonio.
The straightforward and comfortable feeling that you get from sitting at the tables is what the chef is going for. Eat something that was made to make you and your date happy.
What to do nearby
The Amphitheatre at Pearl is one of the hottest spots in the entire city, and right next door to Supper, making this the best place to grab some food before, after or during a concert or show. You can bring your date to one of the best shows that are provided on the large stage live. There is also a park offered at the site.
4. Botika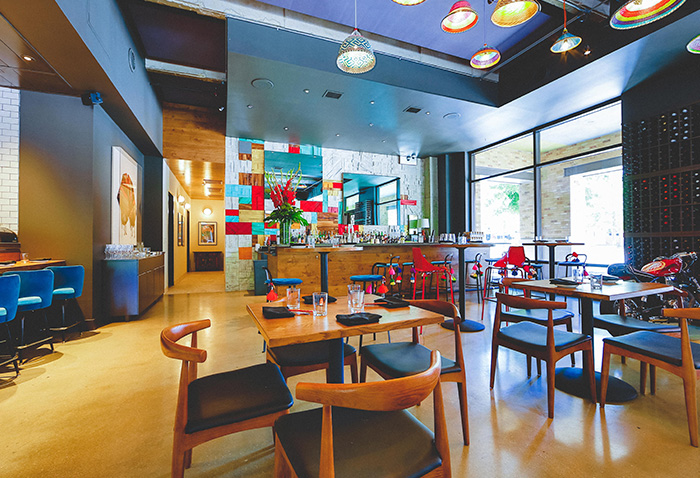 Source: botikapearl.com
Couple Ratio: 65%
Aggregate review score: 4/5
Botika is a well-known modern gem in the city of San Antonio, and as a quality date spot, you can find that this place is bustling with visitors throughout the week. Open seven days a week, you are easily able to bring your date during any one of them.
Additionally, Botika has many private dining options for those that do not want to be in the common dining area. You can impress your date with a special spot just for the two of you.
It is also a casual spot with many delicious options that range from specialty chicken dishes to veggie made products, as well as sushi and sashimi, and everything in between.
What daters say...
"Had a nice dinner. The menu has a nice selection. Meat was very good and the plantain puree was outstanding. The sashimi was nice with a lot of citrus. The rice was very bland though and we could have done without it. The wait staff was very friendly and attentive." - Nappan
"We were looking for a special place to take our son. The food was very good and staff excellent. Expensive but worth it. I would recommend making reservations." - Batvinskas
"This restaurant has great food and atmosphere. When your food is ready it is served and they suggest you go on and eat up. Our party enjoyed sharing our meals as the food came out. It was different, delicious, and a fun experience." - BSFR
Why Botika is a great date spot
Botika is one of the best multi-national food spots in the city, and due to this, it has been shown in a number of magazines and stories across the world.
Botika has been featured in the San Antonio Current, TexasMonthly, Food Network, and even the Wall Street Journal, as well as others. It is a place worth talking about, or visiting at least once, if you want something magazine worthy.
What to do nearby
The Pearl Stable is one of the biggest and best venues to visit when you are in the area. There are numerous events that are held within this building, so it is important to look into purchasing tickets on a special day to bring someone special with you to check it out after dinner.
https://pbs.twimg.com/media/DbE9PZ5U0AEKBXI.jpg
Gustav's Geysers are also seen right down the road from the restaurant. If you want to sit in a park, enjoy the weather, and even run through a few water spots, then this is where you can find yourself having a good time with someone else.
5. Las Canarias Restaurant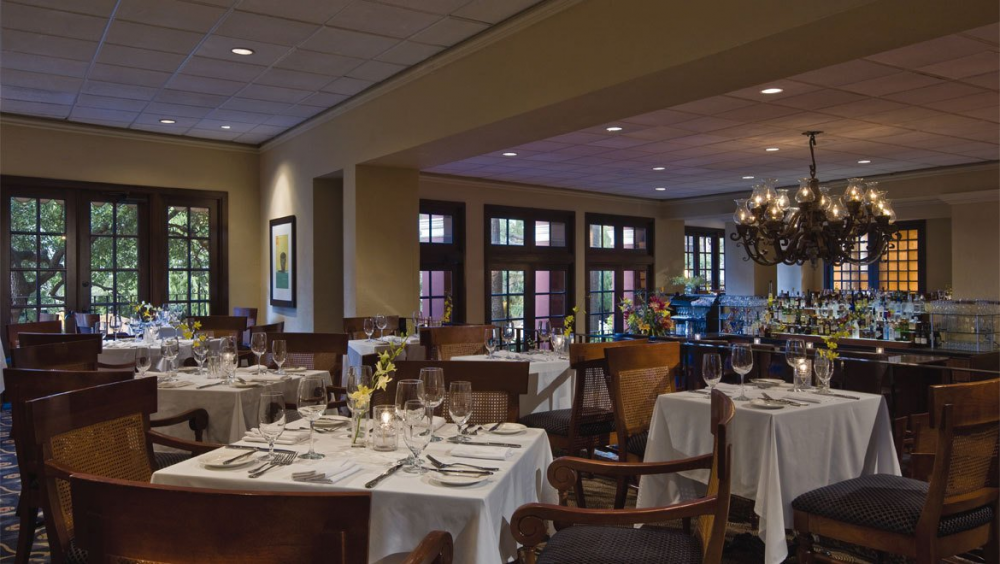 Source: omnihotels.com
Couple Ratio: 62%
Aggregate review score: 4.5/5
Located in the Omni La Mansion del Rio, you can not only have a great stay with the hotel but you can check out the Las Canarias Restaurant that provides the delicious dishes right below the rooms, making this a great place to stop by on a date.
The Las Canarias Restaurant is known for their delicious, unique seafood. When you bring a date, you can ensure that this not only delights them, but also impresses them, as this is one of the top rated restaurants in the area, and reservations are always welcome for those visiting.
What daters say...
"Had a long uninterrupted dinner and retuned 2 days later with friends for a late evening dessert and drinks. Great restaurant. interior decor inviting. Quiet atmosphere. Excellent food and service Wait staff very responsive but did not hover. Very pleasant setting. Overlooks Riverwalk but set back from the crowds and noise." - Wade S.
"This was by far, the best meal I had while in San Antonio and one of the best I've ever had. The interior was beautifully decorated, the service was impeccable, and the food was superior. Rieneke was an excellent server and Rudy was an excellent bartender." - Tom S.
"Walked in to get a to-go order, they were attentive, even made me Sweet Tea to give me the full foodie experience, the Ribeye was cooked to Medium perfection, with a bit of a southern spice , they gave me a to-go carry bag which made it very easy to navigate across the Riverwalk to my hotel across the way." - Joe Y.
Why Las Canarias is a great date spot
"Las Canarias is known for its romantic ambience. Built on three levels that descend to San Antonio's River Walk, the Las Canarias Restaurant offers a romantic atmosphere of graceful palms, flowing waters and scenic views, carrying diners away to another place and time " – Edward Parker, Director of Food & Beverage at Omni La Mansion
This provides everyone with a beautiful spot to bring their date, have something unique and delicious, but also see what everyone is talking about in the press and across newspapers and magazines.
What to do nearby
The Aztec Theater is a great place to purchase tickets to for when you finish dinner and want to keep the date going. You can expect to see many fun shows, plays, and concerts. The decor throughout the entire theater is in an Aztec theme, making this one of the most exciting places to watch shows.
6. The Esquire Tavern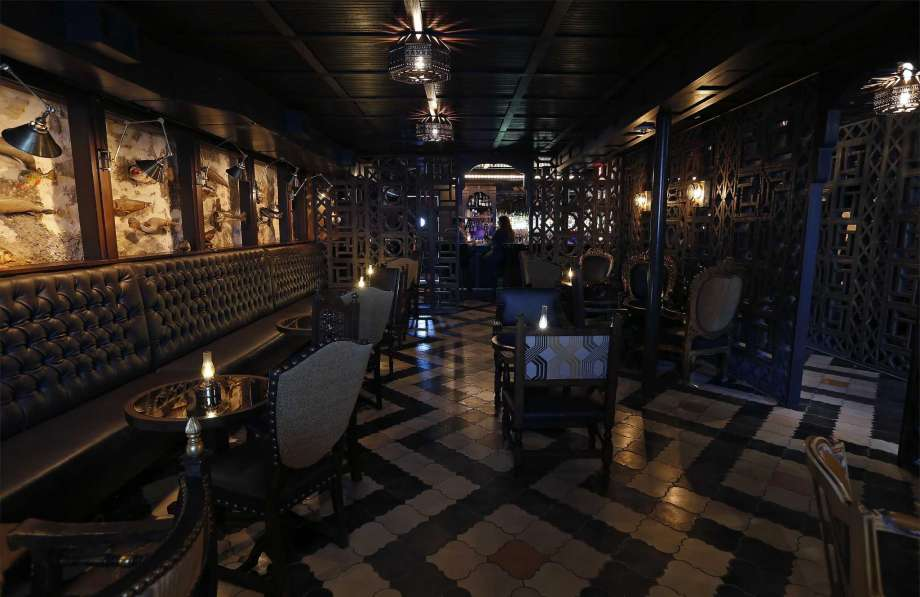 Source: esquiretavern-sa.com
Couple Ratio: 57%
Aggregate review score: 4.5/5
The Esquire Tavern is just as high-end as the name sounds, providing the user with a way to enjoy the life of being in a part of high-end luxury. With a bar and lounge area downstairs, and a full on dining area upstairs, there is plenty to do when you bring your date to this area.
Giving out a vintage vibe, this setting is one of the most enjoyable and different from the more modern restaurants that you can come across in the city. This is why so many choose this restaurant, as it provides delicious food but an even better atmosphere.
What daters say...
"This place deserves 5 stars. The staff and food were phenomenal. The Lamb Lettuce wraps were off the chart especially when neither the owner or the chef were Greek. If you are looking for a quiet place then this isn't for you. Great selection of Texas beers also." - Jason Landers
"We stopped in around lunchtime due to the history of the place. We were not disappointed. The bar was incredible. Old school vibe. Classic rock playing. My wife enjoys all kinds of ciders. The bartender gave her an excellent suggestion of one they carry but is rarely in stock because the staff enjoys them so much after they close. It was quite good. I had the Nuestra margarita because it's one of their signature drinks and I needed to cleanse the memory of the one I had at Margaritaville from my head. This one did not disappoint. Excellent. We did not have food, but great visit nonetheless." - Mchumphries
"So, everything is made from scratch. Even the catsup. My wife ordered the heirloom tomatoes which came with pickled watermelon rind. I ordered the chicken sandwich and we got deviled eggs.I was a little taken back by the sandwhich appearance. It was round and I thought frozen. But alas, it was tasty and the manager assured us they make everything right here. We arrived shortly after opening but as it got busier I did not notice anyone being neglected. My only comment is the lighting. Those old fashion bulbs are quite dim and I think perhaps the bathroom could be a bit brighter. It's their theme, but I do not like it. Otherwise I'd certainly go back." - Allan P.
Why the Esquire Tavern is a great date spot
Those that want to check into the Esquire Tavern and see why it is such a great date spot, know that it was mentioned in the Best of San Antonio, as the 3rd best bar and food. You can check out the many options that they have.
Being mentioned over years, five or more, you can expect that the Tavern is one that you can visit and get more information from when you try it for yourself.
What to do nearby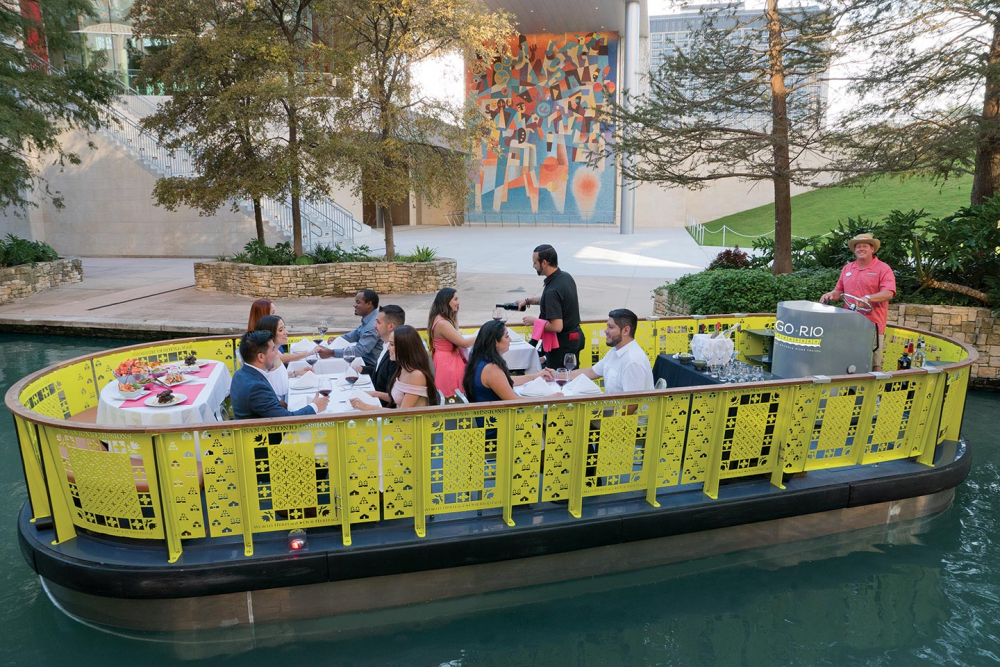 Source: goriocruises.com
Narrated River Tours are one of the most used and loved places to bring a date. Not only can you walk through this museum and learn more about the area and city, but you can also take a ride on the river and listen as they tell you more about the many places you pass. It is definitely a romantic date spot for many.
7. Southerleigh Fine Food & Brewery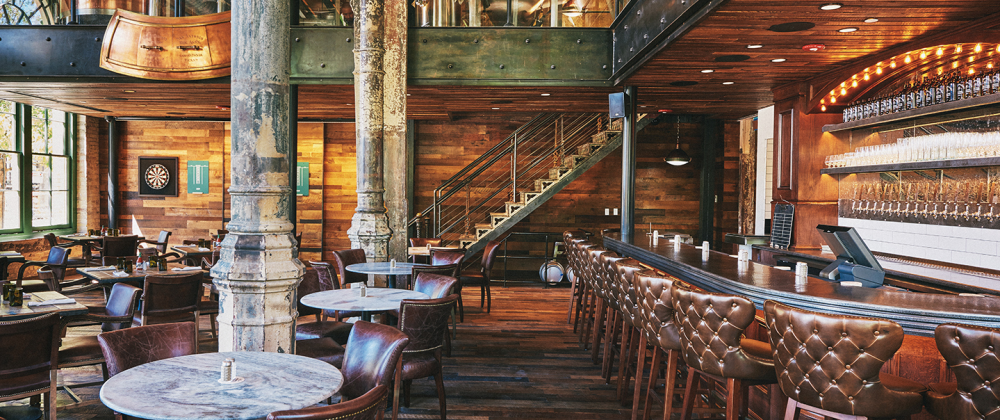 Source: southerleigh.com
Couple Ratio: 56%
Aggregate review score: 4.5/5
Decorated with wood and leather, this is one of the best places to go for that beer and deliciously made food. Known for many of their meat dishes, as well as the hearty beers that are locally crafted; you can find something that matches the tastes of you and your date.
Southerleigh is known as one of those cowboy-related places to eat, but one of the finest that you are going to find in Texas. Made to perfect, every dish is curated by chefs that take their time to come up with a menu that pleases, and goes along with the beer.
What daters say...
"During recent trip to San Antonio we were able to make it to the Pearl Brewery District and stopped here to try their craft beer and get an appetizer. This place is fantastic, let's start with how wonderful the staff was they were friendly, efficient, and knowledgeable about the food the beer and some of the history of building. We had a few samples of their beers and then ordered a flight of our favorites. We also ordered the "Snapper Throats" as an appetizer they sounded too interesting to pass up. They were superb. I highly recommend Southerleigh's if you are in the area." - GLG3
"I came here for a business lunch of 5 people. We shared the Snapper Throats, which were delicious. However, my favorite thing was the Jalapeno and Cheese Grits. Soooo good that everyone else was leaning over the table trying to get a fork full of my grits." - trdenter
Why Southerleigh is a great date spot
The chefs that are found at Southerleigh are some of the best out there. Holding the traditional recipes to heart, they are able to make mouth-watering dishes that make you want to come back again and again.
Featured in the local news a few times, and opening up another branch, they continue to expand and delight everyone throughout Texas that is looking for something delicious to enjoy. The restaurant was even featured in Architect and Forbes magazines.
What to do nearby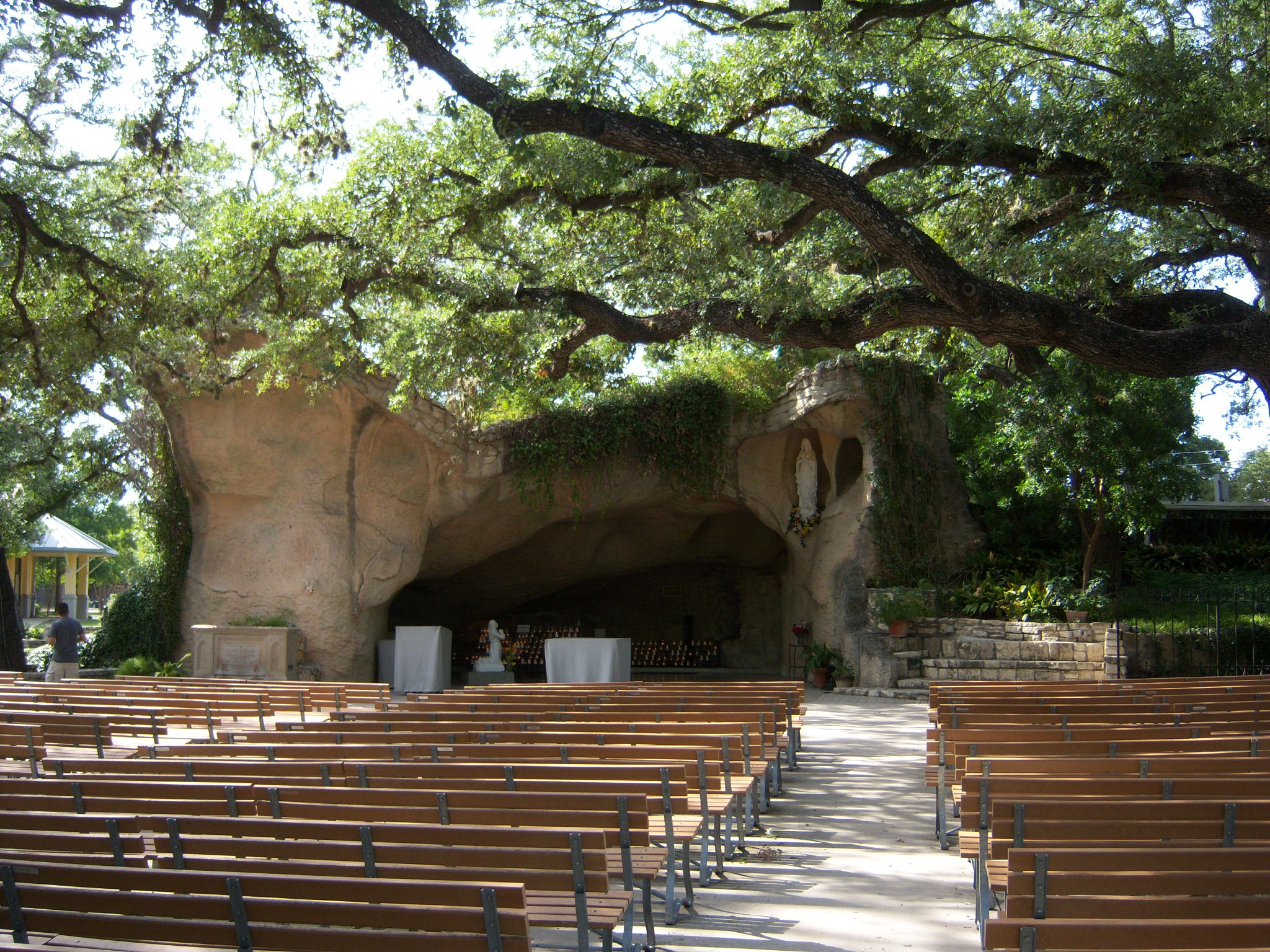 The Grotto is one of the biggest tourist attractions in the city, and as such, they are offering a way to wind down, get to know one another, and create a romantic scene for the two of you to enjoy and go on. You can find something worth checking out here. Plus, your date might also enjoy the area.
8. Künstler Brewing
Source: images.squarespace-cdn.com
Couple Ratio: 55%
Aggregate review score: 5/5
What goes well with beer? Food. You can make sure to get not only handcrafted, delicious, cold, local beer at Künstler Brewing, but also delicious food that pairs well with your beer choice. You can find the best possible outcome from the use of this brewing company, especially when you bring a date for a good time and perhaps a bit of beer taste-testing.
As a laid back, casual atmosphere, you don't have to worry about dressing up or trying to impress. You just worry about eating and drinking something delicious and having a good time getting to know more about your date.
What daters say...
"Finally made it and glad we did. The variety of beer is great. You can always find something interesting to try. Have gone back a few times, and even took some friends. Good choices for food. Always seems to be a good crowd." - msk1chance
"The Künstler Brewery is a great place just south of downtown San Antonio that has great beer! We stopped off for lunch and paired the food up with some great micro brews. The service was great and the atmosphere was very inviting and they have a large variety of draft beer. I would highly recommend it!" - Texas_Ollie
"I located this spot on TripAdvisor. I am from SA and have never heard of this place. i am so glad I found it on TripAdvisor. love the beer. very friendly. a must try" - Tracy F.
Why Künstler Brewing is a good date spot
The team told us, "if your date doesn't know anything about craft beer, getting to learn something new is always fun. At Künstler, there's something for everyone (not just beer!) and the atmosphere is friendly and laid back. Try some yoga, test your mental compatibility on trivia night, or catch a B-horror movie in our Sportshalle. Both the food and beverage menus at Künstler have something for every taste and diet".
What to do nearby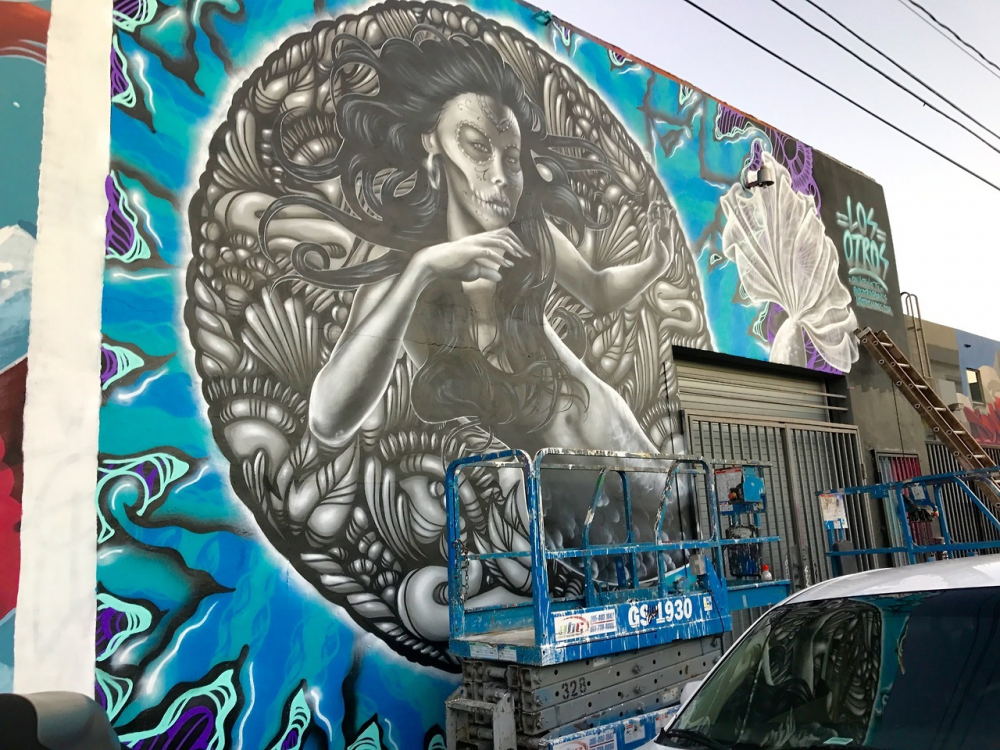 Source: gravelmouthgallery.tumblr.com
The Gravelmouth Gallery is nearby, offering a chance to see some of the roughest works of art out there. Not only that, but with the excitement that comes from being in such a large city, you can see local artists but also some of the biggest, most known artists throughout the world. Drink some beers at the brewery and then head here for even more good times.
9. San Antonio Botanical Garden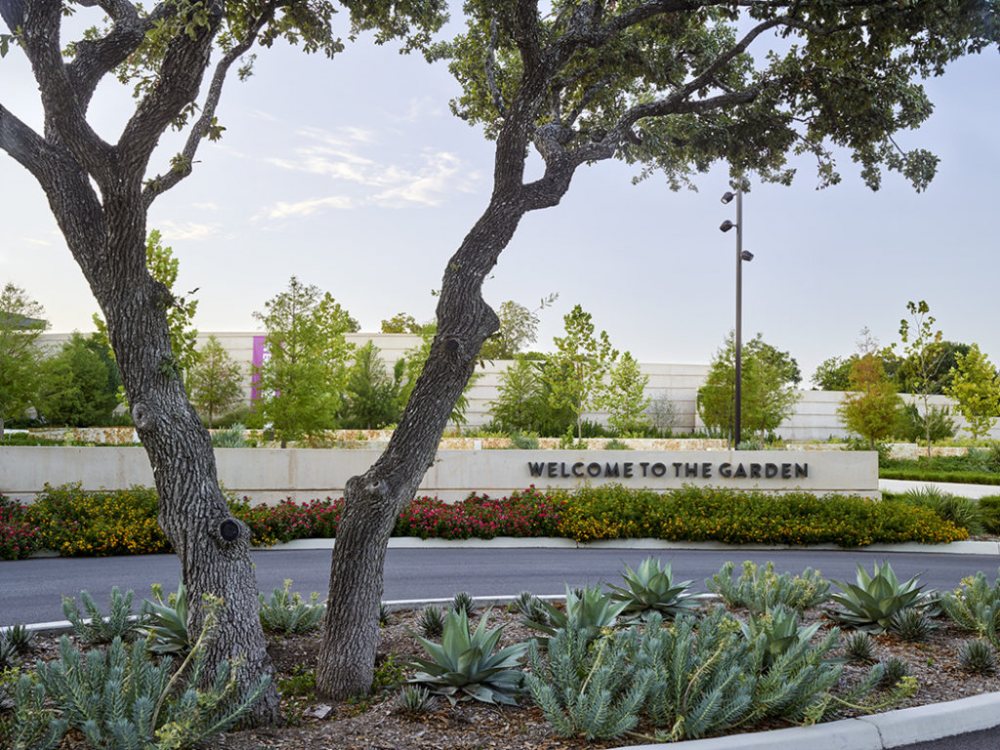 Source: sabot.org
Couple Ratio: 53%
Aggregate review score: 4.5/5
If you want to invite your date to do something a bit different from the normal dinner and a movie date, then bring them to see something beautiful waiting for them at the botanical gardens. As a tourist attraction, this sees a lot of people but those that live in the area find themselves not visiting as often as they'd like.
There is a lot of wildlife, flowers, plants, and walkways that you can walk through. When the weather is nice, this is one of the best outdoor places to visit and one that welcomes visitors of all sizes. They've even expanded to add more beauty and attraction.
What daters say...
"If you like gardens, this is a must see. I went in October so I wasn't sure how much, if anything, would be blooming but I was wrong. The Everyday Garden was gorgeous with plenty blooming and nice shaded benches to hang out. The water conservation exhibits were great, especially the area that depicted the different types of lawns. I really recommend these gardens" - Chicago Girl
"This is one of the best gardens in the west. It is growing and has lots of construction going on.. they are ready for Halloween and the scarecrows are cool. The plants especially the standing morning glory, confederated rose and hibiscus are in full bloom." - Publishers Rep
Why the Botanical Gardens is a great date spot
If you want to do something out of the ordinary, then you can find yourself visiting the gardens. Not only do they have flowers that bloom throughout the entire year, but they have beautiful creatures that live there as well.
You can find activities among the many walkways, with Legos actually being offered to those that want to do something a bit creatively. With so much to see and do, this is a great place to bring someone, walk through the beauty, and get to know them without having to worry about loud sounds or watching movies.
What to do nearby
Source: golfadvisor.com
The San Antonio Country Club is right next door, offering more outdoor space and activities for those that want to continue their outdoor adventure. They offer not only golfing, but also outdoor patios, food, drinks, and more for those that want to come and check out what the club has to offer. You might even want to become a member.
10. Halcyon Southtown

Source: halcyoncoffeebar.com
Couple Ratio: 52%
Aggregate review score: 4/5
Halcyon Southtown is one of those hole in the wall restaurants that are offering a bit of something for everyone. If you want that cup of coffee, you can get it here. You can also get a full plate of ribs if those are what you are into.
With many places to visit, you can find the perfect place to find the delicious food and drink you are after. Not only that, but bringing a date here means you can have some down time to learn more about your date and what they can offer you.
What daters say...
"Visited this upscale coffee cafe. Great selection and hot coffee available. Enjoyed atmosphere. Music a bit louder but a lot of clients on laptops and headphones. Good service and friendly atmosphere. Laid back. A part of the Blue Star complex downtown . Also next to the bike trail and quieter part of the Riverwalk area." - Bermiem
"Absolutely lovely experience. Enjoyed the relaxed atmosphere, the staff provide the time and space to enjoy the ambience of the restaurant before ordering. Had the skillet breakfast, which is tasty and filling. Coffee is fresh and kept hot and filled at all times. The surrounding area is perfect for an after brunch walk along the San Antonio riverwalk. Highly recommend it." - Mark338
Why Halcyon Southtown is a great date spot
Halcyon Southtown is one of the premier dating spots because it offers delicious coffee, desserts, food options, and more. The atmosphere is one of the best for some downtime and talking, and they make it easy to be down to earth, casual and just have a good time while being relaxed.
They have even been mentioned as one of the best places to stop in at in the Business Journal, San Antonio Times, Time Warner Cable News, and more. You can be sure that this might just be where you bring your next date for a good time.
What to do nearby
Halcyon Southtown is next to Brick, which is an event venue where you can see a lot of different shows, concerts, theater productions and more. You can find something happening on their calendar and set your date for that particular day or choose a different day that you want to head out for coffee and creative cocktails from this delicious place.
11. Perry's Steakhouse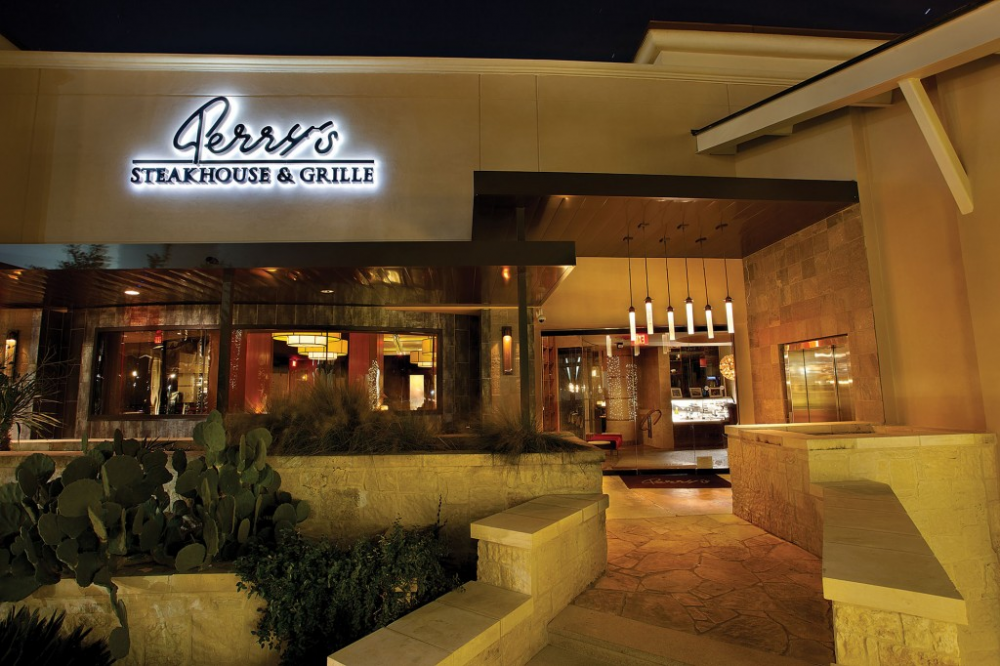 Source: perryssteakhouse.com
Couple Ratio: 45%
Aggregate review score: 4.5/5
Perry's Steakhouse is high on the list of those fancy places to bring your date. If you want to do something special, then this is where you want to go. While steak is not the only dish that they prepare and serve, you can expect to find many mouthwatering delightful options for everyone.
Perry's is also one of the nationally recognized steakhouses, so you can be sure that when you stop in, you are getting something worth the time and money.
What daters say...
"It is a most eat in Houston , the Pork Chops as Perrys ad says " Our Famous Pork Chop is something you really need to see to believe" - Ricardo R.
"very tasty steaks and side dishes - liked the Cesars salad - very attentive staff - atmosphere a bit dark" - Dennys
"My husband brags about how great his steaks are, and how it's really not worth going to a steakhouse because his are so much better. Well......Perry's beat my hubby's steaks. Hands down. So, our new steakhouse is Perry's! BUT, start with the signature asparagus. It is the most amazing appetizer you will ever have. Stan, our waiter, was outSTANding! I left my reading glasses after our meal, and he ran outside and tracked me down to bring them to me! It was a great evening of drinks and dining. You must try this Perry's location." - Pkubala
"Our meal was delicious. The crab cakes were some of the best I've ever had. The pork chop you have to see and taste for yourself! The red snapper was superb! I will be back for more tasty items!" -Sharon B.
Why Perry's Steakhouse is a great date spot
Lesa Sorrentino, Chief Strategy Officer, Chief Marketing Officer for Perry's Restaurants told DatingExperts.com, "named in the 2018 Top 100 Most Romantic Restaurants in America, Perry's Steakhouse & Grille has remained true to its neighborhood meat market roots for 40 years serving butcher-fresh USDA-aged Prime steaks and signature selections, all within a beautiful ambience making it perfect for your next date.
From award-winning dishes including a famous seven-finger-high pork chop to hand-crafted cocktails, vibrant happy hours and live music in Perry's Bar 79, couples will also enjoy a sweet and fiery finale with a flaming creation prepared tableside. It's a dining experience that is truly Rare and Well Done®!".
What to do nearby
Perry's Steakhouse is next to a number of shopping centers and high-end retail stores offering a mix of products from furniture to handbags and clothing items. You can find stores like J. Crew, Vera Bradley, and Z Gallerie. Each one offering something different from the other.
12. Whiskey Cake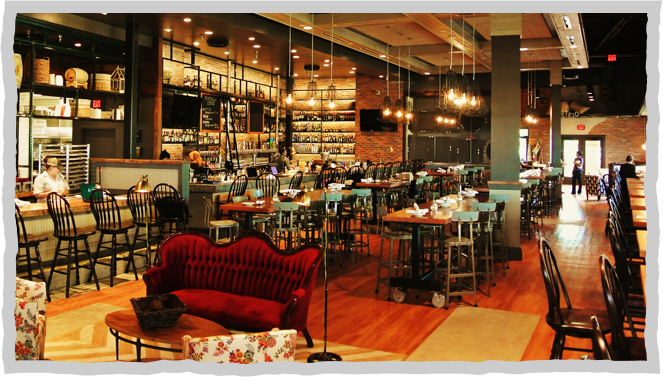 Source: whiskeycake.com
Couple Ratio: 37%
Aggregate review score: 4.5/5
Whiskey Cake is a restaurant and bar that caters to everything whiskey. From the whiskey slathered steak to the delicious whiskey cocktails and desserts, you can find something worth trying. While some might not find this great-sounding, it is a place you have to try for yourself and see.
Talked about in many magazines, Whiskey Cake is known for nothing other than their cake selection. Even if you are stopping by for a drink, make sure to grab a piece of the cake, as it is a must-try on the menu.
What daters say...
"Great Food and service. It's a little hard to find but worth it. Great choice of whiskey and many other cocktails." -Paerm
"My 2 daughters and I went tonight and absolutely loved and were impressed. From the Mgr Casey booking our reservations, to the fantastic cocktails prepared by the Bar Mgr Fiona, to the outstanding menu prepared by Chef Marylou Davis...the entire evening from start to finish was exception. They were fantastic about coming out to explain everything that we were about to try. Megan Sparks with the William Grant & Sons was so friendly, informative and enthusiastic. Will be going again soon and highly recommend." -Janet S.
"I was in San Antonio for work so the evenings I was solo. I walked in on a Wednesday night and sat at the bar. The bar area is huge and there were plenty of seats. The restaurant itself was very busy. I wish I liked whiskey as they had everything you can think of. I enjoyed the mango habanero margarita and the chicken kale salad. The salad was very fresh and delicious. It was a huge portion as well. The restaurant does get very loud. Would highly recommend if you are in San Antonio!" - Seunghyeh
Why Whiskey Cake is a great date spot
In addition to being delicious with a comfortable atmosphere, you can expect that the things said about them are none other than the best.
Being mentioned in a number of top San Antonio magazines and news stations, they are also opening up new locations for those in other areas of Texas to try for themselves and love it.
"Whiskey Cake's warm and inviting atmosphere, delicious food and garden-to-glass cocktails makes us the perfect date night spot. You'll end every date with a smile on your face with our namesake dessert, Whiskey Cake.", the restaurant told us.
What to do nearby
The La Cantera Town Center is located right down the road from the restaurant. They offer a number of businesses and shops to stroll through. If it is later in the day, you can stop in this strip for a bit of ice cream or just a place to sit and talk when the weather is nice and you want something to do outside of a building.
13. Little Italy Restaurant and Pizzeria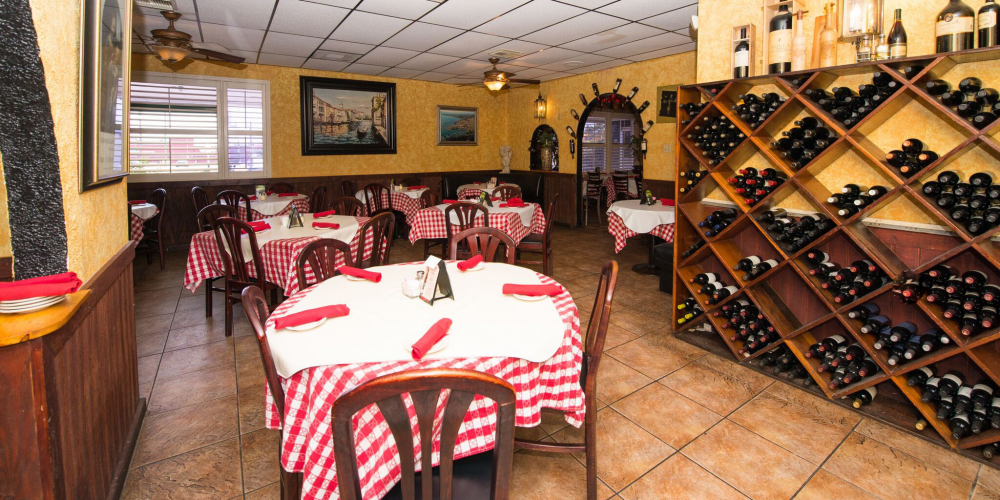 Source: littleitalysatx.com
Couple Ratio: 30%
Aggregate review score: 4/5
Just as the name implies, Little Italy is a place where you can not only get those traditional, delicious Italian dishes, but also pizza and many other goodies. You can eat in the shop, or order to take home and eat wherever you'd like.
The restaurant is one that has a laid back, family atmosphere, but also sheds some light on some delicious meals that are prepped as they are ordered. Made with old-time recipes, their pasta dishes are raved about as a must-try menu item, along with the pies that provide the quality, freshest ingredients.
What daters say...
"This place may not look like much on the outside, but it definitely makes up for it in quality of food! Everything was wonderful and the atmosphere was charming." - TMS
"Haven't tied much else here.. but the pizza is worth the trip there.A bit out of the way from downtown area." -Marloweb
"After looking for a new restaurant to try, yesterday we decided to give this place a try. It was very good, we will be going back. Our server was also very friendly." - CTWig
"Little Italy is a family owned and operated little slice of Italian Heaven! My wife and I were looking for a new place to have dinner close to where we were staying in San Antonio. I ask the building manager who has lived here for some time, and he said one of his favorites was Little Italy. Being lovers of Italian fare, we decided to give it a try.
We were absolutely delighted with the ambiance, the service and most especially the food. Absolutely incredible! If you enjoy real Italian cuisine, then you owe it to yourself to try Little Italy!" -JD Libertad
Why Little Italy Restaurant is a great date spot
Little Italy is known because of their authentic Italian food, but also as a restaurant that has been in business for years, being passed down from generation to generation. As a staple in the community, they stand strong, even when others move in next to them.
Rated as one of Yelp's top 10 restaurants in San Antonio and rated as one of the best by readers for so many others, you can expect nothing but the best from this restaurant.
What to do nearby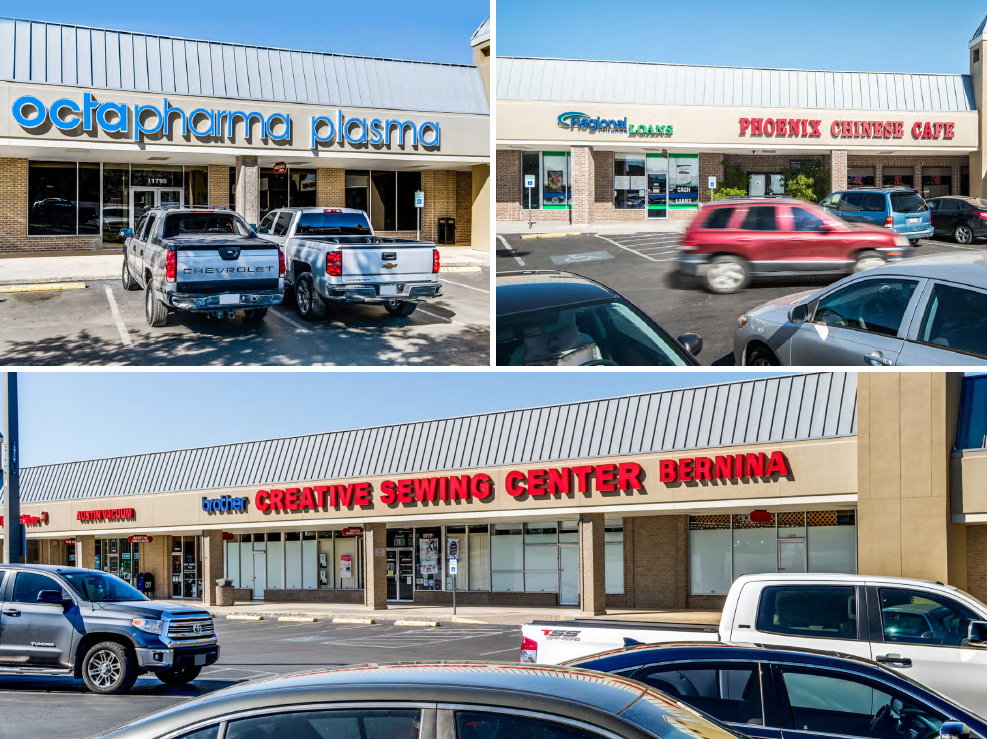 Source: sacadvisors.com
Those searching for something to do once you leave the restaurant can be pleased to find a shopping mall right across the street. The Parliament Shopping Center provides numerous places to shop through, or just somewhere you can walk and talk with one another after your date. Find something special within this center.
14. Brackenridge Park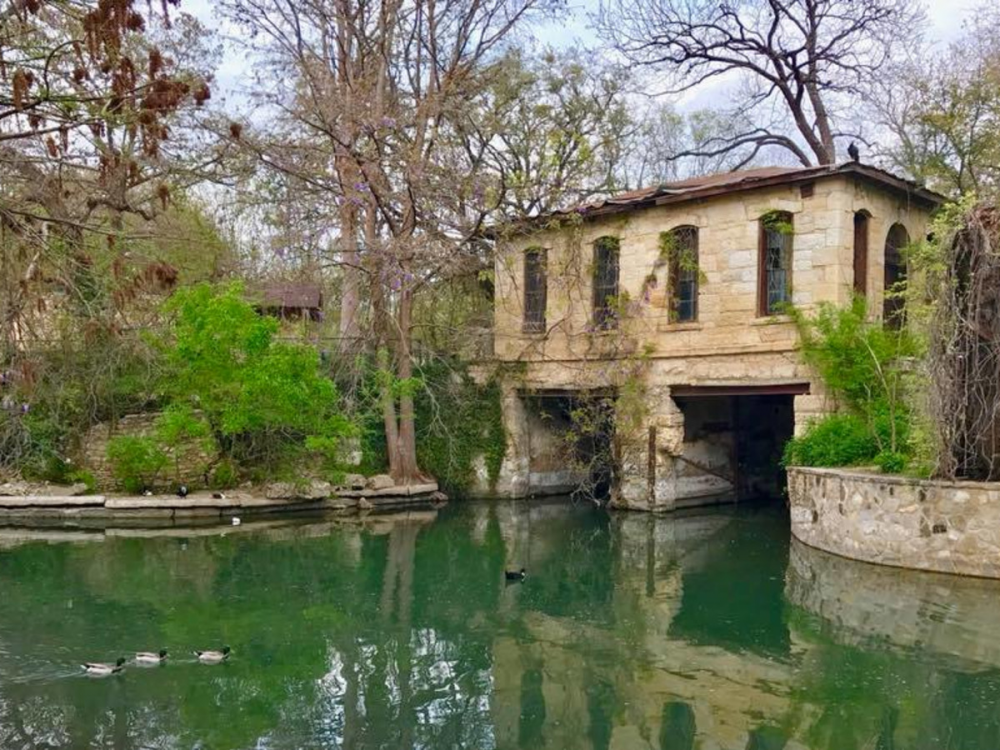 Source: brackenridgepark.org
Couple Ratio: 27%
Aggregate review score: 4.5/5
Brackenridge Park is a park that so many daters find themselves walking down the paths of because of how pleasant and open this park is. You can bring lunch with you, or even speak with the street vendors that do business throughout the park when the weather is nice.
This park offers many benches, walking areas, and more to make use of. Bring a date, have a picnic, enjoy the weather and each other's company when you find yourself spending time here. There is a lot of history waiting to be told in this park.
What daters say...
"Small park for a nice short jog and great for a picnic after. You can park and also go to the Japanese Tea garden for a hike" - Becki P.
"This is a lovely setting for picnic's, family fun, and marriage proposals. We have done all of those and more here, come join the fun to be had." -Alyse M.
"We had a wonderful drive through the park. Lots to do and we had a picnic. Love this place. Great for families also" - Lori L.
Why Brackenridge Park is a great dating spot
Being seen in so many different areas, this park is known for the beautiful extras and events that they hold for those that visit. In addition to this, they are also one of the best spots for tours, learning more about the history of the area, and for spending time outdoors.
While the park is smaller, it is still filled with a lot of mysteries. You can solve these with the date that you bring to the park.
What to do nearby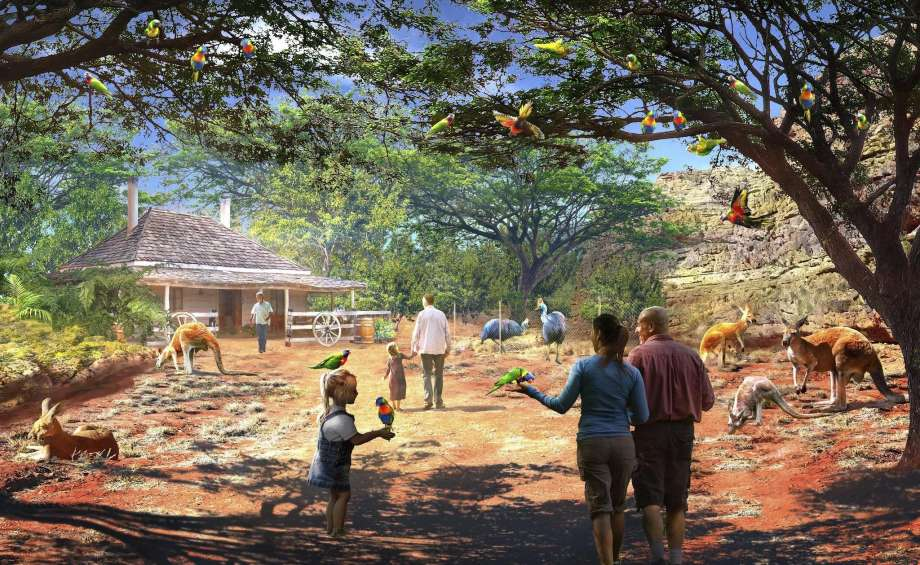 Source: sazoo.org
The San Antonio Zoo is nearby, right next door, offering a bit of pleasure for those that want to walk through and see all of the animals. Many of these animals are being rehabilitated, while others have spent their life in captivity and do not know anything other than that. Bring your date, enjoy the day, and get to know them more.
15. Ruth's Chris Steakhouse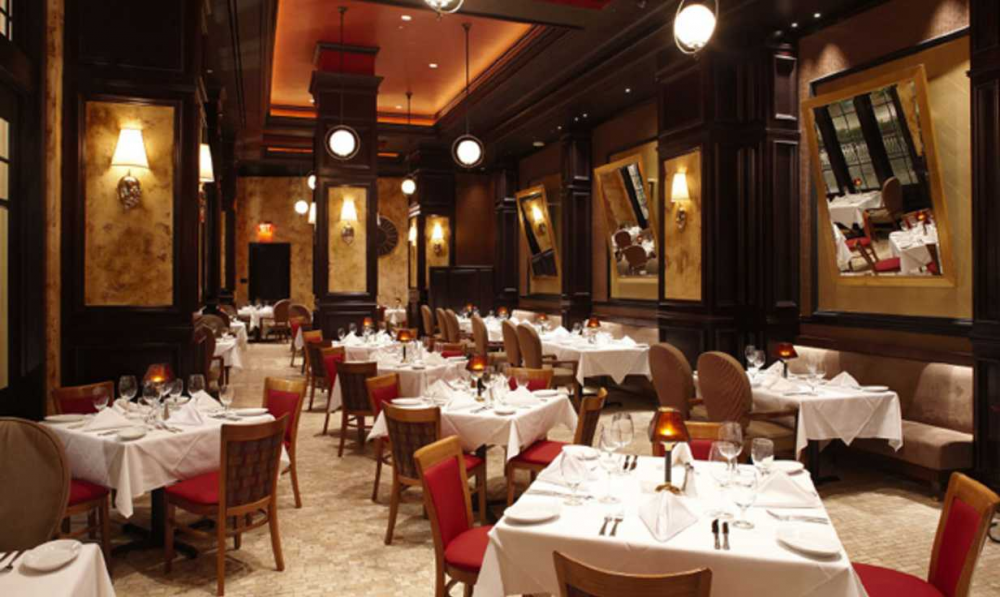 Source: ruthschris.com
Couple Ratio: 26%
Aggregate review score: 4/5
If you want to go somewhere high-end and fancy, then you can find yourself spending some down time at Ruth's Chris Steakhouse. This steakhouse has those linens that you want to bring someone if you want to impress them. While the bill might be high, you might just be able to get in well with the person you bring there.
Specializing in steak of all types, the restaurant also has an extensive menu that covers many other dishes for those that would prefer something different.
What daters say...
"From other reviews, it looks like they need to shape up. I personally had an excellent experience. My friend and I had the $32 lunch special, and it was great. A salad, steak and one side for $32 is a good deal at this place. The salad was unremarkable, but the steak, shrimp and mashed potatoes were excellent. It was a delicious, perfectly cooked steak." - momdadkids Texas
"I also eat at Ruth's Chris when staying in San Antonio for conferences. Have also hosted many work dinners there as well. They do a fantastic job and the steaks are tasty!" - Cynthia S.
"I am not really a fan of steak houses because I cannot eat so much meat and think that they are overpriced but the lunch I had here with some business colleagues was perfect. For $31 each we had a filet topped with a few jumbo shrimp and a choice of side and starter. I had the seafood gumbo and garlic mashed potatoes but there were several soups and salads to start and creamed spinach as a side. Everything was delicious and the quality and value were perfect." - AnAnthropologist
Why Ruth's Chris Steakhouse is a great date spot
Ruth's Chris Steakhouse features the world's finest champagnes, as well as vineyard choices that hit the palate and go well with all of the steak menu options. In addition to this, the vineyards that they are partnered with provides high-end wine choices to go with that you want to pair with some of the deliciously prepared dishes.
What to do nearby
Ruth's Chris Steakhouse is located in a suburban area with many smaller restaurants, cafes, and shops to visit but not many large attractions. Those that want to continue their date are encouraged to drive 10 minutes away to the theaters in the area, shopping centers, or parks available.
16. Hop & Vine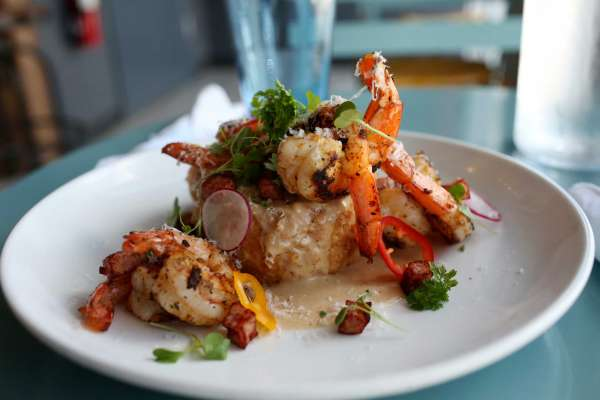 Source: hopandvinesa.com
Couple ratio: 23%
Aggregate review score: 4.5/5
Hop and Vine is a beautiful place with a top shelf menu that offers modern dishes. Each one is expertly prepared and served to those that come to enjoy something different. As a modern restaurant in the area, it has a more casual feel to it, but it has a fancy feel to the dishes that are served.
Freshness, wines, and so much more is offered in this smaller restaurant. Even the menu is just one page long, offering meals that change from time to time.
What daters say...
"Decided to go to breakfast close to the movie theater but not being from the area, options seemed limited. Happened to stumble on Hop & Vine and as the family walked up with hesitation, everyone was greeted with the aroma of a freshness. The French Press coffee was amazing. We couldn't have been more pleased with each meal and the service was great. We got there right before a rush so if you are looking for a great brunch in the area, this hidden treasure is a must." - TKReed
"We found this place on a whim by googling and we were not disappointed. It is small but very nicely decorated and the service is great. Everything we have tasted there is very good. The beer and wine selection is extensive enough for their menu. This is a new favorite spot for us." - Rosie D.
Why is Hop and Vine a great date spot
On behalf of Hop & Vine, Kelly Barrett told us, "Hop & Vine has a fantastic happy hour from 4-6pm and some great cozy nooks. The menu features modern twists on comfort favorites and rotates seasonally. We offer a great selection of craft beer and wine. Brunch is also a fantastic option for meeting someone for the first time. You can split a bottle of champagne and build your own mimosas for just $20."
What to do nearby
Salons, delis, cafes, smaller restaurants and chain restaurants are found around Hop and Vine. Though Hop and Vine is smaller in size, they are a great place to stop by and try for yourself. If you want something delicious, then check them out first. You can spend a few minutes checking out the nearby parks and other locations that you can drive too after your date is over.