The 47 Top Dating Spots in San Diego (According to Couples)
With a beautiful climate, world famous Zoo, and a truly collossal amount of parkland, San Diego has a thriving dating scene and so many things for couples to explore. Even if you somehow exhaust all that America's Finest City has to offer, it's just a 30 minute drive over the border to Tijuana, Mexico!
To collate this article, we looked at the most highly-praised spots by real daters and took their average review scores from major online platforms. This gives you an accurate picture of the scene and its gems, rather than the opinions of a solitary writer.
Let's look at the ranking for San Diego.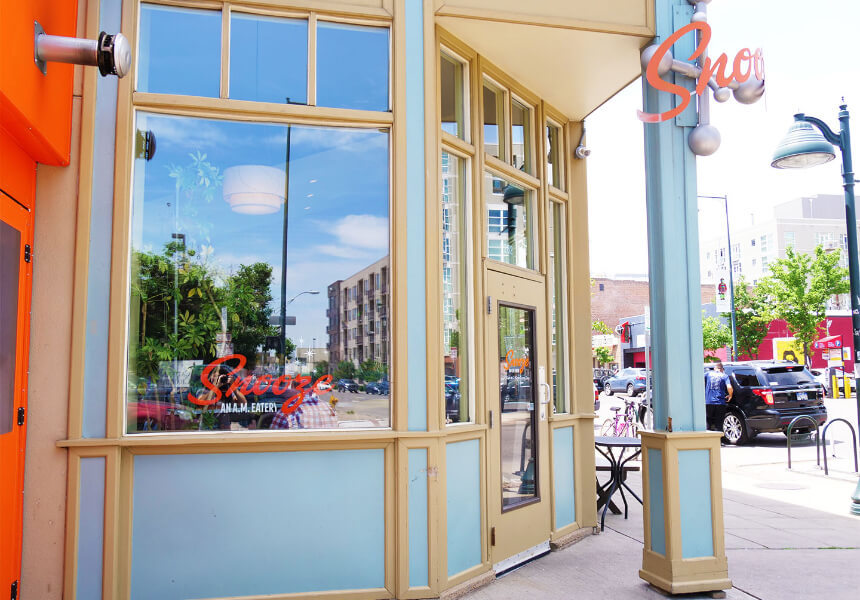 Source: Snooze
Average review score: 4
Couple ratio: 38%
Dates are usually associated with dinners and evening strolls, but sharing a meal with someone in the wee hours of the morning has its own charms as well. That's what makes Snooze, An A.M. Eatery such a great spot for those kinds of early morning dates - you get to enjoy the cozy and warm vibes of eating breakfast, with an added twist. Snooze isn't your usual restaurant in the sense that their main menu isn't served during dinner, but for breakfast instead. Your favorite cereals, pancakes, and even juices are so well-prepared they turn the most important meal of the day into the tastiest meal too. Visit them at 5th Ave (in the mornings, of course) and enjoy that special morning date.
What couples say about Snooze
"Place was off the hook. Have to try the OMG French Toast! Menu provided a variety of specialties, we also ordered the Bene duo if you can't decide which eggs benedict to choose from,we want to especially thank the newly married couple that we met and sat next to who anonymously paid for our breakfast! We never got your names! We can't thank you enough, that was so kind! It really made our weekend. We wish both of you a great marriage also. Congratulations and God bless you both!" - Darryl B
"Love this place, everything is good here. If your not an egg fan you know how challenging it can be to find the right place for breakfast. This place will give you plenty of options." - Love this place, everything is good here. If your not an egg fan you know how challenging it can be to find the right place for breakfast. This place will give you plenty of options.
"First time for us at Snooze. The place was busy with about 50 people waiting for a table. We went to the bar and were able to order from the menu there so we didn't have to wait. The food and Bloody Marys were delicious. The service was excellent. Please give this review and photos a helpful vote." - MatthewJPeacock
Source: Vessel Restaurant + Bar
Average review score: 4
Couple ratio: 37%
Dinner dates are always better with the right scenery, and what better way to get in the mood than with a delicious meal by San Diego's coast? Vessel Restaurant + Bar provides that exact experience, nestled in Shelter Island. Their New American cuisine paired with the sight of the ocean waves sets the perfect mood for a romantic date. The restaurant and bar are open daily for brunch and dinner, and they serve breakfast and lunch during the weekdays. You can even order their dishes and have them delivered straight to your room if you're spending the night there at Kona Kai. You won't want to miss out on the experience.
What couples say about Vessel Restaurant + Bar
"My wife and I visited this wonderful restaurant for our anniversary. From the lobster bisque and salads to the sea bass to the chocolate lava cake, the food was outstanding. Server was friendly and concerned about meeting our dining needs. Truly a treat." - MarkMick1977
"Very good. Fresh seafood for the seafood lover and great land lovers food alike. The happy hour had a great range of choices too, if you are looking for a snack." - Jill M
"Overlooking a harbor with too many boats too count, how lovely a view, on a cozy warm day. More than ample menu selections. All our food was yummy tasty. And with good service. Worth a trip for the ambience." - fisherdoc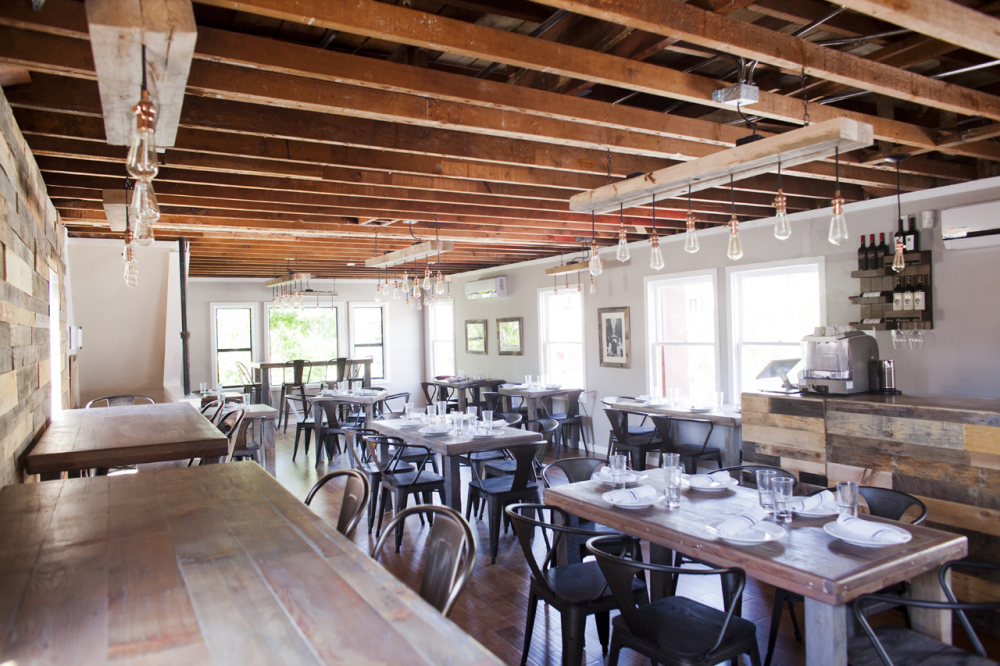 Source: Ristorante Illando
Average review score: 4
Couple ratio: 36%
Despite being located at India Street, Ristorante Illando is an Italian restaurant situated right in the heart of the city's own Little Italy. It's home to a large menu of your favorite Italian dishes. The restaurant serves lunch and dinner on a daily basis and features weekly special dishes that'll make dining there a second time worth a try. Ristorante Illando is open from 12:00 p.m. to 10:00 p.m. from Mondays to Thursdays, and they close an hour later than that on Fridays and the weekends. They also have a weekday Happy Hour menu for those who visit in the afternoons. If you can't take your date on a trip to Italy, then dining at Ristorante Illando is a great plan B.
What couples say about Ristorante Illando
"Before I got to San Diego, my wife and I had our entire trip planned out. We did a lot of research about restaurants and places we wanted to visit. Ristorante Illando was one of those places.We went for lunch on our first day there. Everything seemed like it would be great from the pictures and other reviews. I wasn't really sure what I wanted going in and all of the great options on the menu didn't make the choice any easier. I finally decided to go with the Penne Pollo e Broccoli. This was a pasta dish with cream, chicken, broccoli, & sun-dried tomatoes. It was very good. Actually, it was better than any chicken & broccoli pasta I've had before.Our server was awesome. She was on top of everything. Even before I ordered, in passing, she overheard me tell my wife what I wanted, so she knew what I wanted already. Our appetizer (burrata) came out fresh and quick, as did every dish. The bread that they give you was so good. I'd go back back just for the bread!The food, the service, it was all a great experience for us. Next time I'm in San Diego, I'll be back for sure." - n3rdout
"We got off the trolley in Little Italy and just walked around the area, hoping to find a nice Italian restaurant to dine at. What a wonderful find. They even had a Pranzo Pronto $15 Express Lunch. What a great idea. You were able to pick an Antipasti/Salad, Pasta, and Dessert. I did enjoy my Caesar Salad, Penne Pollo e Broccoli, and Cannoli. Hubby ordered Insalata Feta e Olive, Penne Chiantigiana, and Tiramisu. Delish!" - WaSunlover
"We loved everything we ordered. We were a walk-in at happy hour time, in my opinion we were seated at the best seat in the house right in front of the front window. I have a pet peeve about sitting down in an Italian restaurant and not being served a complementary basket of bread, this place did not disappoint, some of the best bread ever along with a plate of dipping oil with some balsamic poured in. The Tagliere di Salumi tray on the appetizer menu was a perfect selection of the tastiest varieties of meat, cheese and ham. The Spaghetti carbonara will be hard to forget, plenty of large chunks of flavorful pancetta. Also we ordered the Spaghetti Allo scoglio, all the seafood was good. The pasta in both dishes was perfectly cooked Al dente. Service was good" - CharleneL386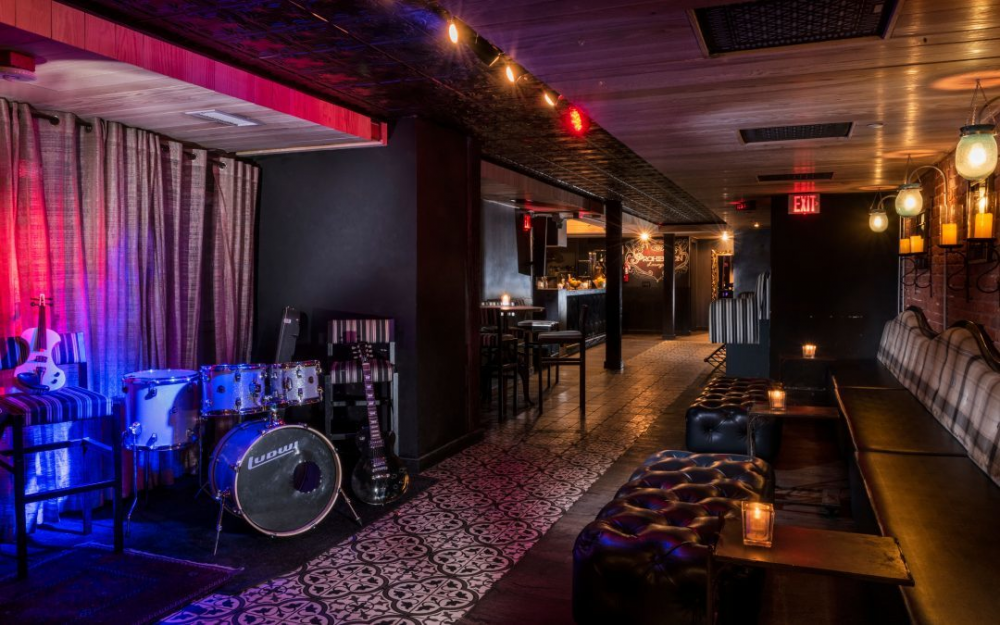 Source: Prohibition
Average review score: 4
Couple ratio: 34%
Want to spend the evening with some fine liquor? Then Prohibition, a liquor bar located at 5th Ave, is a great place to do so. Living up to its name, the bar does have a few restrictions for its guests - most notably, they don't allow the use of cellphones in the establishment, which will make your date a whole lot more intimate. The bar's atmosphere and collection will take you and your date back to the 1920s, providing a more nostalgic drinking experience than in other places. They ask you to follow the 1920's theme and follow the appropriate dress code if you plan on going there during Fridays and Saturdays, but the one-of-a-kind ambiance you get from it is definitely worth the extra effort.
What couples say about Prohibition
"We were across the street at a cigar bar and noticed people going in a nondescript door that said law offices at 10:00pm with a well dressed security guard. Yelped to see what the place was. It looked cool so we jaunted over and found a wonderful Speak easy style bar. The bartenders were wizards of craft cocktails and very knowledgeable on the different libations. A jazz band was paying and we enjoyed the decor and vibe. Overall experience was a great place to enjoy a nice cocktail off the craziness of the streets above.... Give them a try" - ctexeter
"Girlfriend and I dropped by for a drink and three rounds later we were loving this speakeasy, the live music, and the other people. Such a great place definitely stop by!" - christiancU4952RN
"Great place to listen to live music and enjoy handmade specialty cocktails. This is California, so some people will be dressed-up and others in a more laid-back attire. Either way, everyone is friendly and having a fantastic time and the musicians play with genuine passion. Special shout-out to the greeter (bouncer) at the door, he was very professional and friendly, setting the stage for a fabulous evening!" - Beth S
Source: Timken Museum of Art
Average review score: 4
Couple ratio: 34%
While romantic dates are always neat, it's nice to appreciate things in life with your date, and art museums are a great way to accomplish this. The Timken Musem of Art was founded by two San Diego families with the sole purpose of collecting and displaying fine art, and it currently hosts many different art exhibitions covering different genres, art styles, and time periods. As of the time of writing this, the Timken Musem of Art is currently holding an exhibition on Masterpieces of Italian Drawings from the British Museum. The museum is free to the public, so it wouldn't hurt your wallet to check this place out.
What couples say about Timken Museum of Art
"I was not expecting to walk into a small museum with free admission and get to see Rembrandt, Van Dyck, Rubens, Warhol, and Lichtenstein. This one museum had so many paintings that would be major centerpieces in other galleries. The rooms are small, but laid out nicely and you can really get up to see these wonderful paintings. We walked in on a whim and I am so glad we did." - Sarah F
"This is a wonderful little art museum in Balboa Park. It's free and has some special surprises if you love historic paintings. A must visit for art lovers. Close to parking." - GenotheViking
"The Timken Museum of Art is a fine art museum with displays of European old master paintings, sculptures, and tapestries. In addition, it has collections of American painting and Russian icons. There is no entrance fee to enter this wonderful small art museum. I love it, the natural light and great choice of art on display make for a beautiful experience." - osimajorusaf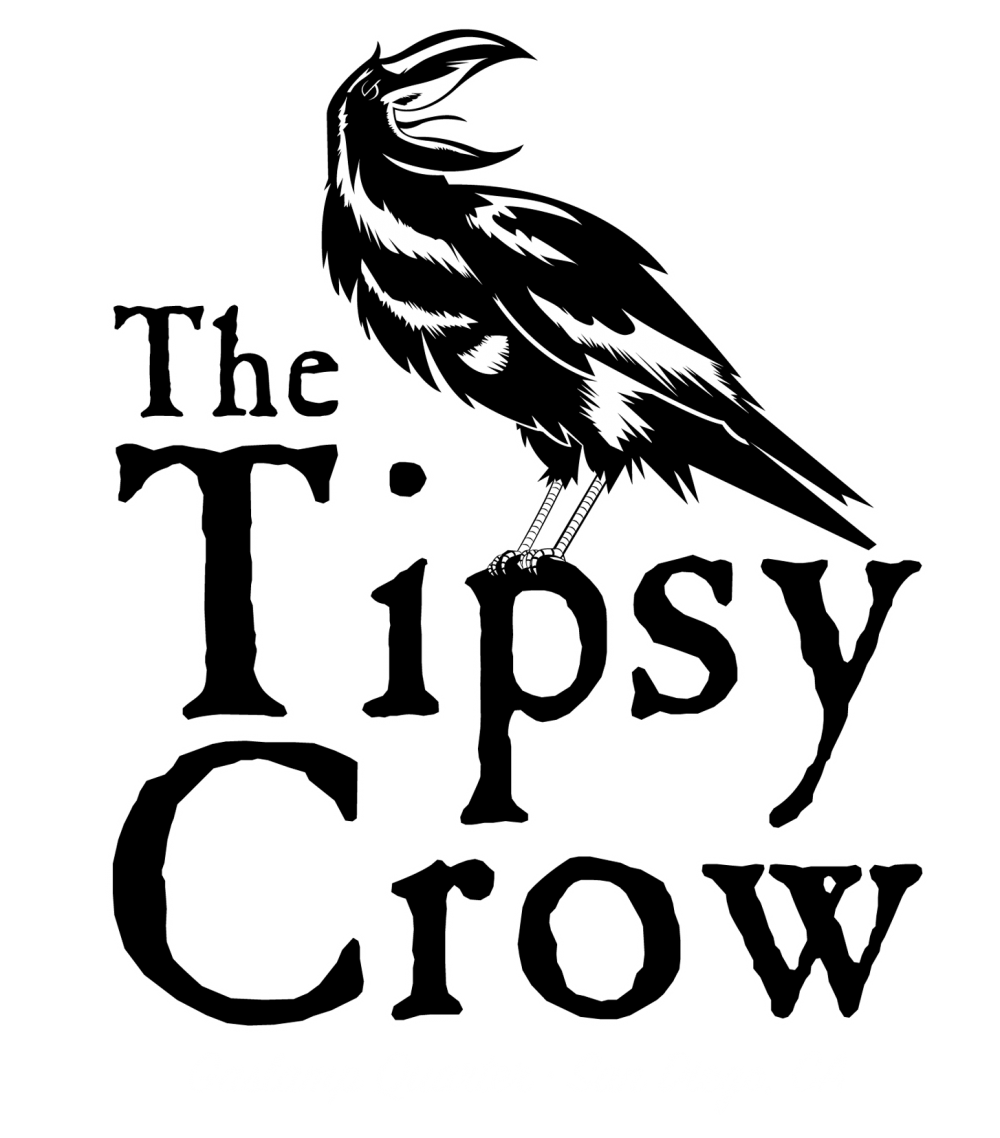 Source: The Tipsy Crow
Average review score: 4
Couple ratio: 33%
The Tipsy Crow's been around in San Diego for quite a long time now, as it's considered as one of the oldest bars in the city. It's also located in the Spencer-Ogden Building, a structure built way back in the 19th century. But you don't need to be a history geek to enjoy a drink or two in this bar, especially when it's full of fun events you and your date can join in on. The Tipsy Crow hosts weekly DJ performances, comedy gigs, and events for occasions such as New Year's Eve. Make sure to follow the dress code that's listed on their website before heading there, and you're good to go.
What couples say about The Tipsy Crow
"My wife and I were in the Gaslamp district on a Thursday night in January. We stopped in 5 different restaurants/bars trying different beers and food. The Tipsy Crow was by far my favorite. The beer selections were great, The atmosphere was very comfortable and staff (or at least our bartender) was knowledgeable and friendly. Which was nice since most of the places we went were not that welcoming. We did return on Saturday and the place had a line out the door so get there early or expect to wait." - dmaa1996
"They make really great drinks here. Have exceptional service. There is a pool table upstairs where we spent most of our time. Would definitely go back if we are in San Diego again!" - 76AmyC
"This bar is great, big 3 floors and all types or beer and alcohol. But the thing I like the most is the drink price go up and down like the stock market. So you an fallow the price of beer and alcohol and the screen and it can drop during the hour for had much had 30% from what I saw. I taught it was a great touch and it's entertaining." - dominikk55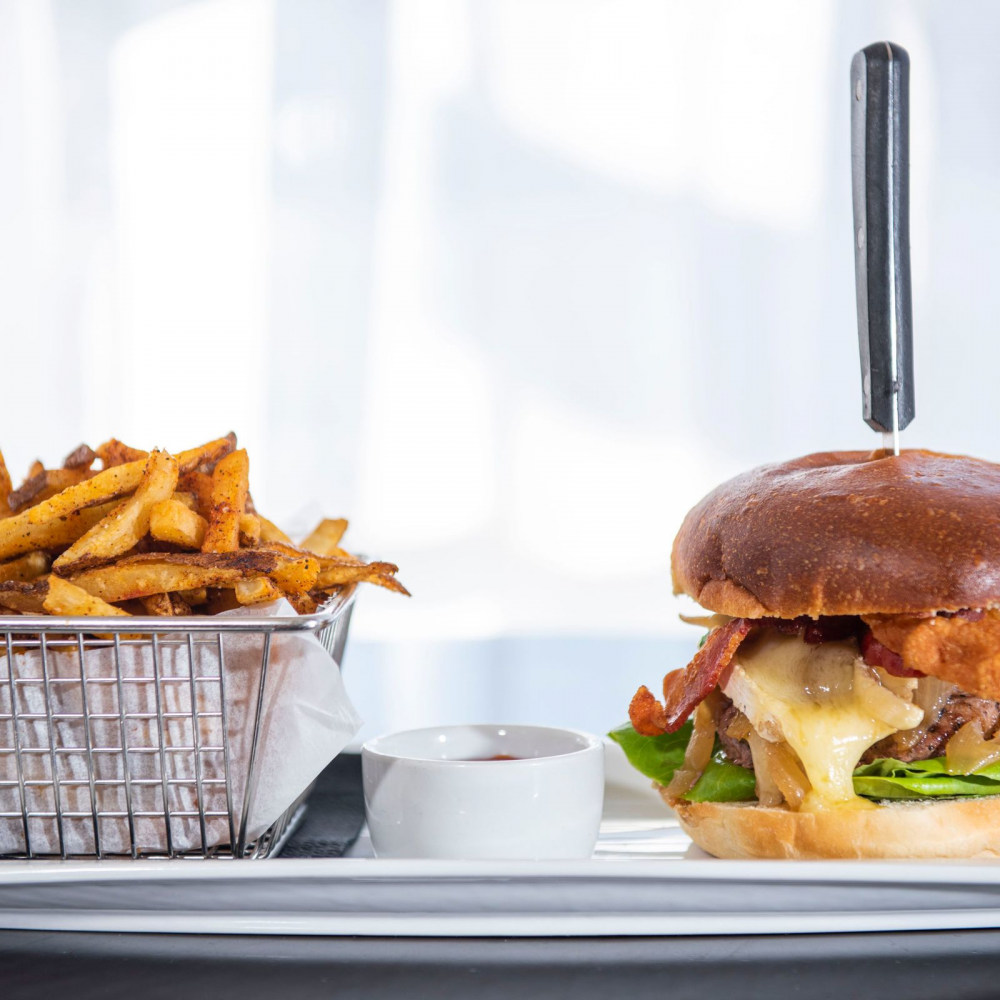 Source: The Red Door
Average review score: 4
Couple ratio: 32%
Have you ever wanted to try Italian food, but with hints of other cuisines added to the mix? That's what The Red Door's got in store for you and your date, should you plan on dining there. Located at W Washington St., the restaurant's head chef Luciano combines flavors of Italy with his experience from countries such as Thailand and the Carribean for a unique take on your Italian favorites. The Red Door serves guests daily, opening at around noon during most days. They have various menus for lunch, brunch, dinner, dessert, and Happy Hour. They've also got their own collection of alcoholic drinks at their in-house bar. And yes, their front door is colored red.
What couples say about The Red Door
"My wife and I were visiting San Diego and met some friends who suggested we have dinner at The Red Door. Our friends had eaten there some years before but ownership changed about a year ago. The new chef, Luciano Cibelli, introduced himself to us and welcomed us. He told us he designed the menu himself. The restaurant features farm fresh ingredients, most locally sourced. All fish are fresh and line caught.My wife and I shared a shaved brussels sprouts and feta cheese salad. For my entrée, I selected the orecchiette. Luciano told us he makes the Italian sausage himself using only pork, fennel, salt and white wine. Anyway, the orechiette with mushrooms, pearl onions and a brandy sauce was one of the best I've ever had. One of our companions had the risotto and loved it. Luciano says he rotates the risotto's on a daily basis.We will definitely be returning and bringing the rest of our family with us. Excellent Italian food without the crowds and parking problems of Little Italy." - 68Aalum
"I have been looking for an authentic Italian restaurant and our friend introduced us here. The ambiance is very relaxing, and cozy. The Italian chef/owner came out to greet the patrons, he told us the pasta is made fresh! The food is very flavorful and not too salty. We will be back as we are very happy with our dinner. Street parking available. This is a hidden gem where the locals go to." - Realtor_Chupco
"My wife and I went for dinner last night, and loved it as always. Romantic and charming, with great food and great service. The wine pours are also generous, and reasonably priced. We split the Spanish Chorizo flatbread, and loved it. I had the Panzanella Salad as an entree, and it was fresh and flavorful, and my wife had the tomato bisque soup, which fortunately she let me had some spoonfuls of, as it was wonderful in flavor and texture. The place is a local favorite, and I have had their lamb shank before, which was awesome. A must go to in the neighborhood, and easy to get to off the I-5 freeway, with convenient street parking." - DavidMarino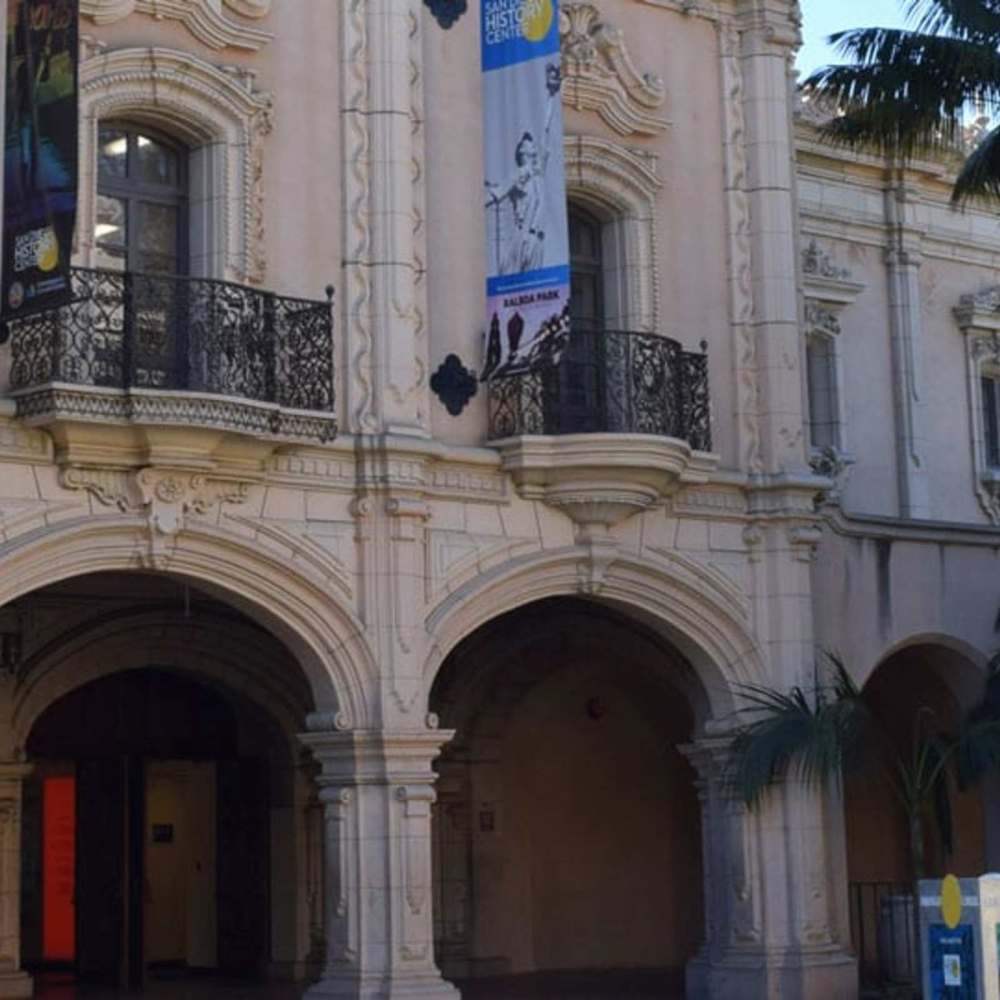 Source: San Diego History Center
Average review score: 4
Couple ratio: 32%
Sometimes, dates can be a time for you and your partner to explore the city and learn more about it. The San Diego History Center takes this idea one step further, bringing you way back to the origins of San Diego itself. You'll get to learn about the city's history over the years and see centuries worth of documents and pictures that'll give you a glimpse into the past. The San Diego History Center is open daily from 10:00 a.m. to 5:00 p.m. If you're near El Prado, then it's worth visiting, especially since the admission is free to the public.
What couples say about San Diego History Center
"Good display of the history of the zoo was going on when we visited and it took over an hour to wander snd read about this. That left little time for the other displays." - jans279
"I am a kindergarten teacher and a life long lover of Dr. Seuss. My husband and I spent July 4th in San Diego and I heard that there was a Dr. Seuss exhibit at the History Center. I really wanted to see the artwork, so off we went. First off, this museum doesn't take long to visit, even for museum lingerers like my husband and me. The Dr. Seuss exhibit was FANTASTIC, a bucket list item for sure for kindergarten teachers. We really enjoyed the rest of the museum as well. I loved the art gallery dedicated to California artists. We learned a lot about Balboa Park, as well. They have a short little movie that I recommend taking the time to watch." - [29kindergartencuties]https://www.tripadvisor.com/ShowUserReviews-g60750-d1807088-r325119838-San_Diego_History_Center-San_Diego_California.html)
"The History Center is located in Balboa Park, and offers free admission although you can make a suggested donation. We entered because we saw a sign offering a movie about the park. It is called "Balboa Park -- The Jewel of San Diego", and is about 30 minutes long. Showings are on the hour at 11,12,1,2,3, and 4 PM. Being from out of town, we didn't realize the rich history of the area, so the movie was the perfect start to our two day adventure in the park.There are also some interesting items and exhibits to look at while here too. Unfortunately the artwork was in the midst of being changed, but we enjoyed the rest of the museum in about a half-hour. In addition, there is a great gift shop, where I purchased a beautiful print to take home. This is a definite stop -- start here if you can" - Nprus

Source: San Diego Museum Of Art
Average review score: 4
Couple ratio: 31%
There are plenty of art exhibits and museums scattered all across San Diego for you and your date to visit and appreciate. One such exhibit would be none other than the San Diego Museum of Art, located at El Prado. The museum features collections of different art styles, such as expressionism and contemporary art. While admission isn't free to non-members, college students and residents of San Diego can visit for free during certain days of the month. They're open on Thursdays through Tuesdays from 10:00 a.m. to 5:00 p.m. (They open at noon on Sundays). The museum is definitely worth the admission fees if you or your date are art enthusiasts.
What couples say about San Diego Museum Of Art
"My husband and I would not consider a visit to San Diego complete without a visit to this art museum. The travelling exhibits are always first rate (in fact, we have several times driven to San Diego primarily to go to this art museum for special exhibits) and the permanent collections, though small, are curated well. One thing to consider, though, is parking which, though free at Balboa Park, can be quite congested so plan your route beforehand. There are several locations of parking areas." - roxskin
"I do like the Museum but I have to say, the best time to go is in April for Art Alive, it's just fantastic. Getting ready to go again in a week!!" - antonellaz968
"This is a smaller museum than many, but jam-packed with great art. The rooms are laid out and organized very well, with a lot of flow. There's a lot to see here, so set aside a couple of hours at least. This is a museum I would love to return to again and again." - Conda D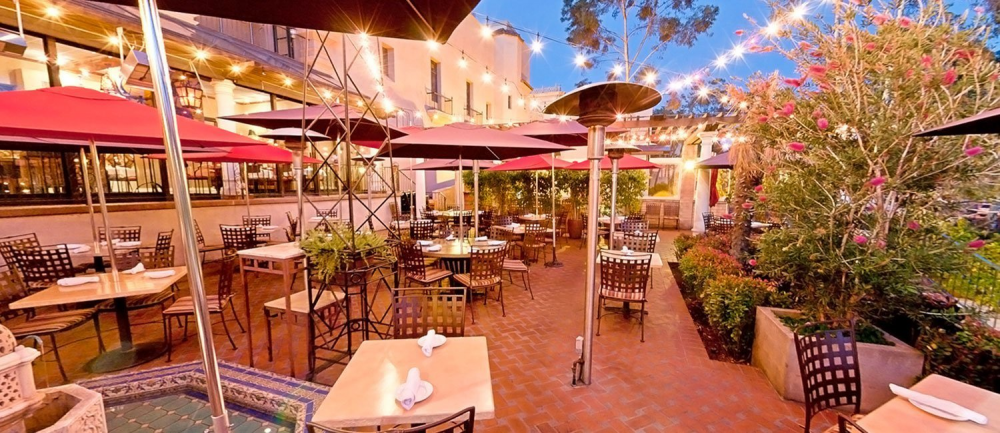 Source: The Prado At Balboa Park
Average review score: 4
Couple ratio: 31%
A date at San Diego's Balboa Park is romantic and all, but a dinner at The Prado would make it even better. The restaurant offers dishes of various cuisines, with dishes such as braised beef ribs, seafood linguini, and even seared American Kobe beef sushi rolls. What makes The Prado so romantic is the ambiance of the entire venue, offering a cozy vibe for both indoor and outdoor guests. The restaurant is open daily for lunch and every day except Monday for dinner. Make a reservation for this place if you're planning to stroll around Balboa Park and want a nice venue to wrap up your date.
What couples say about The Prado At Balboa Park
"This is the place to eat in Balboa Park, San Diego. The outdoor patio was so pretty and the plating of our food was as pleasing to the eyes as was the deliciousness of our food. I had fish tacos with mango sauce and hubby had salmon. They were both so delicious, I would definetely go back there!" - Karen N
"This place is a winner! Didn't expect to find such great food in a park. Nice wine list, real cocktails menu. And what a nice and efficient staff. Dining room is huge and eclectic. Next time would love to eat outside." - patrickmE2298HO
"Even though there is always a wait, I love going to this restaurant when visiting San Diego. Not an exhaustive menu, but diverse and the food is alway delicious. Great service as well. Nice view from the patio deck." - Darren S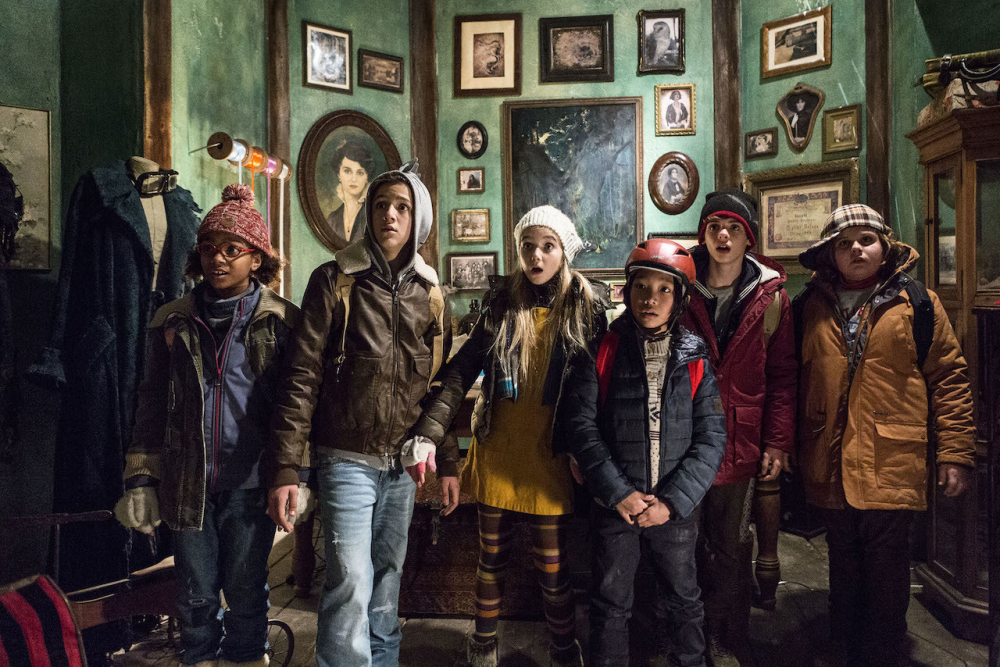 Source: Museum Of Photographic Arts
Average review score: 4
Couple ratio: 31%
If you or your date have a passion for photography, then you have to visit San Diego's Museum of Photographic Arts. Located in the famous Balboa Park, the museum is home to various collections of photographic media, pictures and films alike. They host quite a few events every year, with the most recent one featuring a Christmas film from the Italian Film Festival. The museum is open daily Tuesdays through Sundays from 10:00 a.m. to 5:00 p.m. Admission is free, though you can contribute any amount if you wish to help support the museum and keep it running.
What couples say about Museum Of Photographic Arts
"We saw a great exhibition with 13 artist from Australia, "Defining Place/Space". The presentation was well done and I enjoyed seeing a selection of works by each artist. It is a donation only entrance fee, consider dropping in if you enjoy the exhibit subject. And the gift shop had some great photography paraphernalia." - Lizzie6219
"They had many interactive exhibits while we were there, so very fun for everyone. The museum is small enough not to overwhelm one and the exhibit space is well thought out. We didn't feel crowded." - 2amigos_12
"So many diverse and well composed photographs. Close to other excellent museums. Accessible. Very good gift store. Appeals to all ages." - CalgaryWoman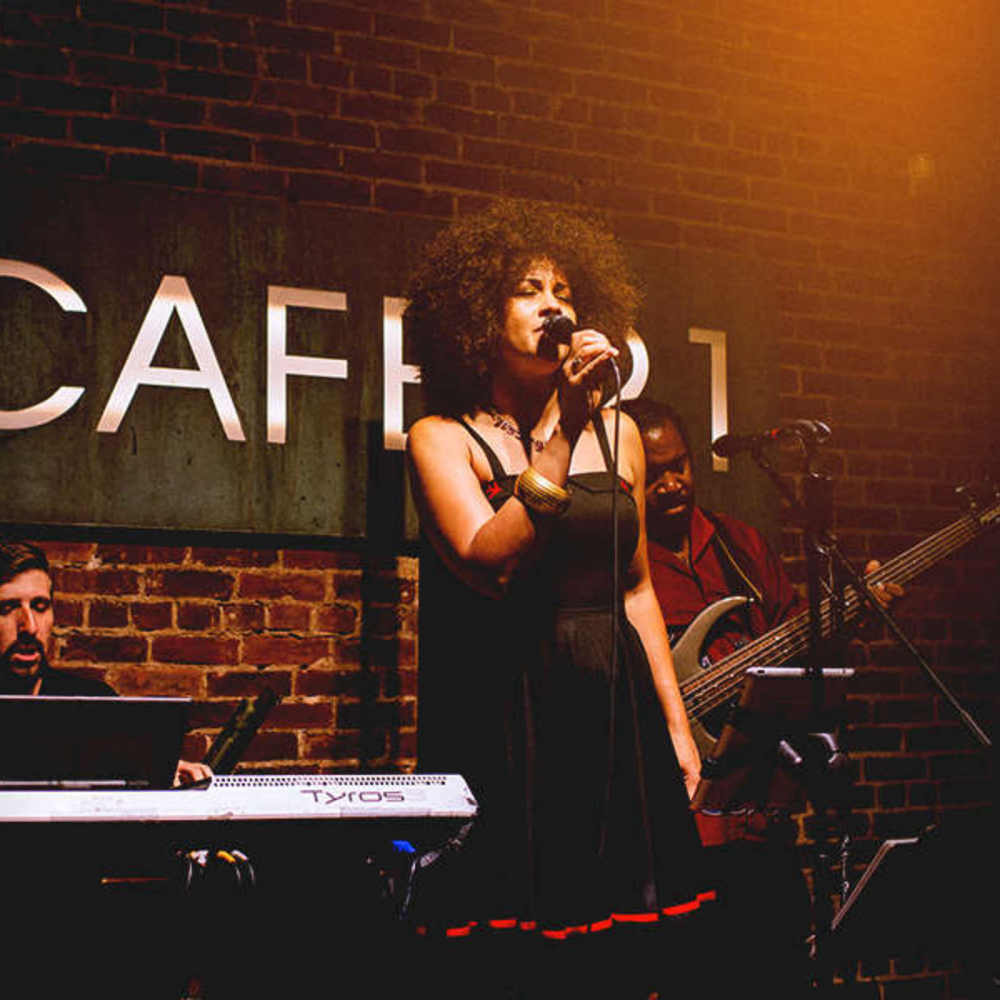 Source: Cafe 21 Gaslamp
Average review score: 4
Couple ratio: 31%
Cafe 21 Gaslamp offers more than your usual American dining experience. Located at 5th Avenue, the restaurant features daily musical performances and live gigs for customers to enjoy. What's great about Cafe 21 is that they are a farm-to-table restaurant, meaning that they source their ingredients from local and organic farms. They also feature vegan, vegetarian, and gluten-free versions of their dishes which allow customers with specific diets to enjoy their meals as well. Cafe 21 is open daily from 8:00 a.m. to 10:00 or 11:00 p.m. depending on the day of the week. They serve everything from breakfast to lunch and dinner and even have an all-day menu for some of their meals. if you or your date want some organic American food, then book a reservation for Cafe 21 today.
What couples say about Cafe 21 Gaslamp
"We ate here for breakfast to try to tiramisu pancakes. Long story short, they were delicious. My wife ordered those, I ordered some sort of Japanese pancake (I don't see it on their online menu but I think it may have been a daily special), and we shared, along with ordering some eggs to balance the sweetness. The Japanese pancake was really unique, unlike anything I had eaten before, and I say that in a good way. Price was reasonable for the quality of the food. Would definitely eat here again if in San Diego.." - JJfromWI
"My financ'e and I dined her on May 27 2019. We ordered scrambled eggs with tomatoes and the dutch pancake. The food was wonderfully delicious. The service was a bit slow but the food definitely made up for slow service. The parking is on street and metered. Overall this is an excellent restaurant and would definitely eat here again" - medic72
"We went with friends for breakfast on a weekend. Very busy, but were seated quickly, upstairs, which might be more quiet. Pancakes were very light and came with fruits. Salmon egg dish was huge, so we shared. Wait team very on top of it." - 2amigos_12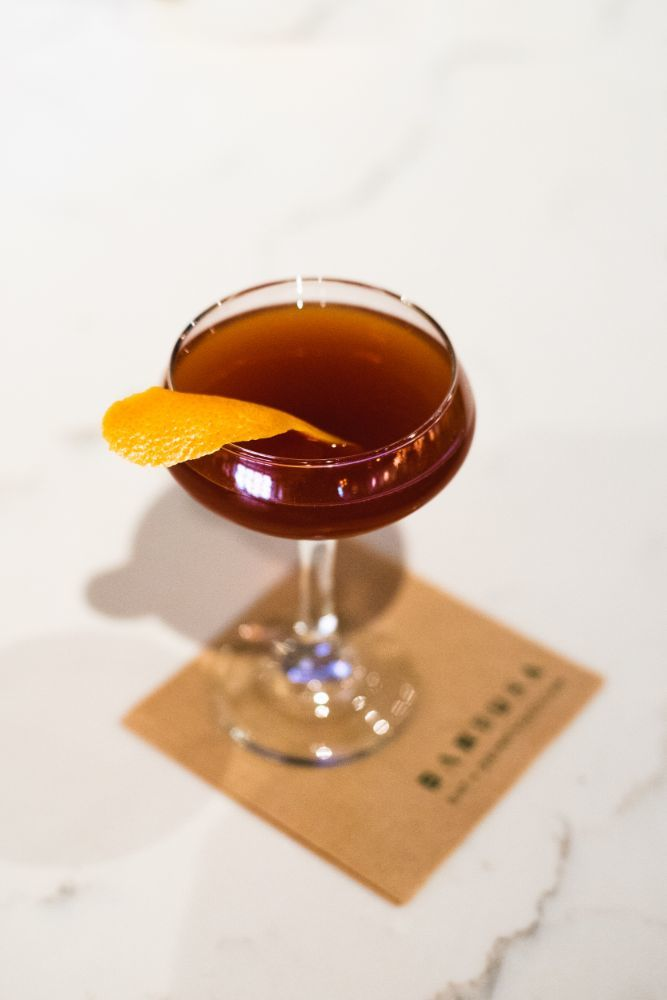 Source: Barbusa
Average review score: 4
Couple ratio: 31%
San Diego's Little Italy is home to some of the city's finest Italian restaurants, and Barbusa is no exception. Specializing in the country's special Sicilian cuisine, Barbusa offers an authentic Italian dining experience to its guests. The restaurant offers many treats for couples, including handmade pasta, beautiful pizzas, and seafood dishes. They also boast an extensive collection of liquor, and you can get anything from exquisite Italian cocktails to the country's coveted grape wine. Barbusa is open for dinner Saturdays through Thursdays from 4:00 p.m. to 10:00 p.m. (they close at 11:00 during the weekends).
What couples say about Barbusa
"Located in the middle of Little Italy, Barbusa is surrounded by dozens of great restaurants. We noticed it when we walked by in the afternoon and made a reservation for that evening. We were very glad we did. It was extremely busy, on Tuesday night, and I doubt we would have gotten in without the the reservation. The atmosphere is bustling and very noisy. Luckily we got a table in a corner where the noise was tolerable.Aside from the noise, we were very pleases with our meal. Service was good and friendly. We shared a delicious appetizer of the lamb lollypops. I had one of their handmade pastas and my husband had the Risotto Di Mare. Everything was excellent." - DDC3
"I absolutely love this restaurant. Everything was beautiful and delicious. Wonderful atmosphere. We had the bruschetta and squash flower (forget the real name) appetizers and highly recommend both. We also got a pizza and pasta and holy food coma we felt like we needed to roll out. Took half the pizza and pasta home. Reasonably priced for what your getting! We each had 2 drinks and the bill was just over $100. Wish we lived in SD so we could come back!!" - Stefaniealison
"Top quality of pork shank and garganelli pasta! As appetizer, the arancini are a tradicional fare but presented in a fun egg ceramic dish. While waiting for your order, try to identify the famous people on the big posters. Service is cordial, not in a hurry for you to eat and pay." - Vania P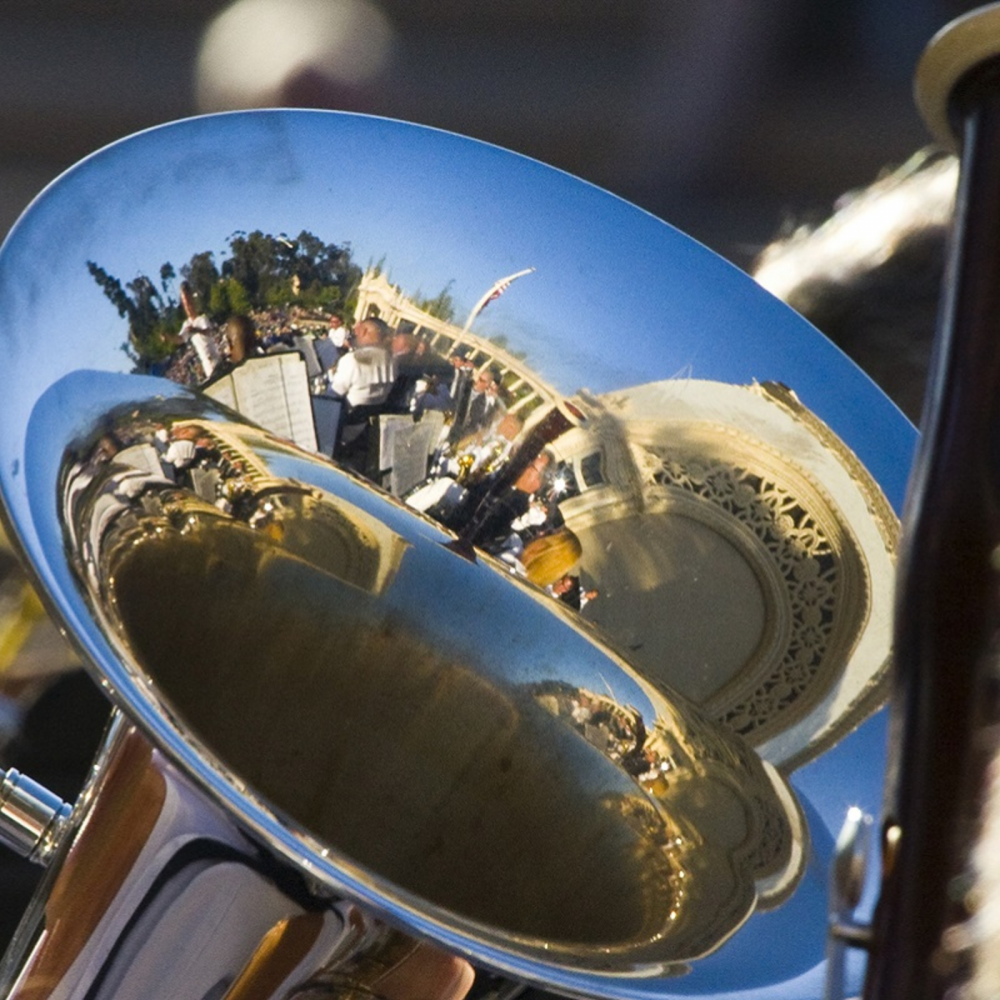 Source: Balboa Park
Average review score: 4
Couple ratio: 30%
Balboa Park is home to some of the city's most famous and unique attractions. You can't visit every single attraction in the park, however, unless you shell out money for all the admission fees. Luckily, there's a pass that you can avail for you and your date to get around all the venues with a single purchase - the Explorer Pass. The Explorer Pass allows you access to the venues scattered around Balboa park. You can avail passes that last from a day to an entire year if you plan on visiting a few times. You'll save yourself some serious cash if you and your date avail of these passes, so if you want to see what San Diego's iconic park has to offer, then it's easily worth the purchase.
What couples say about Balboa Park
"What a GREAT night. Not a bad seat anywhere in the house. Saw Almost Famous. Very enjoyable. Go early, get a refreshment, enjoy the park." - svallance2555
"We spent a couple of hours exploring Balboa Park after taking a hop on hop off Old Town Trolley tour. The architecture of the buildings is captivating. Balboa Park houses a number of museums as well as a Japanese Friendship Garden ($), San Diego Museum of Art ($), Botanical Garden and more. We were there on a Friday and the Food Truck Friday event was taking place. Our only regret was that we did not have enough time to explore everything." - N8695DXgloriac
"I was reluctant to visit, since I'm not a huge museum fan, but found out there is much more to see and do. Fun to spend a few hours walking around the grounds. Stop at the visitor center for some info about what to do/see while you're there according to your interests and to get a map. Beautiful architecture, restaurants, and street performers playing music. I liked the little artist colony featuring many local artists selling their wares. Plan to spend some time here, as there is a lot to see...or you can just relax by a fountain or in a shaded grassy area. Parking is free, as well as a couple of the museums/exhibits." - Hotelsnobb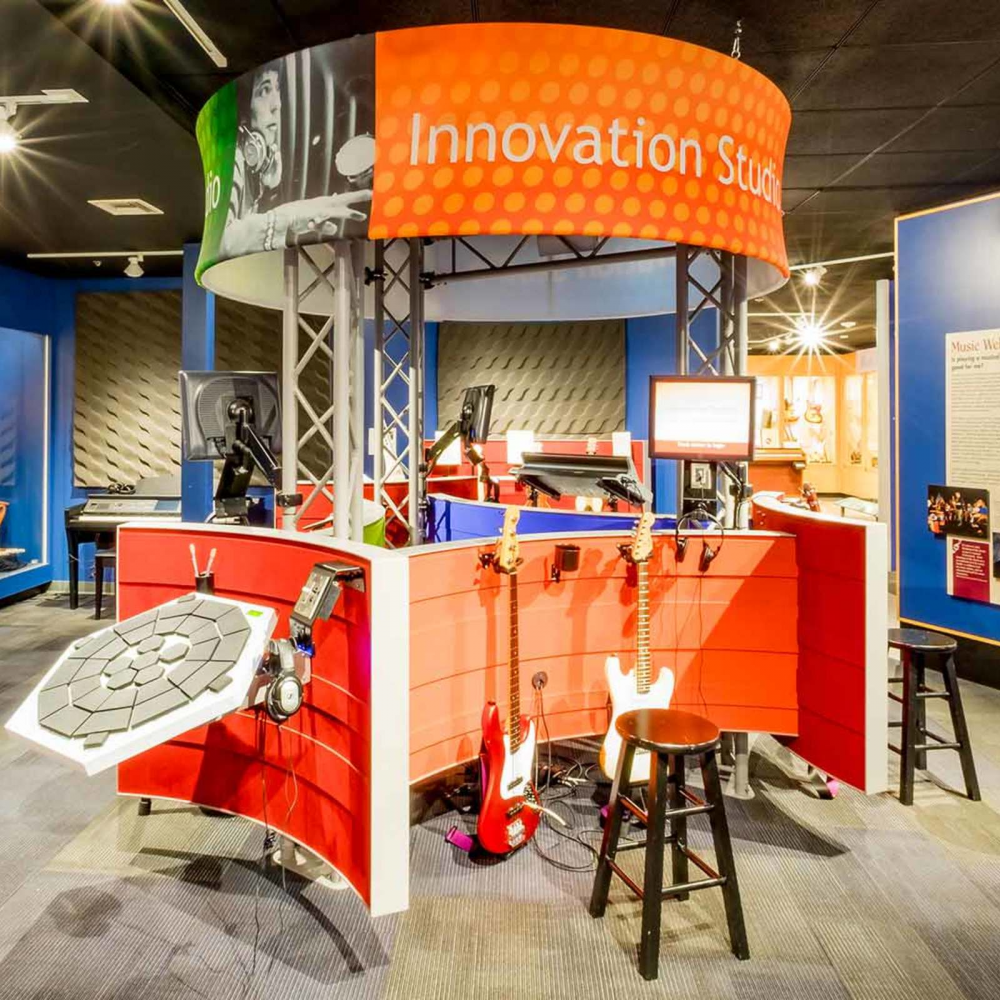 Source: Museum of Making Music
Average review score: 4
Couple ratio: 30%
For all you music lovers out there, this place is the perfect spot to head to during your next date. Open to the public since 2000, the Museum of Making Music has been home to various music-related exhibits, such as ones for the harp guitar, piano & piano technicians, and accordions. The Musem of Making Music also holds events every now and then. These events are mostly performances of different genres of music, like jazz, country, and even holiday music for the Christmas season. Aspiring musicians and hobbyists alike will find the $10 admission fee definitely worth the price.
What couples say about Museum of Making Music
"WE expected to spend part of an hour ... and spent 4 times that. This is a top notch museum with many interactive exhibits. It will be particularly compelling for baby boomers who will recognize many artist and artifacts ... well worth a visit for anyone interesting in listening to, the making of, or the history of music." - onetravelman
"It was a very interesting little museum worth the look if you are interested in music and instrument history." - TallyMaui
"This is an extraordinary place for people who love music, history, rock and roll! The exhibits span historical instruments and offer a hands on at each area. Also a rotating exhibit space and a wonderful concert venue, but check their program early....things sell out quickly. There is also a wonderful area at the end of the exhibit space with hands-on instruments with head phones for anyone to try to play. I discovered that I might be able to take up the harp! The gift shop features an eclectic selections of DVDs, children's items, percussion things. After a wild day at a theme park, this is an interesting interim the day after a sleep in and before you hit the pool or beach with the kids." - ellenmuskox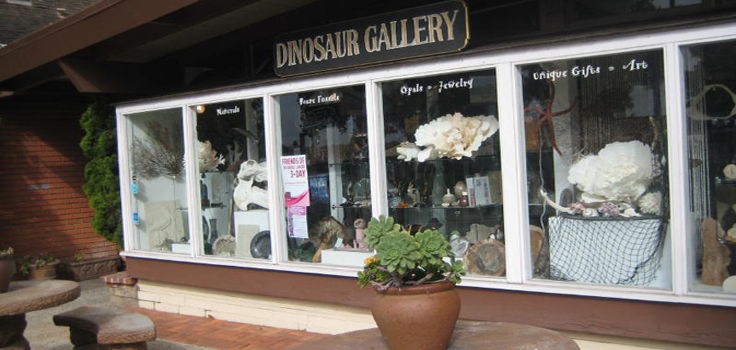 Source: Dinosaur Gallery
Average review score: 4
Couple ratio: 30%
The Dinosaur Gallery at Camino Del Mar is a must-visit for science geeks and stone/mineral enthusiasts alike. Despite the name, the Dinosaur Gallery isn't a museum per se - it's actually a boutique store that sells museum-quality fossils, shells, and other items of that sort. These items include million-year-old fossils, dead coral, crystals, and minerals. What makes the store unique is its collection and items for sale, as you normally can't find items of this nature anywhere else. You could buy any of these for you or your friend to serve as a lovely decoration at home. They even sell healing stones for those who are interested in that sort of thing, so check the place out if you're around Del Mar for a one-of-a-kind shopping experience.
What couples say about Dinosaur Gallery
This is "eclectic" on steroids. Such a fun and unique shop on Del Mar's main drag (Camino Del Mar) and so worth a stop to talk with the owner and gain some knowledge. She takes a great deal of pride in her collection and appreciates her contacts that provide her with the awesome Indian jewelry. Our trips to Del Mar always include a stop here." - onthego_98765
"The window display is pure eye candy; the geodes, shells, fossils, and related items only hint at what is inside. The quality and selection is hard to equal elsewhere. The store owner will take all the time you need to answer questions, make recommendations, and point out what may have been overlooked. All our trips to Del Mar end with a visit to this store. The owner buys delicate and exceptional jewelry from American Indian artists and can tell you in near detail information about the pieces." - onthego_98765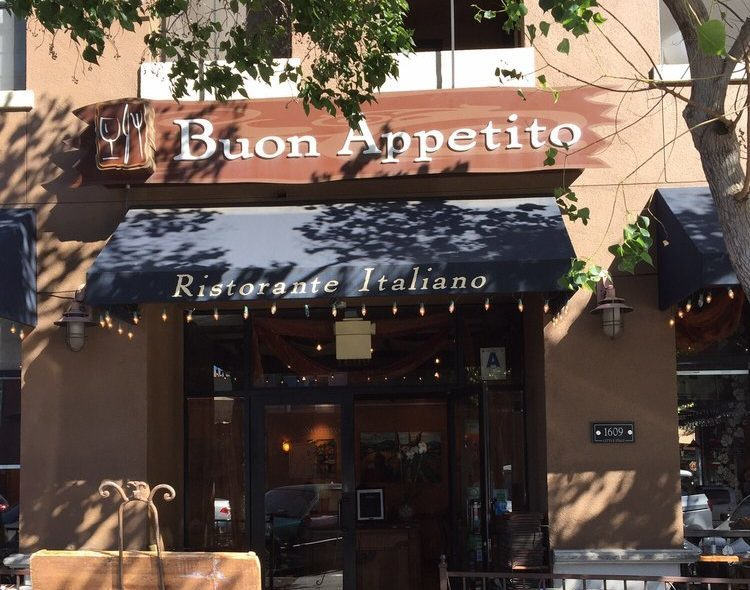 Source: Buon Appetito
Average review score: 4
Couple ratio: 30%
Don't be confused by the restaurant's title, as the popular French phrase is actually the name of a popular Italian restaurant in San Diego's Little Italy. The phrase is Italian (though almost identical in spelling to the French version), and you'll definitely end up saying it with your date once you see the delicious Italian dishes they serve on the menu. The restaurant is open daily from around noon to 10:00 - 11:00 p.m. (depending on the day of the week) and serves both lunch and dinner as well as a special menu for groups. Like with most Italian establishments, they also feature a collection of Italian wines.
What couples say about Buon Appetito
"We met a a couple for an authentic Italian dinner in San Diego's Little Italy district and chose Buon Appetito. We had the Insalata Della Casa (house salad) and it was very fresh and light on the dressing. I had the Fettuccine Alla Montanara and it was very classic and tasty. My wife chose the rigatoni with wild boar and it was tasty, but would have benefitted from additional spices. The couple we dined with both seemed to enjoy their dishes. The wine selection includes a good variety of moderately priced Italian wines. My only real issue is that the inside dining area is too noisy, but hey, that's Italian." - 776GregC
"Had dinner here with another couple after roaming around little Italy and enjoying a couple of glasses of wine. Great food specials. The osso bucco was fantastic and the cioppino was as well. The osso bucco was finished in a Marsala sauce. First time I've seen that. And it was tender and full of flavor. The cioppino was a lighter broth than I'm used to but still very good. The waiter suggested an Italian wine blend of Sangiovese and Cabernet that was full bodied and liked by everyone. It was a beautiful meal for our last night in San Diego." - itt555
"My husband and I went here for dinner twice while in San Diego for a week.We enjoyed our dinner and waitress (Tatiana) so much the first night we returned two nights later. On both occasions we went with Tatiana's recommendations and we were not disappointed!" - bettina222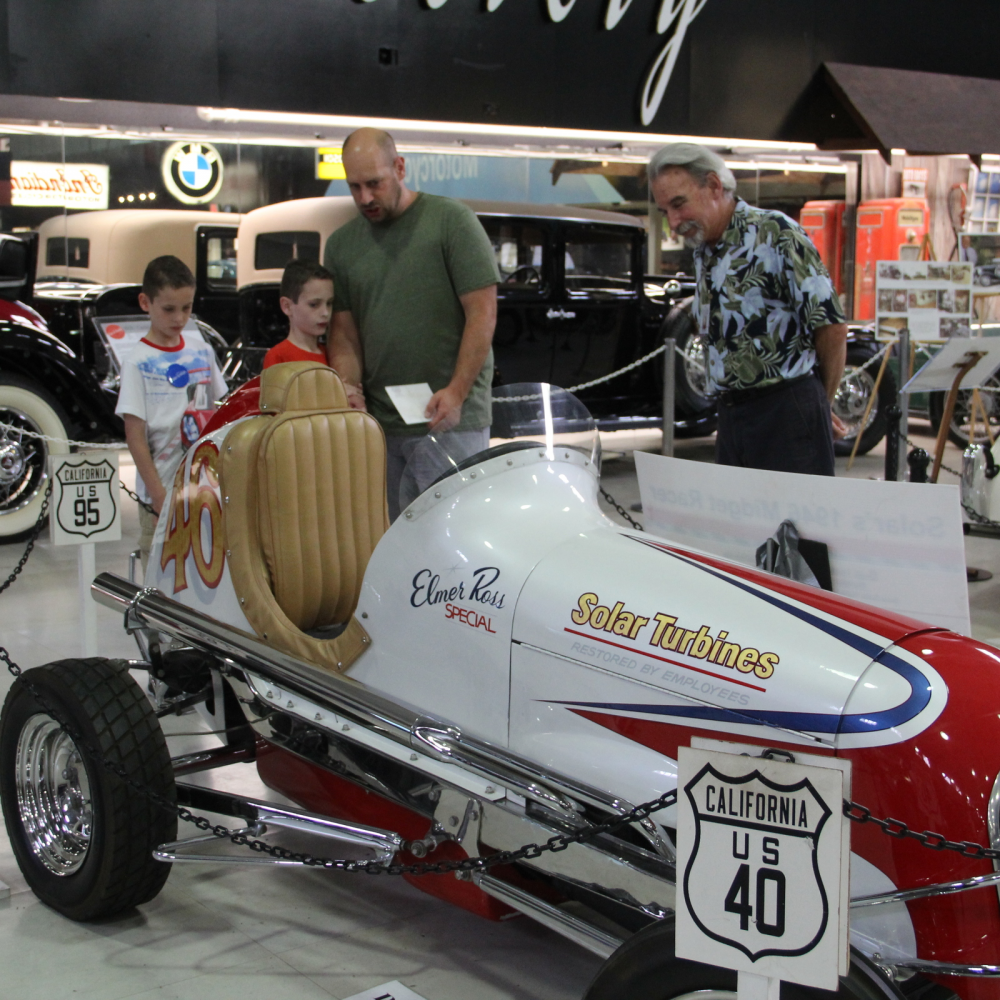 Source: San Diego Automotive Museum
Average review score: 4
Couple ratio: 30%
If you're dating a gearhead and car geek you should plan a visit to the San Diego Automotive Museum. The museum is full of permanent and temporary exhibitions of cars, bikes, and trucks alike with various themes. These themes range from designs such as lowriders, brands such as Harley Davidson, and uses such as barn vehicles. Admission isn't free, as tickets range from $6 - $12, and they're open from 10:00 a.m. to 5:00 p.m. daily. If you're planning a date around Pan American Plaza, then try squeezing a visit in your schedule. It's a pilgrimage for all grease monkeys and petrolheads out there.
What couples say about San Diego Automotive Museum
"While visiting San Diego we decided to drive around beautiful Balboa Park. We really enjoyed the interesting displays at this museum. The '52 Louie Mattar $75,000 car & camper trailer really got our attention. With a history of motorcycling in our family, we were also drawn to the exhibits of the older motorcycles and the information provided with them. Nicely done displays with interesting history of each vehicle." - Peggy K
"We went on Free Admission Tuesday, which always makes a place more fun for me.There are many autos and motorcycles to see, but there is one super interesting car there. I won't spoil this place for you..... but go see that one amazing car. You'll know it when you see it." - traveljunky88
"My wife and I recently visited the San Diego Auto Museum on our trip to Southern Cali. Although the museum is small it has some excellent examples of American and International automotive history. The vignettes have great information about the cars on display. I would highly recommend visiting if you are in Balboa Park." - jonass788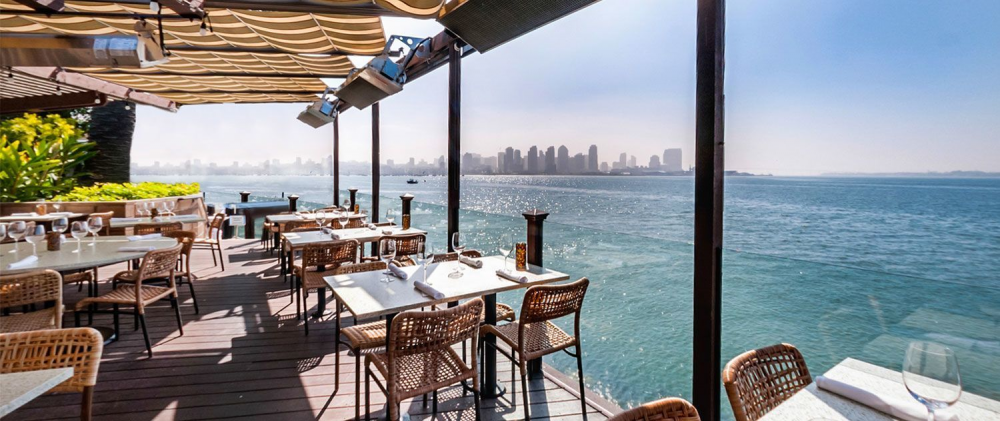 Source: Island Prime
Average review score: 4
Couple ratio: 29%
San Diego is a beautiful city, especially when it begins to light up during the evening, and a great place to capture the beauty of the city's skyline would be at Island Prime, located on Harbor Island. At the restaurant, you get a stunning view of both the bay and the city itself while enjoying some great food. Island Prime mainly serves as a steakhouse and seafood restaurant and offers a full collection of alcohol to enjoy some drinking alongside the view. Be sure to wear some casual to dressy attire though, as that's their dress code (though you're already wearing your best outfit for your date, right?).
What couples say about Island Prime
"Birthday dinner for the wife. The lobster bisque soup was one of the best. Service was outstanding. Views are great! Will definitely return." - MarkS907
"We enjoyed another wonderful evening at Island Prime last night. We have never been disappointed there! Our server Justin was a mere 25 years old but was super knowledgeable about the food and the wines. He did not steer us wrong on any of his recommendations and he had a great demeanor. We started with the crab cake that was big and fat and delicious , and their yummy popovers. My husband had the lamb chops which were amazingly tender and delicious. I had the filet trio – perfect for me since I always enjoy the combo platter and getting to enjoy the three different toppings on the filet. We shared the corn succotash as our side that was quite tasty. Our dinner finished strong with the Potted Brownie Banana Split for dessert – a wonderful combination of warm and ooey gooey brownie with peanut butter ice, dulce de leche, fudge & bruleed bananas. We waddled out of the restaurant after a leisurely and delightful 3-hour dinner with a view of the bay, downtown and Coronado." - Bears78
"We always eat on the C Level or lounge side. The view of the harbor is magnificent. It is one of the best run restaurants in SD City and County. A modest priced menu with numerous choices. Happy Hour is nice but it is truly enjoyable even if you miss HH. Our feelings after eating here happily for over ten years is that if you can't eat on the Venice, Italy lagoon then Island Prime is where you should be." - parkinsd

Source: Richard Walker's Pancake House
Average review score: 4
Couple ratio: 29%
Nothing screams "Good Morning" like some freshly cooked pancakes. That's why Richard Walker's Pancake House is a great breakfast restaurant for any pancake lover. The establishment's been around for decades and has gotten the method of pancake cooking down to an exact science. Traditional and baked pancakes are the specialty here, and you can order anything from plain buttermilk to The Danish Harvest. If pancakes don't suit your fancy, though, they've still got some tasty breakfast choices, like some classic bacon and eggs or french toast. You can even avail of their lunch menu later in the day if you're running late.
What couples say about Richard Walker's Pancake House
"Love this restaurant, it never disappoints. The Belgian pancake is a cross between the best quiche you'll ever and a super delish pancake. The other breakfast items are consistently great too. The service is attentive and you never wait for a coffee refill. It is very pleasant to dine outside here - when there is space!" - Shigeru-Charlie
"Found this place via Trip Advisor and liked it so much we went twice during our 3 day stay in San Diego. There was a queue outside both times but it moved swiftly and was managed well by the staff. We didn't wait for long and service was efficient without being rushed after we were seated too. The menu has a vast selection of breakfast/brunch choices and many options to personalise your meal choice too like changing the type of pancake or choosing gluten free if required. The portions are generous, eggs cooked perfectly and pancakes lovely, tasty and fluffy. Coffee cups are never empty and the service feels personal but not intrusive and, despite how busy the restaurant was, we never felt rushed or neglected. The only slightly negative comment I would make is that there is only one bathroom in quite a large restaurant but that definitely wouldn't stop me highly recommending breakfast here." - catrionam782
"We had breakfast here on our last day in San Diego - great blueberry pancakes (thank goodness for the half portion as we would not have managed a full one) and some of the best corned beef hash ever with eggs cooked perfectly." - 858MarkB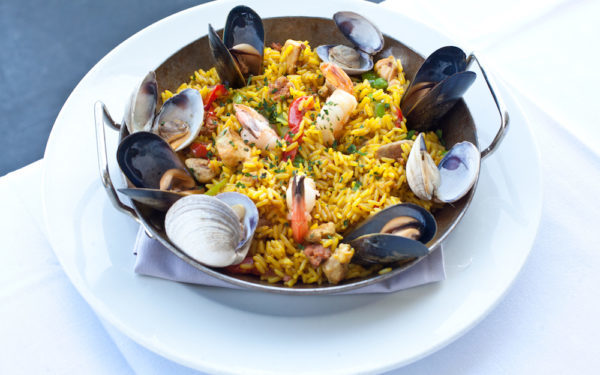 Source: Tom Ham's Lighthouse
Average review score: 4
Couple ratio: 29%
While it's not a real lighthouse, Tom Ham's Lighthouse is one of the city's iconic landmarks, established way back in 1955. The restaurant serves guests with cold platters of delicious seafood such as clams, oysters, and crab. You can also order some seafood classics such as calamari and mussels. Tom Ham's Lighthouse also holds events throughout the year. While most of them are privately arranged (such as weddings and corporate meetings) they join in on the yearly Beer Week that's celebrated all across the county, so there's even more incentive for you and your date to visit during this time.
What couples say about Tom Ham's Lighthouse
"Our trip to San Diego consisted mostly of eating great food overlooking beautiful views, and Tom Ham's Lighthouse exceeded our expectations! This restaurant was listed in USA Today's top 100 restaurants with a view. We went for an early lunch and sat outside on the patio to soak up the nice weather. The staff were friendly and efficient. The meal was delicious. Looks like reservations are helpful but we were there when the doors opened. This restaurant is a must do when in San Diego." - Kathy B
"RE: Romantic Dinner At Tom Ham's Lighthouse Decided to attempt to find a table with no reservations on Friday evening at Tom Ham's Lighthouse. Special thanks to hostesses and waitress, Sarah, for the excellent service. Ordered mussels, dinner salad, 8 oz. filet, and 12 oz. New York steak, with potatoes. Great views and Manny the manager asked about our dinners showing us that our impressions mattered. Mentioned this was the first restaurant I dined in San Diego back in 1972 to celebrate my sister's honeymoon and first year at University of San Diego for pre-medicine. Great memories and excellent evening. Respectfully, R. J. Lavelle" - boblavelle
"As always they impress! The main dining room was noisy but thank goodness we were seated on the patio. The weather was perfect and view stunning as always. The staff was fun and professional. The seafood was fresh and the brunch was amazing. I recommend to locals and visitors alike! A beautiful Sunday brunch on the San Diego bay. Irreplaceable!!!" - jessmacinsd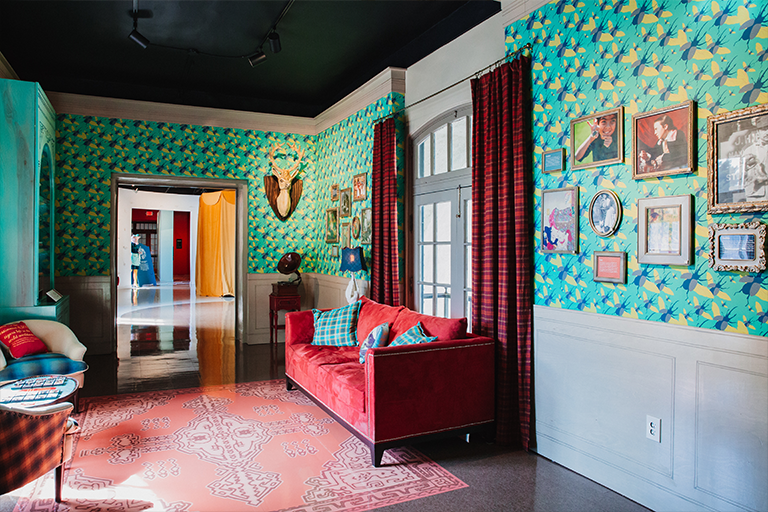 Source: Museum of Man
Average review score: 4
Couple ratio: 29%
Ever wondered about the history of mankind, its culture and secrets? The Museum of Man has answers for that and more, being an anthropology museum at the heart of Balboa Park. The museum has many exhibits for you and your date to check out, such as ones on history's monsters, the truth about cannibals, and even a timeline of the history of beer. Unless you're a member of the museum, the tickets to enter are priced at $13.00 apiece. The Museum of Man is open from 10:00 a.m. to 5:00 p.m. every day (except on holidays, of course), and they hold occasional events such as yoga classes.
What couples say about Museum of Man
"My husband and I while in Balboa Park had a few hours to kill so we decided to check out Museum of Man. I had no expectations before going in but found some of the topics to be interesting.There were cool exhibits on cannibalism, history of beer, and post secrets, etc. I highly recommend spending time reading the postcards. I was fascinated by this exhibit as people could write whatever they wanted but afraid to say it aloud to another person. The museum was under construction which did lead to a discounted rate. I am not sure I would spend the full amount of ticket price while in here if I didn't know about the post secret exhibit. That alone was my highlight from this museum and why people should check this museum out." - Apanda8
"We enjoyed this unique museum, especially the Post Secret Exhibit which displayed all the secrets that everyone had submitted on post cards. Some were funny and others were extremely sad. Also enjoyed the exhibition about race through the ages. Interesting place to visit." - 2butterfly
"Loved the exhibits on the history of beer, Egypt, but most of all the Cannibal exhibit. Thoughtful depiction of what society calls "cannibalism". Especially the film segment on the survivors of the plane crash in the Andes and how they coped with the concept when their lives depended on their decision.Wished that my grandkids were still young when I saw the Monster exhibit and the play area for the Egypt display. The kids in those two places were having a ball." - lenmar2016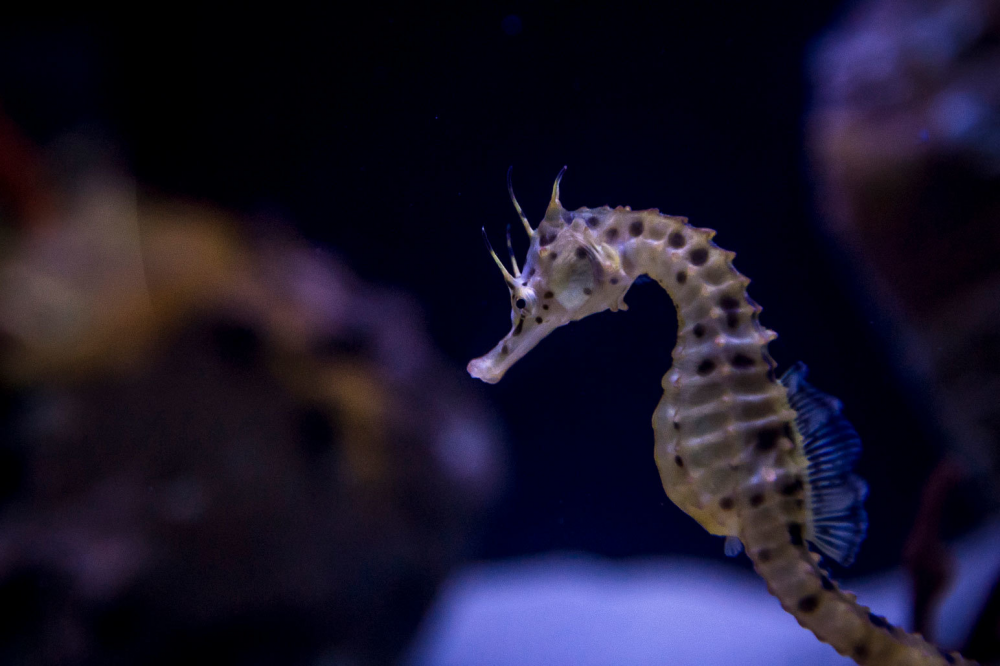 Source: Birch Aquarium
Average review score: 4
Couple ratio: 28%
It's always an enchanting experience whenever you get to see the creatures of the ocean up close. At Birch Aquarium, you can view over 5000 fish across more than 60 habitats swimming about. But contrary to their name, the Birch Aquarium doesn't just house fish - they feature exhibits for guests to learn more about life under the sea. One of their most recent exhibits, the infinity cube, showcased the properties of underwater bioluminescence in a seemingly infinite space within a cube. The aquarium is open from 9:00 a.m. to 5:00 p.m. daily, and tickets are sold at $19.50 apiece. Check to see if you can avail of military, elderly, or student discounts on their website.
What couples say about Birch Aquarium
"We enjoyed the aquarium very much. It's actually an easy walk to get through. There are many types of fish to see and read about. Check times for the feeding demonstrations, they were really interesting with a diver in the tank. The outside view is gorgeous! You can look out at the ocean and sit awhile and soak it all in. Lots of hands on activities for the little ones. We spent about two hours there and stopped for lunch on our way out. We were so impressed with the food! We got a large salad with grilled chicken and it was packed full of veggies and dark greens. We loved it! The staff was wonderful and always on hand to answer any questions." - Debra S
"This aquarium is located in lovely La Jolla & takes about an hour to enjoy. It's small and displays are gorgeous, clean, & well taken care of. In addition to the wonderful tanks of sea creatures, there are loads of things kiddos (of all ages) can learn thanks to the interactive displays. In addition to heading outside for a beautiful ocean view, you can typically also catch one of the daily feedings. Free, nearby parking. Clean bathrooms." - Astrid K
This aquarium is perfect for an afternoon visit. We enjoyed the views from the back balcony area and the tide pools. While the aquarium is small it has everything you'd hope to see at any aquarium including hands on experiences. Well worth the time to visit this beautiful aquarium." - [Julee S]9https://www.tripadvisor.com/ShowUserReviews-g32578-d128465-r646200498-Birch_Aquarium_at_Scripps-La_Jolla_San_Diego_California.html)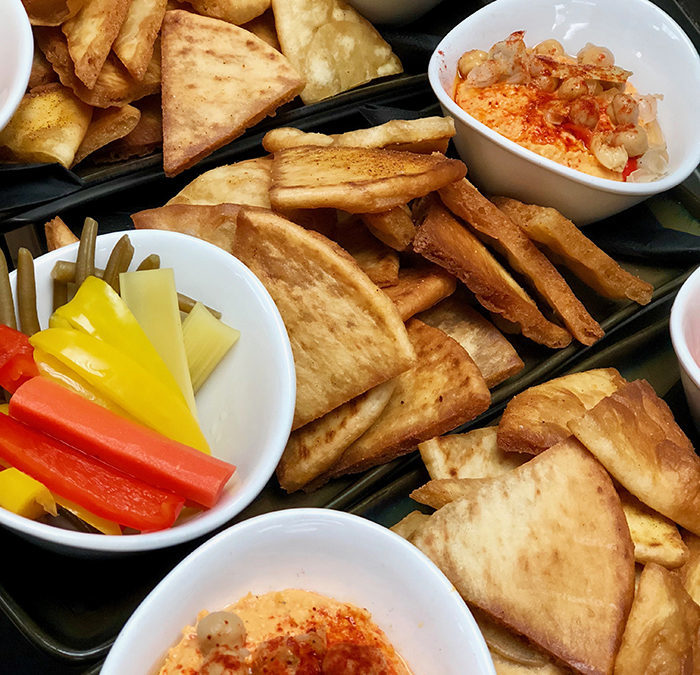 Source: GARAGE Kitchen + Bar
Average review score: 4
Couple ratio: 28%
GARAGE Kitchen + Bar was once, you guessed it, a garage. It's since turned into a thriving restaurant with a passion for music, as they claim that "Without a Garage, we would not have great music." Expect some good old American cuisine with a dash of European and Nouveau flavor in them if you decide to dine here. Paired with the great food is their craft beer selection, which uses the finest seasonal ingredients. GARAGE Kitchen + Bar runs from 9:00 in the morning for brunch to closing time in the evening for their dinner and late-night menus. Be sure to avail of their happy hour discounts if you're dining in the afternoon too.
What couples say about GARAGE Kitchen + Bar
"Loved the creativity on their menu. Had the Lox and Avocao Toast and loved the presentation and taste. Went back next day and thoroughly enjoyed the pulled por sliders on brioche but. Also, the Mimosa made with pineapple juice and lavender was superb." - Y6628TQkarenm
"My wife and I had lunch and beers here while on vacation. They have a nice selection of beers and some quality food. We would go again if back in the area." - AdventureSeeker84
"Had a quick lunch here, our waitress was great and the burger was excellent. Would recommend for their french fries! My wife is vegan so we were happy to find them serving the Beyond Meat burger on their menu." - omgitsgale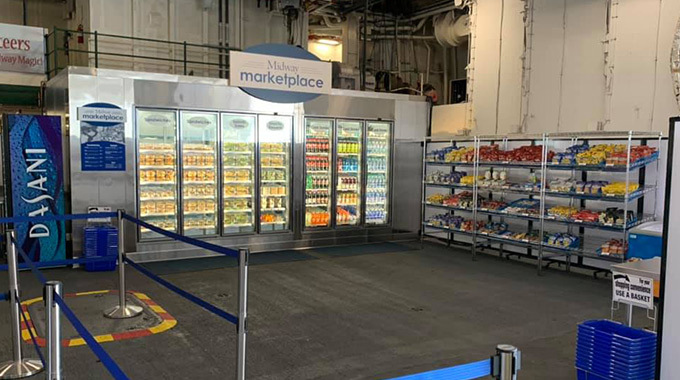 Source: USS Midway Museum
Average review score: 4
Couple ratio: 27%
The USS Midway Museum is an aircraft carrier-turned-museum docked at N Harbor Drive. Once the country's longest-serving aircraft carrier of the 20th century, it has since been decommissioned and transformed into a museum that showcases the ins and outs of the country's mighty fleet of carriers. There are plenty of exhibits for you to explore throughout your date, including a theater at the hangar deck, the cabins at the flight deck, and even an aircraft gallery featuring dozens of planes and helicopters. They're open from 10:00 a.m. to 5:00 p.m. with general admission costing $22, so plan your schedule ahead before visiting this marvel of the 20th century.
What couples say about USS Midway Museum
"We arrived for the museum opening at 10am and were among the last to leave at 5pm. We stayed at the top on the flight deck, looking at the aircraft and going up onto the bridge. We listened to two short lectures from a couple of retired combat pilots who were superb. We went down through the decks looking at everything from the gyro navigation system to the maintenance area, sailor's accommodation, captain's quarters, briefing rooms and the engine room and much more. Visiting the Midway was an outstanding experience and if you are in San Diego it is not to missed." - 362keithf
"This was a fantastic opportunity to see where my husband served his military career abroad the Midway during Vietnam war, we even got to visit his cot!" - jillcS2734KT
"I was amazed at the Midway. The volunteers were knowledgeable and loved what they were doing. I learned so much through each of the exhibits from them. I wish I would have spent more time there to learn more. Thank you to our veterans and current service members for your sacrifices." - thewesterntrek
Source: Miss B's Coconut Club
Average review score: 4
Couple ratio: 27%
A date at the beach wouldn't be complete without some tropical delicacies, and Miss B's Coconut Club is here to serve you just that. Nestled north of Mission Beach, the establishment serves a variety of meals and cocktails perfect to end your trip to the coastline. Try out their brunch menu, full of tropical dishes such as their Acai granola bowl, and vegan options like their vegan burrito. Spice up your evenings with some of their famous cocktails and brews - the Caribe, Tortuga, and their very own Coconut Club Cocktail are among some of the drinks they proudly serve. Be sure to check this place out if you're planning on spending your date at Mission Beach.
What couples say about Miss B's Coconut Club
"We stumbled across Miss B's coconut club whilst out for a walk, what a great find. We shared some wings and had a couple of cocktails. Then we had a sharing cocktail in a large copper flamingo glass, it was delicious. Would highly recommend" - Scots-traveller77
"Really nice staff in there We didn't want alcohol ( flying tonight ) But they were really accommodating Gave us some really nice iced coffee" - racoxon
"My husband and I came here after a day of paddle boarding. The food was amazing. It's not your standard fare - very different offerings. They are a little heavy on the mixed drink menu and a little lighter on the beer menu than I like but they have enough. Food though - amazing!!!" - Rebekah A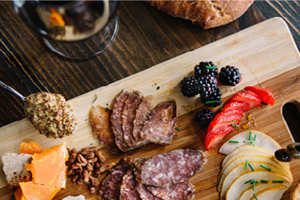 Source: Farmer's Bottega Restaurant
Average review score: 4
Couple ratio: 27%
Most of the well-known Italian restaurants are located at San Diego's own Little Italy, but this Italian and American cuisine restaurant has a home of its own down at Washington Ave. Farmer's Bottega's got dishes that'll satiate your American and Italian cravings with their lunch and dinner menus. They've also got happy hour promos and a wine list for other occasions. But that's not even the best part. Couples get to enjoy Farmer Bottega's best during Wednesdays with a special Wednesday Date Night menu. You get to choose a starter, two main dishes, and a dessert dish for only $52, so both you and your wallet can enjoy a special evening with your partner.
What couples say about Farmer's Bottega Restaurant
"We had our New Years Dinner here. The Prix fix menu was very good-but a few options were gone by the time we ordered. Very disappointed in missing out. Eat dish we had was very good--cooked well, seasoned well, and fresh ingredients. The Service was pretty good though they had to ask for more water." - magicraider
"Outstanding food. We had the bison tenderloin and the bison ribs. For appetizers we had the fried green tomatoes. Definitely try the molten chocolate cake if you have the room. Excellent little place." - KoloheSanJose
"A top ten dinning experience in San Diego, food is excellent and variety. Recently got their licor license, making it a complete dinning experience, a must try. Parking can be complicated at times, pay parking below complex through side street sorry don´t recall name of street." - Oscar M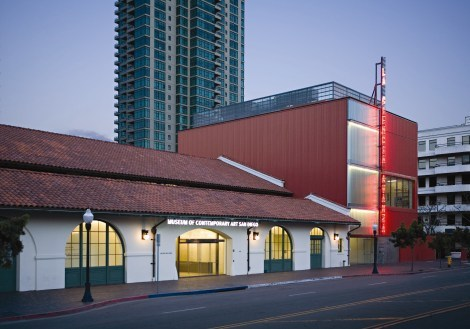 Source: Museum of Contemporary Art San Diego
Average review score: 4
Couple ratio: 27%
Contemporary art may be a little confusing and foreign at first, but a trip to the Museum of Contemporary Art at Prospect St. may just change you and your date's perspective on the art form. The museum is currently under major renovation but looks to drastically increase gallery space once the renovations are complete. The museum also runs a second branch located at Kettner Boulevard, with exhibitions for various contemporary artists and styles. General admission for non-members is $10, with discounts for the elderly, the military, and others. If you fancy something new and interesting, you'll definitely enjoy visiting this place.
What couples say about Museum of Contemporary Art San Diego
"My wife and I visited the Museum of Contemporary Art in La Jolla the other day. For you living-on-budget students under 25, show your ID and school ID (but the worker believed me and didn't ask for mine) and you're good to go. If you're over 25, admission is $5, and general admission is $10.The Museum is on the smaller size, and if you don't spend too much time looking at Artwork, you will probably be in and out of this place very quickly. But if you take some time took look and read the descriptions, and listen to the audios presented, the Artwork will make much more sense to you.. I enjoyed it myself. I've never been a huge fan of contemporary art, but I love how it ties into social issues and real life stories. You'll also see a lot of pieces by artists that attended UC San Diego, which is where majority of the work was created. Nice Museum !" - grandslamhomer
"The museum is in a nice location with both indoor and outdoor art space. The collections are engaging and the site restaurant is excellent." - P5405MSdianas
"Go, if only for the view which is phenomenal. Always eye opening exhibits and never too crowded. Sometimes they host evening opening events or film festivals so be sure to check ahead if you want tickets for them." - Local92037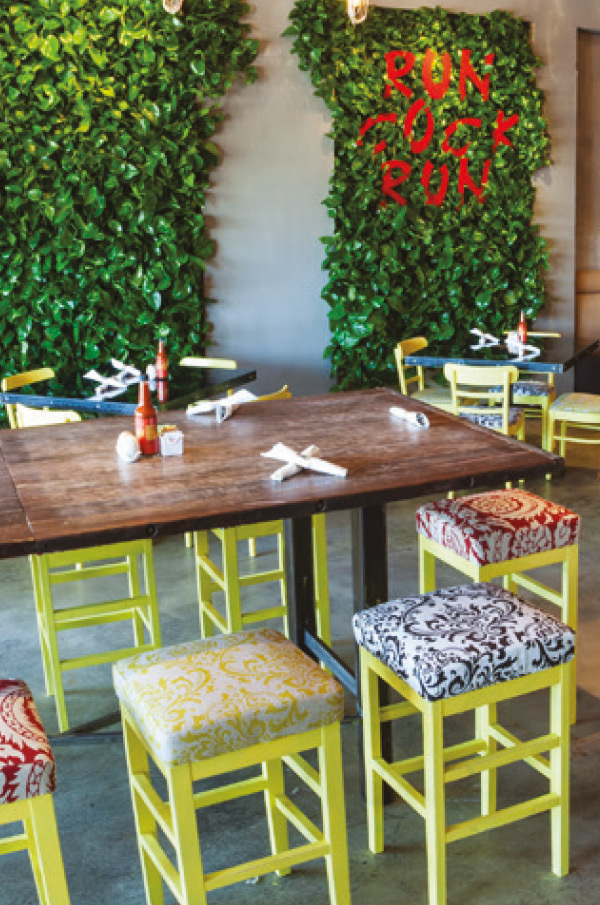 Source: Breakfast Republic
Average review score: 4
Couple ratio: 26%
A tasty breakfast can be a great way to start the day - especially when it's with that special someone. The Breakfast Republic takes that experience to the next level, with nostalgic breakfast meals such as S'mores French Toast and Oreo Pancakes. There are a few ways to dine in the Breakfast Republic, depending on your budget. You can avail of their tray pass service starting at $6, buffet style starting at $15, and a whole three-course menu starting at $20. No matter what kind of dish you'll have though, you and your date will enjoy spending the morning with each other, and with good food.
What couples say about Breakfast Republic
"Loved the selection on the menu. Severs were very accommodating and explanation of menu items was great. We we're seated immediately but can see you might have a wait during busy times. The chocolate milk is a great option including whip cream and chocolate syrup on top." - spolebitski
"Nice place! Inviting environment, great patio, food and service were outstanding, we ordered Shrimp and grits and a California Breakfast Burrito. Danielle, our waitress was very attentive. Definitely will come back next time in San Diego." - soycolombiano
"We showed up for breakfast on a Saturday morning. Place was bustling, but we were seated faster than expected and served immediately. Menu was extensive and interesting with unusual choices available. Food was flavorful and delicious and served attractively. Pablo, our server, was wonderful, friendly, and responsive always checking on our needs despite how busy he was. A great dining experience." - lekurlandsky

Source: The Grass Skirt
Average review score: 4
Couple ratio: 26%
Tropical bars are a thing of beauty - liquor oddly pairs really well with the overall theme. The Grass Skirt is a great example of this, located a few blocks off the coast of Pacific Beach. Even without the view of the ocean waves and warm sands, this bar is as tropical as it can get. They're most well-known for their cocktail menu, but their dinner menu is also worth trying. You can get you and your date a cocktail for around $10-20 a glass depending on what you're going for. Aside from the classic cocktails, they serve their own special concoctions, such as the Singapore Sling and Ricky Ricardo. You can also try out their take on the Painkiller, which they serve crystal clear.
What couples say about The Grass Skirt
"Very cool place to go. Drinks are very good. The food is very good but comes in small amounts. Staff very friendly and are there for your every need. Will go again if in the area. PS … The Tiki Vibe is top is a great vibe" - Countrydude4444
"The food and drinks are fantastic! Great atmosphere. Recommend a reservation for a weekend night. It's kind of a speak easy, you actually have to walk through the poke shop next door." - Strahbary3
"This is a really fun place, you enter through the Poki Shop and it's really a trip to Gilligan's Island. A very cool interior, wonderful fancy drinks and superb tid bit treats. We went early and I guess it really gets busy later. A retro step back in time and a lot of fun" - charlesj18

Source: Cafe Coyote
Average review score: 4
Couple ratio: 26%
Old Town San Diego's very own Cafe Coyote is a traditional Mexican restaurant located at San Diego Ave. It's been in business for almost 30 years, and over time they've expanded their menu to offer a variety of dishes and liquor. A collection of over 100 tequilas are at your fingertips with the help of the restaurant's master bartenders.\ If the menu doesn't do it for you, though, then there are still plenty of reasons to appreciate Cafe Coyote. You can witness the creation of their own tortilla by the Tortilla Ladies, and you can enjoy the music of their own Mariachi band. There's a good reason the cafe's been in business for so long.
What couples say about Cafe Coyote
"We came on a Saturday night and almost went somewhere else, because the line to get in was so long...but don't let that fool you, it moves really quick. The atmosphere is really cool, we sat outside and really enjoyed the weather compared to our metro-Atlanta digs. One thing the waiter noted, that we hadn't even thought about, no mosquitoes there, nice! The food was excellent, very authentic and hand made tortillas. My only knock was that the cheese dip was lacking in flavor, it needed a little more...something. The salsa was excellent, so my wife and I mixed the two together and voila!" - Mike M
"This place is huge and you would expect the experience to be less than stellar. However, we enjoyed both our visits. Staff were wonderful and the food was great. On the first visit, I ordered a grande Margarita (32 oz). Honestly, this thing was the size of a swimming pool, but I really enjoyed it. With our Margaritas, we also had chips and salsa, chips and guacamole. I had the Carnitas/Carne Asada/Enchilada Suisa with refried beans, rice and tortillas. My wife had the fish tacos. All was delicious. During the meal, a strolling Mariachi band passed by, playing for tips. This only added to thr experience. On the second visit, I had the smaller Margarita with my chimichanga combo (beef/chicken/cheese) and my wife had the Carnitas platter. This time, we had room for dessert and shared a flan. Wish we could go back." - 17KAG
"We really liked this place. The fajitas were cooked, tender and not burnt like we get them in the east. The wine was good and reasonable. Salsa was excellent. Atmosphere was great. Our server was excellent. Would come back again" - Loretta Veronic... L
Source: San Diego Chinese Historical Museum
Average review score: 4
Couple ratio: 26%
Located in 3rd Ave, the San Diego Chinese Historical Museum is a great spot to visit with your date if you're looking for something a little more educational than the usual dating hotspots. Since 1996, the museum has been home to numerous collections of Chinese history, arts, and culture. They also hold lectures that teach guests about various aspects of China through their exhibits. The museum is open Tuesdays through Saturdays from 10:30 a.m. to 4:00 p.m., and on Sundays from 12:00 pm to 4:00 pm. They're closed on Sundays as well, so it's a good idea to plan your schedule ahead if you're interested in visiting the museum.
What couples say about San Diego Chinese Historical Museum
"This museum with 3 separate buildings tells the story of Chinese in the Gaslamp District of downtown San Diego through objects and special exhibits. They also have a variety of events including Tai Chi, Chinese language lessons, and a monthly lecture series. Their exhibit openings are great fun and value ($5.00 for non-members); for example, the "World of Porcelain" that opened on Sept. 15, 2018 had a talk by the collector, a complimentary wine tasting with snacks, and a dance. There's a small gift shop area. Perhaps the only downside is finding street or lot parking unless you take the trolley." - GlobalGypsy_13
"We were surprised to see a China Town in San Diego, so we had to see the history. Very nice and wonderful displays. Great examples of artifacts used by local Chinese immigrants. I did see the same palm tree rain gear that we saw in Pendleton Oregon's underground tour. I also saw a few things I have never seen. The personal history of a few distinguished individuals added great depth to the displays. There is an additional gallery across the street, but we had to catch our trolley." - Barry E
"SDCHM is a great museum on the southern edge of the Gaslamp District, only a stone's throw from the Convention Center. Admission is only $2, but kindly think of donating a bit more. The museum covers the history of Chinese in San Diego, which is really the history if Chinese in America. Every historic Chinatown has a similar story. They cover the region of China where most came from, how they came to the US, and how they eked out a living in the land they thought of as the Golden Mountain. There are also some terrific artifacts from some of San Diego's prominent Chinese citizens through history, as well as Chinese art and historical artifacts, including a beautifully carved recessed bed and a huge, centuries old stone Buddha head that found its way from a cave in China to San Diego. The museum is spread out between two buildings, and in the back of the main hall is a small but tranquil garden." - octrekster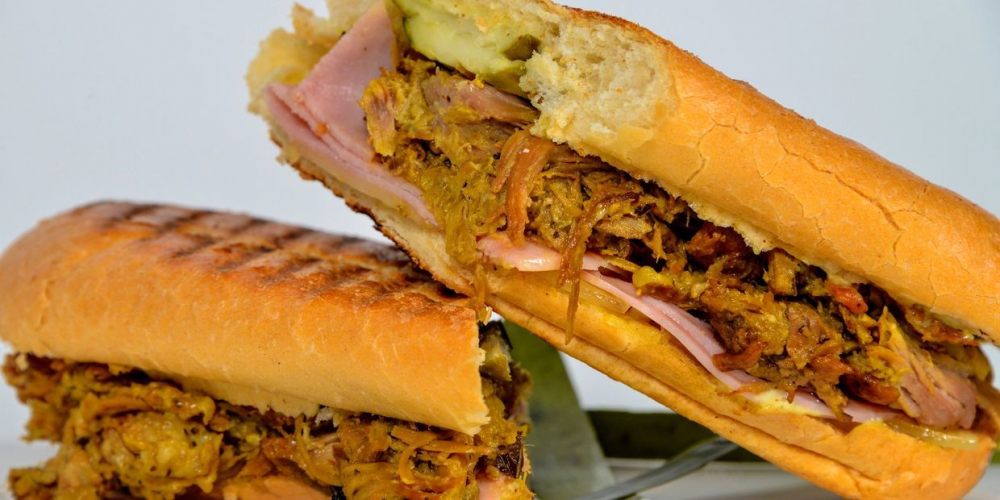 Source: Embargo Grill
Average review score: 4
Couple ratio: 24%
You don't have to book a flight for you and your date to Central America to enjoy some authentic Carribean cuisine. Look no further than Embargo Grill, a restaurant in W Point Loma Blvd. You'll be in for a treat, with appetizers like chicken wings coated in Carribean and Jamaican sauces, and main courses such as the La Isla Bonita. It doesn't have to be meaty to taste good, though, and you can order some vegetarian-friendly dishes if you or your date are on a strict diet. Just don't forget to finish up with some of their international coffee brews, and you'll have a blast.
What couples say about Embargo Grill
"You have to eat here it is absolutely delicious. I had the pulled pork dish with rice, pink beans and salad this dish has a sweet sauce I would recommend it. The servings are big also. You can create your own dish which we also did and had the steak with rice which was amazing. The restaurant has a nice chilled feeling with Cuban music in the back ground. The staff and service are great." - ashleymF3658KV
"Had lunch there yesterday. The food is amazing. The wings, Ropa Vieja Dip, and Mofongo were wonderful, but the Ocean Beach Salad was such a beautiful combination. We will be back!" - Andrea T
"The food offered here is intense with flavor. The south American influences are apparent and delicious! From drinks to entrees, the selection here is plentiful. The serving size is even more plentiful. Service is well aware of how delicious their food is and is happy to share their favorites to help narrow down your choices. I look forward to returning whenever I am in San Diego." - The food offered here is intense with flavor. The south American influences are apparent and delicious! From drinks to entrees, the selection here is plentiful. The serving size is even more plentiful. Service is well aware of how delicious their food is and is happy to share their favorites to help narrow down your choices. I look forward to returning whenever I am in San Diego.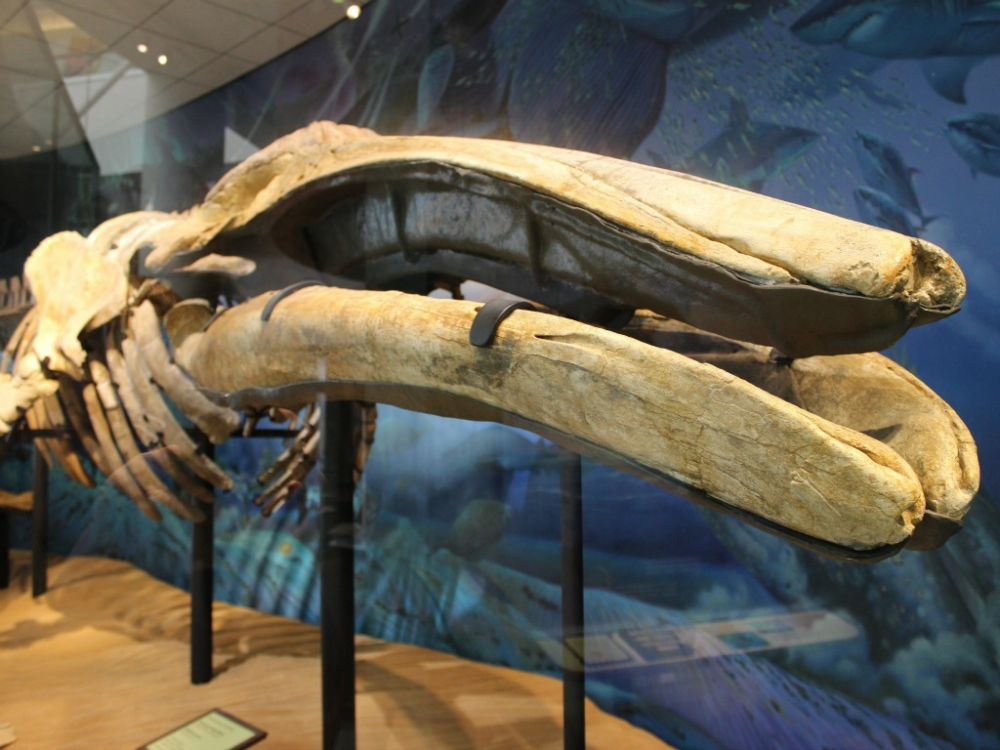 Source: San Diego Natural History Museum
Average review score: 4
Couple ratio: 23%
Balboa Park is home to many museums of various fields and collections, and the San Diego Natural History Museum is no different. What makes it stand out among the others, though, is its exhibits on the natural sciences. You get to learn about life before modern civilization as we know it and witness what the Earth used to look like. You don't have to be a kid to get interested in the beauty of our planet's past. You can visit the museum daily from 10:00 a.m. to 5:00 p.m. with a general admission fee of $19.95.
What couples say about San Diego Natural History Museum
"We were able to get into the museum free because of a membership we have at another museum. I would not give this one five stars as a museum--maybe 3 1/2--but I gave it this rating because by paying only $5 we were able to watch ALL 3 of their big-screen movies. The other museum nearby charged $10 per movie. What a great way to spend an afternoon. We hit the free Tuesday for locals without knowing it, so the museum was pretty crowded, but good anyway. I would rate it higher for kids than adults." - [GrandmaNancyC](https://www.tripadvisor.com/ShowUserReviews-g60750-d126987-r644804880-San_Diego_Natural_History_Museum-San_Diego_California.html}
"we spent about 3 hours touring this museum. It is so interesting and informative. be sure to take in some of the films. the 3D one on oceans is terrific" - mapaFl
"Well worth a visit when you're in San Diego. A wide variety of displays to appeal to all ages. Good food at the cafe (try the corn chowder). 3D movies were excellent." - [mayorbob](https://www.tripadvisor.com/ShowUserReviews-g60750-d126987-r636383895-San_Diego_Natural_History_Museum-San_Diego_California.html0

Source: The Mission Cafe
Average review score: 4
Couple ratio: 22%
If you want to support a restaurant that cares for its community, then go ahead and dine at The Mission Cafe. Located at Mission Blvd., the establishment serves both breakfast and lunch menus daily from 7:00 a.m. to 3:00 p.m., with dishes from various cuisines. The Mission Cafe takes its mission one step further, though, and gives back to the local community. From donations to various charities to raising global awareness on topics such as HIV/AIDS, and even supporting local artists by offering to display their work, the cafe makes sure everyone in San Diego grows with them. It's definitely a place you and your date should support.
What couples say about The Mission Cafe
"Ok one of my best friends is from mexico and Ive had my share of authentic mexican chorizo. So imagine my suprise when I loved their soy chorizo! Everything was fresh and delicious we ate here two mornings in a row. Make sure also to try their rosemary potatoes. Prices are good if your comparing it to other Sandiego dining in the gas light district area." - Rachael S
"My husband came here at 11am on a Sunday and got a table right away. I appreciated the large coffee menu and enjoyed my iced latte. The Papas Loco was good but turned out to be too spicy for me (my mistake), but my husband made a great choice with the breakfast quesadilla. Overall, I recommend." - [jrkorzen](https://www.tripadvisor.com/ShowUserReviews-g60750-d481940-r555545194-The_Mission_Restaurant-San_Diego_California.html0
"I'll start by saying that I started going to this restaurant regularly in the late 90's to the early 2000's while living in Mission Beach. We decided to go back for breakfast while in town this weekend, and I'm sure glad we did! Still, hands down, the best breakfast/lunch in town. They have a separate menu for gluten-free eaters that works for my girlfriend, and they even include their most notable mission rosemary toast as a gf option. Awesome! She had the zen breakfast (scrambled egg whites, braised tofu, brown rice, grilled zucchini & squash with tomato & onion garnish). They put the braised tofu on a separate plate for me because it is prepared in a flour based marinade. I had the papas loco (rosemary potatoes, grilled jalapeños, black beans, cheese, avocado slice and sour cream), but sans sour cream. While the wait for a table can be quite long at times, we went just before noon on a Friday and were seated right away. They have an amazing coffee selection, and I highly recommend the cold brew option. Our server, Amanda, was really great, and made sure that we had everything we needed with a smile to boot. What a great way to start a vacation, and we will definitely return. I'm also glad to hear that they have expanded to three locations now, well deserved! Don't believe me? Go see for yourself." - doctorbove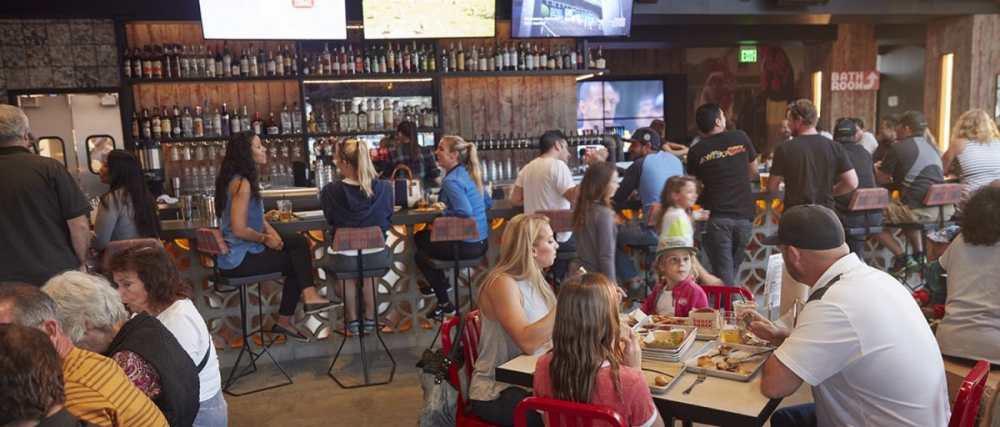 Source: The Crack Shack - Little Italy
Average review score: 4
Couple ratio: 22%
Despite the slightly humorous title, the Crack Shack located at Little Italy offers only the finest fried chicken to guests. These chickens are raised locally without any of the antibiotics, so you can get a taste of that chickeny goodness without any of the bad stuff. While they offer fried chicken as their signature dish, you won't miss out on any of their sandwiches and salad bowls either. You can also order yourselves some fries, chicken oysters, or deviled eggs to go with your meal. While waiting, you can even play some of the lawn games they've set up for customers, if you're really feeling it.
What couples say about The Crack Shack - Little Italy
"Great spot for sandwiches and drinks. The name alone and Richard Blais caught my eye. The fries were fantastic and a great selection of any sauce you wanted. Played bocce and to get the balls you just gave your DL as a placeholder. Delicious " - HelenChenTX
"Food is delicious and served quickly. Planes flying overhead added to the outdoor dining experience (in a good way). Come for the fried chicken, biscuits and classic coleslaw. Friendly, cheerful staff." - Ednorton99
"This place has really tasty chicken, both fried and grilled! Really good brioche rolls! The plain fries are good, the Schmalz fries, which are rendered in chicken fat were a bit too rich! The mini biscuits are so, so, although the miso maple butter was really delicious! The traditional slaw was excellent! Good choice of drinks/beer. So overall, a lip smacking foodie must! You will also have the fun of watching all the big airlines zooming over your head, at close distance (kids seemed to enjoy that! ~and some adults, too)!" - Northfielder2
Source: Din Tai Fung
Average review score: 4
Couple ratio: 21%
Din Tai Fung is a global franchise of Taiwanese cooking, and it's got one of its many branches located at La Jolla Village Drive. Even though it doesn't have the charm of a small, local restaurant, Dim Tai Fung offers some of the best Taiwanese dishes in the city. You can start off your meal with fried or sweet & sour pork as your appetizer, and try out some of their fried rice bowls for the main course. If you'd rather try out their noodle menu, then you can either try them either boiled or fried. You can then finish everything up with some Taiwanese dessert classics like the red bean bun or eight-treasure sticky rice. Dim Tai Fung is a must-try for those with a taste for Asian cuisine.
What couples say about Din Tai Fung
"We have been to Din Tai Fung in Taiiwan, Singapore and Sydney and now San Diego and they have all been excellent. The food is amazing and the service is spot on. We arrived at the San Diego location at 10 am and a line was already forming. By 10:30 am the place was packed with people. The dumplings were delicious and the garlic green beans were the best we have ever tasted. We received great service and will return in the future." - panchomama
"This restaurant is pretty much outdoors. We had a few flies and it got sort of warm in the sun. The food was quick to come out! It tastes delicious just like other Din Tai Fung restaurants. You can get a reservation on Yelp." - boymomdfw
"My wife and I agreed that a stroll around the UTC Mall on Memorial Day to check out the new stores would be fun and having lunch here would be the icing on the cake. My wife made a reservation on Yelp at around 10am for lunch at 1pm. We were in no hurry and after parking on the top level outside Nordstrom just after 12.30pm my wife received a text that our 1pm reservation was on. It only takes 5 minutes to walk here from the carpark so we stuck our heads inside a couple of new stores on the way. When we arrived at Din Tai Fung at 12.55pm there was a bit of line in front of the hostess desk manned by Christine. I took a look inside and the place was absolutely packed out...they must fit 300 people in here I'm sure. After confirming we had arrived for our 1pm lunch date my wife and I waited inside until a runner named Andy came for us at 1.15pm and lead us to a table booth for 2 at the far end of the restaurant. Very efficient operation and very polite staff ! After having a very enjoyable lunch here a few weeks ago...our first time.. we decided to be more adventurous this time. I knew straight off the bat I had to try one of their Mango Smoothies which I eyeballed a lady enjoying last time. Andy the runner gave us a tip when ordering our meals after we told him what we probably wanted. And it was a very helpful tip ! A very polite and well spoken server named William came by to take our lunch order and boy was he a ton of help ! My wife knows Asian cuisine way better than me so I tend to go with the flow. I got my Mango Smoothie order in and my wife ordered Pork & Crab Dumplings plus Shrimp Fried Rice. I decided on Shrimp & Pork Wontons with Spicy Sauce and a Bowl of Noodles...this was Andy's tip as after I have eaten the Wontons I can load the Noodles into the remaining sauce. What a great idea & only $4 extra ! My Mango Smoothie came our first and tasted so creamy and full of subtle yellow Mango flavor...my favorite ! Very shortly different food runners started delivering various parts of our lunch order until finally our little table looked like a banquet for a Chinese Emperor. We usually share our meals but the spicy sauce with my Wontons had a little too much kick for my wife's taste.....the sauce was just right for me actually. I had a couple of the Pork & Crab Dumplings and they tasted very delicate just like last time. I had some of the Shrimp Fried Rice and it was so perfectly cooked ...food for an Angel ! My Shrimp & Pork Wontons tasted pretty good and then I dumped the Noodles in the remaining spicy sauce and got stuck into that.....very nice for such a simple & inexpensive dish ! In the meantime Caspar the friendly restaurant GM came by our table to have a chat with us. He was pretty stoked that we loved his restaurant with it's incredible food and impeccable service. My wife needed to take some of her lunch home so William took care of getting it boxed up. And we had to try something for dessert....mmmmm Chocolate Dumplings sounded good. A food runner brought them out pretty quick and advised us to let them cool down a tad before we tucked in. They tasted like everything else here......very delicate but with luscious melted chocolate inside. After this 2nd lunch visit we could clearly see now why this classy restaurant chain is so popular...my goodness some of their locations have been awarded Michelin Stars and the Sydney & Melbourne locations in Australia are going lights out ! The attention to detail is mind boggling from the moment you are welcomed inside.... all their staff are meticulously trained and their delicious food is expertly prepared & cooked by highly skilled kitchen artisans. We loved the experience !" - Ned K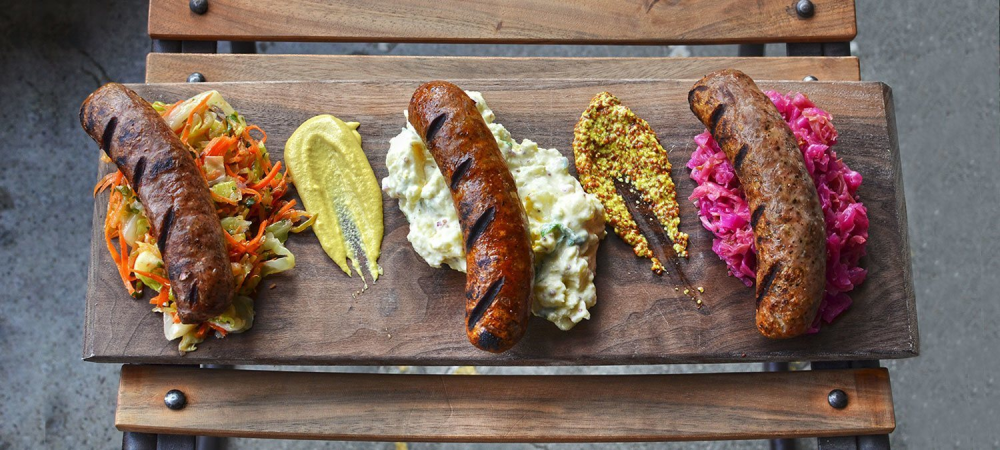 Source: Draft Republic - La Jolla
Average review score: 4
Couple ratio: 21%
International cuisine is always a staple for many dates, but sometimes it's better to just try some of the local cooking. Draft Republic honors American cuisine by offering some of your favorite American dishes such as chicken lollipops, and with specials such as their Independence Plate. There's a lot more to Draft Republic than good food, however - they've got 38 beers on tap for a date full of some fine booze, and they've got foosball tables to pass the time while waiting or after a good drink. Head to Draft Republic if you need your fix of authentic American cooking.
What couples say about Draft Republic - La Jolla
"Went here with some friends. Place is good size with video games, a family size fooz ball table and shuffle board. Good food menu and tasty as well. But who van forget the 100+ beers on tap, some of them rare to find, especially on draft. Fun place, will definitely be back!" - Kendu24
"This place is awesome. went there a couple times while needing to be a scripps la jolla hospital. The atmosphere is great and the happy hour sandwich and beer special is amazing. Tons of food on the plate and the house made ketchup is a great touch. Tons of tvs to watch sports but the noise was not too loud. Who else has a ping pong table!? Great experience and will definitely go back when in the area. The Tuna sandwich is great." - Kramkaleby
"Good selection of craft beers to choose from, very tasty menu with some unique dishes (we liked the roasted butternut squash flat bread). Be warned the dinners are large so come hungry. Happy hour is 2pm - 6pm. Lots of games (pool, ping pong, shuffleboard, Foosball) available. Servers are friendly and knowledgeable." - seadog22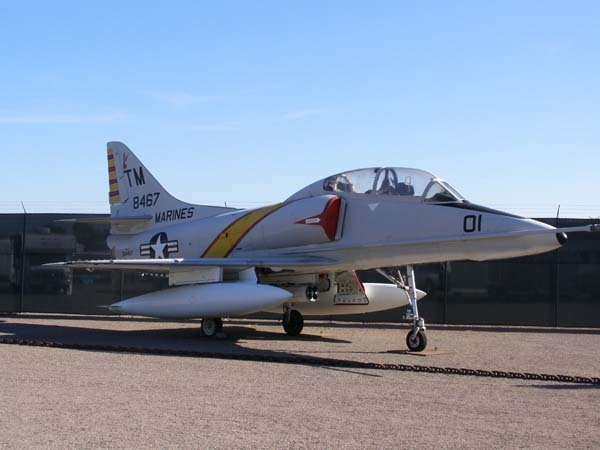 Source: Flying Leatherneck Aviation Museum
Average review score: 4
Couple ratio: 21%
For those who have always dreamed of taking to the skies, the Flying Leatherneck Aviation Museum is a wonderful place. With free admission, aviation geeks and airplane enthusiasts can learn about all things related to aircraft, from aviation galleries to exhibits. The museum's galleries feature dozens of aircraft from the past restored to its former beauty. Helicopters such as the Sikorsky HUS-1 and planes like the Grumman TBM-3E Avenger are among the 48+ aircraft on site. The museum also holds an open cockpit day a few times a year, so that guests can feel what it's like to ride a plane firsthand.
What couples say about Flying Leatherneck Aviation Museum
"This is a great aviation museum with 30+ combat aircrafts on display. The staff are very friendly and helpful. Easy access and plenty of parking spaces." - Culture295448
"My husband and I visited here last week after driving by it for over 18 years. This museum is on the Miramar Marine Base but does not require an ID check to visit. Admission is free but they suggest $5 donation per adult. There are several indoor displays, restrooms and a gift shop. We came to see the many military aircraft outside the museum building. It is mainly 1950 s and 1960 s aircraft- both planes and helicopters. The male docents hanging around the building entrance were happy to answer any questions. Wear comfortable low heeled " - Donna T
"My father served in the Marine Air Wing during W W ll, and I in Vietnam. This experience for me went full circle. Inside and outside displays are great, and the staff are retired Marines or Vets that are very knowledgeable and kind. You do not have to be an X Marine to enjoy this Museum, bring your friends and family to learn about Marine Corps Aviation! Admission is free, they ask for a $5.00 donation, Please at least donate that amount or more if you can! Thanks to all of the staff at the museum and Semper Fi !!" - kmackay11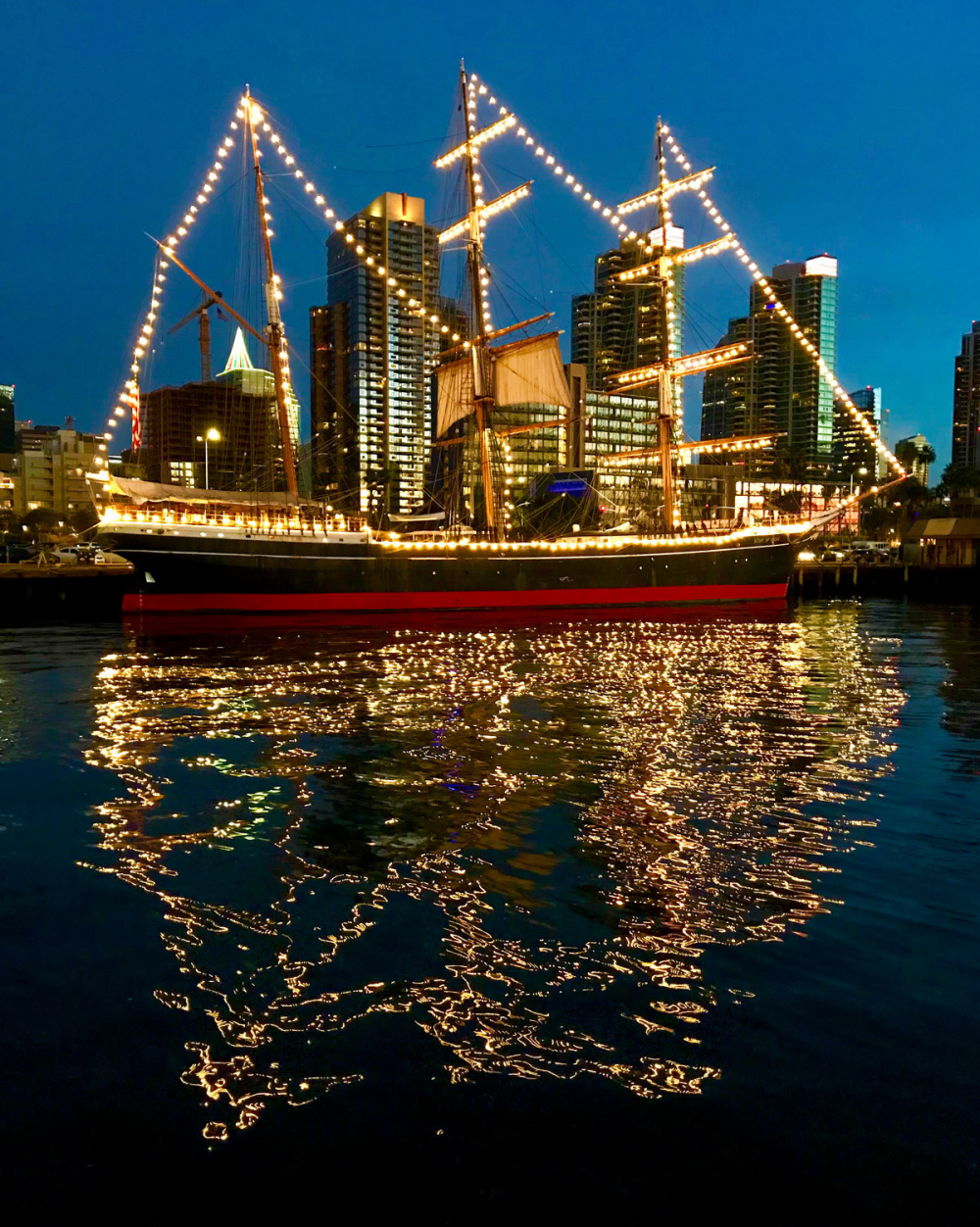 Source: Maritime Museum of San Diego
Average review score: 4
Couple ratio: 21%
If you've ever wondered what it's like living life out on the sea, sailing, fishing, and exploring, then the Maritime Museum of San Diego should spark your interest. The museum features exhibits of ships from the past and present, such as a British Royal Navy frigate from hundreds of years ago. You can also witness how the advent of steam paved the way for new sailing technologies and methods in their "Age of Steam" exhibit. General admission to the museum will cost you $18.00 a person, but if you're a senior citizen or actively serve the US Military, you can get in for only $13.00. They're open from 9:00 a.m. to 8:00 p.m. giving you plenty of time to enjoy the exhibits and events.
What couples say about Maritime Museum of San Diego
"Maritime history in fine display. The Star of India was my favorite. There some young boys with tons of questions and the employee was generous with his time, knowledge and patience in explaining things, I just absorbed it all, while my husband went to lower levels I wasn't comfortable going to, the Berkeley has lots of model ships, including carriers." - SusanSos
"In many places, the first ship would have been the entire museum visit. But here, there is more and more and more. Always something else just around the corner. Utterly fascinating. Informative and entertaining. Great welcome from all the personnel too. Highly recommended." - John K
"Just a very short walk from the Cruise Terminal is the San Diego Maritime Museum, not the largest museum, but one of the best. If you like to See, Feel and Touch history then you are in the right place, there are a number of historic vessels which are all floating in the water and after you have visited one you move onto the next ship. It's a very popular tip for school parties and the guides are very enthusiast and knowledgeable. Depending upon your taste, the star of the show could be the last Diesel Submarine USS Dolphin along with a Russian B-39 Submarine. Once you have visited all the ships, you exit through the small Museum and shop which house some replica models and various artefacts from days gone by. If you like Naval History then this is the place for you." - [Alpat]9https://www.tripadvisor.com/ShowUserReviews-g60750-d104128-r665654515-Maritime_Museum_of_San_Diego-San_Diego_California.html)
41. Bud's Louisiana Cafe
Source: Bud's Louisiana Cafe
Average review score: 4
Couple ratio: 21%
Bud's Louisiana Cafe is a restaurant located at Viewridge Ave that specializes in Cajun and Creole cuisine. You can get a taste of Louisiana's finest with dishes such as their New Orleans BBQ Shrimp Po Boy and their Cup of Cajun Jambalaya Appetizer. The restaurant has got cuisine from The Big Easy itself mastered like an art. The restaurant opens daily, closing early on Mondays and Tuesdays and opening late on Saturdays. Most days, though, they open at 7:00 a.m. and close at 9:00 p.m. You'll save yourself and your date a trip to New Orleans with a visit to this place.
What couples say about Bud's Louisiana Cafe
"My only negative is what took me so long to find this place! Hands down the best shrimp and grits ever! The sauce was unbelievably delicious. My husband had the shrimp etouffee, it was really good too, but the grits were better! We finished dinner with the bananas foster creme brulee. Wow! Word of advice, do not skip dessert...I will dream about the creme brulee! We are already planning our next visit!! Service was great, food came out timely, restaurant was clean." - b0nanza
"Seriously, if you love Louisiana food, you have to go there! The food was fantastic, the service was really good, the ambience was nice, it was all perfect! My husband and I shared a cup of gumbo for appetizer that was to die for, I had Pasta Jambalaya, he had Louisiana Chicken, and we shared beignets for dessert that were hot, super fresh and delicious. We would go back there the following day for dinner, so we could try other plates, but they close on Sundays." - Ana C
"My wife and I had lunch here and really enjoyed the food. We have had a lot of meals in New Orleans over many years. I attribute my first quadruple by-pass to cajun food. I had some seafood gumbo and it was delicious. I also had crawfish etouffe and soft shelled crab, also delicious. My wife had the fried shrimp. This is by far the closest to good cajun/creole food I've found in San Diego. We'll be back." - John C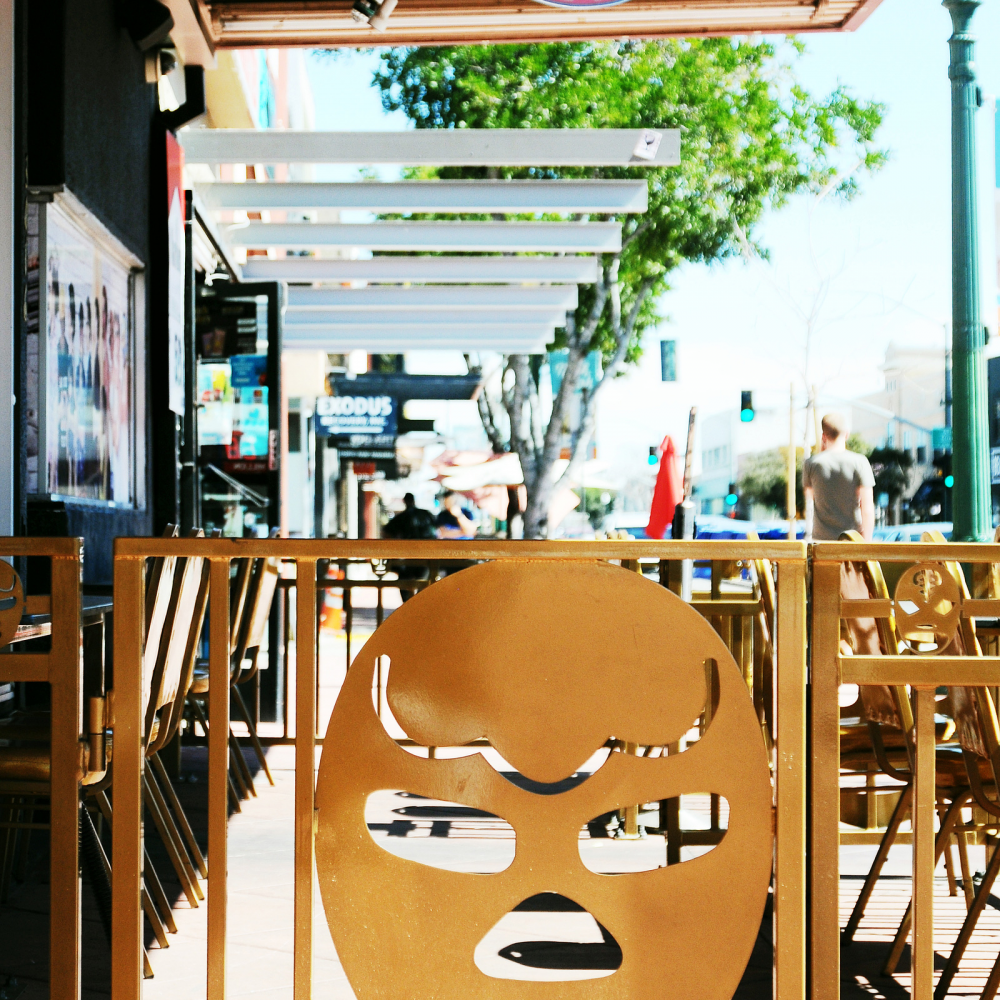 Source: Lucha Libre Gourmet Taco Shop
Average review score: 4
Couple ratio: 21%
Tacos are a Mexican staple turned American favorite, so it's no surprise that the Lucha Libre Gourmet Taco Shop makes some of the best. The restaurant is designed with heavy influence from the wrestling scene - the meaning of Lucha Libre meaning "free fighting" - and pays homage to the sport. You don't need to be a pro wrestling fan to enjoy their food, though, as the food's got plenty of kick in itself. They mainly serve tacos, but the establishment also offers burritos and quesadillas for those who want to try something different. While they don't have an extensive liquor collection, they've got some beer to wash the food down.
What couples say about Lucha Libre Gourmet Taco Shop
"AMAZING surf and turf burrito. And that white sauce.....omg it's unreal. I wish I can take a tub of it home. I would definitely come back to San Diego just to have it again. The corn and grilled veggie side was just ok, but the burrito was so good!!!" - itsxjackie
"I am not even exaggerating when I say that these were the best tacos I have ever had. From the ambiance of the shop to the witty little sayings on the soda machine... this place was amazing. Do yourself a favor & if you ever find yourself in San Diego, check this place out." - messyjessie1996
"Went here after a bad customer service place at another restaurant a few blocks away. Customer service was great and food was even better. I got the 4 rolled tacos which were really delicious!" - Thanx4thememories

Source: San Diego Air & Space Museum
Average review score: 4
Couple ratio: 20%
Watch your childhood dreams rekindle when you visit the San Diego Air and Space Museum. This museum is home to everything related to space and aeronautics, as well as archives related to those fields. You'll be able to view both reproductions and actual models of air and spacecraft, from the original Wright glider to the Apollo IX Command Module. They also feature a hall of fame Located at Pan American Plaza, the museum is open every day of the week, from 10:00 a.m. to 4:30 p.m. Tickets are priced at almost $20, but residents of San Diego can visit for free during set dates.
What couples say about San Diego Air & Space Museum
"Fantastic place to visit, learn about the history of planes, see examples of planes from the beginning of aviation! On M-W-F a special offer is to pay $5 per person for a personal guided tour of the restoration area, located on the lower level of the museum. Our guide, George, was super! He spent 2 hrs. giving us the grand tour behind the scenes, of projects past and present. Lots of engines, propellers, parts of planes, historical items. Well worth the time!" - Ruth G
"There is so much more than airplanes at this museum. They offer in depth histories of some of the most influential people in aviation. Additionally, per a helpful docent, "if you can reach it, you can touch it...." We spent the morning at the Midway and the afternoon at the Air and Space Museum. Such a wonderful day!" - Janet M
"The displays and information on our air and space history was great! look and read everything and take it all in. For a thrill, sit on the overlook and count the rivets on the planes as they fly overhead on their landing at the airport!" - stevezerbe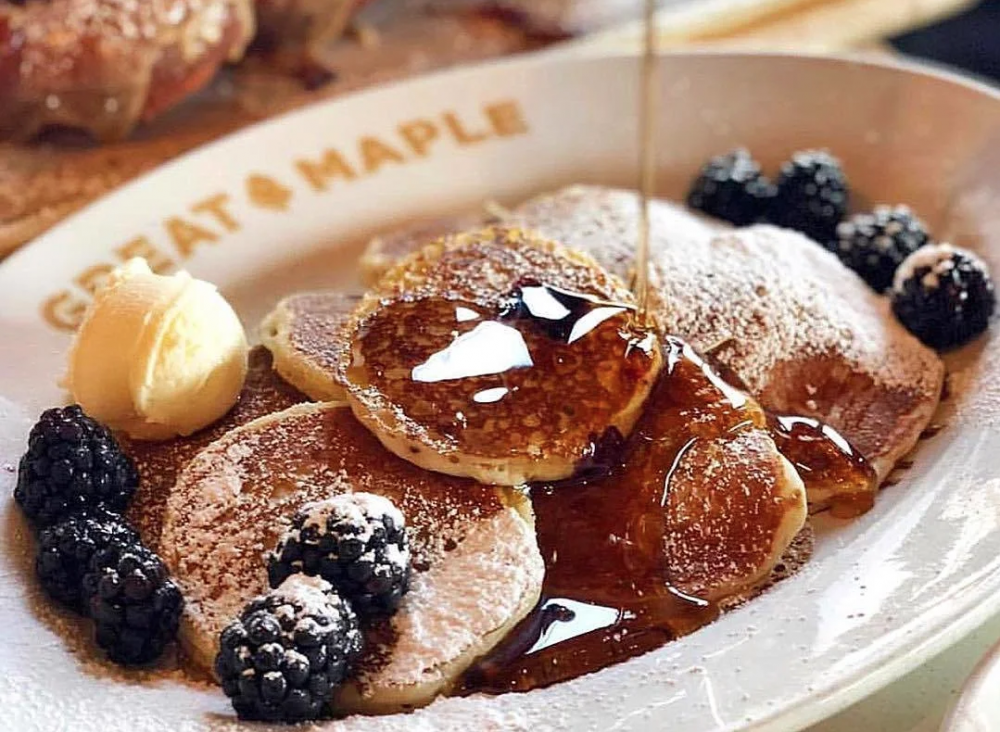 Source: Great Maple
Average review score: 4
Couple ratio: 20%
Great Maple offers American cuisine, but with an added twist. Located at Washington St., with a few other branches spread throughout the city, the restaurant serves everything from their Prosciutto di Parma Flatbread & Arugula Salad to some good old chicken skin. What makes the Great Maple live up to its greatness is its dedication to sourcing its ingredients from sustainable sources - that means that they waste fewer resources, allowing you to eat with peace of mind. Depending on where you dine, they're open every day of the week from morning till mid-afternoon for breakfast and lunch. They reopen later for their dinner menu as well.
What couples say about Great Maple
"I foolishly dropped my husband off out front and went to look for parking- as our breakfast on the way out of town on a Sunday morning at 9:30 am. Twenty minutes, one bout of tears, and some serious text-fighting with said husband later, I found parking and made it in. The server at the counter had given my husband a cup of coffee and said don't bother with paying- since he thought he was about to have to leave. And that same server then was welcoming and friendly as we came back in 30 seconds later.And I am so glad I didn't give up! That was one of the most delicious breakfasts I've ever had. Our server had amazing energy- so kind, so enthusiastic to everyone at the counter- that man should be cloned. Great Maple was a treat and I hope to be back VERY SOON." - sybil_unrest
"Johnny and Taylor were great at the bar, very personable and made excellent drinks. The food was fantastic, highly recommend the popover benny and the maple donuts. Will be back 100%" - NomadicWerdna
"My husband and I had just survived the long process at the nearby DMV office. We wanted to reward ourselves for making it out relatively unscathed. The late breakfast at Great Maple was just what we needed. Because the prices were a bit high, we skipped pricier items and both had the two-egg breakfasts. We were not disappointed. Eggs done to perfection, I had delicious coffee, and the pee wee potatoes were to die for. Piping hot delicious, and I enjoyed every morsel. I'm used to having two slices of toast, so I was a little let down that the order included only one. The home made raspberry jam called for more toast! The restaurant was busy with the brunch crowd but we were promptly seated and served. Great waitress (Leslie?). Next time I will be happy with potatoes-only. They are that good! Only four stars, for prices and toast dearth-" - culdesacSanDiego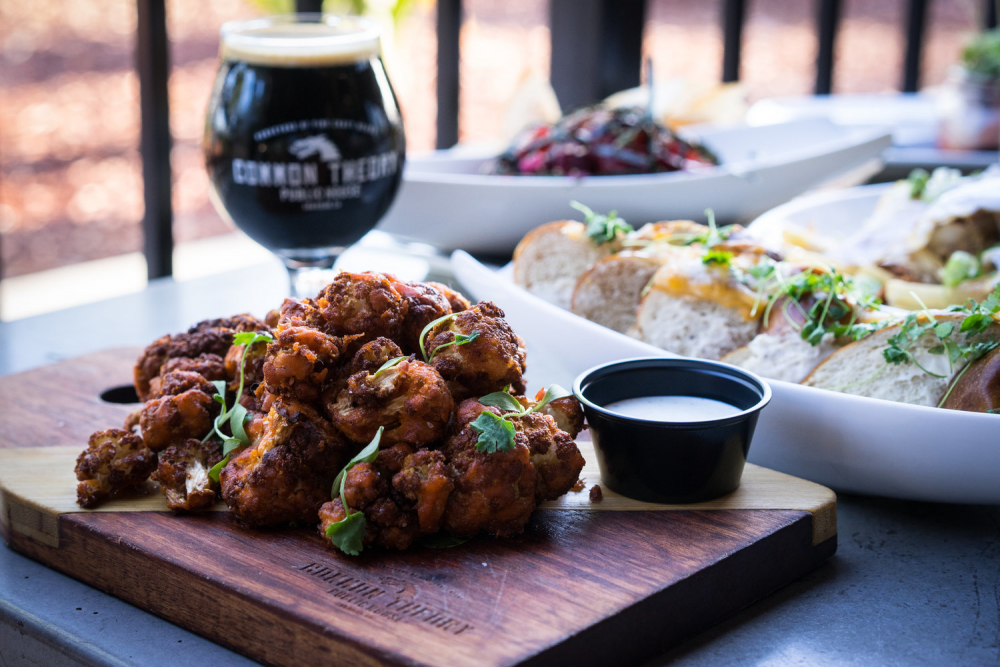 Source: Common Theory
Average review score: 4
Couple ratio: 17%
Common Theory was the brainchild of some close friends who shared the same passion for beer. This bar isn't like most - the establishment features a rotating beer selection. This means that while they've got a huge collection of craft beers, only some are available at any given time, for added variety. This makes visiting Common Theory with your partner a new drinking experience every time. It's not just beer on the menu, though. Common Theory serves up American classics like burgers and steaks for lunch and dinner. They've also got happy hour specials in the afternoons. They're open from 11:00 a.m. to 12:00 a.m. on Sundays to Wednesdays and till 2:00 a.m. on Thursdays to Saturdays, so you can drink your heart out till deep into the night.
What couples say about Common Theory
"Had a great lunch of buffalo cauliflower, Eastern Shore flatbread & steak & eggs flatbread. Our bartender/server Cody was awesome! Suggested some great beers. Highly recommend" - MrsCritter
This modern hipstery joint was been open for a few years, and just a few miles from my condo, yet I had never been until now...its just that when I'm on Convey street I'm usually after some pho, ramen, dim sum, and more. Inside its modern, clean, and casual, with a friendly enough staff. The CT Torta Burger: Seasoned burger patty, mayonnaise, lettuce, avocado, pickled jalapenos...Only $6 during last week's Burger Week, and it was absolutely deliciousness. Usually I would decry jalapenos in anything but Mexican food, but this added such a light and fresh spicy flavor boost. No fries with this special price, but full price to recreate this tasty burger with fries would run $15.50(Take the $13.50 standard burger, add avocado $1.50, jalapenos $.50). $15.50 is on the high end side for burger and fries, but I might come back during happy hour where I can at least save some cash on beers. There's also a huge beer list, including the "Star Trek Klingon" which if you know me, I just had to get. Qapla'! Live long and prosper." - SwingerJ
"Three words - FAN-TAS-TIC. This is a fantastic bar with a fantastic food menu. Incredible beer selection with knowledgeable bartenders. My wife had the garlic noodles - SUPERB. My fish and chips were incredible - and I've traveled the globe, from Hong Kong to Singapore to London to Sydney to South Africa and beyond - top five I've ever had. If you're in San Diego and looking for a good joint outside of the tourist districts, head over here. You will not be disappointed." - TheAnvil

Source: Living Coast Discovery Center
Average review score: 4
Couple ratio: 15%
Situated right at Chula Vista, the Living Coast Discovery Center is a nonprofit organization and museum dedicated to the study and showcasing of aquatic life. The establishment features animal feedings and public talks to educate guests about various aspects of marine biology. Aside from staying at the center itself, you can take a hike with one of the guides around their Sweetwater Safari, or view the local birdlife by the bay. The Living Coast Discovery Center is open from 10:00 a.m. to 5:00 p.m. daily, and general admission costs $16 a person. If you're looking to do some touring during your date, this place is a great option.
What couples say about Living Coast Discovery Center
"The Living Coast Discovery Center is a great place to see sea creatures and coastal animals up close. There are also trails and viewing areas so you can find wild animals native to the area. It is a calm, relaxing place that excites your interest in coastal plants and animals. Kids love it too!" - lrbunker
"This place is a gem - great sea animal exhibits on out beautiful coast! Plenty of parking - you park and take the shuttle to the Discovery Center. No crowds, plenty of helpful knowledgeable staff - a great place to spend the day!" - karmalee2014
"vAwesome hidden gem! The aquarists are very knowledgeable and care about the animals there! Awesome to see so many indigenous animals, and some that you would normally not see on your own! They offer summer camps for kids and many other programs for kids who are interested in working with animals. Staff are very friendly from the woman at the front desk to the bus driver. Lovely place" - Kerry R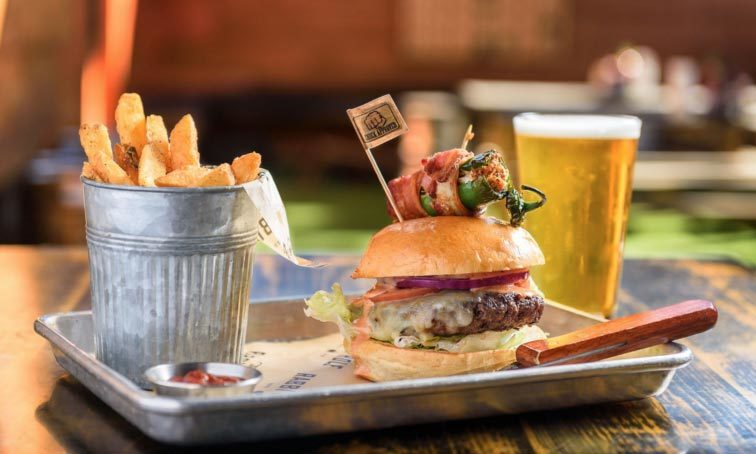 Source: The Rabbit Hole
Average review score: 4
Couple ratio: 15%
Located at Normal Heights, The Rabbit Hole is the product of years of a close-knit community bond within the neighborhood, evident in the bar's warm atmosphere and ambiance. They not only serve delicious cocktails but also a wide variety of beers and wine to suit your tastes. The Rabbit Hole gets even busier in the evenings, with Trivia Nights, live karaoke, and even musical gigs giving life to the already vibrant pub. If you're planning on dining here, be sure to keep an eye out for specials every now and then, such as discounts on bottles of wine and more.
What couples say about The Rabbit Hole
"My husband and I came here for an awesome brunch! We split a $10 bottle of champagne with some OJ and cranberry juice. My husband got the "Normal Breakfast" and I got the "chicken chilaquiles". It was wonderful! The service and outside patio were perfect for a relaxed, fun brunch." - arb10000
"We stopped in The Rabbit Hole for dinner during the Adams Ave Street Fair. The place was crowded but not overly so. We sat toward the back and were still able to get a nice breeze because the place is open from front to back. There are tvs all over playing whatever game you would want to see. They also have some games in the little yard in back, like connect 4, cornhole (beanbag toss) and a huge Jenga game. The service was great and the food was above average. The ahi wrap was delicious and the fries were well seasoned. They came with unusual ketchup that is one of their signature recipes. Tasted like nachos. Overall, a fun place with good food, great service and a festive atmosphere." - Alexandra T
"The house salad was delicious. The Mahi taco was tasty. Service was great. The location, ambiance, and music was awesome. 80s music heaven!! I like the indoor/outdoor seating arrangement. I WILL BE BACK!" - Cabotoy